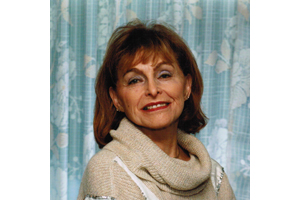 Marlene Hochman-Golden passed away peacefully, with her family by her side, on October 21, 2020 at the Misericordia Hospital.
She was 84 years young. She was predeceased by her mother, Betty; father, David; brother, Martin (Jeanne); sister Sylvia; her beloved husband Gordie, and son Stewart. Marlene leaves to mourn her loving sons, Michael (Donna) and Larry (Moraina); her grandchildren, Stacey (Jeff) and Sabrina (Sean), her great-grandchildren, Emma, Lexton, Maddex and Kendrix; brother-in-laws Greg, Sam (Jackie), Ben (Phyllis); sisters-in-law Claire and Betty; and numerous nephews and nieces.
Marlene was larger than life. She was warm, friendly, caring, loving, generous, and had a great sense of humor. She had a zest for life and led it with dignity and grace. She was always smiling and had an infectious personality. She was a social butterfly, young at heart, and a role model to many.
Marlene grew up in the north end of Winnipeg and married the love of her life, Gordie, in 1955. They had 3 children; Larry, Stewart and Michael. She brought up her boys and helped Gordie establish Superior Food Importers. She travelled the world with Gordie. The family was extremely close and even with Marlene and Gordie's busy schedules, family always came first. They always enjoyed fishing, camping and picnics on the weekends.
Tragedy befell the family on April 10, 1977. During this time Marlene's strength was what held the family together. She continued to raise her children, run the household, and take over the family business. Marlene re-married in 1980 and spent her life creating a wonderful home where she had many gatherings. Marlene was a fantastic cook and had a recipe column in the Jewish Post & News. She enjoyed needlepoint, knitting, mahjong, exercising at the YMHA, line dancing, as well as belonging to numerous Jewish organizations. She even completed a half marathon. Marlene always looked great, was into all the latest fashion and was a snappy dresser. Marlene enjoyed her later years at River Ridge Retirement Home where she was loved by all. She participated in all the activities and enjoyed family visits and outings. Those who knew her, know that she was a special person. She really lived life to the fullest and loved her children, grandchildren and great-grandchildren tremendously. She would proclaim "this is what it's all about". She was very involved in their lives and would do anything for family.
Despite all of her hardships, she would always say, "I've had a great life". She will be deeply missed by all. We love you to the moon and back and will cherish all the great memories.
A private burial was held at the Bnay Abraham Cemetery at 1:30 p.m. on October 23, 2020. Rabbi Kliel Rose officiated. In honour of Marlene's memory, donations may be made to a Jewish charity of your choice.