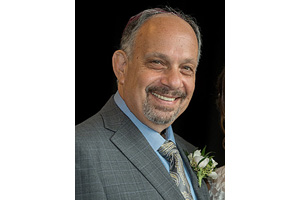 With profound sorrow we announce the sudden passing of Marshall Stuart Kneller on February 20th at the age of 64.
Marshall will be sadly missed and lovingly remembered by his beloved wife, Laya, children, Kyle & Carol Kneller, Gabi & Benji Winestock, and Skye & fiancé Cameron Poitras; sister Sandi Kneller; most cherished grandchildren Alex & Maddy; and father-in-law Ted Muller. Also left to mourn are extended family, friends and much loved machatunim Paul & Jackie Winestock. Marshall was predeceased by his parents Gordon & Edith; daughter Jada; and mother-in-law Marie.
Only one word is necessary to describe the life and legacy of Marshall: Chesed, the Hebrew word for kindness, which bears a sense of devotional piety and mercy towards humanity. It was that sense of duty and devotion which dictated every aspect of Marshall's life of selfless service. He was guided by the principles of Tikkun Olam, repairing the world.
Marshall was a loyal and dedicated employee of the Canada Revenue Agency for over 25 years, where he established many life-long and treasured friendships. The respect with which he treated his colleagues was returned to him ten-fold. He was equally devoted to his 'second family' at the Chevra Mishnayes Synagogue, where he served as President for the past 20 years. It was a sanctuary for his soul. He sat at an altar of tradition and worshipped the congregation's values. On his last day of life, Marshall rejoiced at being able to return to his beloved synagogue, and being surrounded by the congregation he served and loved. He even stayed afterwards to help prepare pastry packages for our secluded seniors. That was just one day in a lifetime filled with quiet, often anonymous generosity and refreshing humility.
Forty-eight years ago, Marshall met the love of his life, Laya, at the tender age of 15. It's a story of true love, based on mutual respect and support. Their love is one we all pray for, but too few are granted. They exemplified to their friends and family what resilience through love looks like. They built a foundation of family together, one strong enough to withstand hardship and loss, perhaps the most devastating was the death of their daughter, Jada. Through his own grief and darkness, Marshall managed to support his fellow mourners with quiet compassion. He brought light through laughter. And laughter there was during family gatherings, trips to Vegas, lifecycle events and countless rendezvous for hot and sour soup at his favourite vegetarian restaurant Delicious.
Of all the hats he wore, none suited him more than dad and Zaida. He was a source of endless empathy, even for his fur-babies. Marshall encouraged his children and grandchildren's personal passions with unwavering support. He did it all with such grace, patience and humour. He was fiercely protective of his younger sister, Sandi, and their mutual devotion solidified their special bond.
To carry on Marshall's legacy, an endowment fund has been established through the Jewish Foundation for the perpetual support of Chevra Mishnayes Synagogue. Donations may be made directly to the synagogue.
Baruch Dayan Ha'Emet.
May his memory be a blessing.
We love you, Marshall. Forever in our hearts.