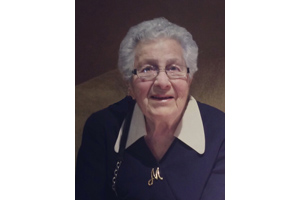 It is with great sadness that we announce the death of Menorah Waldman on Wednesday, November 18, at the age of 95. Menorah lived a full and rich life, filled with family, friends, music, theatre, literature, Yiddishkeit and so much more.
Menorah leaves behind an extended clan of family and friends to celebrate her life and mourn her passing — her son Dovid and daughter Yona (Cam); grandchildren Louise (David), Sarah (Shawn), Marin (Sam), Charlotte (Jason) and Ryder; great-grandchildren Riel, Aliyah, Eva, Cassady and Cleo; and daughter-in-law Diane. The matriarch of the Waldman clan, she is also mourned by her nephews and nieces, her great-nieces and -nephews and many cousins. She also leaves her oldest and dearest friend, Jeanette. A sign of Menorah's warm and welcoming nature was that her door was always open to everyone, and so the friends of all her kids and relations grew to know and love her too. She was predeceased by her parents Charles and Sarah Gorvich, her son Aili; grandson Cassady; husband Bert; nieces Shira and Carol; and most of her long-time friends.
The only child of Charles and Sarah Gorvich, Menorah grew up in the North End, attending Machray and St. John's before going to university, a privilege at the time. She remained an active intellectual all her life and an especially avid reader, usually juggling several books at once.
She and Bert married in August 1945 and several years later, bought their first house on Lansdowne east of Main. They moved to Woodcrest Drive in a new and growing section of Garden City in 1963, where, together, they continued to raise their three children Aili, Dovid and Yona, while supporting and working for many community organizations, including Habonim and Chevra Mishnayes Synagogue. Menorah was an active member of the North End Yiddish Folk Choir, Pioneer Women/Na'amat and other organizations. Her commitment to community was lifelong – she volunteered with the Fringe Festival, WSO, PTE, Jewish Child and Family Services and the Gwen Secter Creative Living Centre, where she also served as Chair of the Board for a number of years.
A feminist before the word existed, Menorah worked most of her life, retiring in her 60s to take up a new career as a certified fitness instructor, an accreditation she maintained until age 89. She regularly taught aquafit, aerobics and weight classes to seniors and others, in addition to swimming almost daily. She taught at the downtown Y, at the North End Centennial Pool, at Heidelberg Villa on Edmonton, and Lions' Place on Portage. We believe she was the oldest contract employee of the City of Winnipeg! She also began swimming competitively at the Masters Level in her 70s, participating in many Manitoba Seniors' Games and winning dozens of medals over the years.
Menorah leaves behind a rich legacy of activism. She was a lifelong socialist – in her youth she helped build the Habonim camp at Sandy Hook (Camp Massad). She knocked on doors for progressive candidates, marching against war, sexism and racism and cheerfully walking in Pride parades in support of beloved family and friends. She remained politically active and engaged up until the onset of dementia in her early 90s.
Menorah's funeral was held graveside on November 19 at the Rosh Pina Memorial Park, with Rabbi Kliel Rose officiating. The family is grateful for his warm and compassionate service. The five mourners/pallbearers were family Dovid, Robbie and Louise Waldman, Phil Spevack and Diane Zack. A Zoom shiva was held on November 20 with more than 30 participants, including, appropriately, children running around in the background, which was exactly as Menorah would have wished.
Her family would like to express its gratitude to the staff and volunteers at the Simkin Centre for their compassionate and loving care, in particular to the staff on Simkin 1.
If you choose, donations in her memory can be made to the Spiritual Care Fund at the Saul and Claribel Simkin Centre or to Gwen Secter Creative Living Centre.