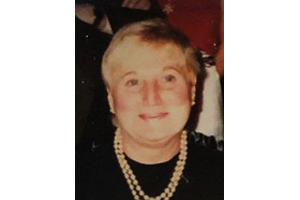 It is with deep sadness that we share the sudden and unexpected passing of Irene Odwak, on November 28, 2020, in Dollard Des Ormeaux, Quebec. She was 87 years old.
Irene died as she lived, surrounded by family.
Irene was born in Yorkton, Saskatchewan. She moved to Winnipeg in 1951. Two years later she met and married her husband Sam and together they raised their four devoted children.
Irene and Sam worked together, side by side in the produce business. They ran the well-known Minneapolis Fruit and later joined forces with their cousin Joe to create California Fruit, a Winnipeg institution on the corner of Euclid and Main. Irene was a welcoming proprietor. Her caring ways were exemplified in the connections she had with customers throughout the family's years in the fruit business and even long after the business closed.
Irene and Sam and their children lived on Anderson Avenue in the north end of Winnipeg. Irene created a household that was welcoming and loving to all. Her family and extended family gathered for holidays and meals embraced in the warmth and love of Irene. Her home was not only a gathering place for family, but also a gathering place for her children's friends. Her barbeques were memorable and of epic proportions!
Irene had a gift to be able to make people feel wanted and cared for.
She had deep kindness and respect for all those who had the good fortune to know her.
In Irene's later years she spent time both in Quebec and Winnipeg. This time was very special for her and her children. It was a time when her children had the opportunity to care for her as she had done for them – with deep devotion.
When we remember Irene or think of her legacy, it will be her deep kindness, her goodness, sincerity, and the gentle way she touched all those who loved her. Her quiet wisdom and loving heart is something we will always cherish.
Irene was predeceased by her loving husband Sam, beloved son Richard, parents Minnie and Max, sister Molly, and brother-in-law Max.
She is survived by her: children, Roxy (Gary), Hersh, Alan, and daughter-in-law Darlene; grandchildren, Ricki (Joseph), Avery, Chad (Melanie), Melissa, and Josh (Katie); and great-grandchildren, Emily, Grace, Cassidy, Lucas, and Swayze.
She remained in close contact with her nieces, nephews, many cousins and friends across the country.
May her memory be for a blessing.
If you so desire, donations can be made to CancerCare Manitoba or the Jewish Family Child and Family Service of Winnipeg.
Private funeral and shiva.