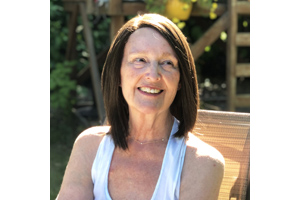 On November 1st, Barbara Levy passed away peacefully, but far too soon, with her family by her side.
There will never be another Barbara Levy. Anyone who had the good fortune to have spent time in her company could tell you the unmistakeable presence she had. Her every decision was dictated by her strong sense of self, governed by her passion, and guided by the boundless love she had for her family. Barbara was the very embodiment of unconditional love, her generosity of words and actions matched only by her sharp wit and sense of humour.
As a teenager, Barbara was an avid reader. Inspired by the great literary works, she became an English teacher and educated and inspired young minds during her long career. She was devoted to her students and imparted on them her fondness for Canadian literature by taking them on field trips to Margaret Laurence's home in Neepawa.
Barbara met her husband Moses (Moe) at the age of 19. She was his confidant, best friend, and love for almost 46 years. She was the bedrock for her Moses throughout his career; a steadfast supporter of all his pursuits, she was exceptionally proud of all he had done to reshape his adopted city.
With Moses, Barbara had three children who were the light of her life: Adam, Sam, and Sarah. From an early age to adulthood Barbara instilled in her children the joy of imagination, the value of integrity, the virtue of duty, and the power of resilience. Nothing brought her greater joy than nurturing them into the caring, giving, and accomplished people they have become.
As the Levy family continued to expand, Barbara spread her wings to welcome beloved pets, Allie and MacDuff, the partners of her children, Tanya, Sandra, and Robin, and in recent years, her beautiful grandchildren, Benjamin and Maya. She could simply not help herself but to be a dedicated mother to them all, for her heart and soul has no limitations.
The dedication that Barbara showed to her husband and family was likewise present in her relationship with Judaism, embodying Jewish values and maintaining a Jewish family. Of the countless things she did to make simchas and observances celebratory and meaningful, Barbara's embrace and assurance of the Shabbat will remain in the hearts of those around her. Each week, she created an island in time on Friday nights, filled with unforgettable food, songs, heated debate, and laughter.
Barbara demonstrated her characteristic tenacity and poise during her two-year battle with cancer, fiercely determined no matter how difficult the road was. Throughout her entire life, Barbara was the epitome of elegance and strength at once. That did not change when she became sick.
Barbara had an unmistakeable grace and class that elevated those around her, that made any moment spent with Barbara one worth living. She will be profoundly missed by her entire family: her husband Moses, her children Adam and his wife Tanya, her grandchildren Benjamin and Maya, Sam and his wife Sandra, Sarah and her partner Robin, her mother Inge and her sister Ursula, and all of her extended family. Barbara was predeceased by her father, Arthur.
The funeral was held at the Shaarey Zedek Cemetery on November 4, 2020, and shiva was observed privately by the family. We wish to thank Rabbi Yosef Benarroch for officiating Barbara's funeral, and honourary pallbearers Rabbi Shmuly Altein, Matthew Adelman, Michael Goldberg, David Lipnowsk and Jeff Morry. Minyan participants were Abe Anhang, Jack Craven, Hart Kaplan, Jeff Kliman and Shawn Wolk.
We also wish to thank Dr. Paul Daeninck, Shawna Castillo, and the entire team at the Victoria Hospital CancerCare for their support, attention, and care over the last year and a half.
Donations in Barbara's honour can be directed to the Barbara Levy Scholarship Fund at the Jewish Foundation of Manitoba.