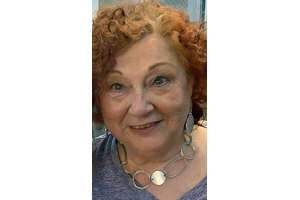 Merle Rochelle Garfinkel (née Vinsky) passed away peacefully and surrounded by family on Friday, August 26th, 2022, after a brief but difficult battle with lung cancer.
Pre-deceased by her parents Arthur and Betty Vinsky, sister Molly (Clarice) Pitsch and niece Betty Sucharov, Merle is survived by her loving husband of 52 years, Marvin, her children Ara (Jeff Morris), Jeffrey (Dana) and Sadira (Nick Chuback), her grandchildren Harlan, Emma, Kenzie, Edward and Margot, brothers-in-law Paul (Barbara) and Barry (Lili) and her nieces and nephews.
Born July 23, 1947, Merle grew up in Winnipeg's North End, attending Peretz, Champlain and Machray schools, then St. John's and Tec Voc high schools, where she completed her vocational training as a stenographer. After losing both of her parents at a young age, Merle learned the importance of independence and hard work early on, values she passed on to all three of her children. She was very close with her sister Clarice, who we lost too young.
Merle was known for her easy smile and quick wit and her love of music, dancing and socializing in general meant she was always the life of the party. Whether it was in school, at work, in Palm Springs or playing bridge or mah-jong, Merle made friends easily and for life. In fact, in many cases Merle could count the duration of her closest friendships in decades rather than years, and in some cases, lifetimes.
Family was always the most important thing in Merle's life. Marrying Marvin at the age of 22, they built a true partnership based on love, trust, and patience. Together, they built the family she had always dreamed of, including their three children, their sons and daughter-in-law, and their five grandchildren, whom Merle always showered with love and affection. A perennial presence at her kids' and grandkids' sporting events and dance performances, Merle was known for her exuberant shouts of encouragement, and the occasional jeer at referees.
Whether in celebrating major family occasions, or at casual get-togethers or visits, Merle took great joy and pride in being surrounded by her loved ones, and her presence will be sorely missed by the many who loved her.
Merle's funeral was held at Shaarey Zedek cemetery on August 28th, 2022. Pallbearers were Jeff Morris, Harlan Morris, Al Benarroch, Martin Kluner, Regan Katz and Steven Offman. Honourary pallbearers were Paul Garfinkel, Barry Garfinkel, Jack Offman, David Katz, Barry Hyman and Nick Chuback. In lieu of flowers, the family asks that you make a donation to the charitable organization of your choice in memory of Merle.