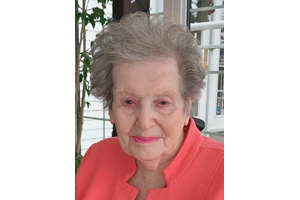 Ruth Gloria Matas, born January 8, 1925, Winnipeg, MB, peacefully passed away at the Saul and Claribel Simkin Centre on the morning of November 30, 2020.
Ruth, or Ruthie, as she was fondly called, was predeceased by her parents, Fanny and Sam Churchill and her younger brother Gordon. Her husband, Roy Matas, predeceased her in 1986, and she cherished his beloved memory for the rest of her life. Ruth is survived by her children: Susan (Robert), Carol (Per), and John (Stephanie); grandchildren, Rebecca (Loc), Michael (Savitri), Mark (Theo), Sam (Bonnie), Jesse (Addie), Eli (Jordan); great-grandchildren, Zevi, Naomi, Judah, Ezra, Maya, Elijah, Kai, Alyssa, Theodore, Meira, Ethan, Emanuele and many nieces, nephews, and cousins.
Ruth attended St. John's High School and then, University of Manitoba where she earned a degree in English Literature. She married Roy in 1946. They raised their family on Cordova Street in River Heights. She and Roy never missed a hockey game or a dance recital and she happily drove her children and all of their friends to their many activities. Ruth was an active volunteer and was especially dedicated to the Royal Winnipeg Ballet, the Liberal Party of Canada, and the Technion in Israel. She was the ultimate hostess, happiest with family and friends gathered around in their Cordova and then their Bower Blvd homes. She loved, in no special order: strong coffee, The Liberal Party, watching hockey and curling, politics, C-PAC, Question Period, Sunday New York Times, Louis Armstrong, Broadway shows, exercising at the Rady JCC (which she did three times a week until she reached 90), Israel, travel, fresh squeezed orange juice, baking, ballet, the cottage at Falcon Lake, entertaining, but most of all her family. She had the knack of making everyone feel special and loved, and she had a special place in her heart for every single grandchild and great-grandchild.
The family would like to thank the Simkin Centre, especially the staff of Weinberg 1; her companions, Marian and Maria; Rabbi Matthew Leibl and the staff of the Shaarey Zedek Synagogue, Chesed Shel Emes and the volunteer pallbearers. Donations in her honour can be made to The Royal Winnipeg Ballet www.rwb.org, The Technion, www.technioncanada.org, the Jewish Federation of Winnipeg www.jewishwinnipeg.org. or the Simkin Centre at www.simkincentre.ca.