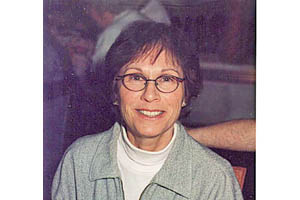 With deep sorrow, the family of Sharon Melnicer announces her passing on September 29 at age 76.
Sharon was an extraordinary woman – highly intelligent, outstanding educator, successful writer and artist. She was a devoted wife, mother and Baba. Her husband Ralph for 50 years, daughter Joanna McMaster, son-in-law Jason McMaster, and beloved grandchildren Kaden and Mira McMaster, will sadly miss her incredible sense of humor, sage advice, uncompromising sense of loyalty, and strong personality.
She will also be sadly missed by sister-in-law Brenda Gibson and Auntie Frances Kogan, as well as numerous cousins.
Sharon was laid to rest at Rosh Pina Memorial Park on Sunday, October 3, 2021. Cantor Tracy provided a beautiful religious and stirring message. The pallbearers were: Alan Schweid, Sandy Hyman, Marc Gibson, Don Gibson, Jason McMaster and Kaden McMaster. Honorary pallbearers were: Allan and Hester Peters, Murray Hyman, and Barry and Nancy Corey. Shiva was private.