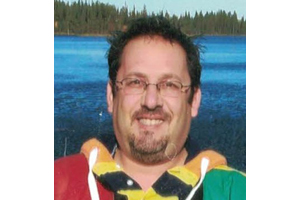 With broken hearts we announce the passing of our beloved son, brother, father, uncle and friend Sheldon Fink, on March 9th at the age of 57.
Sheldon is survived by his daughter Priya, parents Rachel and Solomon and siblings Percy (Ellie), Shayla (Kinzey) and Sharon (Darcy). His nephews and nieces Ariel (Hillary), Milan, Avi (Illana), Jared, Carli, Samantha and Cassie (Yonah) and extended family.
From a very young age, Sheldon exhibited a variety of talents that have touched many and left a lasting memory. His playful childlike humour entertained us and made us smile and laugh whether we needed it or not. Sheldon was a gifted musician, composer, author and actor. He was the youngest member with his siblings when they performed on radio and in live performances. Blessed with the ability to play anything by ear, he could sit down at the piano and bring joy to young and old at any given moment. One of the musical highlights of his life, was playing with Neil Young at the old Blue Note on Main Street.
Sheldon was a kindergarten teacher at Brock-Corydon School and parents always requested that their child be in his class. His easy rapport with the children has left them with warm memories and a foundation for their lives.
Armed with a Masters in counselling, Sheldon was able to share and foster healing for students in schools in various Manitoba's Northern communities. He organized a girl's choir in one community that brought strength and inclusivity to the students. It brought the school to life and life to those students.
Sheldon had his life challenges, but always found a beacon of light and hope through himself, friends and family to help carry him through the hard times. He had a deep spiritual side and he received solace and strength from his Judaism. He conducted the mitzvah of laying Teffilin, which brought him joy and purpose.
Sheldon felt so much comfort and love in his relationship with his daughter Priya. Her decision to become a musician gave him great pride, but more importantly he appreciated the wonderful, kind, sensitive and caring person she has become.
The family wishes to especially thank Sheldon's close friends Billy Boy, Andrea and Peter. His close friend and confidante Rabbi Avrohom Altein and long-time friend Chris who never gave up on him. Also, his cousin Perry Rubenfeld for his lifelong support. The family is still hearing stories from his friends who tell us how they learned so much from Sheldon and how he literally saved some of their lives. They told us how he was able to speak to them in a way that connected to their souls. In Judaism, to save one life is equivalent to saving the world.
Deep appreciation also goes out to Rabbi Yosef Benarroch for officiating and to Al Benarroch, Hart Kaplan, Perry and David Rubenfeld and Bernie Midgie who helped carry Sheldon and to Sheppy Coodin, Fede Lopez Ficher and Michel Aziza for completing the Minyan.
Donations in Sheldon's name can be made to the Jewish Child and Family Service located at Suite C200 – 123 Doncaster, Winnipeg, MB. R3N 2B2.
We will love you forever Shelbo.