25 Jewish dishes to eat in NYC right now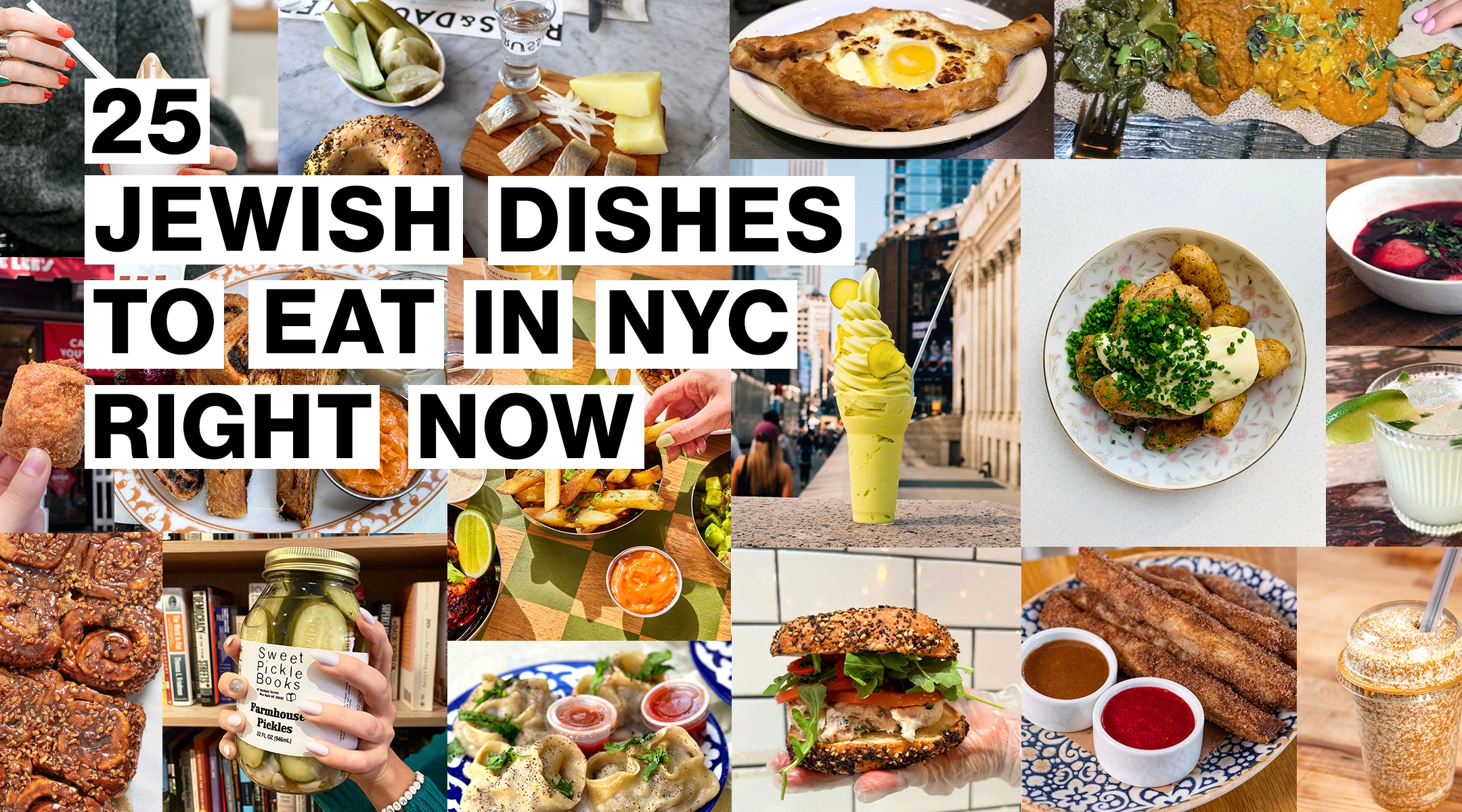 (New York Jewish Week) — In a metropolis like ours — with both an incredibly rich Jewish heritage and a dynamic, ever-changing dining scene — it is almost impossible to choose just 25 dishes that define what Jewish food in New York City is like today.
And yet, that's exactly what we tried to do with this list, created in partnership with our colleagues at The Nosher. Rather than present a "best of," we aim to paint a vibrant portrait of the city's Jewish food landscape, from classics like herring schmaltz and egg creams to new mashups like churros made from Yemenite malawach dough and bright-green vegan pickle-flavored soft serve. 
This compilation of standout Jewish dishes across the boroughs is meant to capture what Jewish food — and maybe even being Jewish — is like in New York City today: joyful, a little bit syncretic, sometimes messy and always a source of pride.
From kosher adjaruli khachapuri — a Georgian cheese bread boat — in Queens to a Wagyu pastrami sandwich in Brooklyn, keep reading for our list of 25 Jewish dishes to eat in NYC right now. 
Is your favorite Jewish dish not on our list? Let us know what we missed so that we may include it on a future list. Happy eating!
1 |
Adjaruli khachapuri
Ten years ago, one of the few places in New York City to get a Georgian cheese boat, or adjaruli khachapuri, was Marani, a two-level kosher Georgian restaurant in Rego Park, Queens. Today there are several more Georgian menus around town, but Marani remains the only kosher Georgian restaurant in the city. It's really two restaurants in one: Upstairs, you'll find a full bar and a meat menu with items like khinkali (Georgian soup dumplings). But downstairs, the dairy portion of the restaurant, is where you'll find an Instagram-worthy cheese boat. Marani offers four varieties of khachapuri, but the classic boat-shaped adjaruli ($16), topped with raw egg and butter, is what cheesy carb dreams are made of. (Kosher) — Shannon Sarna
2 | Cheddar jalapeno knish
Yonah Schimmel's started as a Coney Island pushcart in 1890, and their Lower East Side storefront at 137 East Houston St. has been in business since 1910. Inside, the original counter still stands, and their knishes — essentially potato-filled Ashkenazi pastries — have been made the same way since then, too. Alongside the traditional potato, Yonah Schimmel's has a host of knish flavors on the daily, from savory kasha and broccoli to sweet apple strudel and chocolate cheese, plus rotating daily specials. On the afternoon of our visit, we were lucky enough to try the cheddar jalapeno knish ($5.50) — a thick, almost mashed potato-filled pastry with a cheesy, mildly spicy kick. This one is definitely not your bubbe's knish. (Kosher) — Lily Lester
3 | Chocolate rugelach
If you're looking to meet a legend and taste legendary rugelach, we've got you covered: Alvin Lee Smalls, better known as "Lee Lee," has been making rugelach in his Harlem bakery for more than 50 years. His mission has been to introduce rugelach to his uptown neighbors, as well to keep the craft of artisanal, handmade rugelach alive. Smalls, who is African American and not Jewish, started making the rolled cookies after seeing a recipe in the paper. After six months of tweaking, he perfected it. (His secret? Butter — and lots of it.) The soft, flaky, mouth-watering pastries come in three flavors: raspberry, apricot and, perhaps best of all, chocolate, which is especially memorable and gooey ($3 each). Sitting amid the homey, Southern kitchen-like decor at Lee Lee's Baked Goods with a fresh plate of rugelach is a cross-cultural dream — and I don't want to wake up. — Lily Lester
4 | Egg Cream
Egg creams — which famously involve neither eggs nor cream — are one of those iconic New York Jewish foods with with mysterious origins. Does the name derive from a mispronunciation of the Yiddish word "echt," meaning genuine? Or is it a riff off the phrase "Grade A milk"? No matter. If you are in search of the platonic ideal of a classic egg cream, head to Flatiron's S&P Lunch. There, the folks behind the newly revamped old-school lunch counter use "the same ingredients that everybody uses," as co-owner Eric Finkelstein told us us, adding, "the order of operations is very important." I'm not a scientist, so I can't tell you how or why S&P's combination of seltzer, milk and Fox's U-Bet syrup ($5) is so delicious — just trust me when I tell you that it is. — Lisa Keys
5 | Everything bagel with smoked whitefish salad
Upper West Side, Manhattan | Chelsea, Manhattan
Embracing a gluten-free diet doesn't mean your bagel-eating days are over. Thanks to the folks at kosher-certified Modern Bread and Bagel — which now boasts two locations in Manhattan — you can enjoy an everything bagel with whitefish salad ($13.95) that's so good, you likely will forget it's gluten-free. Don't just take our word for it: These bagels have been named among the best in the city in a massive bagel-tasting project. We especially appreciate that the whitefish salad isn't too salty, and that the pickled red onions add a welcome bite. (Kosher) — Shannon Sarna
6 | French fries with tehina ketchup
For two summers in a row, New Yorkers and tourists alike have clamored for a table at Chef Michael Solomonov's Tel Aviv-inspired eatery, Laser Wolf, located on the rooftop of Williamsburg's Hoxton Hotel. The main attractions here are the skewers — meat, fish or vegetables — which are cooked on a charcoal grill and come with a bottomless and ever-changing selection of salatim, or Israeli salads. But the true revelation at Laser Wolf may be the french fries, which are a far cry from simple fried sticks of potatoes. These special spuds are brined, steamed, frozen and finally deep fried, creating the crispiest exterior and a super creamy interior. Each order ($14) is served with tehina ketchup. So what if the only reservation you can snag is at 10 p.m. on a weeknight? These fries are worth it. — Shannon Sarna
7 | Hummus masabaha with sauteed chicken liver
The punnily named Brooklyn eatery Miss Ada — a play on the Hebrew word for restaurant, "misada" — is located just one block from Fort Greene Park. Inside the airy space, which has a charming backyard and an open kitchen decorated with fresh herbs, chef/owner Tomer Blechman offers his elevated take on traditional Israeli and Middle Eastern dishes. There's no wrong dish to order, though the most comforting item on the dinner menu may be the creamy hummus masabaha with sauteed chicken liver — fresh hummus topped with warm chicken livers and caramelized onions ($15). You can "wipe" the delicious combo with fresh pita like an expert or eat it daintily with a knife and fork (well, as daintily as you can eat hummus). If you're a chopped liver fan, this is one dish you won't want to pass up on. As a bonus, a stroll through Fort Greene Park makes a great aperitif. — Lior Zaltzman
8 | Iced café slushie
On my first trip to Israel I fell in love with "ice café." Not to be confused with a cold cup of coffee with ice cubes, Israeli ice café is essentially a coffee milkshake that's delicious and refreshing in any season, but especially the scorching summer. Here in New York, Edith's Sandwich Counter — a tiny Williamsburg spot that celebrates Jewish food from around the world — has made this treat even better. Edith's iced café ($8.25) — a slushie made of cold brew, oat milk and tahini — is a delicious vegan concoction that's both less sweet than a milkshake but creamier. What's more, Edith's offers a punch card to earn a free iced café slushie after your 10th purchase — which won't be a difficult feat. — Julia Gergely
9 | Jachnun
Soho, Manhattan| Williamsburg, Brooklyn
Jachnun is a hand-rolled Yemenite pastry that, while ubiquitous in Israel, is surprisingly hard to find in New York. But at 12 Chairs Cafe, an Israeli restaurant with locations in Soho and Williamsburg, you can get your fill: As part of their weekend brunch menu, you can order jachnun ($14), which is cooked slow and low overnight with a touch of date honey, resulting in a flaky, chewy and sweet pastry that melts in your mouth. The jachnun is served rolled up with traditional savory sides of zhug (a Yemenite spicy sauce), hard-boiled eggs and crushed tomatoes. The delectable treat might transport you to faraway lands, but be sure to take in the vibes right where you are: On the weekends, 12 Chairs is an especially lively spot where Israeli pop music is blasted through the speakers.  — Julia Gergely
10 | Kafe Hawaij sticky bun
At Brooklyn's Fan-Fan Doughnuts, James Beard-nominated Chef Fany Gerson makes decadent fried dough treats with juicy, oozing toppings and fillings. Gerson marries her Mexican and Jewish roots in her creations, which include guava and cheese doughnuts and, for Hanukkah, wonderfully comforting sufganiyot. Amid all these bright and inventive offerings are her sticky buns, a rolled pastry ($5.50) made with New York Shuk's Kafe Hawaij, a transporting Israeli-Yemeni spiced coffee mix. Come early, prepare to stand in line and perhaps bring some extra napkins and wipes — because Fan-Fan is an immersive and sometimes sticky experience. — Lior Zaltzman
11 | Malawach churros

Chef Einat Admony's Israeli dishes have been a staple of the NYC food scene since 2005, when Admony first opened Taim, a fast-service restaurant specializing in falafel. Since then, Admony has opened (and closed) several restaurants, including Kish Kash, Bar Bolonat and her second iteration of Balaboosta, a modern Israeli restaurant now located in the West Village, named for the Yiddish term for "perfect housewife." Balaboosta is known for dishes like fried olives with labne and cauliflower with peanut tahini, but if you're craving an extra-special sweet treat, save room for the malawach churros ($13). A riff on the popular Spanish/Portuguese treat, Admony's churros are made of malawach — a flaky Yemenite flatbread that is popular throughout Israel. They are deep-fried, coated in cinnamon sugar and served with a mixed berry sauce and dulce de leche. — Shannon Sarna
12 | Manti

Step off the subway in Rego Park, Queens and you'll be surrounded by the melodious sounds of Russian, Spanish, Korean, Polish and more. This diverse neighborhood is also home to the largest Bukharian Jewish community outside of Israel; walk a few blocks east on 63rd Drive and you will have your choice of kosher restaurants that specialize in this Central Asian cuisine. Our pick of the bunch is Chaikhana Sem Sorok, a glatt kosher eatery featuring traditional Uzbeki and Bukharian cuisine, including some shlep-worthy manti dumplings topped with a hefty sprinkle of black pepper ($12 for four large dumplings the size of a child's fist). The subway ride will feel worth it when you bite into the fatty meat surrounded by a delicate wrapping, but be sure to explore the rest of the menu, too, including the spiced lagman soup with noodles and hunks of meat; savory samsa pastries filled with beef, lamb or pumpkin; plus traditional tandoor bread to sop it all up. (Kosher) — Shannon Sarna
13 | Meat kubeh with beet broth

The menu at Kubeh, which is dedicated to "lesser-known cuisines of the Middle East," features seasonal salads, shareable plates and well-balanced cocktails. But what you really want to order is their namesake dish: kubeh, Iraqi-Kurdish stuffed dumplings served with your choice of broth. We recommend the traditional Kurdish siske kubeh, which are filled with slow-cooked beef. Pair them with selek, a rich beet and celery broth ($21). Before opening her restaurants, Long Island native Chef Melanie Shurka traveled to Israel and spent weeks with Iraqi grandmothers and renowned chefs learning how to carefully craft this regional dish. Now, New Yorkers get to enjoy the fruits of her labor: At Kubeh, they hand roll each dumpling they serve, carrying on this delicious, sacred tradition of comfort food. — Shannon Sarna
14 | Mercato Platter

Crown Heights, Brooklyn | Chelsea, Manhattan
Ras Plant Based, a happening, colorful spot on Franklin Avenue in Crown Heights, serves up tasty vegan Ethiopian cuisine. Though its owners, Milka and Romeo Regalli, aren't Jewish, they decided to pursue kosher certification after a local rabbi offered to help them do it. "It was an easy decision to make," Milka tells us. "We wanted to be able to open our space to everyone in the community." The Mercato Platter ($21) is a must-try sampler of the eatery's "spicier" dishes, including yakatilt — a medley of carrots, onions, cabbage and bell pepper; gomen, or braised collards; and missir, a red lentil stew with berbere sauce. The colorful spread arrives on a bed of spongy injera that melts in your mouth. With several rolled-up pieces of injera on the side, the platter is a fun meal to share with a friend. (Kosher) — Julia Gergely
15 | New York-style cheesecake

Up in the northern reaches of the Bronx, an unassuming storefront has been producing delectable cheesecakes every day for more than 60 years. Many consider S&S Cheesecake to be the best in a city known for its cheesecakes. The business was founded by Holocaust survivor Fred Schuster in 1960 and little has changed since then, including the recipe: The rich, creamy cheesecake is dense, flavorful and not too sweet with a soft, crumbly bottom. "The secret is to bake with love and serve with pride and passion," says Yair Ben-Zaken, Schuster's son-in-law, who operates the bakery today. The cakes are certified kosher and prices start at $20 for a 7-inch cake. (Kosher) — Julia Gergely
16 | Onion disc

Lower East Side, Manhattan | Hudson Yards, Manhattan | Upper East Side, Manhattan
Kossar's Bagels and Bialys is world-famous for its bialys, with good reason: They've been baking the crusty rolls, with a center filled with toasted onion, on the Lower East Side since 1936. Buying a bialy (or a dozen) from Kossar's is never the wrong move, though savvy New Yorkers know to arrive early or pre-order a large onion disc, also known as pletzl. This giant wheel of a carbohydrate, topped with caramelized onions and poppy seeds, is an incredible value at $6.95. Grab some cream cheese on your way out the door and you've got a hearty snack for the whole family. — Lisa Keys
17 | Pickle soft serve

Moynihan Train Hall, Manhattan
"Are you sure you want to do this?" asked the person behind the counter at Jacob's Pickles when we ordered the pickle soft serve ($5). The correct answer: Yes, yes you do. The vegan, oat-milk-based pickle-flavored soft serve, topped with pickle slices, tastes like cucumber sorbet and is the refreshing treat you didn't know you needed. Be warned: The portion size is enormous, so whether you're looking for a palate cleanser or a revitalizing midday snack, sharing this frozen treat is an excellent group activity for anyone but the faintest of hearts. — Lily Lester
18 | Pickles (with a side of books)

Ever sit down with a good pickle and wished you had a book to enjoy with it? Or vice versa? Well, both come hand-in-hand at Sweet Pickle Books — a one-of-a-kind used bookstore that also sells its own line of pickles. Located on Orchard Street near the Lower East Side's historic "pickle alley," owner Leah Altshuler came up with the idea for her hybrid shop at the beginning of the pandemic and it's still thriving today. Drop by the cozy space, which is filled with love-worn paperbacks that hover below the $10 mark, and either swap your book donations for a jar of bread-and-butter, spicy or dill pickles — or simply buy a jar the old-fashioned way ($9.50-$12.95). — Isabella Armus
19 | Schmaltz & a Shot

When people think of Russ & Daughters, their first thought is usually smoked fish, and rightly so: The family-owned appetizing business has been specializing in the stuff since they opened in 1914. But at Russ & Daughters Cafe on Orchard Street, a sit-down restaurant around the corner from the original Russ & Daughters location, a herring dish, Schmaltz & a Shot ($17), draws upon the legacy of the eatery's Jewish founder: Back in the day, Joel Russ would sit at a small table at his Houston Street shop where he'd kibbitz with friends and customers over schmaltz herring (extra-fatty herring) and schnapps. Today, the nostalgic plate of herring, raw onion and boiled potato hearkens back to this intimate, old-school vibe — while the bracing shot of vodka brings you right back to the present. — Lily Lester
20 | Schmaltz potatoes

Ashkenazi influences are peppered throughout the menu at Agi's Counter, a charming neighborhood restaurant in Crown Heights that's owned and operated by Chef Jeremy Salamon. The wine list is composed of exclusively Hungarian wines — a nod to Salamon's heritage — and if you're a fan of strong Eastern European flavors like caraway seeds, beets and trout, this is the spot for you. But perhaps the best reason for Jewish food lovers to come to Agi's Counter is for the schmaltz potatoes, which are prepared confit-style in chicken fat and served with a healthy dollop of schmaltz aioli and lots of fresh chives. It comes as a side dish for $13, but it shines like the main attraction. — Shannon Sarna
21 | Seder Plate Margarita

The Passover seder plate is rife with symbolism: bitter herbs represent the bitterness of slavery; saltwater represents the tears of our ancestors; and, in recent years, an orange has come to represent women and LGBTQ+ Jews, whose stories aren't often told. For those who love the ceremony of the seder, you can now seek it out year-round: Gertrude's, a newish Jewish bistro from the folks behind popular Williamsburg diner Gertie, has a Seder Plate Margarita ($15) on their imaginative cocktail menu. The drink combines some of these Passover flavors — bitter orange, parsley and salt water, plus lime and mezcal — for a unique, refreshing beverage that pairs well with dishes designed to "push the Ashkenazi tradition," as co-owner Nate Adler says. Four cups of wine not included. — Lana Schwartz
22 | Seoul Meets Bagel sandwich

Walk into Between the Bagel on Astoria's busy 30th Avenue corridor and you'll spot a typical Jewish-American bagel menu of eggs, schmears and sandwiches. You'll also notice, perhaps incongruously, a menu of Korean classics like yachaejeon (Korean vegetable pancakes) and dumplings. The true standouts at this spot are the mashups of of the two cuisines, particularly the popular Seoul Meets Bagel — a bagel topped with beef bulgogi (marinated and grilled beef), egg, cheese, kimchi and gochujang mayo ($10.83, tax included). This spicy, hearty sandwich will keep you full for hours. The friendly owner, Ben Suh, who describes the neighborhood as "a smorgasbord of culture," has become a local legend: Not just popular for his culinary creations, Suh is known to give candy and samples to his customers, and treats for their dogs. — Lisa Keys
23 | Tahini soft serve sundae

At their stall in Manhattan's Chelsea Market, Seed & Mill — a New York-based company known for its high-quality tahini and halva — serves a oat-milk-based soft serve that may forever change your mind about vegan desserts. Their satisfying tahini soft serve sundae ($8) is topped with crumbled halva and a drizzle of tahini, resulting in a creamy, salty concoction with just the right amount of contrasting crunch. While you're there, grab a piece of their rich dark chocolate halva to go. — Shannon Sarna
24 | Thai Tea Babka French Toast

A Thai restaurant might be an unorthodox place to grab babka, but then again the Thai Tea Babka French Toast ($15) at Nolita's happening Thai Diner is unorthodox in its own right. Only available during brunch and lunch, the dish features thick pillows of homemade babka, swirled with vanilla and fragrant with thai tea. A bright orange Thai-tea-flavored crema and a tiny pitcher of sweetened condensed milk allows customers to intensify the dish's distinctive blend of rich spices and sweet milkiness. Thai Diner's pandan-flavored green-and-white cookie offers another Southeast Asian twist on a Jewish deli classic, black-and-white cookies, but the French toast has been a signature dish since the restaurant opened in 2020 for good reason. — Philissa Cramer
25 | Wagyu Pastrami Sando

Since opening in South Williamsburg in 2013, Shalom Japan has been making waves online and IRL. The restaurant is owned by husband-and-wife team Aaron Israel and Sawako Okochi, who draw upon their respective Jewish and Japanese roots. You've probably seen, or even tried, their iconic matzah ball ramen, which combines two of the world's greatest comfort soups into a singular stellar dish. However, the star of the impressive menu may be their melt-in-your-mouth Wagyu Pastrami Sando ($22), which features house-cured pastrami simply dressed with Gulden's mustard and piled between pillowy slices of shokupan, Japanese milk bread. I don't give this title lightly: This sandwich is the softest thing I've ever eaten. — Isabella Armus
Is your favorite Jewish dish not on our list? Let us know what we missed so that we may include it on a future list!
—
The post 25 Jewish dishes to eat in NYC right now appeared first on Jewish Telegraphic Agency.
Jewish billionaire Henry Swieca quits Columbia Business School board, saying campus is 'unsafe' for Jews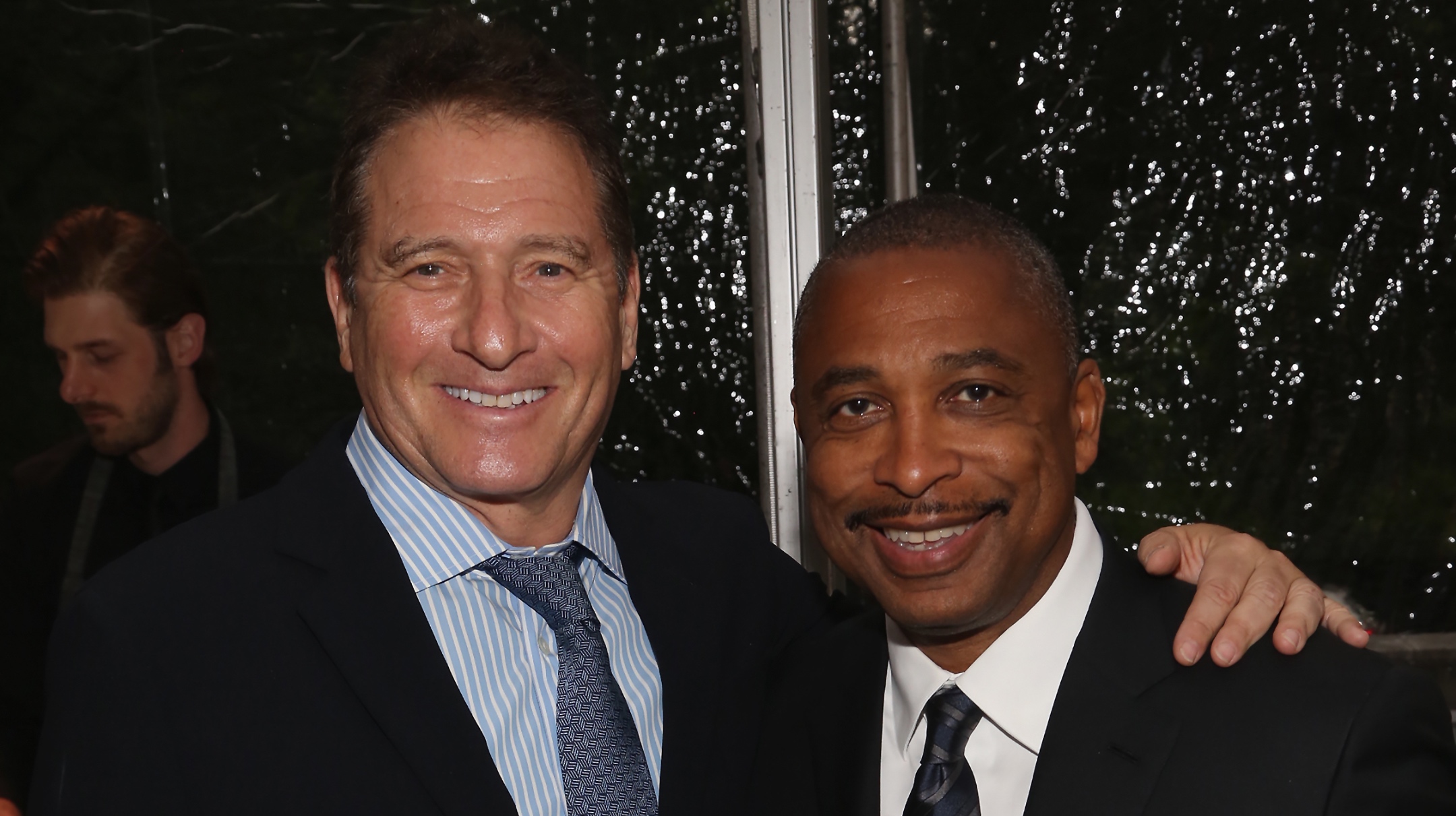 (JTA) — A Jewish billionaire investor and philanthropist quit the board of Columbia Business School, saying the campus had become unsafe for Jews since the launch of the Israel-Hamas war.
"With blatantly anti-Jewish student groups and professors allowed to operate with complete impunity, it sends a clear and distressing message that Jews are not just unwelcome, but also unsafe on campus," Henry Swieca said in an Oct. 30 letter obtained Tuesday by the Jewish Telegraphic Agency. "My resignation is an expression of my deep concern for the direction in which the university is heading." The Board of Overseers is the school's main fundraising arm.
Swieca, 66, is the founder in 2010 of Talpion Fund Management and the cofounder of Highbridge Capital Management, which was acquired by J.P. Morgan Chase in 2008. The child of Holocaust survivors, he has been a member of the business school's Board of Overseers since 2014. Forbes lists his worth as $1.9 billion.
His resignation, which he did not announce publicly, comes amid a flurry of protests by Jewish supporters of elite universities in response to the schools' handling of the Israel-Hamas war following Oct. 7, when Hamas attacked Israel. Prominent supporters of Harvard University and the University of Pennsylvania have announced that they will or might no longer support their alma maters because of the presidents' response to the war, and the private equity CEO Marc Rowan is reportedly trying to get others in the finance field to withhold donations over the issue.
In his letter, Swieca refers to a chant that has proliferated in anti-Israel protests since the launch of the war, "From the river to the sea," which is widely understood by its critics to call for a Palestinian state that supersedes Israel.
"Statements from the university are meaningless when pro-Hamas students march on campus calling for the complete destruction of Israel," he said. Defenders of the phrase say it his evolved since it was coined in the 1960s, when it represented longings for Israel's removal, to a call for a binational state.
The letter did not specify incidents. The Columbia campus has long been a hotbed of pro-Palestinian activism, and student groups there called immediately after the attack for the school to cut ties with a program in Tel Aviv. On Oct. 16, a 19-year-old allegedly assaulted a Columbia student who was putting up posters on campuses featuring hostages taken by Hamas during its attack. The campus was also briefly closed to the public because of unrest.
On Oct. 30, the day Swieca dated his letter, Jewish students at the New York City university held a press conference demanding more robust action to protect Jews. They noted that the university had not mentioned Hamas in its statements about the war.
The Jewish students cited as incidents of antisemitism the discovery of a swastika painted in a bathroom and listed other allegations, including that pro-Palestinian students carried signs saying "resistance is not terrorism" during an on-campus walkout and that, at Columbia's law school, a student said "F— the Jews" to a visibly Jewish student. They also said Jews were targeted with antisemitic tropes in group chats and demanded that Columbia specifically condemn Hamas which it had not done until then.
Swieca's bio page has disappeared from Columbia's Board of Overseers listing. In his letter, Swieca says he graduated in 1982, a date also listed in his official biographies. The university has identified him as a 1983 graduate.
Glenn Hubbard, in 2014 the dean of the school, said in a release then that he looked forward to working with Swieca. "Given his business knowledge and expertise, along with his familiarity with Columbia Business School, I am certain he will provide tremendous insight to our community. I look forward to working closely with him in the years ahead," Hubbard said.
Swieca said in the release that his education at the school was transformative. "Columbia Business School provided me with the foundational knowledge I needed to achieve professional success, and I have carried the lessons I learned in the classroom with me through all of my business ventures," he said.
Talpion's website says Swieca is the child of Holocaust survivors and grew up in the Washington Heights neighborhood in New York City. It lists a number of philanthropies it backs, including the American Israel Education Fund, an arm of the American Israel Public Affairs Committee, and Meor, a Jewish heritage study program. He runs a grant program that pays out $10,000 for programs that advance Jewish education and outreach. According to the Washington Post, Swieca also funded the expansion of an Israeli organization that aims to rebuild the ancient Jewish Temple in Jerusalem on the Temple Mount, a holy site for Muslims, an ambition that is widely understood as anti-Muslim.
Talpion's website says that "the name of the company derives from the Biblical word 'Talpiot', meaning a castle's turret, and is also the name of a highly elite intelligence unit of the IDF."
—
The post Jewish billionaire Henry Swieca quits Columbia Business School board, saying campus is 'unsafe' for Jews appeared first on Jewish Telegraphic Agency.
Education secretary: Colleges could face funding cuts if they don't address antisemitism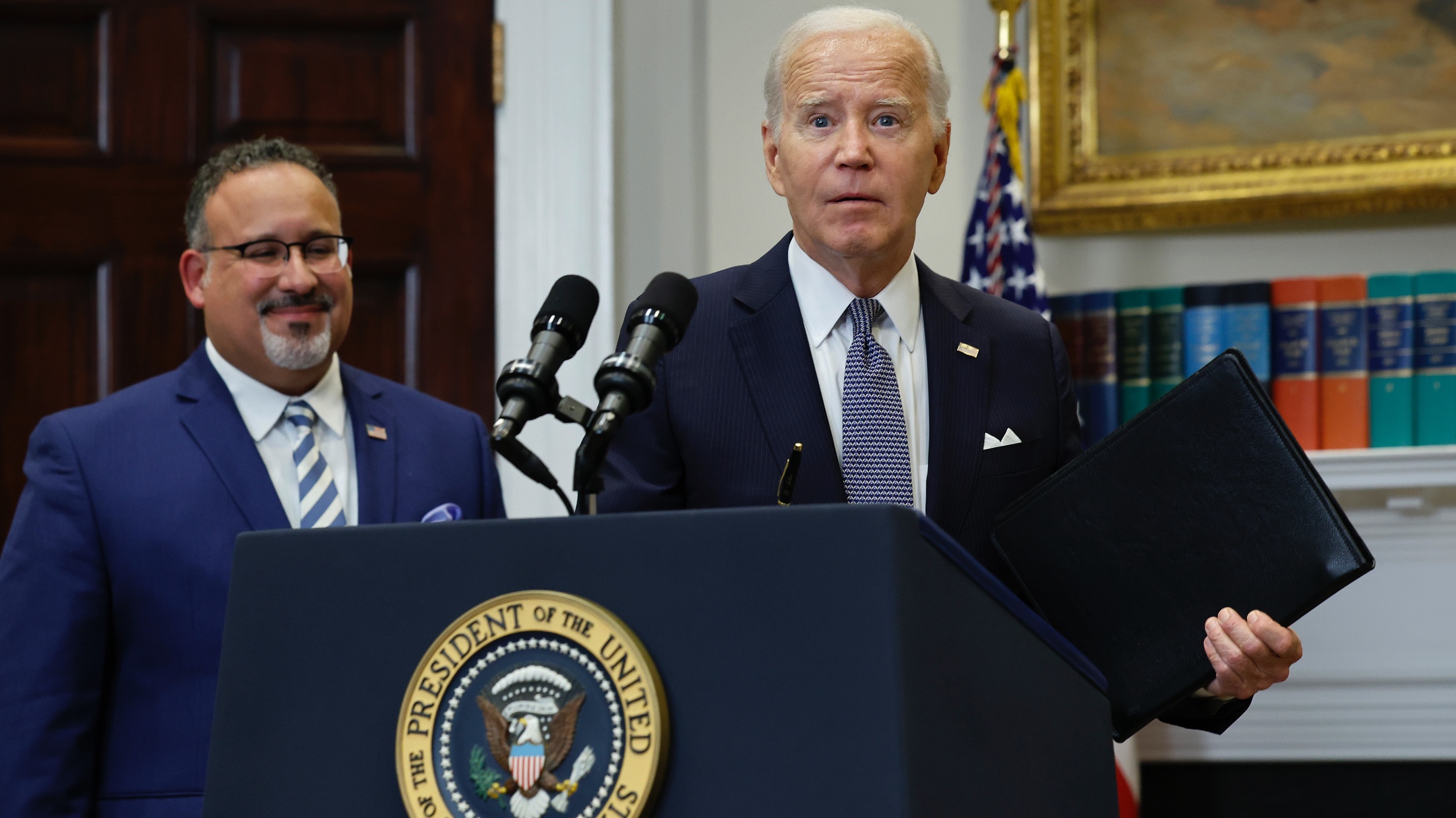 WASHINGTON (JTA) — Education Secretary Miguel Cardona said colleges could lose federal funding if they fail to address antisemitism and other bigotries, following up on a meeting last month with Jewish leaders alarmed by rising antisemitism on campuses in the wake of the Israel Hamas war.
Cardona made his warning in an interview on CNN on Monday ahead of the release the next day of a letter reminding federally funded schools of their obligation to protect Jews and other minorities.
"I would want to provide support for these universities, provide guidance. And if there are egregious acts, I want to make sure that we're investigating," he told the network. "Ultimately, if we have to withhold dollars from a campus refusing to comply, we would."
Cardona's comments do not represent a new policy, but they suggest that Cardona is prepared to be aggressive in pressing colleges to act. In a release on Tuesday formally announcing the letter, Cardona tied the letter's instructions to what Jewish organizations have said is a massive spike in antisemitism on campuses since Hamas terrorists struck Israel on Oct. 7, launching the war.
"The rise of reports of hate incidents on our college campuses in the wake of the Israel-Hamas conflict is deeply traumatic for students and should be alarming to all Americans. antisemitism, Islamophobia, and all other forms of hatred go against everything we stand for as a nation," he said.
The letter sent Tuesday to colleges that receive federal funds, signed by Catherine Lhamon, the department's assistant secretary for civil rights, describes in its first paragraph "an alarming rise in disturbing antisemitic incidents and threats to Jewish, Israeli, Muslim, Arab, and Palestinian students on college campuses and in P-12 schools."
In her second paragraph, Lhamon ties the money the schools get from the government to their legal obligations to protect minority students. Both public and private universities receive federal funds through a variety of pathways.
"I write to remind colleges, universities, and schools that receive federal financial assistance of their legal responsibility under Title VI of the Civil Rights Act of 1964 and its implementing regulations (Title VI) to provide all students a school environment free from discrimination based on race, color, or national origin, including shared ancestry or ethnic characteristics," Lhamon said in her letter. "It is your legal obligation under Title VI to address prohibited discrimination against students and others on your campus—including those who are or are perceived to be Jewish, Israeli, Muslim, Arab, or Palestinian — in the ways described in this letter."
In his Oct. 30 meeting with Jewish leaders, Cardona noted that the Biden Administration had already, prior to the Oct. 7 Hamas deadly attack on Israel, extended Civil Rights Act protections to religious minorities, including Jews and Muslims. He promised a two-week deadline to come up with a plan.
Jewish leaders at that meeting noted that the federal government in recent years has expanded Title IX of the same act, which bans gender discrimination, to allow for funding to be withheld from universities that do not address sexual harassment and assault. They suggested that the department could apply similar measures to Title VI as an incentive for compliance.
Sen. Jacky Rosen, a Jewish Democrat from Nevada, last week had sent a letter urging the Education Department to issue "updated guidance to college and university administrators making clear the consequences of failing to ensure the safety of Jewish students," among other measures.
Rosen, who cofounded an antisemitism task force in the Senate, welcomed Cardona's letter issued Tuesday. "I'm glad to see the U.S. Department of Education is taking action at my urging to remind school administrators of their legal responsibility to keep students safe from antisemitism and other forms of discrimination – or face consequences," she said. "I'm continuing to urge the department to form a task force to counter campus antisemitism."
—
The post Education secretary: Colleges could face funding cuts if they don't address antisemitism appeared first on Jewish Telegraphic Agency.
In a rare move, the US House of Representatives censures Rashida Tlaib for Israel remarks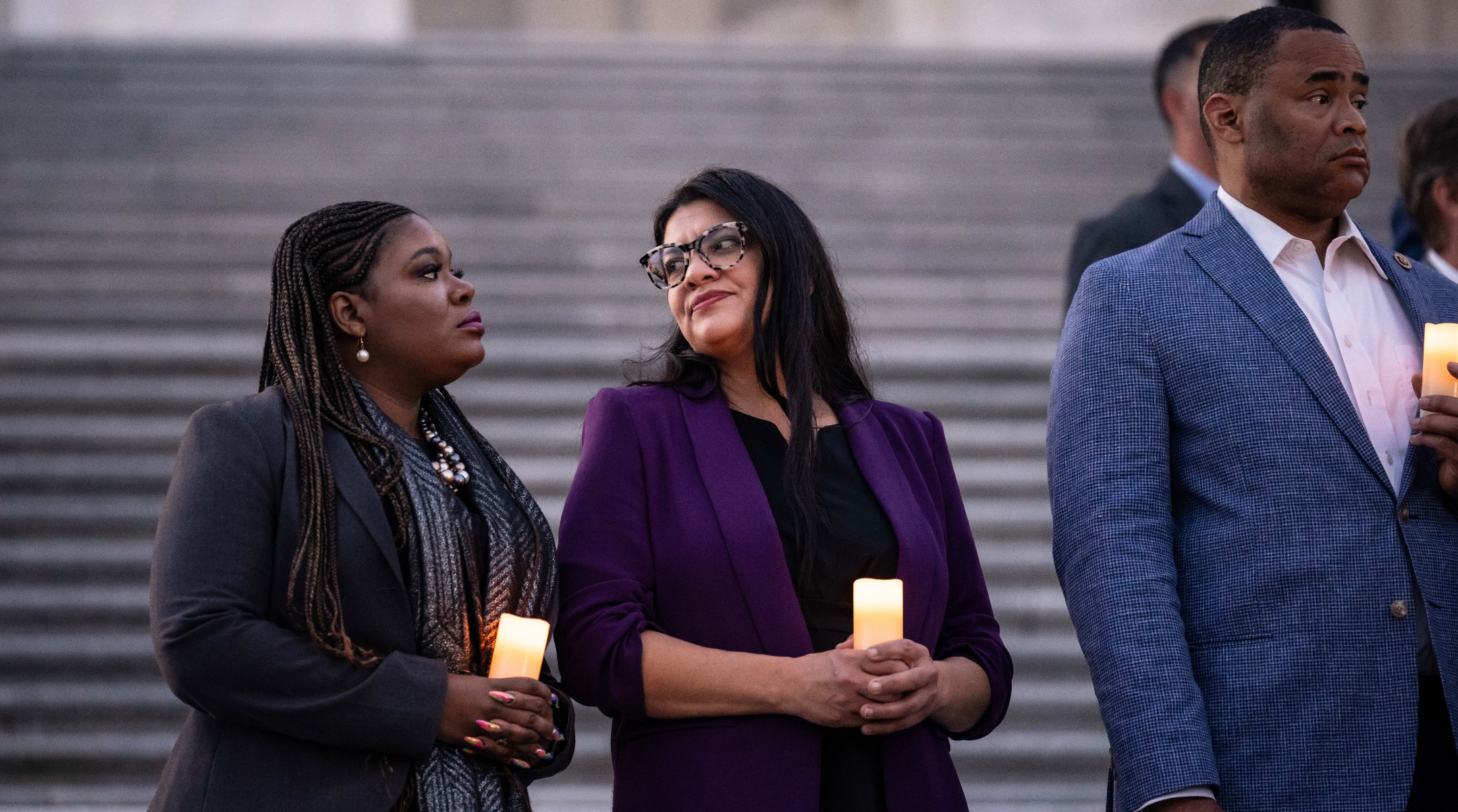 WASHINGTON (JTA) — The U.S. House of Representatives censured Michigan Rep. Rashida Tlaib, the Palestinian American Democrat, for her rhetoric in the wake of Hamas' Oct. 7 invasion of Israel, including using the term "from the river to the sea."
The 234-188 vote late Tuesday night saw 22 Democrats vote to censure Tlaib, and was sure to sharpen divides among Democrats over Israel's war with Hamas in Gaza. Some Democrats vehemently defended Tlaib's right to free speech and others said the "From the river to the sea" term signifies the elimination of Israel. The vote was largely on party lines, reflecting the Republican majority, though four Republicans voted against censuring Tlaib.
Tlaib said she would not be intimidated by the censure vote, which will require her to stand in the well of the House chamber and listen to  House Speaker Mike Johnson explain why she is being censured. "I will not be silenced and I will not let you distort my words," she said.
The censure resolution was initiated by Rep. Rich McCormick, a Georgia Republican, and focused on statements by Tlaib since Hamas launched the war. It noted that Tlaib used the phrase on "from the river to the sea" Nov. 3 on social media and argued that "it is widely recognized as a genocidal call to violence to destroy the state of Israel and its people to replace it with a Palestinian state extending from the Jordan River to the Mediterranean Sea."
Tlaib in her Nov. 3 post on X, the platform formerly known as Twitter, said she used the phrase to describe a democratic outcome for all in that region. "From the river to the sea is an aspirational call for freedom, human rights, and peaceful coexistence, not death, destruction, or hate," she said. "My work and advocacy is always centered in justice and dignity for all people no matter faith or ethnicity."
A number of Jewish Democrats decried the use of the phrase, but said limiting her speech set a dangerous precedent.
"As I have repeatedly made clear, I disagree vehemently with the comments made by Rep. Tlaib and condone no rhetoric that rejects the Jewish people's right to self determination," said Rep. Jerry Nadler, a New York Democrat who is the dean of the House's unofficial Jewish caucus. "I also defend the freedom of speech that each and every American is granted by our Constitution, even when I find that speech to be reprehensible, as I do in this case."
Other Jewish Democrats said Tlaib's offenses were serious enough to merit censure, which most recently was used on California Rep. Adam Schiff, a Jewish Democrat targeted by republicans for his work investigating former President Donald Trump.
"I recognize this censure resolution is not a perfect resolution in its language or form, but unfortunately it is the only vehicle available to formally rebuke the dangerous disinformation and aspersions that Rep. Tlaib continues to use and defend," said a statement from Illinois Rep. Brad Schneider, who, like McCormick's resolution, also cited the weeks during which Tlaib promoted a claim that Israel was responsible for hitting a hospital early in the conflict. A range of reporting and intelligence assessments determined the hospital was hit by a misfired Palestinian rocket. "I feel that I have no other recourse but to vote to censure her."
Other Jewish Democrats joining Schneider in censuring Tlaib include Rep. Kathy Manning of North Carolina, Reps. Debbie Wasserman Schultz, Lois Frankel and Jared Moskowitz of Florida, Rep. Josh Gottheimer of New Jersey, Rep. Daniel Goldman of New York , Rep. Greg Landsman of Ohio, Rep. Kim Schrier of Washington and Rep. Steve Cohen of Tennessee.
At one point Tlaib grew emotional. She was surrounded by progressives associated with the "Squad," a group of representatives known in part for harshly criticizing Israel. Rep. Ilhan Omar, a Minnesota Democrat, put her hand atop hers. "Palestinian people are not disposable, we are human beings like anyone else," Tlaib said.
Tlaib is leading an effort to get Congress to urge President Joe Biden to pressure Israel into a ceasefire, something that Biden and Israel reject. Israel is determined to keep fighting until Hamas returns the more than 200 hostages it abducted into the Gaza Strip, and until the terror group is dismantled.
"Trying to bully or censor me won't work because this movement to a ceasefire is bigger than one person," she said.
Tensions over the ceasefire and how best to deal with the war are roiling Democrats. Earlier in the day, Rep. Hakeem Jeffries, a New York Democrat who is the minority leader, did not recommend a vote either way, but said the "River' phrase was unacceptable discourse. "Echoing slogans that are widely understood as calling for the complete destruction of Israel — such as from the River to the Sea — does not advance progress toward a two-state solution," he said. "Instead, it unacceptably risks further polarization, division and incitement to violence."
It was the second attempt to censure Tlaib since the war started; a resolution advanced by Rep. Marjorie Taylor Greene, another Georgia Republican, failed in part because it packed in condemnations of the prosecution of rioters who stormed the U.S. Capitol on Jan. 6, 2021, in a bid to overturn Biden's election.
Tlaib said that calling her antisemitic was a means of censoring her. "The idea that criticizing the government of Israel is antisemitic sets a very dangerous precedent," she said.
—
The post In a rare move, the US House of Representatives censures Rashida Tlaib for Israel remarks appeared first on Jewish Telegraphic Agency.