A kosher 'kind of Chinese' restaurant in New Jersey lands on NYT's 2023 list of eateries 'we're most excited about'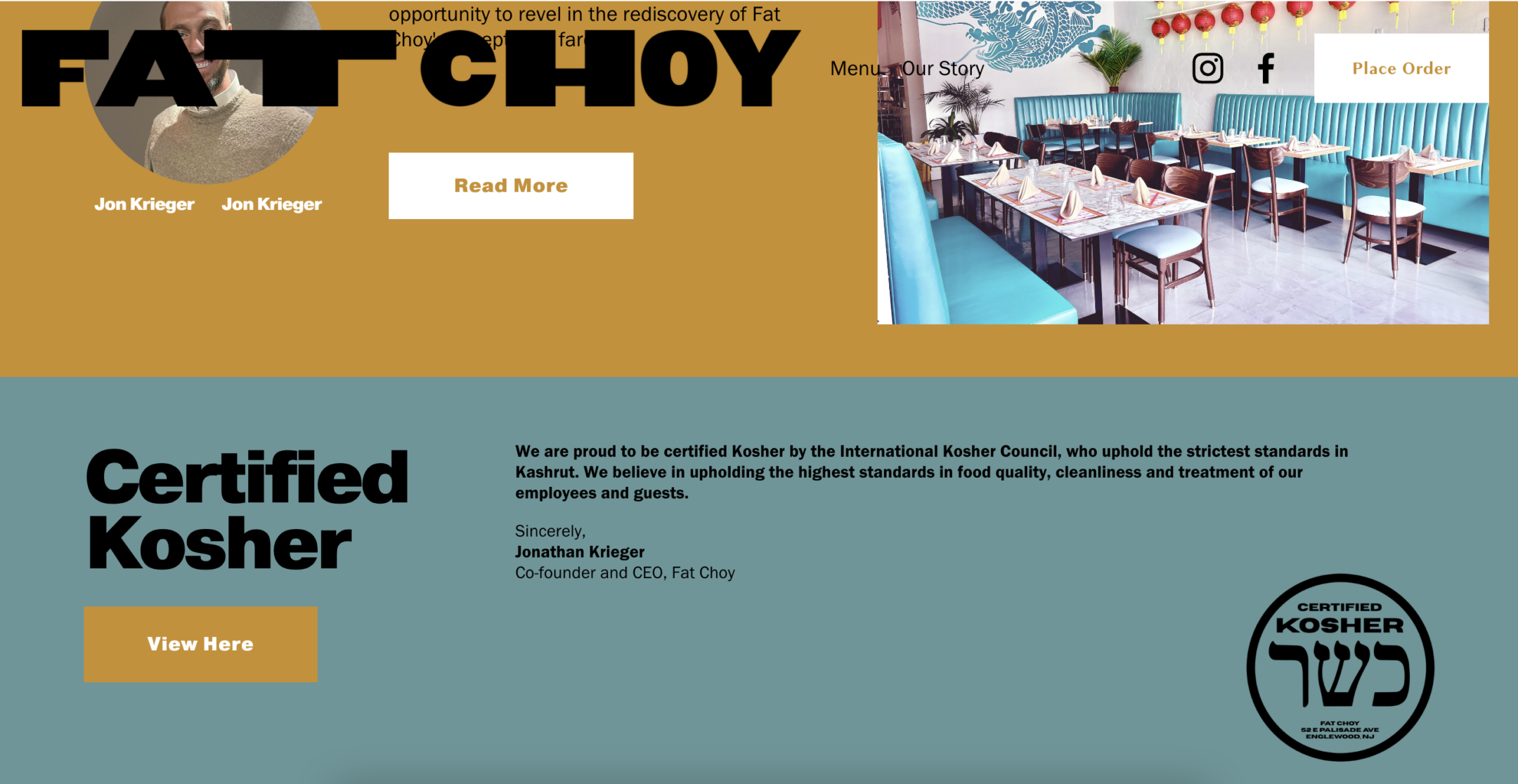 (JTA) — Fat Choy was a critic's pick for its flavorful, inventive vegan Chinese menu when it opened in Manhattan's East Village in 2021. But pandemic and inflation pressures forced its closure the following year, and its chef, Justin Lee, considered exiting the kitchen to become a teacher.
Now, Fat Choy has reopened in suburban New Jersey, with a Jewish partner and kosher certification. And this week, the restaurant landed on the New York Times' 2023 Restaurant List — the 50 restaurants across the United States that the newspaper's dining critics are "most excited about."
It's not the only vegetarian restaurant on the list: New York City's Superiority Burger, which recently reopened with a revamped menu, is also a pick. But Fat Choy stands out as the only eatery with kosher certification to win the distinction — though the newspaper didn't note that in its blurb.
"If we're lucky, the future might look something like Fat Choy," dining critic Pete Wells wrote, saying that the restaurant offers an antidote to the lab-grown meat that is seen as the vanguard for plant-based dining. He added. "Dishes such as Not Quite Beef and Broccoli, made with roasted mushrooms, and Mr. Lee's homage to General Tso, in which battered fried cauliflower takes the place of chicken, will make instant sense to anyone who's ever been to Panda Express."
Fat Choy's resurrection came after Jonathan Krieger, the Jewish cofounder of Australian cafe chain Bluestone Lane, convinced Lee to reopen in the bedroom community of Englewood. Krieger, who moved to the New Jersey suburbs during the pandemic, is Fat Choy's CEO. He has also opened a community space and spa in the area.
Named for a Cantonese new year's greeting and describing itself as "kind of Chinese, also vegan," Fat Choy displays a kosher insignia, in Hebrew, at the top of its website. It also includes a link to its certificate, which shows that its current status is guaranteed through the end of August 2024, except during Passover, along with a statement by Krieger.
"We are proud to be certified Kosher by the International Kosher Council, who uphold the strictest standards in Kashrut," the statement says. "We believe in upholding the highest standards in food quality, cleanliness and treatment of our employees and guests."
Operated by Rabbi Zev Schwarcz, the International Kosher Council specializes overseeing kosher regulations in vegan and vegetarian restaurants. Schwarcz, an Orthodox rabbi ordained at a haredi yeshiva in Ohio, has made himself the go-to certifier for such restaurants, which use very few potentially non-kosher ingredients, by offering lower-priced services, often to restaurants that aim to serve a diverse and not primarily Jewish clientele.
The agency has faced criticism from other certifying agencies for not requiring constant supervision by an in-person inspector and for working with restaurants that operate on Shabbat; some kosher-keeping diners do not eat in restaurants that it certifies.
Still, Fat Choy has generated some buzz among kosher-keeping diners, with multiple people posting in a prominent Facebook group, Great Kosher Restaurant Foodies, that they had enjoyed their meal at Fat Choy. "Had the General Lee's Cauliflower — it was delicious," a group member wrote in mid-August, shortly after the restaurant's opening. "Hit the spot."
Englewood, the city where Fat Choy has opened in a strip mall, is home to a significant Jewish community, as are several of its surrounding towns, including Teaneck. Residents can choose from a wide range of both synagogues and kosher eateries. Fat Choy's location had originally been advertised as the future home of Urban Shuk, a kosher food hall offering a range of cuisines from different vendors.
Landing on the New York Times' best-of list can be transformative for restaurants. After the newspaper placed Falafel Tanami in Brooklyn on its list of best meals in the city earlier this year, the family-owned kosher restaurant experienced a surge of customers, sold out of some of its signature products and began contemplating an expansion.
What's coming for Fat Choy? If Krieger's track record is any indication, more locations could be in the future: Bluestone Lane now has 50 sites across the United States, and he also previously ran a taco chain with eight locations. The restaurant itself was not available for comment: Its phone line was busy all day Tuesday.
It did post a note to its website about the New York Times accolade.
"Being ranked as the number 1 restaurant to try for New Jersey is a testament to our passion and commitment to reimagine what vegan can taste like and bring our flavor of Chinese delights to every plate," the restaurant said.
—
The post A kosher 'kind of Chinese' restaurant in New Jersey lands on NYT's 2023 list of eateries 'we're most excited about' appeared first on Jewish Telegraphic Agency.
Treasure Trove: How some sheet music in the Theresienstadt Ghetto became a symbol of hope
Protester Sets Self on Fire Outside Israeli Consulate in Atlanta
i24 News – A protester was in critical condition on Friday after setting themself on fire outside the Israeli consulate in Atlanta, Georgia, U.S. authorities said. A security guard who tried to intervene was also wounded.
A Palestinian flag found at the scene was part of the protest, Atlanta Police Chief Darin Schierbaum said at a news conference. He added that investigators did not believe there was any connection to terrorism and none of the consular staff was ever in danger.
JUST IN: A pro-Palestine protester is in critical condition after they set themselves on fire in "political protest" outside of the Israeli Consulate office in Atlanta.
The protester was reportedly draped in a Palestine flag.
The protester has severe burns and unfortunately, a… pic.twitter.com/B8nUQAj2nU
— Collin Rugg (@CollinRugg) December 1, 2023
"We do not see any threat here," he said. "We believe it was an act of extreme political protest that occurred." Everyone inside the consulate building was said to be safe.
Anat Sultan-Dadon, Consul General of Israel to the southeastern U.S., said: "We are saddened to learn of the self-immolation at the entrance to the office building. It is tragic to see the hate and incitement toward Israel expressed in such a horrific way."
"The sanctity of life is our highest value. Our prayers are with the security officer who was injured while trying to prevent this tragic act. We are grateful to the city of Atlanta's law enforcement and first responders for all they do to ensure safety."
The post Protester Sets Self on Fire Outside Israeli Consulate in Atlanta first appeared on Algemeiner.com.
Released Israeli Hostages Call for Captives to Be Freed
Israeli hostages released in the past week by Hamas in Gaza called on Saturday for the immediate release of fellow captives left behind, a day after a temporary truce that had allowed scores to come home broke down.
Tens of thousands gathered at a rally in Tel Aviv outside Israel's defense headquarters, where they cheered Yelena Trupanov, 50, standing on a stage just two days after being freed.
"I came to thank you because without you I wouldn't be here. Now we must bring back my (son) Sasha, and everyone. Now."
Similar pleas from other released hostages were shown on video.
A seven-day truce, during which Hamas had released more than 100 hostages, collapsed on Friday after Hamas breached the ceasefire.
Israel said on Saturday it had recalled a Mossad intelligence agency team from Qatar, host of indirect negotiations with Hamas, accusing the Palestinian faction of reneging on a deal that would have freed all children and women held hostage.
More than 240 people – Israelis and foreign nationals – were abducted to Gaza on Oct 7. by Hamas terrorists who burst through the border with Israel and killed 1,200 people.
The post Released Israeli Hostages Call for Captives to Be Freed first appeared on Algemeiner.com.