A torched bicycle shop, an arrested singer: Arab-Israelis face precarious landscape during Gaza war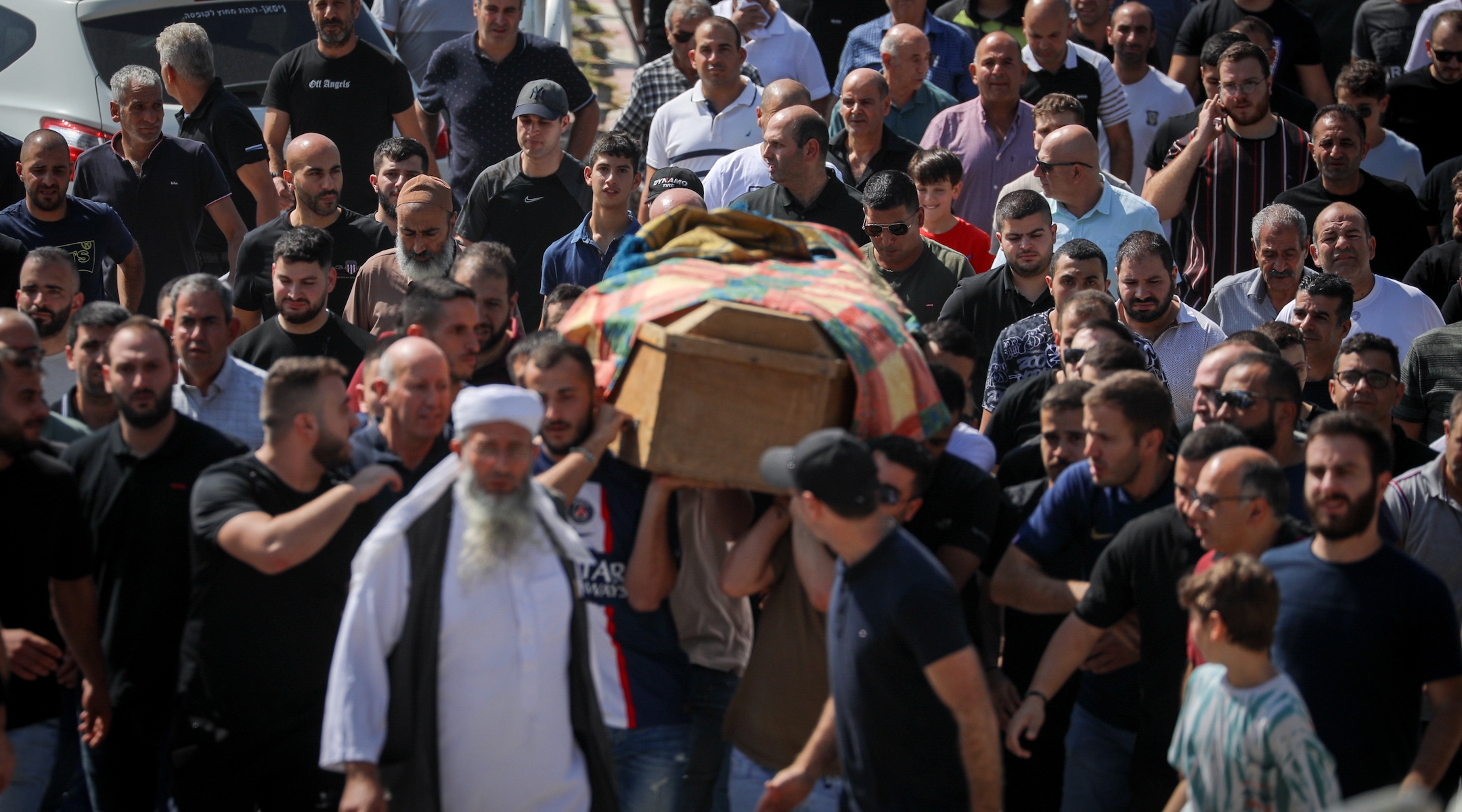 TAYIBE, Israel (JTA) – In the days following Hamas' bloody invasion of Israel, singer and influencer Dalal Abu Amneh posted a Palestinian flag to social media along with the words "There is no victor but God."
By Tuesday, the post was gone, and Abu Amneh, who is also a brain researcher, was in Israeli prison — arrested for voicing support for Hamas. The musical artist and influencer, who lives in the Arab-Israeli city of Nazareth, is one of a growing number of Arab-Israelis, also known as Palestinian-Israelis, to be arrested in recent days for appearing to support the massacre. 
"They tried to strip me of my humanity, silence my voice, and humiliate me in every way," Abu Amneh posted on Instagram on Wednesday, writing that she was placed in solitary confinement and went on a hunger strike. "They insulted me and handcuffed my hands and feet, but they made me more proud and dignified. My voice will remain a messenger of love, defending the truth in this world."
Meanwhile, stories have also emerged of Arab-Israelis rushing to save Jewish victims and volunteering to help the stricken communities of southern Israel in the wake of the attacks. A bicycle-shop owner in this central Arab-Israeli city of Tayibe donated 50 children's bicycles to evacuees from the south and, days later, his shop was burned down. A crowdfunding campaign on his behalf, conducted in Hebrew and English, has since raised more than $150,000.
Indeed, the vast majority of Israel's approximately 2 million Arab citizens don't support the attacks. A poll conducted by the Agam Institute in Israel found that 80% of Arab-Israelis opposed Hamas' attack, which killed more than 1,400 Israelis, while just 5% supported it, reported the publication Ynet.
Arab-Israelis say the attack, and Israel's ongoing war with Hamas in Gaza, has placed their community in a precarious position. Many are mourning Hamas' attack — which killed at least 15 Arab-Israelis, according to the Arab-Israeli nonprofit Mossawa — while also opposing Israel's airstrikes on Gaza, where many have family and friends. Those strikes have killed more than 3,200 people, per the Hamas-run Health Ministry. 
"The majority are against all the casualties, it doesn't matter which side, because we are all against the killing of innocent women, children and elderly," said Murad, an engineer from Tayibe. "If someone says something pro-Hamas all of the Arabs are attacked as 'They are against us!' But if 100 or even 1,000 people are against Hamas, nobody notices."
Murad was sitting with friends on Tuesday in the city's Two Brothers Cafe, discussing the ongoing war over coffee. Like his friends, Murad declined to give his last name, fearful of repercussions for openly sharing his opinion. Israeli-Arab politicians have also denounced the Hamas massacre, along with the killing of civilians in Gaza. 
"We should say here and now that the murder of women and children and the elderly, and atrocities against civilians in the south, are worthy of unstinting denunciation," Arab-Israeli lawmaker Ahmad Tibi said in a speech last week in Israel's parliament, the Knesset. "Human morality is not selective. There is no half-morality. Murder of children is murder of children."
Previous Israeli wars in Gaza have seen friction, conflict and arrests in Arab-Israeli communities and so-called "mixed cities." In 2021, Arab-Jewish cities in Israel saw fierce interethnic clashes before and during Israel's conflict that year with Hamas. In 2014, the last time Israeli ground forces invaded Gaza, 1,500 Israeli-Arabs were arrested for protesting the military operation. 
Figures provided by the Israel Police say 63 people have been arrested for supporting Hamas or the massacre, and 40 Arab-Israeli students have been suspended or expelled from universities, according to the Arab-Israeli legal nonprofit Adalah. 
Shlomo Karhi, the Communication Minister, recently pushed for emergency legislation that would grant the police power to shut off the broadcasts and close the offices of media outlets that "significantly harm national security." Karhi has taken aim specifically at the Qatar-based Al Jazeera network, which has a bureau in Israel and which he called a "terror-supporting station."
"We are at war!" Karhi posted to social media on Monday along with a copy of the draft regulations. "Whoever wants can petition the Supreme Court afterward, but this station must close now!"
In light of that atmosphere, Murad said he had advised his adult son not to post anything about the conflict to social media. 
"There is no space to protest," he said. "I told my son, who is 27 and an engineer, 'do not say anything, not even a humanitarian message.'"
Harel Chorev-Halewa, a historian of the Middle East at Tel Aviv University, said that protests have not broken out in Arab-Israeli or mixed cities during the current conflict due to a mix of fear from what will ensue and shock from Hamas' massacre. 
Groups that would foment unrest, Chorev-Halewa said, "know that nobody, including the security forces and the civilians, will wait around for any manifestation of force or things that we saw in May, 2021. People are openly saying, 'If you will come to my house, if you will come to my street, I will shoot you.'"
Chorev-Halewa said Arab-Israeli repudiation of Hamas' attack is also "a failure of Hamas' strategy" to incite Arab-Israelis to rebel. 
That calm atmosphere is present in Tayibe, said Abed, the barista at Two Brothers. He said locals are less personally affected by the war because "more than half of Gazans are from the coastal region of Jaffa, Ashkelon, Ramle and Lod," rather than the center of Israel. Accordingly, life is unfolding relatively normally in the city, save for nationwide school closures, which have kept Tayibe's children at home as well. 
Arab-Israeli grievance toward the government is far from limited to the military operation in Gaza. This year, Arab-Israelis have protested a spike in murders in their communities, with more than 180 Arab citizens killed in violent incidents this year. Arab leaders and activists have long castigated the state for discriminating against Arab-Israelis in a variety of ways — from disparities in funding to policing. 
"The Israeli press always asks the Israeli-Arab, 'What side are you on?'" Murad said. "I ask, what side are you on when they kill 200 of our sons here and no criminal is arrested?" He added that he is also worried about an eruption of violence in the West Bank, where clashes have been escalating this year and where more than 50 Palestinians have been killed since the Oct. 7 invasion.
"It cannot work like that, when you see 700 to 800 babies killed in Gaza," Murad said. "There are children on both the Israeli and Palestinian side that are both victims."
—
The post A torched bicycle shop, an arrested singer: Arab-Israelis face precarious landscape during Gaza war appeared first on Jewish Telegraphic Agency.
Sense of duty mixes with fear for Israeli soldiers preparing to enter Gaza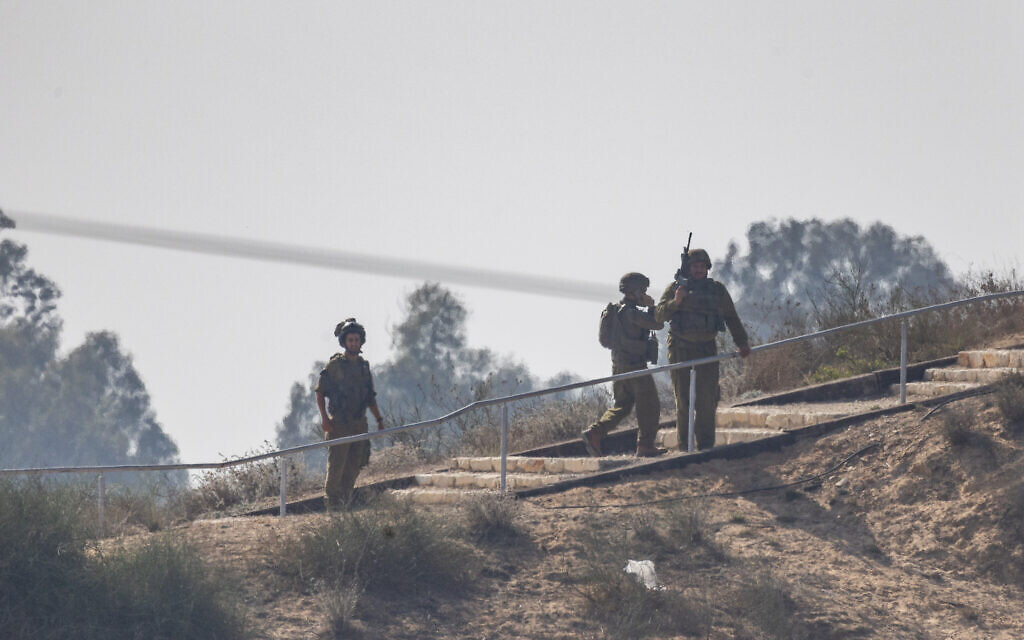 UAE says it will establish field hospital to treat Palestinians in Gaza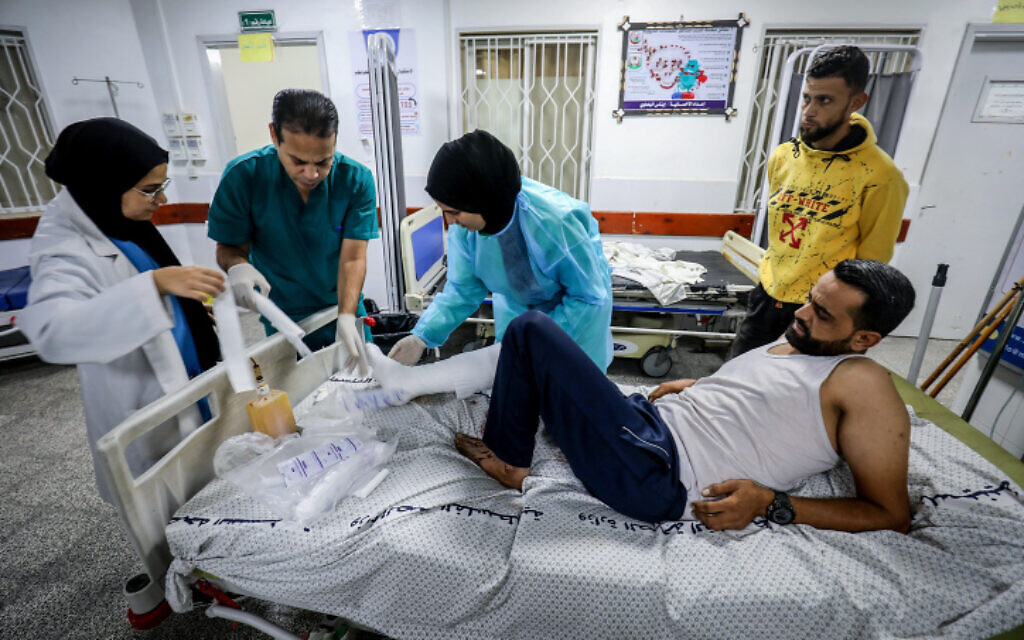 Thousands gather for pro-Israel rally in NYC 30 days after Oct. 7 massacre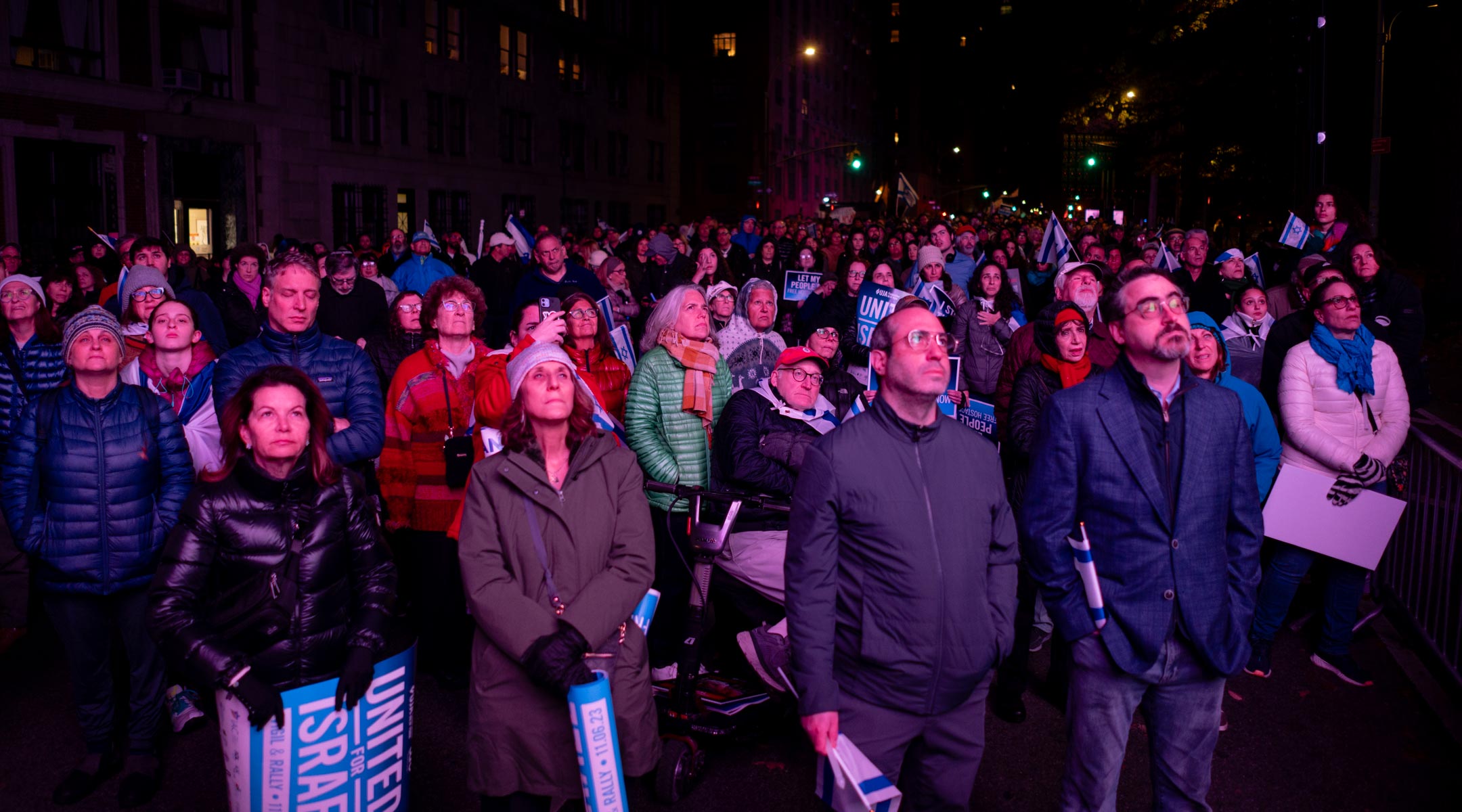 (New York Jewish Week) — Thousands gathered next to Central Park on Monday night for a vigil and rally marking 30 days since Hamas' Oct. 7 attack on Israel.
Speakers at the event, held along Central Park West on Manhattan's Upper West Side, mourned the attack's 1,400 victims, demanded the release of the more than 200 hostages held by Hamas and decried rampant antisemitism in the U.S. in recent weeks. Organizers estimated the crowd size at around 12,000 people.
Participants carried photos of the hostages and signs reading, "Bring our children home," "Let my people go," and "We stand with Israel." Thousands streamed past police cruisers on their way to the event chanting, "Bring them home" and singing Israel's national anthem, "Hatikvah."
Speakers included Sen. Chuck Schumer and Rep. Daniel Goldman, both Jewish Democrats; actors Brett Gelman and Debra Messing; and two relatives of hostages. Israeli singers Gad Elbaz and Idan Raichel performed for the audience.
The rally occurred around the 30-day milestone that traditionally marks the end of an acute Jewish mourning period, known as shloshim, following a death. It happened a little more than a week before a mass pro-Israel is due to take place on the National Mall in Weshington D.C. That rally will also call for the release of the hostages, decry antisemitism and cheer on continued American support for Israel as it fights a war against Hamas in Gaza, with the aim of deposing the terror group.
Ofri Haggai, an Israeli whose aunt and uncle were shot and taken hostage by Hamas, told the crowd, "All I'm asking from anyone who can help us is to bring all the hostages home."
"They are not part of any conflict, they are not part of any war, they are civilians, babies, kids, mothers, fathers, grandparents who just want to be brought home safely," she said.
Haggai  knows only that her aunt and uncle were badly injured and kidnapped. She does not know if they have received any medical care or their whereabouts, she said.
Goldman decried a "small but very loud fringe" in Congress that has opposed Israel since the attack, and urged the crowd to keep demonstrating to shore up support for the country. His mention of President Joe Biden, who has firmly supported Israel, drew cheers from the crowd.
"Every opportunity you have to rally, to express your support for Israel, I promise you it matters," he said.
The event was led by the UJA Federation New York and the Jewish Community Relations Council of New York, and was co-sponsored by an array of Jewish groups including the Israeli American Council, the Anti-Defamation League, the Union for Reform Judaism and the Orthodox Union.
—
The post Thousands gather for pro-Israel rally in NYC 30 days after Oct. 7 massacre appeared first on Jewish Telegraphic Agency.