Following Biden's visit, Israel will allow humanitarian relief to enter the Gaza Strip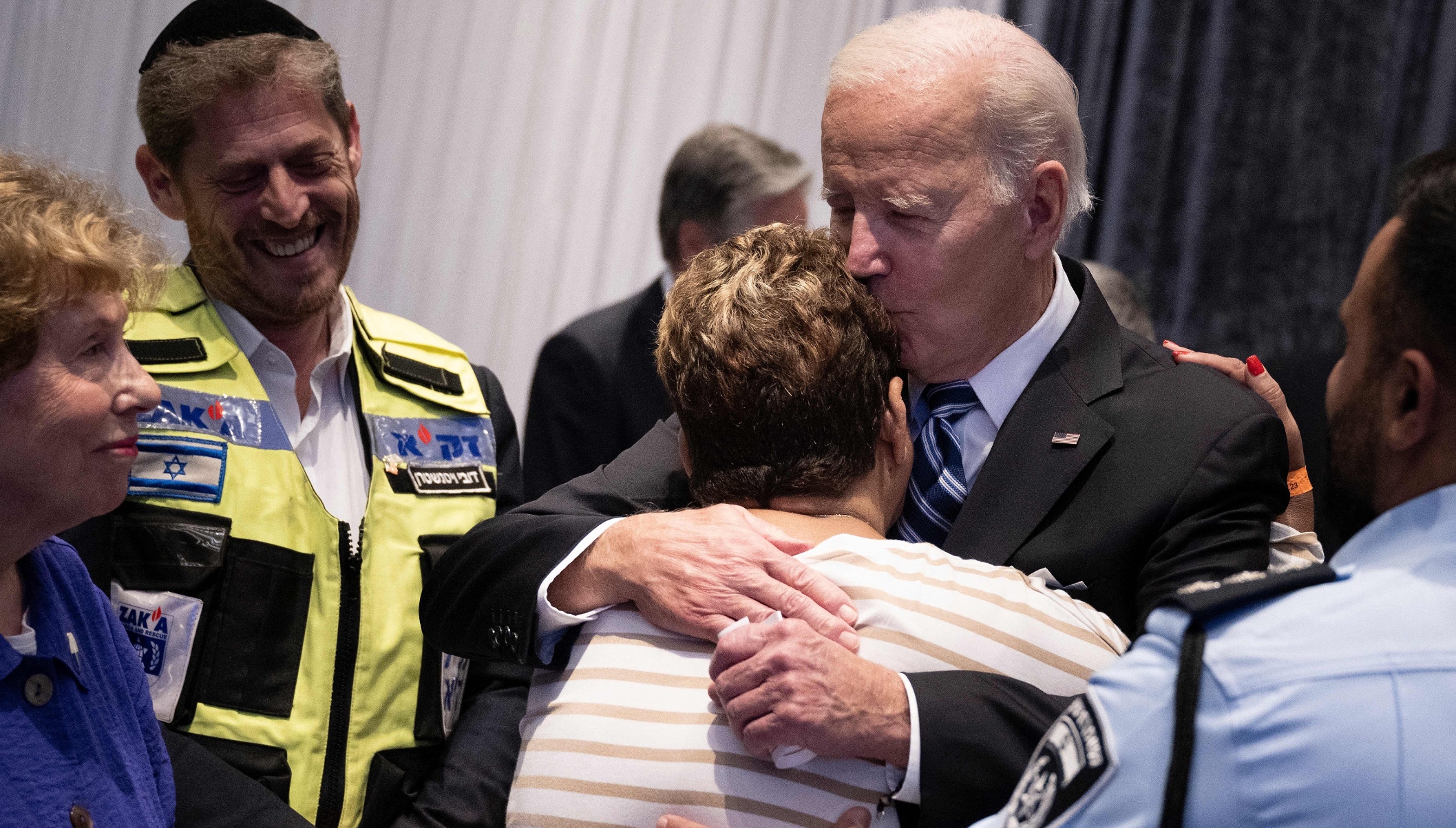 (JTA) — President Joe Biden secured an agreement from Israel to allow the transfer of humanitarian assistance into the Gaza Strip during his visit to Israel on Wednesday, and said the United States would provide $100 million in humanitarian to the Palestinians.
"Based on the understanding that there will be inspections that the aid will go to civilians not to Hamas, Israel  agreed humanitarian assistance can begin to move from Egypt to Gaza," Biden said. Prime Minister Benjamin Netanyahu later confirmed the agreement.
Coming away from the trip with tangible progress toward relief for Palestinians in Gaza was a critical takeaway for Biden. The president hopes to sustain international support for Israel as it strikes back at Hamas after the terrorist group's deadly invasion of Israel on Oct. 7, in which terrorists killed 1,400, wounded thousands and took 200 people captive. Israel's airstrikes in Gaza have since killed more than 3,200 people.
Biden's trip was complicated by a blast at a hospital in Gaza City yesterday that Hamas said killed hundreds. Israel has said the explosion was caused by a rocket that was misfired by a terrorist group inside the Gaza Strip — an assessment the Pentagon and Biden have backed up after viewing intelligence. Hamas and the Palestinian Authority blamed the explosion on an Israeli airstrike.
Arab capitals erupted in protests after the hospital was hit, and the leaders of Egypt, Jordan and the Palestinian Authority pulled out of a summit Biden had called for in Amman, Jordan, that was focused on getting humanitarian assistance to civilians in Gaza.
He nonetheless appeared to come away with a deal. Israel confirmed that it would not object to the assistance if it was delivered across the Egypt-Gaza border, rather than via Israel.
"In light of President Biden's request, Israel will not prevent humanitarian assistance from Egypt as long as it is only food, water and medicine for the civilian population located in the southern Gaza Strip or which is evacuating to there, and as long as these supplies do not reach Hamas," Netanyahu's office said in a statement. "Any supplies that reach Hamas will be prevented."
What "prevented" means was not clear, as Israel does not control the Gaza-Egypt border. But Israel has in the past conducted airstrikes against weapons transfers to terrorist groups.
In a social media post after his speech, Biden said the U.S. assistance would not reach Hamas. "This money will support over 1 million displaced and conflict-affected Palestinians," said the post on X, formerly known as Twitter. "And we will have mechanisms in place so this aid reaches those in need – not Hamas or terrorist groups."
Biden emphasized in his speech, as he has since Hamas invaded Israel, that Israel must observe the rules of war and must distinguish Hamas terrorists from Palestinian civilians. Israeli is on the verge of a potential large-scale ground invasion of Gaza.
"The vast majority of Palestinians are not Hamas," Biden said.
"Like the United States, you don't live by the rules of terrorists, you live by the rule of law," he said.  "What sets us apart from a terrorist? Because we believe in the fundamental dignity of every human life, Israeli, Palestinian, Arab, Jew, Muslim, Christian, everyone. You can't give up on what makes you who you are. If you give that up, the terrorists win, and we can never let them win."
Biden — who also met with a group of Israelis who have become local heroes for rescuing people on Oct. 7 — began his speech with a vivid description of the stages of grief now assailing the loved ones of the 1,400 Israelis who were killed in the Hamas invasion. He referenced Jewish customs of mourning in the address.
"It's like there's a black hole in the middle of your chest," he said. "You feel like you've been sucked into it. The survivor's remorse, the anger, the questions of faith and your soul. Starting with staring at an empty chair, sitting Shiva. The first Sabbath without them. There are the everyday things, the small things you miss the most. the scent when you open the closet door. The morning coffee you share together. The bend of a smile, the perfect pitch of a laugh."
As he did when he first arrived in Israel in the morning, he said Israelis should not feel abandoned. "You are not alone," he said. "The United States stands with you." He repeated his warning to any adversary of Israel plotting to exploit its vulnerability at a time of war, noting that he had moved U.S. troops into the region. "Don't. Don't. Don't," he said.
He finished his speech by apologizing for not being able to pronounce a phrase in Hebrew that he favors.
"I'm such a terrible linguist," he said. "I'll say it in English. The people of Israel live. The people of Israel live."
—
The post Following Biden's visit, Israel will allow humanitarian relief to enter the Gaza Strip appeared first on Jewish Telegraphic Agency.
Publisher removes Jewish stereotypes from classic Georgette Heyer romance novel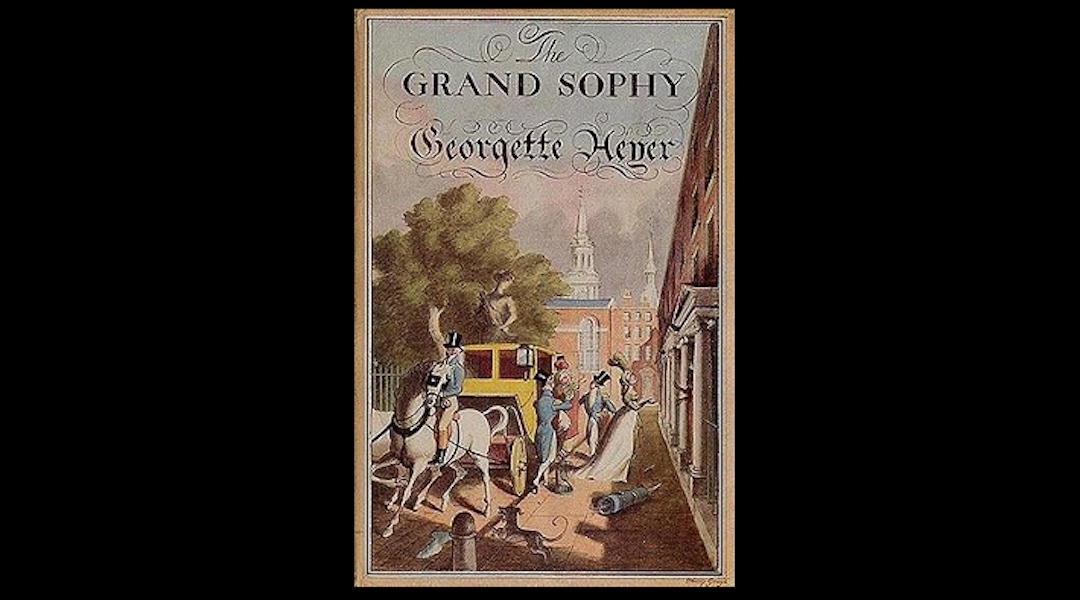 (JTA) — The U.S. publisher of Georgette Heyer, who is widely considered the originator of the historical romance genre, has modified part of one of her books that includes Jewish stereotypes.
The New York Times reported last week that publisher Sourcebooks worked with an array of sensitivity readers and experts on modifying "The Grand Sophy,"originally published in 1950, before releasing new versions of multiple Heyer books this year.
Heyer's books — which also pioneered the Regency romance genre, and subsequently inspired legions of authors, including Jewish "Bridgerton" novelist Julia Quinn — have sold millions around the world. In "The Grand Sophy," the main character interacts with a villainous moneylender named Goldhanger, who is a "thin, swarthy individual, with long, greasy curls, a semitic nose, and an ingratiating leer."
The new Sourcebooks edition deletes the details about the moneylender's appearance that have been associated with antisemitic stereotypes and changes the character's name to Grimpstone. He is now described as a "thin individual with an ingratiating leer."
Another revision gets rid of a reference to Jews being tight with "purse-strings."
"We don't want to throw off a 25-year-old who's just discovering Heyer," a senior vice president and editorial director at Sourcebooks told the Times. Sourcebooks did not respond to a Jewish Telegraphic Agency request for more detail on the revisions.
The Heyer estate asked Mary Bly, a romance novelist and literary scholar, to write introductions to the new versions. But the author's estate did not want her to mention the offensive language and how it was changed, a stance that led Bly to quit the project.
The Heyer estate's website states that her publisher in the United Kingdom, Penguin Random House, has decided "to leave the books as the author wrote them."
"They do not endorse the language or depictions in some of these books, but encourage readers to consider the works critically and in their historical and social context," a statement reads.
Heyer's work is the latest among recent debates about revising old texts to fit contemporary language standards. Roald Dahl and Agatha Christie books were also modified earlier this year.
Sourcebooks began acquiring Heyer titles in 2007 and has sold over two million copies of Heyer books so far, but the Times reported that the publisher eyes an even larger audience. The Netflix adaptation of "Bridgerton," which premiered in 2020, has become one of the streaming giant's most-watched shows and reignited interest in the Regency romance genre.
—
The post Publisher removes Jewish stereotypes from classic Georgette Heyer romance novel appeared first on Jewish Telegraphic Agency.
Los Angeles charter school says teachers who taught first graders about 'genocide of Palestine' will not return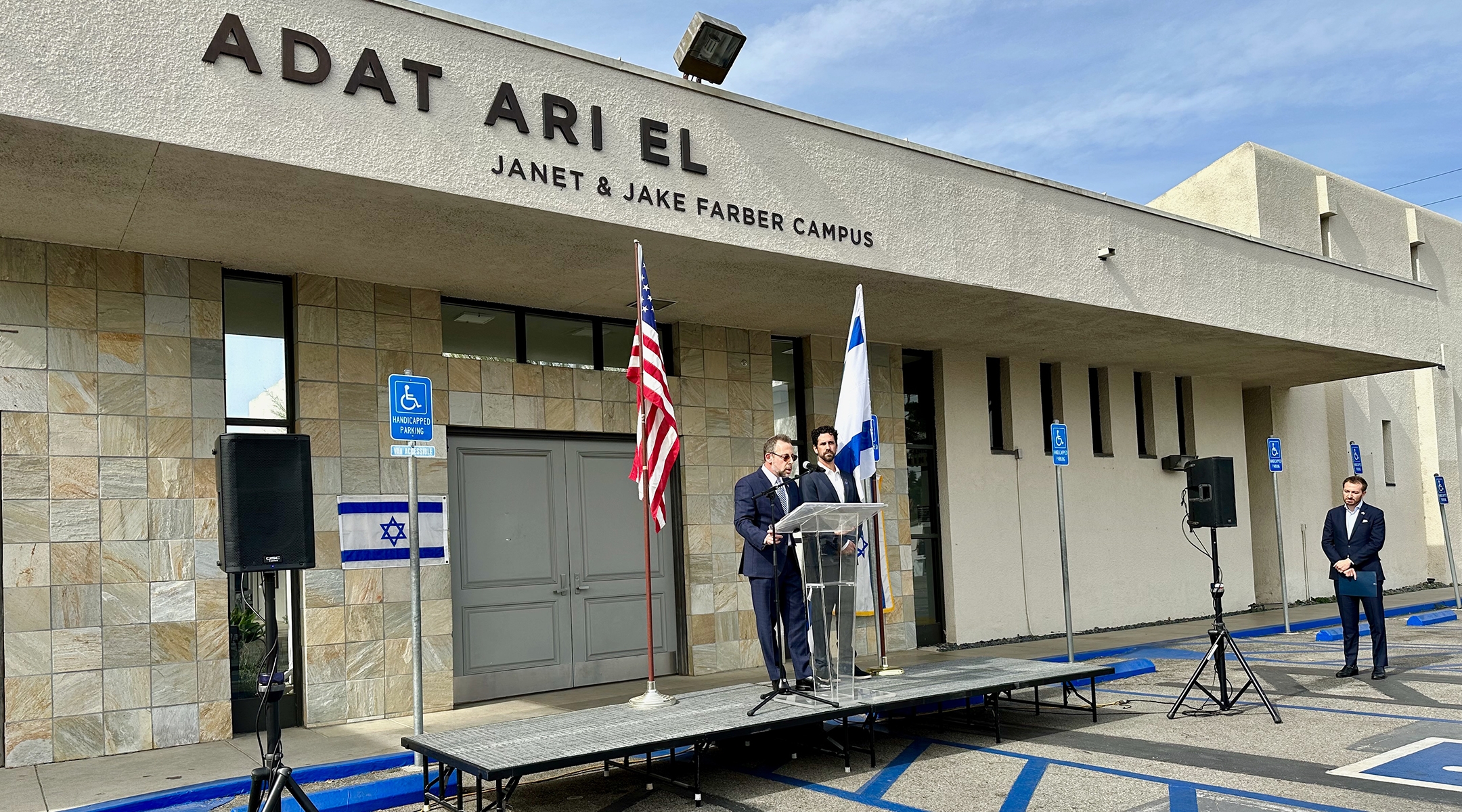 LOS ANGELES (JTA) — The Los Angeles charter school that stirred controversy at the synagogue where it is housed after first-grade teachers taught lessons about "the genocide of Palestine" announced steps on Friday to "repair this harm."
Two teachers have been removed from the school and the principal has been placed on leave at Citizens of the World Charter School-East Valley, announced Melissa Kaplan, the school network's executive director, at a press conference held outside Adat Ari El synagogue.
Hye-Won Gehring, the school's principal, had relayed complaints from her staff to the synagogue's rabbi about Israeli flags that were hung up on the campus after Hamas' Oct. 7 attack on Israel, according to Kaplan and Brian Schuldenfrei, Adat Ari El's senior rabbi. Kaplan said Gehring would be going on a two-week leave to "focus on learning how to combat antisemitism and engage in sensitivity training to learn from this experience."
Gehring had sent an email to Schuldenfrei on Oct. 16 asking how long the flags would be up, according to the rabbi. Kaplan called the question "insensitive and inappropriate," and Schuldenfrei recounted that he had told Gehring her email was "offensive."
"I told the principal that inquiring when our flags were coming down was like asking someone on Sept. 11 to take down their American flags just a few days later. It is painfully insensitive," Schuldenfrei said during the press conference. He added that the principal had apologized to him, but that "this was not the end of the issue."
Gehring made a brief statement at the press conference.
"I am deeply apologetic for my insensitive questions to Rabbi Schuldenfrei and how I mishandled this important set of events," Gehring said. "I did not understand the impact of my actions, and I am committed to creating a safe environment for all of my students, including my Jewish students, staff and families."
Kaplan, who was not made available to reporters after the press conference, acknowledged the "pain and distress" that many in the Jewish community are experiencing, and said she "deeply apologize[s] for these missteps" on behalf of her staff.
"CWC unequivocally condemns the social media posts by our staff members, including the use of the word 'genocide' to describe Israel's actions," Kaplan said. "CWC unequivocally condemns the disturbing suggestion that Jews should leave the region, and we unequivocally condemn any lesson that creates bias or fear among our students."
Kaplan added that the findings of the investigation would be kept confidential, but that the community will receive updates as needed, and that the outcome of the process would inform any further consequences from this episode. She also said that CWC is coordinating with the Anti-Defamation League to train its leadership and staff.
During his remarks, Schuldenfrei shared the sequence of events that occurred at the school, saying that he hopes the incident can be "an educational moment."
Schuldenfrei questioned why the content of the lessons was not reviewed, saying that the teachers "weaponized their role as educators to indoctrinate the youngest of children with a radical and hateful agenda."
"We know what happens when a blind eye is turned to such hatred, and we will not cower in the corner while our campus and community is defiled," Schuldenfrei said.
Schuldenfrei also referenced teshuvah, the Jewish idea of repentance, adding that he finds it "heartening to see Citizens of the World take these first steps," and he reiterated his synagogue's commitment to working with the school "to ensure that this is a learning moment for everyone."
In an interview with the Jewish Telegraphic Agency, Schuldenfrei acknowledged that is it rare for synagogues to call press conferences — an indication, he said, that "we're living in rare times where we feel, unlike any other time since the Holocaust, we feel the pressure of this pernicious antisemitism. And we also feel for something like that to occur in our own backyard, we felt that we couldn't simply stand by."
Schuldenfrei said he is comfortable with the first steps the school is taking and hopes his community is, too. He also said he hopes this debacle does not dissuade future collaborations between Jewish and non-Jewish groups. He noted that his synagogue offers its space to church groups, Alcoholics Anonymous meetings and other non-Jewish events.
"We as Jews are proud Americans, and here at Adat Ari El, one of the holiest endeavors we engage is working with non-Jews," he said. "We want this to specifically be a home to Jews, but we want this to be a campus that is of service to all of humanity."
The final speaker at the press conference was Nick Melvoin, a school board member for the Los Angeles Unified School District and a Democratic candidate for Congress who is running for the district that Adam Schiff currently represents. (Schiff is running for a Senate seat that has a primary vote in March.) Melvoin commended the school for its efforts to respond to the incident and added that he will be bringing a policy package to the district's board of education to address concerns of bias and antisemitism.
Melvoin said he would push for a comprehensive definition of antisemitism; a thorough review of curriculum to ensure that there is no bias; and the inclusion of Jewish experiences and antisemitism in diversity, equity and inclusion frameworks; and funding for students to visit Holocaust museums.
—
The post Los Angeles charter school says teachers who taught first graders about 'genocide of Palestine' will not return appeared first on Jewish Telegraphic Agency.
Hebrew pocket watch, frozen in time of Titanic wreck, headed for auction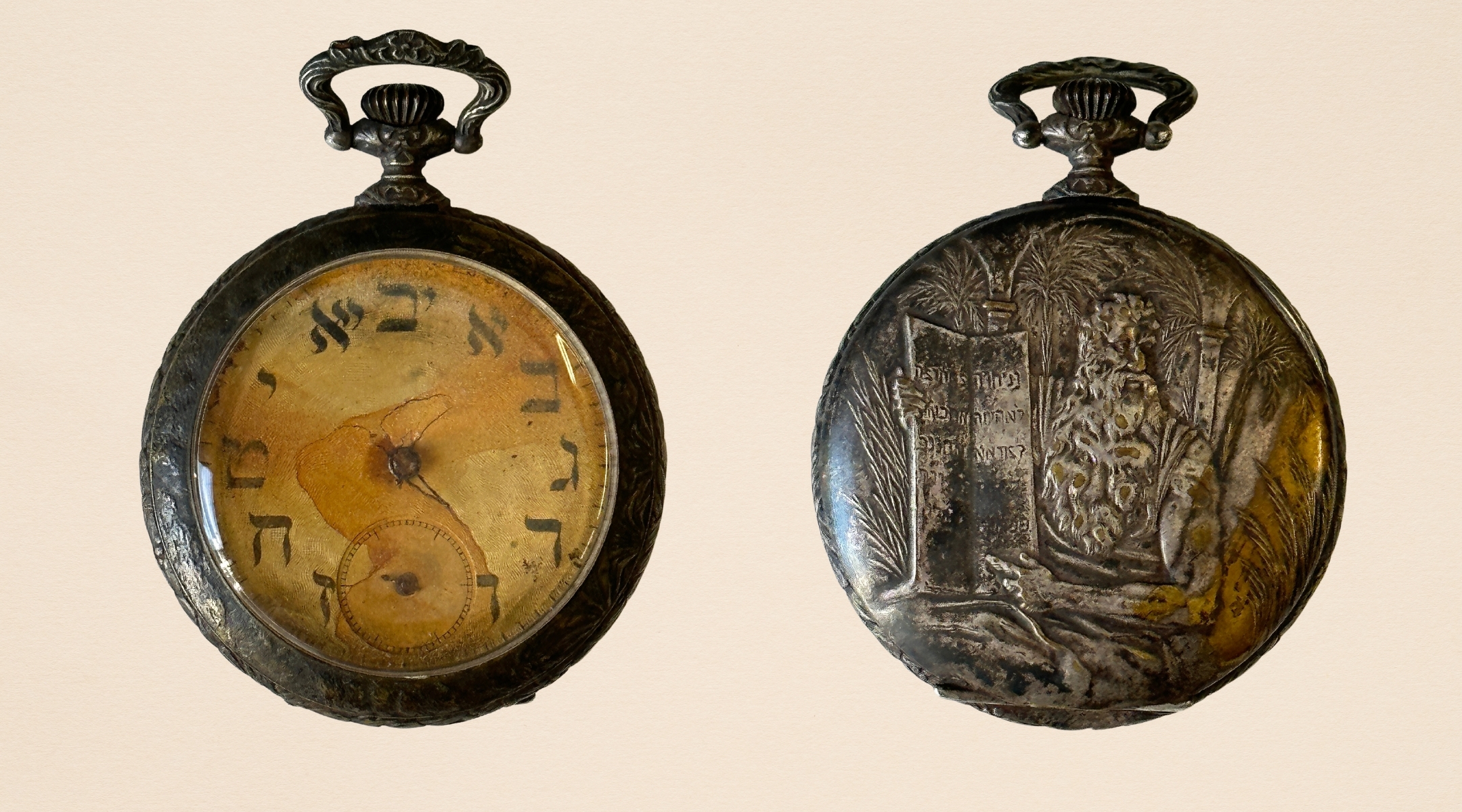 (JTA) — A pocket watch, frozen in time when the Titanic went underwater, is set to sell at auction Saturday, with an expected sales price of nearly $100,000.
That's nearly 30 times the value of the ticket that Sinai Kantor, a Russian Jew on his way to New York City, spent for his ticket on the "unsinkable" ship.
Numbers on the Swiss-made, silver-on-brass watch are written in Hebrew numerals and its hands are nearly all deteriorated, due to saltwater exposure — but dried water marks indicate that time stopped at 2:25 a.m., about five minutes after the Titanic sank. Its back features an embossed, solemn, muscular Moses holding the Ten Commandments on a background of date palms.
The silver pocket watch once belonged to Kantor, 34, a second-class passenger traveling with his wife Miriam, 24. The pair were recently married university graduates, on their way to New York where Kantor planned to sell furs while they studied dentistry and medicine, as part of a flood of Jewish immigration underway at the time.
Kantor paid £26 — worth about $3,100 today — for ticket No. 244367 on the Titanic, which they boarded on April 10, 1912, in Southampton, England.
"On the night of the disaster, like so many couples, they were forced to separate because of the 'women and children only' rule," Michael Findlay, former president of the Titanic International Society told the Washington Post. "Mr. Kantor had to remain behind."
Miriam alone was saved in lifeboat 12, according to information provided by the auction house. According to records collected by Titanic enthusiasts, she later became a U.S. citizen, taking the name Mary, and worked as a pharmacist in Brooklyn before being institutionalized at a psychiatric hospital where she spent the rest of her life before dying at 63 in 1950.
Kantor's body was recovered eight days after the accident. His pocket watch and some of his other possessions, including his Russian passport, a notebook, money, wallets, a telescope and a corkscrew were returned to his widow in May 1912 by the White Star Line, according to Henry Aldridge and Son, the auction house selling his possessions and other Titanic memorabilia. Kantor was buried at Mount Zion Cemetery in Queens.
His watch was previously sold at auction in 2018 for $57,500.
Of the timepieces that survived the shipwreck, most are stopped between 2:20 and 2:30, Findlay said. "It all depends when the individual went into the water," he said. "It's haunting."
—
The post Hebrew pocket watch, frozen in time of Titanic wreck, headed for auction appeared first on Jewish Telegraphic Agency.