Across the US, Simchat Torah festivities are muted by anxiety about Israel at war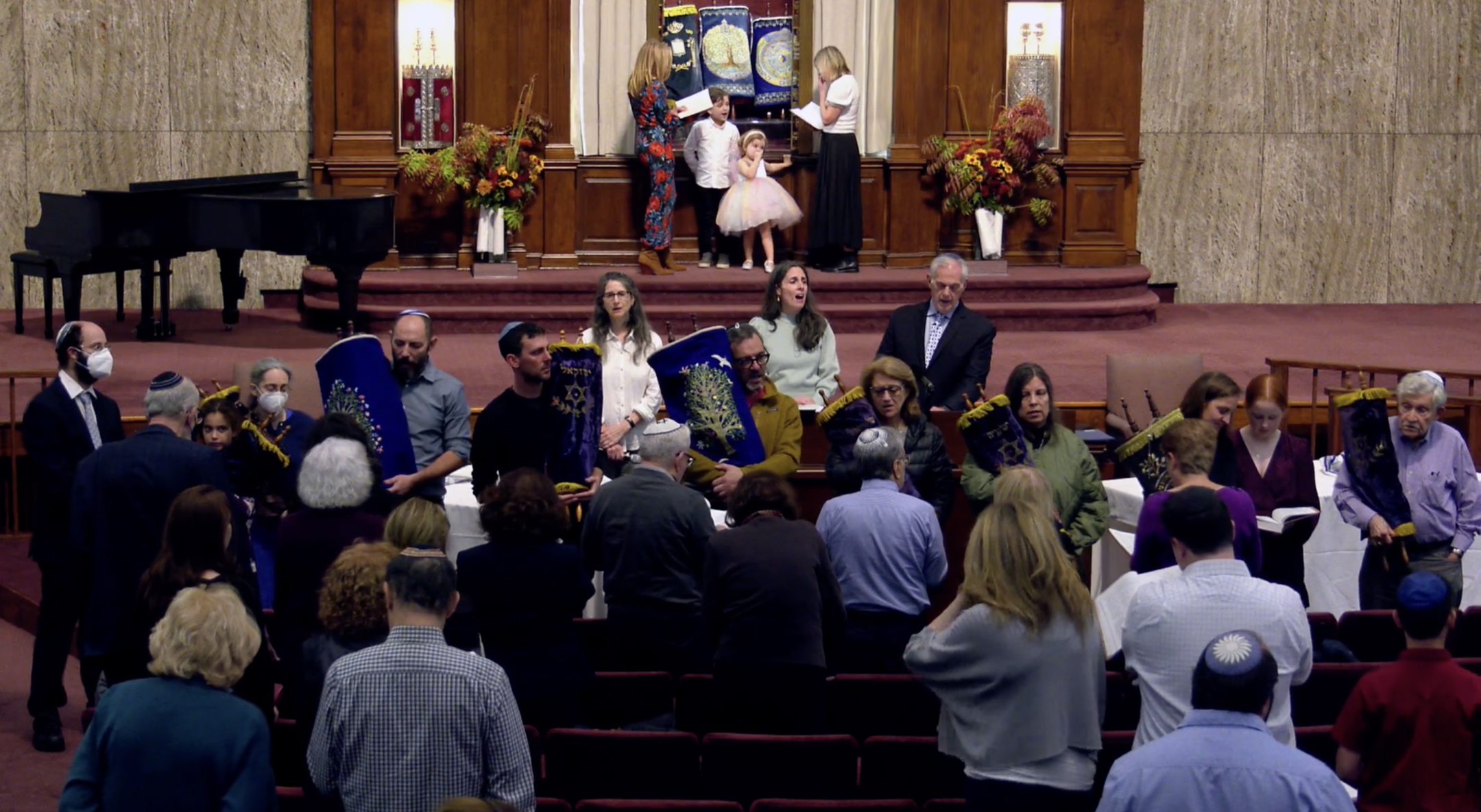 (JTA) — For the last dozen years, an array of synagogues from multiple denominations have gathered together in a central location in Brooklyn to sing and dance with the Torah, the centerpiece of Simchat Torah celebrations.
But in advance of the holiday's onset Saturday night, the organizers of Simchat Torah Across Brooklyn announced that the day's unprecedented violence in Israel had caused a change of plans.
"Tonight will be different," the organizers wrote on the event's Facebook page on Saturday afternoon. "In response to the horrific war on Israel today, our joy will become a vigil and our prayers will turn to solidarity with our Israeli family. We will demonstrate the unity of the Jewish people and that Americans and American Jews stand with Israel."
It was a transformation that unfolded again and again across the United States as Simchat Torah, celebrated as one of the most joyous days of the Jewish calendar, began under the shadow of catastrophe.
Hamas sent thousands of rockets into the country while also invading by land, killing 300 people, wounding more than 1,500 and taking hostages in one of the grimmest days in Israeli history. Questions about how the country could have been so surprised simmered beneath a mounting death toll, ongoing fighting and hours-long hostage situations, and declarations by Israel's leadership that Saturday's bloodshed marked the beginning of a long and painful war.
In Israel, the holiday ended on Saturday night, though it was interrupted across the country by gunfire, sirens and call-ups of military reservists. In the United States, where the holiday is celebrated over two days — with the dancing held on the second — rabbis anguished over how and whether to celebrate in the face of the ongoing tragedy.
"I apologize for posting on Shabbat/Chag," a rabbi wrote in a private Facebook group for Jewish clergy on Saturday, using the Hebrew word for holiday and requesting advice. "I'm struggling to find balance between observing Simchat Torah and respecting the tragedy that is happening."
On the Upper West Side of Manhattan, Rabbi Jeremy Kalmanofsky sent his congregants at Congregation Ansche Chesed, a Conservative synagogue, a rare message on Saturday afternoon saying that he had decided to scale back the night's festivities.
"You know I would not typically send out a message on Shabbat and Hag," he wrote. "But given the terrible events today in Israel — with hundreds dead, thousands wounded, and some, as yet unknown, number held hostage in Gaza — I feel it is impossible to celebrate Simchat Torah as usual."
Ansche Chesed held a children's event as scheduled but did not call for dancing. Dozens of adults then gathered for a prayer service and to read the end and the beginning of the Torah, but without the festive cheer that typically accompanies the reading. Instead, Kalmanofsky shared reflections from congregants about their fear and concern for those they knew in Israel.
At Anshe Emet Synagogue in Chicago, Rabbi Michael Siegel discussed the day's violence before moving into the holiday service.
"Today is Israel's 9/11. All of us know people in Israel. All of us have spent the day thinking and praying for them. All of us. And it's Simchat Torah," he said. "How do you bridge that? How do we find our way from tears to joy? How is that even possible?"
Siegel said he had spoken to a congregant whose relative in Israel had urged her to attend the holiday service because so many Israelis could not. He led the Conservative congregation in a traditional prayer for peace, which Siegel noted includes wishes for all of Israel and Jerusalem to lie under a canopy of peace.
"How those words speak to us tonight," he said. "Hundreds, thousands of Israelis, thousands of our brothers and sisters are not sleeping tonight. We stand with them."
At IKAR in Los Angeles, Rabbi Sharon Brous cautioned that the evening would not be the dance party that usually takes place on the holiday.
"Anybody who has celebrated Simchat Torah at IKAR before knows that this is a night of incredibly overflowing joy," she said. "Very obviously tonight, given everything that's happened in Israel today, it's very hard if not impossible to experience that kind of joy."
Brous announced a modified, subdued version of the typical Torah-dancing but said the congregation would neither "overcome our impulse to cry and instead bring the dance out" nor "sit on the floor and weep all night and not experience any of the joy. Because we know that part of the great challenge of being alive and being human in the world is to actually experience both."
Earlier on Saturday, congregations recited the Yizkor prayer, a service held four times a year in memory of loved ones who have died. Faced with the attack on Israel, synagogues turned to that and other age-old Jewish responses to tragedy and death. Some recited psalms beseeching God for help, and prayers on behalf of Jewish captives. Some also added communal singing of "Hatikvah," Israel's national anthem. In at least one synagogue in Washington, D.C. the dancing proceeded but all the songs were about Israel or a hope for peace.
And some rabbis innovated new rituals for a situation without precedent. Rabbi Rachel Barenblat of Congregation Beth Israel of the Berkshires, a Reform synagogue, wrote a prayer on Saturday morning that her congregation recited at Yizkor and again before Simchat Torah festivities.
"The words are simple, maybe facile. But they are the most genuine prayer of my heart," Barenblat wrote on Facebook.
The prayer expressed solidarity with the people of Israel and hoped for peace with the Palestinians. It concluded: "God, with all the desperation of our hearts we plead: may it be true that peace will yet come."
—
The post Across the US, Simchat Torah festivities are muted by anxiety about Israel at war appeared first on Jewish Telegraphic Agency.
Harvard University President Condemns Genocide Against Jews After Backlash for Equivocating on Issue
Harvard University president Claudine Gay on Wednesday issued a statement walking back and clarifying remarks she made the prior day in which she suggested that calling for the genocide of Jews did not necessarily constitute bullying and harassment on campus.
"There are some who have confused a right to free expression with the idea that Harvard will condone calls for violence against Jewish students," Gay said in a statement posted to X/Twitter by Harvard. "Let me be clear: Calls for violence or genocide against the Jewish community, or any religious or ethnic group are vile, they have no place at Harvard, and those who threaten our Jewish students will be held to account."
Gay's statement came after she received a wave of criticism for her testimony before the US House Committee on Education and the Workforce regarding campus antisemitism, which has been surging since Hamas' Oct. 7 massacre across southern Israel. For three hours, Gay and the presidents of the University of Pennsylvania and the Massachusetts of Institute of Technology evaded questions about their plans to combat an alarming spike in antisemitic incidents, including demonstrations calling for Israel's destruction and the intimidation and harassment of Jewish students at college campuses across the US.
In one tense exchange during the hearing, all three presidents gave indirect answers when asked by Rep. Elise Stefanik (R-NY), a Harvard alumnus, whether calling for the genocide of Jews constituted bullying and harassment. Stefanik referenced the chanting of slogans such as "globalize the intifada," "there is only one solution, intifada revolution," and "from the river to the sea, Palestine will be free"— all widely interpreted as calls for violence against Jews and the destruction of Israel.
"We embrace a commitment to free expression even of views that are objectionable, offensive, hateful — it's when that speech crosses into conduct that violates our policies against bullying, harassment, and intimidation," Gay said, refusing to provide a definitive answer.
"Does that speech not cross that barrier? Does that speech not call for the genocide of Jews and the elimination of Israel?" Stefanik asked, visibly disturbed by Gay's answer.
"We embrace a commitment to free expression and give a wide berth to free expression even of views that are objectionable, outrageous, and offensive," Gay responded. She also said that calls implying the genocide of Jews and Israelis "can be [considered bullying or harassment] depending on the context."
Gay's equivocating sparked outrage across social media, with Jewish leaders and non-Jewish allies calling for her to resign from her position.
"You refused to state that calling for the genocide of the Jewish people would violate Harvard policies," Harvard Law School alumnus Ben Badejo wrote in a letter to Gay that was posted on X. "In so doing, you betrayed the most fundamental values of our country and of all decent people."
StopAntisemitism, a watchdog that documents antisemitic incidents across the world, said Gay's more recent statement from Wednesday should have been stated during her testimony to Congress.
"Then why didn't you say this during your congressional hearing yesterday!?" the group said. "Step down. You are a failure."
Arsen Ostrovsky, CEO of the International Legal Forum, added, "Why was Claudine Gay unable to say this at the hearing and it took universal outrage and condemnation for you to issue this clarification?"
Since Hamas' Oct. 7 massacre, Gay's tenure has been beset by accusations that she is not sympathetic to the Jewish community's concerns about rising antisemitism and has provided refuge to Harvard students who cheered Hamas' violence.
For several days, Gay waited to condemn the Hamas atrocities, and when she did, her statement said nothing about antisemitism. When 31 Harvard student groups, led by the Palestine Solidarity Committee, issued a statement blaming Israel for Hamas' brutality, Gay defended their right to free speech and said they should not be punished or barred from being hired at prestigious businesses and firms after completing their education.
Following weeks of criticism, Gay eventually denounced Harvard students' chanting of "from the river to the sea, Palestine will be free" last month and announced a campus initiative for fighting antisemitism.
"Harvard was founded to advance human dignity through education," Gay said. "We inherited a faith in reason to overcome ignorance, in truth to surmount hate. Antisemitism is destructive to our mission. We will not solve every disagreement, bridge every divide, heal every wound. But if we shrink from this struggle, we betray our ideals."
Follow Dion J. Pierre @DionJPierre.
The post Harvard University President Condemns Genocide Against Jews After Backlash for Equivocating on Issue first appeared on Algemeiner.com.
Criticism mounts against UPenn president after she declines to say calls for genocide of Jews constitute harassment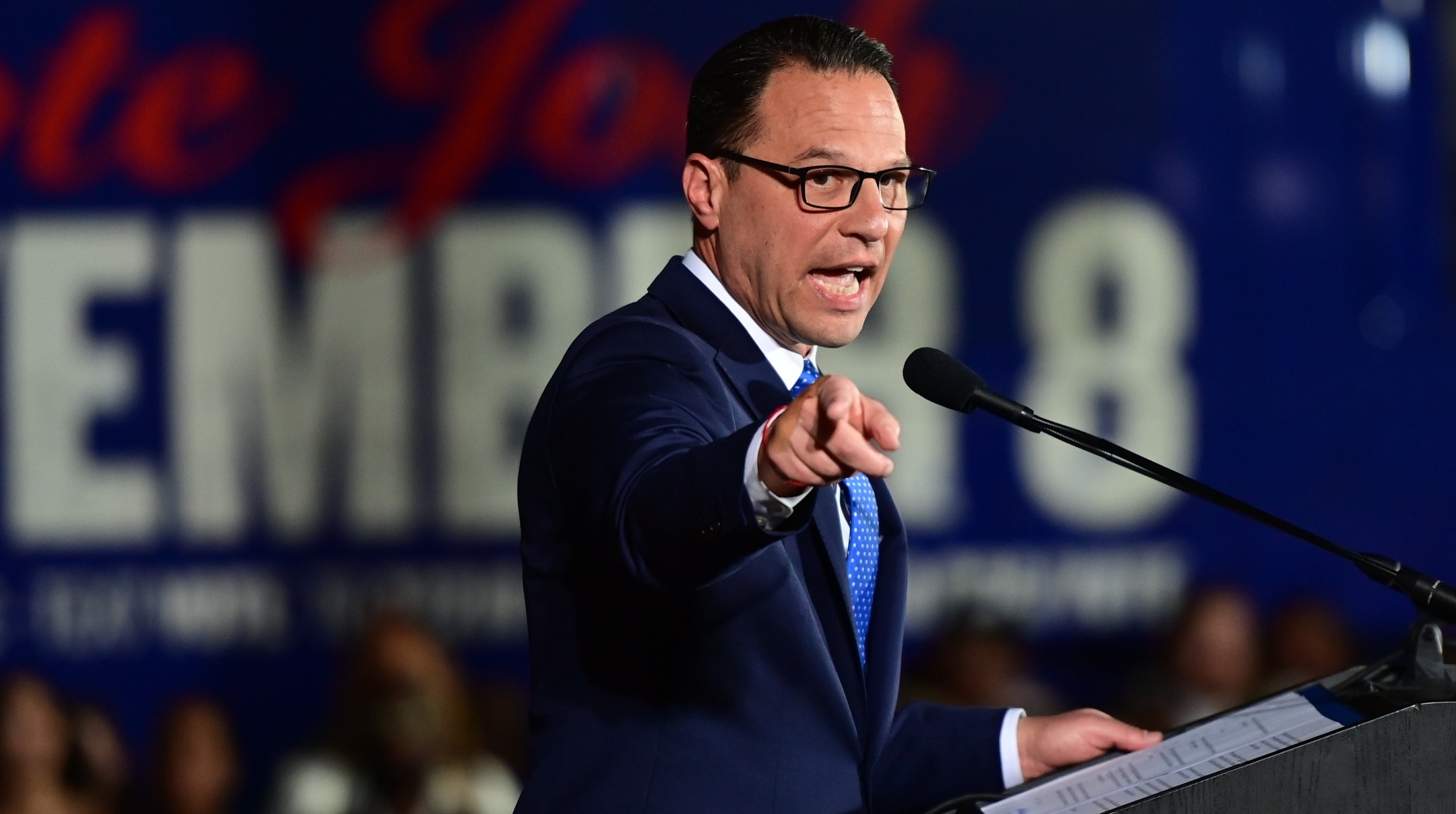 (JTA) — Pennsylvania Gov. Josh Shapiro said the University of Pennsylvania board should make a "determination" about the school's president, who is facing pressure to resign after she declined to say outright that calls for the genocide of Jews violate the university's code of conduct.
The outcry follows a congressional hearing on Tuesday in which the presidents of Penn, Harvard University and the Massachusetts Institute of Technology were all asked whether calls for the genocide of Jews constitute bullying or harassment on campus. All three said it depended on "context."
The exchange has gone viral and prompted broad condemnation, including from the White House. Biden administration spokesman Andrew Bates said in an email, "It's unbelievable that this needs to be said: calls for genocide are monstrous and antithetical to everything we represent as a country."
"Any statements that advocate for the systematic murder of Jews are dangerous and revolting – and we should all stand firmly against them, on the side of human dignity and the most basic values that unite us as Americans," Bates added.
Shapiro, a Jewish Democrat, is among the most prominent voices calling on Penn's president, Liz Magill, to face consequences for her response during the hearing. Shapiro did not say Magill should be fired. But he asked the board to convene soon and said if it did not, he said he would see what the state could do.
"Right now the board at Penn has a serious decision they need to make," Shapiro said Wednesday. He said the board should "meet soon" to determine whether the "testimony under oath of their president in front of Congress represents the values of the University of Pennsylvania and the views of the board of the University of Pennsylvania."
While Penn is a private institution, its charter names the state's governor as a non-voting trustee — a position with considerable influence if not power. Shapiro said he would wait to hear from the Penn board before considering any state action.
"I've said many times, leaders have a responsibility to speak and act with moral clarity, and Liz Magill failed to meet that simple test," Shapiro said.
In addition to Shapiro's comments, Marc Rowan, the chair of Wharton, Penn's business school, has called on the university's board to withdraw its support for Magill, according to The New York Times. A petition calling for her resignation has garnered 1,500 signatures. Eyal Yacoby, a Penn student who joined Republican leaders at a press conference prior to the hearing on Tuesday, has filed a lawsuit with another student alleging that the university "subjects them to a pervasively hostile educational environment," the campus newspaper, The Daily Pennsylvanian, reported.
Shapiro made clear that there was little love lost between him and Magill ever since the campus hosted an event on Palestinian culture in September that included speakers who Jewish groups have said are antisemitic. Following that conference, donors have withdrawn  their support from the school, and a federal civil rights complaint has been filed against it.
"I have spoken to President Magill multiple times since that hateful festival that they had on campus," he said. "I've spoken with the chairman of the board multiple times, I made concrete steps that I thought they needed to take to make sure that all students feel safe on campus. They have seemingly failed every step of the way to take concrete action to make sure all students feel safe on campus. And then, the testimony yesterday took it to the next level."
Jewish groups also condemned the exchange on "genocide" at the congressional hearing.
"How can Jewish and pro-Israel students and faculty possibly feel safe when fellow students and faculty can call for their elimination with impunity?" the American Jewish Committee said in a statement Wednesday.
Also Wednesday, the Conference of Presidents of Major American Jewish Organizations wrote to all 50 governors recommending an "action plan" to make campuses safer for Jews.
One recommendation was that governors "conduct a third-party review of university policies and procedures related to antisemitism" that would "consider campus environment, including an assessment of antisemitic attitudes, current university policies for investigating antisemitism complaints, and consistency of treatment in handling of antisemitism complaints versus other kinds of discrimination."
Shapiro was speaking to reporters  after visiting Goldie's, a kosher eatery targeted over the weekend by pro-Palestinian protesters who accused it of "genocide," which Shapiro likened to Nazi Germany.
Shapiro had stopped by Goldie's in a show of solidarity and for lunch (a falafel sandwich and a tahini shake.). He said the targeting of Jewish-owned stores was antisemitic.
"What they did was blatant antisemitism," he said. "They protested in restaurants, simply because it's owned by a Jewish person. That is the kind of antisemitic tropes that we saw in 1930s Germany."
—
The post Criticism mounts against UPenn president after she declines to say calls for genocide of Jews constitute harassment appeared first on Jewish Telegraphic Agency.
Tributes pour in from Jewish celebs as Hollywood remembers Norman Lear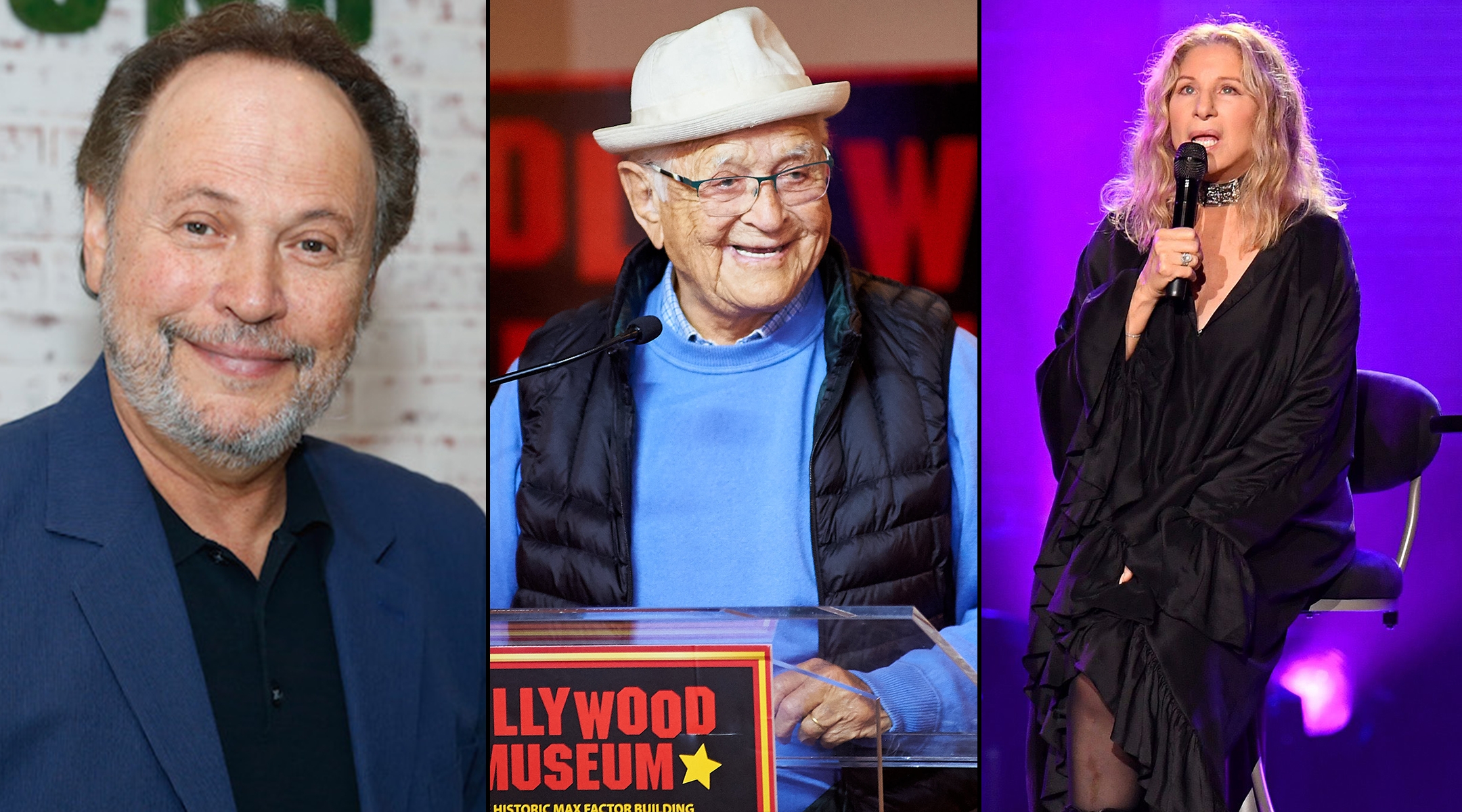 (JTA) — Soon after news broke Wednesday morning of Jewish TV pioneer Norman Lear's death at 101 years old, actors and comedians quickly took to social media to remember the titan of comedy.
Tributes poured in from a who's-who of Jewish celebrities — from Barbra Streisand and Jon Stewart to Alex Edelman and Billy Crystal. Several comics referred to Lear as though he was family; Stewart thanked Lear for "raising me," while Rob Reiner called him his second father.
Edelman told a story about meeting with Lear at his home after hosting his 100th birthday special on ABC. "Transparent" creator Joey Soloway shared how Lear supported the groundbreaking and very Jewish Amazon Prime show that won several Emmys and is set to open a musical adaptation on Broadway next year.
Lear is best known for the imprint he left on TV comedy through his string of wildly popular shows in the 1970s and 1980s, including "All In The Family," "The Jeffersons" and "Sanford and Son." Lear's shows are credited with pushing the genre to be more socially conscious and inclusive of Black characters.
Below is a sampling of the reactions from fellow A-List Jewish celebrities as Hollywood mourns the loss of an icon.
Goodnight Norman. Love you. Thanks for raising me.
— Jon Stewart (@jonstewart) December 6, 2023
I loved Norman Lear with all my heart. He was my second father. Sending my love to Lyn and the whole Lear family.
— Rob Reiner (@robreiner) December 6, 2023
Just heard about Norman Lear. He was 101. What a long life in television and film as well as being an activist and philanthropist. What an extraordinary man he was! Brilliant, kind and funny.
— Barbra Streisand (@BarbraStreisand) December 6, 2023
A funny story about Norman Lear on the day of his passing, if that's alright… https://t.co/AEFavgqw7R
— Alex Edelman (@AlexEdelman) December 6, 2023
The greatest of the greats. R.I.P. Norman Lear. You were loved.
— Albert Brooks (@AlbertBrooks) December 6, 2023
We have lost a giant..a man of great humor and dignity. What an amazing life that has given so much to us all. He used laughter as a way to look at ourselves. A blessing to have been his friend for almost 50 yrs. pic.twitter.com/qlH339kD22
— Billy Crystal (@BillyCrystal) December 6, 2023
—
The post Tributes pour in from Jewish celebs as Hollywood remembers Norman Lear appeared first on Jewish Telegraphic Agency.