Albania has long been a pro-Israel country. Will the Hamas war change that?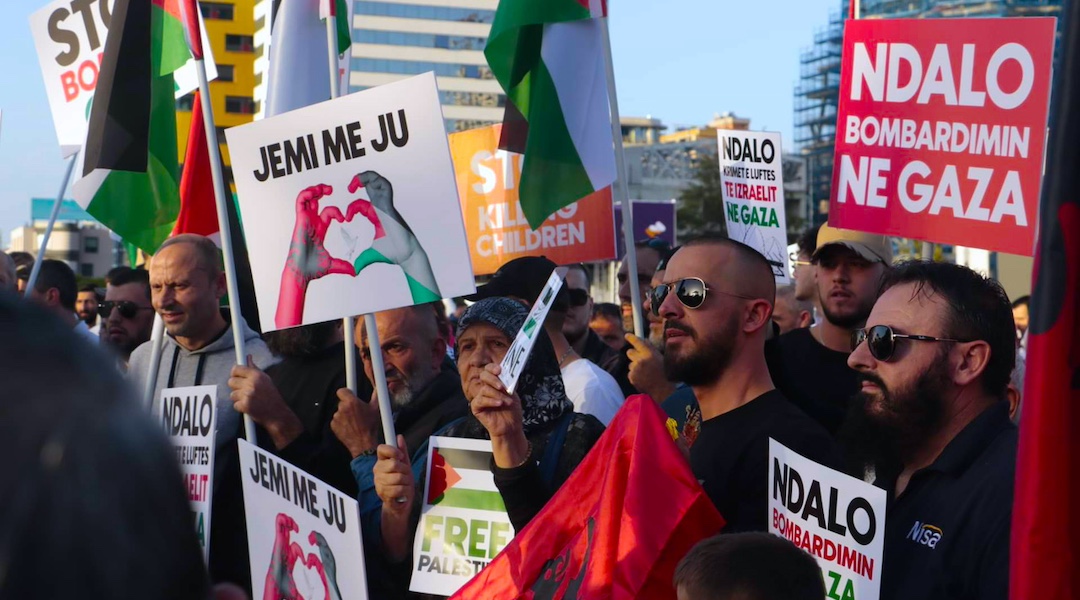 TIRANA, Albania (JTA) — Hidden behind a wooden gate in Tirana's Toptani district, construction workers are busy converting a 19th-century Ottoman mansion into the Besa Museum — a long-planned shrine to Albania's embrace of Jews fleeing Nazi persecution during World War II.
About 100 miles south, in the Adriatic port city of Vlora — nestled among trendy cafés along a cobblestoned street where Jews once lived — a multimedia museum designed by Tel Aviv-based architects will soon portray the richness of Albania's Jewish history, from the Spanish Inquisition to the Holocaust.
The building of one, let alone two, such museums in an impoverished Balkan country that's home to more than a million Muslims but only about 60 Jews is a remarkable turn of events. The Marxist regime that ruled Albania from 1946 to 1991 outlawed all religions in 1967 — including Judaism — and reviled Israel as the "little devil" of the United States.
But Albania is also known as the only European country that had more Jewish residents after World War II than before it. In recent years, officials have looked to promote that narrative and cultivate ties with Israel. The story stems, in their view, from their nation's culture of "besa" — Albania's medieval code of honor, which requires people to welcome any guests, including foreigners, as their own.
"The rescue of the Jews during World War II is one of the most beautiful pages in the history of the Albanians. Christians and Muslims sacrificed everything to protect them," said Elva Margariti, Albania's minister of culture, when announcing the Besa Museum earlier this year. "For Albanians this is besa. It is a value that we will pass on to our children, telling them this extraordinary story."
Albania's warm feelings toward Israel will be tested in the weeks and months to come. Pro-Israel sentiment is already dropping in the wake of Israel's war against Hamas in Gaza, which was sparked by the terror group's bloody incursion into southern Israel on Oct. 7.
An online survey of Albanians conducted Oct. 13 by Tirana pollster Eduard Zaloshnja showed relatively strong sympathy for Israel in the war's first week. Of the 2,320 people who responded to what Zaloshnja concedes was a "quick and dirty, not scientific" questionnaire, 50% said they were pro-Israel, 36% identified as pro-Palestine and 14% said they were "undecided."
However, support for Israel has since fallen, Zaloshnja said, especially since an explosion at a Gaza City hospital that Hamas immediately blamed on Israel. Video and other evidence have led to the widespread assessment that the blast, which may have killed hundreds, was caused by a misfired rocket launched by the Islamic Jihad terror group.
On Oct. 16, the United Nations Security Council rejected a resolution that condemned Israeli airstrikes on Gaza and demanded an immediate ceasefire. Five countries including China and Russia voted in favor while four — the United States, France, Germany and Japan — voted against it because the resolution failed to specifically condemn Hamas. Albania, which currently has a seat on the body, was one of six countries to abstain.
Two days later, Albanian Prime Minister Edi Rama tweeted that although "Hamas is a cancer in the body of humanity," there's no excuse for "turning a blind eye" to the Israeli response.
"In this conflict, Albania and the entire democratic world stand firmly on the side of Israel, barbarically targeted by the depravity of Hamas terrorists!" wrote Rama, whose party is often described as center-left. "However, the democratic world must also be a guarantor of the truth and the justice for the hundreds of victims of the bombed hospital in Gaza."
On Friday, hundreds of Albanian Muslims converged on Skanderbeg Square, Tirana's main plaza, shouting pro-Palestinian slogans and waving "Free Gaza" placards.
"I'm reading comments on Albanian social media accounts that local Islamists are inundating with conspiracy theories," said Zaloshnja. "My personal feeling is that there's an older generation of Albanians who were indoctrinated by hatred toward Israel and support for the Palestinian cause. That generation is still alive."
A Jewish community scattered
In 1991, Albania's Marxist regime collapsed, in a year that marked the end of communism in Eastern Europe. The new democratic government immediately established diplomatic relations with Israel, but it took another 21 years for an Israeli embassy to open in Tirana.
Today, Albania has three honorary consuls in Israel: one responsible for Tel Aviv, Jerusalem and the central region; another in Haifa, covering northern Israel; and a third in Eilat for southern Israel and the Negev. Some 54 Israeli companies currently operate in Albania, including drip irrigation firm Netafim, and the Balkan country has become a popular destination for Israel tourists, with seasonal nonstop flights linking Tel Aviv and Tirana.
But Albania has another, more complicated side to its history and its ties to the Middle East. Terrorists belonging to the Palestine Liberation Organization used to train in Albania for six months of guerrilla warfare at a military base in Zall-Herr, just north of Tirana. More recently, between 50 and 60 Albanians — mostly from very poor villages in the southeast — were recruited to fight for ISIS.
News articles often portray Albania as a majority-Muslim country, but the reality is more nuanced. About half of Albania's 2.6 million inhabitants don't identify with any religion, a legacy of the atheism imposed by Enver Hoxha, who ruled the country from 1946 until his death in 1985. Of those who do, roughly 50% are Bektashi — an Islamic Sufi mystic order — while 21% practice traditional Islam and the remaining 29% consider themselves Christian Orthodox or Catholic.
The Jewish presence in Albania was always tiny. Before World War II, Albania was home to perhaps 300 Romaniote Jews — a Greek-speaking ethnic community. Most of them lived in Vlora, with a smaller community in Tirana and scattered Jewish families in other cities and towns.
At its peak, perhaps 3,750 Jewish refugees from Greece, Austria, Bulgaria, Italy and the former Yugoslavia lived in Albania. Some Jews fought as partisans against the Nazis, and their memories are honored in a special exhibit at Albania's National History Museum fronting Skanderbeg Square.
After the war, Albania's Jewish population quickly dropped back to around 300 as foreign Jews left. In 1991 — as soon as the communist regime collapsed — nearly the entire community fled en masse to Israel.
Today, not a single Jew is left in Vlora — a city that recently renamed the street of Rruga Phoma Byko to Rruga Ebrenjve, or Street of the Jews. Nearly all the Jews who have stayed in Albania reside in Tirana, said Amos Dojaka, president of the Albanian Jewish Community. The group's official design is a merged menorah and Albanian double-headed eagle.
"Albania was closed for more than 50 years, so for that reason nobody knew the story" of the rescue of Jews from the Nazis, said Dojaka, 56, a Tirana businessman who works in the import-export sector.
"Saving Jews was very dangerous, so it's good for the younger generation and also tourists to know about this," said Dojaka, who lived for two years in Ashdod, Israel, during the late 1990s.
He thinks that "most people here" still support Israel. "Our two countries have similar histories, and nobody here supports terrorism," Dojaka said.
Prince Leka II — the grandson of King Zog, who ruled Albania from 1928 until fascist Italian occupiers forced him into exile in 1939, never to return — said he was proud that his grandfather allowed Jewish refugees into the country in the 1930s and provided for them.
"He risked his position as king but refused to be a puppet," Leka explained over coffee at the Maritime Plaza Hotel's Queen Geraldine Room, which is named after his grandmother. "That's why he had to leave Albania after the invasion."
Another prominent Albanian Jew is Geri Kureta, 55, owner of a chain of kids' clothing and toy stores. He has five outlets in Tirana, one in Vlora and one in the resort city of Durres. For 16 years, Kureta lived in Karmiel, in Israel's Galilee, but decided to return to his native Albania in 2007. His 82-year-old father and 76-year-old mother are still in Karmiel.
"I am very worried," said Kureta, who speaks fluent Hebrew. "Everyone knows I have family in Israel, and all of them call and ask me about them. People here see a lot on TV about Gaza. I don't think Israel has explained itself very well. Of course I blame Hamas, but at the end of the day, it's a war. Sometimes we don't have any other choice."
Blendi Gonjxhi, head of the government office that oversees Albania's road transport services, told the Jewish Telegraphic Agency that Israel was completely justified in striking back at Hamas after its bloody rampage.
"Things must be seen as they are," said Gonjxhi. "If you see how much money Hamas spent to prepare for this attack, you'll understand why Gaza is so poor. You cannot build tunnels and rocket launchers in a crowded neighborhood and then complain that this neighborhood is being bombed, or ask the people you attacked to supply your water and electricity."
A tale of two museums
When Nazi troops occupied the country, Albania's inhabitants gave shelter to local Jews as well as refugees, hiding them in their homes, dressing them in native costume and even giving them Muslim names to fool the Germans — in keeping with the tradition of besa. To honor that tradition, Albania is building the Besa Museum, which will be dedicated to the stories of Albanian citizens who saved Jews during the Holocaust.
The museum, which will be located in what is now a badly dilapidated mansion in Tirana — was announced in March by Rama during a visit to Jerusalem. But few details are available, and an onsite security guard refused to let a reporter in to take photos of the site.
"For 30 years, I've been dreaming of this. I never thought my idea of a Jewish museum would really happen," said Anna Kohen, a retired New York dentist and author of the autobiographical "Flower of Vlora: Growing Up Jewish in Communist Albania." Now 78 and living in Florida, she pitched the museum concept to city officials years ago.
Likewise, the 21,000-square-foot Jewish Museum of Albania, slated to open in 2025, will soon rise on the current site of Vlora's Ethnographic Museum, which is located in the middle of a small plaza. For now, graffiti is scrawled on nearby walls next to the Sophie Caffé and other boutique shops.
The $2.5 million Vlora project is financed by the Albanian-American Development Fund (AADF) and is being designed by Israeli architect Etan Kimmel, whose Tel Aviv company beat four European firms for the winning bid.
"We've always been aware that it was necessary to have something to remind people of the long-term relationship between Albania and the Jews," said the AADF's project manager, Alketa Kurrizo. "This will be a 21st-century Jewish museum that talks not only about history and what we have done, but about Albania's Jewish history going back to medieval times. This museum is one all of us will be proud of, and we're sure that people from Israel will also come to visit."
Upon completion, the museum will consist of one underground floor and four floors above ground as a modern glass extension to the existing historic building. Besides a permanent exhibit area, plans call for classrooms, office space, a library and an auditorium.
"This will be our first museum outside Israel," said Kimmel, whose projects include the National Memorial at Mount Herzl, the Natural History Museum in Tel Aviv and Jerusalem's Tower of David Museum, as well as numerous Israeli embassies around the world.
Both of the two planned museums are being financed by taxpayers in Albania, which despite a dramatic jump in tourism this year remains one of Europe's poorest countries. Prince Leka insists it's crucial for Albanians to know their past in order to prevent future atrocities — particularly in Europe, where violent assaults against Jews and firebombing of synagogues and other Jewish and Israeli targets have skyrocketed since the current war began.
"We have a huge amount of sympathy for Israel today," he said. "What happened on Oct. 7 was not a military attack, it was a terrorist attack. Armies do not rape women, they do not abuse children. Anyone who justifies these criminal acts is on the wrong side of history."
—
The post Albania has long been a pro-Israel country. Will the Hamas war change that? appeared first on Jewish Telegraphic Agency.
Menorahs in Brooklyn Stolen and Vandalized, NYPD Investigating as Hate Crime
Multiple public menorahs in the Sunset Park neighborhood of Brooklyn, New York were stolen and vandalized, according to a spokesman for the Chabad Jewish movement.
The stolen menorah was seen on Sunset Park Center lawn on Wednesday evening, according to Yaacov Behrman, a spokesperson for Chabad. On Thursday, it was found broken.
In a separate incident captured on video, a man is seen riding up to a menorah in Sunset Park on a bicycle and pushing it over.
"The holiday hasn't begun, and the vandalism has already started," Behrman said on X/Twitter.
The New York City Police Department (NYPD) is investigating the incidents as hate crimes.
The post Menorahs in Brooklyn Stolen and Vandalized, NYPD Investigating as Hate Crime first appeared on Algemeiner.com.
More than 500 staffers of Jewish groups, most of them progressive, appeal to Biden to press for ceasefire in Israel-Hamas war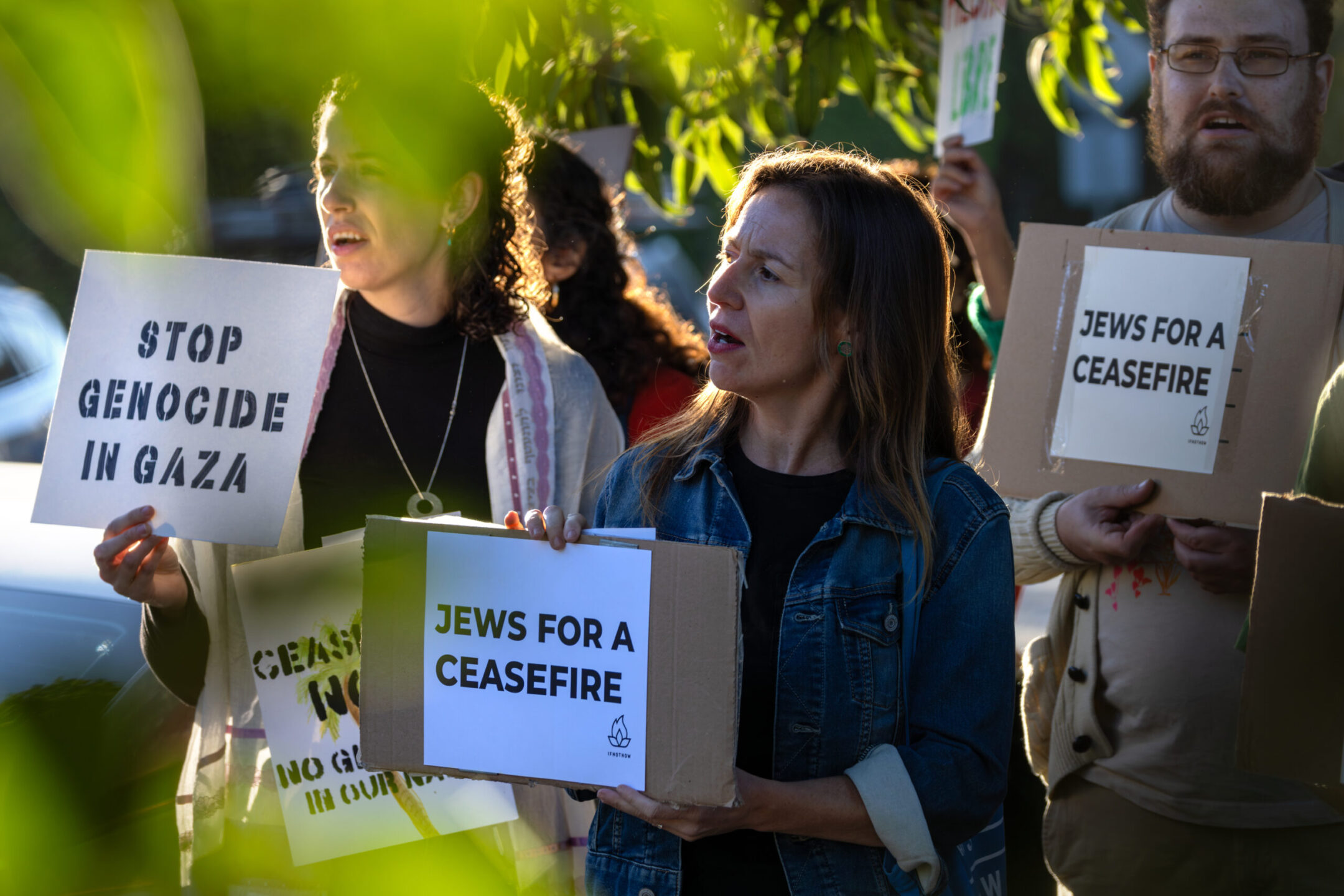 WASHINGTON (JTA) — Hundreds of staffers for 140 Jewish organizations, most of them progressive, signed a letter to President Joe Biden and Congress urging them to press Israel to agree to a ceasefire in its war with Hamas, citing their work "building thriving Jewish communities."
The letter, which does not necessarily reflect the views of the signatories' employers, is the latest sign that differences among American Jews regarding Israel's response to Hamas' deadly Oct. 7 invasion are becoming more public and pronounced. A number of Jewish Congress members now back a ceasefire, after having initially presented a unanimous voice in support of Biden's backing for Israel.
"We are individuals who work for a wide array of Jewish organizations across the United States, coming together across the broad range of beliefs, practices, backgrounds and identities that make up the rich fabric of the American Jewish community," said the letter, first reported Thursday by NBC.
"We are uniting together in this moment to call for a ceasefire, the release of all hostages, and a commitment towards a long-term political solution that ensures the freedom and collective safety of Israelis and Palestinians," the letter said.
The letter comes just weeks after a mass pro-Israel rally on the National Mall, during which speakers enthusiastically endorsed Israel's refusal to halt its military campaign until Hamas is dismantled and all the hostages it abducted on Oct. 7 are returned home. Hamas released more than 100 hostages in exchange for hundreds of security prisoners during a seven-day ceasefire that ended last week
The letter suggests to the president that the vocal Jewish groups that have opposed the war are also representative of a wide swath of American Jews. Biden prides himself on being attuned to Jewish sensibilities; he has cited his decades of closeness to Israel and to the American Jewish community in resisting calls from the left to press Israel into a ceasefire.
"As a group of professionals from a wide spectrum of Jewish organizations, many of us have devoted our life's work to building thriving Jewish communities," said the letter. "Our organizations may or may not join the call for a ceasefire themselves, but we feel moved to speak as individuals to demonstrate broad support within the Jewish community for a ceasefire."
Most of the organizations listed as affiliates of the signatories are on the left of the political spectrum, among them Bend the Arc, Jews For Racial and Economic Justice, and Workers Circle and its affiliates, all of them social justice advocacy groups. Some of the social justice groups themselves have not endorsed a ceasefire, in part because their focus is on domestic issues. (A Boston spinoff of Workers Circle is an exception, and so is JFREJ.)
There are also staffers from the two leading groups that have mobilized Jewish opposition to Israel's military campaign in Gaza and backed a ceasefire: IfNotNow and Jewish Voice for Peace, which is anti-Zionist. Left-wing activists point to Tthe visible presence of activists for these groups at antiwar protests to assert that there is Jewish backing for a ceasefire.
But some of the signatories come from groups focused on Israel that have opposed a ceasefire, including J Street, the liberal Jewish Middle East policy group. But in another sign of shifting sentiments, J Street said in a press release Thursday that it was reconsidering its position on the war.
There are also staffers for synagogues, some but not all known for their liberal outlook, that have not taken a position on a ceasefire.
More than 80 of the staffers signing asked for anonymity but listed their employers, which include mainstream groups that have backed Israel's war effort, among them the Reform and Conservative movements. The list includes three anonymous staffers for UJA-Federation of New York, which has raised millions for Israel during the war.
"I signed this letter because all decisions at this fragile moment must be made with lasting peace and safety in mind for all people in the region," the group's press release quoted one of the unnamed UJA staffers as saying. "I call on President Biden to take immediate action for a permanent ceasefire, release of all hostages, and a just resolution to this brutal war."
Heather Booth, a consultant for Jewish groups who did not sign the letter, urged the mainstream Jewish groups employing some of the signatories not to retaliate.
"Those who have signed the letter are responding to their values," Booth told the Jewish Telegraphic Agency. "We may or may not agree with what they're signing and saying and I didn't sign this myself for many reasons. But I support their right to share their passionate commitment to their values.And it's a sign of these times at some on the list fear retribution for signing."
In a press release, a Boston-area rabbi said her support for a ceasefire stemmed in part from her revulsion from Hamas.
"For the sake of defeating the insidious ideology of Hamas, for the sake of returning all of the hostages to their homes, for the sake of the wellbeing of all of the Israelis and Palestinians caught up in this war, I urge the Biden administration to do all it can to bring about a ceasefire as a first step to a lasting, political solution to the conflict," said Rabbi Tovah Spitzer of Dorsey Tzedek, a Reconstructionist synagogue in Newton.
The letter comes as a number of Jewish Democrats in Congress have in recent days called for a ceasefire, or have called for restrictions on emergency aid Biden has requested for Israel that has yet to be approved. One of the Democrats, Rep. Becca Balint of Vermont, made a statement in support of the letter.
"Thousands of Palestinians, including thousands of children, have been killed. Many more have been displaced, without water, food, medical supplies, and fuel," she said. "This is inhumane. What is needed is a negotiated bilateral ceasefire that ensures the release of all hostages and paves a path toward peace, security and safety for Israelis and Palestinians."
Hamas killed more than 1,200 people and wounded thousands on Oct. 7, most of them civilians. Since Israel launched counterstrikes and a ground invasion of Gaza, the Hamas-controlled Gaza Health Ministry has reported that some 17,000 people have been killed, including thousands of children. What portion of that number are combatants, and what portion were killed by misfired rockets aimed at Israel, is not known. Israel has estimated that twice as many civilians as militants have died in its counteroffensive.
—
The post More than 500 staffers of Jewish groups, most of them progressive, appeal to Biden to press for ceasefire in Israel-Hamas war appeared first on Jewish Telegraphic Agency.
Shots fired fired at Albany synagogue with preschool, suspect in custody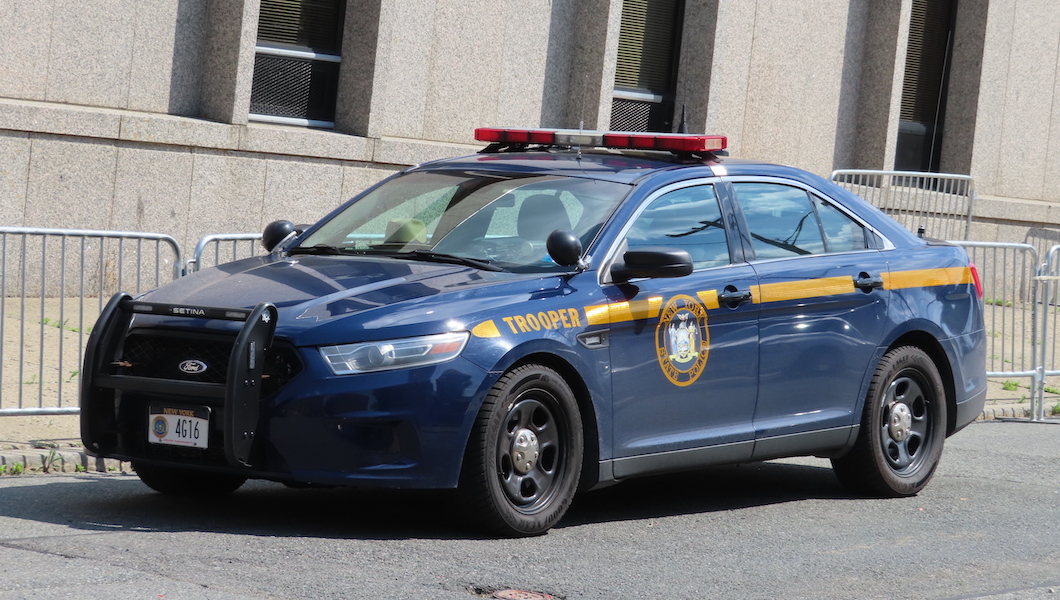 (New York Jewish Week) — Shots were fired at Temple Israel in Albany on Thursday, the first night of Hanukkah, as U.S. Jews grapple with a surge in antisemitism following Hamas' Oct. 7 attack on Israel and the Israeli military's military campaign in Gaza.
There were no injuries in the shooting on the premises of the Conservative synagogue in New York's capital, Gov. Kathy Hochul said in a statement, adding that she had spoken with the congregation's rabbi. She said in a press briefing, however, that the synagogue has an on-site early learning center, "with at least two dozen children, preschoolers, who were on the premises." She added that the facility went into lockdown but that all children have been released safely to their parents. 
A 28-year-old male is in custody, said Hochul's press secretary, Avi Small.
The suspect shouted "Free Palestine" during the incident, Albany's Times Union reported, citing police and another source.
Hochul said she had directed the New York State Police and the state's national guard to be on high alert and step up patrols of at-risk sites for Hanukkah, such as synagogues, yeshivas and community centers throughout the state — including New York City, which is home to the largest Jewish population in the United States. 
"Any act of antisemitism is unacceptable, and undermining public safety at a synagogue on the first night of Hanukkah is even more deplorable," Hochul said. "We reject hate, antisemitism and violence in all forms."
Hochul visited the synagogue on Oct. 7 in a show of solidarity amid Hamas' attack. 
The governor said that, following Thursday's incident, she contacted Temple Israel's Rabbi Wendy Love Anderson, and "assured her that the state of New York will do everything possible to restore the sense of security her congregation needs at this time," adding that she plans to attend Shabbat services there this Friday evening. 
In the briefing, Hochul noted that the synagogue had been one of several targeted with bomb threats in September. 
There was no immediate public comment on the incident from the synagogue or the Albany police department.
Law enforcement and Jewish community security groups have reported a surge in antisemitism since the outbreak of the Israel-Hamas war.
In New York City, the NYPD reported 62 antisemitic hate crimes last month and 69 attacks in October, a steep increase. Anti-Jewish incidents made up 65% of all hate crimes reported to police last month. There is no comparable data available for antisemitic hate crimes in upstate New York.
Synagogues and other Jewish institutions have been targeted in the wave of hate crimes. On Friday, bomb threats were made against 15 synagogues in New York State, including five in upstate areas. 
The threats were made as part of a campaign intended to interrupt synagogue operations by forcing law enforcement to go to a location, and there did not appear to be any actual danger to the targets, said the director of the Jewish security group the Community Security Initiative, Mitch Silber. 
"The bottom line is this: The safety of Jewish New Yorkers is non-negotiable," Hochul said in the briefing. "Every act, whether it's verbal or physical, any act of antisemitism is unacceptable, and undermining the public safety at our synagogue, on the first night of Hanukkah, is even more deplorable." 
"I remind everyone: As New Yorkers, this is not who we are. This must stop, " she added. "We reject hate, antisemitism, Islamophobia. All hate crimes must stop, and all violence in every form must cease. We have no tolerance for these acts of evil that have now permeated our society."
Ahead of questions, the briefing concluded with the lighting of Hanukkah candles, led by Eva Wyner, the state's deputy director of Jewish affairs.
—
The post Shots fired fired at Albany synagogue with preschool, suspect in custody appeared first on Jewish Telegraphic Agency.