Arab leaders say region paying price of Biden deemphasizing Israel, Palestinians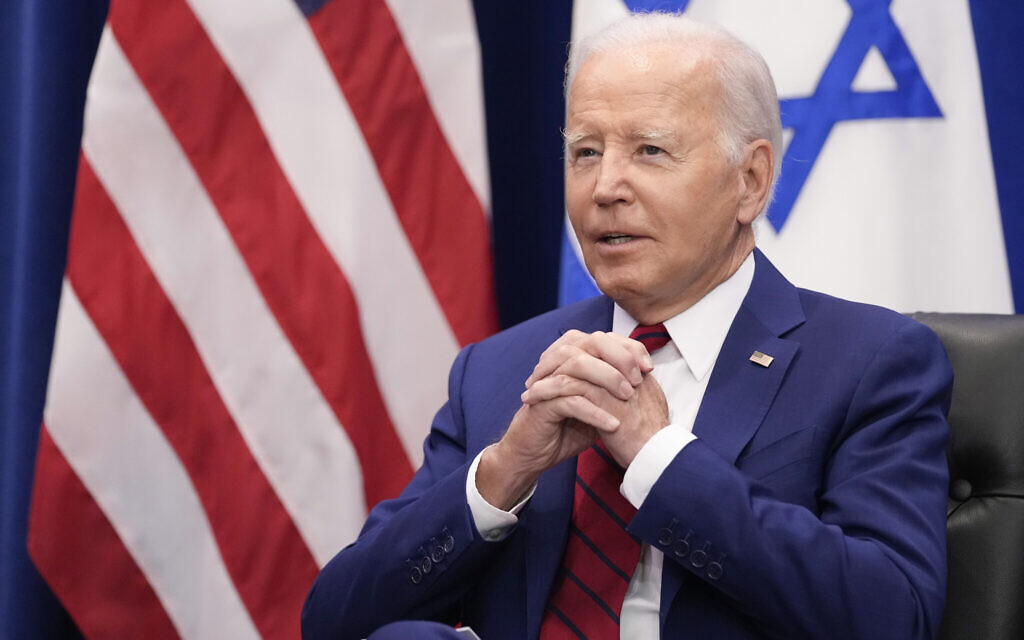 Washington sidelined decades-old conflict to focus on China while seeking normalization advances, but Hamas's massacre has brutally dragged issue back into focus
Since Oct. 7, antisemitism has exploded online in China. Here's why.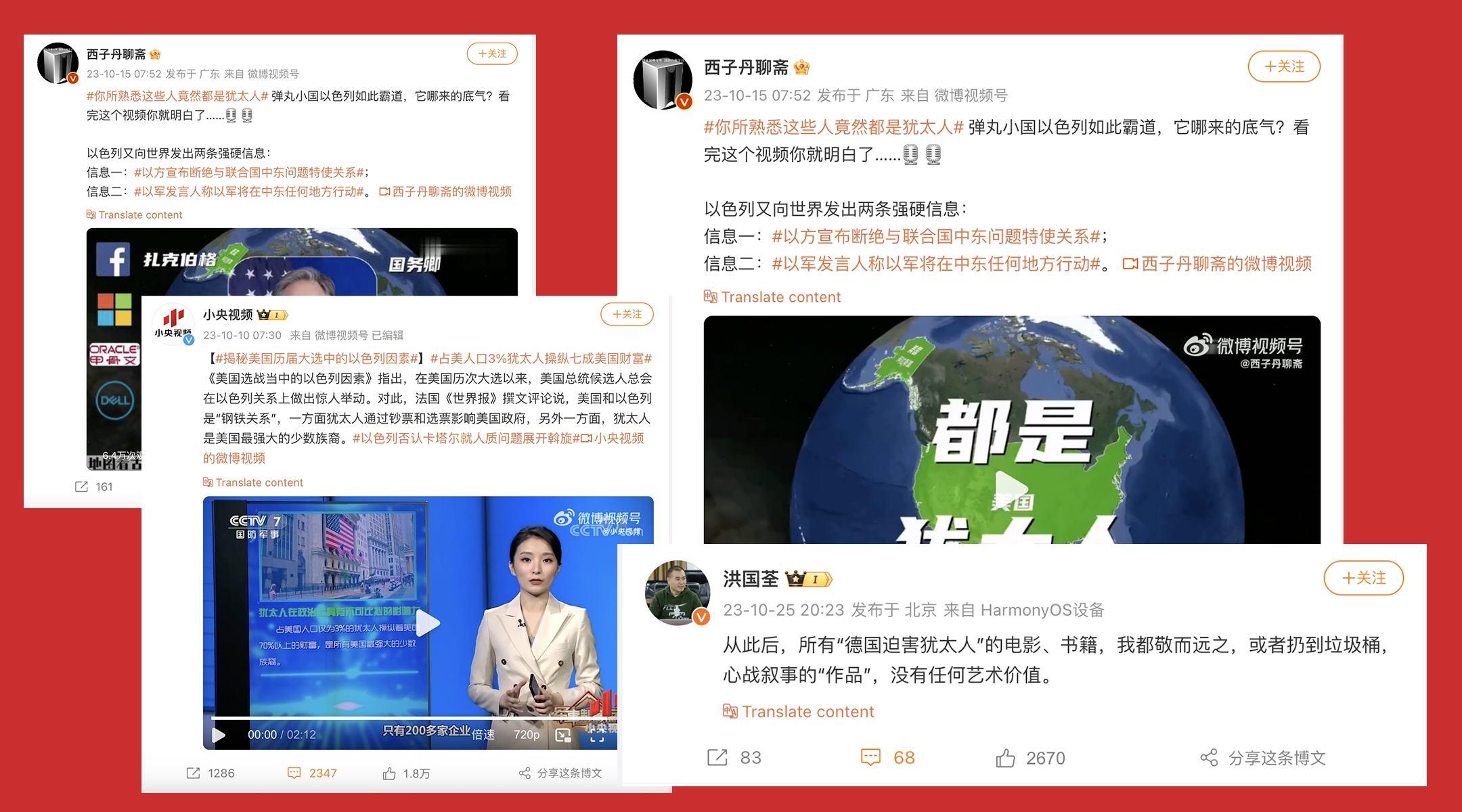 TAIPEI, Taiwan (JTA) — Growing up as a Bukharian Jew in China, Uriah was always told by his parents to hide his Jewishness in public and to try to assimilate into the greater Chinese population.
Uriah — who asked to be identified only by his Hebrew name to ensure the safety of his family — said that when he began publicly talking about his Jewish identity, people told him that he would "never be one of us [Han Chinese]."
But Uriah had never felt physically or personally threatened until the aftermath of Oct. 7, when Hamas killed over 1,400 Israelis in an incursion, sparking a war with Israel that has killed thousands in Gaza.
Online, he saw people taunting the parents of Noa Argamani, the half-Chinese Israeli-born captive who was seen being kidnapped by Hamas in a viral video. People cursed her Chinese-born mother for asking China for help.
Then friends and acquaintances started taunting Uriah and his family members, sending them antisemitic social media posts and messages saying Argamani was rightfully captured by Hamas fighters, he said.
"Is China even going to be a safe place for, say, Jewish businessmen who are known to be Jewish? Will there be hostility verbally, or even physically? In the past, my answer was no, but now I'm not sure," he said.
After Oct. 7, China's internet — from message boards to video platforms to social media — suddenly flooded with viciously anti-Israel and antisemitic comments. Pointing to Israel's actions against the Palestinians, people have said things ranging from support for Hitler and Nazi Germany to the idea that oppressed Jews have become oppressive Nazis.
Steven Spielberg's Holocaust classic "Schindler's List," which has been widely loved in China, was review-bombed so heavily on the video platform Bilibili that its rating declined from 9.7 to 4.3. "Where is the Palestinian Schindler?" read one highly-rated comment.
Commenting became so intense that Israeli and German embassy accounts on Weibo, China's popular microblogging platform, began filtering responses to some posts.
"We believe in the power of free speech and rational debate… But all this is not without limitations: invective that is degrading to human dignity will be deleted," the German embassy wrote. "We also want to make it clear that those who deliberately combine the Israeli flag with Nazi symbols in their profile pictures are either ignorant idiots or shameless bastards! Such accounts will be permanently blocked by us."
It's not just a phenomenon on social media. State media, such as the Chinese Communist Party-backed national news broadcaster CCTV, claimed that "Jews represent just 3% of the American population but control 70% of its wealth … these factors can be used to exert incomparable influence on politics." The CCTV video has since been removed, but the hashtag "Jews represent just 3% of the American population but control 70% of its wealth" became a "hot topic" on Weibo, and that unfounded statistic has appeared numerous times in other social media posts seeking to pin the responsibility for the current war against Hamas on a global Jewish conspiracy.
How "philosemitism" can turn into antisemitism
Judaism is not one of China's five recognized religions, meaning the identity of Chinese Jews like Uriah or the historic community in Kaifeng is not recognized as legitimate. But Jews — who in China are closely associated with the West, especially America — have long been revered in China, where centuries-old stereotypes are common — such as the conspiracy theory that Jews have control over American institutions from Wall Street and the media.
It's not just about money and power: the Chinese have historically looked to Jews as a sort of mirror of themselves, a down-and-out nation that survived extreme adversity and rose to a position of power and prominence against the odds.
These stereotypes are portrayed in a positive light and are often referred to as "philosemitic." Jews here have talked about getting everything from free taxi rides to compliments about their intelligence. Bookstores carry self-help books about how to be more like the "successful" Jews. Chinese philosemitic sentiment has been embraced by both Israeli and Chinese governments throughout the development of diplomatic relations, scholars have noted.
But the line between philo- and antisemitism can be thin. Unlike in the West, where antisemitism is a centuries-old, deeply ingrained tradition, Jewish conspiracy theories are a relatively new phenomenon in China. Even "positive" racial stereotypes have the potential to turn negative, especially in the context of heightened anti-Western sentiment in China in recent decades, says Mary J. Ainslie of the University of Nottingham at Ningbo.
As influencer Lu Kewen described in a viral 8,000-word WeChat post in 2021: "The image of Jews in China was once that of saints preparing to save the common people: firm, holy, intelligent, rich and kindhearted while full of trauma." Though after learning more about the history of "various countries," Lu wrote, "Jewish names kept coming up … after classifying them and analyzing their behaviors, my impression of Jews slowly changed." His screed included passages copied and pasted from Hitler's "Mein Kampf" and "The Protocols of the Elders of Zion."
The free propagation of Jewish conspiracy theories despite China's powerful censorship machine indicates an endorsement by the party-state, which has been hurling blame at the United States for the war in Israel through its state media.
"There is a notice here that stereotyping of Jewish people, particularly negative stereotyping of Jewish people, is actually quite a force online. And because conspiratorial discourses are encouraged by the state and are often actually connected to the state, this is something that [authorities are] not willing to perhaps challenge," Ainslie said.
At a press conference last week, in response to a question on reports of antisemitism on Chinese social media, Chinese foreign ministry spokesperson Wang Wenbin reiterated China's stance on the conflict — which calls for a two-state solution — adding that "China's laws unequivocally prohibit disseminating information on extremism, ethnic hatred, discrimination and violence via the internet."
China-Israel ties are at a low
China has cultivated a strong economic relationship with Israel since establishing ties in 1992, often referencing the "1,000-year" friendship between the Chinese and Jewish people and the thousands of Jewish refugees who found refuge in Shanghai during World War II. China today remains Israel's second-largest trading partner behind the United States.
In June, in a sign of warming ties, Israeli Prime Minister Benjamin Netanyahu told U.S. politicians that he planned to visit Beijing in the near future. He felt compelled to issue a statement emphasizing that "the US will always be Israel's most vital ally and irreplaceable ally." (That visit now seems unlikely.)
But China has historically also had a close relationship with Palestinian leaders dating back to the Mao era. The country has shown that it additionally wants to play a bigger role in the Middle East peace process in recent years.
Since Oct. 7, China has not specifically condemned Hamas' attack on Israel or labeled it as terrorism, leading to deep disappointment and frustration from Israel. Unlike many Western nations, China does not categorize Hamas as a terrorist organization.
On Thursday, Israel's representative to Taiwan called China's hesitance to condemn Hamas' attack "very disturbing." China has also released little information about the stabbing of an Israeli diplomat's spouse in Beijing, though police said the attacker was a foreigner.
Instead, China has repeatedly called for restraint on both sides and for a two-state solution to be reached with the help of the United Nations. China's Foreign Minister Wang Yi has also said Israel had gone "beyond self-defense."
China has additionally courted support in the Arab League, to the extent that several countries in it have begun rejecting international concerns about human rights violations against Uyghur Muslims in Xinjiang. The U.S. Holocaust Memorial Museum said the Chinese government "may be committing genocide" in the region, where the Uyghurs have reportedly been subject to mass imprisonment and forced labor.
Palestinian Authority President Mahmoud Abbas said in June that China's actions in Xinjiang are aimed at combating terrorism and have "nothing to do with human rights" abuses.
Plenty of Chinese still support Jews and Israel
Viral social media posts do not necessarily determine the public opinion of the average Chinese, and the topic of antisemitism in China remains understudied. Condemnations of antisemitism in response to the recent phenomenon in China's cyberspace do exist — many users have condemned Hamas' terrorism and questioned their government's response to the conflict.
Pro-Israel sentiment exists, too. Israel has also long been a subject of admiration in China for its rich culture and strong educational and tech sectors that many entrepreneurs have tried to buy into or replicate.
Many Chinese express their support for the Jewish state on the Israeli embassy in China's Weibo posts. "Support Israel! Annihilate the terrorist organization!" one recent comment reads.
In a post on X, the platform formerly known as Twitter, Ping Zhang, a professor of East Asian studies at Tel Aviv University, said his attempts to explain to Israeli friends that "'there are still many Chinese who support Israel' basically received little response."
"The goodwill caused by 1,000 Chinese voices friendly to Israel is not worth the damage caused by one antisemitic statement," he wrote. "Simply put, the foundation of the good relationship built between the two sides over the past three decades has been shattered."
—
The post Since Oct. 7, antisemitism has exploded online in China. Here's why. appeared first on Jewish Telegraphic Agency.
Some Jewish musicians are asking Jewish critics of Israel to stop singing their songs at protests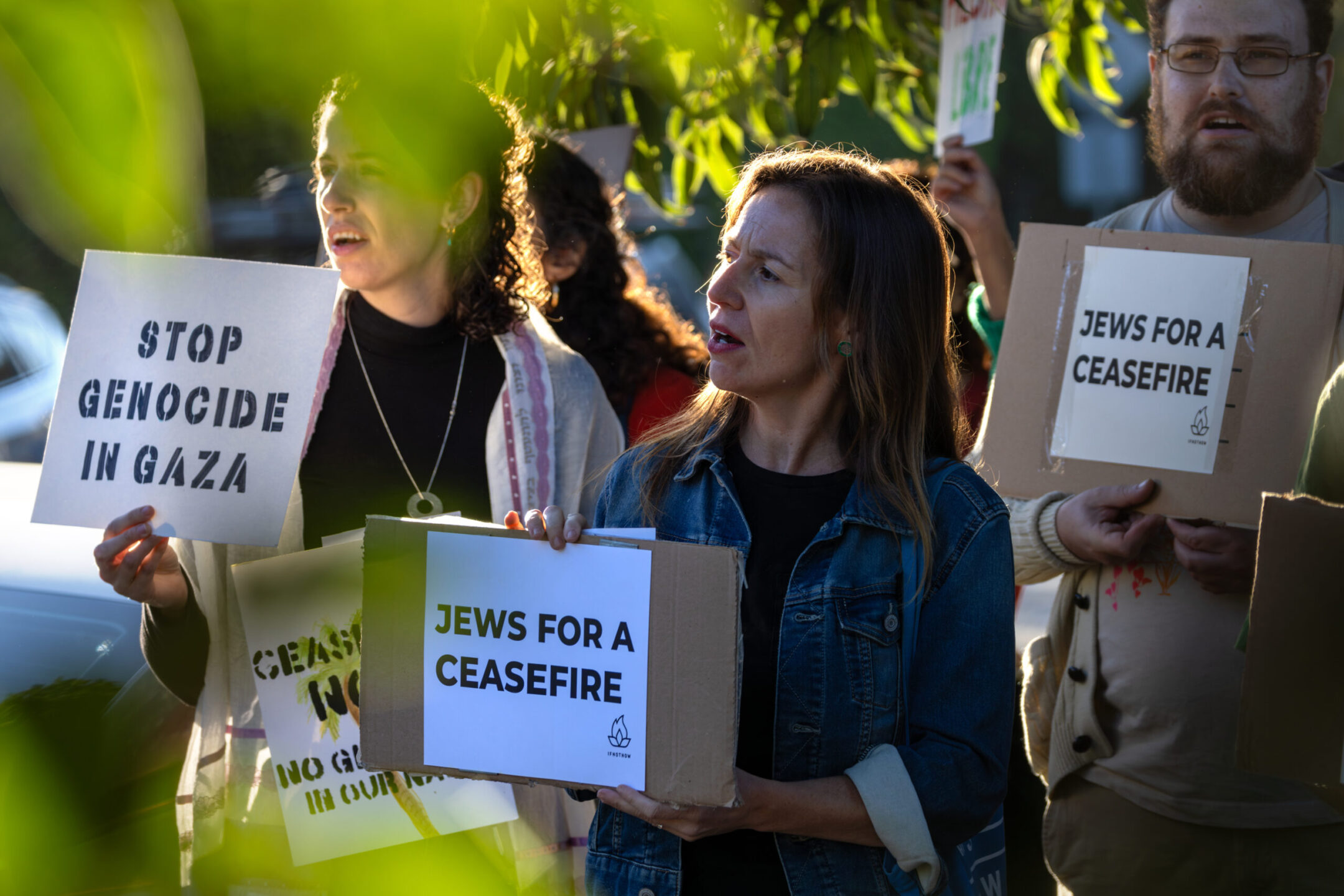 (JTA) — When the Jewish group IfNotNow asked educator and musician Shoshana Jedwab whether it could include her song "Where You Go" in its songbook, Jedwab offered a cautious yes.
The year was 2018, and the song, which Jedwab had officially released on the first anniversary of then-President Donald Trump's travel ban on Muslim-majority countries, had taken off at progressive protests.
The lyrics were easily adaptable to the most pressing issues of the moment, including immigration, women's rights and Indigenous rights — all issues that IfNotNow, which had been founded in 2014 to press American Jews to more harshly criticize Israel, was widening its scope to tackle. Jedwab knew that IfNotNow was further to the left on Israel issues than she was, but she decided to grant permission nonetheless.
"I thought, 'I need to open up, I need to be braver, I need to reach out here and give my blessing to people who put energy into the anti-occupation movement," she said. "I had my father ringing in my ears, a Holocaust survivor and an ex-Palmachnik who looked at the occupation in the West Bank and said this is a shame, this is a shanda, we cannot be occupiers. So that's why I did it."
Five years later, Jedwab has changed her mind. She recently asked IfNotNow to remove "Where You Go" from its literature. The trigger for that reversal, she said, was the group's claim that Israel is committing a "genocide" in its war against Hamas in Gaza. Some protests trumpeting that accusation have also featured her song.
"I gave them permission. I trusted them," she told the Jewish Telegraphic Agency. "It breaks my heart thinking that this organization that thinks it's doing good is putting Jews in danger by saying a falsehood, an incredibly dangerous falsehood."
Jedwab isn't the only Jewish musician to demand that IfNotNow stop using their songs in the wake of Hamas' Oct. 7 attack on Israel that killed 1,400 people, took hundreds hostage and began the current war.
Rabbi Menachem Creditor declared on social media over the weekend that he disavows the group's use of his song "Olam Chesed Yibaneh," citing its genocide accusation and its alignment with Jewish Voice for Peace, an explicitly anti-Zionist group.
"I've been struggling for a long time with the use of my song by IfNotNow and wanted to give them every chance to express themselves with different Jewish eyes," Creditor told JTA. "But again and again, they have effectively unmoored themselves from our people and are acting in ways that will be destructive to the Jewish people and to the State of Israel."
In asking IfNotNow to stop using their work, the musicians are taking a page from the likes of Sting, Bruce Springsteen and R.E.M., all of which have barred politicians from playing their songs at rallies.
The Jewish musicians are also opening a window into a dramatic reordering within the progressive Jewish left since Oct. 7, as some progressive Jews have realized that despite sharing an outlook with the members of far-left Jewish groups on many social issues, their differences of opinion on Israel now feel like an uncrossable gap.
IfNotNow represents a notable laboratory for those tensions because of its posture at the intersection of Jewish expression and progressive politics. The group was founded during the last major war in Gaza by young Jews who said they were dissatisfied with what they had learned about Israel at their Jewish day schools and summer camps. Its activities have long drawn on and featured Jewish ritual and objects.
Like Jedwab, Creditor, now the rabbi in residence at UJA-Federation of New York, had expressed admiration about IfNotNow's use of his work in the past, even if he did not endorse its outlook on Israel. In 2016, he said on Facebook that he was inspired by the group as it protested against Trump's appointment of Steve Bannon, previously the chair of the hardline right-wing news site Breitbart, as chief strategist.
"That their live streamed marching on the Republican party offices in Boston had them singing my 'Olam Chesed Yibaneh' is, perhaps, most humbling of all," he wrote at the time. The song's title means "The World Is Built on Kindness" and is drawn from Psalm 89.
In addition to "Olam Chesed Yibaneh" and "Where You Go," IfNotNow also recites the Mourner's Kaddish prayer and sings traditional Jewish songs such as "Lo Yisa Goy," based on a Biblical passage with an antiwar message, at its rallies. Other actions have featured Jewish prayer shawls or the shofar.
"Turning to ritual and song is one of the most basic, ancient things that Jews do," said Ilana Lerman, who helped compile the IfNotNow songbook that features Jedwab's song. "This is a very ancient and brilliant technology: We use song and ritual to call people, to mourn, to praise, to act, to join in solidarity, to learn, to mark time. These are all things that we are going to want to do as a movement together."
IfNotNow told Jedwab that it would remove her song from its literature in the future, said the songwriter, who also teaches Jewish studies at the Abraham Joshua Heschel School in New York City. But she said friends have let her know that "Where You Go" is still being sung at the group's rallies. And the group's national spokesperson, Eva Borgwardt, declined on Sunday to answer questions about whether it plans to curb the singing of "Olam Chesed Yibaneh," which Creditor wrote after 9/11.
"We want to build a world of love and peace, where no Palestinians or Israelis need to fear for their lives. We cannot build a world of love through more bombing and death," Borgwardt said in a statement.
"We will continue to call for ceasefire, the release of all hostages, deescalation, and addressing the root causes that brought us here, and we are proud to draw on the rich Jewish tradition that gave us the words of Psalm 89:3," she added.
Lerman said on Tuesday that her understanding was that the group would in fact stop using Jedwab's and Creditor's songs in its national actions. But she said it could take some time for the songs to disappear completely — because they have been such mainstays of IfNotNow's activism up to this point, and it might take some time for local chapters to get the message.
"We're definitely going to follow their request," she said. "We won't sing their music, and we're really sad about it, because the messages from their music really come from the part of Judaism that is about love and not about vengeance."
Creditor said he had gotten offers of pro-bono legal assistance to press IfNotNow to carry out his request, but he isn't interested.
"I think that gives too much oxygen where I just simply want them to stop," he said. "If they have spiritual integrity, they'll respect my wishes."
Some critics of IfNotNow and Jewish Voice for Peace have gone much further, announcing in recent weeks that they no longer consider the groups' members to be Jewish. Avi Mayer, the editor of the Jerusalem Post, said as much in a column last week, quoting a Oct. 27 thread on X, the platform formerly known as Twitter, by Dan Elbaum, the North American head of the Jewish Agency for Israel.
Saying that he was "talking about American Jews who call Israelis Nazis and accuse them of acts of genocide — knowing full well and even relishing the hurtfulness of those terms," Elbaum specifically called out members of IfNotNow and Jewish Voice for Peace.
"I have reached a sad conclusion. As much as I would not like to give up on a single Jew, I have given up on them. For me, they are deserving of "cherem" (formal exclusion from the Jewish people)," Elbaum wrote, adding, "Unlike Hamas who would have joyously murdered them on October 7, I do not consider them Jews."
Creditor shared Elbaum's thread, writing, "I grieve as I add my amen to this sad but necessary conclusion." But he told JTA that he would not actually go as far as Elbaum or Mayer.
"I'll make a delineation between IfNotNow and the individuals who are caught up in it," he said. "I'm not willing to say they're not Jewish. But what they are doing is anti-Jewish."
That kind of thinking is an "an unfortunate pattern" that has emerged in this moment of political realignment, said Rabbi Miriam Grossman of Brooklyn's Kolot Chayeinu synagogue, who has participated in IfNotNow rallies.
"Jewish leaders, sometimes rabbis and sometimes organizations, are saying that various elements of Jewish life are no longer usable or fair game anymore in the hands of Jewish folks who are organizing and calling for ceasefire," she said.
"As a rabbi, I just want to publicly disagree with that," Grossman said, adding about IfNotNow protesters, "They're so clear that they're proud of their Judaism. They want to show up in Jewish community and to fight for life together. … And so it just makes me sad when people are looking at that and saying that it's not Jewish."
Rallies in support of Israel and its response to Oct. 7 have also featured Jewish songs — most frequently "Am Yisrael Chai," written by Shlomo Carlebach in 1965 for the movement to free Soviet Jewry. (Creditor is married to Carlebach's daughter Neshama, herself a Jewish songwriter who has performed "Olam Chesed Yibaneh" in venues as varied as Auschwitz, Japan and a memorial concert for her father.)
Both Creditor and Jedwab said they recognized they could not put their songs back in the bottle.
"I'm not asking people not to sing it. I believe that people's hearts are basically good," Jedwab said about "Where You Go." "But I cannot condone that organization using my song officially."
"It's hard to control the use of your art when it's already been created," Creditor said. "But it hurts me the worst when I see my song weaponized against my own family's heart."
And Lerman said that even as "Olam Chesed Yibaneh" and "Where You Go" recede, other songs will fill their place.
At each protest, she said, some IfNotNow members are deputized as song leaders — including 40 at the recent protest at the U.S. Capitol where many demonstrators were arrested. Their goal, she said, is to keep the singing going for as long as the rally lasts.
"We Rise," a newer song by the musician Batya Levine, has been a feature of Jewish Voice for Peace and IfNotNow rallies, and was sung in the rotunda of the Capitol. (Levine, who has taught the song at JVP events, did not respond to a JTA request for comment.) And "Ceasefire Now," a two-word song by Sol Weiss, has also gained traction over the last month.
"New music is born inside of moments that call for new music," Lerman said.
—
The post Some Jewish musicians are asking Jewish critics of Israel to stop singing their songs at protests appeared first on Jewish Telegraphic Agency.
Jewish lawmaker Vernikov holds seat, Kagan loses in closely watched NYC council elections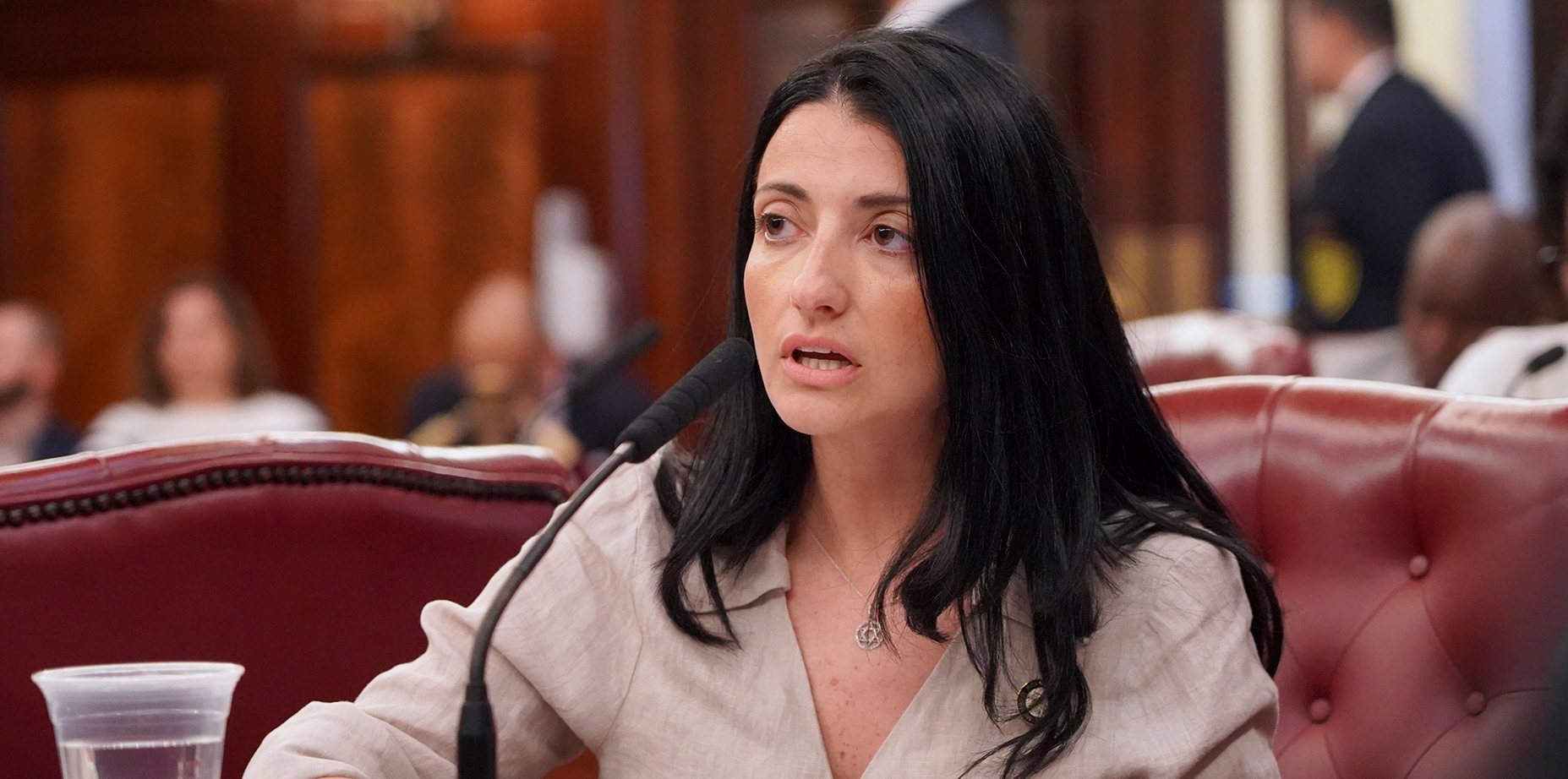 (New York Jewish Week) — One Jewish Republican lost his New York City Council seat and another retained hers in a pair of contested elections on Tuesday.
Republican Ari Kagan lost his seat to Democrat Justin Brannan in Brooklyn's 47th district, with most of the votes counted, and Republican Inna Vernikov held a commanding lead over challenger Amber Adler, a Democrat, in the 48th district, with 85% of the votes counted. Both Brannan and Vernikov declared victory by Wednesday morning.
Brannan and Kagan were both city council members going into the closely watched race for the newly formed 47th district, which includes Brooklyn's Bay Ridge, Coney Island and parts of Bath Beach. The majority of voters in the district identify as Democrats.
Kagan, an honoree in the New York Jewish Week's "36 to Watch" list in 2022,  switched from the Democratic to the Republican party last year, saying the Democrats had moved too far left. Brannan's ties with the Democratic party leadership frayed shortly before the race due to his alleged involvement in a harassment case, allegations he denies.
Brannan and Kagan sparred over the war between Israel and Gaza during the campaign, with Kagan accusing Brannan of taking a soft stance toward hardline pro-Palestinian protesters in the district. Brannan lashed Kagan for the comments, saying he supported both Israel's right to exist and Palestinian aspirations for a state. The district has significant populations of both Jews and Palestinians.
Kagan accused Brannan of "radioactive cowardly silence" following "pro-Hamas chants, anti-American and anti-Semitic signs in his own backyard."
"He's trying to use the Israel-Hamas war to score political points," Brannan said. "He has no shame."
Brannan had the backing of Jewish U.S. Rep. Daniel Goldman, who said he had campaigned for the candidate the day before the race.
Kagan, who was born in Belarus, and Vernikov, originally from today's Ukraine, are staunch supporters of Israel and are tied to southern Brooklyn's Russian-speaking Jewish community.
Vernikov's 48th district covers Brooklyn's Homecrest, Sheepshead Bay, Brighton Beach and Manhattan Beach neighborhoods. Vernikov, elected in 2022, serves as the Republican party minority whip in the council. Independent candidate Igor Kazatsker also ran for the district, falling well short of Vernikov and Adler. Democrat Adler is also Jewish, a fact she highlighted shortly before the race with a visit to the Chabad rebbe's gravesite in Queens.
Vernikov was arraigned just days before the election for illegally bringing a pistol to a pro-Palestinian protest last month. Vernikov has a permit for the weapon, but under New York law, a demonstration is considered a "sensitive location" where firearms are prohibited.
All 51 seats in the City Council were up for election on Tuesday, although some candidates ran unopposed. Eric Dinowitz, the chair of the Jewish Caucus, is set to hold his seat in the 11th district, and Kalman Yeger is set to defeat Heshy Tischler in the 44th district in a race pitting two well-known Orthodox Jews against each other.
Voters were focused on migrants and crime more than other issues, but the Middle East war was also a factor, according to a Siena College poll released late last month.
A majority of voters — 57% — favored more aid to Israel, while 32% were opposed. Jewish voters favored more aid to Israel by a wide margin of 81% in favor and 8% opposed.
Half of New Yorkers, including a majority of Democrats and Independents, were concerned that Israel's counter-offensive will harm Palestinian civilians, while about one-third said Israel had to make sure another Hamas attack needed to never happen again, regardless of casualties, Siena College pollster Steven Greenberg said.
Israeli Prime Minister Benjamin Netanyahu had a favorability rating of 27% and an unfavorability rating of 32%, with Republicans holding a higher opinion, and Democrats and Jews more opposed, Greenberg said.
—
The post Jewish lawmaker Vernikov holds seat, Kagan loses in closely watched NYC council elections appeared first on Jewish Telegraphic Agency.