At a Dead Sea hotel, refugees from Kibbutz Be'eri count their dead and grieve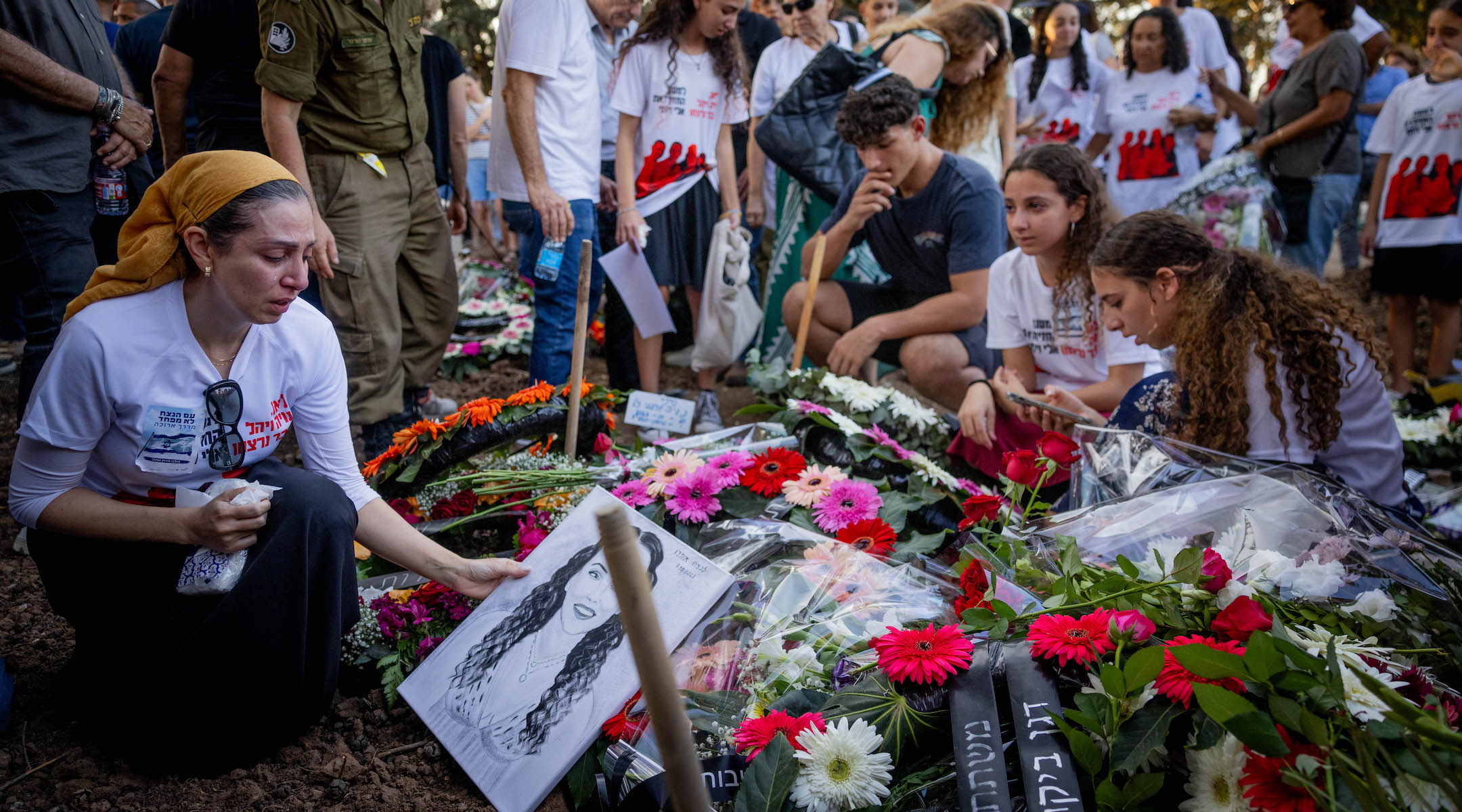 DEAD SEA, Israel (JTA) — Nearly three weeks after Kibbutz Be'eri was massacred, its surviving members still gather for their community's traditional evening meeting. 
The kibbutz, ransacked and empty, is now a closed military zone. To those familiar with the litany of atrocities committed on Oct. 7, its name has become synonymous with some of the day's worst horrors. Many of Be'eri's residents refer to that day as a "Shoah," or Holocaust. 
Now, the nightly meetings instead take place at the David Dead Sea Resort, where most of Be'eri's members are staying as Israel fights a war against Hamas, the terror group that invaded Be'eri and the rest of the Gaza border area, killing 1,400, wounding thousands and taking more than 200 people captive. 
Instead of discussing the usual business of the community of about 1,100, Be'eri's residents spend the meetings updating the list of kibbutz members who have been moved from "missing" or "kidnapped" to "dead." 
A conference room in the hotel is divided by black curtains into several separate shiva areas for families. More are being held outside on the hotel lawn. 
Nineteen days after the massacre, the search and identification process for missing people is ongoing: The tally, which started at 20 dead out of 115 missing kibbutz members, has now grown to 85 dead and is likely to increase. Additional people who lived at Be'eri, but were not members of the kibbutz, were also killed, for a total death toll of more than 100. 
Each of those statistics is an individual known on a first-name basis to members of the intimate, pastoral kibbutz, where cars do not enter beyond the gate and members' main source of entertainment is each other.
"You read the list of the dead," says Gal Cohen, who is 54 and has lived on the kibbutz his entire life. "These are people you grew up with and had countless experiences and interactions with."
Cohen's new routine consists of receiving updates regarding who in the kibbutz family is dead or captured. Alongside that, he spends his days attending funerals and shivas, all the while struggling to hold things together emotionally. That reality is typical of what Be'eri members are currently experiencing as the tight-knit community attempts to collectively process an unspeakable tragedy.  
Describing one day, Cohen lists a series of funerals he and his family are attending, all of neighbors they knew personally.
"I was this morning at the funeral of a good friend, Hagi, who was in the civil defense patrol with me, a good friend who was murdered in the war to defend our home," he said. "Now my daughters are at the funeral of Dana and Karmel. Avidan is left without a leg — they killed them in the bomb shelter."
He continued, "They are doing the funeral closer to the center [of the country]. At 4, I need to go to a funeral ceremony that we are doing for Yoni, who was able to protect his children. He left the bomb shelter and hid them inside, where they were not found, and he was killed outside. … I am a strong person, but after five or six, you are broken."
There are so many funerals and shivas, some far from the Dead Sea, that members cannot possibly attend them all. 
"There was a day with 17 funerals, and you are not able to race to each one," said Cohen. Shuttle services have been offered to help members pay their respects as much as possible. Some of the funerals are being thought of as temporary; families plan to rebury their loved ones on the kibbutz once the military allows them access. 
While their community's grief is acute and ongoing — a reported 10 kibbutz members are being held captive in Gaza -— the kibbutz's model of collective living is valuable to the healing process, says Dr. Nachum Halperin, 83. Halperin is the former head of the Israeli Orthopedic Society and has spent several days as a volunteer treating patients at the hotel who are exhibiting pain.
"Support from the community helps a lot," he said. "The Be'eri community received a terrible blow. The fact that it is a united community helps a lot."
Just down the road from the David Dead Sea Resort are other hotels housing Israeli refugees from southern cities like Sderot and Ashkelon. Halperin said that in some ways, they're having a harder time.
"There are many new immigrants who speak their mother tongue of Russian, et cetera," he said. "It seems like the trauma influenced them more."
Regarding the Be'eri residents, he added, "The fact that there is a community here helps a lot."
Halperin said comparisons to the 1973 Yom Kippur war — which happened exactly 50 years before Hamas' attack and which is also a touchpoint of Israeli national trauma — are insufficient.
"This is much worse," he said. "We learned how to deal with trauma — but we are not talking just about trauma but a Holocaust, something we were not ready for, that we did not understand." 
The unreadiness and unprecedented nature of Hamas' attack has contributed to an Israeli mental health crisis, said Halperin. "In a situation like this, with stress and post-trauma, the bodily pains transform to be more painful because pain is not only in the knees, but it is gathered in the mind," he said.
Inside the hotel, a makeshift team of government workers and volunteers offer their services and provide assistance. At a desk staffed by the Israeli Tax Authority, kibbutz members can receive help applying for special government assistance, while downstairs, a variety of holistic and psychological treatments are available for free.
In spite of the horrors of recent weeks, current and former kibbutz members, young and old, are coming together to start the process of rebuilding the community — stronger than before, they say.
"Every day we lose it and fall apart," Cohen said. "But we are not falling apart for the sake of falling apart, but in order to build ourselves back up from the start. The goals are in front of our eyes and we will reach them." 
And some of the kibbutz meetings do lead to action items. Immediately after arriving at the hotel, the community drafted a list of goals. They are trying to transplant their unique way of life to a new setting, including allowing the kibbutz dogs to stay in the luxury hotel. 
"When they evacuated me from the shelter under fire, my dog was the first to get in the Jeep," Cohen said. "It was clear we were not going to leave her behind."
At the top of the kibbutz's agenda is freeing all of Israel's hostages and rebuilding Be'eri at its original location. 
"If Be'eri does not build itself back to succeed like it was before — in its location — I think that the State of Israel will shrink and be finished," Cohen said. 
Meanwhile, the kibbutz's refugees grieve together. Outside on the lawn, surrounded by palm trees with a view of the Dead Sea, Moran Bar is sitting the second day of shiva for her parents, Yuval and Maayan, who were murdered on Oct. 7, but whose bodies were identified only 10 days later. 
"We lived in a beautiful, complete, quiet Garden of Eden that they destroyed in a single moment," she said. "There is something about being with the same people who experienced the same pain. It doesn't provide comfort for the losses but it makes it a little nicer for the heart."
—
The post At a Dead Sea hotel, refugees from Kibbutz Be'eri count their dead and grieve appeared first on Jewish Telegraphic Agency.
Penn president resigns amid criticism of her testimony on campus antisemitism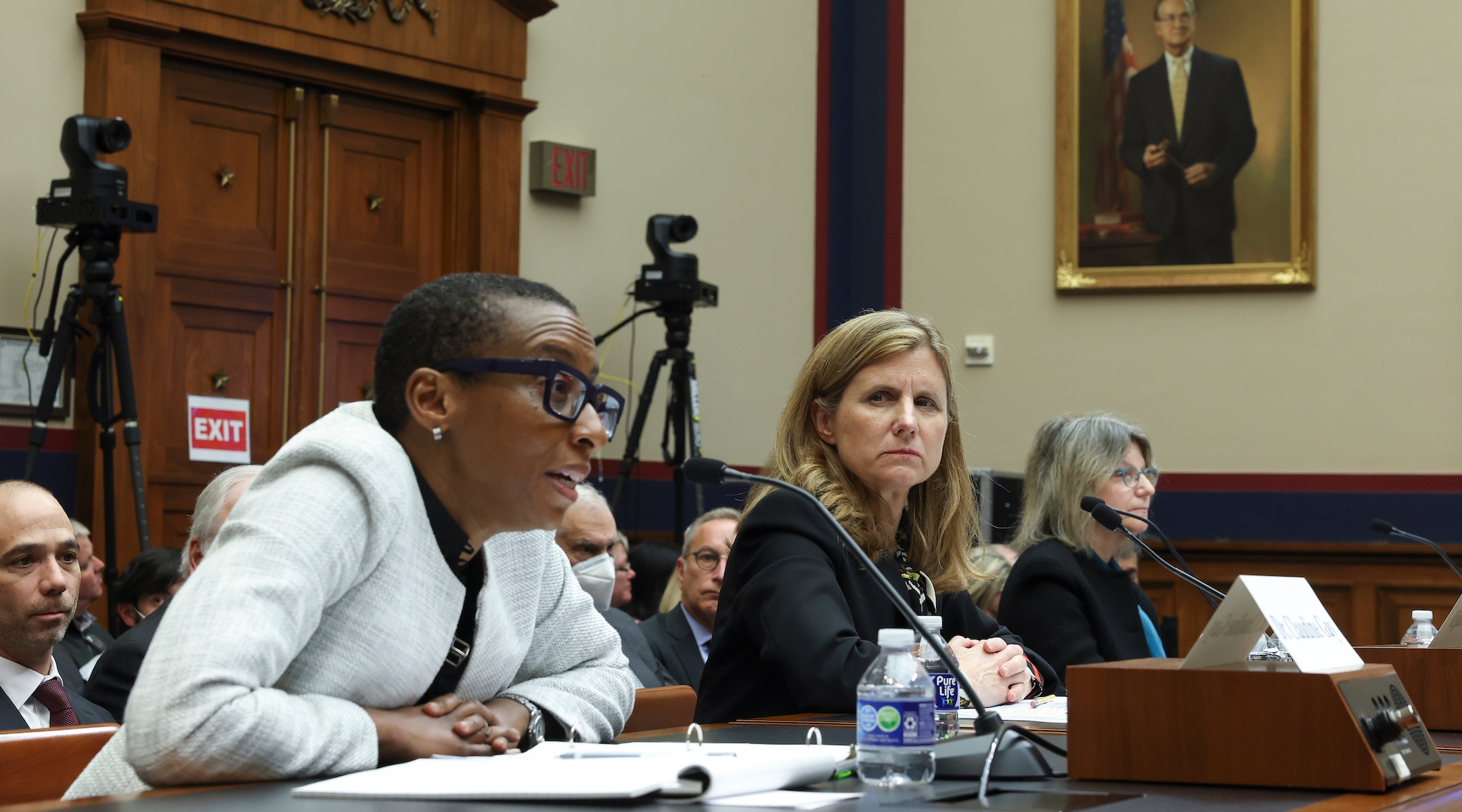 (JTA) — The president of the University of Pennsylvania announced her resignation on Saturday after facing growing backlash for declining to say outright that calling for the genocide of Jews violated the school's code of conduct.
"I write to share that President Liz Magill has voluntarily tendered her resignation as President of the University of Pennsylvania," Scott Bok, the chair of the school's board of trustees, said in a statement. Bok subsequently said he would also be resigning.
Magill's resignation is the most significant fallout so far from a congressional hearing on Tuesday in which she and the presidents of Harvard University and the Massachusetts Institute of Technology were all asked whether calls for genocide of Jews would constitute harassment or bullying. All three responded that the answer depended on "context."
Video of the exchange went viral and was highlighted by Jewish and pro-Israel activists as an illustration of how universities have failed to take campus antisemitism seriously in the wake of Hamas' Oct. 7 attack on Israel and Israel's ensuing war against the terror group in Gaza.
"I hope this signals a new start for @Penn & a wake-up call for all college presidents," Jonathan Greenblatt, the CEO of the Anti-Defamation League, wrote on X, formerly Twitter. "Campus administrators must protect their Jewish students with the same passion they bring to protecting all students. They can't hide behind language coached by their attorneys & look the other way when it comes to antisemitism."
In the wake of the hearing, Magill in particular faced mounting criticism from Penn's stakeholders. The board of the school's Wharton School called for new leadership for the school and a donor threatened to pull a $100 million donation unless Magill stepped down. Pennsylvania Gov. Josh Shapiro, who is a non-voting member of the board of the private university, said Magill "failed" to create a safe atmosphere for students and urged the board to review her leadership.
In her own brief statement Saturday, Magill did not mention the reason for her stepping down, and said, "It has been my privilege to serve as President of this remarkable institution." Bok said in his statement that Magill was "not the slightest bit antisemitic" but had faltered in the hearing because she had given "a legalistic answer to a moral question, and that made for a dreadful 30-second sound bite."
Both Magill and Harvard President Claudine Gay walked back their comments to Congress in statements the day after the hearing, and Gay issued a subsequent apology in an interview with the Harvard Crimson, the student newspaper, saying, "When words amplify distress and pain, I don't know how you could feel anything but regret."
MIT's board, meanwhile, is backing its president, Sally Kornbluth, who is Jewish. "I write now to let you know that I and the Executive Committee of the MIT Corporation entirely support President Kornbluth," MIT Corporation chair Mark Gorenberg wrote in an open letter on Thursday.
Meanwhile, Rep. Elise Stefanik, the New York Republican who asked the questions about genocide, celebrated Magill's resignation and called for Gay and Kornbluth to follow suit.
"One down. Two to go," Stefanik wrote on X. "This is only the very beginning of addressing the pervasive rot of antisemitism that has destroyed the most "prestigious" higher education institutions in America."
At least one other elite university has taken the opportunity to signal that its approach to antisemitism is different. "In the context of the national discourse, Stanford unequivocally condemns calls for the genocide of Jews or other peoples," Stanford University wrote in a social media post on Friday. "That statement would clearly violate Stanford's Fundamental Standard, the code of conduct for all students at the university."
—
The post Penn president resigns amid criticism of her testimony on campus antisemitism appeared first on Jewish Telegraphic Agency.
University of Pennsylvania President Resigns Amid Massive Backlash Over Tepid Response to Campus Antisemitism
University of Pennsylvania President Elizabeth Magill resigned from her position on Saturday, ending a 17-month tenure marked by controversy over what critics described as an insufficient response to surging antisemitism on campus.
"It has been my privilege to serve as president of this remarkable institution," Magill said in a statement. "It has been an honor to work with our faculty, students, staff, alumni, and community members to advance Penn's vital missions."
Magill's resignation followed growing calls from university leaders, donors, and students, as well as US lawmakers, for her to step down after refusing to say during a congressional hearing held on Tuesday that calling for the genocide of Jews would not constitute a violation of school rules.
"It is a context-dependent decision, congresswoman," Magill said, responding to US Rep. Elise Stefanik (D-NY), who posed the question. "If the speech becomes conduct, it can be harassment, yes."
"Conduct meaning committing the act of genocide?" Stefanik asked, visibly disturbed by Magill's answer. "The speech is not harassment? This is unacceptable Ms. Magill."
The following day, Magill apologized.
"In that moment, I was focused on our university's longstanding policies aligned with the US Constitution, which say that speech alone is not punishable," she said in a video posted on X/Twitter. "I was not focused on, but I should have been, the irrefutable fact that a call for genocide of Jewish people is a call for some of the most terrible violence human beings can perpetrate."
Appointed in July 2022, Magill, an alumnus of Yale University and the University of Virginia Law School, began her position at the school vowing to "shape Penn's next great chapter." By the time of Saturday's announcement, however, two Jewish students had sued the school, alleging that it violated their civil rights by "selectively" enforcing rules that would punish those who harass and intimidate Jewish students, hiring radical anti-Zionist professors, and fostering a hostile learning environment.
Meanwhile, the US government began investigating accusations of antisemitism at the university, and a major donor threatened to rescind a $100 million gift if she remained in place.
Jewish students have said that antisemitism at Penn is an "institutional problem" that has been worsening for many years.
The problem became acute and first noticed by much of the public in September, when the school hosted an anti-Zionist festival that featured several speakers who called for violence against Israel and were accused of promoting antisemitic conspiracies. For weeks, the school would not condemn the event, and Magill recently apologized for not doing so — after it took place.
After Hamas' massacre across southern Israel on Oct. 7, anti-Zionist protests at the university at times descended into demagoguery and intimidation of Jewish students, as speakers berated pro-Israel counter-protesters.
For roughly seven hours on Oct. 17, the protesters walked back and forth across Penn's grounds chanting, "From the river to the sea, Palestine will be free" — a slogan widely interpreted as a call for the destruction of Israel, which is located between the Jordan River and the Mediterranean Sea. The demonstrators also chanted "Israel, Israel, you can't hide, we caught you in genocide."
However, according to court documents viewed by The Algemeiner concerning the recent lawsuit by two Jewish students, such incidents were hardly new.
In March, for example, the anti-Zionist group Penn Against the Occupation (POA) hosted Mohammed El-Kurd during its "Israeli Apartheid Week." Currently a columnist for the left-wing magazine The Nation, the 25-year-old el-Kurd has trafficked in antisemitic tropes, demonized Zionism, and falsely accused Israelis of eating the organs of Palestinians. Over the past two years he has widely toured across American university campuses, heightening concerns about rising antisemitism and harassment against pro-Israel students.
On Oct. 7, as scenes of Hamas terrorists abducting children and desecrating dead bodies in Israel circulated worldwide, POA members held an "Emergency Solidarity Rally" where one of its members congratulated Hamas on a "job well done." According to the complaint, the student said, "When they woke up in the morning, and they found the field hands in the house, with a knife, ready to cut their f—king throats. I was late to the news but when I heard it, I smiled. I don't want to hear that bulls—t, 250, 250, innocent Israelis are dead. F—k 'em. Again, I swear, I salute Hamas."
Follow Dion J. Pierre @DionJPierre.
The post University of Pennsylvania President Resigns Amid Massive Backlash Over Tepid Response to Campus Antisemitism first appeared on Algemeiner.com.
Yemen's Houthis Warn They Will Target All Ships Headed to Israel
Yemen's Houthi movement said on Saturday they would target all ships heading to Israel, regardless of their nationality, and warned all international shipping companies against dealing with Israeli ports.
The Iran-aligned group is escalating the risks of a regional conflict amid a brutal war between Israel and the Palestinian terrorist Hamas.
The Houthis have attacked and seized several Israeli-linked ships in the Red Sea and its Bab al-Mandab strait, a sea lane through which much of the world's oil is shipped, and fired ballistic missiles and armed drones at Israel.
Houthi officials say their actions are a show of support for the Palestinians.
Israel said attacks on ships was an "Iranian act of terrorism" with consequences for international maritime security.
A Houthi military spokesperson said all ships sailing to Israeli ports are banned from the Red Sea and the Arabian Sea.
"If Gaza does not receive the food and medicine it needs, all ships in the Red Sea bound for Israeli ports, regardless of their nationality, will become a target for our armed forces," the spokesperson said in a statement.
The threat has an immediate effect, the statement added.
The Houthis are one of several groups in the Iran-aligned "Axis of Resistance" which have been hitting Israeli and U.S. targets since Oct. 7 when Hamas militants attacked Israel.
In one of the latest incidents, three commercial vessels came under attack in international waters last week, prompting a U.S. Navy destroyer to intervene.
The Houthis, which rule much of Yemen and its Red Sea coast, also seized last month a British-owned cargo ship that had links with an Israeli company.
The United States and Britain have condemned the attacks on shipping, blaming Iran for its role in supporting the Houthis. Tehran says its allies make their decisions independently.
Saudi Arabia has asked the United States to show restraint in responding to the attacks.
The post Yemen's Houthis Warn They Will Target All Ships Headed to Israel first appeared on Algemeiner.com.