At press conference in Tel Aviv, relatives of US citizens plea for government's help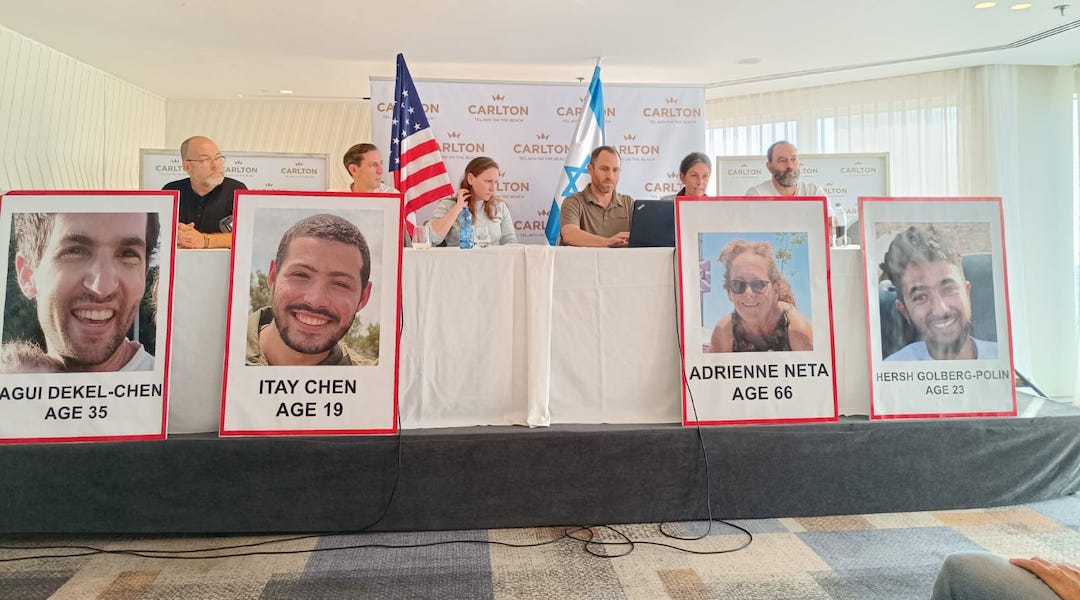 TEL AVIV (JTA) — In the middle of telling a roomful of about 50 reporters about the plight of his son Itay, who was missing in action, Rivli Chen paused to ask if any representatives of the U.S. government had shown up to the press conference. 
No one raised their hands. Cries of "Shame!" in Hebrew began to echo around the room. 
"We've been in contact with the State Department and the US Embassy," said Chen. "But there has been no formal or concentrated attempt to talk to us as the group and update us about what they are doing in this matter."
At the press conference on Tuesday, four families of U.S. citizens who went missing during Hamas' invasion of Israel spoke about their loved ones and what the Israeli and U.S. governments are doing — and have not done — to secure their release. Chen said that "about 10 other [American] families" with missing family members have been identified by the group, of the more than 100 Israelis taken into captivity on Saturday.
The U.S. government has announced that at least 11 of its citizens were killed in the attack, which killed more than 900 people in total. The government has not released the number of Americans it estimates are held captive.
In addition to Rivli Chen, the speakers at the press conferenceincluded Nahar Neta, son of 66-year old Adrienne Neta; Rachel Goldberg, mother of Hersh Goldberg-Polin; and Jonathan Dekel-Chen, father of Sagui Dekel-Chen. They sat at a table in front of a row of posters with enlarged photos of their missing relatives.
Neta said there had been "zero communication from the Israeli government" on the situation and that none of the families has received an official notification that their loved ones are being held as hostages. His 66-year-old mother was kidnapped from Kibbutz Be'eri on Saturday, a border town that was also the site of a massacre in which more than 100 people were killed. 
"I can appreciate the total mayhem and mess that the combat environment is creating, but I think that after three days… now is more than a reasonable request to have somebody from the Israeli government or the US administration [approach] us with any kind of information that they may have," he said. 
Goldberg-Polin was at the large outdoor festival near Kibbutz Re'im where 260 people were killed. Itay Chen was on a military base.
"I want to speak about the responsibility that the U.S. administration of President Dr. Biden and the Secretary of State Anthony Blinken have for the lives of every US citizen that is out there," Chen said. "They're responsible to bring the U.S. citizens back home safe and sound."
Representatives of each of the four families took turns sharing their horrifying experiences, describing their group as a "new family." Rachel Goldberg said that they were able to learn from eyewitnesses that her son was last seen leaving a bomb shelter with his "arm severed" but was "put on a pickup truck" with others after Hamas terrorists instructed "anyone who can walk" to leave the room. She added that survivors of the tragedy recounted acts of heroism in which her son helped save lives by tossing back back grenades thrown into the shelter by Hamas attackers. She also heard that he comforted those around him. 
Diana, the youngest of Adrienne Neta's children, contrasted her mother's dedication as a nurse in Beersheva's Soroka hospital to the actions of the Hamas terrorists. 
"When she walked into a delivery [room] she saw a human being in front of her," she said. "Not a religion, not a race, not a hijab, not an Orthodox Jew."
She added, "When Hamas walked into my mother's room in Be'eri… they did not see a human being."
Itay, who has not been seen since Saturday morning, chose to serve on his military base last weekend in order to attend his younger brother's bar mitzvah this coming week, his father said. 
He added, "I invite all the people who want to celebrate with us to join the bar mitzvah… and pray for all the hostages who are missing," and also pleaded to Hamas to "treat him as a prisoner of war according to international law."
Jonathan Dekel-Chen, who moved to Kibbutz Nir Oz in 1990, described scenes of horror from the "barbaric attack" at the kibbutz in which there are only "160 survivors out of 400 residents." 
His son Sagui, 35, grew up on the kibbutz and is a father of two daughters. His wife is pregnant with a third child. He is missing, his father said, "after having tried to repulse the attack by evidently hundreds of Hamas terrorists and looters." 
"I'm what is called a peacenik in Israel," Jonathan Dekel-Chen added. "But what we've witnessed, this kind of savagery, this kind of inhumanity, must be stopped."
He added that the family members at the conference "appeal to the United States government and Congress to do what they can on the side of good here. We're waiting for Sagui to come home."
—
The post At press conference in Tel Aviv, relatives of US citizens plea for government's help appeared first on Jewish Telegraphic Agency.
Israeli and Jewish activists take campaign for greater concern about Oct. 7 sex crimes to UN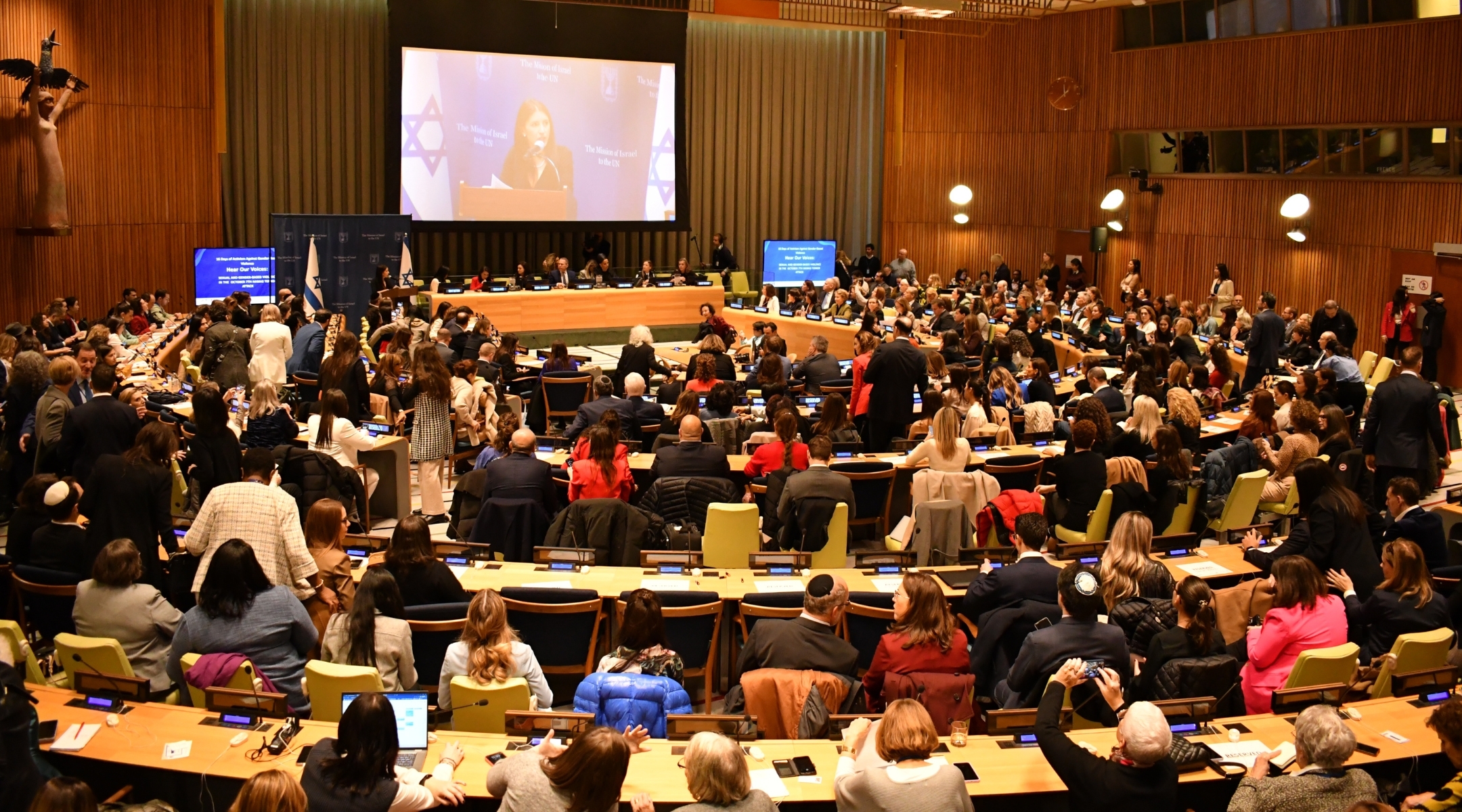 (JTA) — Less than a week after the United Nations secretary general urged an investigation into reported sexual violence by Hamas, the Israeli U.N. mission held a conference on the allegations and pressed the international community to speak out more forcefully against them.
"We have come so far in believing survivors of sexual assault in so many situations. That's why the silence on these war crimes is dangerous," said former Meta COO Sheryl Sandberg, the event's keynote speaker. "The world has to decide who to believe. Do we believe the Hamas spokesperson who said that rape is forbidden, therefore it couldn't have possibly happened on October 7th? Or do we believe the women whose bodies tell us how they spent the last few minutes of their lives?"
A CNN op-ed by Sandberg, and an accompanying Instagram post, have been at the center of a growing protest by Israeli and Jewish women who charge that the U.N. and other international bodies have dismissed or downplayed reports of sexual violence during Hamas' Oct. 7 attack on Israel. The protest has spread via the hashtag #Me_Too_UNless_UR_a_Jew and found its real-life expression in Monday's event, which drew 700 people to U.N. headquarters on Manhattan's East Side.
Israeli U.N. Ambassador Gilad Erdan took aim in particular at U.N. Women — the organization's arm for promoting gender equality and women's empowerment — which caught flak for posting and then deleting a statement condemning the Hamas attack.
"Sadly, the very international bodies that are supposedly the defenders of all women show that when it comes to Israelis, indifference is acceptable," Erdan said in his opening remarks.
"U.N. Women ignored all of the proof and were blind to all the evidence, including video footage of testimonies of sexual crimes," he said. "Instead of immediately supporting the victims, U.N. Women brazenly suggested that Hamas' gender-based violence be investigated by a blatantly antisemitic U.N. body."
The condemnation of the U.N. is the latest in a long line of complaints Israel has had about the body both before and during its ongoing war with Hamas. In late October, Erdan called on Secretary-General Antonio Guterres to resign after he said the Oct. 7 attack "did not happen in a vacuum."
The United Nations General Assembly has yet to condemn Hamas and has called for a cessation of the conflict, which restarted last week after a seven-day pause in which Hamas released more than 100 hostages and Israel released hundreds of Palestinian security prisoners..
Last week, Guterres called for an investigation into sexual violence by Hamas. But speakers at Monday's event pushed for more from world leaders. Sandberg called for "the entire U.N. to formally condemn, investigate, hold the terrorists accountable." Erdan, to loud applause, called for an "investigation of U.N. Women's indifference to the heinous crimes against Israeli women"
In the nearly two months since the Hamas attack in Israel on Oct. 7, Israeli law enforcement, search and rescue groups, and the country's recently formed Civil Commission on October 7 Crimes by Hamas against Women and Children have collected evidence and testimony regarding Hamas' sexual violence on Oct. 7. Over the weekend, The Sunday Times reported testimony from survivors of the Nova music festival recalling women being gang raped and beheaded.
Sheila Katz, the CEO of the National Council of Jewish Women, which organized the event along with other women's rights groups, drew a parallel between last week's Torah portion, which includes the Biblical story of the rape of Dinah, and the experiences of the victims of Oct. 7. Katz noted that Dinah's voice is notably missing from the Biblical narrative.
"For generations, survivors of sexual assaults have looked to Dina's story because it speaks so powerfully to the secondary trauma of being unheard, ignored and reduced to mere objects for debate," said Katz, who invited people to step out of the room if they felt the need, given the graphic nature of the event. "And we heard this with new significance this year, because Israeli women and girls were recently tortured, raped, and killed, forever silenced by Hamas."
Several actors attended the event, including Tovah Feldshuh, Julianna Margulies, Emmy Rossum and Debra Messing, all of whom have spoken out against antisemitism or Hamas' attack. (Margulies was also fresh off an apology after making disparaging comments about Black Americans who have not supported Jews after Oct. 7.)
The event also featured people who tended to victims of the event, including representatives from ZAKA, the Orthodox Israeli first-responder organization, and the Israeli police, who have been collecting and documenting evidence from victims of sexual violence and people who witnessed the violence. They recounted graphic stories, to which the crowd responded vocally with murmurs, gasps and tears. Some in the audience exchanged tissues, hugs and pats on the back for extra support.
Sen. Kirsten Gillibrand of New York, a Democrat, also came and discussed seeing a compilation of footage of the attack that a group of senators recently viewed.
"I've seen much of the raw footage. It takes your breath away," she said. "You can't unsee it."
Speaking to the Jewish Telegraphic Agency after the event, Sandberg said silence surrounding sexual violence is connected to a dearth of female representation on the world stage.
"You look in that hall at those flags — those are countries run by men, very few are run by women. I really wanted that to change in my lifetime. It's not going to happen, not going to be close," she said. "But that means the progress we fought for to get women's women's rights and protection of our bodies, protection of who we are, protection against systematic, sexualized violence — can't be lost. And that is why anyone can speak out. And when they speak out, we have to all unite together as quickly as possible."
—
The post Israeli and Jewish activists take campaign for greater concern about Oct. 7 sex crimes to UN appeared first on Jewish Telegraphic Agency.
Canada's Rally for the Jewish People brought thousands to Ottawa calling for the return of the hostages in Gaza—while delivering a loud rebuke to the recent waves of antisemitism
Despite bus driver boycott, thousands attend pro-Israel rally in Ottawa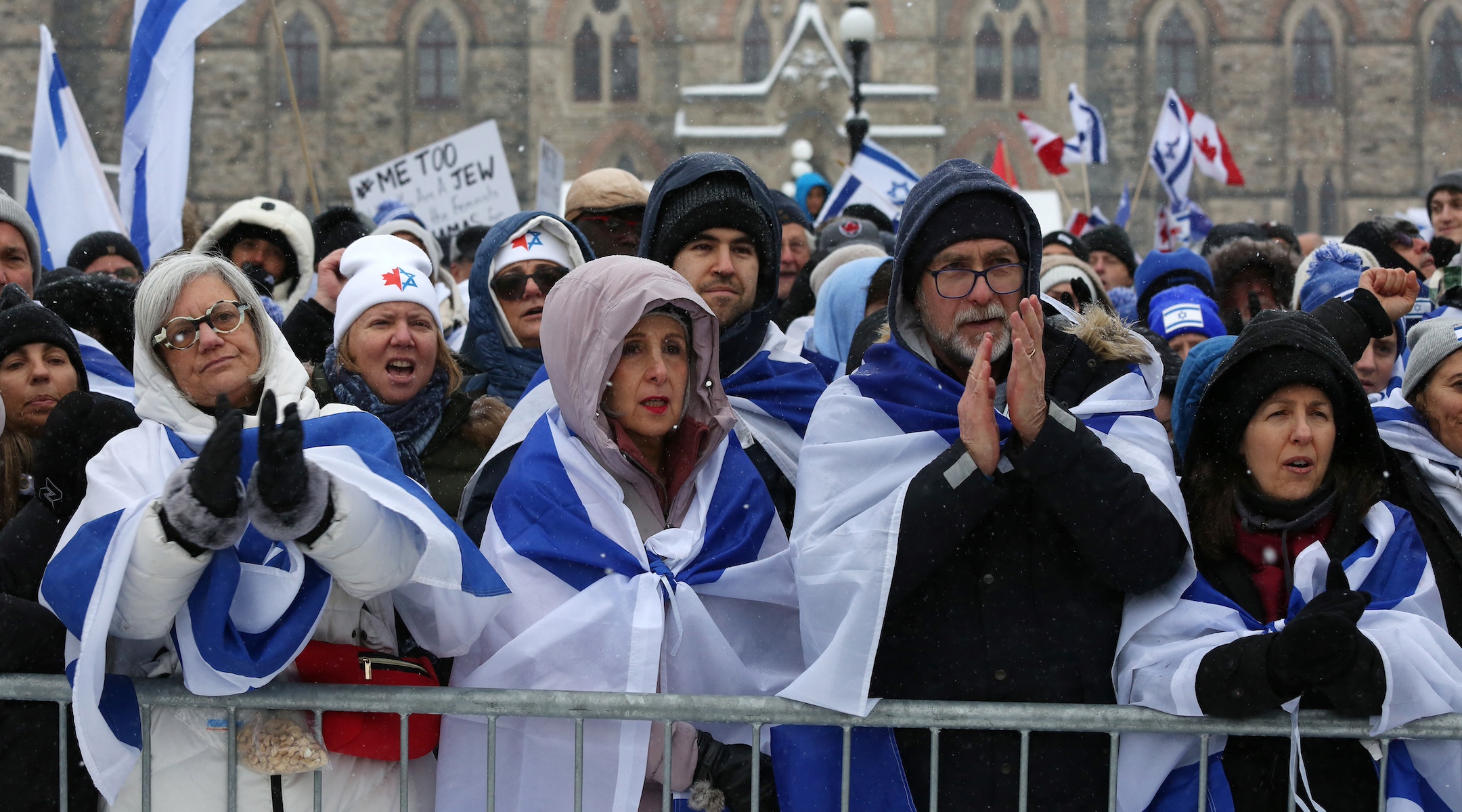 MONTREAL (JTA) — Despite a foot of snow in Montreal and chartered buses that never showed up in Toronto, thousands of Canadian Jews assembled on Parliament Hill in Ottawa on Monday to voice solidarity with Israel and decry a rise in antisemitism.
Despite concerns over overall security in Canada's capital city, which was tight, the rally's speakers included several prominent Canadian politicians, Jewish leaders, college students who feel unsafe on campus and family members of Israelis taken hostage or killed by Hamas on Oct. 7.
Local Jewish leaders called the event, organized by Jewish federations across Canada and the Centre for Israel and Jewish Affairs, a historic gathering. But just weeks after a similar incident in Detroit before a massive pro-Israel rally in Washington, 17 of 70 chartered buses did not show up to pick up rally-goers in Toronto.
Organizers called the no-show bus company antisemitic.
"Despite charging in full in advance and confirming its participation, the [unidentified] company did not send a single bus and has declined all communications while refusing to provide any explanations," said Adam Minsky, president and CEO of United Jewish Appeal Federations in Toronto.
"We are driven to the view that this shameful decision is intended to disrupt our peaceful rally out of hatred toward Jews," he added. "What happened today is sickening and outrageous. We will respond aggressively with every legal and public affairs tool at our disposal."
Israel's ambassador to Canada Iddo Moed, Liberal Party member of parliament Anthony Housefather and deputy Conservative Party leader Melissa Lantsman all spoke on Monday.
"This is not 1943. I'm grateful that Israel exists and has an army to fight back against those who launched this pogrom," said Housefather, who is Jewish and represents Montreal's heavily Jewish Mount Royal district.
Raquel Look, whose son Alexandre was murdered at the music festival in southern Israel attacked by Hamas on Oct. 7, called on Canadian politicians to take more action against antisemitism. Hate crimes against Jews — including multiple incidents that have involved Molotov cocktails thrown at Montreal-area synagogues — have spiked across Canada.
"Our sorrow is deep and immeasurable but today we want to channel this immense pain into a call for action," Look said. "Please let us honour his memory by standing up against the forces that seek to destroy Jewish and Canadians values we hold so dear."
—
The post Despite bus driver boycott, thousands attend pro-Israel rally in Ottawa appeared first on Jewish Telegraphic Agency.