Best Male Enhancement Pills UK [2023] – Sponsored Content
Rabbi David Ellenson dies; former president of Reform seminary and widely admired mentor was 76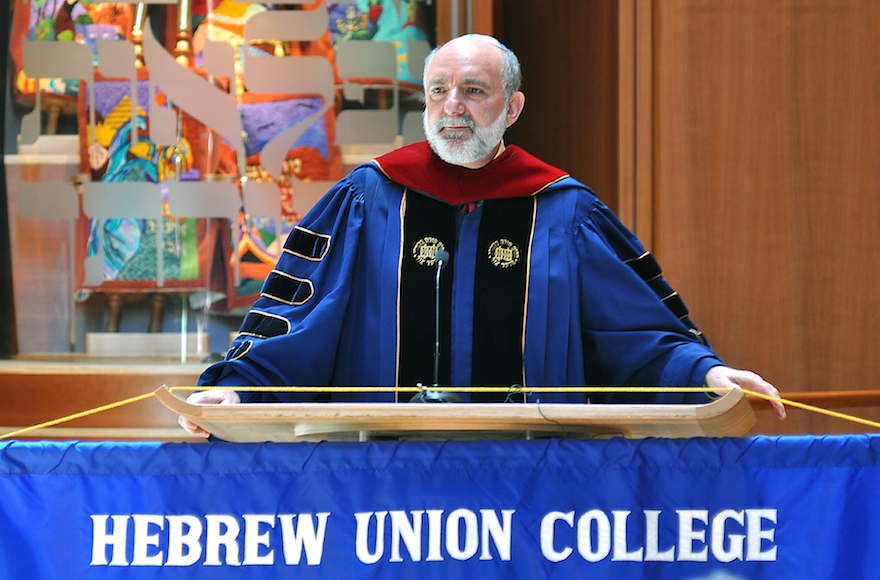 (JTA) — Rabbi David Ellenson, who served for 12 years as president of Hebrew Union College-Jewish Institute of Religion and mentored a generation of rabbis and scholars as a historian, adviser and confidant, died Thursday morning at age 76.
The cause was a heart ailment, according to a spokesperson for the Reform movement flagship.
A renowned scholar in his own right — whose interests ranged from the origins and development of Orthodox Judaism in Germany to the relationship between religion and state in Israel — he was known and admired among such a wide circle of colleagues and students that the New York Jewish Week tagged him "everyone's favorite rabbi" when he stepped down as president of HUC-JIR in 2013.
"It is impossible to overstate David's importance to the Jewish People, Reform Judaism and to Hebrew Union College-Jewish Institute of Religion in particular," Andrew Rehfeld, the current president of HUC-JIR, said in a statement. "His scholarship and depth of knowledge were world-renowned, and his humility, warmth, generosity of spirit, and deep concern for each individual inspired all of us who had the privilege to know him. I feel blessed to have had him as a friend and mentor and will miss him dearly."
A raft of tributes flowed in upon news of Ellenson's passing, which came as a shock even to those who knew him well. He had attended an event celebrating another rabbi just the day before his death.
"He was one of the kindest people I ever knew," wrote Yehuda Kurtzer, president of the Shalom Hartman Institute, where Ellenson taught rabbis in its summer programs and recently joined its research center in New York as a senior fellow. "This is no small thing in general but is downright extraordinary for a person whose life was in leadership and lived in public."
Rabbi Rachael Klein Miller, associate rabbi of Temple Emanu-El in Atlanta, wrote that she came into the rabbinate inspired by Ellenson's writings in Jewish ethics, although "through my time at HUC I was much more inspired by the genuine kindness and engaging teachings of this Reform Movement giant."
Even rabbis who weren't ordained at HUC or didn't know him well wrote of his influence and example. Rabbi Tali Adler, who is on the faculty of New York's Hadar Institute, said she had never met Ellenson but that over the summer he had taken a few of her classes online and sent her a handwritten note thanking her. "There was no reason he had to take his time to find out how to reach me and write to me personally," she wrote. "No reason but the exceptional kindness and love of Torah that everyone who speaks and writes about him knew so well."
As president of HUC-JIR, Ellenson made a year of study in Israel for rabbinical students a priority, even during the violent second intifada. He also shepherded the institution — which had campuses in Cincinnati, Los Angeles and New York — during the financial crisis of 2008 and '09. In 2009 HUC-JIR considered closing two of its three U.S. campuses but staved off such moves until 2022, when its board of governors decided to close the rabbinic program in Cincinnati and enroll all rabbinical students at HUC's campuses in New York and Los Angeles.
Under Ellenson's stewardship, HUC-JIR expanded the role of women on its board of governors and regional boards of advisors, according to the school. During his tenure, HUC-JIR expanded professional leadership through a variety of fellowships, and introduced new distance learning initiatives.
He also led efforts among Reform and Conservative Jewish leaders to ease the Israeli Orthodox rabbinate's grip on religious ritual in Israel and expand acceptance and funding for non-Orthodox movements there.
In 2018 he returned as interim president after his successor, Rabbi Aaron Panken, died in a plane crash. At the time, Ellenson had just concluded a tenure as director of the Schusterman Center for Israel Studies at Brandeis University, a position he held starting in 2015. At Brandeis he also served as a visiting professor in the Department of Near Eastern and Judaic Studies.
Rehfeld was appointed president in 2019, and Ellenson became chancellor-emeritus.
David Ellenson was born in 1947 and grew up in an Orthodox family in Newport News, Virginia. At a tribute dinner in 2014, Skip Vichness, a lifelong friend and former board chair of the Foundation for Jewish Camp, recalled growing up a few blocks away from Ellenson and how the two skinny kids played for the local JCC basketball team. When the team won the local championship, said Vichness, the headline in the southern town's daily newspaper read: "Upset Of The Year: Jews Win."
Growing up in the small community, Ellenson recalled in a podcast interview in 2018, he observed "the tensions between what I would call a commitment to Jewish tradition and Jewish identity on the one hand, and a desire to participate fully in the larger world on the other." He came to the conclusion that Reform Judaism, which does not accept that Torah is the literal word of God, appealed to him as "an ongoing narrative where each generation of Jews writes a different story in which they attempt to capture what it is they feel that God commands in their age."
Ellenson received a bachelor's degree at the College of William and Mary in 1969 and a master's degree in religious studies at the University of Virginia in 1972.
He received his Ph.D. in 1981 from Columbia University, where the eminent Israeli historian Jacob Katz guided him to the study of modern responsa — rabbinic opinions that applied Jewish law to changing social conditions. Having embraced the liberal Reform movement, and after undertaking an unusually intense program of study, he was ordained as a rabbi by HUC-JIR in 1977.
Prior to his appointment as president in 2001, he spent some 30 years at HUC-JIR as a student and faculty member.
"My soul is bound to this institution and to the holy mission that animates it," he wrote in 2013. "It has been the greatest privilege to devote my life to this school."
In decades of scholarship, Ellenson invariably focused on the conflicts and possibilities for reconciliation "Between Jewish Tradition and Modernity," the title of a book of essays collected in his honor in 2014.
One of the most enduring questions he posed in his scholarship, wrote David N. Meyers in his introduction to the volume, was "whether to err on the side of leniency in order to allow for a larger and more inclusive Jewish community or to hold fast to established exclusionary norms."
In 2011, in an interview he gave soon after becoming HUC's president, he spoke about applying his scholarly interests to the challenges of reaching Jews on the "fringes" of Jewish life.
"The challenge of our age — at least in America — is that Jews are accepted to such a degree that, unless we respond with compelling initiatives, Jews will disappear in even larger numbers in what is, after all, a voluntaristic society in which we are highly acculturated and overwhelmingly accepted," he said.
For two decades, Ellenson served as head of the Louchheim School of Judaic Studies at the University of Southern California under the aegis of HUC-JIR. He also served as a visiting professor at both UCLA and the Jewish Theological Seminary of America, the Conservative movement flagship.
In 2015, New York University appointed him as distinguished visiting professor in the Skirball Department of Judaic Studies.
Ellenson wrote or edited seven books and over 300 articles and reviews. His book, "After Emancipation: Jewish Religious Responses to Modernity," won the National Jewish Book Award in Jewish Thought in 2005. "Rabbi Esriel Hildesheimer and the Creation of a Modern Jewish Orthodoxy (1990) and "Pledges of Jewish Allegiance: Conversion, Law, and Policymaking in Nineteenth- and Twentieth-Century Orthodox Responsa" (2012) were nominated for book awards by the Jewish Book Council.
Ellenson is survived by his wife, Rabbi Jacqueline Koch Ellenson; his children Ruth Andrew Ellenson, Rabbi Micah Ellenson, Nomi Ellenson May, Rafi Ellenson, a Hebrew College rabbinical student, and Hannah Miriam Ellenson, a rabbinical student at HUC; and four grandchildren.
He is also survived by the countless friends he attracted and nurtured, a hallmark of his leadership.
"While some first-rate academics find human contact rather in
convenient, David Ellenson thrives on people," wrote Robert Levine, then senior rabbi at Congregation Rodeph Sholom in New York City, in a tribute to Ellenson published in the Reform movement's journal in 2014. "They are a great
source of oxygen to him. Just as David reads material once and
owns it forever, he also meets someone once and has a friend
forever. His ability and need to meld his intellectual and personal
talents make him among the most impressive and memorable
leaders our Movement has ever produced."
—
The post Rabbi David Ellenson dies; former president of Reform seminary and widely admired mentor was 76 appeared first on Jewish Telegraphic Agency.
This Hanukkah, Kamala Harris and Doug Emhoff will have 3 menorahs that represent Jewish joy and trauma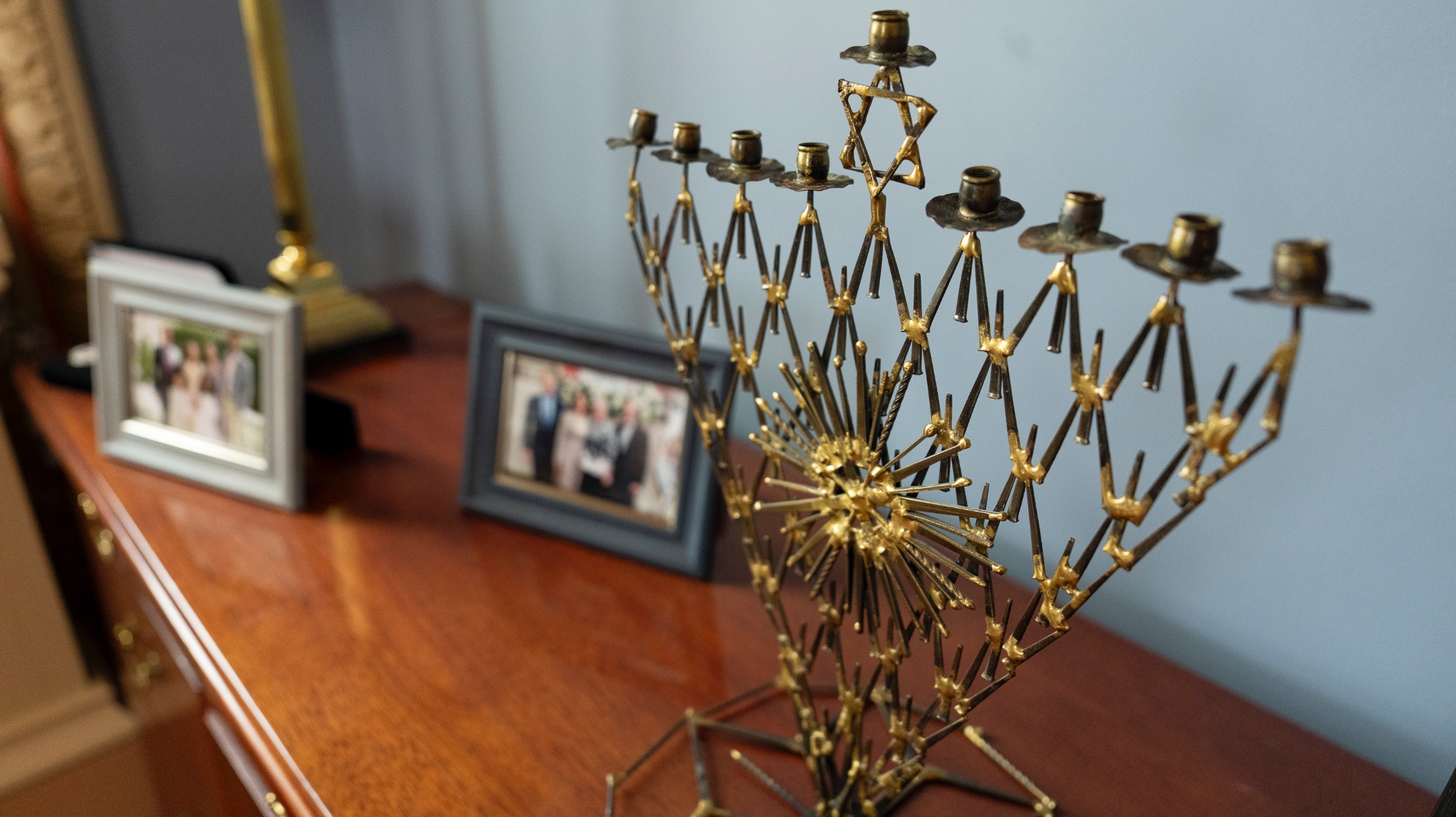 WASHINGTON (JTA) — For the next eight days, one menorah will be lit in the office of Second Gentleman Doug Emhoff; another will sit in the office of his wife, Vice President Kamala Harris; and a third will illuminate their home.
Each menorah carries symbolism, representing the triumphs or tragedies of Jewish history.
The Second Couple two years ago inaugurated a tradition of lighting Hanukkah candles at their residence. This year, both Harris' and Emhoff's offices — both in the Eisenhower Executive Office Building on the White House campus — will have the candelabras as well. At least two menorahs will light up each evening: the one in the residence and the one in Emhoff's office, where he will be joined by his team for the ritual.
Each of the three melds joy and grief, a nod to a year which included both the trial of the Pittsburgh synagogue shooter and Hamas' Oct. 7 attack on Israel, the worst slaughter of Jews since the Holocaust.
The menorah in the residence is on loan from the Tree of Life synagogue in Pittsburgh, the site of the 2018 shooting, which was the worst antisemitic attack in U.S. history. It is one of two designed for the site of the massacre by Daniel Libeskind, the renowned architect who designed the Jewish Museum in Berlin.
Libeskind presented the menorahs to the reconstituted synagogue, museum and memorial center this year on Oct. 27, the fifth year anniversary of the attack. Emhoff met Libeskind when he toured Berlin earlier this year, and he has twice visited the Tree of Life synagogue.
The menorah in Emhoff's office is designed by Erwin Thieberger, a Holocaust survivor and coppersmith who lived in Washington's Maryland suburbs and who modeled his menorahs after those he had made out of flattened nails and scrap metal in the concentration camps.
This menorah is on loan from the recently inaugurated Lillian and Albert Small Capital Jewish Museum in Washington D.C. It was donated to the museum by Thieberger's late rabbi, Tzvi Porath of Ohr Kodesh Congregation, a Conservative synagogue in Chevy Chase, Maryland. Another Thieberger menorah featured in the Hanukkah lighting ceremony at the White House in 2015, when Barack Obama was president.
The menorah on display at the entrance to Harris' office is on loan from the Jewish Museum in New York. Designed by Josef Haller, it was presented in 1935 to Kahilath Jakob, a small prayer room in Vienna, one of 60 or so Jewish places of worship in the city to survive the Nazi occupation of Austria.
"The Vice President and I want to thank the Jewish Museum in New York, Lillian and Albert Small Capital Jewish Museum, and the reimagined Tree of Life for lending us such special and historic menorahs in celebration of Hanukkah," Emhoff said Thursday in a statement to the Jewish Telegraphic Agency. "These menorahs are incredibly meaningful and deeply impactful. Each one reminds us that we must continue our efforts to combat antisemitism and all forms of hate, while living openly, proudly, and with joy as Jews."
Emhoff spearheaded a panel that shaped the Biden administration's antisemitism strategy, which was unveiled earlier this year. He has embraced a role that he has said surprised him, as a positive role model for American Jews.
In 2021, the Second Couple's menorah came from the home of a businessman, Aaron Feuerstein, who was revered for paying employees for months while he rebuilt a factory destroyed in a fire in 1995. It was a nod to the businesses who sought to keep their staffs employed throughout the COVID 19 pandemic.
Emhoff is lighting the "national menorah" later Thursday on the Ellipse in front of the White House, a decades long tradition administered by the Chabad Hasidic movement. On Sunday, he and Harris will host a formal Hanukkah lighting and party at their residence at the Naval Observatory in northwest D.C.
President Joe Biden and First Lady Jill Biden will host their own Hanukkah lighting and party at the White House on Sunday night. A spokeswoman for the First Lady said the menorah in the White House is the same one they inaugurated last year, the first menorah custom-built for White House use.
"It's made of historic wood from the beams of this house, rescued when President Truman renovated this building," Jill Biden said at least year's lighting. "Its hand-hammered silver cups are meant to magnify the glow of the candles, their beauty reminding us both [of] the Hanukkah miracle and the joy it inspired."
—
The post This Hanukkah, Kamala Harris and Doug Emhoff will have 3 menorahs that represent Jewish joy and trauma appeared first on Jewish Telegraphic Agency.
We need a do-over for the last 2 months. Hanukkah is made for the moment.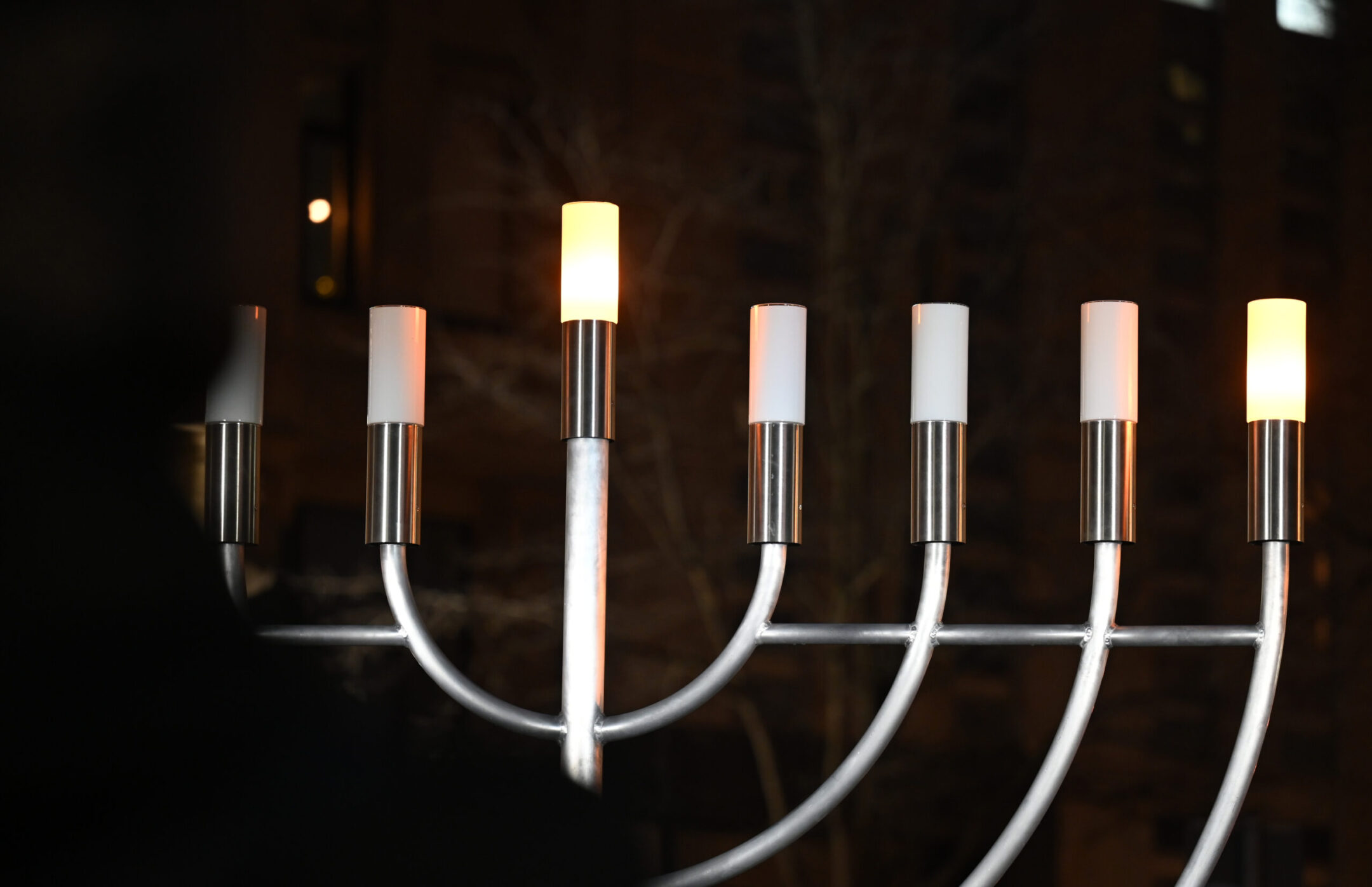 (JTA) — We need a do-over for the last two months since Oct. 7.
Of course we'd all love a time machine to take us back to that morning, to avert the horrors that would unfold in Israel. But that's not what I mean. Let me explain.
In the book of 2 Maccabees — one of the main texts about the events leading to Hanukkah — we read a letter of Judah the Maccabee. In it, he says that, because the Greeks desecrated the Temple before Sukkot, the Jews were not able to celebrate Sukkot that year. But now since reclaiming the Temple, he says, we are going to celebrate Sukkot in Kislev. Basically: the Greeks forced us to reschedule Sukkot to December.
Hanukkah — which means dedication, and refers to a dedication of the Temple that traditionally happens on Sukkot — is the holiday of do-overs.
Later in history, in the early modern period, Hasidic writers would say that Hanukkah represents the real closing of the gates at the end of the High Holidays. Not Hoshanah Rabbah (which this year was Oct. 6), but Hanukkah represents the end of the High Holiday period.
For me, the attacks of Oct. 7, occurring at the very end of the High Holiday period, served to displace the ending of that period. There was no ending — we just went forward into a horrifying future. Many people have reported that in places like Kfar Aza and Kibbutz Beeri, there are still Sukkot standing — also in other places in Israel — there was no pause at the end of this holiday season.
Hanukkah is a holiday specifically designed to give the Jews a "do-over" in a year when our Sukkot and end-of-holiday feeling was ruined by a war. It is, honestly, strangely and perfectly resonant right now.
And as we start Hanukkah, I want to suggest some ways that we can experience this holiday as a bit of a "do-over" — that we can "celebrate Sukkot in Kislev."
First, we can allow ourselves to detach from the news in one way or another. Maybe deleting Twitter from your phone, maybe turning off the TV, maybe maybe using your phone's settings to limit the amount of time it lets you spend on a given app.
Second, we can allow ourselves to feel joy. We need to feel joy. We need to feel a sense of celebration. It's not a betrayal of memory or of what is going on — it's actually a way of connecting, a way of saying, "We Jews feel joy even in a time of stress, we bring light even in a time of darkness."
Third, we can be proud and not afraid. The core mitzvah of Hanukkah is lighting a menorah in front of one's house so that we can "publicize the miracle." So put a menorah in your front window and proudly express your Judaism. Don't be deterred by Jew hatred to cower. Hanukkah represents precisely the creation of a space to bring light despite the many fears and challenges around doing so. Celebrate it proudly.
May this Hanukkah, two months to the day since Oct. 7, be a holiday in which we fill our lives with light.
—
The post We need a do-over for the last 2 months. Hanukkah is made for the moment. appeared first on Jewish Telegraphic Agency.