Biden says Hamas using innocent Gazans as human shields; phones Netanyahu, PA's Abbas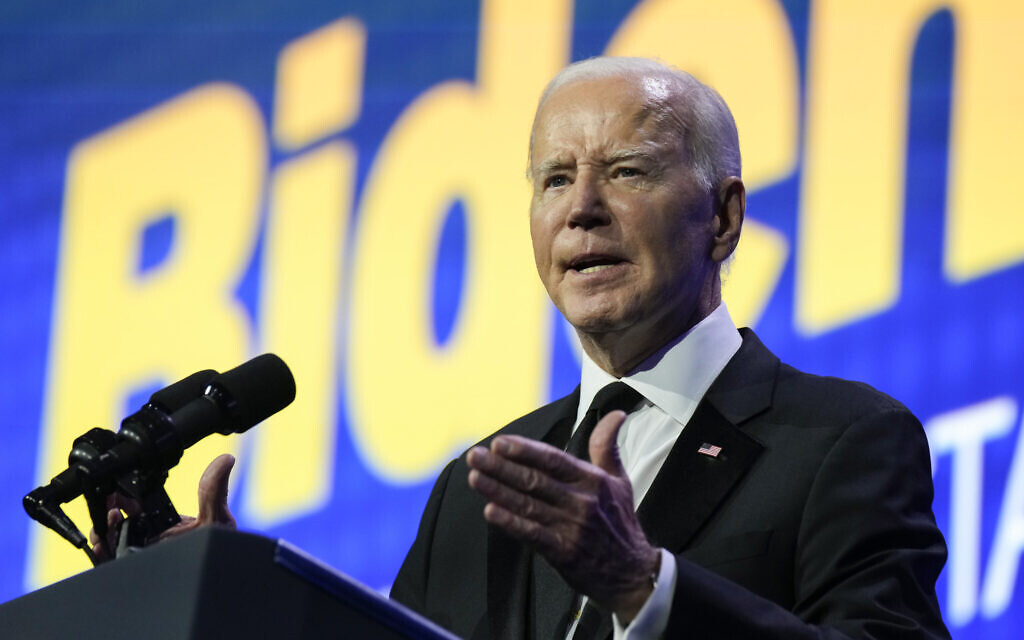 In talks with Israeli, Palestinian leaders, US president notes need to protect civilians, allow humanitarian aid; Blinken meets host of Arab officials in push to avert escalation
​ 
Tributes pour in from Jewish celebs as Hollywood remembers Norman Lear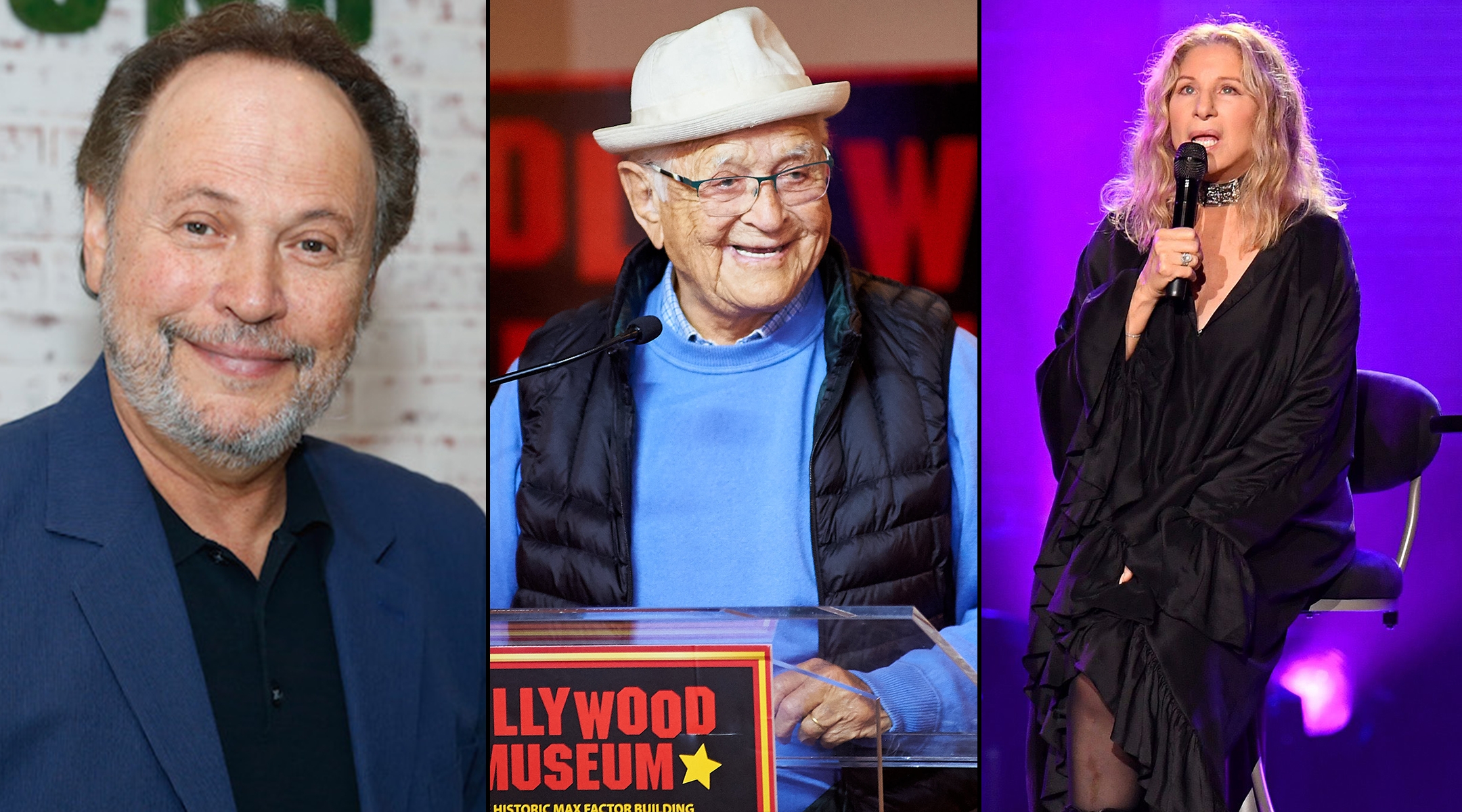 (JTA) — Soon after news broke Wednesday morning of Jewish TV pioneer Norman Lear's death at 101 years old, actors and comedians quickly took to social media to remember the titan of comedy.
Tributes poured in from a who's-who of Jewish celebrities — from Barbra Streisand and Jon Stewart to Alex Edelman and Billy Crystal. Several comics referred to Lear as though he was family; Stewart thanked Lear for "raising me," while Rob Reiner called him his second father.
Edelman told a story about meeting with Lear at his home after hosting his 100th birthday special on ABC. "Transparent" creator Joey Soloway shared how Lear supported the groundbreaking and very Jewish Amazon Prime show that won several Emmys and is set to open a musical adaptation on Broadway next year.
Lear is best known for the imprint he left on TV comedy through his string of wildly popular shows in the 1970s and 1980s, including "All In The Family," "The Jeffersons" and "Sanford and Son." Lear's shows are credited with pushing the genre to be more socially conscious and inclusive of Black characters.
Below is a sampling of the reactions from fellow A-List Jewish celebrities as Hollywood mourns the loss of an icon.
Goodnight Norman. Love you. Thanks for raising me.
— Jon Stewart (@jonstewart) December 6, 2023
I loved Norman Lear with all my heart. He was my second father. Sending my love to Lyn and the whole Lear family.
— Rob Reiner (@robreiner) December 6, 2023
Just heard about Norman Lear. He was 101. What a long life in television and film as well as being an activist and philanthropist. What an extraordinary man he was! Brilliant, kind and funny.
— Barbra Streisand (@BarbraStreisand) December 6, 2023
A funny story about Norman Lear on the day of his passing, if that's alright… https://t.co/AEFavgqw7R
— Alex Edelman (@AlexEdelman) December 6, 2023
The greatest of the greats. R.I.P. Norman Lear. You were loved.
— Albert Brooks (@AlbertBrooks) December 6, 2023
We have lost a giant..a man of great humor and dignity. What an amazing life that has given so much to us all. He used laughter as a way to look at ourselves. A blessing to have been his friend for almost 50 yrs. pic.twitter.com/qlH339kD22
— Billy Crystal (@BillyCrystal) December 6, 2023
—
The post Tributes pour in from Jewish celebs as Hollywood remembers Norman Lear appeared first on Jewish Telegraphic Agency.
UN Chief Poses 'Danger to World Peace,' Has 'Reached New Moral Low' With Latest Gaza War Decision: Israeli Officials
United Nations Secretary-General Antonio Guterres has "reached a new moral low" and in effect signaled his support for the Hamas terror group by invoking a rarely used clause of the UN chapter to address the ongoing Israel-Hamas war in Gaza, according to senior Israeli officials.
Guterres on Wednesday announced that he was invoking Article 99 of the UN charter for the first time, citing the humanitarian situation in Gaza, the Palestinian enclave ruled by Hamas.
"Facing a severe risk of collapse of the humanitarian system in Gaza, I urge the [UN Security] Council to help avert a humanitarian catastrophe & appeal for a humanitarian ceasefire to be declared," the UN chief wrote on X/Twitter.
He also attached to his social media post a copy of a letter to José Javier De la Gasca Lopez Domínguez, the current UN Security Council president, explaining his decision and saying he expects "public order to completely break down due to desperate conditions, rendering even limited humanitarian assistance impossible."
I've just invoked Art.99 of the UN Charter – for the 1st time in my tenure as Secretary-General.
Facing a severe risk of collapse of the humanitarian system in Gaza, I urge the Council to help avert a humanitarian catastrophe & appeal for a humanitarian ceasefire to be declared. pic.twitter.com/pA0eRXZnFJ
— António Guterres (@antonioguterres) December 6, 2023
According to the UN, invoking Article 99 allows the UN secretary-general to bring the attention of the security council to "any matter which in his opinion may threaten the maintenance of international peace and security."
It's unclear why Guterres, who's served in his current role since Jan. 2017, has not activated this measure for other conflicts during his tenure that affected larger areas and had higher casualty figures.
Top Israeli officials lambasted Guterres for what they described as an obsessive bias against Israel and a decision that will only help Hamas.
"Guterres' tenure is a danger to world peace," Israeli Foreign Minister Eli Cohen wrote on X/Twitter. "His request to activate Article 99 and the call for a cease fire in Gaza constitutes support of the Hamas terrorist organization and an endorsement of the murder of the elderly, the abduction of babies, and the rape of women. Anyone who supports world peace must support the liberation of Gaza from Hamas."
Guterres' tenure is a danger to world peace.
His request to activate Article 99 and the call for a cease fire in Gaza constitutes support of the Hamas terrorist organization and an endorsement of the murder of the elderly, the abduction of babies and the rape of women.
Anyone who…
— אלי כהן | Eli Cohen (@elicoh1) December 6, 2023
Cohen was referring to the crimes committing by Hamas during its surprise invasion of Israel on Oct. 7. Palestinian terrorists led by Hamas murdered 1,200 people, mostly civilians, during their rampage across southern Israeli communities and kidnapped 240 others, taking them back to Gaza as hostages. Reports of the terrorists' brutality, including torture and rampant sexual violence, has shocked the world.
The Israeli military has been targeting Hamas in Gaza with air strikes and ground operations since the massacre, with the stated goals of destroying the terror group and rescuing all the hostages.
One problem for Israel has been Hamas' notorious strategy of placing its weapons, command centers, and other key targets near or even inside civilian sites, leading the European Union to recently condemn the terror group for using hospitals as "human shields."
However, Guterres has been a vocal critic of Israel's military campaign and repeatedly called for a ceasefire between Israel and Hamas — a move that Jerusalem argues will allow Hamas to regroup and strengthen its position.
Cohen wasn't the only Israeli official to sound off on the UN chief's decision. Israeli Ambassador to the UN Gilad Erdan said Guterres "reached a new moral low" with his announcement.
"The Secretary-General decided to activate this rare clause only when it allows him to put pressure on Israel, which is fighting the Nazi Hamas terrorists. This is more proof of the Secretary-General's moral distortion and his bias against Israel," Erdan posted on social media. "The Secretary-General's call for a ceasefire is actually a call to keep Hamas' reign of terror in Gaza. Instead of the Secretary-General explicitly pointing to Hamas' responsibility for the situation and calling on the terrorist leaders to turn themselves in and return the hostages, thus ending the war, the Secretary-General chooses to continue playing into Hamas' hands."
Erdan added that Guterres' positions on the war "only prolong the fighting in Gaza, because they give hope to the Hamas terrorists that the war will be stopped and they will be able to survive."
The ambassador called on Guterres to "resign immediately — the UN needs a Secretary-General who supports the war on terror, not a Secretary-General who acts according to the script written by Hamas."
Today, the Secretary-General has reached a new moral low. He writes that he is activating, for the first time, Article 99 of the UN Charter in relation to the Israel-Hamas war, an article that can only be invoked in a situation where international peace and security are… pic.twitter.com/rQm18aT1vq
— Ambassador Gilad Erdan גלעד ארדן (@giladerdan1) December 6, 2023
For the last several weeks, the Israeli officials have repeatedly castigated Guterres and the UN's response to the current conflict. Last month, for example, Cohen said that Guterres was unfit to lead the UN, arguing he had not done enough to condemn the Hamas terrorist group or to advance peace in the Middle East.
Cohen's comments came three weeks after he canceled a meeting with Guterres, who in remarks the prior month seemingly blamed Israel for Hamas' Oct. 7 massacre.
Erdan went further, calling on Guterres to resign for rationalizing Hamas' atrocities against Israeli civilians.
The backlash came in response to comments that Guterres said at a UN Security Council meeting on the Israel-Hamas war at the time.
"It is important to also recognize the attacks by Hamas did not happen in a vacuum," Guterres said. "The Palestinian people have been subjected to 56 years of suffocating occupation. They have seen their land steadily devoured by settlements and plagued by violence. Their economy is stifled, their people displaced, and their homes demolished. Their hopes for a political solution to their plight have been vanishing."
Beyond Cohen and Erdan, members of both the Israeli unity government and the opposition also called out Guterres, with Minister Benny Gantz saying the UN leader "condones terror" and opposition leader Yair Lapid saying that Guterres "brought shame upon the United Nations … [with] excuses and rationalization for barbaric terrorism."
Israeli officials have also expressed outrage at Guterres for in their view being too close to Iran, the main international sponsor of Hamas.
Last month, Guterres met with Iranian Foreign Minister Hossein Amir-Abdollahian in New York.
In a recent interview, Guterres said he had appealed to Iran to intervene and stop worsening hostilities between Israel and Hezbollah, the Iran-backed terror group based in Lebanon, on the Israeli-Lebanese border.
Guterres told journalist Fareed Zakaria that he had asked Iran "to tell Hezbollah, 'You cannot create a situation in which Lebanon will be completely engulfed by this conflict,' because if Hezbollah will launch a massive attack on Israel it might create, I don't know what kind of impact, but one thing I am sure — Lebanon would not survive."
Asked if Iran had been responsive, the UN chief said, "I do not know. They said always that they have nothing to do with what is happening but they say publicly that there is a risk of this conflict to be extended. It's always very mysterious, the position of Iran."
The post UN Chief Poses 'Danger to World Peace,' Has 'Reached New Moral Low' With Latest Gaza War Decision: Israeli Officials first appeared on Algemeiner.com.
False bomb threat hits Buenos Aires Jewish center where 85 people died in 1994 bombing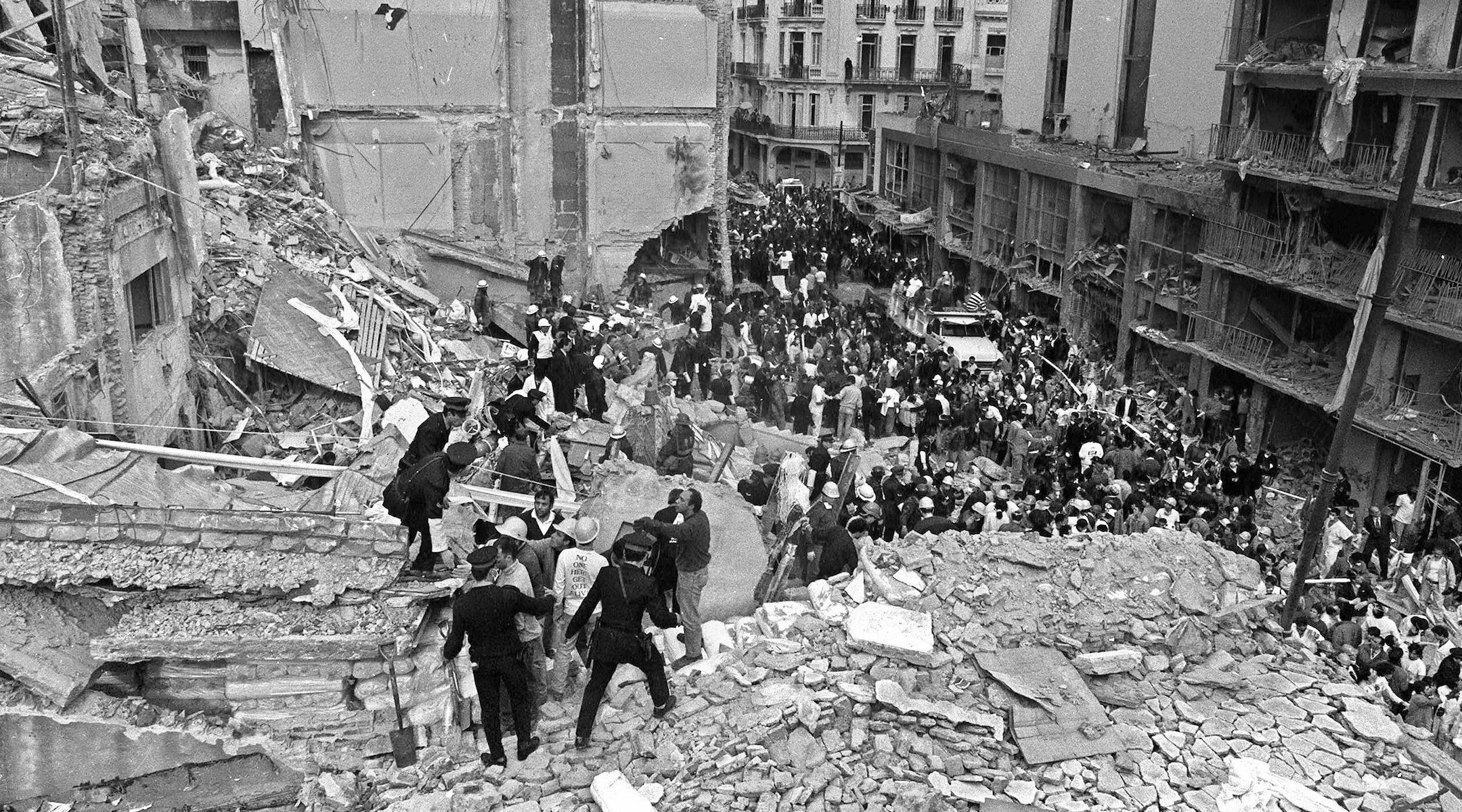 (JTA) — The AMIA Jewish center in Buenos Aires, the site of a 1994 bombing that killed 85 people, was hit with a bomb threat Wednesday.
Law enforcement searched the premises and determined that the threat was a false alarm. The building's operations continued normally during the search, according to the Buenos Aires Herald.
Emails sent Wednesday from two different users threatened to bomb the AMIA building, as well as DAIA, an umbrella organization representing Argentina's Jewish community. One of the emails said, "Death to the Zionist Jews," local media reported.
The bomb threat at the Buenos Aires Jewish community building comes as Jewish institutions around the world face an escalation of violence and bomb threats. In New York alone, 15 synagogues were hit with false bomb threats on Friday, and a Jewish school in Toronto was evacuated last month for a false bomb threat. Multiple Jewish institutions in the Seattle area were sent suspicious packages filled with white powder, which were determined by law enforcement to be non-hazardous.
A previous wave of bomb threats caused synagogues and Jewish institutions across the United States to be evacuated over the summer and fall, continuing even after the arrest of a man in Peru who is charged with making more than 150 hoax threats.
Wednesday morning's bomb threat is not the first against AMIA since the Israel-Hamas war began in October. On Oct. 19, the building received another bomb threat by email that local police found to be a false alarm.
Bomb threats at Jewish institutions in Buenos Aires, and at AMIA especially, touch a particular nerve in Argentina. The building was the site of the deadliest terror attack in Argentina's history, in 1994, when a bombing killed 85 people and injured more than 300. The bombing came two years after another bombing killed 20 people at the Israeli embassy in Buenos Aires.
No one has been convicted in the bombings, but Argentina and Israel have long accused Iran and Hezbollah of being behind them. In 2006, Argentine prosecutors Alberto Nisman and Marcelo Martínez Burgos formally accused Iran and Hezbollah of planning and carrying out the AMIA attack. In 2015, Nisman was murdered hours before he was due to testify against former Argentine president Christina Kirchner's alleged involvement in covering up Iran's role in the attack.
On Oct. 10, just three days after the Israel-Hamas war broke out, the United States and Israeli embassies in Argentina received emailed threats with the phrase, "Jews, we are going to kill you all." A man was arrested more than a week later after police tracked him down using the IP address connected to the emails.
Police in Argentina are investigating the emails to determine their origin and find the individual or individuals responsible for Wednesday's threats.
On Monday, Israel raised its threat level warning for 80 countries, including Argentina, from level one to level two, meaning that Israelis should take caution while traveling there.
—
The post False bomb threat hits Buenos Aires Jewish center where 85 people died in 1994 bombing appeared first on Jewish Telegraphic Agency.