Created to aid in crises abroad, these Israeli nonprofits are applying their expertise at home for the first time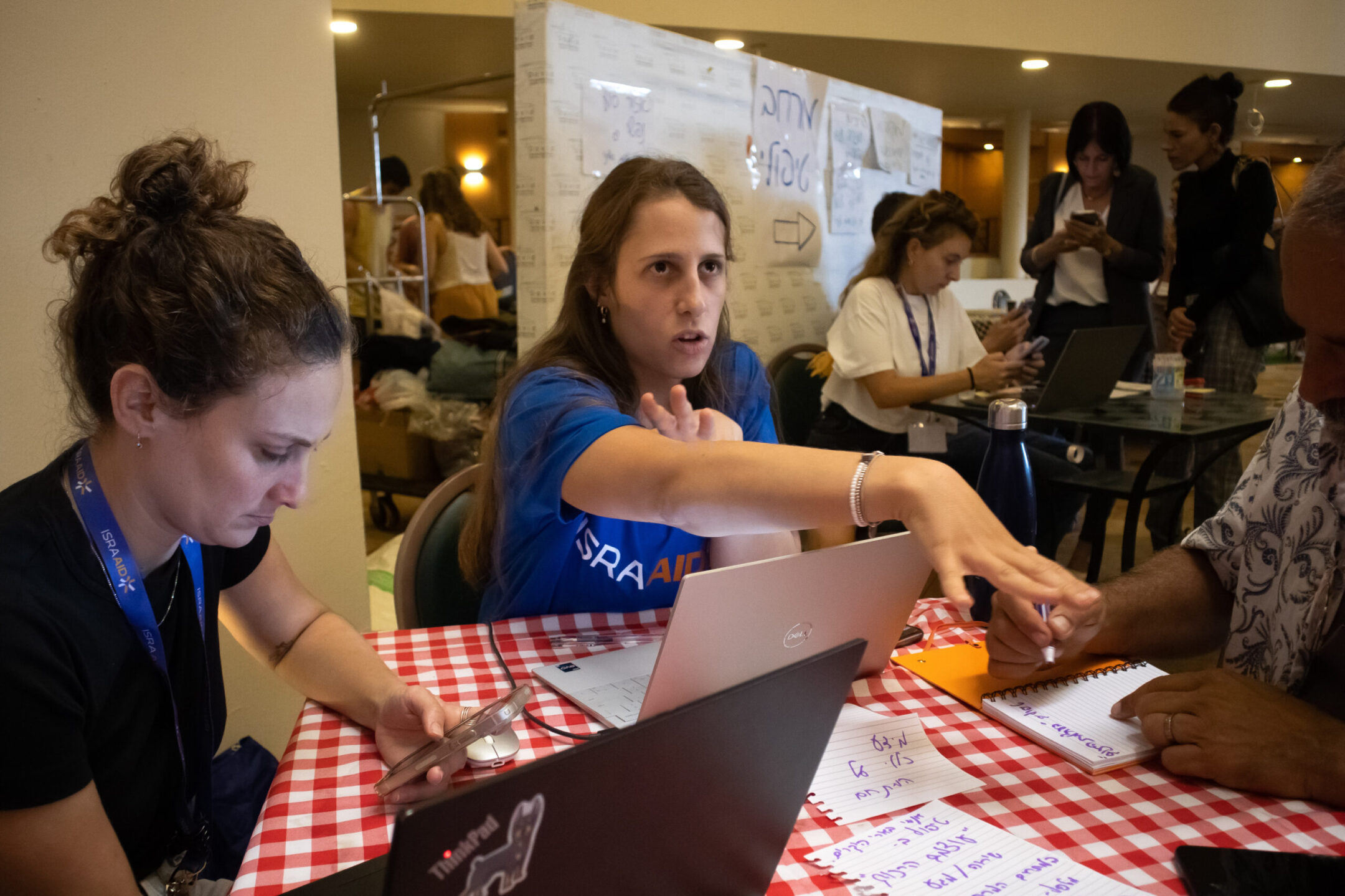 (JTA) — As community manager of his kibbutz in Israel's south, Asaf Artel, 52, oversees all social aspects of Kissufim's 120 member families. On Oct. 7, Artel was able to guide Israeli troops while they rescued people from the kibbutz via walkie talkie from inside his safe room, where he spent several hours with his wife and three children.
Fifteen people from the kibbutz were murdered that day; others remain missing. But within 24 hours, Artel and other kibbutz leaders were able to evacuate everyone else to safety, finding refuge at the Leonardo Plaza hotel in the Dead Sea, where they remain.
Their arrival and the ensuing day were "utter chaos," he said. "Everyone was in trauma, everyone was in pajamas and barefoot. There was lots and lots of crying."
Then, three days after the attack, the lobby of the hotel was suddenly filled with blue shirts of IsraAID workers. "That was the moment I knew we were in good hands," Artel recalled.
Artel's confidence came from personal experience. He had volunteered with IsraAID in 2016, flying to Louisiana following catastrophic flooding there, and had since been recruited for five dispatches to the United States.
Now, he has found himself on the receiving aid of IsraAID's relief — a reflection of how intensively the Oct. 7 massacre by Hamas of Israel's southern communities has overturned norms in Israel.
After having worked in 62 countries around the world, for the first time in its 22-year history, the organization has mobilized its resources to address a humanitarian crisis on its home soil. It is drawing from its expertise in managing complex emergencies, particularly those involving terror and displacement, to navigate the current situation in Israel.
IsraAID's CEO, Yotam Polizer, draws parallels between the necessary relief needed in the wake of the Oct. 7 attack and other terrorism-related events, including a 2021 mission he led to evacuate 205 girls from Afghanistan following the Taliban takeover as well as a 2014 mission to assist Yazidi victims of ISIS.
"I'm not comparing exactly what they went through to what people in Israel went through, but there are definite similarities," he told the Jewish Telegraphic Agency.
Polizer also highlights IsraAID's proficiency in managing protracted conflict zones, such as Ukraine — one of the 16 countries where the organization is currently operating — and the emerging need for sustained humanitarian engagement.
"Without even talking about the security-political side of things, just purely from a humanitarian perspective, we've never had anything like it," Polizer said, noting that his group is working to aid the families of the murdered, the thousands more who were injured, those with abducted family members, and the estimated 300,000 displaced persons.
The reason, he said, was that IsraAID understands urgent relief efforts are only the start of the process, and that the journey towards recovery and resilience is a "marathon, not a sprint."
IsraAid is not the only Israeli nonprofit to redirect its activities home. Innovation: Africa usually applies Israeli technology to support solar energy and clean water in Africa; now, it's deployed to help soldiers power their mobile devices and lights in the field. And NATAN Worldwide Disaster Relief, unable to send its volunteers abroad because of the war, has set up medical and dental clinics to serve Israelis evacuated from their homes in the north and south, near the front lines of conflict.
All three groups are members of OLAM, a network of 77 Jewish and Israeli organizations working in the fields of global service, international development and humanitarian aid. OLAM decided to work as one with a different network of Israeli development groups, SID-Israel, because of the unprecedented nature of the current crisis, according to OLAM's CEO, Dyonna Ginsburg. Neither network had ever played a role during a crisis in Israel before, she said.
"Over the past month, Israeli organizations whose raison d'etre is to respond to crises abroad have rightfully understood the unprecedented and immense needs in Israel, and deployed staff and volunteers at home," Ginsburg said. "Remarkably, many have done so while continuing their efforts to support those abroad."
Ginsburg said the moment had provided her with an answer to questions that she had long encountered in her work.
"Before the war, I often encountered people who questioned why Jews or Israelis should invest resources in supporting vulnerable non-Jews who live far away," Ginsburg said. "Underlying this question is an assumption of a zero sum game: you either give to internal Jewish needs or you support universal concerns. I believe this is a false binary."
Groups with experience in disasters abroad can bring insights that Israel can benefit from, according to Polizer, who wryly refers to the initial surge of support following humanitarian disasters as "aid festivals." He coined the term to encapsulate the chaotic influx of well-intentioned individuals who want to help but don't necessarily know the best ways.
"It's such a train station of people coming and going. We knew that this would happen," he said. "Everyone wants to send their grandmother's socks, you know, as a donation, which is very nice, but not very helpful."
Moreover, even volunteers with relevant expertise tend to offer short-term assistance, often leading to more harm than good, a scenario that Polizer has witnessed in disaster zones all over the world and one that is currently unfolding in Israel. He cites post-trauma mental health support as the most prominent example of this.
"There are a lot of people — even professionals — with great intentions who are coming in and talking to these people who are deeply, deeply traumatized. If that's done very short term, or if it's a one time intervention or debriefing process, you could actually do a lot of harm. You could create triggers for people."
Polizer also highlights missteps made by the aid community, noting a tendency to rush into making assessments and mapping out short and long term needs.
"I've seen a lot of organizations all over the world who come in and write it all down and then send a full report of what is needed. But by the time they get the support, the funding, and the procurement, things have changed already, the reality has changed."
In a perverse stroke of luck, some of those mistakes have been avoided simply because there wasn't a heavy influx of aid groups in Israel following the attack. In the wake of humanitarian disasters, the typical protocol usually involves U.N. agencies such as OCHA, along with various international aid entities, establishing a cluster system to streamline and coordinate the response to various needs.
But that can only happen when neither the government nor the civil society has the ability to meet the basic needs of the population. In such cases, the government itself would need to request the aid, which in this case it didn't. (JTA confirmed with Mashav, the Foreign Ministry's development arm, that Israel had not put out such a call.)
Still, in many cases, Polizer notes, such organizations would decide to help nonetheless. Chef Jose Andres' World Central Kitchen is bolstering IsraAID's efforts with direct aid — in the form of providing meals — for Israel's asylum-seeking community and the local Bedouin population that have been affected by the war. But apart from that, most of IsraAID's partnership organizations, such as UNICEF and the WHO, are sending money in lieu of on-the-ground aid.
"A lot of them are actually sending us funding, so they're supporting us," he said. "They said, 'OK, we can't respond, they don't need our help but we will strengthen the capacity of an organization like IsraAID.' So we of course appreciate that."
Around 20 NGOs are currently operating in Gaza, where the humanitarian needs are acute as Israel prosecutes its war on Hamas. The majority of Palestinians living in Gaza have been displaced from their homes in the last month, according to the United Nations.
"The other side of course is that a lot of them are focusing on the Gaza side of things," Polizer said. "I can't comment on whether it's also a political decision to decide not to respond."
He added, "I think for a lot of them it actually makes sense that we are responding and that we are the leading humanitarian organization in Israel in that space."
The key to mitigating the common issues associated with overzealous civil or aid response, he said, is building a collaborative and trust-based recovery approach that works hand in hand with the community, and that keeps on reevaluating the needs of the hour and "filling in the gaps."
He cites establishing an ad hoc school for the residents of Nir Yitzhak who are currently in a hotel in Eilat as the most recent example of addressing an unexpected need. The community's leaders asked IsraAID to help open a school because the kids are "losing it," he said.
"There was no structure for the school. So we put a tent out that is near enough to the bomb shelter. But it's freaking hot. So you need an air conditioner. So we procured two mobile air conditioners," he said.
"Another gap is that we don't have teachers, because either they were drafted to reserves, or worse, they were kidnapped or murdered. Unfortunately we're hearing these stories all the time."
In such cases, IsraAID takes responsibility for sourcing both the teachers and the necessary funds to cover their salaries as an interim solution until Israel's education ministry can pay their wages. "Sometimes it's about finding really quick solutions and minimizing the bureaucracy," Polizer said.
Immediate relief efforts prioritize children, recognizing their particular susceptibility to trauma. Yet this focus is twofold, he said: by supporting children, it also grants parents the space to "breathe and start taking stock of their lives and look at the next steps."
Artel agrees. "Before you can make a routine, you need an education system. Because when that doesn't work, it takes all of us out of routine. That's what we're doing now and it automatically releases so much of the pressure."
—
The post Created to aid in crises abroad, these Israeli nonprofits are applying their expertise at home for the first time appeared first on Jewish Telegraphic Agency.
Protester Sets Self on Fire Outside Israeli Consulate in Atlanta
i24 News – A protester was in critical condition on Friday after setting themself on fire outside the Israeli consulate in Atlanta, Georgia, U.S. authorities said. A security guard who tried to intervene was also wounded.
A Palestinian flag found at the scene was part of the protest, Atlanta Police Chief Darin Schierbaum said at a news conference. He added that investigators did not believe there was any connection to terrorism and none of the consular staff was ever in danger.
JUST IN: A pro-Palestine protester is in critical condition after they set themselves on fire in "political protest" outside of the Israeli Consulate office in Atlanta.
The protester was reportedly draped in a Palestine flag.
The protester has severe burns and unfortunately, a… pic.twitter.com/B8nUQAj2nU
— Collin Rugg (@CollinRugg) December 1, 2023
"We do not see any threat here," he said. "We believe it was an act of extreme political protest that occurred." Everyone inside the consulate building was said to be safe.
Anat Sultan-Dadon, Consul General of Israel to the southeastern U.S., said: "We are saddened to learn of the self-immolation at the entrance to the office building. It is tragic to see the hate and incitement toward Israel expressed in such a horrific way."
"The sanctity of life is our highest value. Our prayers are with the security officer who was injured while trying to prevent this tragic act. We are grateful to the city of Atlanta's law enforcement and first responders for all they do to ensure safety."
The post Protester Sets Self on Fire Outside Israeli Consulate in Atlanta first appeared on Algemeiner.com.
Released Israeli Hostages Call for Captives to Be Freed
Israeli hostages released in the past week by Hamas in Gaza called on Saturday for the immediate release of fellow captives left behind, a day after a temporary truce that had allowed scores to come home broke down.
Tens of thousands gathered at a rally in Tel Aviv outside Israel's defense headquarters, where they cheered Yelena Trupanov, 50, standing on a stage just two days after being freed.
"I came to thank you because without you I wouldn't be here. Now we must bring back my (son) Sasha, and everyone. Now."
Similar pleas from other released hostages were shown on video.
A seven-day truce, during which Hamas had released more than 100 hostages, collapsed on Friday after Hamas breached the ceasefire.
Israel said on Saturday it had recalled a Mossad intelligence agency team from Qatar, host of indirect negotiations with Hamas, accusing the Palestinian faction of reneging on a deal that would have freed all children and women held hostage.
More than 240 people – Israelis and foreign nationals – were abducted to Gaza on Oct 7. by Hamas terrorists who burst through the border with Israel and killed 1,200 people.
The post Released Israeli Hostages Call for Captives to Be Freed first appeared on Algemeiner.com.
IDF Foils Stabbing Attack Near Nablus in West Bank, Eliminates Terrorist
i24 News – The Israel Defense Forces (IDF) reported thwarting a stabbing attack on Saturday afternoon against reserve Battalion 7037 at the X junction near Nablus in the West Bank.
According to the IDF spokesperson, the event unfolded when the forces at the roadblock became suspicious of an individual approaching the barricade.
During the questioning process, the suspect suddenly drew a knife and advanced towards the IDF personnel.
ניסיון פיגוע דקירה אירע לפני זמן קצר לעבר כוח צה"ל במילואים מגדוד 7037 שפעל בחסם בצומת האיקס סמוך לעיר שכם שבמרחב חטיבת שומרון.
הכוח חשד במחבל שהגיע לחסם והחל לתחקר אותו, המחבל שלף סכין והחל להתקדם לעבר הכוח.
הלוחמים חתרו למגע והגיבו בירי לעבר המחבל שחוסל. אין נפגעים לכוחותינו. pic.twitter.com/mEaJs58hpE
— דובר צה״ל דניאל הגרי – Daniel Hagari (@IDFSpokesperson) December 2, 2023
The soldiers, faced with the threat, engaged in contact procedures and ultimately responded by opening fire on the assailant. The spokesperson confirmed that the attacker was neutralized due to the IDF's action.
It was also noted that there were no casualties among the IDF forces involved in the incident. According to the spokesperson, the situation at the X junction has stabilized, and IDF continues to maintain vigilance in the area to prevent further attacks.
The post IDF Foils Stabbing Attack Near Nablus in West Bank, Eliminates Terrorist first appeared on Algemeiner.com.