Dianne Feinstein, long-serving Jewish senator from California, dies at 90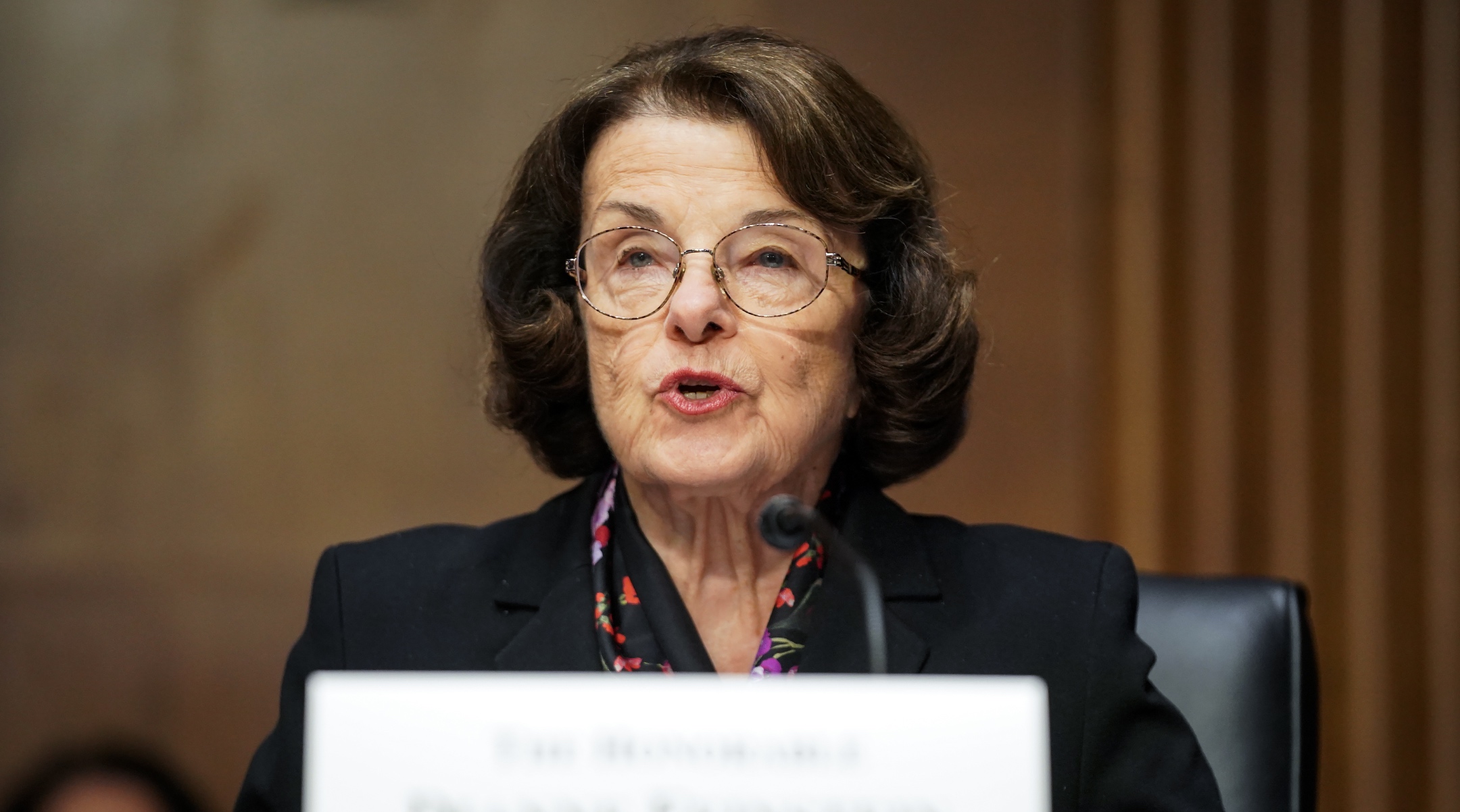 (JTA) — Dianne Feinstein, the long-serving Jewish senator from California who rose to national prominence when she appeared before cameras with her hands stained with the blood of a murdered colleague, has died.
Feinstein, who had recently faced criticism for remaining in the Senate despite clearly failing health, was 90 years old. She died Thursday night, major news organizations are reporting.
Feinstein had served in the Senate for more than three decades as its longest-serving woman.
Feinstein became a national figure in 1978 when she was the president of the Board of Supervisors in San Francisco and found the body of fellow supervisor Harvey Milk. 
Milk, who was Jewish, was the first openly gay elected official in the city's history and was assassinated by a former colleague, Dan White. White also killed San Francisco Mayor George Moscone.
Feinstein announced the murders while her hands were still stained with Milk's blood. She soon stepped in to replace Moscone, serving two terms as mayor.
"I remember it, actually, as if it was yesterday," she recalled in 2008. "And it was one of the hardest moments, if not the hardest moment, of my life. It was a devastating moment. For San Francisco, it was a day of infamy."
Feinstein's father was a Jewish physician and her mother was a model who was born to an ethnically Jewish family but raised in the Russian Orthodox church. Feinstein was born on June 22, 1933, in San Francisco, attended a Roman Catholic school and said, when she was running for governor in 1990, that her parents left it up to her to decide which faith suited her. 
When she was 20, she picked Judaism, she said, "because I liked its simplicity and directness." She was twice widowed and once divorced; all three of her husbands were Jewish.
The trauma of the double murder propelled her to become an outspoken advocate for gun control, a cause she took with her into the Senate, when she won a special election in 1992 to replace Sen. Pete Wilson, a Republican who had defeated Feinstein in the 1990 election for governor. 
That election cycle became known as the Year of the Woman. Feinstein and three other newly elected women senators tripled the number of women in the Senate from two to six. One was Barbara Boxer, who, like Feinstein, was a Jewish Democrat from California. 
Record numbers of women ran for office, spurred in part by the humiliating treatment Anita Hill got in the Senate the year previous when she testified about the sexual harassment she allegedly endured while employed with Clarence Thomas, a Supreme Court nominee. 
Hill's treatment helped galvanize Feinstein's decision to run for the Senate. During the 2018 hearings for another Supreme Court nominee accused of sexual wrongdoing, Brett Kavanaugh, Feinstein recalled coming across a crowd of people watching the Thomas hearings at a TV in an airport in 1991, a year before her election. 
Not a lot had changed, she lamented. "How women are treated in the United States, with this kind of concern, is really wanting a lot of reform," she said during the Kavanaugh hearings.
With Boxer and Feinstein, California had a two-Jewish women representation in the body until 2017, and the effects of the Year of the Women were long lasting. 
"I would be proud to carry on just a portion of their legacy," Rep. Adam Schiff, a California Democrat who has signaled his intention to run for Feinstein's seat, said in February when Feinstein announced she would not run for another term, regarding Feinstein and Boxer. Referring to a traditional Jewish imperative to repair the world, he added, "I would love to bring that passion for tikkun olam with me to the U.S. Senate."
Laws long on the liberal wish list were suddenly ripe for passage, among them an assault weapons ban that Feinstein took the lead in passing in 1994. It lapsed after 10 years, and Feinstein since 2004 persistently, and unsuccessfully, sought to reinstate the ban.
Also in 1994, Feinstein joined then-Sen. Joe Biden in passing the Violence Against Women Act. When it lapsed in 2019, Feinstein led the charge to reauthorize it, but faced conservative resistance because the reauthorization bill added protections for LGBTQ partners and sought to close the  "boyfriend loophole," extending restrictions on gun ownership to people who had abused partners to whom they were not married.
It took until 2022 for Feinstein to overcome resistance and reauthorize the Act. It was a compromise: The LGBTQ protections remained in, but the boyfriend loophole was out; Feinstein was unable to overcome gun lobby resistance.
"This is a major advancement for protecting women from domestic violence and sexual assault – a tragedy faced by one in three women in this country," Feinstein said then in a statement. President Biden, its original author, signed the reauthorization into law.
Feinstein stood apart from her liberal cohort in some respects. Her best known split with liberals was her championing the death penalty until 2018, when she said during her campaign for reelection that its unfair application had finally changed her mind.  
Her enthusiasm for law and order was triggered when a far left group, the New World Liberation Front, detonated a bomb planted in a flower box outside her home in 1976, when she was a member of the San Francisco Board of Supervisors, part of a terrorist campaign targeting city leaders.
As outraged as she was at the easy access to guns that brought about the murder of Milk and Moscone, she was also furious that White got away with a manslaughter conviction by claiming he had been depressed. The tactic became known as the "Twinkie defense," as a defense psychiatrist testified that junk food had contributed to White's depression.
"Yes, I support the death penalty," she said in 1990 when she was running for California governor, earning boos at a Democratic convention. "It is an issue that cannot be fudged or hedged." She won the primary but lost to Wilson. 
The episode displayed her political chops: She used footage of the boos in political ads in the general election for governor, reinforcing her image as a moderate and helping to propel her to the Senate in 1992. She managed to preserve the seat in 1994, her first full term election, a year that was otherwise disastrous for Democrats.
In 2004, she feuded with Kamala Harris, then the San Francisco District Attorney and now the vice president, when she learned at the funeral of a slain police officer that Harris opposed the death penalty for his killer. Feinstein said then she would not have endorsed Harris for the district attorney job had she known of her opposition to the death penalty. (The feud didn't last; Feinstein and Boxer endorsed Harris in her 2016 Senate run to replace Boxer, key nods that helped propel Harris to victory.)
Feinstein was for years a centrist on Israel, allied with the American Israel Public Affairs Committee, although she was a sharp critic of the country's treatment of non-Orthodox Jews. In 1986, as mayor, she expanded commercial ties with San Francisco's sister city, Haifa. It was  her revulsion with deadly weapons that nudged her toward questioning Israel: She was appalled at Israel's use of cluster bombs in its 2006 war with Hezbollah in Lebanon.
"What gives rise, in part, to my bill are recent developments in Lebanon over alleged use of cluster bombs by Israel," she said in 2007, introducing legislation to restrict the sale of the weapons. 
Remarkably, Feinstein chose to promote her proposed cluster bomb ban that year at the Arab American Institute, an organization frequently at odds with the mainstream pro-Israel community. "We will get this job done," she said at the time to applause.
Within a few years she was departing from pro-Israel orthodoxy in other areas: She opposed proposed Iran sanctions in 2014 because she feared the underlying legislation would draw the United States into a war on Israel's behalf.
"Let me acknowledge Israel's real, well-founded concerns that a nuclear-armed Iran would threaten its very existence," she said then on the Senate floor. "While I recognize and share Israel's concern, we cannot let Israel determine when and where the U.S. goes to war."
More recently, she championed renewed aid to the Palestinians, slashed to almost nothing by Trump and Republicans in Congress hostile to a Palestinian leadership they depict as bloodthirsty.
"Denying funding for clean water, health care and schools in the West Bank and Gaza won't make us safer," she said in 2019. "Instead it only emboldens extremist groups like Hamas and pushes peace further out of reach."
Feinstein, who was the top Democrat on the Senate Intelligence Committee from 2009 to 2017, also differed from her colleagues — particularly Ron Wyden, the Jewish Democrat from Oregon — in defending the intelligence community even after a welter of leaks toward the end of the 2000s revealed its abuses. 
She defended the intelligence agencies' collection of American citizens' metadata, the wealth of information that can track where a person is with whom they communicate and for how long, among other details. "It's called protecting America," Feinstein said in 2013, claiming the practice was routine.
As her party moved left, however, so did she; In 2014, as committee chairwoman, Feinstein declassified a report on the CIA's use of torture after the Sept. 11, 2001 attacks, over the objections of President Barack Obama. In 2017, she said her decision in 2002 to be one of just five Senate Democrats to authorize the Iraq War would haunt her, in part because she bought into the false claims the intelligence community was peddling.
"It is the decision I regret most and I have to live with it," she told author Gail Sheehy.
One factor nudging her to the left was the election in 2016 of Donald Trump as president. Her deep experience in matters of intelligence helped spur her outrage with the new president as she uncovered evidence ahead of the election that Russia was interfering.
"Based on briefings we have received, we have concluded that the Russian intelligence agencies are making a serious and concerted effort to influence the U.S. election," she and Adam Schiff, a House California Jewish Democrat who is now running to replace her in the Senate, said in a headline-making statement just weeks before election day.
"At the least, this effort is intended to sow doubt about the security of our election and may well be intended to influence the outcomes of the election," the statement said. "We can see no other rationale for the behavior of the Russians."
Republican obfuscation about Russia's interference helped push her over the edge, a close friend, Orville Schell, told Sheehy in 2017. "Trump injects an entirely new level of outrage," he said. "Dianne is like the canary in the mine shaft. The last bastion of bridge building in the Senate may be giving up."
On one issue LGBTQ rights, Feinstein always tracked to the left of her party; in the 1990s she was one of just 14 Democrats to vote against the Defense of Marriage Act, which defined marriage as being between a man and a woman. She became a leader of a years-long effort to repeal the Act, which was successful in 2022.
In 2020, as the top Democrat on the Judiciary Committee, Feinstein drew outrage from fellow Democrats for her friendly questioning of Amy Coney Barrett, the Supreme Court nominee Republicans rushed through to replace Ruth Bader Ginsburg, the liberal Jewish icon who had died just before an election that returned Democrats to the Senate majority. It didn't help that she hugged the committee chairman, South Carolina Republican Lindsey Graham, after the hearing.
That along with signs that Feinstein's mental acuity was diminishing led her to step down as the top Democrat on the key committee. Reporting described her as engaged during meetings and telephone calls, and then, hours and even minutes later, not remembering the exchanges. In early 2023, she announced that she would not run again for election in 2024.
Feinstein is survived by her daughter, Katherine Anne Feinstein, a former judge, and a granddaughter.
—
The post Dianne Feinstein, long-serving Jewish senator from California, dies at 90 appeared first on Jewish Telegraphic Agency.
Israel Orders More Evacuations in Khan Younis after US blocks UN's Gaza ceasefire call
Israel ordered residents out of the center of Gaza's main southern city Khan Younis on Saturday and pounded the length of the enclave, after the United States wielded its U.N. Security Council veto to shield its ally from a demand for a ceasefire.
Since a truce collapsed last week following Hamas's refusal to release female hostages, Israel has expanded its ground campaign into the southern half of the Gaza Strip by launching the storming of Khan Younis. Simultaneously, both sides have reported a surge in fighting in the north.
Israel's Arabic-language spokesperson posted a map on X highlighting six numbered blocks of Khan Younis that residents were told to evacuate "urgently." They included parts of the city center that had not been subject to such orders before.
Israel issued similar warnings at the start of this week before storming the eastern parts of the city. Residents said they feared new evacuation orders heralded a further assault.
"It might be a matter of time before they act against our area too. We have been hearing bombing all night," said Zainab Khalil, 57, displaced with 30 of her relatives and friends in Khan Younis near Jalal street where troops told people to leave.
"We don't sleep at night, we stay awake, we try to put the children to sleep and we stay up fearing the place would be bombed and we'll have to run carrying the children out. During the day begins another tragedy, and that is: how to feed the children?"
The vast majority of Gaza's 2.3 million residents have already been forced from their homes, many fleeing several times. With fighting raging across the length of the territory, residents and U.N. agencies say there is now effectively nowhere safe to go, though Israel disputes this.
Israel has blocked Gazans from fleeing along the main north-south route down the spine of the narrow strip, and is shunting them instead towards the Mediterranean coast.
THOUSANDS MISSING PRESUMED DEAD
A house in the city was engulfed in a roaring blaze after being struck overnight.
Footage obtained by Reuters inside another hospital in Deir al-Balah, the Jaffa hospital, showed extensive damage from a strike on a mosque next door. The obliterated ruins of the mosque could be seen through the blown-out windows.
There were no new figures on Saturday for dead and wounded from other parts of Gaza, including the entire northern half, where hospitals have ceased functioning and ambulances often can no longer reach the dead.
"We believe the number of martyrs under the rubble might be greater than those received at hospitals," health ministry spokesperson Ashraf al-Qidra told Reuters.
An ambulance worker in Gaza City's Shejaiya district told Reuters by telephone that crews were often unable to respond to calls they were receiving from the wounded.
"It pains our hearts, but we have tried before in the past days to head there and our teams came under Israeli fire," he said, asking his name not be printed for fear of reprisals. "We believe there are martyrs in some of the areas east of Shejaiya and some other places, but no one can get in."
Northern Gaza families were posting messages on the internet pleading with emergency crews to venture into Gaza City.
"We appeal to the Red Cross and the civil emergency to immediately go to Attallah house. People are besieged inside their house in Jala street in Gaza City, near Zaharna building. The house is on fire," wrote members of the Attallah family.
U.S. VETO MAKES WASHINGTON 'COMPLICIT'
In a vote at the United Nations on Friday, 13 of the Security Council's 15 members backed a resolution calling for an immediate humanitarian ceasefire. It was blocked by Washington's veto, while Britain abstained.
Israel launched its campaign to annihilate Hamas after the Iran-backed Islamist group's fighters burst across the Gaza border fence on Oct. 7, killing 1,200 people, raping women, and capturing 240 hostages in a rampage though Israeli towns.
Israeli forces say they are limiting civilian casualties by providing them with maps showing areas that are safe, and blame Hamas for causing harm to civilians by hiding among them, which the terrorists deny.
Washington has continued to support Israel's position that a ceasefire would benefit Hamas. "We do not support this resolution's call for an unsustainable ceasefire that will only plant the seeds for the next war," Deputy U.S. Ambassador to the U.N. Robert Wood told the Security Council before exercising Washington's veto.
Ezzat El-Reshiq, a member of Hamas' political bureau, condemned the U.S. veto as "inhumane." Mahmoud Abbas, president of the Palestinian Authority which lost control of Gaza to Hamas in 2007, said the veto made the United States complicit in Israeli war crimes.
Israel's U.N. Ambassador Gilad Erdan said in a statement: "A ceasefire will be possible only with the return of all the hostages and the destruction of Hamas."
The post Israel Orders More Evacuations in Khan Younis after US blocks UN's Gaza ceasefire call first appeared on Algemeiner.com.
US Government Uses Emergency Authority to Provide Tank Shells to Israel
The Biden administration has used an emergency authority to allow the sale of about 14,000 tank shells to Israel without congressional review, the Pentagon said on Saturday.
The State Department on Friday used an Arms Export Control Act emergency declaration for the tank rounds worth $106.5 million for immediate delivery to Israel, the Pentagon said in a statement.
The shells are part of a bigger sale that was first reported by Reuters on Friday that the Biden administration is asking the U.S. Congress to approve. The larger package is worth more than $500 million and comprises of 45,000 shells for Israel's Merkava tanks, regularly deployed in its offensive in Gaza.
As the war intensified, how and where exactly the U.S. weapons are used in the conflict has come under more scrutiny, even though U.S. officials say there are no plans to put conditions on military aid to Israel or to consider withholding some of it.
U.S. Secretary of State Antony Blinken determined and provided detailed justification to Congress that the tank shells must immediately be provided to Israel in the national security interests of the United States, according to the Pentagon statement.
The sale will be from U.S. Army inventory and consist of 120mm M830A1 High Explosive Anti-Tank Multi-Purpose with Tracer (MPAT) tank cartridges and related equipment.
"Israel will use the enhanced capability as a deterrent to regional threats and to strengthen its homeland defense," the Pentagon said, adding that there will be no adverse impact on U.S. defense readiness as a result of the sale.
The post US Government Uses Emergency Authority to Provide Tank Shells to Israel first appeared on Algemeiner.com.
David Ellenson was my rabbi. I can't believe we won't learn from him anymore.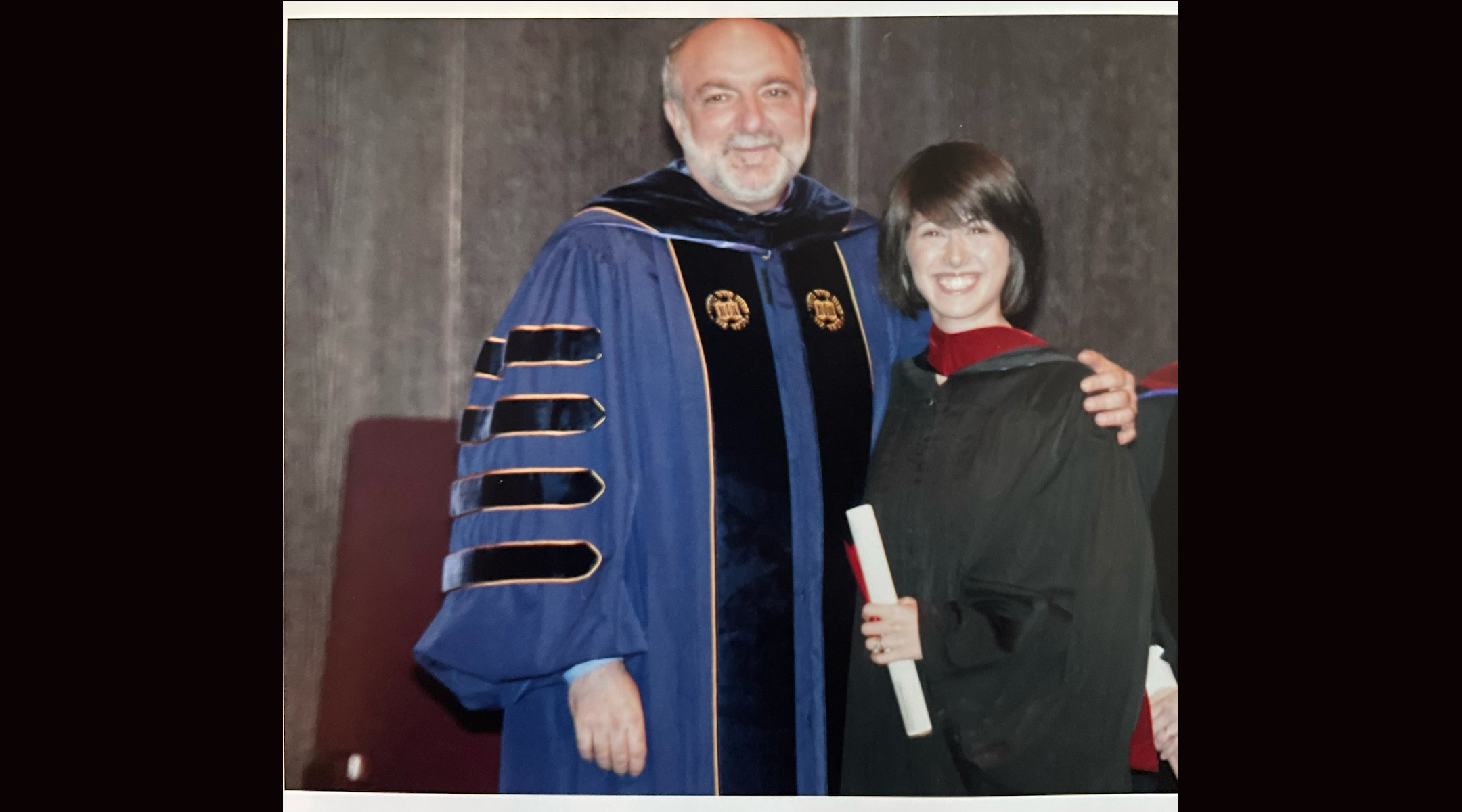 (JTA) — It is the 24th of Kislev, one of the darkest days of the year, when we cannot wait to bring in the light of Hanukkah — and I just received the call that my teacher, my mentor, my rabbi, David Ellenson, has died. I was meant to meet with him today. It is hard for the child of a rabbi, who is also a rabbi, and teaches rabbis, to find a rabbi of her own. But David was my rabbi. The moment I choke on the words "Baruch Dayan Emet," tears fall from my eyes.
I suddenly remember what David taught me in the aftermath of Sept. 11: "Rabbi Shimon Ben Gamliel said: Do not make monuments for the righteous — their 'd'varim' are their memorial" (Jerusalem Talmud Shekalim 11a). D'varim can mean words, and it can mean deeds, and David embodied the best of both.
The rabbis taught that it is forbidden to delivery a eulogy on Hanukkah except for sages of Torah — and that David was. I know that I am but one of a legion of his students who call him "my rabbi," and will share their memories of him and continue to transmit his wisdom. David's d'varim, words and love shared over 25 years, have shaped me as a thinker, rabbi, human, parent, spouse, teacher and friend.
In 2001, my husband and I were a few feet away when a terrorist bomb detonated in central Jerusalem. It was David, then president of HUC-JIR, who sat with me as a first-year student in Jerusalem. He was there on one of his many visits during the height of the second intifada, and he said nothing. Just sat with me, held my hand, hugged me as I shook.
Years later, he was my thesis advisor, and together we struggled with theological questions and the development of liberal Zionism. David had encyclopedic knowledge of where, on an exact page, I might find a paragraph of Rawidowicz or Hildesheimer, and on what volume and page in the Talmud I could find something that would support or refute or confuse my reading of a piece of liturgy. We had arguments over the nature of Jewish Peoplehood, of what makes us a collective body, of God and Torah and Jewish history and Jewish legacy.
Our work together extended into my current role supporting a new generation of rabbis through Atra: Center for Rabbinic Innovation, where he came on as a rabbinic advisor. Just this Tuesday, in my Google doc — that he had, of course, converted to a Word document — he added this comment in the margin: "October 7th has changed everything. I think it will be a watershed moment in American Jewish identity and American Jewish-Israeli relationships." This week, with the shared goal of helping our rabbis adapt their leadership to this moment, we were grappling with the shifting nature of individual and public Jewish commitments in a moment when liberalism and Judaism were not necessarily in sync. Intellectual, but also pointed towards the real work that rabbis are doing today.
David was my rebbe. He pastored me through the untimely and sudden death of my father, whom he knew before my birth. He never hesitated to share his paramount love for, pride in and commitment to his wife and family; just this week, he waited to schedule a meeting until he helped send his grandchildren off to school. I know that relative to his family and his close friends, my loss is small, and I pray that this community of his students can support them in their profound grief. Yet David took to heart the teaching of Sanhedrin 19b that one who teaches Torah to the child of a friend is like another parent. David knew that all of us need to feel that type of love, and I am in awe of his ability to offer both validation and instruction, often at the same time. Not only to me, but to many hundreds of us who have lost our rabbi, our teacher, for he was a Gadol HaDor, a great rabbi of our era.
It's hard to believe that David's d'varim, words and actions are, as of the 24th of Kislev, past tense. I will not be meeting with him today, or any day. I will never again feel his hug, hear Torah from his mouth between sips of Diet Coke. I will never hear his feedback on this week's writing; won't have his ongoing advice as I seek to continue the work of advancing strong rabbinic leadership.
We Jews follow blessings with action, words with deeds. When we soon say "may his memory be for a blessing," we rabbis can make it so when we learn and build upon David's Torah; seek to extend his boundless love as we offer guidance with affirmation and pastoral care with empathy; to have open-eyed, spiritually attuned, and proactive care for Israel and the Jewish people; to ensure that our actions and commitments reflect our highest values. I know that my life's work, supporting rabbis and the future of Jewish spiritual leadership, will always be guided and enriched by his wisdom and his actions.
May we, the students who learned from, who loved, and who experienced the love of our rabbi, David Ellenson, shlit"a (the master), continue to build upon, to share, and to animate his d'varim, his words and deeds, and together strengthen the monument that will serve as his memorial and legacy.
—
The post David Ellenson was my rabbi. I can't believe we won't learn from him anymore. appeared first on Jewish Telegraphic Agency.