Doug Emhoff to meet Jewish leaders as US ups efforts to tackle campus antisemitism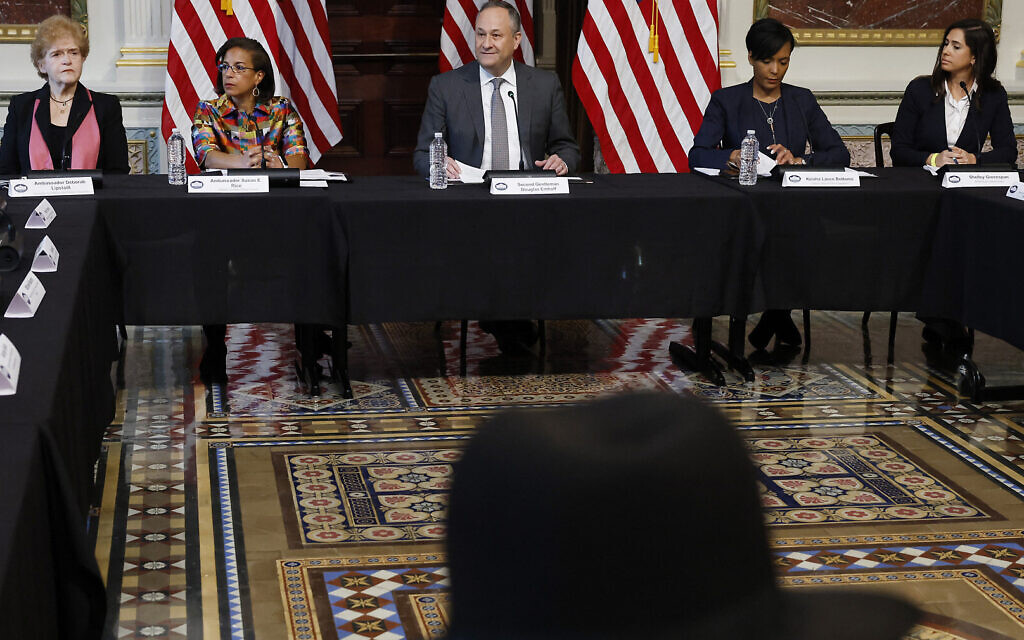 Geert Wilders, far-right victor in Dutch elections, elicits sympathy and fear in Jewish voters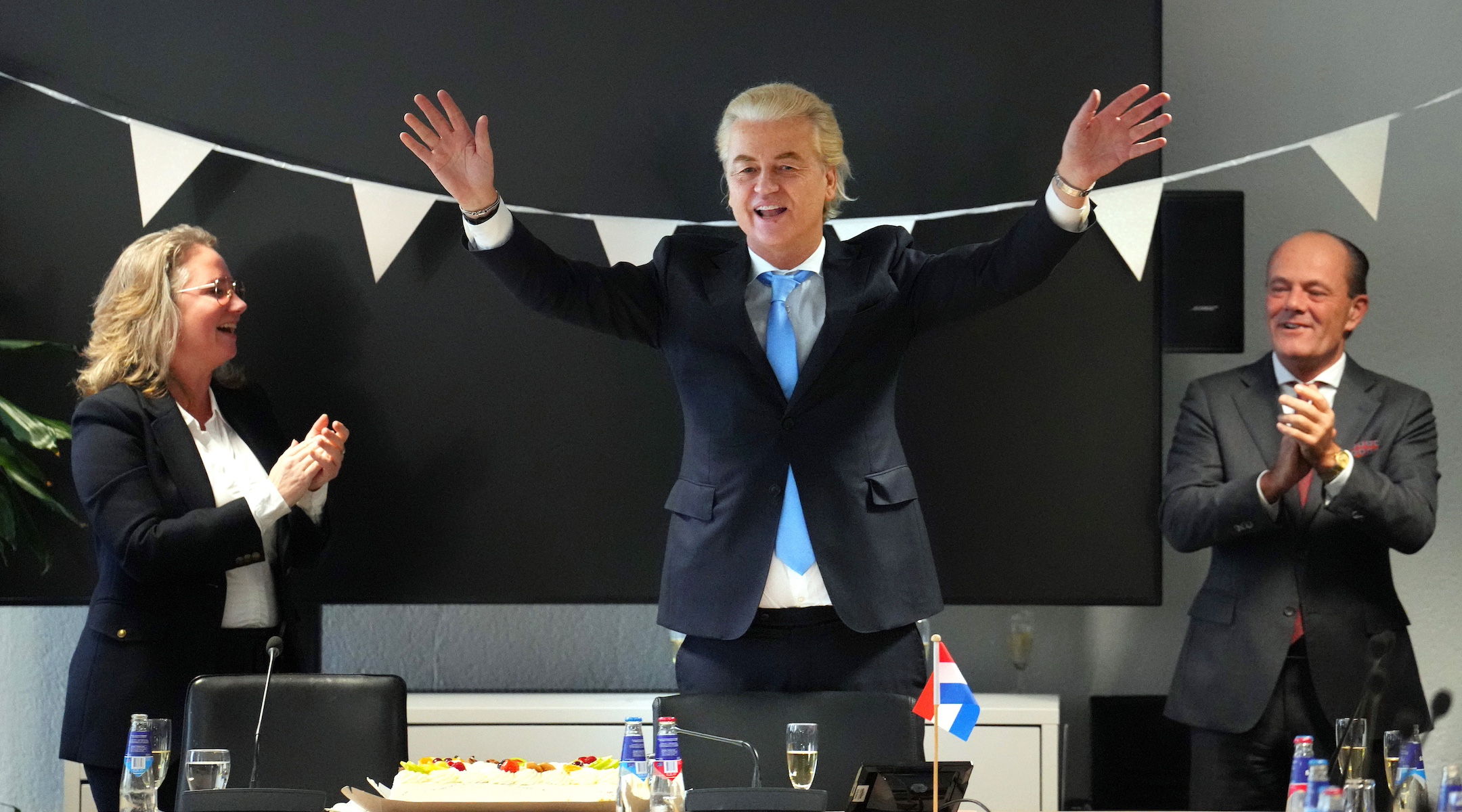 (JTA) — The Dutch elections in November sent shockwaves through Europe, as voters delivered victory to Geert Wilders, a hard-right populist known for crusading against Islam, immigrants and the European Union — along with professing support for Israel.
But for some Dutch Jews, who have watched an atmosphere of fear and antisemitism grow since the Israel-Hamas war began on Oct. 7, the results were less surprising.
Wilders's Party for Freedom (PVV) beat all predictions on Nov. 22, winning 37 of the 150 seats in parliament (or 23.6% of the vote) and far outstripping the second place Labor-Green alliance. After decades on the political fringe, Wilders has begun negotiating to form a government with himself as the next prime minister of the Netherlands.
The firebrand politician, whose "Netherlands first" rhetoric and blond-dyed bouffant hair earned him comparisons to Donald Trump, has long made anti-Islam policies a centerpiece of his agenda. Along with demanding a halt to the country's "asylum tsunami," he has called for a ban on Islamic schools, Qurans and mosques. A court found him guilty on insult charges after he led supporters in a chant for "fewer" Moroccans in the Netherlands at a 2016 campaign rally. In 2009, he was refused entry to the United Kingdom on the way to screen his film "Fitna," which associated the Quran with terrorism and sparked international protests.
Following 13 years of a center-right government under former Prime Minister Mark Rutte, Wilders' victory was broadly called one of the country's "biggest political upsets" since World War II. His party's surge came very late in the campaign, and Wilders himself didn't seem to expect the result, reportedly renting a room as party headquarters for election night only three days beforehand.
That timing corresponds with weeks of public outcry over Israel's bombardment of Gaza, which has sometimes morphed into aggression against Dutch Jews, according to Esther Voet, editor-in-chief of the Nieuw Israelietisch Weekblad (known in English as the Dutch Jewish Weekly).
"A few weeks ago, he only had between 13 and 17 seats," Voet told the Jewish Telegraphic Agency. "This started a few weeks ago — since we've seen all the aggression in the streets — that he rose so much in the polls."
Voet believes that Wilders benefited from a swell of open prejudice against Jews in the Netherlands. One watchdog documented an 818% increase in antisemitic incidents in October, ranging from assaults in schools to the tearing down of mezuzahs to swastikas painted on Jewish homes. Voet said some Jewish voters believed they would be protected by Wilders, who has touted his support for Israel as the Netherlands' "close friend" and condemned antisemitism since Oct. 7.
Dutch Jews have historically opposed right-wing populist parties, but some shifted their views on Wilders sharply in recent weeks, said Voet. A Dutch Jewish Weekly poll in 2017 found that Jews were less open to voting for Wilders than the broader Dutch public was, with 10% of respondents expressing support for PVV compared with 15% of the public in general opinion polls. The most popular party among Jews was Rutte's then-ruling People's Party for Freedom and Democracy, followed by the center-left Labor Party.
"I have a lot of Jewish friends who are on the left side of the political spectrum, who voted for PVV because of what they saw in the last weeks," said Voet.
Although he is not Jewish, Wilders volunteered on an Israeli kibbutz as a young man and is married to a Hungarian-Jewish former diplomat. He has also advocated for Israel's settlements in the West Bank and suggested that all Palestinians should be relocated to Jordan.
Some Jewish organizations, including the Jewish news website Joods.nl, celebrated Wilders' win as a victory for both Israel and Dutch Jews. On election day, the outlet posted a "Mazel tov" to Wilders alongside an Instagram post that read, "Hamas lost the elections."
Lievnath Faber is the founder of Oy Vey, a progressive Jewish group that hosts events and discussions in Amsterdam. As antisemitic attacks surged in recent weeks, her colleague set up a WhatsApp "buddy system" for Jews across Amsterdam to check on each other and provide support.
"People are really needing to be together," she told JTA. "For a lot of people, it's very lonely to be Jewish now."
However, Faber believes that Jews who voted for Wilders' party were naively missguided by their "legitimate fears."
"No matter what a politician might say — he might say he loves Jews and wants to protect Jews — we all know from our history, from our DNA that we are at risk when there is an extreme-right, anti-constitutional leader," Faber said.
Jews constitute a small minority of about 30,000 people in the Dutch population of 17.7 million. Other voters who won Wilders the election say they were attracted by his promises to bring down taxes, healthcare and the cost of living. Some felt neglected by their government and resentful of migrants being granted homes amid the country's housing crisis, according to Voet. Wilders also toned down his anti-Islam rhetoric during the campaign, although his manifesto still contains proposals to ban Qurans, mosques and Muslim headscarves.
Faber believes that Wilders' victory has granted permission to a current of racism and xenophobia that abides in Dutch society — one that targets Muslims now, but might turn against Jews.
"If somebody in a public office voices things that are very racist, of course it also motivates other people to feel more comfortable doing that," she said. "That's one of the things that is scary about this win — what does it allow in the society?"
—
The post Geert Wilders, far-right victor in Dutch elections, elicits sympathy and fear in Jewish voters appeared first on Jewish Telegraphic Agency.
A Jewish Democrat gave up his political career to pass New York's abortion rights law. A new film tells his story.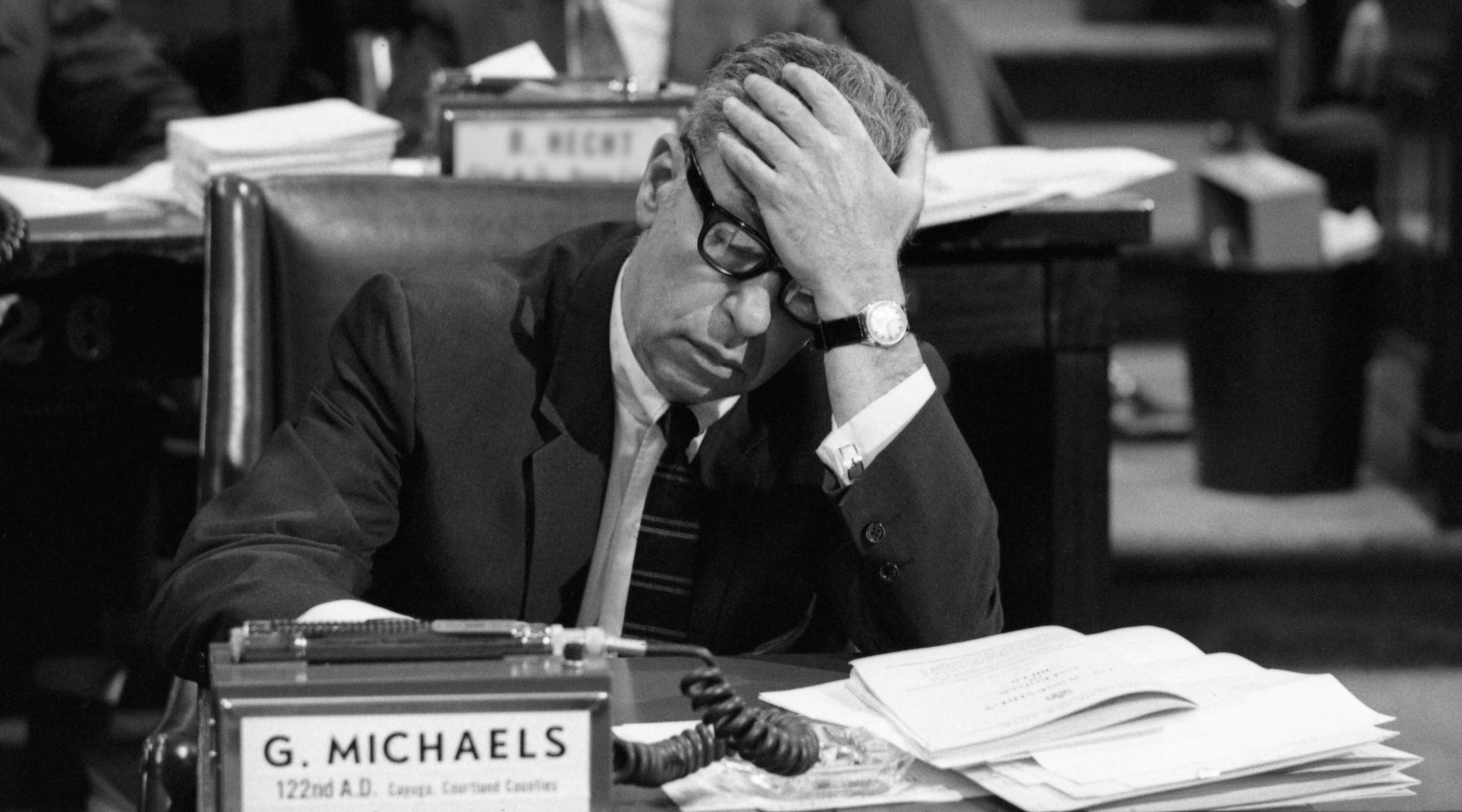 (New York Jewish Week) — In 1970, New York State passed one of the most expansive abortion rights laws in the country, its legislation putting into motion the eventual adoption of Roe v. Wade in 1973.
But the legislation almost didn't pass. It was only thanks to George Michaels, a Jewish Democrat in the New York State Assembly, who changed his vote in the 11th hour to allow for the legislation to move forward with an absolute majority and to be signed into law the next day by Governor Nelson Rockefeller. 
"Deciding Vote," a new documentary released by The New Yorker, brings renewed attention to that decisive yet little-remembered moment in American history, one that ultimately cost Michaels his career. 
Co-directors Jeremy Workman and Rob Lyons began working on the 20-minute documentary in 2019, nearly three years before the Dobbs decision that overturned Roe v. Wade. While the film does not explicitly address the current moment, Workman said that "the viewer understands that it's about now even though this happened 50 years ago."
"They see how one person really can make a difference," he told the New York Jewish Week about the film, which was released on Nov. 29. "It shows us how, in all our decisions, we can look inward and also to the big picture of the world and see what makes the most sense and not just retreat into our own political corner."
Michaels, a lawyer, was a State Assembly member from 1961 to 1966 and again from 1969 and 1970. He represented Auburn in New York's Finger Lakes  region — a Jewish Democrat in a heavily Catholic and conservative area. 
For much of his tenure, the film relates, Michaels was steadfast in serving his constituency, which overwhelmingly opposed abortion. Even the Jews who lived in his district, Workman said, generally opposed abortion. Although Michaels personally supported a woman's right to choose, he had twice voted against efforts to expand abortion rights because he knew that his constituents did not. 
So, on April 9, 1970, when a bill that had already passed in the Senate arrived in the House that allowed for access to abortions up until 24 weeks of pregnancy, or at any time to protect the life of the mother, Michaels initially voted against it as well. 
However, at the end of the session, after he saw that it was deadlocked at 74 in favor and 74 opposed, he stood up to change his vote, knowing that the bill needed an absolute majority of 76 in favor to pass. With the count 75-73, the Speaker of the Assembly, Perry Duryea, who only voted in cases when his vote would make a difference, would be able to cast the deciding vote. 
"Many people in my district may not only condemn me for what I'm about to do, but Mr. Speaker, I say to you in all candor, and I say this very feelingly to all of you, what's the use of getting elected or re-elected if you don't stand for something?" he said in a speech before he changes his vote.
Michaels knew that this decision would end his time in the State Assembly. "I fully appreciate that this is the termination of my political career," he said in the same speech. "But I cannot in good conscience stay here and thwart the obvious majority of this house, the members of whom I dearly love, and for whom I have a great deal of affection. I'll probably never come back here again to share these things with you. I therefore request you, Mr. Speaker, to change my negative vote to an affirmative vote."
Duryea then voted for the affirmative, and the bill was sent to the governor to sign. As women poured into New York for the procedure, it set the stage for the Roe v. Wade decision in the Supreme Court three years later. 
And even though Roe v. Wade was overturned last year, its legacy carries on. Furthermore, New York's law remains intact, making it one of the safest and easiest states to get an abortion, even allowing for minors from any state to travel to New York to receive abortions without parental consent.
As Michaels' son James describes it in the film, "Suddenly, all hell broke loose." Michaels did not receive the Democratic endorsement in the next election, and never won another election after. The Queens, New York native practiced law until his retirement in 1985, and died in 1992 at age 82. 
As the story goes, it was his children, who, as young adults in the 1960s were involved in anti-war, civil rights and reproductive rights movements, who convinced him to vote for the bill. 
That Michaels listened to his sons and his daughter-in-law is, for Workman, what really stands out about this story — and what makes it Jewish. "For me, his Judaism really comes through with his children," Workman said. "Jews at that time were very active in all kinds of social justice, reproductive rights, civil rights and voting rights movements."
In the movie, Michaels' son James, who is now a rabbi in Maryland, remembers telling his father, "You're the only hope we have." He says that the first time he discussed the issue with his father, the elder Michaels told him that he couldn't vote for the bill. 
"I said, 'I understand, just as long as your vote isn't the one to defeat it,'" the younger Michaels recalls. "I never dreamed that it would come to the point where that would be where his vote would be the one that was so critical."
Michaels references his conversation with his son in the speech he gave on Capitol floor to change his vote, which is shown in full in the film. 
"Just before I left for Albany this week, my son Jim, who, as you recall Mr. Speaker, gave the invocation to this assembly on February 4th, and he said 'Dad, for God's sake. Don't let your vote be the vote that defeats this bill,'" he says in his speech.
Workman said that while Michaels story isn't completely unknown, "It just kind of got lost a little to the history books. No one had really pointed George Michaels out and what impact he had."
The documentary interviews Jewish activist and former Manhattan borough president Ruth Messinger, who has been one of the sole upholders of Michaels' legacy. She teaches a course on the late lawmaker called "George Michaels and Moral Courage" as part of a leadership course she teaches with the American Jewish World Service and as an adjunct professor at Hunter College.  
"Very often, the most organized groups that do the most lobbying, that make the most noise, are groups that actually don't represent a majority," she says in the film. "So very often you have to take a quiet conversation with yourself: I know where people stand, but I have to do what I think is right." 
Messinger will speak on a panel about the film at the Marlene Meyerson JCC Manhattan on Dec. 12 with co-director Rob Lyons. The film can be seen at the New Yorker website.
"My concern is that too many of the people who exercise moral courage don't have a legacy because we don't talk about them," Messenger adds. "If you're looking for a model for doing that — for sticking your neck out, for taking a position of moral courage — Assemblyman George Michaels is right at the top of my list."
—
The post A Jewish Democrat gave up his political career to pass New York's abortion rights law. A new film tells his story. appeared first on Jewish Telegraphic Agency.
Jack, Luke and Quinn Hughes make Jewish NHL history (again)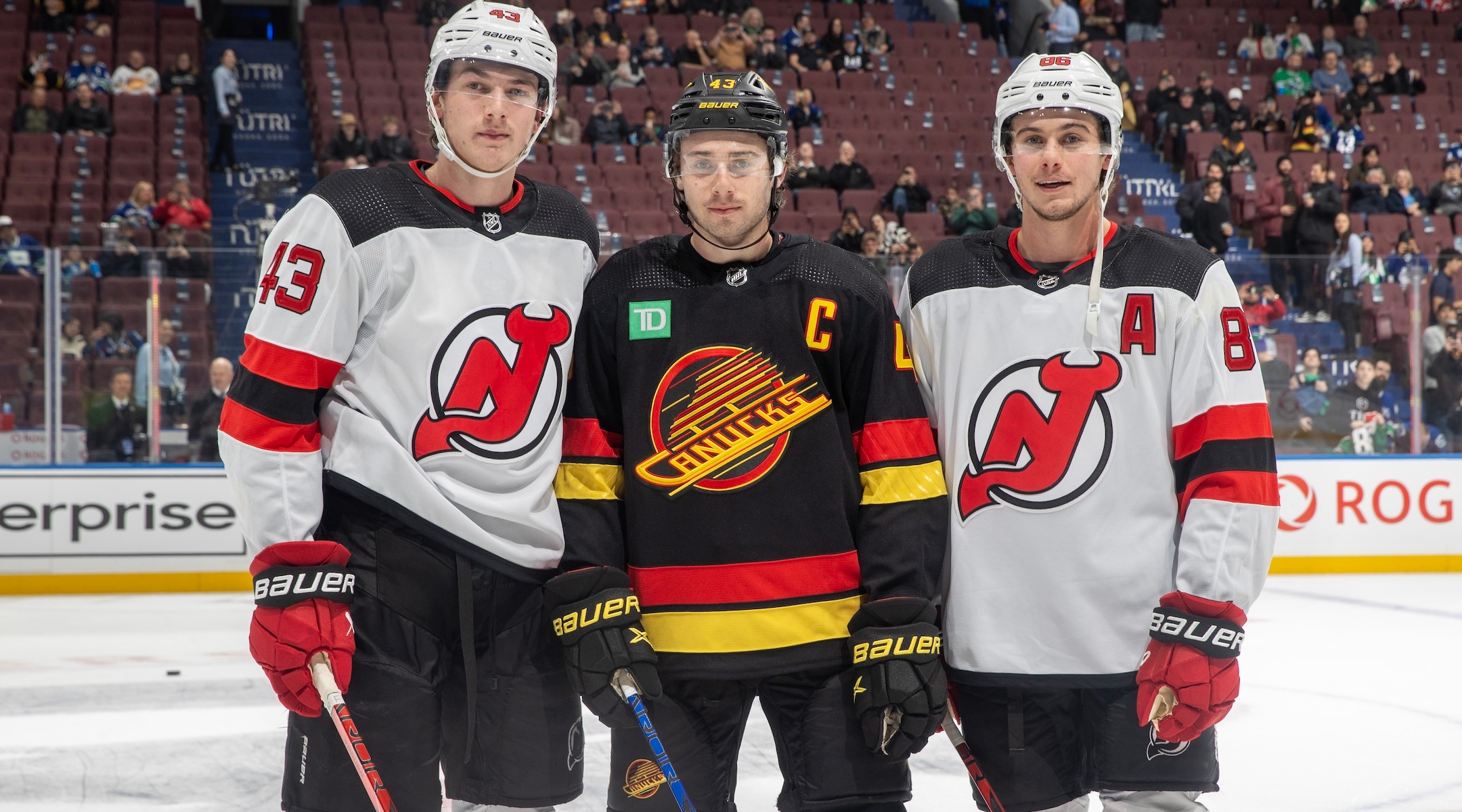 (JTA) — The "H" in NHL may as well stand for Hughes.
Jewish brothers Jack, Luke and Quinn Hughes made hockey history on Tuesday night when they became the first trio of Jewish brothers to play in the same NHL game. Jack and Luke's New Jersey Devils faced Quinn's Vancouver Canucks in a night dubbed the "Hughes Bowl." (They also became the ninth overall trio of brothers period to accomplish the feat.)
"I thought both Luke and Quinn played really well," Jack Hughes told ESPN after the Devils' 6-5 win. "A lot of fun to play with them."
The brothers had already made hockey history in their young careers. They are the first American family to have three siblings picked in the first round of the NHL draft. In 2018, Quinn was select seventh by Vancouver; the following year, Jack became the first Jewish player to go No. 1 overall, and Luke was drafted fourth in 2021. Now all three brothers stand out among the talented crop of Jewish players in the NHL.
Jack, 22, is a two-time All-Star who last year set a Devils franchise record with 99 points. Luke, 20, is a rookie who was a star player at the University of Michigan, where he set several program records. Quinn, 24, has earned at least 60 assists each of the past two seasons, and in September he was named the 15th captain in Canucks history, making him the youngest current captain in the NHL.
On Tuesday, with their parents in attendance, the Hughes brothers stole the spotlight. Jack scored a goal with two assists, Luke scored a power play goal (assisted by Jack) and Quinn had two assists.
"Getting a picture in warmups was pretty cool," Luke told ESPN. "I haven't really let it all sink in yet. For me, it's seeing him off ice, I haven't seen (Quinn) in a couple of months, and it's been the five of us. Our whole family has been here for two days, going to dinner and hanging out. It's been great for our family."
Jack, who had a bar mitzvah, has said his family celebrated Passover when he was growing up. Hockey runs in the family, too.
Their father Jim, who is not Jewish, played hockey for Providence College and has worked as an assistant coach and front office executive for NHL teams. Their mother, Ellen Weinberg-Hughes, who is Jewish, was a three-sport athlete at the University of New Hampshire and represented the U.S. women's hockey team at the 1992 Women's World Championships, where she was named a tournament All-Star. Weinberg-Hughes is also a member of the International Jewish Sports Hall of Fame's 2024 induction class.
—
The post Jack, Luke and Quinn Hughes make Jewish NHL history (again) appeared first on Jewish Telegraphic Agency.