Elon Musk, in live chat with right-leaning Jews, insists antisemitism isn't a problem on X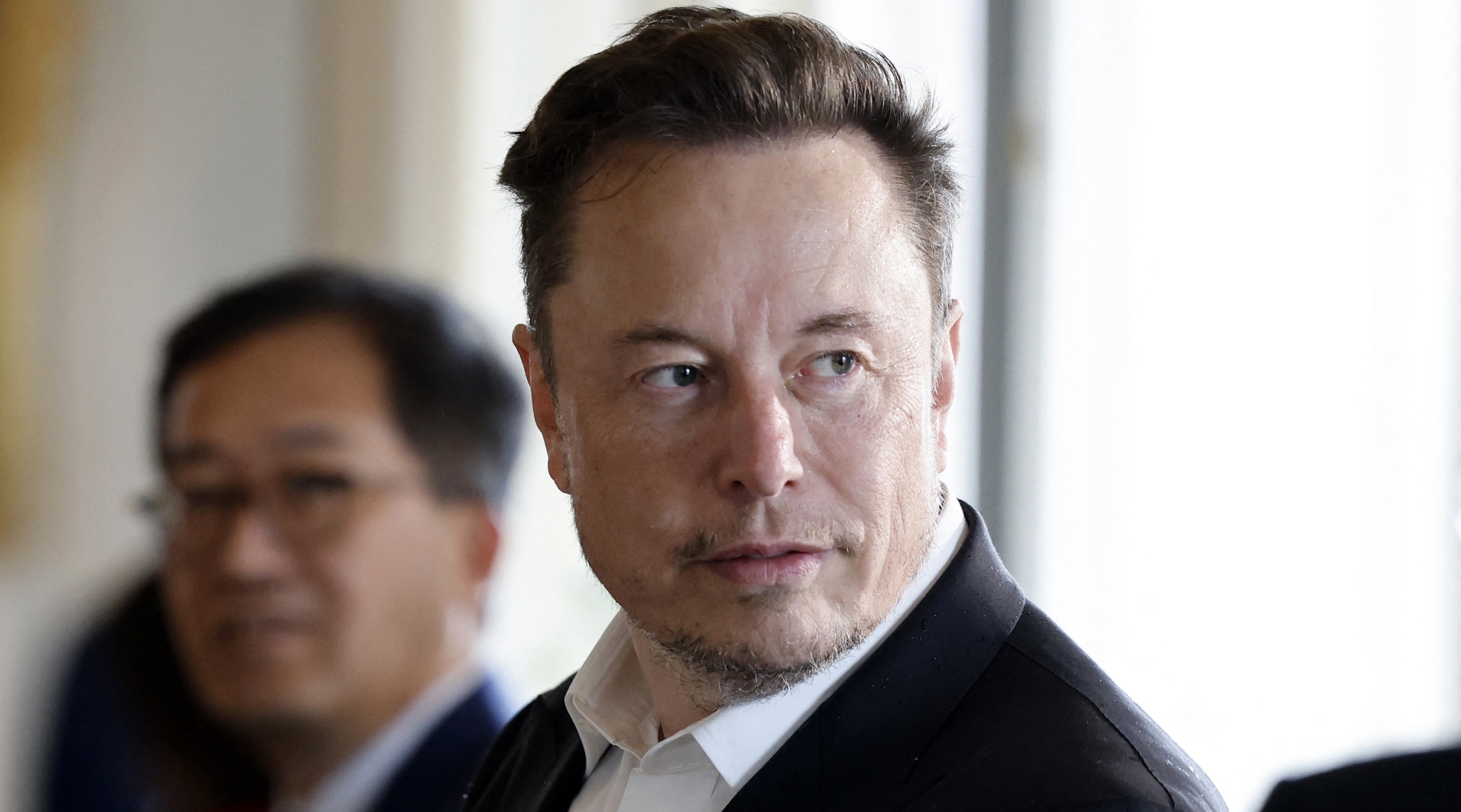 (JTA) – Elon Musk called himself "aspirationally Jewish," waffled on a prominent rabbi's invitation to visit Auschwitz, and insisted that claims of rising antisemitism on his social media platform X, formerly known as Twitter, were "absurd."
The billionaire tech mogul added that antisemitic posts should not be deplatformed, but should instead be met with "counterpoints." He said that antisemites who aren't presented with other views online are "just going to be hidden antisemites, and that's not going to do. That's perhaps worse."
As an example, Musk cited Kanye West, whom he reinstated on X after the rapper's antisemitic tirade got him banned last year.
Those statements and more were made during a friendly forum on Thursday featuring Musk and a lineup of Jewish men, most of them avowed conservatives, addressing antisemitism on X under his watch.
Hosted by the politically conservative Orthodox Jewish pundit Ben Shapiro and his publication The Daily Wire, the nearly two-hour chat was titled "X, anti-Semitism, Faith and Free Speech." It came days after a call from more than 120 Jewish activists, most of them progressive, for advertisers and app stores to drop the platform, and in the wake of a series of attacks from Musk on the Anti-Defamation League. Musk blames an ad boycott spearheaded by the ADL for the site's revenue loss, and has threatened to sue the antisemitism watchdog for billions of dollars. He has also amplified antisemitic accounts on X that have joined in condemning the group.
Musk has previously denied being antisemitic. On Thursday, he went further, saying, "in some respects I think I am Jewish, basically," owing to what he said was his large proportion of Jewish friends.
"They use the X platform and I'm like, 'Do you guys see anything?' And they're like, 'Nope,'" he said.
He also insisted that "multiple third parties" have verified that hate speech has declined on the platform since his acquisition but did not share what those sources were.
Musk also defended himself from accusations of antisemitism, noting that Walter Isaacson's recent biography of him hadn't turned up any evidence of it. "He's a pretty smart guy," Musk said of Isaacson. "He might have figured it out if I was antisemitic."
At another point in the call, Rabbi Menachem Margolin, the Chabad-affiliated chair of the European Jewish Association, asked Musk if he would visit the Auschwitz death camp alongside an upcoming mission of European rabbis.
At first Musk rejected the invite, saying, "I'm very well aware of the Holocaust and Auschwitz and Dachau and whatnot, and all the things that happened that were terrible. So this is not certainly new information for me. So I don't need to visit Auschwitz to understand. I get it."
After Margolin pressed the issue, Musk responded, "I will seriously consider it," before later adding that he could swing by after a visit to a factory he owns in Berlin.
"Consider it a tentative yes," he subsequently said. He also apologized for not responding to a petition from Jewish leaders worldwide to push X to endorse the International Holocaust Remembrance Association's working definition of antisemitism, a widely adopted document that has attracted controversy for defining some forms of Israel criticism as antisemitic. Musk said he hadn't known about the petition.
At another point, Musk said that one of the main lessons he has taken away from learning about the Nazi era is that "Hitler and the Nazis were extremely censorious. … The Nazis loved censorship, big time."
The call provided a small window into how Musk does seek to address hate speech on X. In addition to his comments on deplatforming and "counterpoints," he framed the question of limiting hate speech as a largely economic one, rather than a moral one. "If we just hammer people with hate, they're going to leave the platform," he said. He made a similar statement in a recent live chat with Israeli Prime Minister Benjamin Netanyahu.
He also dodged a question from Shapiro about whether he would demonetize or reduce the reach of accounts that spout antisemitism, although later in the call, he did hint that X might begin experimenting with "freedom of speech, but not reach" — which would mean that X would reduce the visibility of hateful accounts.
Musk also would not commit to a request from former Israeli politician and Soviet dissident Natan Sharansky to limit anti-Zionist speech on the platform, saying, "I think there is some value to not being draconian."
The nine Jews on Thursday's call were all male, and mostly on the right-leaning end of the political spectrum. They included former Israeli President Reuven Rivlin; prominent attorney Alan Dershowitz, who represented former President Donald Trump in his first impeachment trial and has also often described himself as a liberal; and Rabbi Shmuley Boteach, who has acted as a rabbi-to-the-stars and once ran for Congress as a Republican.
One woman who had been scheduled to participate, Michal Cotler-Wunsh, Israel's new envoy for combating antisemitism, was not audible when called upon. Moderators attributed her absence, and that of one other participant, to technical difficulties.
Shapiro and other speakers on the call paid Musk a series of compliments on what they said were his positive views of Jewish people and his modeling of Jewish values — including the commandment to have large families. Musk has fathered more than 10 children via his ex-wife, Justine Wilson; his ex-girlfriend, Grimes; and Shivon Zilis, an executive at one of his companies for whom he was a sperm donor. Dershowitz noted that his son is also named Elon.
Boteach even told Musk he could "take credit" for "peace in the Middle East" if Israel and Saudi Arabia reach a normalization agreement, predicting that Musk's electric car company Tesla would reduce the Saudis' oil wealth and push them to come to the diplomatic table.
The participants on the call also agreed with Musk that the ADL shouldn't be the sole voice speaking for Jews. Shapiro challenged the group's reports that hate speech on X has risen since Musk's takeover, saying his own experiences with antisemitism have declined.
"Of late they've become significantly more partisan in their progressive politics, to say the least," Shapiro said, saying that Musk "happens to be right on the merits here" and calling his threat to sue the group for defamation "pretty funny."
In response to a comment from another participant, Rabbi Ari Lamm, that the ADL controversy is "a distraction from the conversation serious Jewish people of all backgrounds should be having," Musk said, "They definitely have impact on advertisers, I'll tell you that."
Tt other times Musk displayed a level of comfort with conspiracy theories on his platform, saying, "I think we're running out of conspiracy theories that didn't turn out to be true."
Musk gave himself a positive grade, on the whole, when it came to fighting antisemitism on X.
"Overall I think things are actually pretty good, but I'm not saying they're perfect. And we want to work to make them better," he said. He added, "My entire life story is, in fact, pro-Semitic."
"I think my values do match that of the Jewish people," he said at another point. "Knowledge, reading, understanding, debating, these are all Jewish values and I very much agree with those."
Musk's conversation Thursday came less than 24 hours after X's CEO, Linda Yaccarino, addressed his feud with the ADL at a tech conference in Dana Point, California. According to reports from the conference, Yaccarino noted her own dialogue with ADL CEO Jonathan Greenblatt, who she said "continues to question the progress as it relates to antisemitism." She added, "It is disappointing that there is not equal time given to all the progress."
In a discussion about Musk's threats to sue the ADL, according to Axios, Yaccarino said, "I wish that would be different. We're looking into that." She later added, "Everyone deserves to have the opportunity to speak their opinion, no matter who they are, including Elon." Shortly afterward, she reportedly left the stage abruptly.
Yoel Roth, Twitter's former head of trust and safety who was fired after a dispute with Musk over the site's approach to moderating hate speech, also appeared at the conference.Roth, who is Jewish, said hate speech had gotten worse on the platform under Musk's ownership.
—
The post Elon Musk, in live chat with right-leaning Jews, insists antisemitism isn't a problem on X appeared first on Jewish Telegraphic Agency.
Jamaal Bowman faces primary challenge after drawing fire from Jewish constituents over Israel criticism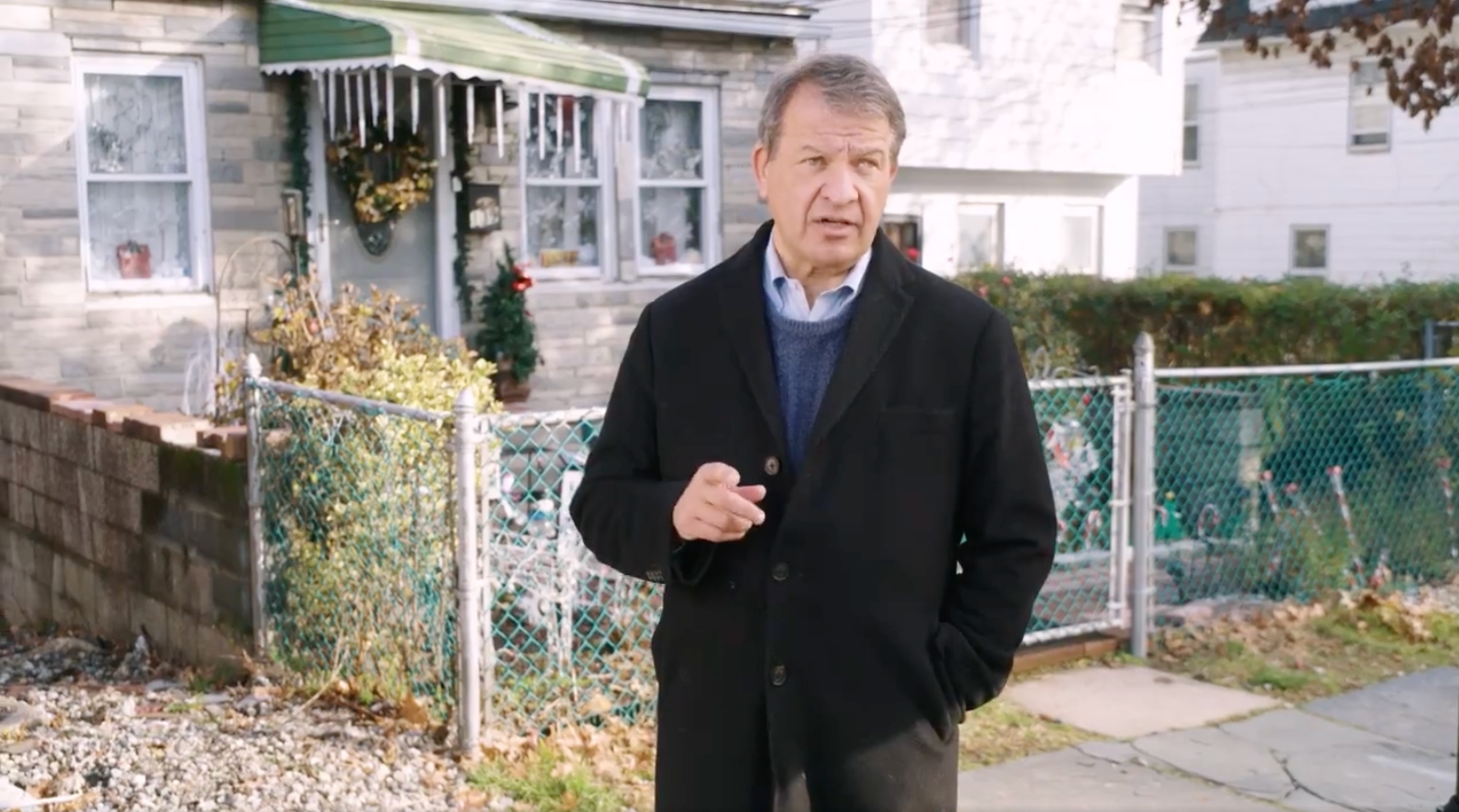 (New York Jewish Week) — George Latimer, the Westchester County executive, on Wednesday announced a Democratic primary challenge against Rep. Jamaal Bowman, after the congressman repeatedly sparked controversy over his approach to the Israel-Hamas war.
Latimer made the announcement following a visit to Israel late last month, and after local Jewish leaders urged him to mount the primary challenge against Bowman for the 16th congressional district, which is located north of New York City and covers a small part of the Bronx.
Bowman, a progressive, had strained ties with some Jewish constituents before Oct. 7, when Hamas attacked Israel. But his decision to join just a handful of fellow Democrats in Congress in calling for a ceasefire on Oct. 16 inflamed tensions further.
A video released by Latimer's campaign on Wednesday touched on Israel, with the challenger decrying Bowman for the recent controversies.
"Unfortunately, instead of working for us, our congressman is making news for all the wrong reasons," Latimer says in the video, as the footage shows a news clip about Bowman voting against a resolution backing Israel and condemning the Oct. 7 attack.
The campaign video mainly focused on other issues, such as infrastructure, property taxes and the environment, and criticized Bowman for his attention-grabbing statements.
"It's time for Washington to stop bickering and start working for us. Let's deliver real progressive results, not rhetoric," Latimer said.
These are difficult times. NYers need a Congressmember who will listen to every voice, not just those who agree with him, & who will deliver on the issues that matter.
I'm running for Congress because I know we need new leadership — and I'm ready to deliver. #ResultsNotRhetoric pic.twitter.com/N9kTFYLTh9
— George Latimer (@LatimerforNY) December 6, 2023
The war has divided Democrats, with progressives voicing criticism for Israel's counteroffensive and demanding a ceasefire, in opposition to the Biden administration and more centrist party members, who are more supportive of the Jewish state. Bowman is a member of the progressive camp, while Latimer is among the centrists. The 16th district is home to a significant Jewish population and is around half Black and Latino.
Latimer visited Israel on a trip organized by the Westchester Jewish Council. The popular county executive visited Kfar Aza, a community ravaged during the Oct. 7 attack; visited Hamas victims at Jerusalem's Hadassah Medical Center; spoke with families of hostages; and met with Israeli President Isaac Herzog, the Westchester Jewish Council said in a statement after the visit.
Nine days after the Hamas attack, more than two dozen rabbis in the congressional district wrote a letter to Latimer urging him to challenge Bowman due to the incumbent's "effort to erode support for Israel on Capitol Hill and within the Democratic Party." Several dozen Jewish community members calling themselves "Jews for Jamaal" wrote a counter letter, expressing support for the congressman and urging Latimer against running.
Bowman held a meeting with Jewish constituents focused on antisemitism early last month. There was a small protest ahead of the event, but two participants told the New York Jewish Week at the time that the meeting was productive and Bowman appeared attentive to their concerns.
Ahead of the meeting, two prominent rabbis in the area said most of the community had dismissed the event. Bowman's relationship with the Jewish community had long been strained, and tensions boiled over after the outbreak of the war, they said.
In one decision that frustrated the Jewish community, Bowman co-sponsored an Oct. 16 resolution with fellow progressive Rep. Cori Bush calling for an "immediate ceasefire." The resolution did not mention Hamas, terrorism or Israeli hostages, and Bowman's backing drew condemnation from the Westchester Board of Rabbis, which said the resolution denied Israel the right to defend itself while Hamas held hostages and drew false equivalence between the two sides.
Last week, Bowman drew further criticism when he accused Israel of "genocide" and "ethnic cleansing" at a protest calling for a ceasefire outside the White House. He is a member of the "Squad," the group of progressive Democrats that has directed harsh criticism at Israel both before and since Oct. 7.
Bowman also landed in hot water for pulling a fire alarm inside a House building in October. He agreed to plead guilty to a false fire alarm charge and pay a $1,000 fine.
Bowman, a former school principal, won the district from longtime Jewish incumbent Eliot Engel in 2020. Bowman's current term ends on Jan. 3, 2025. Congressional primaries in New York typically take place in the summer.
—
The post Jamaal Bowman faces primary challenge after drawing fire from Jewish constituents over Israel criticism appeared first on Jewish Telegraphic Agency.
German state of Saxony-Anhalt now requires citizenship applicants to sign statement in support of Israel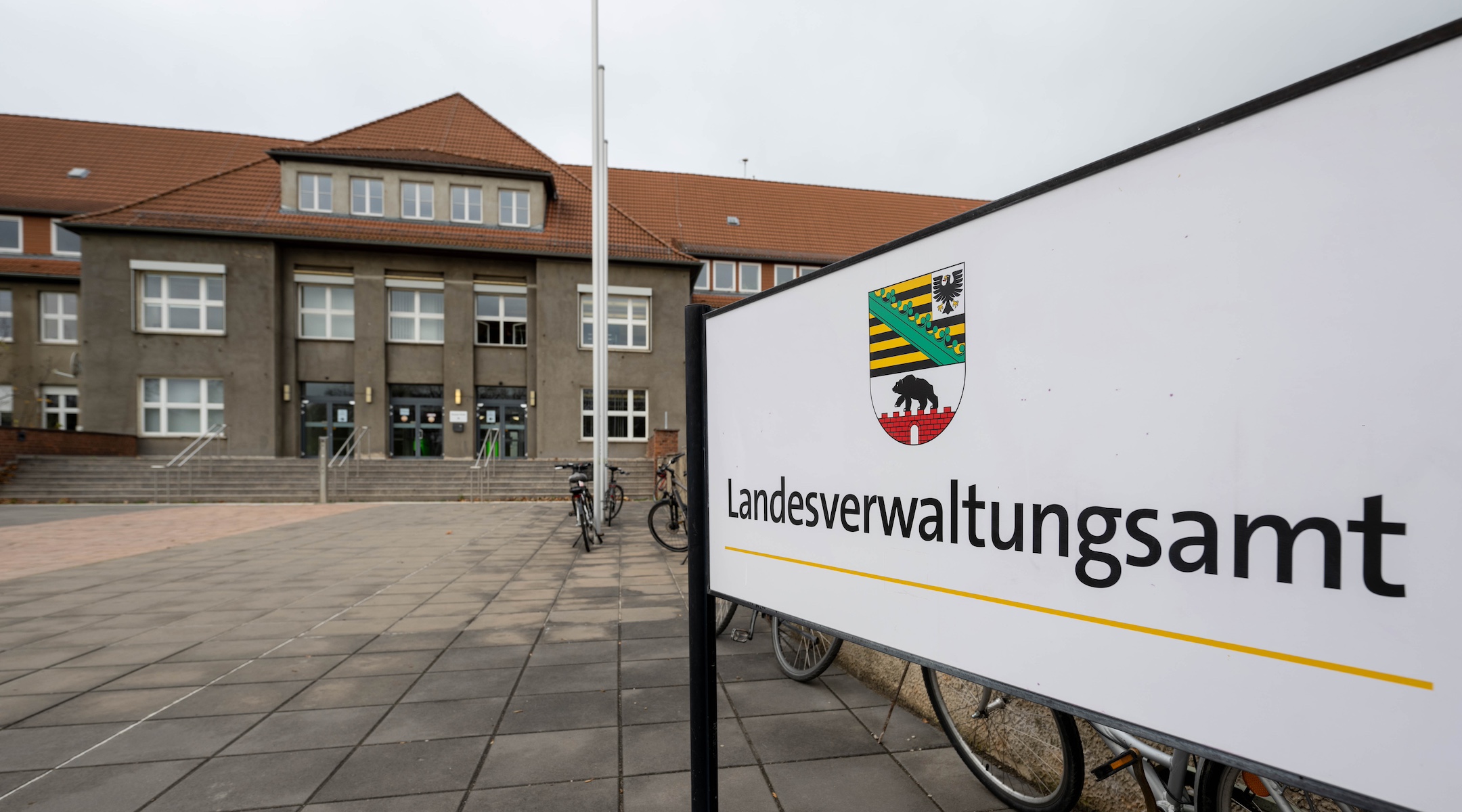 BERLIN (JTA) — Recognizing Israel's right to exist is now mandatory for those who want to become German citizens in the former East German state of Saxony-Anhalt.
Applicants living in the state will have to confirm in writing "that they recognize Israel's right to exist and condemn any efforts directed against the existence of the State of Israel." Saxony-Anhalt's interior minister, Tamara Zieschang, a member of the center-right Christian Democratic Union party, said Tuesday that the rule went into effect at the end of November.
The new state law is fueled by concerns over antisemitism here, which has spiked across Germany and the rest of Western Europe following the Hamas attacks on Israel on Oct. 7.
In its decree, reportedly shared internally at the end of November, Saxony-Anhalt also requires naturalization agents to be on the lookout for antisemitic and anti-democratic attitudes among applicants.
The state regulation comes as the Bundestag, or German parliament, is about to pick up debate again on a new law originally intended to speed up and ease the process of naturalization. The law might have even allowed new citizens to hold on to their original passports.
But that debate was put off in November, with some politicians arguing that a rise in domestic antisemitism after Oct. 7 did not allow for relaxed citizenship laws. Debate is due to resume this month.
"Without a doubt, the new law will have some words about antisemitism, whereby an application for citizenship could be denied not only because of violence or a violation of the law, but if there is some information about antisemitic attitudes," Bundestag member Helge Lindh told the Jewish Telegraphic Agency in a telephone interview.
But it is not yet clear whether a national law will also require a signed statement of loyalty to Israel, said Lindh, who is rapporteur for migration and asylum policies for the Social Democratic Party, the center-left party led by Chancellor Olaf Scholz.
A national loyalty statement was reportedly proposed after Oct. 7, but critics have argued that it would target people of Arabic or Muslim background and that it would be a safer bet legally to focus on the antisemitism litmus test.
"People have to sign their support of the constitution already," Lindh continued, adding that "many specialists say that just to confirm you are not antisemitic does not mean you are not antisemitic."
The new law in Saxony-Anhalt "is a quite strange development," he added, "because citizenship law is a federal law. In the end, it does not make sense if you have different rules for citizenship in the different German states."
Some Israel advocates here are still celebrating the new state law.
"I think it is amazing, and it is something I would expect from every state," said Sacha Stawski, president and founder of the Frankfurt-based pro-Israel initiative Honestly Concerned.  Although there are legal grounds for denying citizenship, "Germany has been extremely lenient in all states regarding this issue," he said.  "We don't need any more antisemites in this country, we really don't."
According to news reports, Zieschang expressed solidarity with Israel immediately after the Hamas attack. Echoing the words of former Chancellor Angela Merkel in her historic address to Israel's parliament in March 2008, she said that Israel's right to exist "is and remains" a "raison d'état," or essential tenet of the German state.
While states may enact their own rules regarding naturalization requirements for applicants living within their jurisdiction, there already have been attempts to tighten naturalization requirements on a national level. Most recently, on Nov. 15, the CDU faction in the Bundestag, referring to the Hamas attacks, proposed a draft law "to terminate the residence and prevent the naturalization of antisemitic foreigners" in Germany. 
Back in June 2021, the CDU already had proposed expelling or "preventing the naturalization of antisemitic foreigners" and requiring that citizenship applicants swear that they will not attempt to undermine the state of Israel.
They also proposed a prison sentence of at least six months and the denial or loss of financial support for asylum applicants convicted of an antisemitic crime, rather than just expulsion.
—
The post German state of Saxony-Anhalt now requires citizenship applicants to sign statement in support of Israel appeared first on Jewish Telegraphic Agency.
Yad Vashem Chairman Says Campus Antisemitism Like Cancer, Warns Problem Could Become 'Terminal' for Universities
Antisemitism on American college campuses is comparable to Stage 2 cancer, and if allowed to progress to Stage 4, academia will be "doomed," the chairman of Yad Vashem, Israel's national memorial to the Holocaust, told The Algemeiner a day after presidents of elite US universities refused to issue a condemnation of genocidal calls against Jews and Israel.
According to Dani Dayan, institutions of higher education are becoming increasingly filled with "pseudo-academic theories advocating for genocide of the Jewish people," and the leadership of those colleges are supporting them, "either by action or inaction."
Dayan said he explained to University of Pennsylvania president Elizabeth Magill — who drew outrage in September for refusing to cancel an anti-Zionist festival featuring speakers accused of promoting antisemitic conspiracies and violence against Israel — that antisemitism was a "cancerous process" that wasn't stopped at Stage 1 by universities when it would have been "relatively easy" to do so.
"Now we are in Stage 2, which is much more difficult, and necessarily takes harsher steps," he said.
"But if we don't take those steps now, we will reach Stage 3 and Stage 4, which is terminal," he added, clarifying the problem would be lethal "not for the Jews, but terminal for the university. They will be doomed if they continue this way."
Yad Vashem, which is based in Jerusalem, released a statement on Wednesday saying it was "extremely alarmed" by the presidents of Harvard University, the University of Pennsylvania (Penn), and the Massachusetts Institute of Technology (MIT) over their conduct at a hearing on campus antisemitism before the US House Committee on Education and the Workforce on Tuesday. The statement highlighted a refusal by the administrators to clearly affirm that genocidal calls against Jews violate their university policies and codes of conduct.
"Yad Vashem is appalled that leaders of elite academic institutions would use misleading contextualization to minimize and excuse calls for genocide of the Jews," the statement read.
Fitting with Dayan's analogy of a progressive cancer, the Yad Vashem statement noted that the Holocaust "did not start with ghettos or gas chambers, but with hateful antisemitic rhetoric, decrees, and actions by senior academics, among other leaders of society."
Dayan called on campus leaders to visit Israel and Yad Vashem during the upcoming university semester break "in order to learn what past calls for the genocide of Jews has led to — the Holocaust."
"They will be able to understand what can be the consequences of condoning blatant antisemitism. Universities are not immune to bigotry," Dayan told The Algemeiner. "Those that burned books in Germany in the 1930s, books written by Jews, were not the ignorant masses. They were professors and students in elite universities no less prestigious than Harvard, MIT, and UPenn are today."
"Never Again must begin with education," he concluded.
US college campuses have experienced an alarming spike in antisemitic incidents — including demonstrations calling for Israel's destruction and the intimidation and harassment of Jewish students — since Hamas' Oct. 7 massacre across southern Israel.
During Tuesday's hearing, presidents Magill of Penn, Claudine Gay of Harvard, and Sally Kornbluth of MIT largely evaded questions about the consequences of rising antisemitism on their campuses, where there have been several instances of both students and professors rationalizing the Hamas atrocities and blaming Israel. This anti-Israel activism has at times manifested in violence against Jewish students.
The post Yad Vashem Chairman Says Campus Antisemitism Like Cancer, Warns Problem Could Become 'Terminal' for Universities first appeared on Algemeiner.com.