Flowers, candles and anger at LA street corner where a Jewish pro-Israel protester was killed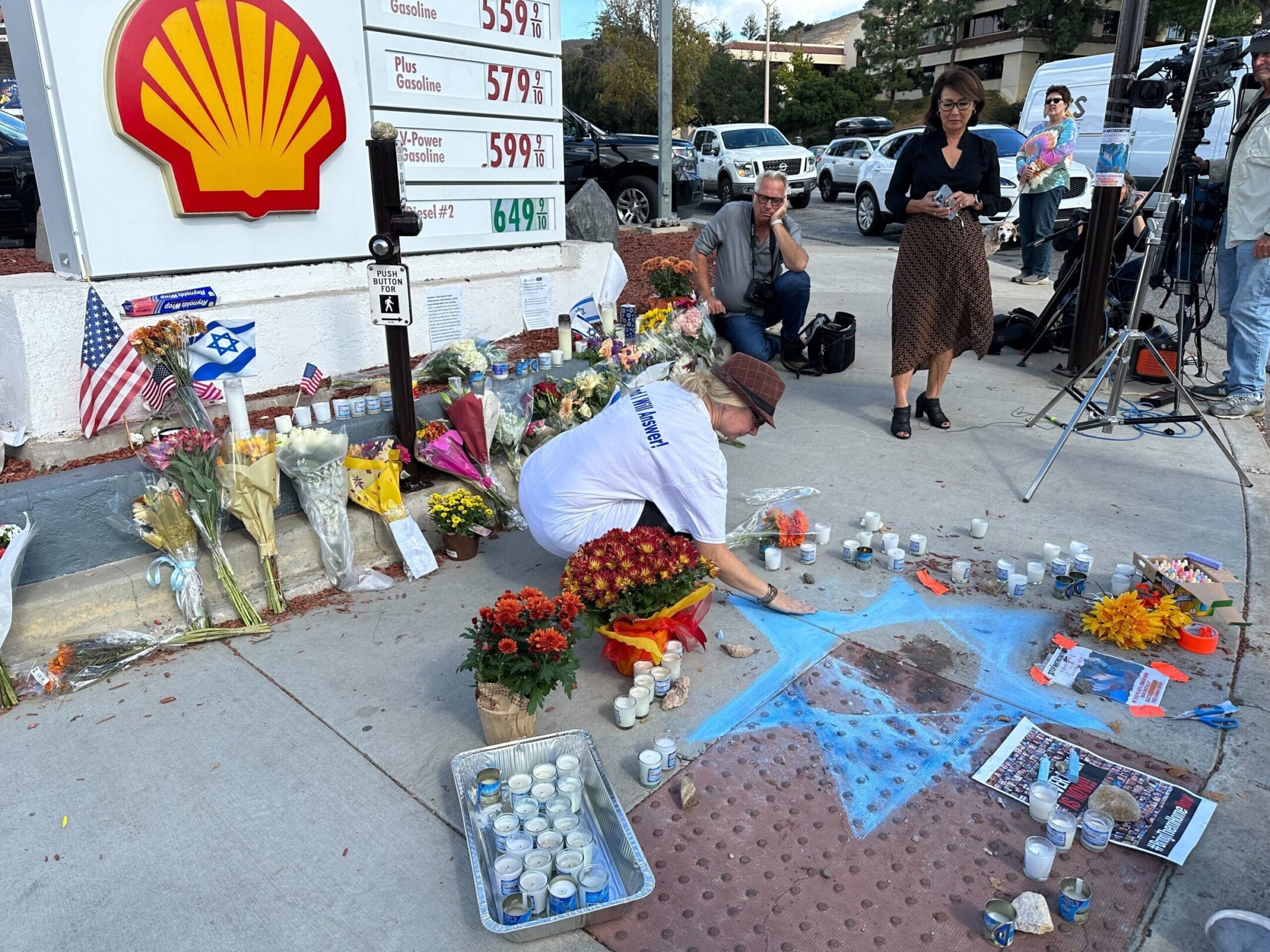 THOUSAND OAKS, California (JTA) —  Elena Colomba was on her hands and knees, covered in chalk, drawing a large blue Star of David on the sidewalk on Tuesday — a tribute to Paul Kessler, the Jewish man and pro-Israel protester who died Monday after an altercation with a pro-Palestinian protester.
The middle of the star framed bloodstains from Kessler's fall that were still visible.
"I am a Jew by choice, and I'm here to hold space for my brother from another mother," Colomba, who completed her conversion to Judaism in June, told the Jewish Telegraphic Agency.
Colomba, who lives in nearby West Hills and is a member of Hamakom Synagogue, said she had come to the scene of the incident Monday night around 8:30 p.m. and stayed until 1 a.m. before returning later on Tuesday morning.
Her star was surrounded by Israeli and American flags, yahrzeit candles and printouts of news stories of Kessler's death. There were also signs featuring Israeli hostages held by Hamas in Gaza.
And there were flowers. Bouquets and bouquets of blooms in all colors, part of a $400 haul purchased by a man named Marcus who said he felt compelled to do something, anything, in response to Kessler's death.
A Jewish father who declined to share his last name, Marcus said he had bought out a local grocery store's flower supply with the ambition of covering the sidewalk at this intersection in Thousand Oaks, a suburb north of Los Angeles.
"When a man who's in his 60s gets pounded in his face for standing up for Israel, every Jew needs to do something," Marcus told JTA.
"I would rather put flowers on this corner, and put so many f—ing flowers, so there's nowhere for these assholes to stand," he said, referring to pro-Palestinian protesters. He said he planned to buy more and continue to line the sidewalks until each of the four corners of the large intersection where the rally had taken place were "covered with love."
At the local Sprouts Farmers Market store where Marcus shopped, an employee confirmed to JTA that Marcus had purchased the store's entire stock of flowers. The employee said he was unable to comment further due to his company's policies, but said he was glad to help.
"If I didn't do something, I felt like it was 1930 again," Marcus said.
Colomba said people had walked by throughout the day cursing at her and yelling "Free Palestine."
"And my response is, 'I'm sending you love,' because we need more love in this shattered world," she said. Colomba said she also volunteers with her local chevra kadisha, a group that facilitates Jewish burial efforts.
Another local woman, who declined to share her name, told JTA she was Israeli and had family members who had been killed at the music festival where Hamas massacred 260 people on Oct. 7.
"The attacks are on our doorsteps," she said after placing flowers on the sidewalk. "It's coming to us on all fronts."
The woman said she felt relatively safe there compared to in other neighborhoods, but on the whole her sense of security had been shattered.
"I want the person who was involved to be held accountable," she added. "I want the world to know what happened here. I want people to wake up."
Rabbi Moshe Bryski, the executive director of the Chabad of Agoura Hills, just a few miles down the road from the scene of the altercation, told JTA that his community was experiencing a mix of emotions, including "sadness, outrage, concern, but at the same time resolute and strong and united."
Bryski, who had just spent a week in Israel, during which he met with the families of some of the hostages, said he did not know Kessler personally. He said a community vigil would be planned, in coordination with the family, which had been requesting privacy.
Speaking to JTA moments before the Ventura County Sheriff's Office held a press conference on the matter, Byrski said the incident was "sure looking like a hate crime. If someone goes with an Israeli flag to an event and comes back dead, that sounds like hate to me."
Sheriff James Fryhoff said investigators had not ruled out the possibility of a hate crime. A 50-year-old suspect has been identified but not arrested, and an investigation is ongoing, he said.
Later in the afternoon, the sidewalk, situated in front of a Shell gas station, was crowded with reporters and news cameras as a makeshift press conference was held, featuring remarks from Rabbi Mark Blazer, the president of the Jewish Life Foundation and rabbi at nearby Temple Beth Ami in Santa Clarita; Jonathan Oswaks, who had attended the rally with Kessler and witnessed the altercation; and Elan Carr, the CEO of the Israeli American Council and former antisemitism envoy under President Donald Trump.
As the speakers each addressed the cameras, there were repeated pleas for law enforcement to act and for continued support of Israel and Jews in light of the continuing war in Gaza. The tone had turned noticeably more urgent and outraged.
"Stop killing us!" Blazer exclaimed at the end of his remarks. "Whether it's in Israel or here in Southern California." He said he was leaving for Israel this week and would bring Kessler's story with him.
Oswaks, who was visibly shaken and angry, spoke for nearly 20 minutes, detailing his experience at Sunday's rally and at a prior gathering two weeks ago. He said he attended both events with Kessler.
"None of you are safe!" Oswaks shouted into the cameras at one point during his remarks.
Oswaks said he had met Kessler two weeks ago on the NextDoor hyperlocal social networking app and didn't know him well — adding that he didn't even know Kessler's last name when he attempted to visit him in the emergency room.
"He was a passionate Jew," Oswaks said of Kessler, who he said had insisted on holding the Israeli flag they had brought that was later seen in photos of the altercation.
Kessler was also a dedicated author of letters to the editor to the Thousand Oaks Acorn, according to an editor there, who characterized him in a social media post as "an ardent Democrat" with a "sharp wit."
The press conference concluded with the chanting of "El Maleh Rahamim," the prayer traditionally recited at Jewish funerals, by Kenny Ellis, the cantor at Temple Etz Chaim in Thousand Oaks, where Kessler was a member along with his wife. Kessler's funeral was also held on Tuesday.
Ellis told JTA that Kessler and his wife Cheryl had been more active in the synagogue when they were younger. While he said he does not know Kessler personally, Ellis said he had "only heard wonderful things about him," adding that he was "kind and giving."
—
The post Flowers, candles and anger at LA street corner where a Jewish pro-Israel protester was killed appeared first on Jewish Telegraphic Agency.
Menorahs in Brooklyn Stolen and Vandalized, NYPD Investigating as Hate Crime
Multiple public menorahs in the Sunset Park neighborhood of Brooklyn, New York were stolen and vandalized, according to a spokesman for the Chabad Jewish movement.
The stolen menorah was seen on Sunset Park Center lawn on Wednesday evening, according to Yaacov Behrman, a spokesperson for Chabad. On Thursday, it was found broken.
In a separate incident captured on video, a man is seen riding up to a menorah in Sunset Park on a bicycle and pushing it over.
"The holiday hasn't begun, and the vandalism has already started," Behrman said on X/Twitter.
The New York City Police Department (NYPD) is investigating the incidents as hate crimes.
The post Menorahs in Brooklyn Stolen and Vandalized, NYPD Investigating as Hate Crime first appeared on Algemeiner.com.
More than 500 staffers of Jewish groups, most of them progressive, appeal to Biden to press for ceasefire in Israel-Hamas war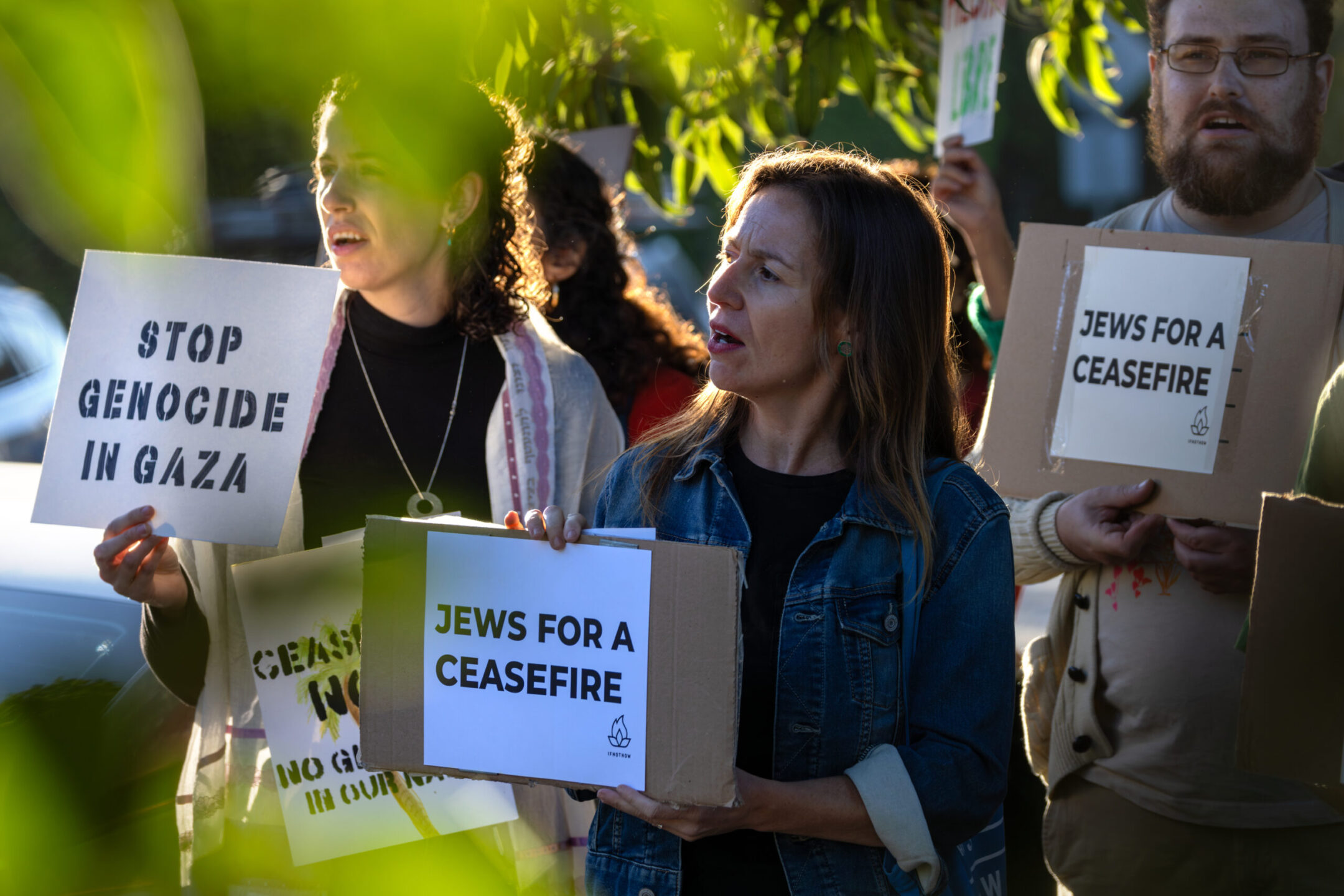 WASHINGTON (JTA) — Hundreds of staffers for 140 Jewish organizations, most of them progressive, signed a letter to President Joe Biden and Congress urging them to press Israel to agree to a ceasefire in its war with Hamas, citing their work "building thriving Jewish communities."
The letter, which does not necessarily reflect the views of the signatories' employers, is the latest sign that differences among American Jews regarding Israel's response to Hamas' deadly Oct. 7 invasion are becoming more public and pronounced. A number of Jewish Congress members now back a ceasefire, after having initially presented a unanimous voice in support of Biden's backing for Israel.
"We are individuals who work for a wide array of Jewish organizations across the United States, coming together across the broad range of beliefs, practices, backgrounds and identities that make up the rich fabric of the American Jewish community," said the letter, first reported Thursday by NBC.
"We are uniting together in this moment to call for a ceasefire, the release of all hostages, and a commitment towards a long-term political solution that ensures the freedom and collective safety of Israelis and Palestinians," the letter said.
The letter comes just weeks after a mass pro-Israel rally on the National Mall, during which speakers enthusiastically endorsed Israel's refusal to halt its military campaign until Hamas is dismantled and all the hostages it abducted on Oct. 7 are returned home. Hamas released more than 100 hostages in exchange for hundreds of security prisoners during a seven-day ceasefire that ended last week
The letter suggests to the president that the vocal Jewish groups that have opposed the war are also representative of a wide swath of American Jews. Biden prides himself on being attuned to Jewish sensibilities; he has cited his decades of closeness to Israel and to the American Jewish community in resisting calls from the left to press Israel into a ceasefire.
"As a group of professionals from a wide spectrum of Jewish organizations, many of us have devoted our life's work to building thriving Jewish communities," said the letter. "Our organizations may or may not join the call for a ceasefire themselves, but we feel moved to speak as individuals to demonstrate broad support within the Jewish community for a ceasefire."
Most of the organizations listed as affiliates of the signatories are on the left of the political spectrum, among them Bend the Arc, Jews For Racial and Economic Justice, and Workers Circle and its affiliates, all of them social justice advocacy groups. Some of the social justice groups themselves have not endorsed a ceasefire, in part because their focus is on domestic issues. (A Boston spinoff of Workers Circle is an exception, and so is JFREJ.)
There are also staffers from the two leading groups that have mobilized Jewish opposition to Israel's military campaign in Gaza and backed a ceasefire: IfNotNow and Jewish Voice for Peace, which is anti-Zionist. Left-wing activists point to Tthe visible presence of activists for these groups at antiwar protests to assert that there is Jewish backing for a ceasefire.
But some of the signatories come from groups focused on Israel that have opposed a ceasefire, including J Street, the liberal Jewish Middle East policy group. But in another sign of shifting sentiments, J Street said in a press release Thursday that it was reconsidering its position on the war.
There are also staffers for synagogues, some but not all known for their liberal outlook, that have not taken a position on a ceasefire.
More than 80 of the staffers signing asked for anonymity but listed their employers, which include mainstream groups that have backed Israel's war effort, among them the Reform and Conservative movements. The list includes three anonymous staffers for UJA-Federation of New York, which has raised millions for Israel during the war.
"I signed this letter because all decisions at this fragile moment must be made with lasting peace and safety in mind for all people in the region," the group's press release quoted one of the unnamed UJA staffers as saying. "I call on President Biden to take immediate action for a permanent ceasefire, release of all hostages, and a just resolution to this brutal war."
Heather Booth, a consultant for Jewish groups who did not sign the letter, urged the mainstream Jewish groups employing some of the signatories not to retaliate.
"Those who have signed the letter are responding to their values," Booth told the Jewish Telegraphic Agency. "We may or may not agree with what they're signing and saying and I didn't sign this myself for many reasons. But I support their right to share their passionate commitment to their values.And it's a sign of these times at some on the list fear retribution for signing."
In a press release, a Boston-area rabbi said her support for a ceasefire stemmed in part from her revulsion from Hamas.
"For the sake of defeating the insidious ideology of Hamas, for the sake of returning all of the hostages to their homes, for the sake of the wellbeing of all of the Israelis and Palestinians caught up in this war, I urge the Biden administration to do all it can to bring about a ceasefire as a first step to a lasting, political solution to the conflict," said Rabbi Tovah Spitzer of Dorsey Tzedek, a Reconstructionist synagogue in Newton.
The letter comes as a number of Jewish Democrats in Congress have in recent days called for a ceasefire, or have called for restrictions on emergency aid Biden has requested for Israel that has yet to be approved. One of the Democrats, Rep. Becca Balint of Vermont, made a statement in support of the letter.
"Thousands of Palestinians, including thousands of children, have been killed. Many more have been displaced, without water, food, medical supplies, and fuel," she said. "This is inhumane. What is needed is a negotiated bilateral ceasefire that ensures the release of all hostages and paves a path toward peace, security and safety for Israelis and Palestinians."
Hamas killed more than 1,200 people and wounded thousands on Oct. 7, most of them civilians. Since Israel launched counterstrikes and a ground invasion of Gaza, the Hamas-controlled Gaza Health Ministry has reported that some 17,000 people have been killed, including thousands of children. What portion of that number are combatants, and what portion were killed by misfired rockets aimed at Israel, is not known. Israel has estimated that twice as many civilians as militants have died in its counteroffensive.
—
The post More than 500 staffers of Jewish groups, most of them progressive, appeal to Biden to press for ceasefire in Israel-Hamas war appeared first on Jewish Telegraphic Agency.
Shots fired fired at Albany synagogue with preschool, suspect in custody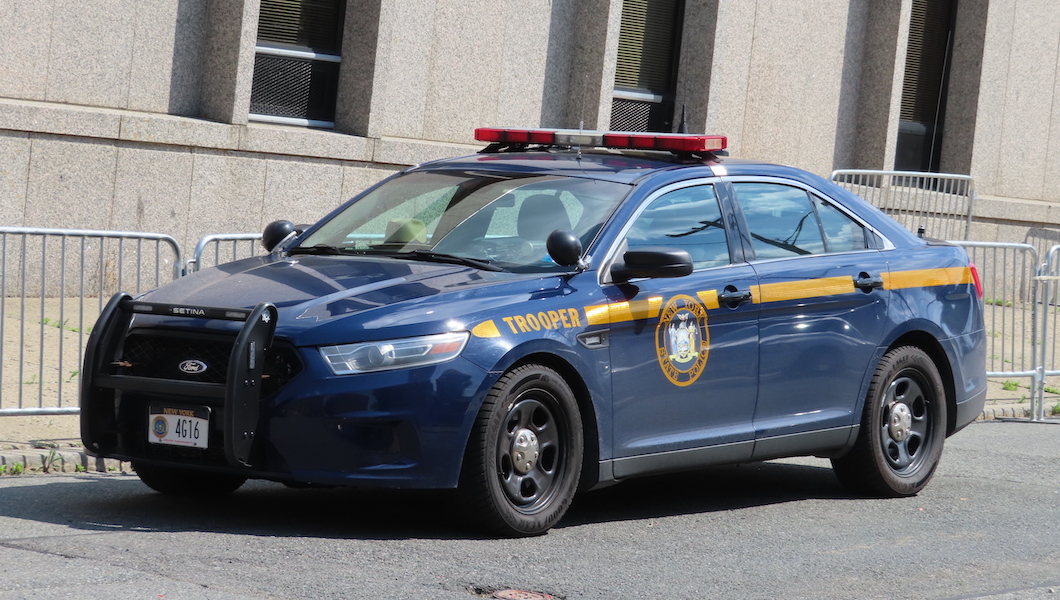 (New York Jewish Week) — Shots were fired at Temple Israel in Albany on Thursday, the first night of Hanukkah, as U.S. Jews grapple with a surge in antisemitism following Hamas' Oct. 7 attack on Israel and the Israeli military's military campaign in Gaza.
There were no injuries in the shooting on the premises of the Conservative synagogue in New York's capital, Gov. Kathy Hochul said in a statement, adding that she had spoken with the congregation's rabbi. She said in a press briefing, however, that the synagogue has an on-site early learning center, "with at least two dozen children, preschoolers, who were on the premises." She added that the facility went into lockdown but that all children have been released safely to their parents. 
A 28-year-old male is in custody, said Hochul's press secretary, Avi Small.
The suspect shouted "Free Palestine" during the incident, Albany's Times Union reported, citing police and another source.
Hochul said she had directed the New York State Police and the state's national guard to be on high alert and step up patrols of at-risk sites for Hanukkah, such as synagogues, yeshivas and community centers throughout the state — including New York City, which is home to the largest Jewish population in the United States. 
"Any act of antisemitism is unacceptable, and undermining public safety at a synagogue on the first night of Hanukkah is even more deplorable," Hochul said. "We reject hate, antisemitism and violence in all forms."
Hochul visited the synagogue on Oct. 7 in a show of solidarity amid Hamas' attack. 
The governor said that, following Thursday's incident, she contacted Temple Israel's Rabbi Wendy Love Anderson, and "assured her that the state of New York will do everything possible to restore the sense of security her congregation needs at this time," adding that she plans to attend Shabbat services there this Friday evening. 
In the briefing, Hochul noted that the synagogue had been one of several targeted with bomb threats in September. 
There was no immediate public comment on the incident from the synagogue or the Albany police department.
Law enforcement and Jewish community security groups have reported a surge in antisemitism since the outbreak of the Israel-Hamas war.
In New York City, the NYPD reported 62 antisemitic hate crimes last month and 69 attacks in October, a steep increase. Anti-Jewish incidents made up 65% of all hate crimes reported to police last month. There is no comparable data available for antisemitic hate crimes in upstate New York.
Synagogues and other Jewish institutions have been targeted in the wave of hate crimes. On Friday, bomb threats were made against 15 synagogues in New York State, including five in upstate areas. 
The threats were made as part of a campaign intended to interrupt synagogue operations by forcing law enforcement to go to a location, and there did not appear to be any actual danger to the targets, said the director of the Jewish security group the Community Security Initiative, Mitch Silber. 
"The bottom line is this: The safety of Jewish New Yorkers is non-negotiable," Hochul said in the briefing. "Every act, whether it's verbal or physical, any act of antisemitism is unacceptable, and undermining the public safety at our synagogue, on the first night of Hanukkah, is even more deplorable." 
"I remind everyone: As New Yorkers, this is not who we are. This must stop, " she added. "We reject hate, antisemitism, Islamophobia. All hate crimes must stop, and all violence in every form must cease. We have no tolerance for these acts of evil that have now permeated our society."
Ahead of questions, the briefing concluded with the lighting of Hanukkah candles, led by Eva Wyner, the state's deputy director of Jewish affairs.
—
The post Shots fired fired at Albany synagogue with preschool, suspect in custody appeared first on Jewish Telegraphic Agency.