From virtual reality to digital synagogues, tech adds new dimension to Kristallnacht commemorations in Germany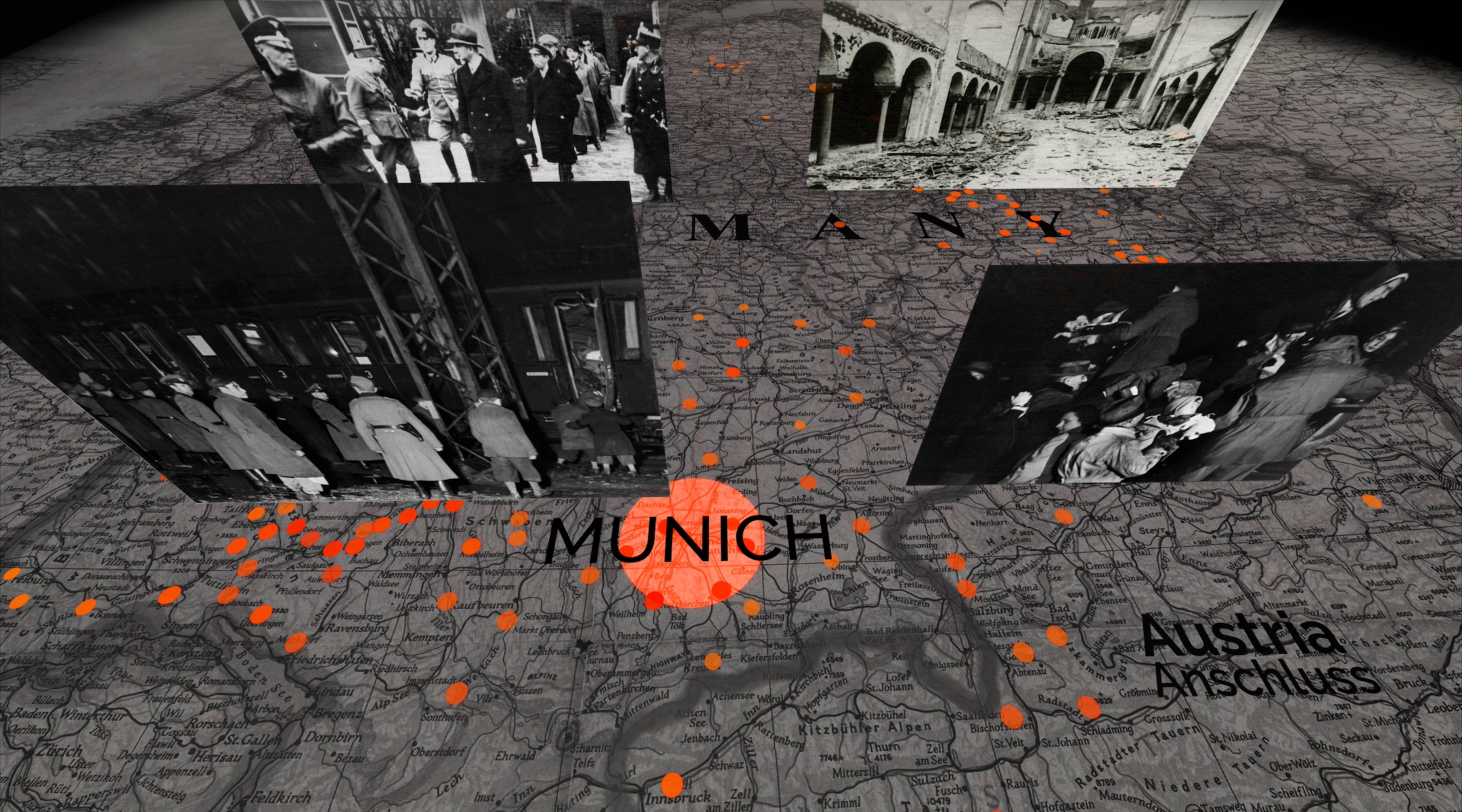 (JTA) — Nov. 9 marks several historical anniversaries in Germany, including Adolf Hitler's failed putsch in 1923 and the 1989 fall of the Berlin Wall.
But the Kristallnacht pogrom of 1938 eclipses them all, in terms of public significance. In Germany today, those riots of 85 years past are seen as a warning of what may happen if antisemitic violence is given free reign.
This year, the anniversary takes on added significance: It falls shortly after Jews around the world marked "shloshim" – 30 days – since the Hamas massacre of 1,400 Israeli civilians and kidnapping of some 240.
Some Jewish groups are tying their commemorations together with a statement on the current Gaza war — and some are using virtual reality technology to give their projects new dimensions.
"Hatred left unchecked can easily slip into genocide," said Greg Schneider, executive vice president of the Conference of Jewish Claims Against Germany. His group announced on Thursday the development of a new virtual reality "experience" that will tell the story of Kristallnacht — the night of Nov. 9-10, 1938, when Nazis destroyed or damaged about 300 synagogues and 7,500 Jewish-owned businesses and properties across Germany, Austria and in parts of former Czechoslovakia. Police arrested some 30,000 Jews and sent them to concentration camps; hundreds of Jews were killed.
The pogrom, seen in hindsight as a precursor to the Holocaust, carries "such an important message for today," Schneider continued, noting reports of increased antisemitic incidents around the world. "The lesson from Kristallnacht is clear: If you don't fight it, this is what can happen. And we cannot live with that."
The virtual reality video – which the Claims Conference is producing with the USC Shoah Foundation, Meta, UNESCO and the World Jewish Congress (WJC) – will include an interactive walk with survivor Charlotte Knobloch through the streets of her home city of Munich, where as a six-year-old she witnessed the aftermath of Kristallnacht. She survived the war by hiding with a Christian family for years.
When the virtual tour is ready in a few months — via VR headset or internet browser — viewers will be able to ask questions and the virtual Knobloch will answer.
"We are hoping it draws in young people and those who find the technological side interesting," Schneider said.
"It is important to me that we reach young people with this project" in perpetuity, said Knobloch, 91, in an email to the Jewish Telegraphic Agency. She wanted to help "ensure that memories are passed on, even if no one can remember themselves."
Knobloch "spent the last 85 years processing what I experienced on November 9, 1938. I also tried to forget — but without success." She has often shared her memory of walking with her father hand in hand past blackened synagogues, the shattered windowpanes of Jewish shops crunching beneath her feet.
"The streets in Munich are the same today as they were back then," she wrote in her email. "The places are charged, and nothing will ever change that for me. But the trust that I was able to regain after 1945 means that while streets are the same, the people can change – at least some of them. After many decades, this worked for me. Today, however, this trust is waning."
WJC President Ronald Lauder called Hamas' attack "the most devastating since the Holocaust" in a statement announcing a joint Kristallnacht commemoration with the Central Council of Jews in Germany and the Israelite Religious Society Austria.
Their educational event will feature full-color digital reconstructions of destroyed synagogues in Germany and Austria, projected onto the walls of buildings where the synagogues once stood. In some locations, virtual reality goggles will enable a virtual tour. The digital reconstructions were developed together with the Technical University of Darmstadt and the University of Vienna.
In former East Berlin, the Central Council will commemorate Kristallnacht with Germany's President Frank-Walter Steinmeier and Chancellor Olaf Scholz at the synagogue Kahal Adass Jisroel, which recently was the target of an attempted arson. The structure had been damaged in 1938; it was renovated more than a decade ago with the support of the Ronald S. Lauder Foundation, the Skoblo family in Berlin and the United Kingdom-based Maurice and Vivienne Wohl Philanthropic Foundation.
In Vienna, the Jewish Youth organization will hold a memorial march called "Light of Hope." "The words 'Never again' hold a more pressing relevance than ever," Oskar Deutsch, chair of the Israelite Cultural Community of Vienna, said in a statement ahead of the events.
The Israeli hostages in Gaza will be the focus of a Kristallnacht remembrance in Frankfurt, sponsored by  the German-Israel Society (DIG). Titled "Never again is now," the event also aims to "show the people of Israel that they are not alone."
It also aims to support the Jews of Germany, said DIG President Volker Beck in an email. "After the Hamas massacre on October 7 and the tsunami of antisemitism that followed worldwide, you can't help thinking: What, again?"
"Fear is rampant in the Jewish community," added Beck, who is not Jewish. "We in Germany have to start from scratch to make our cities and villages safe for Jews."
In Berlin, in the early morning hours on Friday, a German Protestant Christian group called Light and Salt will hold a vigil for Israel, under the slogan "you are my people."
"We have unfortunately noticed once again – 85 years after Kristallnacht and since October 7th, 2023 – that antisemitism is more present than ever," wrote the group on its Facebook announcement.
Joachim Bambach, a nurse by profession, started Light and Salt in 2017, after he heard people at a pro-Palestinian demonstration "shouting 'Jews to the gas.' This was horrific for me, absolutely horrific. I could not stand this, and I knew I had to do something about it," he said in a telephone interview.
So he started organizing prayer vigils outside the German chancellery in Berlin.
The brutality of the Hamas attack should wake up the world, he told JTA. "For me, basically this is a battle of two world views," he said, "a battle for the existence of the Jewish people in the land of Israel, and nothing else, and we have to face this, like it or not."
Knobloch told JTA she feels safe in Germany and appreciates the support shown by the German  government and general public. But she fears both are souring, as more Germans say "yes, but…" and as the government's resolve weakens: In late October, Germany abstained rather than opposing (with the United States) a United Nations General Assembly resolution seeking an immediate "humanitarian truce" in Gaza.
More than anything, she worries mostly about Germany's Jewish youth and about her own family.
"My granddaughter, who lives in Israel, was here for a while after the attack with her two eight-year-old sons because the children could no longer stand the bunkers," Knobloch said. "Now she has gone back, because she said it was too unsafe here, too. It's hard not to just give up. But I still hope that things will change for the better."
—
The post From virtual reality to digital synagogues, tech adds new dimension to Kristallnacht commemorations in Germany appeared first on Jewish Telegraphic Agency.
On 85th anniversary of Kristallnacht, Holocaust survivors say they fear familiar antisemitism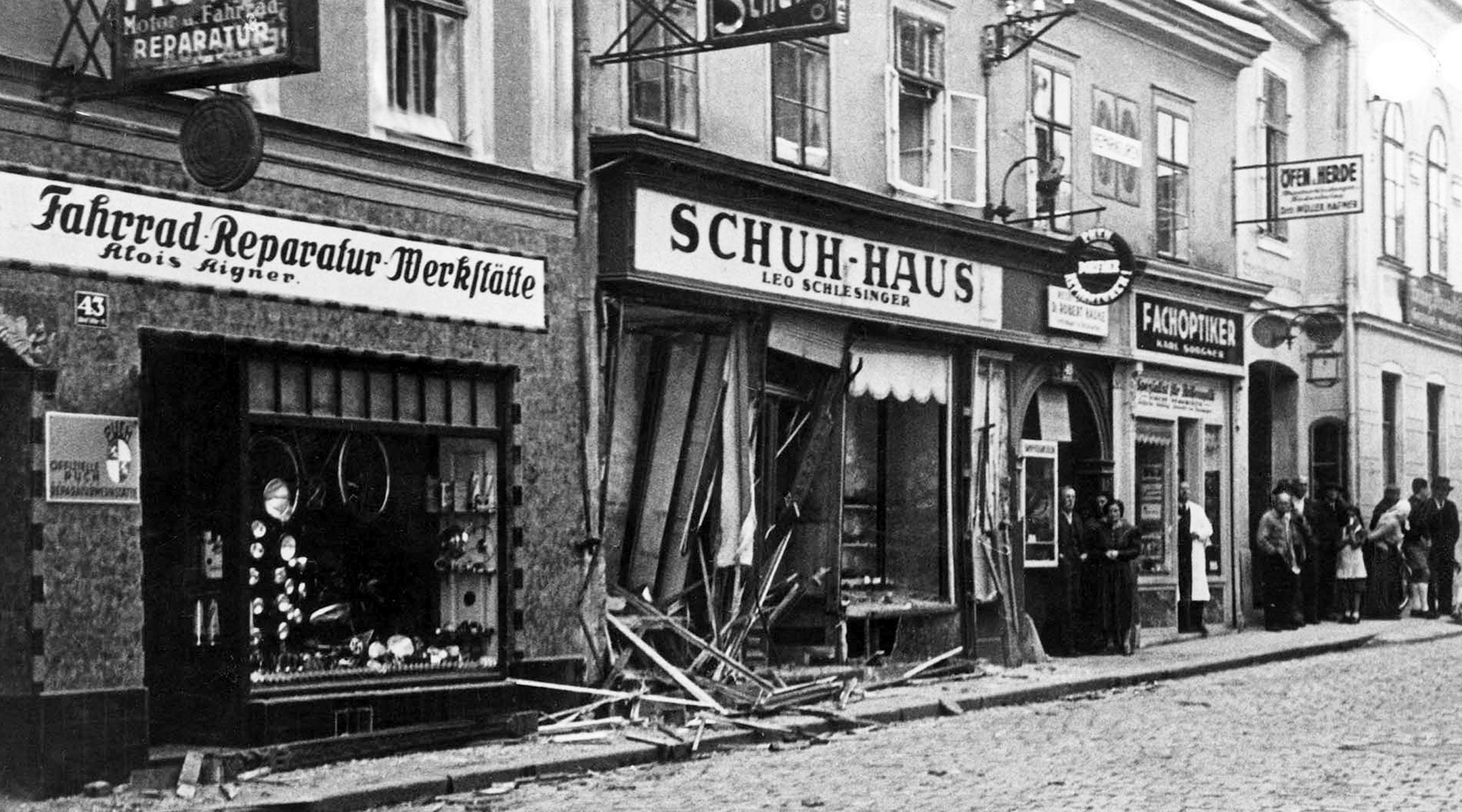 (JTA) — The comparisons are easy to draw: broken glass, burned buildings, shuttered businesses, dead Jews.
Eighty-five years after Kristallnacht, the anti-Jewish riots that marked a brutal turning point in the Nazi campaign of persecution in Germany, Holocaust survivors say what happened in southern Israel on Oct. 7 — and how they have seen the world respond since — reminds them of what they experienced in their childhood.
"When it all happened on October 7th, I couldn't believe it," Maud, who lives in Southern California, said in a testimony shared this week by March of the Living, a group that takes groups to visit concentration camp sites in Europe. "I've had sleepless nights since and it just brought back so many memories. It is so visual of what I saw as a child. … I have a hard time coping with what I read and what I hear and what I see on TV. I can't come to terms with it. It's so hard."
March of the Living shared testimonies from eight survivors in four countries in advance of the anniversary, which is typically marked by somber ceremonies in which government officials reaffirm their commitments to the post-Holocaust vow of "Never again."
This year, that rallying cry may feel harder to sustain, coming just a month after Hamas' attack on Israel left 1,400 people dead, thousands wounded and hundreds held hostage in Gaza. Some victims have still not been identified because of the brutality inflicted on their bodies, which included, according to people who worked at the massacre sites, burning that echoed the most vivid horrors of the Holocaust. The attack and Israel's military response have also unleashed rising antisemitism around the world.
"It started with words and continued with actions," Nate, from Canada, said about his experience as a child in Poland, where he survived Auschwitz but most of his family members did not. "I am devastated to see how Jews are being attacked today. Jews are not safe.  I saw where antisemitism can lead to and I am very concerned."
In a sign of how significantly the current climate is affecting survivors, the March of the Living communicated late Wednesday, after some testimonies had already been published, that the survivors did not want to have their full names or pictures published. Many have long been public speakers sharing their stories, but at the current moment, the organization said, they were concerned that exposing themselves would risk their personal security.
The testimonies are not the first in which Holocaust survivors have drawn straightforward comparisons between their childhood traumas and what happened on Oct. 7. Just days after the attack, survivors held a fretful press conference at the U.S. Holocaust Memorial Museum in Washington, D.C.
"This is not what we expected in this final chapter of our lives, as we contemplate our legacy, the future of Holocaust memory and education, and the future of our people," Nat Shaffir, 85, who survived the Holocaust in Romania said at the event.
And last week in New York, hundreds of Holocaust survivors posed with pictures of the roughly 240 people being held hostage by Hamas in Gaza, as part of a worldwide campaign to keep attention on their plight.
"I'm back there all over again," Toby Levy, 90, said at the Museum of Jewish Heritage, where she is a longtime docent. "This is how it started with the Germans."
Kristallnacht, which means "Night of Broken Glass," was a series of Nazi government-coordinated anti-Jewish riots that swept through virtually every town and city across Germany beginning Nov. 9, 1938. (In Germany, it's increasingly known as Reichspogromnacht to avoid the potentially beautiful images conjured by the English translation.) Over several days, rioters destroyed hundreds of synagogues, looted thousands of businesses and killed at least 91 Jews; 30,000 Jewish men were sent to concentration camps.
Kristallnacht marked the end of any vestige of security for German Jews and moment of acceleration in the Nazis' genocidal campaign against them, which would result in the murder of 6 million Jews in Europe before the end of World War II in 1945.
"What Hamas did to the Israelis on October 7th is as cruel, barbaric, and tragic as what the Nazis did to the Jews 80 years ago," Benjamin, a survivor who lives in Greece, said in his March of the Living testimony. "When I see Jewish homes marked with the Magen David, it brings back nightmarish memories from my childhood, reminding me of swastikas and concentration camps."
But he finished on a more hopeful note: "My message is that we, the Jewish people, have endured significant suffering throughout our history, with the Holocaust being the darkest period. Though the current times are challenging, thanks to the brave IDF, a sense of normalcy will soon return to the State of Israel and the Jewish Diaspora."
—
The post On 85th anniversary of Kristallnacht, Holocaust survivors say they fear familiar antisemitism appeared first on Jewish Telegraphic Agency.
NYPD reports 69 antisemitic hate crimes in October, marking a surge since start of war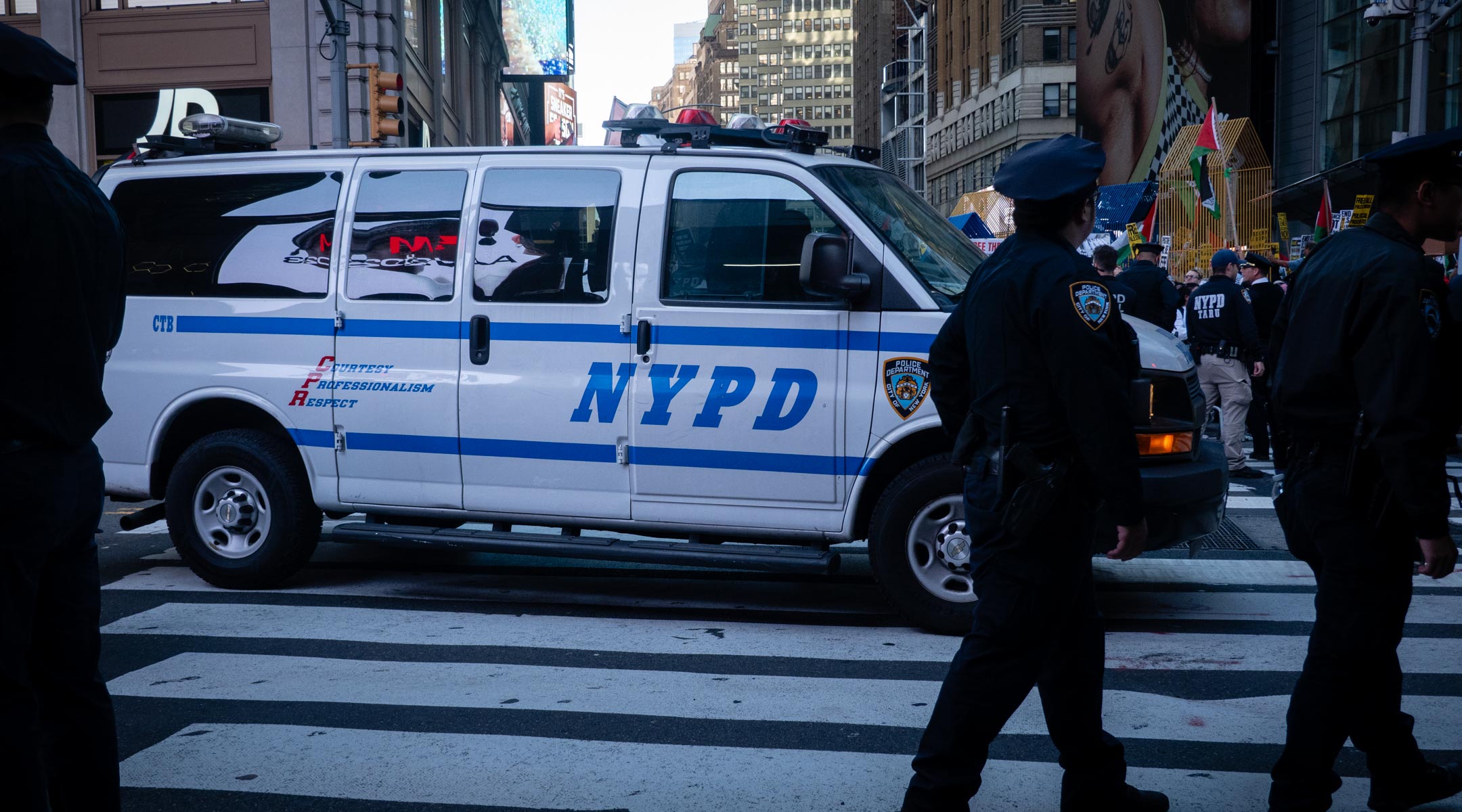 (New York Jewish Week) — The NYPD reported 69 antisemitic hate crimes in October, marking a major increase in anti-Jewish incidents in the city following Hamas' Oct. 7 invasion of Israel and Israel's ensuing war against the terror group.
The number of antisemitic crimes in October marked a 214% increase over the same month last year, according to police data released on Wednesday.
The total for October was far higher than in any other month this year. The previous high-water mark was in March, which saw 32 antisemitic incidents reported to police, fewer than half of last month's number.
October's tally of anti-Jewish crimes was the highest single month total since October 2021, when hate crimes against all groups spiked, and in which anti-Jewish crimes made up a smaller proportion of the total.
There were 101 total hate crimes reported to police last month, including eight anti-Muslim incidents. Hate crimes overall have been trending downward this year, police said.
In some of the anti-Jewish incidents last month, three Jewish men were shot with a BB gun in Brooklyn, an Israeli student was struck with a stick at Columbia University, and a man punched a woman in a Manhattan subway station, saying it was because she was Jewish. Other incidents included racist and threatening graffiti.
Some incidents related directly to the war, such as Jewish groups receiving threats related to Israel's conduct, according to the Community Security Initiative, which coordinates security for Jewish institutions in the New York City area.
Since the start of the year, there have been 232 antisemitic hate crimes in New York City, or an incident every 31 hours, according to the NYPD data. The figure is similar to the total at the same point last year, when the overall rate of hate crimes was higher. Jewish security groups say many incidents likely go unreported.
—
The post NYPD reports 69 antisemitic hate crimes in October, marking a surge since start of war appeared first on Jewish Telegraphic Agency.
'Finish them': GOP presidential candidates unite over what they'd advise Netanyahu about Hamas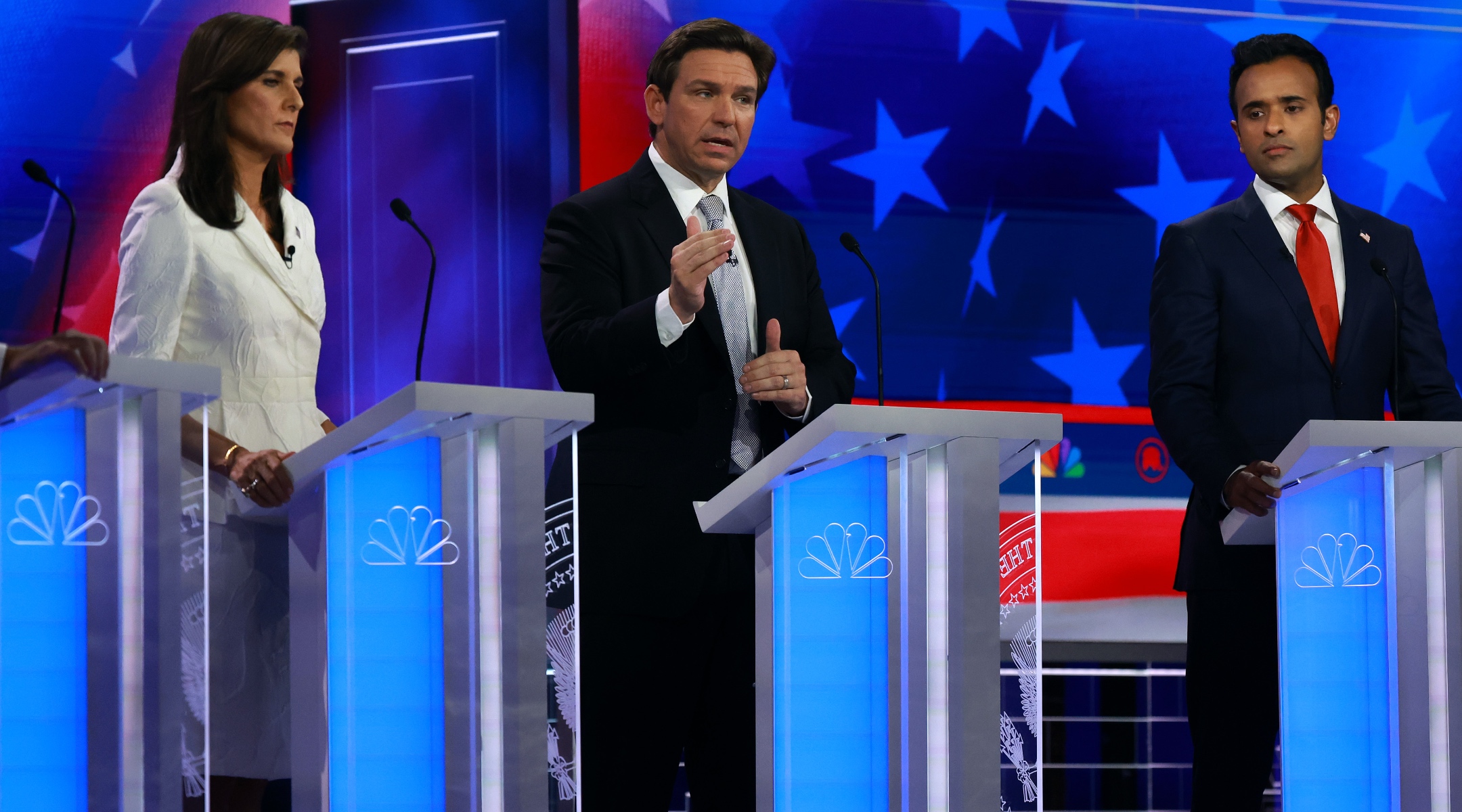 (JTA) — It was one of the few questions that united all five candidates at what was a no-holds-barred Republican primary debate: What would they advise Israel's prime minister as he wages war against Hamas?
The uniform answer: Finish them.
Israel and antisemitism featured large in the latest GOP primary debate in Miami on Wednesday, in part because a cosponsor of the debate was the Republican Jewish Coalition, which got to ask two questions, a first for a Jewish group. But they would have been asked even without the RJC's influence, because Hamas' Oct. 7 attack on Israel and the resulting war in Gaza has roiled the world and American politics.
NBC moderator Lester Holt made his second question what the candidates would advise Israeli Prime Minister Benjamin Netanyahu. First to answer was Florida Gov. Ron DeSantis.
"I will be telling Bibi finish the job once and for all with these butchers," said DeSantis, using Netanyahu's nickname. "They're terrorists. They're massacring innocent people. They would wipe every Jew off the globe, if they could."
The unalloyed backing for Netanyahu comes as President Joe Biden, who also at first unquestioningly backed Netanyahu, has in recent days faced Israeli resistance to his pressure for humanitarian pauses in the fighting.
All four candidates echoed DeSantis's reply. Nikki Haley, the former U.S. ambassador to the United Nations, suggested she had spoken with Netanyahu since Oct. 7, when Hamas terrorists invaded Israel, killing 1,400 people, mostly civilians, launching  the war. "The first thing I said to him when it happened was, I said 'Finish them. Finish them.'"
Vivek Ramaswamy, an entrepreneur who often bucks the Republican establishment on foreign policy, hewing to isolationism, was as bellicose, but also pivoted to a favored topic, the Mexican border, and suggested that he would seek to kill people there.
"I would tell him to smoke those terrorists on his southern border," he said. "And then I'll tell him as president of the United States, I'll be smoking the terrorists on our southern border."
South Carolina Sen. Tim Scott said he would tell Netanyahu, "Not only do you have the responsibility and the right to wipe Hamas off of the map, we will support you, we will be there with you." He took it a step further, saying he would also strike Iran, which is an ally of Hamas.
"You actually have to cut off the head of the snake and the head of the snake is Iran and not simply the proxies," he said.
Chris Christie, the former New Jersey governor, said Israel should have free rein, but also, unusually for a foreign politician, criticized Netanyahu for not being prepared.
"You must go in and make sure that Hamas can never do this again," he said. "And the fact is that Israel and their intelligence community failed. They failed here and they failed the people of the State of Israel. And so we need to work closely and better together to make sure that they're degraded."
Absent was Donald Trump, the frontrunner who is so far ahead in the polls he does not feel the need to join the debates. The first question posed by NBC moderator Lester Holt was how each of the five candidates would defeat Trump. That out of the way, Trump, who attended a rally elsewhere in Florida while the debate was underway, was barely mentioned again.
RJC's CEO Matt Brooks posed two questions and earned a shoutout from DeSantis for enduring a tough month. "I know it's been very difficult for the [Jewish] community and appreciate you guys rallying together in difficult times," DeSantis said.
Brooks' first question was whether the United States should use military force against Iran given strikes by its proxies on U.S. forces. DeSantis and Haley, who answered the question, avoided saying explicitly they would hit Iranian territory but said that they would retaliate more robustly than Biden has against the strikes by the proxies.
Brooks' second question was about the spike in antisemitism at U.S. universities. "Jewish students across the country are threatened and under attack," he said. "What do you say to Jewish students on college campuses who feel unsafe given the dramatic rise in antisemitism?"
DeSantis noted that he recently barred some pro-Palestinian groups from operating on Florida campuses, and Scott similarly backed pulling federal funds from universities that do not adequately deal with antisemitism, something the Biden Administration this week said would be its policy. Christie spoke about his experience dealing with antisemitic and anti-Muslim attacks as a U.S. attorney immediately after 9/11.
Haley gave one of the most impassioned responses, saying that rising antisemitism revealed a country with a troubled soul.
"We don't need to celebrate terrorists," she said, referring to protesters who have at times characterized Hamas's actions as "resistance." "We don't need to celebrate genocide. We don't need to celebrate violence towards anybody. We need to go back and soul-search in our country and remember what we are about and we are about taking care of people not going and making them live in fear."
Ramaswamy said he preferred to counter speech with more speech. "We don't quash this with censorship because that creates a worse underbelly," he said. "We quell it through leadership by calling it out."
Ramaswamy, who has flirted with the far right, at times seemed to speak in their direction. He chided the RNC for airing the debate on NBC, saying it should have chosen moderators such as Tucker Carlson, who was fired this year from Fox News, and Elon Musk, who has engaged with antisemites on X, the platform that he owns and renamed from Twitter. He called Volodymyr Zelensky, the Jewish president of Ukraine, a "Nazi" and accused him of persecuting Christians. Another of the cosponsors of the debate was Rumble, the video platform that gives free rein to the racist and antisemitic right.
Antisemitism also came up in a portion of the debate dealing with whether to shut down the social media video platform TikTok because its Chinese ownership poses a security risk. Politicians from both parties have alleged that TikTok's algorithms favor antisemitic and pro-Palestinian content, especially since the Oct. 7 attacks.
"TikTok is not only spyware, it is polluting the minds of American young people all throughout this country," Christie said. "And they're doing it intentionally and when you saw what happened in the last few weeks, with all of this antisemitic, horrible stuff that their algorithms were pushing out at a gargantuan rate."
Relatedly, Rep. Josh Gottheimer, a Jewish New Jersey Democrat, on Wednesday introduced legislation that would require TikTok to register as a foreign agent and to report on the promotion of hatred and terrorism on its platform or face stiff penalties. A press conference with Gottheimer; Republican Don Bacon of Nebraska, who is cosponsoring the bill; and the Anti-Defamation League CEO Jonathan Greenblatt said TikTok postings promoting false narratives about the Oct. 7 attacks, including describing them as flag operation, had wide reach on the platform.
The TikTok debate produced the evening's most stunning exchange in a raucous debate, when Ramaswamy hit back at Haley who had previously derided him for embracing the app, saying that her daughter was a frequent user. "Leave my daughter out of your voice," Haley said, leaning toward Ramaswamy. When he pressed on, she grimaced. "You're just scum," she said.
—
The post 'Finish them': GOP presidential candidates unite over what they'd advise Netanyahu about Hamas appeared first on Jewish Telegraphic Agency.