Here's what Jewish New Yorker cartoonist Roz Chast's dreams are made of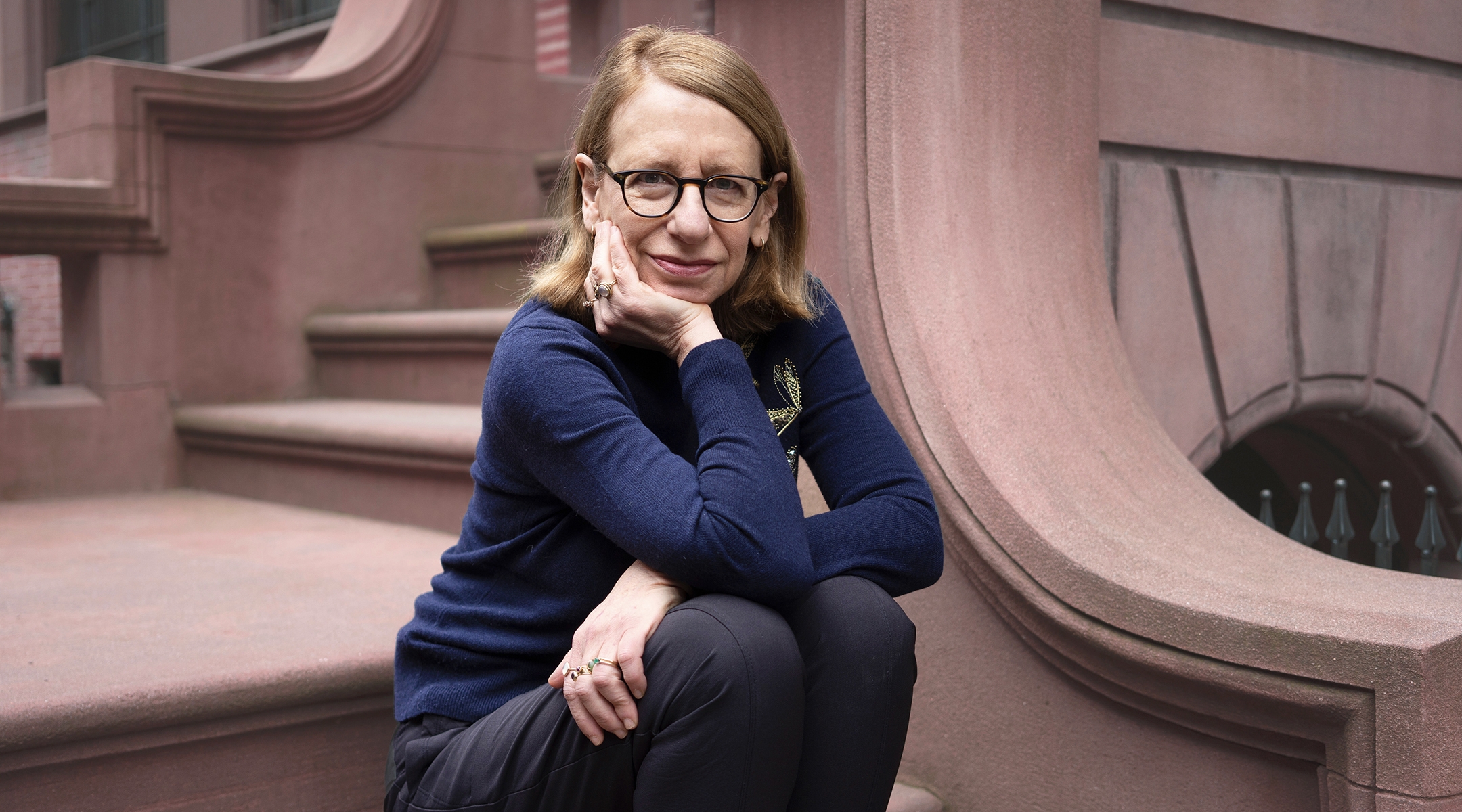 (New York Jewish Week) — Cartoonist and writer Roz Chast is best known for her work at The New Yorker, where she's been a contributor since 1978. But the Brooklyn native is also famously associated with the city from which the prestigious publication takes its name. 
Chast's cartoons often explore the mundane hilarity of everyday life in the city, from the vagaries of the subway system to the anxieties of everyday New Yorkers. "I love living in Manhattan because everything is close together," Chast told the New York Jewish Week. "There's a kind of density and you don't need a car — the city is so walkable. Even as an older person, you can have a rich life."
As a creator, Chast said that New York City offers unlimited material. "There's always so much going on," she said. "It's hard not to find something interesting or funny. Or aggravating."
And yet, Chast's focus is decidedly inward in her latest book: "I Must Be Dreaming" takes readers on a nighttime tour of her phantasmagorical mind. In its nearly 200 pages, Chast unpacks her dreams in all their technicolor glory — featuring birds in hats, animated fruits, human distortion (which she categorizes as "body horror") and celebrity encounters — and includes dream theories from the likes of Carl Jung and Kabbalah. 
"I didn't research it to come to conclusions," Chast said of the book, which was published last month. "I'm interested in what others make of dreams."
After all, in a city where a movie ticket can cost $25, dreams provide "free entertainment," she added. 
Rosalind Chast, 68, grew up in a Jewish family in the Flatbush neighborhood of Brooklyn. Her parents, children of immigrants from Ukraine, Poland and Russia, spoke Yiddish to each other, their siblings and friends — but Chast never picked it up, she said, despite the occasional word or phrase that pops up in her cartoons. 
Her parents worked in the NYC school system: her mother, an assistant principal, and her dad, a Spanish/French teacher. The anxious pair would become well-known thanks to her award-winning 2014 graphic memoir, "Can We Talk About Something More Pleasant?" which the New York Times describes as "an instant classic of eldercare literature."
An only child, Chast said she grew up fairly isolated, not maintaining much of a social life. In an interview with the New York Jewish Week, she recalls fondly how her parents would host friends and they would take turns telling jokes. They had a small apartment and she was not permitted to make a lot of noise, so she would retreat to her room, where her options were limited to reading, writing or drawing.
As it happens, to this day Chast still locks herself in her room alone for hours as she works. "Pretty solitary" is how she describes the life of a cartoonist, adding, "if you spend your childhood doing that, it feels more natural."
Although she does not consider herself at all religious, Chast's work typically reflects a Jewish sensibility, exploring Jewish mother stereotypes, for example, or feelings about gefilte fish. Growing up, her family celebrated Hanukkah and Passover, and her mother lit candles on Friday nights and she would return home from college to share Shabbat dinner with her family. 
Chast graduated Midwood High School and attended Kirkland College (sister school of Hamilton College) until she transferred to the Rhode Island School of Design, graduating in 1977 with a BFA in painting. She did some cartooning at RISD, but her feelings ranged from "indifference to actual dislike" of the quality of her own work. She found her classmates' artistic abilities daunting, describing them as "the most incredibly talented people."
"Any sense that I had that I was talented or special, by the time I left RISD, I knew that not to be the case," she said. 
Chast's feelings of inadequacy kept her from getting her hopes up when she submitted a cartoon to The New Yorker for the first time in 1978. Although she had been contributing to the Village Voice and National Lampoon, she had no expectation of having any work accepted by the prestigious publication, especially as she was a 23-year-old non-male, and her style was very different.
"My cartoons didn't look anything like New Yorker cartoons," she said. 
Chast said she was flabbergasted when they accepted her "Little Things" cartoon — a black-and-white diagram of 10 fanciful household objects straight from Chast's imagination, including a pipe-like "kellat" and a "hackeb," which vaguely resembles a shish kebab.  
The New Yorker ultimately hired Chast, and the magazine was where she met her husband of 39 years, writer Bill Franzen. The pair bonded over shared childhood memories of joke books and a love of pet birds. Chast had a series of parakeets as a child, "because on the pet ladder it's the highest rung I could go," she said. Nonetheless, Chast's love for birds has endured: Her current avian residents are Eli, an 18-year-old African grey parrot, who was presumed male until she laid an egg, and Jacky, a younger female Caique, who snuggles in her hair as evidence of her affection. Chast is proud of Eli's vocal abilities and doesn't seem to mind when she exclaims "vanilla ice cream!" whenever she opens the freezer for a late night snack.
Much of Chast's work is loosely autobiographical, drawing upon her experiences as a daughter, wife and mother. "When I started, graphic storytelling was not a thing," Chast said, describing how graphic novels and memoirs evolved into an innovative "way to tell stories."
"They weren't just, 'here are the words and now I'm illustrating the words,'" she said. "It was this other different art form, and that was a real breakthrough for people, for cartoonists, for publishing and now it's kind of exploded."
Her unique style has become recognizable to many — so much so that on the back cover of "I Must Be Dreaming," fellow acclaimed cartoonist Alison Bechdel ("Fun Home") describes the book as "Roz Chast at her Chastiest." 
Her drawing has been described as "scratchy" or deploying "shaky, anxious lines." Chast maintains that that is just how she draws — whether it's classically acceptable or not, adding she's not good at all at uniformity. "One thing I like about cartooning is there's no strict rule," she said. 
When she isn't working, Chast loves to visit the Metropolitan Museum of Art, Central Park, Zabar's and the various trimming stores in the Garment District. "I just like walking around," she said. 
Chast and her husband lived in Park Slope, Brooklyn, when their oldest child, Ian, was young. At 2 ½, he explained to his mother how her job worked, telling her "you go on the train and show your pictures to men." Soon thereafter they moved to the suburban oasis of Ridgefield, Connecticut.
These days, Ian, 36, is a web developer, and Peter, 32, is a therapist. Chast and Franzen maintain a pied-a-terre on the Upper West Side, not far from where she lived as a young writer for nine years, when she cooked using a hot plate.
"When you live out of New York and hate to drive there's a bit of a handicapped feeling," she said of her time in the suburbs, adding she has "a feeling of being a complete person" when she's back in the city.  
In recent years, she has pursued her love of painting Ukrainian pysanky eggs, and working on hook rugs, embroidery and book binding. But sharp-witted Chast gives no indication she will be putting her feet up anytime soon. 
"I do feel that things are OK right now, but I think it's a combination of actually being realistic and maybe just an anxious person, that's all I can commit to," she said. "I imagine this tall stack of chairs: One thing goes wrong and the whole thing falls to the ground."
—
The post Here's what Jewish New Yorker cartoonist Roz Chast's dreams are made of appeared first on Jewish Telegraphic Agency.
Treasure Trove: How some sheet music in the Theresienstadt Ghetto became a symbol of hope
Protester Sets Self on Fire Outside Israeli Consulate in Atlanta
i24 News – A protester was in critical condition on Friday after setting themself on fire outside the Israeli consulate in Atlanta, Georgia, U.S. authorities said. A security guard who tried to intervene was also wounded.
A Palestinian flag found at the scene was part of the protest, Atlanta Police Chief Darin Schierbaum said at a news conference. He added that investigators did not believe there was any connection to terrorism and none of the consular staff was ever in danger.
JUST IN: A pro-Palestine protester is in critical condition after they set themselves on fire in "political protest" outside of the Israeli Consulate office in Atlanta.
The protester was reportedly draped in a Palestine flag.
The protester has severe burns and unfortunately, a… pic.twitter.com/B8nUQAj2nU
— Collin Rugg (@CollinRugg) December 1, 2023
"We do not see any threat here," he said. "We believe it was an act of extreme political protest that occurred." Everyone inside the consulate building was said to be safe.
Anat Sultan-Dadon, Consul General of Israel to the southeastern U.S., said: "We are saddened to learn of the self-immolation at the entrance to the office building. It is tragic to see the hate and incitement toward Israel expressed in such a horrific way."
"The sanctity of life is our highest value. Our prayers are with the security officer who was injured while trying to prevent this tragic act. We are grateful to the city of Atlanta's law enforcement and first responders for all they do to ensure safety."
The post Protester Sets Self on Fire Outside Israeli Consulate in Atlanta first appeared on Algemeiner.com.
Released Israeli Hostages Call for Captives to Be Freed
Israeli hostages released in the past week by Hamas in Gaza called on Saturday for the immediate release of fellow captives left behind, a day after a temporary truce that had allowed scores to come home broke down.
Tens of thousands gathered at a rally in Tel Aviv outside Israel's defense headquarters, where they cheered Yelena Trupanov, 50, standing on a stage just two days after being freed.
"I came to thank you because without you I wouldn't be here. Now we must bring back my (son) Sasha, and everyone. Now."
Similar pleas from other released hostages were shown on video.
A seven-day truce, during which Hamas had released more than 100 hostages, collapsed on Friday after Hamas breached the ceasefire.
Israel said on Saturday it had recalled a Mossad intelligence agency team from Qatar, host of indirect negotiations with Hamas, accusing the Palestinian faction of reneging on a deal that would have freed all children and women held hostage.
More than 240 people – Israelis and foreign nationals – were abducted to Gaza on Oct 7. by Hamas terrorists who burst through the border with Israel and killed 1,200 people.
The post Released Israeli Hostages Call for Captives to Be Freed first appeared on Algemeiner.com.