How Tuesday's rally in DC is trying to pitch a broad pro-Israel tent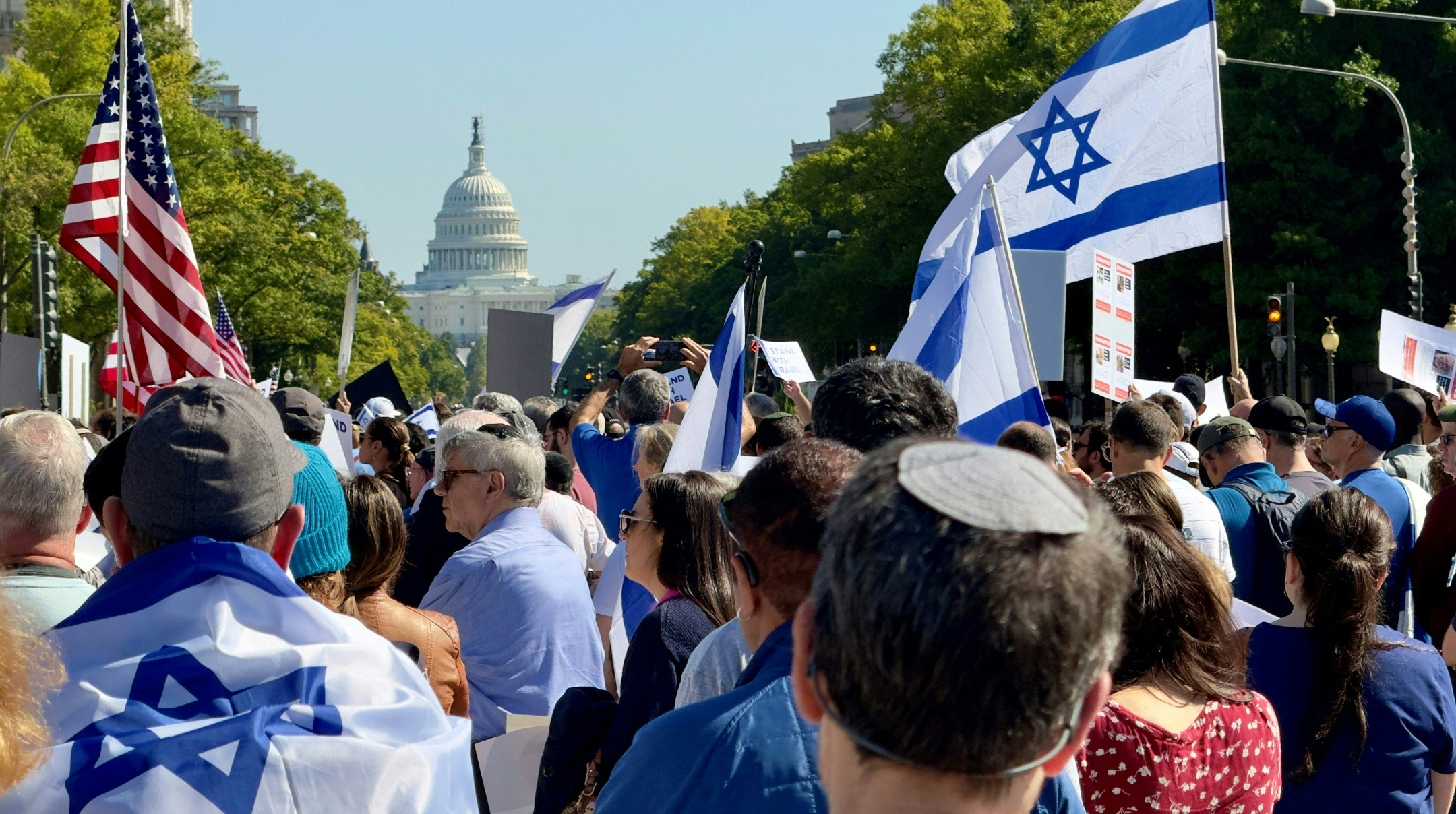 WASHINGTON (JTA) — When it sends a contingent to the mass pro-Israel rally in Washington, D.C. next week, Americans for Peace Now will be standing alongside a group led by someone it accused of racist tweets. 
That group, the Zionist Organization of America, has accused Americans for Peace Now of supporting antisemitism. 
Leaders of both groups said they would still protest together on Nov. 14. 
"It is nearly certain that some speakers at the rally will say things that we disagree with, and they will certainly not say everything that we believe needs to be said," said an alert from APN, a left-wing pro-Israel group. "But we will not cede this ground to those with whom we disagree. We will stand together as a community alongside other Jewish organizations in our Peace Bloc and yes, alongside those who do not share our views."

Morton Klein, the president of the right-wing ZOA, sounded the same note: "The Hamas Jew-hater types are after all of us, no matter our political views, so I'm proud to stand together with my fellow Jews who understand this is a flight to protect all Jews, no matter their political position or religious beliefs," he said. 
Securing the presence of those two groups along with others that are firmly on the right and left was one of the goals of the rally, which was called last week and aims to attract tens of thousands to demonstrate for Israel, on behalf of the hostages held by Hamas, and against antisemitism.
The rally's goal is to shore up support for Israel's war effort more than a month after Hamas' Oct. 7 attack on Israel sparked an Israeli invasion of Gaza aimed at deposing the terror group. That invasion has sparked growing criticism of a mounting civilian death toll along with calls for a ceasefire. But the rally also aims to show that even as American Jews have become increasingly polarized, a broad spectrum of Jewish organizations and their supporters can still unite behind an overarching message of backing Israel and opposing antisemitism. 
"It's just indicative of the clarity that comes from October 7," said William Daroff, the CEO of the Conference of Presidents of Major American Jewish Organizations, which is organizing the rally along with the Jewish Federations of North America. "We must stand together as one, and we can put aside our differences, big differences and small differences, and focus on the commonality of our connectivity to Israel and our connectivity to each other as Jews here and around the world."
To that end, organizers have curated the rally to feature speakers and branding that attract a broad consensus. By the same token, they are eschewing steps that could alienate segments of the Jewish organizational world.
The rally has no official cosponsors, and leaders of organizations will not be delivering any major speeches from the stage. The emphasis from the podium, Daroff said, will be on the tragedy of Oct. 7 and the need to free hostages, as well as the danger of antisemitism on campus and elsewhere. 
"We are talking to families of hostages and survivors and evacuees and others who were affected by Oct. 7 In Israel," he said, referring to possible speakers. A program for the rally has not been issued 
"We're also talking to students who have experienced hate on our campuses," he said. And invitations have already gone out to top congressional leaders and to top Biden administration officials, he said, "as well as the top-flight entertainers and people from the entertainment industry."
The rally is being promoted by major Conservative, Reform, Reconstructionist and Orthodox groups. Along with APN, the pro-Israel left will be represented by the liberal lobby J Street. APN's president, Hadar Susskind, said the lack of cosponsors made it easier to join. He didn't have to worry about APN's logo showing up alongside those of groups it opposes.
"The concept that no one is co-sponsoring this, I think, is very smart," he said. "Because, frankly, had I been asked to co sponsor it. I'm not sure that I would have. Co-sponsoring, to me, is a different level than just 'we're going to it.'" 
A poll released by the Jewish Federations on Thursday showed that large majorities of American Jews fear rising antisemitism and back military aid to Israel. 
The entirety of the Jewish left will not be represented on Tuesday, though they may organize their own demonstration: Jewish organizations that have accused Israel of genocide and advocated in protests for an immediate ceasefire, Jewish Voice for Peace and IfNotNow, did not respond to requests for comment on whether they would counterprotest.
Rally organizers hope to have the same impact as mass Jewish-led National Mall rallies in 2002, when the Second Intifada was raging in Israel, and in 1987 on behalf of Soviet Jewry. Those rallies topped 100,000 attendees. But judging by this rally's permit request, its attendance will be lower. Organizers have asked the National Park Service for space to accommodate 60,000 people. 
But Daroff still believes the showing will be significant. 
"We hear of just thousands and thousands of people coming to Washington — schools that are closing and bringing their whole student bodies and universities doing the same,  federations that are chartering planes, people coming from the West Coast. Huge numbers of people coming from South Florida," he said. "It wouldn't surprise me if all of Boca Raton's synagogues convened on the National Mall on Tuesday."
That doesn't mean there won't be political tensions. At the time of the announcement on Monday night, the Biden administration and Israel were more or less in lockstep in terms of rejecting pressure from the left for a ceasefire. Biden officials are reportedly now pressing for a three-day pause in fighting to deliver humanitarian relief; if Israel resists, those political statements could play out among the speakers from the podium. On Thursday, Israel agreed to pauses of several hours per day for humanitarian relief. 
Daroff said security would be tight — another overarching concern of American Jews. "The very first call that I made, as we were considering having this event, was to Secretary [Alejandro] Mayorkas at the Department of Homeland Security," he said. National security agencies will also be providing security for the event. 
"We will have literally hundreds of security officials who will be around as well, including our own private security," he said. "There will be metal detectors, magnetometers and I'm confident that on November 14, at one o'clock, among the safest places on the planet will be our little piece of the National Mall."
—
The post How Tuesday's rally in DC is trying to pitch a broad pro-Israel tent appeared first on Jewish Telegraphic Agency.
A new film unspools the storied life of Jewish outsider artist and Nuremberg trials guard Nathan Hilu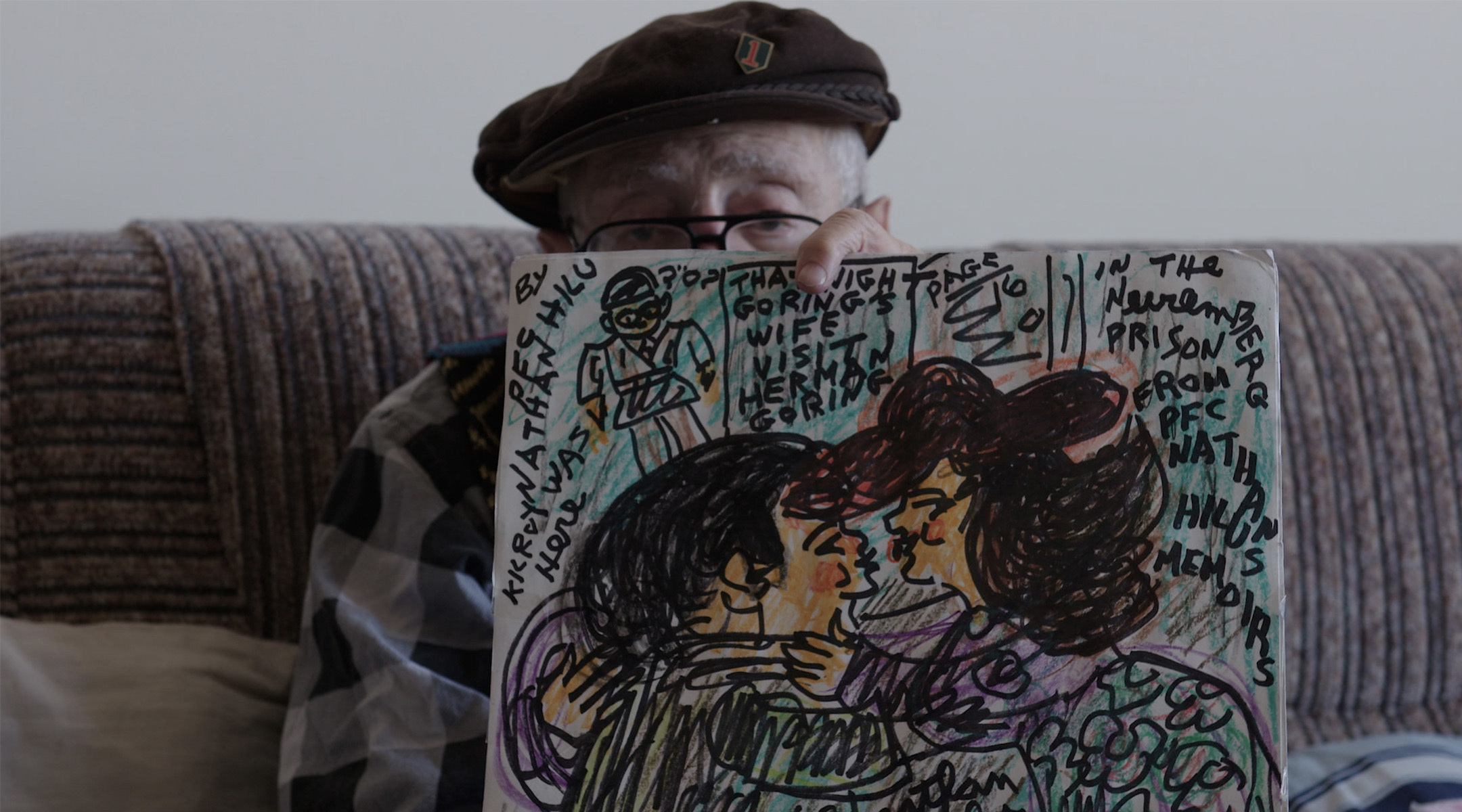 (New York Jewish Week) — In the documentary film "Nathan-ism," Jewish artist Nathan Hilu is hardly ever without a Sharpie or crayon in his hand, drawing something from his memories. 
Hilu was a Lower East Side native who, as a U.S. soldier at 19, was assigned to guard Nazi war criminals at the Nuremberg trials. The experience left an indelible mark upon him: In the ensuing decades, Hilu processed these memories by obsessively creating art from this time in his life, often repeating the same images, simple figures with words written around them in a messy if compelling scribble. 
"I'm not really a big, great artist. I'm a memory man," Hilu, who died in 2019 at 93, says in the film, which will have its New York premiere at the Doc NYC Festtival on Tuesday. "That's where my pictures come from."
In 2012, Tablet Magazine called Hilu the "most significant Jewish Outsider artist you've never heard of." With the documentary, Israeli-American filmmaker and editor Elan Golod is hoping to change that. He's spent the past eight years making "Nathan-ism," which chronicles both Hilu's daily life as a lonely, aging veteran and the history of the Nuremberg trials. The result is a movie that takes us inside the obsessive mind and cluttered apartment of a unique New York artist who is desperate for his story as a witness to one of the most significant trials in history to be heard. 
"It's not that he feels like drawing, he has to draw — it's a way of communicating," curator Laura Kruger, who has been credited with "discovering" Hilu, told the New York Jewish Week about Hilu in 2019. "I really believe he is an exceptional talent."
Golod first learned about the artist eight years ago when he read an article about a small retrospective of Hilu's art at Hebrew Union College's museum that was curated by Kruger. "I was fascinated by the circumstances of his story, but also the dissonance between a very heavy subject matter done in colorful Crayola colors," Golod told the New York Jewish Week. "That felt cinematic to me." 
Golod envisioned his project as a short film, and at first Hilu, not understanding Golod's intentions, was hesitant to participate. But after a few phone calls and in-person meetings without the camera, Hilu warmed up to the filmmaker. Golod ended up filming Hilu throughout the last four years of his life; each time he visited — usually once every week or two — Hilu would show him a shopping bag full of art he had made since their last meeting. 
He ended up with more than 300 hours of film of Hilu, who shares with Golod his memories of how well the Nazis were treated in jail, as well as the time Hitler's chief architect Albert Speer told him that Hitler made a mistake and didn't have to kill the Jews. 
Hilu was generous with his time and he was equally generous with his work: Golod estimates that he has about 1,000 pieces of Hilu's art in storage. "He wasn't very precious about holding onto his art," he said. "He just wanted it to be out in the world." Golod said he also donated some of the art to Hebrew Union College on Hilu's behalf, while some of Hilu's self portraits hang in Golod's office in New York. 
Other talking heads in the film include Kruger; counselor for war crimes accountability for the U.S. Department of Justice Eli Rosenbaum; and art journalist Jeannie Rosenfeld, who all weigh in on the importance, volume and validity of his work.
The film also demonstrates the importance of oral history — specifically, historical events as remembered by those were there — while also grappling with the fallible nature of memory. As Hilu draws and narrates his often-repeated stories of his encounters with Nazi criminals, he is quick to emphasize that though some of his stories don't sound true, he insists they all are. As Hilu says in the film, "I am no historian. All I can do is show you my part of history."
In the film, Golod endeavors to verify Hilu's stories, albeit with mixed results — largely because a 1973 fire destroyed Hilu's military records. And yet, even if the details get hazy, Golod insists that Hilu never tried to intentionally dupe anyone, he was simply expressing his version of events as he remembered them. "I think he's obviously telling his truth," Golod said. 
Hilu was a complicated subject. He had a lot of input for Golod about what should be included in the film — and many of Hilu's "notes" made their way into the final product. "Nathan wasn't the most amenable to being directed," Golod said. "Whenever I would film him, it would pretty much be him doing show-and-tell with the latest works that he had done, and the only ways I could direct the conversation was to choose which pieces I wanted him to talk about, or ask specific questions about something in the piece he was showing. Deviating from that structure didn't work for him and he'd be resistant to going off the path that he had set for us."
But after spending so many years together, Hilu began to open up to Golod beyond his usual narrative. "It took several years of us being together for him to let his guard down," Golod said, referring to a part of the film in which Hilu discusses his difficult relationship with his father, an immigrant from Syria whose expectations for his son didn't align with Hilu's artistic nature. 
"I feel like if I tried to make this film in a shorter time frame, I probably wouldn't have gotten that level of vulnerability from Nathan," Golod said. 
Though Hilu has been dead for four years, Golod said that, in a way, he only recently started grieving. "It's hitting me more this past year, since the film has come out, versus when he actually passed, because I was still constantly editing the footage and it felt like he was still there," he said. 
After the New York premiere next week, "Nathan-ism" will continue to make its way through the festival circuit. Golod is most excited about a special screening planned for February inside Courtroom 600 at the Nuremberg Palace of Justice where the infamous trials took place. "For Nathan's legacy, it's incredible and amazing how the story is coming full circle," Golod said.
"Nathan-ism" will be screening on Tuesday, Nov. 14 and Thursday, Nov. 16 as part of the Doc NYC Festival. Online screenings are also available from Nov. 15-26. Get tickets and info here. 
—
The post A new film unspools the storied life of Jewish outsider artist and Nuremberg trials guard Nathan Hilu appeared first on Jewish Telegraphic Agency.
Mitch Albom enters new Jewish territory with Holocaust novel 'The Little Liar'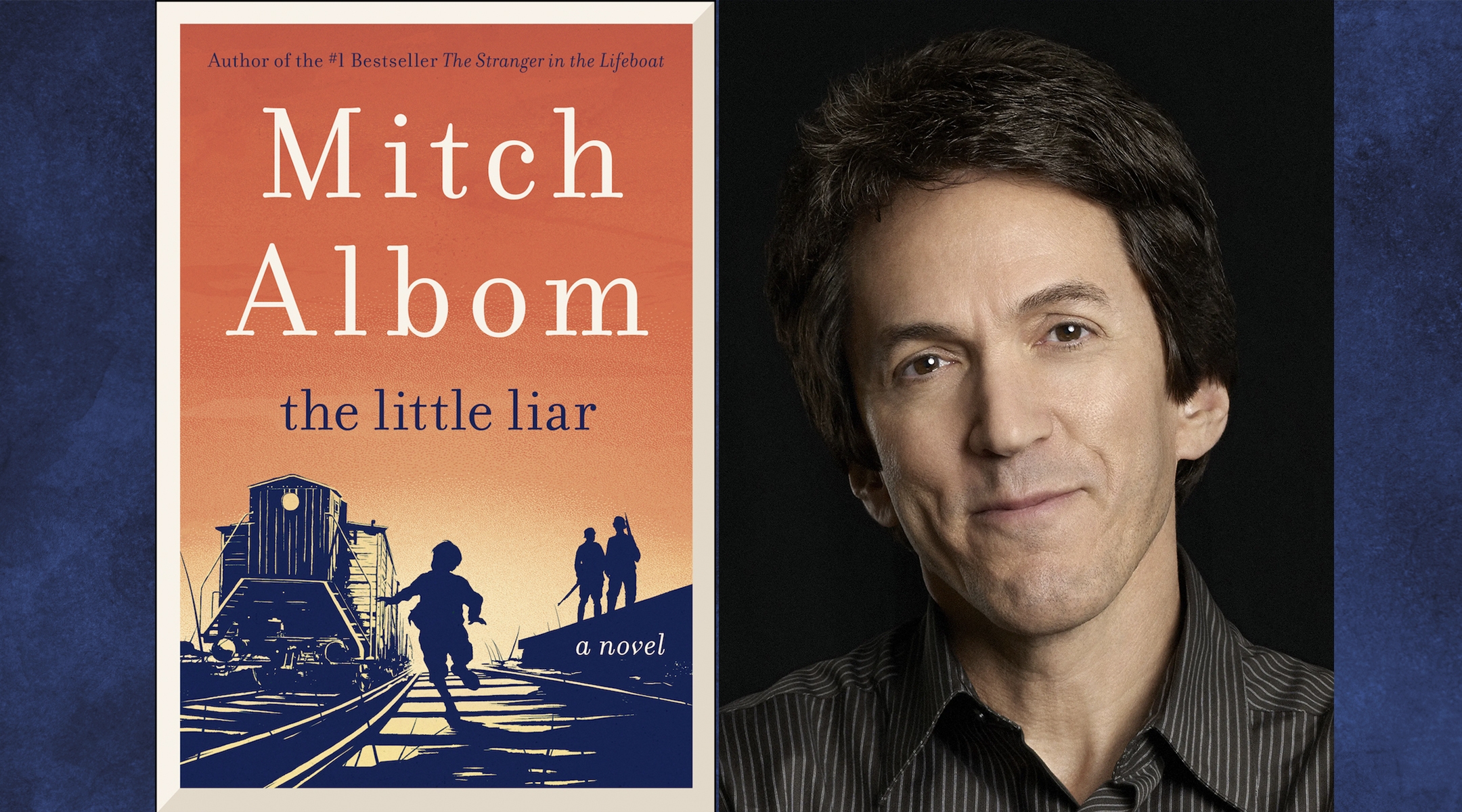 (JTA) — For more than two decades, Mitch Albom has been perhaps the best-selling Jewish author alive — even as his books tend to embrace a much broader and more amorphous definition of "faith."
But now, Albom says he's ready to embrace his "obligation" as a Jewish writer: to publish a novel set during the Holocaust. 
"The Little Liar," which comes out on Tuesday, follows an innocent 11-year-old Greek Jewish boy named Nico, who is tricked by Nazis into lying to his fellow Jews about the final destination of the trains they are forced to board. It was written before Oct. 7 but comes at a time when Jews are again grappling with the aftermath of tragedy in the wake of Hamas' attack on Israel and Israel's ensuing war against the terror group in Gaza.  
Albom is a Jewish day school alumnus, and Judaism has featured in his prior books, if less centrally. "Tuesdays With Morrie," his 1997 memoir that rocketed up the bestseller charts and made him a household name, focused on his relationship with Morrie Schwartz, his Jewish mentor at Brandeis University. A follow-up memoir, 2009's "Have A Little Faith," discussed Albom's relationship with his childhood rabbi, interspersed with his friendship with a local priest. He has also involved Jewish faith leaders in his many charities, including an orphanage he runs in Haiti, to which he has flown Rabbi Steven Lindemann of New Jersey's Temple Beth Sholom.
In his fiction, though, the Detroit author, sportswriter, radio personality and philanthropist has taken a more ecumenical approach to morality and the afterlife. Sometimes Albom's characters wander through heaven, which can be a physical place ("The Five People You Meet In Heaven" and its sequel). Sometimes they are granted the ability to spend time with their dead relatives ("For One More Day"), are admonished for turning their backs on Godly ideas like living each moment to its fullest ("The Time Keeper"), or are asked to put their blind faith in figures who may or may not themselves be God ("The Stranger In The Lifeboat"). 
"The Little Liar," by contrast, is a squarely Jewish story. Like the 1969 Holocaust novel "Jacob the Liar," by Jurek Becker, the story pivots on a Jew lying to his people about the Nazis. But unlike other Holocaust novels, Albom traces the repercussions of that moment for decades following the events of the Holocaust itself, through four central characters who wrestle with the trauma and violence of their past.
Even as it includes a great deal of historical detail — from the descriptions of the thriving prewar Jewish community of Salonika, Greece, to several real-life figures such as the Hungarian actress and humanitarian Katalin Kárady and Nazi hunter Simon Wiesenthal — the book also has plenty of Albom-isms. It's largely structured as a giant morality tale about the nature of truth and lies, and is narrated by "Truth" itself. Aphorisms like "Truth be told" abound throughout the text.
"I didn't want to write a 'Holocaust book' per se," Albom told the Jewish Telegraphic Agency during a phone conversation earlier this fall. "With each one of my books, I tried to have some sort of overriding theme that I wanted to explore and that I thought might be inspirational to people."
Yet he admits that, "as a Jewish writer," he felt compelled by the subject matter to create "a small, small, small contribution to getting people not to forget what happened."
This interview was conducted prior to the Oct. 7 Hamas attack in Israel and has been edited for length and clarity.
JTA: You've written two memoirs about Jewish mentors of yours, but this is the first time you've incorporated Judaism so openly into your fiction. Can you tell me about your own Jewish upbringing?
Albom: I was raised in South Jersey and Philadelphia. Growing up I had what I think would be kind of a typical Jewish upbringing of that time, during the 60s and 70s. [At] 11 years old, I was sent to a Jewish day school. Half the day was just Jewish studies in Hebrew. And in fact, it was mostly done in Hebrew, and so for from sixth grade until 11th grade, with the exception of one year where I left and went to public school, I went to that school. 
So I had a very deep and thorough Jewish education. We learned everything from not only Hebrew and Jewish studies and Jewish history and things like that, but we learned to read the commentary on the Torah… I had to learn those letters. Don't ask me to do it now, but I was pretty in-depth: Moses, Maimonides and all that. So I graduated and I went to Brandeis University, which was a still predominantly Jewish school.
At that point, having spent so much time with my Jewish roots and education, I kind of put a lid on it, and said, "OK, that's enough." And I wasn't particularly practicing from that point for a couple of decades. It wasn't really until I wrote the book "Have A Little Faith," [when] my childhood rabbi asked me to write his eulogy, I got more drawn back to my Judaism.
Why did you decide to tell a Holocaust story now?
I think as a Jewish writer, I almost felt an obligation, before my career was over, to create a story that hopefully would be memorable enough, set during the Holocaust. That it would be a small, small, small contribution to getting people not to forget what happened. And people tend to remember stories longer than they remember facts. I think people remember "The Diary of Anne Frank" longer than they remember statistical numbers of how many Jews were slaughtered or how many homes were destroyed by the Nazis. 
But it took me until now to find a story that I felt hadn't already been done. There's so many books now. And even there's been a recent rash of them over the last five to 10 years, you know, "The Tattooist of Auschwitz" and "The Librarian of Auschwitz," many other things, all of which are great books and wonderful reads. But I just felt like so much ground had been covered that I couldn't really come up with an original setting, original idea, until "The Little Liar."
Something that sets this book apart from the others you mentioned is the setting of Salonika, the Greek city where the vast majority of its 50,000 Jews were murdered by the Nazis. What drew you to that as a setting?
Two things. One, I lived in Greece when I got out of college. Through a series of weird and unfortunate events, I ended up as a singer and a piano player on the island of Crete. I could just spend my days in the sunshine and eating the amazing food and being amongst the amazing people. So I've always loved Greece. And number two was, I didn't want to tell a story that began in Poland, the Warsaw Ghetto, all the familiar backdrops. I just didn't want to tell a story that people said, "I've kind of seen this before." So I thought, well, this will be fresh. I'll be able to at least get people to, if nothing else, when they close the book, say, "I had no idea that the largest Jewish majority population sitting in Europe was Salonika, Greece, and even that was wiped out by the Nazis." 
If there was ever a city that looked like it was impenetrable, it would have been that one. Go back to 300 BCE, and there are Jews. They have been there for so long, and yet the Nazis wipe them out in about a year or less.
Crafting entirely fictional narratives around the Holocaust is pretty fraught territory. I've interviewed John Boyne, the author of "The Boy in the Striped Pajamas," about some of the backlash he's gotten. What was your own approach to doing this in a sensitive way?
First of all, there's no such thing as "purely fictional" when you're coming to a Holocaust story, because you're setting it during a real event. So you have to rely on real accounts, from people and books, in order to create a world that feels real. I don't think anybody could write a Holocaust story and never have read a Holocaust book, never have listened to a Holocaust survivor, just sat in a room and imagined what this event might be like — just as you don't set a book during the Civil War and not study the Civil War.
For me the premise of the book was what came first, and I should point out, I didn't want to write a "Holocaust book" per se. With each one of my books, I tried to have some sort of overriding theme that I wanted to explore and that I thought might be inspirational to people. And the theme with this one had to do with truth and lies, and that actually goes back to the original inspiration of it, which was a visit to Yad Vashem. 
You know, they have the videos on the walls and different people telling stories, and there was a woman who was telling the story about the train platforms, and she said that the Nazis would sometimes use Jews to calm the people on the train platforms and to lie to them to say everything's going to be alright, you can trust these trains, you're going to be OK. And that stayed in my mind, more than anything that I saw. Just the idea of being tricked into lying to your own people about their doom. I thought, one day I want to write a story that centers on someone who had to do that, and what would that do to their sense of truth.
You don't end the narrative with the liberation of the camps; the story continues decades later. There are scenes of a Jewish character trying to reclaim his old home, of America sheltering Nazis after the war. These are the parts of the history of the Holocaust that I think are harder for people today to come to terms with.
Yeah, that was another way I wanted to make the story more fresh. I didn't want it to begin with the night that the house was invaded and end with the day that the camps were liberated. I wanted to begin it before that, which I did, and I wanted to end it way after that.
I went to Salonika and I talked with people there about what happened when the Jews came back and, did they get their businesses back? Did they get their houses back? No, the businesses were gone and were given away. The houses, most of the time, were already sold off to somebody else. And I thought, sometimes we think the whole story, the Holocaust, the price that people paid, it ends on the day of liberation, and everybody runs crying and hugging and kissing into each other's arms and now we're free. We're free. In many ways, that's when the problems began, you know, and a whole different set of problems.
I've known survivors all my life. I grew up with them in my neighborhood and interviewed many of them over the years, and they've told me about their haunted dreams and sometimes in the middle of the night they just wake up, or in the middle of the day, just start crying, or how certain things they don't want to talk about. And so I tried to be respectful and reflect some of those challenges in the years after the Holocaust, because I don't think you can tell a complete story, at least not one about survivors, if you don't talk about what happened to them after they tried to resume their normal lives.
In the book you point out that the Holocaust was built on a "big lie." You're framing truth as the ultimate ideal. But of course your Jewish characters are also surviving the war in part by lying about their identities. And we know that's true of many real-life Holocaust survivors as well. Do you see that as a contradiction?
No, I see it as fascinating. You know, it's a fascinating interwoven web of truth and deception. There is nobody who has never told a lie on this earth. And that's why Nico was kind of a magical character to begin with. He's 11 years old and has never told a lie — he's almost an angel. And that's where the parable feel to the story comes in. 
Your writing has become associated with the concept of "faith," and in your fiction you often render heaven as a physical place where the dead are finding ways to interact with the living. Is that a more Christian outlook on the afterlife, even though you say you were inspired by a vision an uncle of yours had about his own relatives? How do you think about your own depictions of heaven?
Well, the books that I've written about heaven, there was "The Five People You Meet in Heaven," "The Next Person You Meet in Heaven," which was a sequel to it, and "The First Phone Call From Heaven," which, if you read that book, you know that it isn't what it seems. You know, I always looked at "The Five People You Meet in Heaven" as kind of a fable. My uncle Eddie, who was the main character — it wasn't a true story but he inspired the character. He had told me a story that he had had an incident where he had died on an operating table. For a brief moment, he remembered floating above his body and seeing all of his dead relatives waiting for him at the edge of the operating table. So I always had that story in mind whenever I would think of him. It was meant to be a fable about how we all interact with one another.
A lot of Christians have embraced your work, right?
A lot of Christians, Jews, Muslims, Hindus and atheists. 
I've seen evangelical writers refer to your body of work as part of a "Judeo-Christian tradition," which is a term a lot of Jews have different kinds of feelings about. Do you think about the faith of your readers at all, or how they are perceiving your faith?
I write for anybody in the world who has a desire to read my book. I welcome them. I would never make a judgment on any reader. I'm happy to have someone pick up my book and read it.
—
The post Mitch Albom enters new Jewish territory with Holocaust novel 'The Little Liar' appeared first on Jewish Telegraphic Agency.
Bullets fired at 2 Montreal Jewish schools amid local spike in antisemitic incidents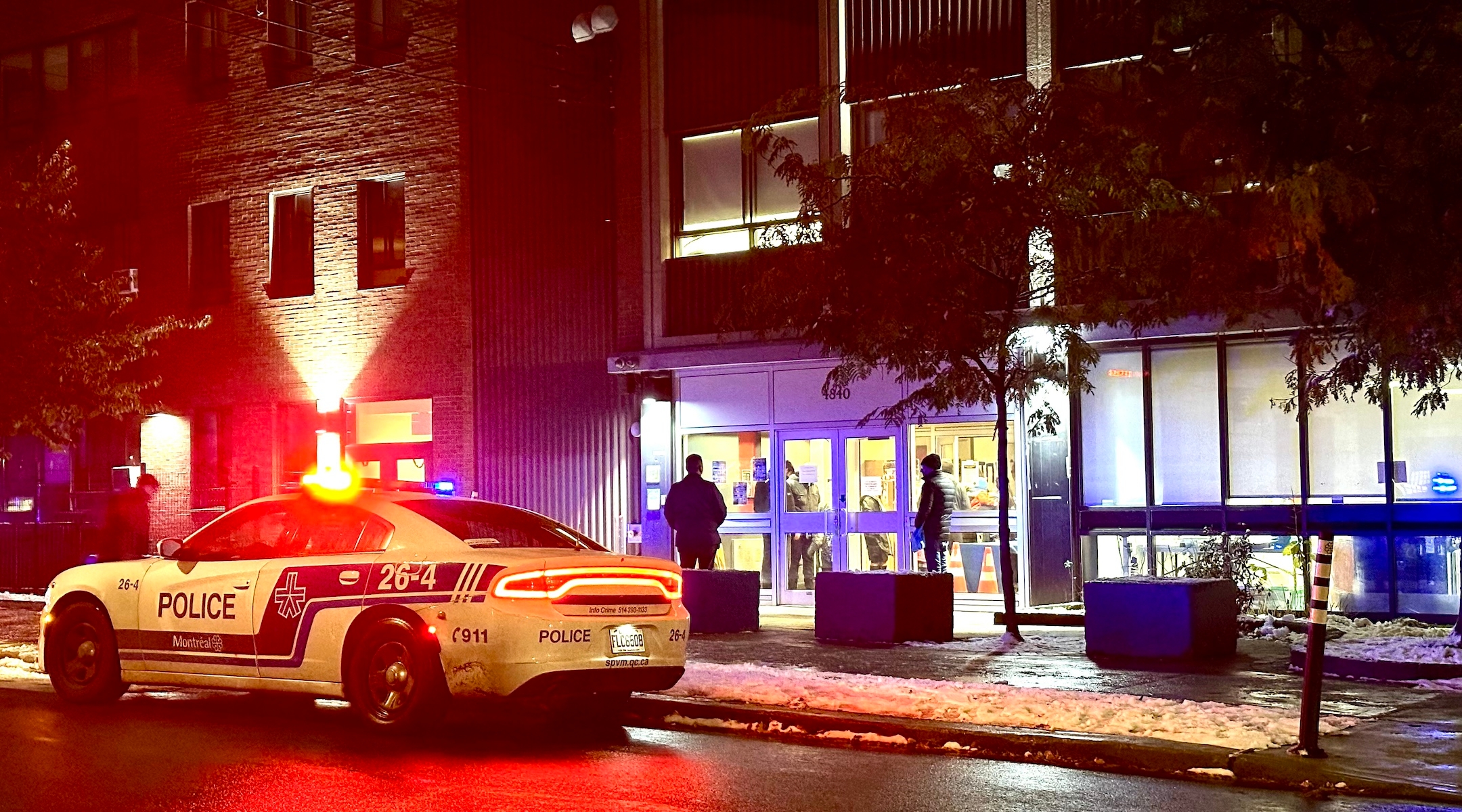 MONTREAL (JTA) — Bullets fired at two Montreal Jewish schools in the midst of the Israel-Hamas war have traumatized the local Jewish community, with some parents wondering if they should keep their children home.
Evidence of single bullets fired were found on the doors at the Talmud Torah elementary branch in the Montreal's Snowdon district and the more Orthodox Yeshivah Gedolah closer to the Outremont district. The two schools are about a 10-minute drive apart.
People at the schools reported finding the bullets on Thursday morning. Police said no significant damage was done and no one was on the properties at the time the bullets were fired overnight.
Canadian Prime Minister Justin Trudeau condemned the incident, tweeting: "I want to be clear: This hate has no place in Canada, and we must all stand united against it." He also met with Canada's new Special Envoy on Preserving Holocaust Remembrance and Combatting Antisemitism Deborah Lyons on Thursday.
The incident came in the wake of attempted firebombings at a Jewish community center and synagogue two days earlier on Montreal's West Island. It took place days after a prominent local Muslim religious leader publicly called for the eradication of all "Zionists" and hours after pro-Palestinian activists tried to violently stop a Hillel hostage-awareness display at downtown Concordia University.
The incident at Concordia resulted in two arrests and minor injuries.
"We know that words lead to action," said Eta Yudin, vice president for Quebec at the Centre for Israel and Jewish Affairs. The bullets found at the schools, "represents a worrying escalation in the violence the Jewish community has been experiencing," the center and the Federation CJA said in a joint statement.
"To most Canadians, the war might feel as it is on the other side of the world, bur, for Jews, we're feeling the hate and experiencing the danger right here in our home communities," said federation CEO Yair Szlak.
Despite Justin Trudeau and Quebec premier François Legault's condemnations of the recent incidents, Montreal Jews say they remain concerned. The city and its surrounding suburbs are home to over 80,000 Jews.
"It's unbelievable," parent Iris Alpern, whose son is a Jewish elementary school student, told the Jewish Telegraphic Agency. "Our children have nothing to do with it. They're going to school and learning to read and write and count. How is this possible, all this hate?"
—
The post Bullets fired at 2 Montreal Jewish schools amid local spike in antisemitic incidents appeared first on Jewish Telegraphic Agency.