I knew students at my college were protesting Israel. I didn't expect what they would say in class.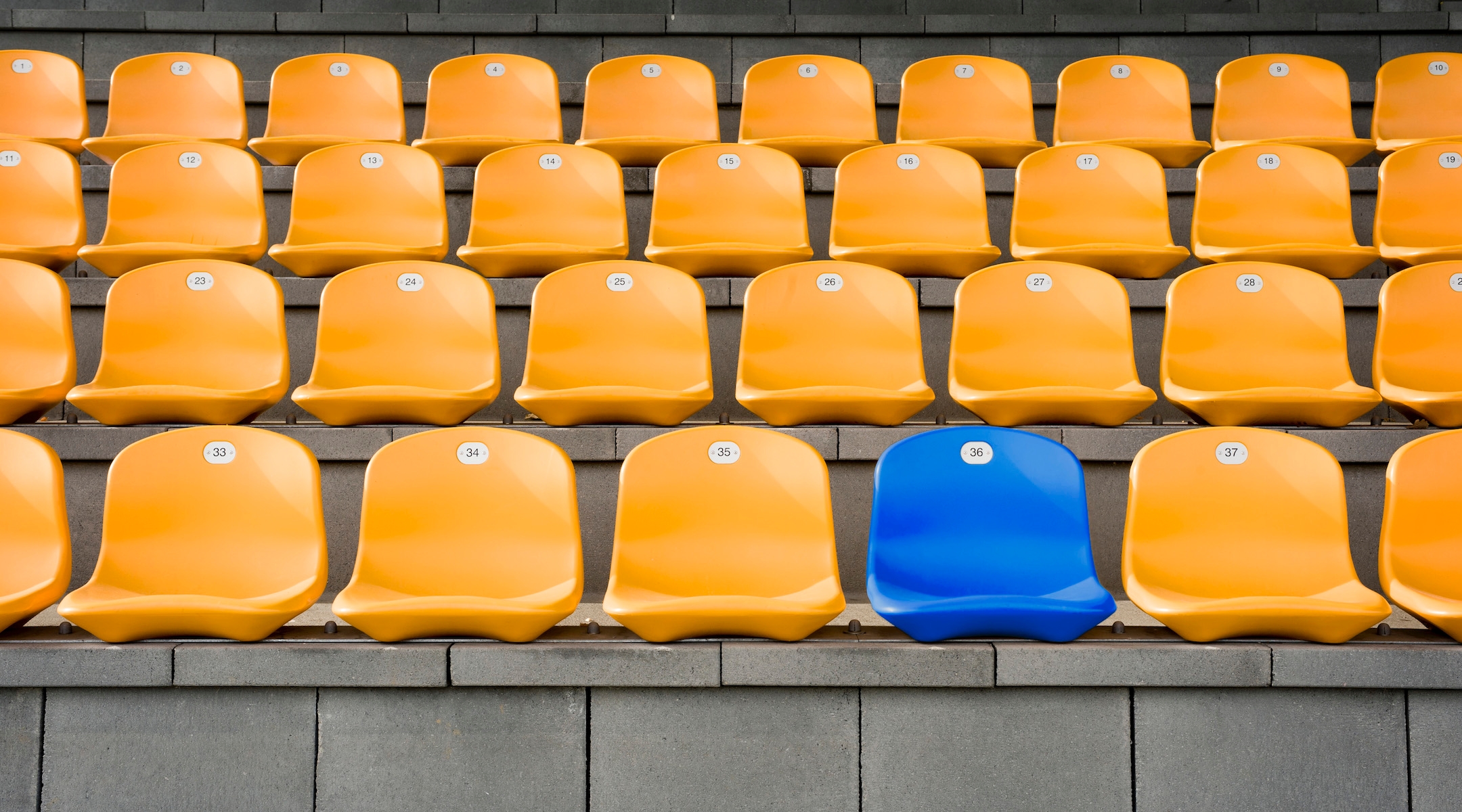 (JTA) — I am a non-religious, 20-year-old-Jewish student in New York City. I have not been to Israel since I was 9. I was raised in what you might call a "naturally occurring Jewish community": Riverdale, in the Bronx. I attended Modern Orthodox schools through high school. Once I graduated, I left for Binghamton University, which boasts a massive Jewish community. It wasn't until I transferred this fall to Hunter College, part of the City University of New York, that I left the Jewish bubble.
The last month has been the worst of my life. The horrors of Oct. 7 left me — along with my whole community — in a state of shock. While going through the videos and firsthand accounts, I couldn't help but think about the losses yet to come: Hamas laid a trap so horrific that Israel would respond with overwhelming force. I knew there would be angry, difficult discourse in response. Sure enough, even before Israel launched retaliatory attacks, denial and outright celebration of the atrocities spread rampant online.
I was hoping to find more compassion in person. But I soon realized that if I expected to find it in one of my classes in the media department at Hunter, I'd come to the wrong place.
CUNY, a diverse public university system with 25 colleges spread across the city, has often been a hotbed for pro-Palestinian activism even as it has a deep Jewish history and many Jewish students today. Jews and pro-Israel activists, both inside and beyond the university, have complained that the school has tolerated expressions of antisemitism and anti-Zionism from faculty and students — allegations that led, in 2016, to a probe by the university.
On Monday, Oct. 16, I went to my Interview Techniques class. As an exercise, my teacher decided to record the lesson while he interviewed each of us in front of the class. He decided, perhaps not understanding the raw emotions of the week or perhaps because of them, to ask us about the Hamas attacks. Out of the eight students, I am the only Jew; the rest are Christian or not religious. What followed was a dialogue devoid of compassion for the perceptions of Israelis and Jews, or curiosity about the facts of the situation.
As tensions over this conflict rise on college campuses around the country, attention has largely gone toward protests, rallies and open letters. But the recording from my class illustrates a different frontier for Jewish students — discourse within the classroom. The quotes that follow are directly from the recording.
When the teacher asked, "How have you been following the news?" one student said they had been watching ABC and CNN. "It's horrible … Just the devastation, especially in Palestine," said the student. Another student added: "I don't really like what's going on in this war. I know it's been going on for 75 years. I guess I see Palestine's side more."
"The Palestinian people?" asked the teacher.
"Yeah," said the same student. "I don't want to say I don't understand the other side, but I understand the Palestinian side more."
Later on, the conversation turned to the more than 200 Israelis taken hostage by Hamas on Oct. 7.
"Because of where I stand on this issue… I don't think we should be bombing people's homes to get the hostages," said a third student. "I mean, me specifically, I don't think Israel is a legitimate country. Let's start from there. They are a colonial country."
"What do you mean?" asked the teacher.
"Israel is not legitimate," the student went on. "The U.N. placed them there. … They literally took people's homes in order for them to be a country."
According to the student, Jews had no claims on any part of the region when, in November 1947, the United Nations voted to divide Great Britain's former Palestinian mandate into Jewish and Arab states. "I mean, the U.N. did that for them," said the same student. "And then they kept expanding and taking people's homes and lives."
No mention was made of the Arabs' rejection of the partition plan, or the war they launched the following year to destroy the newly independent Jewish state.
"And the Hamas are reiterating… I mean, I don't support terrorism but — there has always been conflict before Hamas bombed Israel. Palestinian lives have been lost for 75 years and no one cares. But then when they retaliate on Israel, suddenly it's making headlines. That just doesn't… I don't know — the U.N. and every country in the U.N. partook in the taking of the land."
When the same speaker was asked about the Holocaust, they dismissed any notion that it had proven a need for a Jewish refuge, or that the Hamas slaughter of Jews might trigger traumatic memories for Jews. "Israel being made may have something to do with the Holocaust, but I'm saying the Palestine and Israel war right now has nothing to do with the Holocaust," they said.
Nine days after Hamas killed 1,400 Israelis in a single day of bloodshed, another student was ready to move on.
"This sounds like old news," they said. "How did this all begin again? Didn't they have a truce? The news shows Palestinians in here, in New York who are protesting the war, and they wore signs saying 'Palestine's not for sale.' My guess is that might have something to do with why this whole thing started up again."
"There was a massacre," the teacher pointed out.
"Who massacred who?" asked the student.
"Don't you have qualms with Hamas?" asked the teacher.
"No, I have no qualms about anything," said the student.
"Don't you know what Hamas did?" the teacher pressed.
"No," said the student. "I have no idea."
Later, it was my turn. "I am trying to do my breathing exercises, but I feel a bit attacked," I explained. "I am not trying to fight anyone here. This is incredibly personal to me. It's not you I am angry at, It's the situation."
What is not shown in the transcript are the dirty looks and fierce head shakes I received. One student sitting two seats to my left vigorously shook their head at everything I said. My one friend in the class remained silent. After attending a pro-Israel rally in front of the U.N. and posting about it on social media, the same friend was bombarded with condemnation. They got blocked by former friends and ghosted by others. After class, my friend told me they could no longer support Israel publicly from fear of losing more friends.
A few days later, at a protest of Hunter College students in the school's courtyard, protesters cheered "From the river to the sea, Palestine will be free," "Globalize the Intifada" and "It is right to rebel, Israel go to hell." On the side, I ran into a friend from high school who was proudly wearing an Israeli flag. As I spoke to him, protesters took photos of us.
At the end of this terrible week, however, I had some reasons for hope. As I ate in the cafeteria, sobbing over the lack of human compassion, I saw a text saying that someone had set up a booth on the third floor of the main building with a sign reading "let's talk about Hamas." When I walked over to the booth, there sat my aforementioned friend from high school. On one side sat three Jewish students; on the other were five Muslim women wearing hijabs. Some people on both sides clearly just wanted to argue, but I just wanted to talk to people.
On the outskirts of the conversation, a Muslim woman said to one Jewish student, "I can't talk with you until you answer: Is Israel doing a genocide?" My friend kept arguing with her, which clearly kept their conversation from going anywhere. I took a different approach by saying, "First of all, I feel so awful for the civilians in Gaza. This isn't their war and they don't deserve to be punished. I am sure there are radical racist Israelis who would love nothing more than to kill all Palestinians. I am not on their side at all, they don't represent me or the vast majority of Jews and Israelis. I had been protesting Bibi my whole life. We all hate him. Neither side's civilians are responsible for the radicals in their government."
After this concession, our conversation continued for another couple of hours as we continued to explore common ground. The Muslim students talked about their hatred for all the Arab governments including those in Egypt, Lebanon and others. They recognized that the victims of the Oct. 7 attacks are not their enemy; they don't bear responsibility for their government's actions nor deserve to be punished for them. By the end, four Jews and five Muslims became friends by realizing our similarities outweigh our differences.
These weeks have taught me some difficult truths. Uninformed, incurious people can easily be radicalized past the point of human compassion. No groups are immune from blind rage: I have Jewish friends too who have forgotten empathy, who are blinded by our pain and can't see the suffering and fear of other students; however, once we take our blindfolds off and see each other as humans, even the most treacherous field still has common ground.
—
The post I knew students at my college were protesting Israel. I didn't expect what they would say in class. appeared first on Jewish Telegraphic Agency.
Protester Sets Self on Fire Outside Israeli Consulate in Atlanta
i24 News – A protester was in critical condition on Friday after setting themself on fire outside the Israeli consulate in Atlanta, Georgia, U.S. authorities said. A security guard who tried to intervene was also wounded.
A Palestinian flag found at the scene was part of the protest, Atlanta Police Chief Darin Schierbaum said at a news conference. He added that investigators did not believe there was any connection to terrorism and none of the consular staff was ever in danger.
JUST IN: A pro-Palestine protester is in critical condition after they set themselves on fire in "political protest" outside of the Israeli Consulate office in Atlanta.
The protester was reportedly draped in a Palestine flag.
The protester has severe burns and unfortunately, a… pic.twitter.com/B8nUQAj2nU
— Collin Rugg (@CollinRugg) December 1, 2023
"We do not see any threat here," he said. "We believe it was an act of extreme political protest that occurred." Everyone inside the consulate building was said to be safe.
Anat Sultan-Dadon, Consul General of Israel to the southeastern U.S., said: "We are saddened to learn of the self-immolation at the entrance to the office building. It is tragic to see the hate and incitement toward Israel expressed in such a horrific way."
"The sanctity of life is our highest value. Our prayers are with the security officer who was injured while trying to prevent this tragic act. We are grateful to the city of Atlanta's law enforcement and first responders for all they do to ensure safety."
The post Protester Sets Self on Fire Outside Israeli Consulate in Atlanta first appeared on Algemeiner.com.
Released Israeli Hostages Call for Captives to Be Freed
Israeli hostages released in the past week by Hamas in Gaza called on Saturday for the immediate release of fellow captives left behind, a day after a temporary truce that had allowed scores to come home broke down.
Tens of thousands gathered at a rally in Tel Aviv outside Israel's defense headquarters, where they cheered Yelena Trupanov, 50, standing on a stage just two days after being freed.
"I came to thank you because without you I wouldn't be here. Now we must bring back my (son) Sasha, and everyone. Now."
Similar pleas from other released hostages were shown on video.
A seven-day truce, during which Hamas had released more than 100 hostages, collapsed on Friday after Hamas breached the ceasefire.
Israel said on Saturday it had recalled a Mossad intelligence agency team from Qatar, host of indirect negotiations with Hamas, accusing the Palestinian faction of reneging on a deal that would have freed all children and women held hostage.
More than 240 people – Israelis and foreign nationals – were abducted to Gaza on Oct 7. by Hamas terrorists who burst through the border with Israel and killed 1,200 people.
The post Released Israeli Hostages Call for Captives to Be Freed first appeared on Algemeiner.com.
IDF Foils Stabbing Attack Near Nablus in West Bank, Eliminates Terrorist
i24 News – The Israel Defense Forces (IDF) reported thwarting a stabbing attack on Saturday afternoon against reserve Battalion 7037 at the X junction near Nablus in the West Bank.
According to the IDF spokesperson, the event unfolded when the forces at the roadblock became suspicious of an individual approaching the barricade.
During the questioning process, the suspect suddenly drew a knife and advanced towards the IDF personnel.
ניסיון פיגוע דקירה אירע לפני זמן קצר לעבר כוח צה"ל במילואים מגדוד 7037 שפעל בחסם בצומת האיקס סמוך לעיר שכם שבמרחב חטיבת שומרון.
הכוח חשד במחבל שהגיע לחסם והחל לתחקר אותו, המחבל שלף סכין והחל להתקדם לעבר הכוח.
הלוחמים חתרו למגע והגיבו בירי לעבר המחבל שחוסל. אין נפגעים לכוחותינו. pic.twitter.com/mEaJs58hpE
— דובר צה״ל דניאל הגרי – Daniel Hagari (@IDFSpokesperson) December 2, 2023
The soldiers, faced with the threat, engaged in contact procedures and ultimately responded by opening fire on the assailant. The spokesperson confirmed that the attacker was neutralized due to the IDF's action.
It was also noted that there were no casualties among the IDF forces involved in the incident. According to the spokesperson, the situation at the X junction has stabilized, and IDF continues to maintain vigilance in the area to prevent further attacks.
The post IDF Foils Stabbing Attack Near Nablus in West Bank, Eliminates Terrorist first appeared on Algemeiner.com.