IDF intercepts drones over north, foils Hezbollah missile squads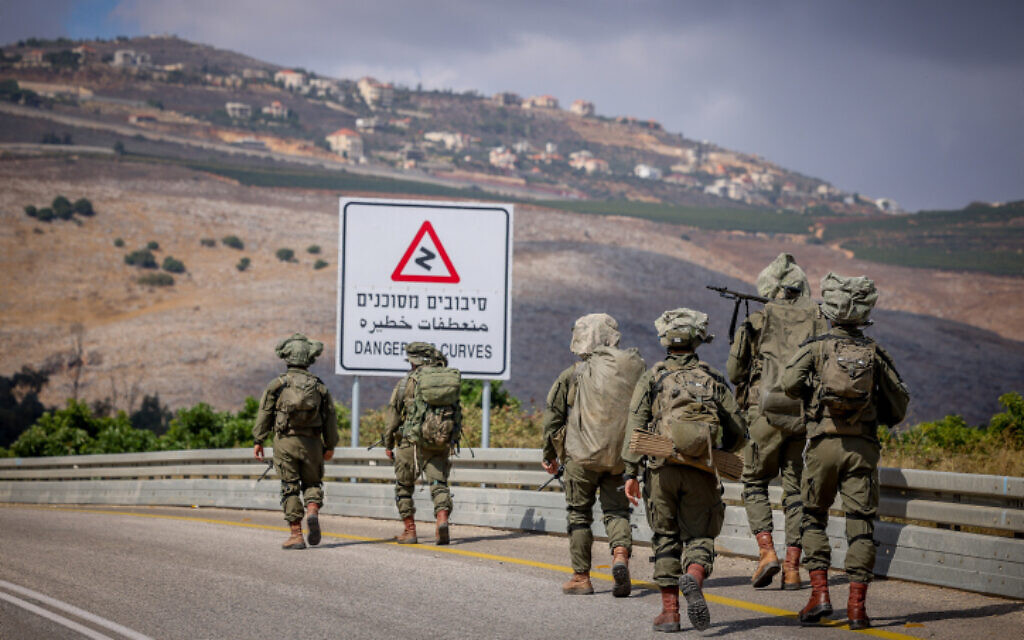 Army says it has eliminated more than 20 Hezbollah cells in southern Lebanon since the start of the war with Hamas; 2 wounded by shrapnel in Kiryat Shmona
A Jewish dad says he's afraid to light a menorah this Hanukkah. So he's asking non-Jews to display them in solidarity.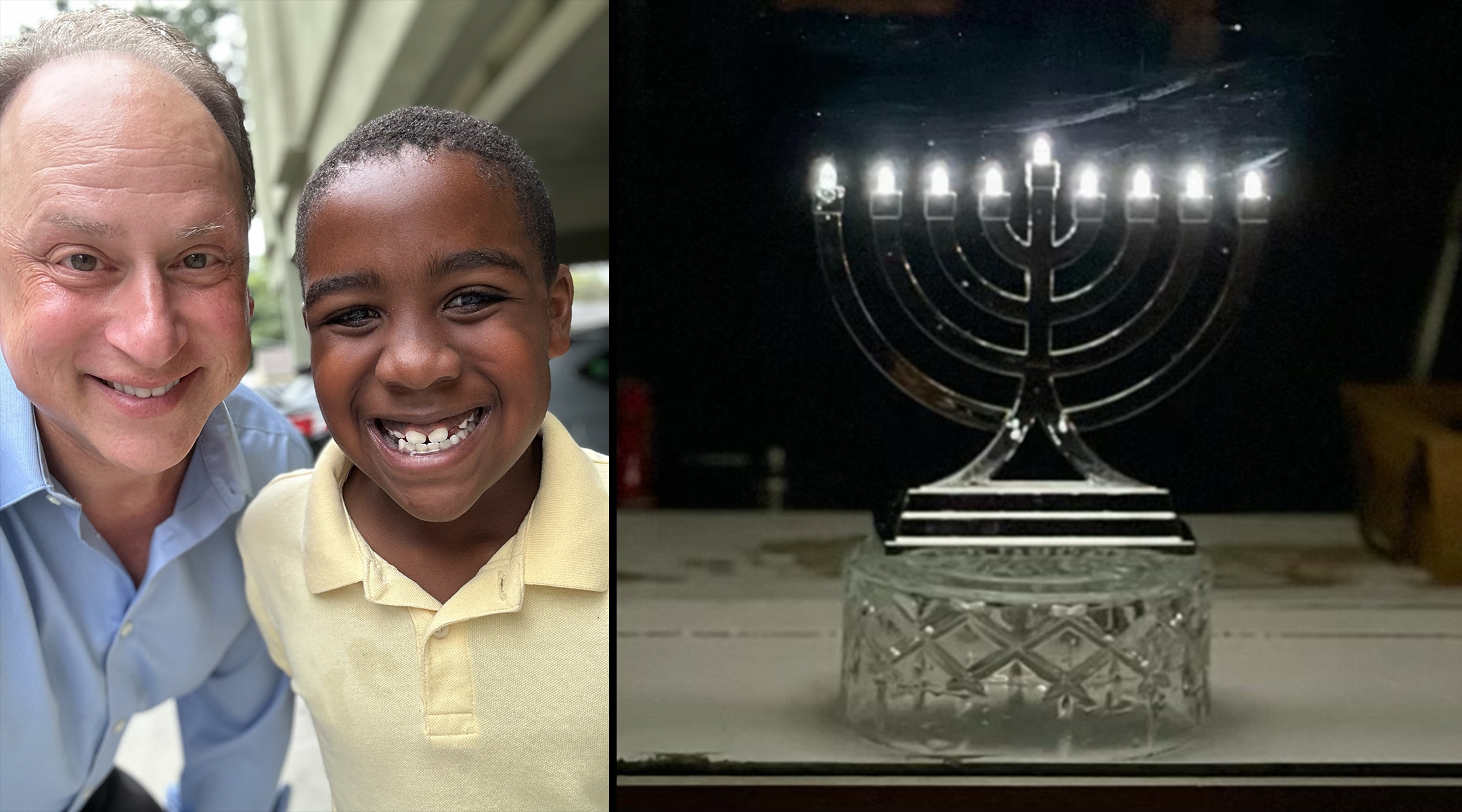 (JTA) — When Adam Kulbersh's 6-year-old son Jack asked when they would be putting up their Hanukkah decorations this year, Kulbersh wasn't sure if it was such a good idea.
With reports of antisemitism on the rise — exacerbated by the war between Israel and Hamas — Kulbersh, an actor and single father who lives in Los Angeles, said he was afraid to publicly identify his family as Jewish. In the past few months alone, multiple antisemitic incidents have rattled the L.A. Jewish community — including a home invasion in which locals believe the house was targeted because of the mezuzah signifying that Jews live there.
When Kulbersh relayed his concerns to his friend Jennifer Marshall, who is not Jewish, he recalled that her response was immediate: "She said, 'We're not Jewish, but we'll put a menorah in our window for you as a show of solidarity, and in the hopes that it gives you whatever you might need in order to put one in yours," Kulbersh told the Jewish Telegraphic Agency.
The gesture moved Kulbersh — so much so that it inspired him to launch an online campaign he's calling "Project Menorah," which encourages non-Jews to display menorahs, or photographs of them, in their windows during Hanukkah and to share photographs online to show solidarity. The campaign began last week, ahead of the holiday, which begins Thursday night. It has quickly spread on social media, where people are tagging Project Menorah in pictures of their holiday displays featuring newly added menorahs.
"I think right now people want to help but they don't know what to say," Kulbersh said. "People are afraid of saying the wrong thing, being canceled, of not knowing what they should say or how to say it. But what this friend did, out of love, a simple gesture, meant so much to me."
For Marshall, a longtime friend of Kulbersh who lives nearby, it was an easy decision.
"I was just sad that Jack and Adam couldn't celebrate Hanukkah the way that they wanted to," Marshall told JTA. "Part of me felt like there wasn't really much I could do. And I thought, I'm going to get a menorah, and I'm going to put it in my window and I'm going to take a picture of it and I'm going to send it to Jack. It was actually very simple. I just wanted Jack to know — and Adam, but Jack, this young boy — that his celebration of Hanukkah was important."
Marshall, who runs an advertising agency and has helped out Kulbersh with his son since Jack was young, said emulating the Jewish custom of placing menorahs in the window — in public view — was "the most natural thing to do to say 'I stand with you.'"
She also views it as an important conversation starter.
"It's an opportunity for the people who walk by my house or come to my house to have a conversation," Marshall said. "I wanted it to be something private for Jack, and at the same time, I wanted it to be something public for every Jewish person."
Kulbersh said the response to his campaign, including from rabbis, has been overwhelmingly positive. He's seen posts from dozens of U.S. states — he said he stopped counting after 22 — as well as from Australia, Germany, Italy, Canada and the United Kingdom. In one representative Facebook post, an orthodontist in Dallas shared the project and offered to buy menorahs for any of his non-Jewish friends who wanted to participate.
"We're in a time of awful antisemitism, historic levels," Kulbersh said. "I think the idea of inviting our non-Jewish allies to add their light to ours in a time of darkness has really moved people."
Kulbersh's campaign is the latest instance of non-Jews using Jewish symbols to express solidarity.
In a famous example from Billings, Montana, in 1993, thousands of people displayed menorahs in their windows after a brick was thrown through the bedroom window of a 5-year-old Jewish boy who had a menorah displayed. The episode inspired the award-winning documentary "Not In Our Town" along with campaigns preaching tolerance.
And just last month in Los Angeles, non-Jews offered to put mezuzahs up on their doorposts to show solidarity with their Jewish neighbors after the antisemitic break-in rattled the community.
Though Kulbersh's campaign resembles the response in Montana, neither he nor Marshall had heard the story until he launched Project Menorah. Kulbersh said he chose the symbolism of the menorah because of Marshall's reaction — had she offered to display a dreidel, he said, the campaign would have been centered around that instead.
"What I love about the story of Billings is it proves the point that in every era, the bigots find a reason to hate us," he said. "And in every era, the Jewish people find the courage to stand up to it. And in every era, there are allies who find the compassion to stand with us."
For some, the initiative is raising uncomfortable questions, including about whether relying on non-Jews to create real or perceived security is healthy for Jews, and whether it is appropriate to give non-Jews license to use Jewish symbols.
"I believe relying on camouflaging your Jewish identity and plausibly denying your Jewishness, or in this case having our non-Jewish neighbors light menorahs to help us do so, to survive, is spiritually damaging," wrote one man in Austin, Texas, on Facebook after the Jewish communal organization there, Shalom Austin, promoted Project Menorah.
Kulbersh acknowledged that some view the use of Jewish religious symbols by non-Jews as problematic — or even cultural appropriation. He emphasized that Project Menorah is different.
"This is an act of solidarity in a time of historic antisemitic violence. We are not asking anyone to perform a religious ritual," Kulbersh said. "We're asking people to take an easily recognizable symbol of a Jewish holiday and put it in their window to show their friends and neighbors that they're safe."
Wil Gafney, a pastor, activist and professor at Brite Divinity School in Texas, told JTA she is worried about Christians using Jewish symbols without proper approval from Jews, a trend that has included Passover seders and the use of shofars in right-wing rallies.
"There is a swath of Christianity, primarily evangelical and sometimes fundamentalist, that appropriate Jewish holidays, rituals and ritual objects in a way that the majority of Jewish voices in the public and social media spaces I inhabit and the persons in my extended community and family find extraordinarily objectionable," Gafney said in an email to JTA.
"My first thoughts about this project when I saw it on my social media was that this contradicts the message of Christians leaving Jewish things alone and may well embolden some who now feel they have license and permission to use Jewish ritual objects."
Marshall said she doesn't know if it should be considered appropriation but said she has not received any pushback for her menorah.
"If anybody knows me, they know that it would just come from a place of love," she said. "It was a very simple gesture of love for Jack and the Jewish community."
For Rabbi Emily Cohen, who leads the Reconstructionist West End Synagogue in New York City, the idea of non-Jews using a Jewish ritual object without a full understanding of it, or without a connection to a Jewish community, is troubling. She does, however, like the idea of non-Jews displaying photographs of menorahs.
"That's something that makes it clear, I'm not actually lighting a menorah, but I am putting up this photo that shows that I care about the Jewish community and I don't want them to feel alone at this season," Cohen said.
Cohen added that to her, the best forms of solidarity are ones that are grounded in relationships, not just a simple social media post. In other words, she said, the best way for non-Jews to show they care about their Jewish friends and neighbors is to support them as they "do Jewish with other Jews," Cohen said.
She cited the example of a group of Muslims who, after the Tree of Life synagogue shooting in 2018, gathered outside Congregation Beit Simchat Torah, the prominent LGBTQ synagogue in New York.
"They were not going to the service, they were just standing outside to offer that solidarity and protection for their Jewish neighbors as they were going through this horrible moment after this attack," Cohen recalled. "That's the thing with solidarity: if you're engaging in solidarity without actually engaging in relationship, that doesn't feel as valid as if you're engaging in relationship as part of your show of solidarity."
Kulbersh said he welcomes the dialogue about whether non-Jews should display menorahs. "I love that about Judaism — we debate, we discuss," he said.
But ultimately, Kulbersh added, he wasn't looking to start a movement. In fact, he said his hope is that "there is no future for Project Menorah, because there will be no need for it again."
—
The post A Jewish dad says he's afraid to light a menorah this Hanukkah. So he's asking non-Jews to display them in solidarity. appeared first on Jewish Telegraphic Agency.
'We Are Tearing It Apart': Half of Hamas Battalion Commanders Killed, Netanyahu Says
Israeli Prime Minister Benjamin Netanyahu said on Tuesday evening that Israel has successfully eliminated half of Hamas' battalion commanders during the Israel-Hamas war.
The Palestinian terror group, which launched the current war in Hamas-ruled Gaza with its Oct. 7 massacre across southern Israel, is known to have 24 battalions.
"Hamas wanted to tear us apart; we are tearing it apart," Netanyahu said.
The Israeli premier added that Gaza will "never again pose a threat to Israel."
Netanyahu has refused to expand on Israel's desired "day after" security situation in Gaza once the war ends, but he has maintained that Israel will need to maintain a robust security presence in the Palestinian enclave.
Gaza "must be demilitarized," he said. "And the only force that can ensure this is the IDF [Israel Defense Forces]. No international force can be responsible for this … I'm not prepared to close my eyes and accept any other arrangement."
Estimates put the number of Hamas terrorists killed during the war at between 2,000  and 5,000.
Israel has been engaged in some of the heaviest fighting of the war in recent days, as forces enter the Hamas strongholds of Khan Younis and Shujaiyeh in Gaza.
Arab media sources have reported that Israeli tanks are advancing on the city from both the north and the east.
Israeli intelligence sources believes that Hamas leaders Yahya Sinwar and Mohammed Deif may be hiding in southern Gaza.
The post 'We Are Tearing It Apart': Half of Hamas Battalion Commanders Killed, Netanyahu Says first appeared on Algemeiner.com.
Susan Sarandon Dropped From Indie Film Consideration After Comments About Israel, Jews at 'Free Palestine' Rally
An indie film production company announced this week its decision to no longer work with American actress Susan Sarandon after she made inflammatory comments about Israel and Jews at a "Free Palestine" rally last month.
"As a company, PTO Films would like to make it clear that Susan Sarandon's views do not reflect the opinions of our organization," David Barroso, the co-founder of the indie film production company, told Page Six. "We were considering her for a short film, but due to her recent statements, we have decided to pursue other options."
Barroso added that although PTO Films was pursuing the Oscar winner, 77, to play a part in their short film, there were never any formal "negotiations with her." Another actress has not been cast yet to take on the role since the production has "fallen behind schedule," he said.
Speaking at a pro-Palestinian rally in New York City last month, Sarandon accused Israel of war crimes and compared Hamas' massacre of civilians in southern Israel on Oct. 7 to the difficulties Palestinians are facing in the Hamas-controlled Gaza Strip.
"So many people don't understand the context in which this Oct. 7 assault happened," said the Thelma & Louis star, trying to explain the Hamas massacre in which Palestinian terrorists murdered 1,200 people and kidnapped 240 others. "They don't understand the history of what has been happening to the Palestinian people for 75 years … it's time that Palestine be free."
The actress also said, "There are a lot of people that are afraid, that are afraid of being Jewish at this time, and are getting a taste of what it feels like to be a Muslim in this country." She apologized for her comments about Jews on Saturday but did not mention her remarks about Israel.
Sarandon was set to appear in PTO Films' short movie Slipping Away as Dr. Sylvia Mansfield, according to Page Six, which reported that the film was mentioned over the weekend on the actress' IMDB page in her "upcoming" projects list under "pre-production," but has since been removed. The thriller is about a schizophrenic who "struggles with his own psychosis and his wife's extramarital affair as the lines between his violent hallucinations and reality become increasingly blurred," according to the film's description on IMDB. Her role in the film was reported on in 2018.
This is the second hit to Sarandon's career following her comments at the "Free Palestine" rally. She was also dropped as a client by United Talent Agency.
Since the start of the Israel-Hamas war, Sarandon has shared a number of anti-Israel posts on social media. Even after the scandal following her comments at the rally in November, she has continued to criticize the Jewish state online. In one such message, shared on Tuesday on X/Twitter, she reposted a tweet that accused Israel of carrying out "a deliberate campaign of terror" in the Gaza Strip.
The post Susan Sarandon Dropped From Indie Film Consideration After Comments About Israel, Jews at 'Free Palestine' Rally first appeared on Algemeiner.com.