IDF Provides Sneak Peek Into Operational Activity of Specialized Intelligence Unit
i24 News — The Israel Defense Forces (IDF) on Monday afternoon revealed some of the operational activity of its Unit 504, within the Military Intelligence Directorate (AMAN), since the war with Hamas erupted on Oct. 7.
Unit 504 troops started fighting together with ad-hoc battalions that were the first responders to the Hamas surprise attack, during which the terrorist organization infiltrated Israel by land, sea, and air. The IDF troops were also active in helping civilians evacuate the area.
The military intelligence unit were active in gathering the findings of the attack, and the ensuing massacres carried out by Hamas terrorists, while in the field, which led to a new facility being opened in the southern area to conduct investigations in real time.
The investigations included interrogations of 300 terrorists, from all the terrorist organizations in the Gaza Strip, who provided locations of underground terror tunnels, headquarters, and ammunition depots, as well as exposing Hamas' methods of operation, and assimilation efforts within the civilian population.
"We received thousands of phone calls from collaborators, on orders of magnitude never before seen in the unit. It is evident that the residents of the Gaza Strip are not satisfied with the barbaric conduct of Hamas, the ordinary citizen understands that Hamas is bringing a disaster on the residents of Gaza that will be difficult for them to recover from," a senior official in Unit 504 was quoted in the IDF statement.
The statement explained the unit's four main goals as providing support for the ground operation, intelligence gathering to incriminate targets, leading the evacuation effort, and ensuring the civilian population in Gaza evacuate southward.
The unit operated a variety of tools, in an effort to evacuate the civilian population from the northern Gaza Strip, described as over 30,000 phone calls made in a short time, over 10 million text messages, over nine million recorded messages, as well as scattering about four million flyers and leaflets from the air and land calling on the population to evacuate.
"Each and every investigation leads to the incrimination of new locations and the human intelligence that emerges from the Gaza Strip and the interrogations of the captives in collaboration with the Shin Bet, is an inseparable layer of the complete intelligence picture. The information that emerges in the interrogations of the captives is very valuable," the official concluded about the efforts that led to over 300 new terrorist incriminations in Gaza and the elimination of over 100 targets.
The post IDF Provides Sneak Peek Into Operational Activity of Specialized Intelligence Unit first appeared on Algemeiner.com.
For Jewish teens in Asia, first BBYO convention in Singapore offers a rare sense of community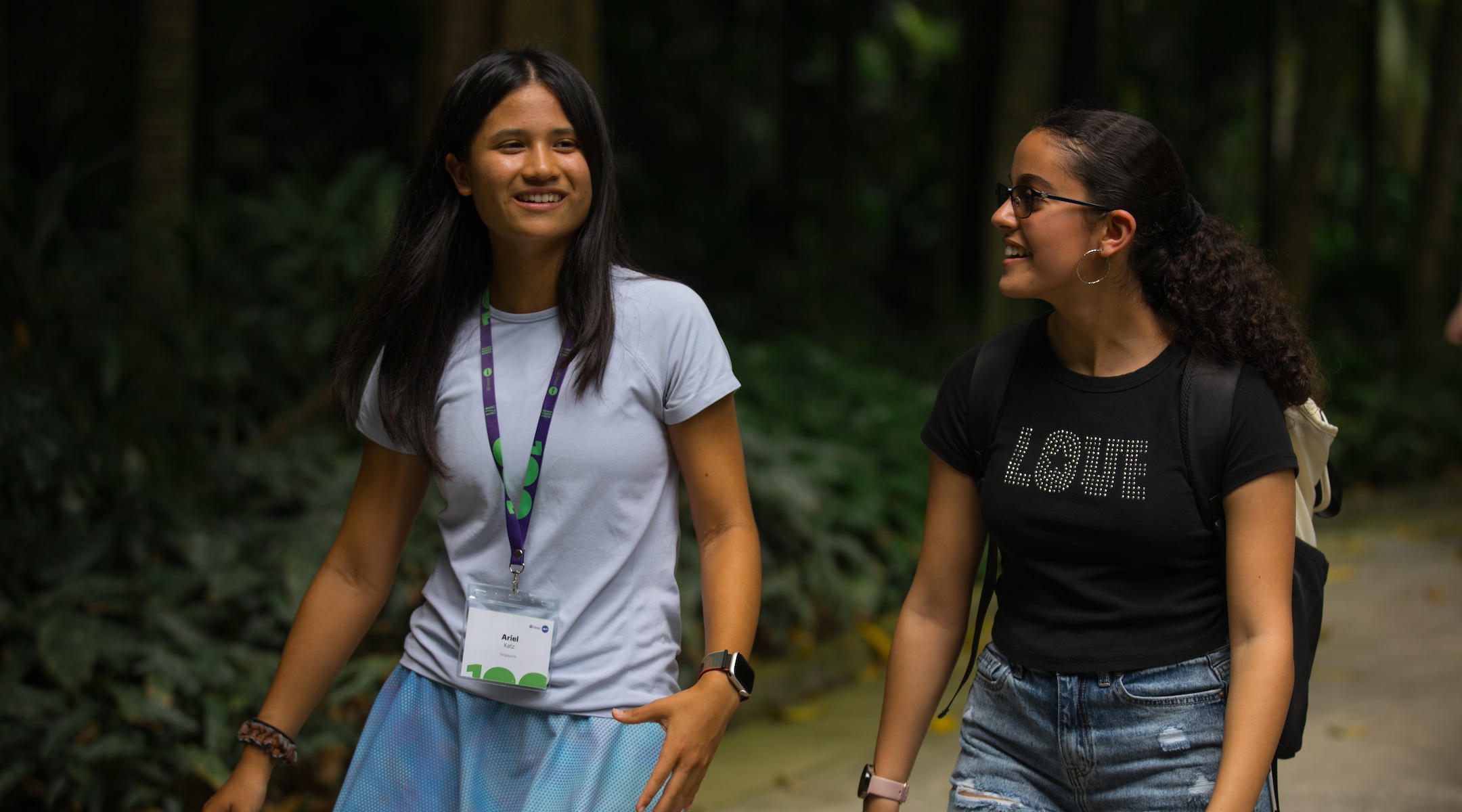 TAIPEI (JTA) — For a few years eight decades ago, Shanghai was home to an outpost of what would become BBYO, the global Jewish youth movement.
At the time, the Chinese city was a refuge for Jews fleeing Europe. Fifteen German Jewish teens created an Aleph Zadik Aleph chapter in June 1941, but when they left Asia after the war, the youth movement ended, too.
Now, the network of small but significant Jewish communities scattered across Asia has resurrected BBYO's presence on the continent. About 40 teens attended the group's conference in Singapore last week.
Over four days, they explored the city with their peers while learning how to launch their own BBYO chapters, host events and foster a sustainable community among Jewish teens in their own cities.
The event drew teens and lay leaders from Singapore, Taipei, Tokyo, Beijing, Shanghai and Hong Kong who otherwise would rarely have the opportunity to interact with one another and whose home communities have too few teens to mount much in the way of their own programming.
"The communities are small and they don't get a lot of the experiences available in the U.S.," said Ryan Ladd, BBYO's senior manager of digital strategy, who is based in Washington, D.C. "So this is an opportunity to level the playing field to make sure they have these Jewish experiences."
Asia can be a lonely place to grow up as a Jewish teen. Most are "third-culture kids," meaning that they are being raised in a culture that is not their parents', and while many come from diverse or international backgrounds, they're often the only Jews in their classrooms or schools.
The best part of the weekend for Emma Brownstein, a 13-year-old member of the Tokyo Jewish Community, was getting the opportunity to connect with other Jews from across Asia. She goes to an international school in Tokyo, where she knows a few other Jews, but being immersed in a large group her age was "really a new experience for me."
Participants explored some of Singapore's most famous sites like the Jewel Changi Airport and the Gardens by the Bay while participating in team-building exercises, community building workshops and discussions about their Asian Jewish identities. During a "Taste of Asia" oneg on Friday night, delegations shared some of their cities' trademark snacks.
"I think the trip really highlighted the importance of friendships and branching out and going out of your comfort zone to socialize with other people," Brownstein told JTA. "This was definitely a once-in-a-lifetime thing, especially in Asia, where there's not many other Jews."
The convention's programming reflected an explicit goal of forming and strengthening local BBYO chapters in Asian cities. Workshops on leadership, understanding one's own community and dreaming up activities that would engage fellow teens at home all aimed to ensure that the convention would not be a one-off event.
It was a vision that leaders of AZA — which became BBYO in 1944 when B'nai Brith, then the fraternity's partner, launched a girls division — first outlined back in 1941. "You have seen displayed before you more than the mere installation of a set of new officers – You have seen more than the mere unfurling of the Aleph Zadik Aleph banner in the Far East," an officer wrote in article in "The Shofar," BBYO's newspaper, at the time about the Shanghai chapter. "You have actually been present at the setting up of a new and vital milestone in the history of Far Eastern Jewry."
That milestone period came to a close at the end of World War II, when most Jewish refugees in Shanghai departed for America, Israel, Australia and other countries. BBYO again had no presence in Asia until 2017, when a chapter opened again in Shanghai. Other chapters opened in Singapore and Tokyo in 2021. Now ones are anticipated in Hong Kong, Taipei, and Beijing following the convention.
Rabbi Martha Bergadine, the education and programming coordinator for the United Jewish Congregation of Hong Kong — a progressive community of about 130 families, with about 20 total teens — says the six teens who attended the convention this weekend are already working to plan their first activity.
"It seems that the Jewish communities of Asia are at a point of becoming more established and more rooted," Bergadine said. "And I think in that sort of evolution, programmatic offerings get richer … this is going to be a key part of going forward, to provide these opportunities to the teens."
—
The post For Jewish teens in Asia, first BBYO convention in Singapore offers a rare sense of community appeared first on Jewish Telegraphic Agency.
Israel Reportedly Accelerating Deployment of Game-Changing Laser Aerial Defense System
i24 News — Israel over the past 15 years developed a sophisticated multi-layered defense system, which has been put into active duty as it faces aerial threats from terror groups such as Hamas, Hezbollah, various pro-Iranian militias in Syria, and the Houthis in Yemen.
Among the recent developments, the "Iron Beam" system from Rafael Advanced Defense Systems has stood out as a major innovation with a high-power laser to intercept rockets, anti-tank missiles, drones, and mortar shells.
More than a hundred Rafael engineers have reportedly been working on this project, considered one of the most significant technological challenges ever faced by the Israeli defense industries, in order to create a fast and effective interception system, with inexhaustible and near cost-free ammunition.
Recent tests of Iron Beam in the Negev have shown promising results, with the system successfully intercepting various airborne threats. The heart of the system is an electric laser pointer, capable of targeting and sending out a powerful laser beam, invisible to the naked eye.
Since the Israel-Hamas war erupted on Oct. 7, more than 10,000 projectiles have been fired at Israel, including 3,000 in the first hours of the conflict. Rafael and the Israeli Defense Ministry have considered the current operations as an opportunity to test the Iron Beam under real combat conditions.
In an interview with the Calcalist newspaper, one of Rafael's Iron Beam program managers expressed high ambitions for this new defense system, saying, "Our aim is to reach a state where the enemy feels totally powerless. He has to understand that our laser pointers, deployed where needed, intercept and destroy all his attacks, almost instantly after they are launched, long before they reach Israeli territory or threaten anyone else. In such a scenario, the activation of warning sirens might even become unnecessary."
The initial deployment of Iron Beam is scheduled for 2025, although its development is currently being accelerated for service as early as 2024. It is expected to complement the existing Iron Dome system, which costs around $50,000 to fire an interceptor missile, and would thus offer a more cost-effective defense option.
The post Israel Reportedly Accelerating Deployment of Game-Changing Laser Aerial Defense System first appeared on Algemeiner.com.
Age of ignorance: Phoebe Maltz Bovy on the connection between library-less-ness and disinformation