Iranian IRGC Commander Warns Israel to Expect Further Pogroms Like Oct. 7
The head of the Iranian regime's Islamic Revolutionary Guards Corp (IRGC) has warned Israel to expect more atrocities like those unleashed by Hamas during the Oct. 7 pogrom.
"Just as the al-Aqsa Storm came from a place the enemy did not calculate, they must wait for other storms that will reach them from where they do not figure out," Gen. Hossein Salami declared in a speech on Thursday in the city of Isfahan, using the official nomenclature chosen by Hamas to describe its onslaught in southern Israel last month that claimed the lives of more than 1,200 people and the seizure of over 200 hostages.
Salami argued that Palestinians in Gaza had created a "quagmire" for Israel and the US "not only on the battlefield but also in politics, intelligence, and security."
"Gaza will become a burial ground for the Zionists," Salami continued. "They used to fight inside fortifications and behind walls and thought that those walls would protect them from God's wrath, but God's punishment will reach them from where they don't expect."
He praised the Palestinians for having "learned from the Qur'an that … the path to happiness passes through the field of defense and patience in the face of adversity, and the promise of God's dawn, conquest, and victory will be fulfilled on this path." He predicted the demise of the American and Israeli "empires," saying that "whenever they act frenziedly it is a sign of their inner collapse because some animals make a lot of noise when they die."
Salami's speech came amid speculation that Iran and Hamas were at loggerheads over the Oct. 7 pogrom, with the Iranian regime's "supreme leader," Ayatollah Ali Khamenei, reportedly claiming that Hamas had not provided advance notice of the attack when he met with Hamas leader Ismail Haniyeh following the bloodshed.
According to a report by the Reuters news agency on Wednesday, three anonymous Iranian officials who were present at the meeting claimed that Khamenei told the terrorist leader, "You gave us no warning of your Oct. 7 attack on Israel and we will not enter the war on your behalf."
On Thursday, Hamas angrily pushed back against the report, depicting it as entirely fabricated.
"Such news is intended to destroy the image of Hamas and the Axis of Resistance in the region," Osama Hamdan, a senior member of the Hamas politburo, told the official Iranian news agency IRNA.
"Ayatollah Khamenei's meeting with Haniyeh was consistent with Iranian and Hamas' ongoing constructive ties," Hamdan insisted.
Iran is the main international sponsor of Hamas, providing the Palestinian terror group with funds, arms, and training.
The post Iranian IRGC Commander Warns Israel to Expect Further Pogroms Like Oct. 7 first appeared on Algemeiner.com.
1 dead, 5 wounded in shooting attack at Jerusalem checkpoint with long security lines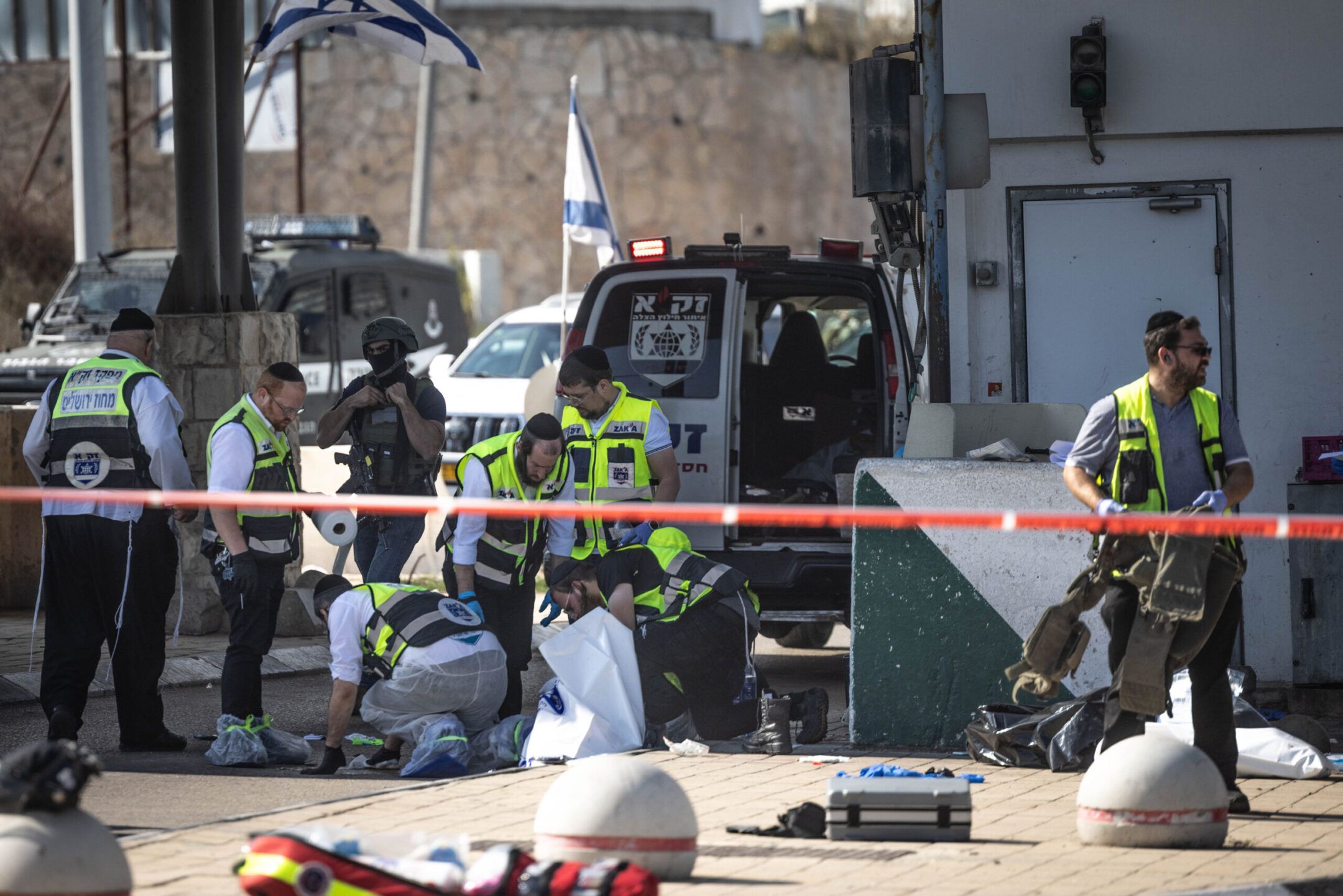 TEL AVIV (JTA) — Gunmen killed one soldier and injured five others Thursday in an attack at a West Bank checkpoint connecting Jerusalem and Israeli settlements to the south.
Israeli security sources say the attack was a failed attempt by Hamas, the Gaza-based terror group, to carry out a wider massacre in Jerusalem. Two of the attackers were from the southern West Bank city of Hebron, according to Israeli officials. In their car, security officials say they found outfits resembling IDF uniforms and enough weapons and ammunition for a larger-scale attack.
Following its Oct. 7 invasion of Israel, Hamas hoped to inspire attacks against Israelis in the West Bank. Since that date, the territory has seen a spike in violence, including an uptick in Israeli military raids on suspected terror cells. There has also been a rash of Israeli settler attacks on Palestinian villages, forcing their occupants out. Since Oct. 7, at least one other Israeli has been killed in a terror attack on a West Bank road, and more than 100 Palestinians have been killed, largely by Israeli forces.
Security at West Bank checkpoints has also increased since the war's outbreak, forcing Israeli motorists to wait in long lines. Perhaps ironically, those long waits leave the drivers exposed to shooting attacks like the one on Thursday, said Oded Revivi, mayor of the nearby West Bank settlement of Efrat.
"In order to make sure that whoever enters Jerusalem is safe, you can sometimes have a roadblock which goes back for a mile," Revivi told the Jewish Telegraphic Agency. "That is probably bigger, the amount of people that are stuck in there, than [live in] some of the Jewish towns in Judea and Samaria," a biblical term for the West Bank.
"So all of a sudden, that becomes a target. Anybody who wants to do harm can just go into that traffic jam, everybody's stuck in their cars, there is no first response unit there, there is nowhere to run away from," he added. "And so there are different scenarios which make the reality very scary and very worrying."
The soldier killed on Thursday was Corporal Avraham Fetena, 20, from Haifa. The five other people wounded were also members of security forces.
Israel's Shin Bet security agency identified one of the three terrorists, all of whom were killed during the encounter, as the 28-year-old son of Hamas' former head in Hebron, according to local reports.
The checkpoint where the shooting occurred leads to a tunnel highway in the southern West Bank that was built to shield Israeli drivers from terror attacks when commuting between Jerusalem and Israeli settlements. A second major tunnel is currently being added to ease traffic. During the Second Intifada, a large fence was also built to prevent shooting attacks on the new road to Jerusalem, which is restricted to Israeli vehicles and leads to the checkpoint.
But even prior to Thursday's shooting, Revivi said that local Israeli settlers' "sense of security has definitely been hit extremely hard," in spite of what he says is the "greatest army presence in the West Bank in the last 10 years."
The Israeli government is offering weapons and funding for West Bank settlements to ramp up security, and to equip them to fend off the kind of attack Israel experienced on Oct. 7. But Revivi said the state needs to do more to ensure the settlers' security.
"We have to understand at the end of the day that we only have one army, they're the ones who's supposed to provide security for all these different scenarios," Revivi said. "And there's absolutely no way that we can provide ourselves the level of security to the most extreme scenario based on civilian funds."
—
The post 1 dead, 5 wounded in shooting attack at Jerusalem checkpoint with long security lines appeared first on Jewish Telegraphic Agency.
Anti-Israel Protester Arrested for Allegedly Killing Elderly Jewish Man at California Rally
Police in California on Thursday arrested community college professor Loay Alnaji and charged him with involuntary manslaughter for his alleged role in the death of an elderly Jewish man during dueling demonstrations held over the Israel-Hamas war in a Los Angeles suburb earlier this month.
The Ventura County Sheriff's Office said in a statement that Alnaji, 50, will be booked at a detention facility in the county and bail will be set at $1 million.
Paul Kessler, 69, died on Nov. 6 at Los Robles Regional Medical Center in Thousand Oaks, California, after succumbing to injuries caused by "blunt force head trauma" suffered the prior day, Ventura County medical examiner Dr. Christopher Young confirmed last week.
During an altercation with someone whom police previously described as a "pro-Palestine" protester, Kessler, who had been waving an Israeli flag, fell backward and hit his head on the ground.
The Jewish Federation of Greater Los Angeles has said that an anti-Israel protester struck Kessler in the head with a megaphone during the Nov. 5 confrontation.
Young confirmed that Kessler did have injuries to his face, but the medical examiner and the police declined to comment on how they were caused and what immediately preceded Kessler hitting his head on the ground.
This week, photos emerged online showing Alnaji holding a megaphone that is believed to have been used in the alleged assault that caused Kessler's fall.
Alnaji's arrest came over a week after the Ventura County Sheriff's office, citing conflicting witness accounts of the altercation and a lack of video documentation, claimed there was insufficient evidence to begin criminal proceedings against any suspect.
Before Thursday, police had only briefly detained Alnaji during a traffic stop while a search of his home in Moorpark — a city in Ventura County — was conducted with a warrant. Authorities at the time declined to confirm the identity of Alnaji or anyone else as a potential suspect.
"Though an arrest has been made, we continue to encourage community members who may have information about this criminal investigation and have yet to come forward to please contact Detective [Corey] Stump at 805-384-4745," the Ventura County Sheriff's Office said in Thursday's statement.
StopAntisemitism, a nonprofit that tracks antisemitic incidents around the world, reported last week that Alnaji has shared pro-Hamas content on social media, including a video in which activist Shahid King Bolsen, who in 2006 was convicted of killing a German engineer in Dubai, said the Palestinian terrorist group will be remembered as civil rights heroes.
Alnaji has also reportedly posted on his Facebook and YouTube pages statements that said "O Allah, release the captivity of the Al-Aqsa Mosque" and "Oh, God, give victory to your weak servants in Palestine, and everywhere."
The Ventura County Sheriff's office has said it has not ruled out the possibility that Kessler's death was a hate crime.
Alnaji teaches computer science at Ventura Community College in California.
Follow Dion J. Pierre @DionJPierre.
The post Anti-Israel Protester Arrested for Allegedly Killing Elderly Jewish Man at California Rally first appeared on Algemeiner.com.
Canadian dispatches from Israel at wartime: Lawrence Witt saw the best of Israel from inside a mobile food truck