Israel's war has spurred thousands of haredi Israelis to volunteer, cook — and serve in the army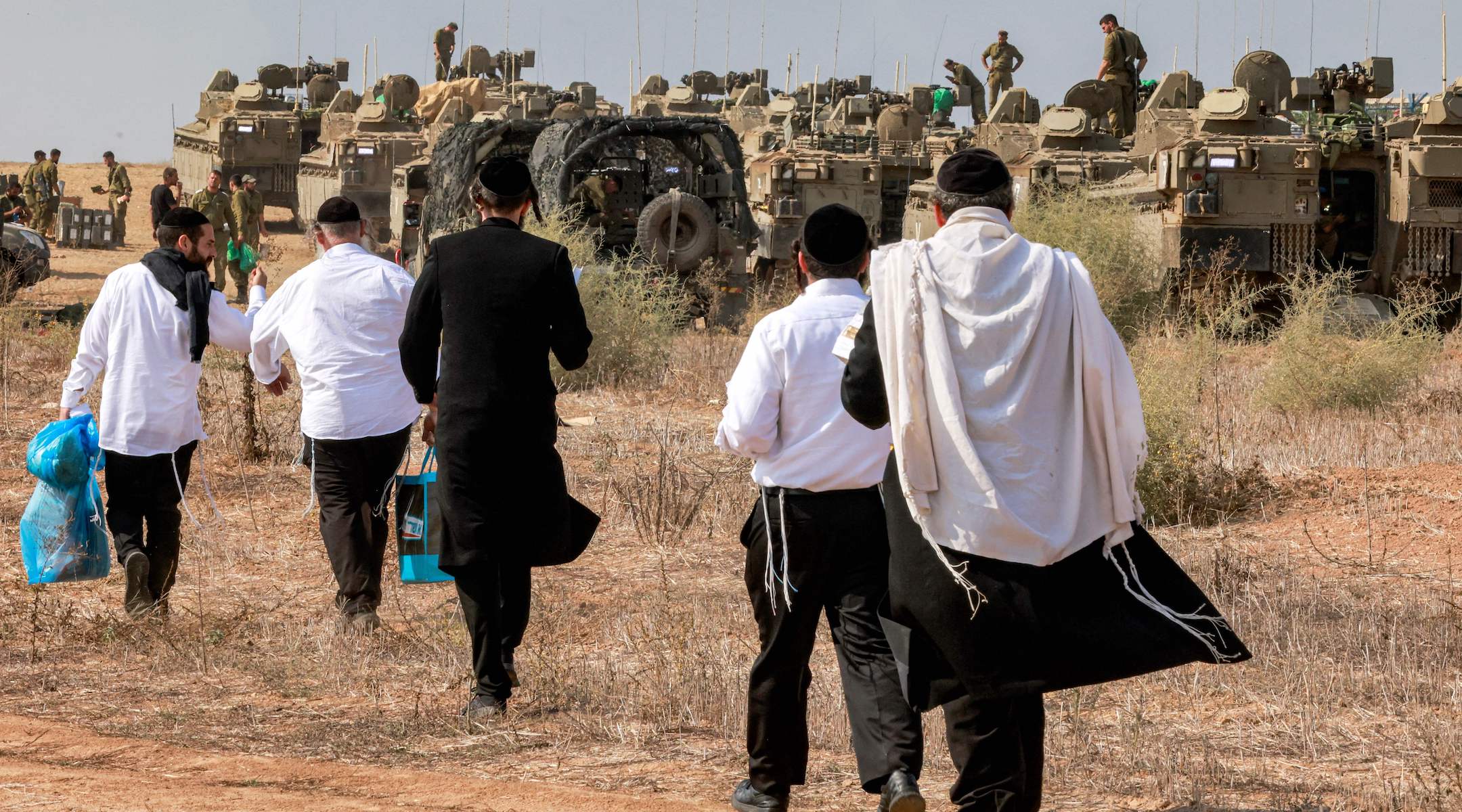 BNEI BRAK, Israel (JTA) —  The walls of the Ponevezh Yeshiva, in this haredi Orthodox city outside of Tel Aviv, are lined with decorative windows bearing the names of Eastern European Jewish communities destroyed during the Holocaust.
The yeshiva, a major educational institution and center of haredi, or ultra-Orthodox, life in Israel, has a history colored in tragedy. Founded in a Lithuanian city of the same name, the yeshiva was shuttered and reestablished in B'nei Brak in 1944 when many of its students and faculty were murdered in the Holocaust. 
But last week, its students had a more recent tragedy in mind. As they finished Mincha, the afternoon prayer service, they recited Psalm 130 line by line, all chanting together, "From the depths I have called to you, God." 
Ponevezh's students recited the psalm, a traditional Jewish response to times of crisis, as a plea in the wake of Hamas' Oct. 7 attack on Israel, which killed and wounded thousands, largely civilians. After the attack, Israel declared war on the terror group and issued its largest military reserve callup in history, leading hundreds of thousands to don uniforms in a mass mobilization that has changed day-to-day life in Israel. 
The attack and the war have also changed haredi society. Historically, few haredi men serve in the Israel Defense Forces, receiving an exemption from the country's mandatory draft so that they can study Torah full-time at institutions such as Ponevezh. Some haredi communities in Israel disavow Zionism entirely out of the belief that Jews should hold sovereignty in the land of Israel only by divine ordination.
But in the wake of Oct. 7, thousands of haredi men have signed up for military service, and many more haredim have undergone their own mobilization — setting up aid operations to help soldiers and embattled communities alike. That mass eagerness to contribute, haredim say, comes from a culture of mutual aid in haredi society as well as a historical identification with the enormity of Jewish tragedy. 
"The haredi community is understanding that as a nation it is important to learn Torah, but also that there is another nation that wants to destroy all of us because we are Jews, like in the Holocaust," said Chemi Trachtenberg, 21, a haredi man who enlisted in the IDF at age 18 like his secular and religious Zionist peers. Referring to Israeli Prime Minister Benjamin Netanyahu, he said, "It doesn't matter if you like Bibi or not, if you like the haredim or not. At the end of the day they want to kill us and we need prayers and weapons." 
Debate over whether or not haredi men should be drafted into the IDF has riven Israeli politics and society for decades and has contributed to the rise and fall of multiple governments. As of now, the vast majority do not join the military. Last year, fewer than 10% of eligible haredi men were drafted into the IDF, as opposed to more than 80% of non-haredi Jewish men. (Arab Israelis also receive a blanket exemption from the draft.)
But since Oct. 7, more than 3,000 haredi men have volunteered to serve in non-combat roles such as the army's medical units or the Home Front Command, which addresses national emergencies and operates services such as sirens warning of incoming rocket fire. One of the new recruits is Yaki Adamker, 33, a media personality who recently made waves after announcing on television that he would enlist after the Oct. 7 massacre.
"I believe that those who are learning from morning to night — they should continue to learn, this is my faith," he said. "After all we went through, I asked myself, 'Where am I? Why can't I serve?' Somewhere there was a black hole in me that I had to fill."
He added, referencing the age when haredim age out of a technical requirement to complete military service, "People over 26 feel like they can't stand on the side and simply observe." He plans to serve in the military reserves once this war is over as well. 
Rabbi Moshe Rabad, who grew up in the haredi community before enlisting in the military and serving as chief rabbi of the Air Force, helped the IDF create pathways for older haredi men to enlist and says he started getting inquiries almost immediately after Hamas' attack.
"I turned to the army and they said to me, 'If you bring us a list of 50 Haredim who agree, we will open something for you,''' he said. "This was last Tuesday at 4 p.m. We set up a meeting for 9 p.m. and I brought them a list of 300. By the beginning of the week I had 1,000 and people continue to sign up to help the army with whatever they need." 
Even more widespread than the haredi enlistment wave are a range of haredi-led initiatives to aid soldiers and civilians by cooking thousands of meals, ferrying goods and people around the country and helping out with social services in other capacities. Some haredi Israelis have organized to serve the hundreds of grieving families by helping conduct funerals and provide for shiva, the weeklong mourning period following burial. 
"Israel is uniting on the way to victory," reads a large banner ad at the top of Kikar HaShabbat, a leading haredi news website. "The IDF's soldiers are fighting for us, and we, the haredim, are assembling to assist in any way."
The banner ad links to an online form that asks volunteers a series of questions: Do you have a driver's license? Do you have a car? Can you volunteer from home, an office, or another location? What type of volunteering do you want to do? The options include social media work, housing families evacuated from Israel's border regions, medical work, guard duty, babysitting, food service and several more.  
Such efforts span the gamut of Israel's religiously and politically diverse haredi communities. Akiva Weiss, a haredi journalist, took note that the "very conservative" Vizhnitz Hasidic movement "came to the hospital to cheer up the wounded and comfort the mourning." 
The war has also changed the schedules of haredi yeshivas. In addition to the recitation of Psalms, explains haredi journalist Yanki Farber, yeshivas canceled the remainder of an annual vacation period that lasts until the beginning of the Hebrew month of Heshvan, more than a week after the massacre occurred. 
"The rabbis ruled that it is impossible for the state to be fighting and people to go on outings," Farber said. "They told everyone to return to yeshiva," where students and rabbis alike believe that Torah study provides spiritual protection for Israel.
Rabbinic decrees have addressed the war in other ways, guiding religiously observant Israelis in everything from carrying guns on Shabbat to whether homemade food made for soldiers should be considered kosher.
One reason haredim are eager to enlist in the military and volunteer, Farber said, is that the Oct. 7 attack directly affected haredi communities in southern Israeli cities such as Ofakim and Netivot, where some of the victims were haredi. And haredi soldiers have been killed in the fighting. Trachtenberg recalled the story of a French immigrant and haredi soldier named Binyamin Lev, whose last name means "heart," and who was killed on Oct. 7. 
"He was truly all heart and he was murdered by terrorists," he said. "It is beautiful to see that people come from around the world to help us."
Not everyone in the haredi community is pleased with the dramatic changes that are signaling a growing rapprochement between haredim and the military, and that may lead to the arming of haredi Israelis with weapons. Tzipi Lavi, a haredi feminist activist, is critical of the army's special recruitment efforts that exclude haredi women. One exception, she said, is a separate project of the army, to create civil guard units in haredi cities, which has accepted women. 
"They have not allowed women to draft," she said, referring to the direct call for haredi men to enlist. "Many women tried to help but were refused."
Lavi is especially concerned with efforts by Itamar Ben-Gvir, the far-right national security minister, who has called on Jewish Israelis to arm themselves with weapons and was filmed delivering boxes of rifles to haredi men in the town of Elad. She noted an increased danger of domestic violence.
"It bothers me to see people treating guns like a toy and dispersing weapons like rolls of bread," she said. "The chance that people will die, mainly women, is higher than the chance that women will be saved by these weapons." 
Lavi is active in Nivcharot, a movement that advocates for haredi women to hold elected office, and is part of the centrist Yesh Atid party, which was founded in part to push for haredi inclusion in the mandatory draft. She hopes to see haredi women run for office and win following the war. 
"I very much hope that in the next Knesset there will be Haredi women elected on the liberal party lists," she said. "Haredi women can be the bridge between the haredim and liberals and Haredim and feminists, because they speak both languages and they understand how the values of both communities are important. And they can be the thread that connects the two worlds."

Lavi isn't alone in thinking about how the current moment in haredi communities will carry over to after the fighting. Sruli Shatz, who owns a deli in Bnei Brak serving cholent and other Eastern European Jewish delicacies, hopes "all the division" the country has experienced will recede into the past.

His wish, he said, is that "after the victory of the Jews, we will continue to be unified."
—
The post Israel's war has spurred thousands of haredi Israelis to volunteer, cook — and serve in the army appeared first on Jewish Telegraphic Agency.
Javier Milei cites Hanukkah story, gives menorah to Zelensky during inauguration as Argentina's president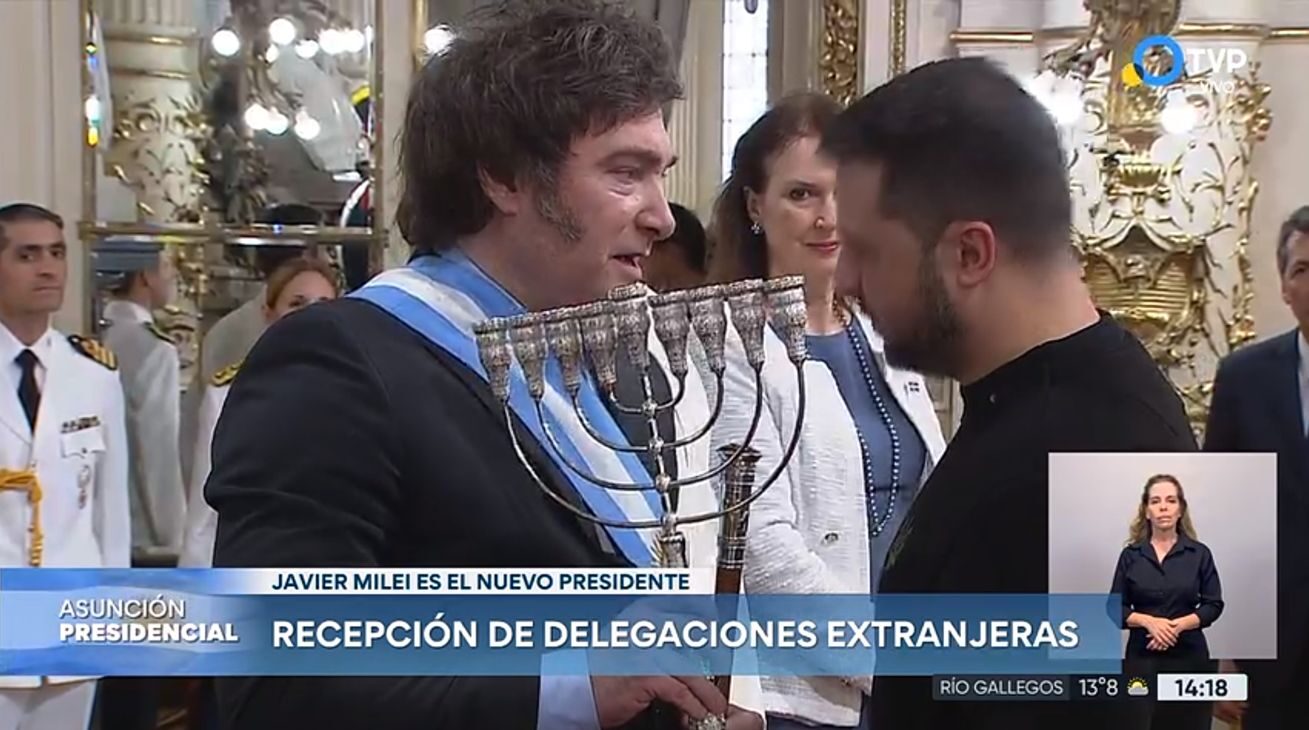 (JTA) — Javier Milei invoked the story of the Maccabees in his inaugural address as Argentina's president on Sunday, extending the right-wing populist's prominent fascination with Judaism as he celebrated his own improbable victory.
"It is not by chance that this assumption takes place in the holiday of Hanukkah, the festival of light, and that the same celebrates the true essence of freedom," Milei said during his speech on the steps of the parliament building in Buenos Aires. "The war of the Maccabees is the symbol of the victory of the weak over the powerful, of the few over the many, of the light over darkness and overall of the truth over untruth."
Milei, 53, defied expectations when he was elected last month. A self-declared "anarcho-capitalist" who was the most right-wing of the five candidates, he ascended rapidly over the last year as he assailed the outgoing government, saying that its policies had fueled unemployment and inflation.
He delivered his speech with his back to the country's lawmakers, in a break with tradition allowing him to face a large rally outside the parliament building.
Toward the tail of his speech warning Argentineans to prepare for a difficult economic reforms, he said he recalled how he and his now-vice president, Victoria Villaruel, had initially been told that their two-year-old political party, Freedom Advances, would have little influence.
"We were told we couldn't do anything because we were only two in 257 congressmen," he said. "And I also remember that my answer that day was a quote from the Book of Maccabees, 3:19, that goes: It is not the size of the army that victory in battle depends on, but strength comes from heaven."
The speech was in keeping with Milei's unusual relationship with Judaism. The non-Jewish economist has been studying with an Argentinean rabbi and has said he is interested in converting, though he says he does not see the role of president as compatible with Jewish observance. He visited the grave of the Chabad-Lubavitch rabbi in New York City in his first trip abroad after being elected and has vowed to make Israel — where he promised to move Argentina's embassy from Tel Aviv to Jerusalem — his first foreign destination as president.
At campaign rallies, Milei has often walked on stage to the sound of a shofar, and in one of his final public appearances before the election, Milei was seen waving an Israeli flag among a large crowd in Rosario.
One Israeli flag was visible amid the sea of Argentinean flags at his speech in footage of the inaugural event broadcast to Argentineans.
Milei, whose term will last four years, was flanked by world leaders, including the king of Spain; Chilean President Gabriel Boric, a left-wing critic of Israel; Hungarian Prime Minister Viktor Orban, a populist who cruised to a fourth term last year; and Ukraine's president, Volodymr Zelensky, who was making his first trip to Latin America since Russia attacked his country in February 2022. Jair Bolsonaro, the populist leader recently unseated in Brazil, also attended.
Milei handed a menorah to Zelensky, who is Jewish, after the two leaders greeted each other warmly outside Casa Rosada, the country's government headquarters, in a handoff captured on the live TV broadcast of the ceremony. Zelensky has embraced Milei as he has sought to build support for Ukraine in Latin America.
On Saturday night, on the eve of his inauguration, Milei met with a group of relatives of Israeli hostages kidnapped in Gaza since Oct. 7, lighting the Hanukkah candles with them and Israeli Foreign Minister Eli Cohen, who was in the country for the inauguration.
—
The post Javier Milei cites Hanukkah story, gives menorah to Zelensky during inauguration as Argentina's president appeared first on Jewish Telegraphic Agency.
Moroccans Demand Halt to Ties with Israel
Moroccans waving Palestinian flags took to the streets of the capital Rabat on Sunday calling on the government to cut ties with Israel in protest against Israel's military campaign against the terrorist group Hamas in the Gaza Strip.
Protests against Israel's war in Gaza have repeatedly drawn thousands of people in Morocco since the conflict began two months ago, mostly led by pan-Arab and Islamist groups.
Sunday's march by about 3,000 protesters was the first to have been led by the PJD — Morocco's biggest Islamist party which led the elected government from 2011 until 2021 — a sign the movement is growing more vocal in opposition.
Protesters chanted "Palestine is not for sale," "Resistance go ahead to victory and liberation" and "the people want an end to normalization," referring to the policy of Morocco and other Arab states normalizing ties with Israel.
Israel vowed to annihilate Hamas, which has ruled Gaza since 2007, after Hamas terrorists burst across the fence on Oct. 7 and went on a rampage through Israeli towns, gunning down families in their homes, killing 1,200 people and seizing 240 hostages.
Since then, Hamas-controlled health authorities in Gaza say thousands of people have been killed during Israel's military campaign, although experts have cast doubt on the reliability of casualty figures coming out of Gaza.
Morocco agreed to strengthen ties with Israel in 2020, under a deal brokered by the US administration under then President Donald Trump that also included Washington recognizing Moroccan sovereignty over the disputed territory of Western Sahara.
Despite their policy of normalizing ties with Israel, Moroccan authorities have said they continue to back the creation of a Palestinian state and have urged a permanent ceasefire in Gaza and the protection of all civilians there.
Islamist and leftist parties and groups in Morocco have increasingly spoken out against the normalization policy since the start of the war in Gaza on Oct. 7.
Protesters on Sunday also called for a boycott of brands they accuse of supporting Israel.
"We call on Morocco to end diplomatic relations with Israel," said Ahmed El Yandouzi, as he was queuing to sign a petition with a Palestinian scarf around his neck.
Although Morocco and Israel have not yet completed the process of setting up full embassies in each other's countries as they agreed to do, they have moved closer together, signing a defense cooperation pact.
The PJD was in office when Morocco agreed the normalization deal with Israel, with its then leader Saad Dine El Otmani signing it as prime minister, but the policy was ultimately set by King Mohammed, who sets overall strategy.
The new PJD leader, Abdelilah Benkirane, has said signing the agreement was a mistake.
The royal court has previously asked the PJD to stop criticizing Morocco's ties with Israel.
The post Moroccans Demand Halt to Ties with Israel first appeared on Algemeiner.com.
Violence Escalates Between Israel, Lebanon's Hezbollah
Violence escalated at Lebanon's border with Israel on Sunday as the terrorist group Hezbollah launched explosive drones and powerful missiles at Israeli positions and Israeli air strikes rocked several towns and villages in south Lebanon.
Israel and the Iran-backed Hezbollah have been trading fire since the war in Gaza erupted two months ago, in their worst hostilities since a 2006 conflict. The violence has largely been contained to the border area.
Israeli attacks in south Lebanon included air strikes on the town of Aitaroun which destroyed and damaged numerous houses, Lebanon's National News Agency said. It did not say if there were any casualties.
The Israeli army did not immediately respond to a request for comment.
Senior Hezbollah politician Hassan Fadlallah, in a statement sent to Reuters, said Israeli air strikes were a "new escalation" to which the group was responding with new types of attacks, be it "in the nature of the weapons (used) or the targeted sites."
The Israeli army earlier said "suspicious aerial targets" had crossed from Lebanon and two were intercepted. Two Israeli soldiers were moderately wounded and a number of others lightly injured from shrapnel and smoke inhalation, it said.
Israeli fighter jets carried out "an extensive series of strikes on Hezbollah terror targets in Lebanese territory," it said. Sirens sounded in Israel at several locations at the border.
In Beirut, residents saw what appeared to be two warplanes streaking across a clear blue sky, leaving vapor trails behind them.
Hezbollah statements say its attacks aim to support Palestinians in the Gaza Strip.
Senior Hezbollah official Sheikh Ali Damoush said in a speech on Sunday the group would continue in its effort to "exhaust the enemy, and will not stop unless the aggression against Gaza and Lebanon stops."
Israeli Prime Minister Benjamin Netanyahu has warned that Beirut would be turned "into Gaza" if Hezbollah started an all-out war.
In one of several attacks announced by Hezbollah on Sunday, the group said it had launched the explosive drones at an Israeli command position near Ya'ara. In another, Hezbollah said it had fired Burkan (Volcano) missiles, which carry hundreds of kilograms of explosives.
Israeli air strikes were also reported on the outskirts of the Lebanese village of Yaroun, not far from the location of another of the Israeli positions Hezbollah said it had targeted on Sunday.
Those air strikes broke windows of houses, shops and a school in the nearby village of Rmeich, Toni Elias, a priest in Rmeich, told Reuters by phone.
Violence at the border has killed more than 120 people in Lebanon, including 85 Hezbollah fighters and 16 civilians. In Israel, the hostilities have killed seven soldiers and four civilians.
The post Violence Escalates Between Israel, Lebanon's Hezbollah first appeared on Algemeiner.com.