Jewish MLB star Ryan Braun headlines International Jewish Sports Hall of Fame's 2024 inductees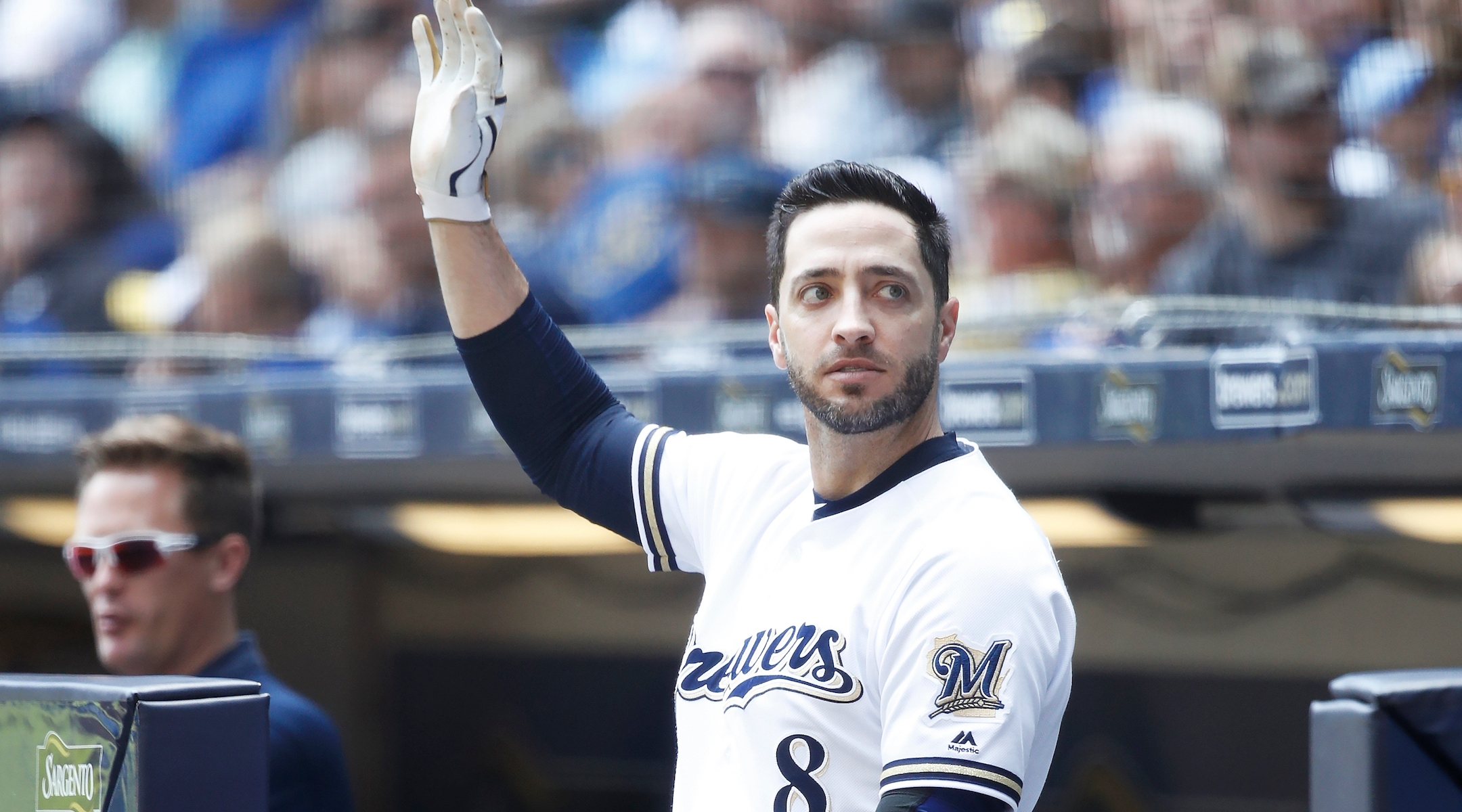 (JTA) — Ryan Braun has no shortage of career accolades. The 14-year MLB veteran, who retired in 2021, won an MVP award and slugged 352 home runs.
Now the longtime Milwaukee Brewer and all-time Jewish home run leader can add another accomplishment to his resume: the 39-year-old is among the 15 sports figures in the 2024 induction class of the International Jewish Sports Hall of Fame.
The new class features athletes, coaches and media members representing sports ranging from baseball and soccer to fencing, swimming, ice and field hockey and more. Honorees hail from the United States, Israel, Canada and Argentina.
"I'm very excited about the class, how classy they are, their accomplishments," said Jed Margolis, chairman of the hall of fame. "It really speaks so well to what an impact people have made in the world of sports. And at this venture in time, we really need some good news as Jewish people."
Housed at the Wingate Institute for Physical Education and Sport in Netanya, Israel, the hall is one of many Jewish sports halls of fame around the United States and Israel seeking to celebrate Jewish success in sports and push back against stereotypes about Jewish athleticism — such as the infamous "Airplane!" scene.
Margolis said the 15 inductees were chosen from more than 150 nominees. Margolis narrows the list to around 25 finalists, who are then voted on by a selection committee of sports experts from around the world. Longtime Israeli athlete, sports leader and broadcaster Gilad Weingarten is this year's recipient of the hall's award of excellence.
The 2024 class brings the hall's total to 463 members since its inauguration in 1981. The group will be honored at an induction ceremony in July 2025. Inductees are announced annually, but the ceremony itself is held every four years, when the Maccabiah Games take place in Israel.
At the 2025 ceremony, Margolis said, the hall will also mark the 80th anniversary of the liberation of the concentration camps by honoring athletes who were murdered in the Holocaust and those who survived and went on to enjoy Olympic-level sports careers.
"We have so many world record holders, so many gold medalists at the Olympics and champions in their sport, like a Ryan Braun, who even had more home runs than Hank Greenberg," said Margolis. Braun was also suspended in 2013 over a performance-enhancing drugs scandal.
"There's just so much good stuff going on for our people, that it's an opportunity to recognize the accomplishments of some very incredible people," Margolis added, "and we have so much to be proud of."
Margolis, who has worked in sports with organizations such as Maccabi USA and the JCC network for nearly 50 years, said he tries to personally call each inductee to share the news — which is often received with similar reactions of gratitude.
Margolis recounted that when he spoke to Braun, who is also a member of the Southern California Jewish Sports Hall of Fame, the former outfielder was out with his children.
"I said, 'I'm sorry for bothering you during your quality time with your children,'" Margolis recalled. "He said, 'This is very worthwhile. My father was born in Israel. It means so much to me. And I'm very touched by it.' And that's been the general reaction from people. They're very excited, very touched."
Read on to meet the International Jewish Sports Hall of Fame's 2024 class, listed alphabetically.
Aleksandr Averbukh, track and field
Born in the Soviet Union, Alex Averbukh is a decorated decathlete who won multiple international gold medals in pole vault. Averbukh, 49, began representing Israel in 1999, beginning a 14-year run where he won gold medals at the the 2000 European Indoor Championships, the 2002 and 2006 European Championships and the 2013 Maccabiah Games. His 2013 win in Israel came four years after Averbukh had officially retired from the sport. He also competed at the Olympics in 2000, 2004 and 2008.
Skip Bertman, baseball
Stanley "Skip" Bertman, 85, is one of the best baseball coaches in NCAA history. In 18 years as the head coach of Louisiana State University's baseball team, Bertman led the Tigers to five College World Series championships and seven Southern Conference titles. Bertman earned 870 career wins, and his .754 winning percentage in NCAA tournaments is an all-time college baseball record. Bertman — who had Russian and Estonian immigrant parents — also coached at the 1988 and 1996 Olympics, where he led the U.S. team to a bronze medal in the latter tournament, and at the 1999 Pan American Maccabi Games.
Ron Bolotin, swimming
After losing one of his legs as a result of a landmine explosion he experienced during his service in the Israel Defense Forces, the Jerusalem native went on to a successful career as a paralympic swimmer. Bolotin earned 11 medals at six Paralympic Games between 1980 and 2000, winning three gold medals, five silvers and three bronze. Bolotin also won the 1976 Israeli National Championship for the butterfly stroke, as well as three European Championships gold medals between 1979 and 1990. At the 1979 European Championship, Bolotin set a world record for the 100-meter butterfly.
Ryan Braun, baseball
Ryan Braun is one of the best Jewish baseball players of all time. A six-time All-Star with an MVP and Rookie of the Year to his name, Braun finished his 14-year career with 352 home runs, 21 more than Hall of Famer Hank Greenberg. Braun's father was born in Israel and lost family in the Holocaust. He is also one of many former and current Jewish players to speak out in support of Israel since war broke out last month. His legacy comes with an asterisk.
Michael Cammalleri, ice hockey
Mike Cammalleri played for five NHL teams over a 15-year career from 2002 to 2018. Cammalleri, whose maternal grandparents were Holocaust survivors, scored at least 25 goals six times, with 294 total career goals and 348 career assists. He represented his native Canada four times, winning bronze and silver medals at the 2001 and 2002 World Junior Championships, respectively, and a gold medal at the 2007 Men's World Ice Hockey Championships.
Linda Cohn, sportscaster
Linda Cohn is a longtime ESPN broadcaster who has anchored the network's flagship program "SportsCenter" since 1992. She made history with ABC in 1987 when she became the first American woman to anchor a national radio network full-time. At ESPN, she has hosted national coverage of baseball, hockey, and men's and women's basketball. The former collegiate ice hockey goalie has won numerous media awards and is also in the SUNY Oswego sports hall of fame. In her 2008 memoir "Cohn-Head: A No-Holds-Barred Account of Breaking Into the Boys' Club," Cohn writes about her decision to play a hockey game on Yom Kippur — much to her mother's disappointment.
Eli Dershwitz, fencing
This summer, Eli Dershwitz, 28, became the first American man to win an individual world championship in sabre fencing. The two-time Olympian is the grandson of Holocaust survivors and won two gold medals at the 2017 Maccabiah Games in Israel. The Boston-area native and Harvard University alum has also won four gold medals at the Pan American Championships, three at the Pan American Games and one at the Junior World Championships. He became the youngest-ever winner of the U.S. senior men's sabre championship when he won the title in 2014. He is currently ranked No. 1 in the USA and third in the world in men's senior sabre.
Jonathan Erlich, tennis
Jonathan "Yoni" Erlich is a former Israeli tennis star who was best known as doubles partners with fellow inductee Andy Ram. Together they became known as "Andyoni" and are the only Israeli team to ever win a grand slam tournament — the 2008 Australian Open men's doubles title. Erlich earned his career-high doubles ranking that year, at No. 5. He reached 44 doubles finals in his career, winning half of them. Erlich also competed with Novak Djokovic at the 2010 Queen's Club Championships, which is Djokovic's only career doubles title. Erlich and Ram represented Israel at the 2004 and 2008 Olympics, reaching the quarterfinals in 2004.
Abigail Hoffman, track and field
Abby Hoffman, 76, is a four-time Olympic runner who won gold medals at numerous international tournaments, including the Pan American Games and the British Empire and Commonwealth Games. Hoffman won Canada's national 800-meter championship eight times and set several Canadian and North American records in the 800- and 1,500-meter events. She won two gold medals at the 1969 Maccabiah Games, and she is a member of Canada's Sports Hall of Fame and the Jewish Canadian Sports Hall of Fame. Hoffman was also the first woman to lead Sport Canada, a federal government sports agency, and in 1981 was elected the first woman to serve on the executive committee of the Canadian Olympic Committee.
Giselle Kañevsky, field hockey
Giselle Kañevsky, 38, is an Argentine professional field hockey player and longtime national team member who has won numerous international competitions, including the 2010 World Cup. The Buenos Aires native trained at the Hacoaj sport club, where several Jewish Argentine athletes, including tennis star Diego Schwartzman, have also played. Kañevsky was a member of national teams that won bronze medals at the 2006 World Cup and the 2008 Olympics. She has also played professionally in the Netherlands.
Aaron Krickstein, tennis
Aaron Krickstein, 56, became the youngest player to reach the top 10 in the Association of Tennis Professionals (ATP) rankings when he accomplished the feat in 1985. He reached his career-high ranking five years later at No. 6. Krickstein won nine ATP tournaments and reached the semifinals at the 1989 U.S. Open. In 1983, Krickstein set an ATP record as the youngest player to win a singles title, which he earned at 16 years old in Tel Aviv. Both of his ATP records still stand. Krickstein told the Jerusalem Post last year that "For me, Jewish tradition means a lot."
Andy Ram, tennis
The other half of "Andyoni," Andy Ram, 43, was the first Israeli to win a Grand Slam event, in doubles at Wimbledon in 2006. He also won the 2007 French Open in doubles and the 2008 Australian Open in doubles with Erlich. His career-high ranking in doubles was No. 5 in the world, in 2008. He won 19 ATP doubles tournaments and was a runner-up in another 18. Ram competed in the 2004, 2008 and 2012 Olympics and in every Davis Cup tournament from 2000 to 2014.
Mitchell Schwartz, football
Mitchell Schwartz, 34, is a former Super Bowl Champion offensive tackle who played nine seasons in the NFL with the Cleveland Browns and Kansas City Chiefs. He was drafted 37th overall by the Browns in 2012 and was named to the NFL's All-Rookie team that season. He did not miss a snap for 121 consecutive games over eight seasons, which at the time was a record. Scwhartz and his brother Geoff were the first Jewish brothers to play pro football since Ralph and Arnold Horween in 1923. In 2016, they also published a book "Eat My Schwartz: Our Story of NFL Football, Food, Family, and Faith," which put their Jewish background front and center. "My size comes from a childhood that included an excess of matzah ball soup, latkes and tons of white rice," the 6-foot-6, 340-pound player once told the Jewish Telegraphic Agency.
Ellen Weinberg-Hughes, ice hockey
Ellen Weinberg-Hughes, 55, a three-sport star at the University of New Hampshire, won a silver medal with the U.S. women's national team at the 1992 Women's World Championship. She is also a member of the UNH Athletic Hall of Fame. Weinberg-Hughes additionally worked in broadcasting, including as a sideline reporter for ESPN during the 1999 FIFA Women's World Cup. Her husband Jim is also a former hockey player who has worked for multiple NHL teams. Her three sons — Jack, Quinn and Luke — are all current stars in the NHL, where they made history as the first three American siblings to get drafted in the first round.
Sara Whalen, soccer
Sara Whalen, 47, is one of the more accomplished Jewish women in U.S. soccer history. She was a key player on the U.S. Women's National Teams that won the 1999 FIFA World Cup and a silver medal at the 2000 Olympics. Whalen was a three-time All-American at the University of Connecticut, where she also won the 1997 player of the year award from the United Soccer Coaches association and in her senior season won the Honda Sports Award as the nation's top soccer player. She was a founding player in the now-defunct Women's United Soccer Association.
—
The post Jewish MLB star Ryan Braun headlines International Jewish Sports Hall of Fame's 2024 inductees appeared first on Jewish Telegraphic Agency.
BBC News Promotes False and Defamatory Lies About 'Genocide' and 'War Crimes' in Gaza
As previously noted here, on November 2, the BBC News website published a filmed report titled '"Israel-Gaza war: Three reasons Egypt tightly controls the Rafah crossing."
Presented by Amal Saeed of BBC Arabic in Cairo, that item does not confine itself to the topic of Egypt's policies concerning the crossing on its border with the Gaza Strip.
The Rafah border crossing between Gaza and Egypt opened on Wednesday to allow a number of civilians to leave Gaza for the first time since the war began on 7 October.
The crossing has been open and shut frequently over the years. Why is it so contentious for Egypt? And where does Egypt stand in the Israel-Palestinian conflict?
The BBC's Amal Saeed in Cairo explains.
Saeed opens with a reference to the "Israel-Gaza war," despite the fact that Israel is not at war with Gaza, but with the proscribed terrorist organization Hamas.
The three reasons cited by Saeed for Egypt's tight control of the Rafah border crossing are security (she mentions the ISIS "militants" in Sinai), refugees (she states that Egypt does not have the ability to accommodate large numbers of Gaza Strip residents), and the "Palestinian cause."
Saeed later presents viewers with her version of Egypt's "complex history with Israel and Gaza": "This goes back to 1948 when a war started between Israel and a handful of Arab countries, including Egypt, which ended in Egypt controlling Gaza." [emphasis added]
That portrayal clearly whitewashes the fact that the war was initiated by those Arab countries with the intention of annihilating the nascent Israeli state and that Egypt illegally occupied — rather than merely "controlled" — territory assigned by the League of Nations for the creation of a Jewish homeland. Saeed goes on:
In 1967 another war started between Israel and some Arab countries, including Egypt, ending with Israel taking over Gaza among other areas.
Once again Egypt's role in bringing about that second war intended to annihilate Israel is whitewashed by Saeed.
After erasing the fact that Israel withdrew from the Gaza Strip in 2005 as well as the violent nature of Hamas' coup against the Palestinian Authority two years later, Saeed goes on: "In 2007 Hamas took over Gaza and the situation on the border between Egypt and Hamas became more complex."
Viewers are not given any explanation of what "more complex" means, and are told nothing about topics such as Hamas' cooperation with the Muslim Brotherhood in Egypt, Egypt's imprisonment of Hamas operatives, or the 2008 infiltration of the border by tens of thousands of Palestinians from the Gaza Strip.
Saeed fails to make any mention whatsoever of Hamas' October 7 infiltration of Israel and the murderous rampages that sparked the current war throughout her entire almost four-minute-long report. Neither does she refer to the terror attack perpetrated by an Egyptian policeman against Israeli tourists in Alexandria the following day, before going on to tell viewers about opinions on the Egyptian street that include "condemning what Israel did with the harsh bombardment of civilians." [her words]
A particularly notable part of Saeed's report refers to al Azhar Institute: "On the ground you find al Azhar, which is the highest religious institute in Egypt, called what Israel is doing in Gaza a 'genocide' and a 'war crime.' Al Azhar is widely followed by Egyptians."
Al Azhar — which is funded both by the Egyptian government and the UAE — is also widely followed by other Sunni Muslims elsewhere in the world, as the BBC surely knows full well. It is therefore particularly significant that BBC Arabic chose to amplify that institution's redundant allegations of "genocide"and "war crime."
As recently reported by the INSS:
The establishment that Egypt used to present as a beacon of "religious moderation" and the standard bearer of the ideological struggle against Islamic extremism has been revealed to be a supporter of terror. Since the outbreak of the war, al-Azhar has conducted a campaign designed to foment hostility in Arab-Muslim public opinion against Israel and its supporters in the West. […]
An initial response published by al-Azhar on the day of the October 7 attack, which saw the cold blooded murder of 1,400 innocent civilians and soldiers, Israelis and foreign nationals, and Jews and Arabs, as well as the rape of women and the abduction of elderly people, men, women, and children from their homes, stated that it "salutes with absolute pride the resistance efforts of the Palestinian people." Al-Azhar also sought to "strengthen the proud Palestinian people who have breathed spirit and faith into us and restored us to life." […]
…on October 18 al-Azhar issued a fatwa stating that "Zionist civilians on occupied land are not [at all] worthy of the description of 'civilians,' but they are occupiers of the land, usurpers of rights, deviants from the way of the prophets, who attack the historical holy places of Jerusalem." The al-Azhar ruling that there are no "innocent' Israeli citizens in effect makes it permissible to kill them.
Nevertheless, the BBC chose to provide worldwide amplification on its website for hate speech put out by that institution.
Saeed's report closes with a tepid portrayal of anti-Israel demonstrations in Egypt: "There were also protests in Cairo and other Egyptian cities, with people raising the Palestinian flag, wearing the Palestinian scarf and chanting 'free Palestine, victory for Gaza, open the border.'"
Saeed did not bother to inform BBC audiences that those demonstrations also included calls for Israel's elimination. The topic of the Egyptian president's unusual encouragement of demonstrations — and, relatedly, the upcoming presidential election in Egypt — was not addressed in Saeed's account.
The BBC Cairo office's uncritical amplification of talking points that are part of a propaganda campaign run by "the highest religious institute in Egypt" and the promotion of that messaging to world-wide audiences via the BBC News website and on BBC social media channels once again raises very serious questions about how the BBC interprets terms such as "trusted journalism" and "commitment to impartiality," which it uses in response to criticism of its reporting.
A media organization that is on the one hand squeamish about using the term terrorism in entirely appropriate circumstances — but on the other hand has no problem irresponsibly bandying about words such as "genocide" and "war crimes" (and Saeed is far from the only BBC employee to have done so) — cannot expect to win public trust.
Hadar Sela is the co-editor of CAMERA UK — an affiliate of the Committee for Accuracy in Middle East Reporting and Analysis (CAMERA), where a version of this article first appeared.
The post BBC News Promotes False and Defamatory Lies About 'Genocide' and 'War Crimes' in Gaza first appeared on Algemeiner.com.
Israel's Foreign Minister Says UN Chief Unfit to Lead, 'Does Not Deserve' to Head Global Body
Israel's foreign minister said on Tuesday that United Nations Secretary-General Antonio Guterres was unfit to head the global body, saying he had not done enough to condemn the Hamas terrorist group or to advance peace in the Middle East.
"Guterres does not deserve to be the head of the United Nations," Israeli Foreign Minister Eli Cohen said at a press conference inside the UN building in Geneva, where he was meeting with the World Health Organization and International Red Cross leaders alongside the relatives of Israeli hostages kidnapped by Hamas.
"I think that Guterres like all the free nations should say clearly and loudly: free Gaza from Hamas. Everyone said Hamas is worse than ISIS. Why can he not say it?" Cohen said.
Cohen's comments came three weeks after he canceled a meeting with Guterres, who in comments last month seemingly blamed Israel for Hamas' Oct. 7 massacre across southern Israeli communities. During its invasion, the Palestinian terror group murdered over 1,200 people, mostly civilians, and kidnapped more than 240 others as hostages.
"I will not meet with the UN secretary-general. After October 7th there is no room for a balanced approach. Hamas must be erased from the world!" Cohen posted on X/Twitter at the time.
Israel's Ambassador to the UN Gilad Erdan went further, calling on Guterres to resign.
The backlash came in response to comments that Guterres said at a UN Security Council meeting on the Israel-Hamas war last month.
"It is important to also recognize the attacks by Hamas did not happen in a vacuum," Guterres said. "The Palestinian people have been subjected to 56 years of suffocating occupation. They have seen their land steadily devoured by settlements and plagued by violence. Their economy is stifled, their people displaced, and their homes demolished. Their hopes for a political solution to their plight have been vanishing."
Erdan slammed Guterres for his remark, arguing the UN chief was rationalizing Hamas' atrocities against Israeli civilians.
"The UN secretary-general, who shows understanding for the campaign of mass murder of children, women, and the elderly, is not fit to lead the UN," Erdan said. "I call on him to resign immediately. There is no justification or point in talking to those who show compassion for the most terrible atrocities committed against the citizens of Israel and the Jewish people. There are simply no words."
Beyond Cohen and Erdan, members of both the Israeli unity government and the opposition also called out Guterres, with Minister Benny Gantz saying the UN leader "condones terror" and opposition leader Yair Lapid saying that Guterres "brought shame upon the United Nations … [with] excuses and rationalization for barbaric terrorism."
The brutality of Hamas' attacks — which included rape, torture, and the beheading of babies — has shocked the world. In response, Israel has been launching a military campaign against Hamas in Gaza, the Palestinian enclave ruled by the terror group, with the goal of dismantling its leadership and military capabilities while also freeing the hostages.
Israeli officials have also expressed outrage at Guterres for in their view being too close to Iran, the main international sponsor of Hamas.
Last month, Guterres met with Iranian Foreign Minister Hossein Amir-Abdollahian in New York.
"I guess the SG [UN secretary-general] will invite arsonists for the next discussion on forest fires; pedophiles for the next briefing on education or perhaps the protection of children," Erdan tweeted about the meeting.

In a recent interview, Guterres said he had appealed to Iran to intervene and stop worsening hostilities between Israel and Hezbollah, the Iran-backed terror group based in Lebanon, on the Israeli-Lebanese border.
Guterres told journalist Fareed Zakaria that he had asked Iran "to tell Hezbollah, 'You cannot create a situation in which Lebanon will be completely engulfed by this conflict,' because if Hezbollah will launch a massive attack on Israel it might create, I don't know what kind of impact, but one thing I am sure — Lebanon would not survive."
Asked if Iran had been responsive, the UN chief said, "I do not know. They said always that they have nothing to do with what is happening but they say publicly that there is a risk of this conflict to be extended. It's always very mysterious, the position of Iran."
While in Geneva on Tuesday, Cohen also demanded that the International Committee of the Red Cross (ICRC) "work through all channels" to secure visits to the roughly 240 hostages held by Hamas in Gaza.
"We expect the Red Cross to put the issue at the top of the organization's priority list, to use all levers of pressure, and not rest until it visits all the hostages, assesses their condition, and makes sure they are receiving the medical care they need," said Cohen, who met with ICRC president Mirjana Spoljaric Egger.
The post Israel's Foreign Minister Says UN Chief Unfit to Lead, 'Does Not Deserve' to Head Global Body first appeared on Algemeiner.com.
Here's What Happened in Gaza and Israel From November 7-13
Here's a round-up of the latest developments in the Israel-Hamas war.
Gaza:
Over the past six days, Israeli forces have gradually entered deeper into Gaza City, mostly in the direction of known strong-points of Hamas but also combing general areas. The focus, from the news reports, seems to be first the neighborhoods closest to the beach, cutting the city off from the sea, and approaching the areas traditionally reported as locations of the higher headquarters of Hamas inside the city. During previous operations, it was determined that the supreme leadership of Hamas is located in fortified underground offices under Shifa Hospital.
All hospitals, neighborhood clinics, and mosques in Gaza have had underground offices and storage sites built underneath them that are connected to the tunnel systems that crisscross the city underground. In previous confrontations, the IDF generally did not seek to go after hospitals, clinics, or mosques. Furthermore, except in exceptional circumstances, it did not enter them with ground troops. In 2014, one neighborhood clinic that was entered exploded on the IDF unit. The building had had bombs hidden permanently in the walls and floors, even as it was being used to treat patients in peacetime.
The movement of the IDF in Gaza is extremely slow because every building has to be checked before entry for explosive booby-traps. Most have been rigged. This includes residential buildings, public service buildings, etc.
Hamas forces are continuing to conduct raids on IDF units beyond the city perimeter by exiting from hidden tunnel openings. The IDF units are searching for these openings and destroying them.
The IDF has not published an estimate of Hamas casualties except to claim that the majority of the Palestinian fatalities are combatants and not civilians. In other words, the combatants number in the thousands. Hamas disguises its combatants as civilians by having most of them dress in civilian clothes. That way, when they are killed or wounded, they look like civilians in photos and videos taken by Hamas.
Below is a screenshot from a Hamas video of the fighting. Note the civilian clothes: jeans, T-shirts, and jackets.
As the fighting continues, there has been a slow but steady increase in IDF casualties too. By midday on November 12, 47 IDF personnel had been killed since the beginning of the ground operation in Gaza. The total number of IDF wounded has not been updated, but from occasional references in daily news reports it appears to be about ten times the number.
Hamas continues to fire rockets into Israel, though the daily average has lessened. The total to date is approximately 9,500 (of which 3,000 were fired in the first four hours). Of these, approximately 1,150 have fallen inside Gaza (including one on Shifa Hospital). For the first time, the report also explicitly mentions the launch of "tens" of explosive drones fired from Gaza.
The rate of fire has been drastically reduced over the past few days — probably for two reasons:
The advance of the IDF has brought its troops to many of the traditional launch sites, and many launchers have been destroyed.
Hamas wishes to conserve ammunition for a longer war as the stores are being used up. Hamas had considerably fewer rockets than Hezbollah.
The number of civilians leaving Gaza has grown considerably. Over the past week, nearly 200,000 have walked past the Israeli checkpoint on the eastern road leading south. However, that still leaves a couple of hundred thousand in north Gaza. All told, since the beginning of the war, the IDF has dropped approximately 1.5 million flyers urging the population to move away from probable objectives, sent six million voice messages, four million text messages, and an unpublished number of phone calls warning of impending strikes on specific buildings to the people living within the danger zone of each strike.
A topic Hamas has been harping on for almost two weeks is that the hospitals are running out of fuel and are losing the electric power critical to providing care.
However, every photograph and video taken inside the hospitals shows the electricity still working. The IDF published a conversation that proves that there are hundreds of thousands of liters of petrol in Hamas storage, including in underground stores beneath the hospitals. Furthermore, donations of medical supplies are reaching the hospitals inside Gaza City, as they are being allowed through by the IDF. Thus, on November 8, trucks carrying medical supplies arrived and unloaded in Shifa Hospital. Donations from other Arab countries have also been let in, including a second paradrop of medical supplies flown by the Jordanian air force through Israel.
Many of the hospitals in northern Gaza are being evacuated of patients and of people who came there looking for a safe haven in the knowledge that Israel does not attack hospitals. However, as the fighting has neared these hospitals, the IDF has requested that they evacuate their patients and staff because the underground floors were being used by Hamas for weapons storage, command posts, and tunnel entrances. At Rantisi Hospital, the local Hamas company commander held approximately 1,000 Gazan civilians hostage to prevent the IDF from attacking the hospital. When IDF units closed in on the hospital, he and a group of his men moved to the nearby Al-Buraq school, which had already been evacuated, where they were located and killed. Inside the school grounds the IDF found weapons stores and a manufacturing site as well as a tunnel entrance.
Currently the same process is being repeated at Shifa, the most famous hospital in Gaza, which houses the largest Hamas underground area. That is where the Hamas high command was located in all previous wars, though this time it is likely that they have all fled to southern Gaza. The IDF has delayed approaching the hospital to allow its evacuation and has even offered to help move non-ambulatory patients and provide fuel for the hospital electricity generators. The offer was refused. As with a previous event, a failed rocket launch struck the hospital grounds, and Hamas tried to claim it was an Israeli bomb.
Hamas also claims Israeli has attacked ambulances. The IDF responded that the only ambulances attacked were those being used to drive Hamas combat personnel on their missions (i.e., NOT wounded). Given that Hamas combat personnel are often wearing civilian clothes, they are discovered through intensive intelligence work. Furthermore, it has been revealed that Hamas has a unit of many fake ambulances for transporting its personnel (not injured or sick) and equipment. Hamas established this unit to take advantage of Israel's known reluctance to shoot at ambulances.
Lebanon:
On the Lebanese border there has been a gradual escalation in Hezbollah attacks, both in the number of rockets fired and in the size of the models used (they are now much bigger, with 300-500 kilogram warheads). Hezbollah is also using exploding drones. On November 12, 22 Israelis were wounded in a Hezbollah attack, including a group of civilians working on repairing electricity infrastructure not far from the border. One was critically injured, and five more suffered less critical injuries. So far, 10 Israelis have been killed in the fighting on this front since 7 October.
Israel has responded with increased attacks of its own. Hezbollah fatalities have accumulated to least 72 (seven in Syria). The number of wounded is not known.
The group's leader, Hassan Nasrallah, has again spoken publicly and not said much. However, one of his deputies promised to escalate to all-out war if they think Hamas is on the verge of being totally defeated.
Other Lebanese and Lebanese-based Palestinian organizations have also participated in the exchange of fire and at least 10 members of these groups have been killed. There are reports of tens of thousands of Lebanese moving north, away from the border with Israel. Unlike Hamas, Hezbollah has tended to use the population as camouflage but not as human shields — so when fighting escalates, they do not attempt to compel them to stay, but let them leave.
Syria:
On the Syrian border there have been only a few incidents so far, including rocket launches, etc. These have been responded to with various means including tank fire, artillery and air strikes.
An Iraqi Shiite organization located in Syria launched drones at Eilat. One hit a school and one was shot down. School was in session at the time it was hit, but because of the location of the hit, nobody was hurt. Israel responded with air strikes on targets in Syria and stated to the Assad regime that it would be held responsible for any more attacks originating in Syria.
Judea and Samaria:
In Judea and Samaria too, Palestinian attacks on Israelis have increased somewhat. However, despite calls from the Hamas leadership to escalate, they have not surged. Israeli security forces have responded with police raids to arrest terrorists.
Over the past few days, the IDF has conducted a series of raids into Jenin. The roads entering the city had bombs planted underneath them by the terrorist organizations and were then covered over with asphalt. Apparently the IDF had intelligence on this, so its raiding force advanced behind armored bulldozers that tore up the asphalt and revealed the bombs. They were then detonated safely.
So far, approximately 1,600 terrorists (approximately 930 of them from Hamas) have been arrested and approximately 183 killed in Judea and Samaria, mostly in IDF raids. Some were arrested or killed while attempting to conduct attacks on Israeli civilians or soldiers.
There has also been an increase in the number of violent altercations between Palestinian civilians and Israeli civilians over agricultural property rights (field boundaries, grazing rights).
Yemen:
The Houthis have continued to launch missiles and long-range explosive drones towards Israel. The rate of fire has gone down from the first few days, and over the past few days, many launches were verbal only (they were declared, but no launches actually took place). An exo-atmospheric ballistic missile was shot down by an Israeli Arrow-3 defensive missile.
Iraq and Syria — US forces:
Pro-Iranian Iraqi Shiite militias continued to attack American bases in Iraq and Syria with rockets and exploding drones. The number of American casualties is one killed (apparently from cardiac arrest caused by an attack), and at least 45 wounded. The US military has responded with air strikes on suspected militia locations.
Israeli Casualties:
There are still a number of people unaccounted for, but it seems that all or virtually all the bodies of Israelis killed in the initial attack inside Israel have been found. Currently there are still body parts that have not been definitely identified because they are so badly damaged (in some cases rendering DNA tests inconclusive). Some of these body parts might belong to previously identified mutilated bodies that are missing parts.
Also, some of the missing have been confirmed to be among the kidnapped Israelis in Gaza.
So far, of the Israelis and non-Israelis killed and missing from the initial Hamas attack, approximately 880 civilians and approximately 370 soldiers, policemen and firefighters have been identified. In addition, 19 civilians have been killed in the rocket attacks. The total number of wounded is approximately 7,260.
The number of Israelis who have been forced to leave their homes in 64 villages and towns along the borders with Gaza and Lebanon has reached approximately 250,000.
Palestinian Casualties:
The Gaza Health Ministry, which is controlled by Hamas in its role as the government of Gaza, claims that so far approximately 11,100 Gazans have been killed and approximately 28,000 wounded. They do not differentiate between personnel of Hamas and other terrorist organizations and civilians. They also claim that this number includes more than 4,000 children. Apart from the fact that all the numbers are propaganda-based and neither verifiable nor credible, "children" includes anyone up to the age of 18 — and since Hamas actively employs teens as combatants, this includes quite a number of terrorists. This is also true of the women and elderly who often serve in Hamas as scouts or suicide-bombers. There is a history of supposedly innocent people of all ages approaching IDF soldiers to ask for help and actually carrying suicide bomb-vests under their clothes or trying to lead the soldiers into explosive booby-traps or ambushes. The IDF spokesperson claims that the majority of the casualties are Hamas personnel or personnel of other armed groups, but has not elaborated.
WHAT NEXT?
Hezbollah did indeed change its mind, re-escalating after a few days of reduced attacks. It seems that the new level is very likely to become the norm unless the IDF finds a way to hit back strongly. So we will have to wait and see if Hezbollah maintains the new level of fighting and whether the IDF counter-escalates.
The IDF is still waiting for civilians to leave Gaza City, and the civilians seem to be leaving in ever-growing numbers, so the IDF will probably continue to maintain pressure but not escalate its advance into the depths of the city. The final objective has not changed: to gradually comb the city itself, street by street, house by house, and tunnel-entrance by tunnel-entrance in order to find, kill, or capture Hamas personnel. So far, Hamas seems to be willing to keep on fighting despite heavy casualties. The number of those surrendering has been very small. If so, this will be a long, arduous process and casualties on both sides will increase greatly.
Hamas seems to still be hoping to incite a major escalation in Judea and Samaria (the West Bank), but so far this does not seem to be working. This is due to Israel's escalated counter-actions and the general shock of the populace at the unfolding events — but also to the fact that the ruling Palestinian faction in Judea and Samaria, Fatah, sees Hamas as an enemy and is quite happy to see it decimated. (Of the almost 1,800 people arrested or killed by the IDF in its counter-terrorist operations in Judea and Samaria, more than 60% are Hamas personnel.)
The majority of the Arab states are making public declarations in favor of the Palestinians but in fact are doing little to nothing (depending on the state) to help them. Even humanitarian aid from the Arab states is minimal, and public demonstrations in favor of the Palestinians in the Arab states are generally fewer and smaller than those in Europe and America. Saudi Arabia has stated that the normalization process with Israeli will continue. This is while the Arab states go through the motions of caring for the Palestinians as described above in the paragraph on the emergency meeting of the Organization of Islamic Cooperation to discuss a regional response to the war.
Hamas spokesmen have voiced their frustration and disappointment in the responses of Hezbollah, Iran and its proxies in particular, but of the Muslim world in general. In both of Nasrallah's speeches he spent considerable time making excuses for not joining the war — at least for now.
There has been some discussion abroad and in the Israeli media about "the day after" — that is, what will be done with Gaza to prevent a recurrence. The US has suggested a plan that includes handing Gaza back to the Fatah-controlled Palestinian Authority. Initially, when asked if Fatah would be willing to return to rule Gaza after the war, a high-ranking Fatah official said it would not, as it would be deemed to have "ridden to power on the tanks and aircraft of the IDF." However, over the past week they seem to have changed their mind. Palestinian Authority President Mahoud Abbas has declared his willingness to re-accept authority over Gaza, but demands Israeli concessions in Judea and Samaria in return. Meanwhile, the IDF seems to have concentrated most of its efforts in the past week in and around the town of Jenin. After achieving a satisfactory conclusion there it is likely to focus on other locations of escalation.
Israel's initial official response to this option was to say that because Fatah refused to condemn the Hamas attack, it is not a viable partner; and in any case, it is too early to make decisions or plan seriously for the day after. First we have to win the war.
Dr. Eado Hecht, a senior research fellow at the BESA Center, is a military analyst focusing mainly on the relationship between military theory, military doctrine, and military practice. He teaches courses on military theory and military history at Bar-Ilan University, Haifa University, and Reichman University and in a variety of courses in the Israel Defense Forces. A version of this article was originally published by The BESA Center.
The post Here's What Happened in Gaza and Israel From November 7-13 first appeared on Algemeiner.com.