Jewish NYC restaurants win new fans — and lose others — through Israel fundraisers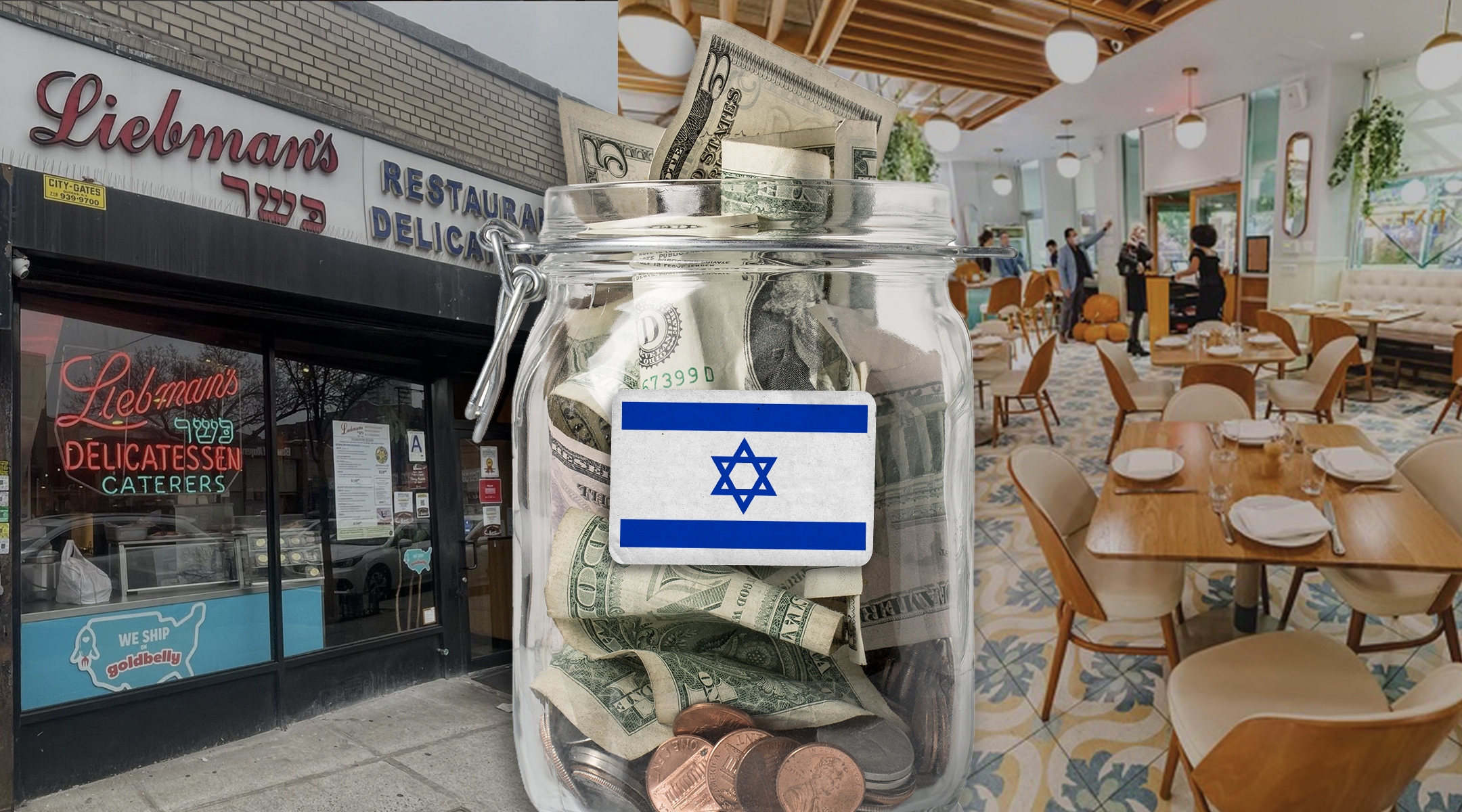 (New York Jewish Week) — New York City-based restaurateurs Yuval Dekel and Ari Bokovza, friends since high school, have deep roots in Israel and a shared love of Jewish cuisine. Dekel owns Liebman's, the last kosher deli in the Bronx, and Bokovza is the executive chef of Dagon on New York's Upper West Side, a restaurant that features food from the Levant.
Like Jews around the world, the two friends were devastated when they learned of the deadly attacks by Hamas on southern Israel on Oct. 7. The pair quickly devised a plan to do what they do best: prepare delicious food and bring people together, this time in support of Israel. 
On Wednesday, the two restaurants are joining forces to raise money for Yatar, an organization that provides tactical off-road equipment to help aid Israel's border patrol. The four-course dinner, held at Dagon at Broadway and 91st street, composed of Ashkenazi and Sephardi foods from both establishments, is priced at $250 per person, all of which goes directly to Yatar. 
"The reaction has been very positive," Bokovza told the New York Jewish Week. "Every day the [number of] reservations are growing." 
Dekel and Bokovza are far from the only ones who are raising money and offering support for Israel at this fraught time. Thousands of other New Yorkers are contributing to an aid effort that is widely considered unparalleled in recent times; as of last Friday, UJA-Federation of New York had raised $105 million for an Israel Emergency Fund. 
New York's plethora of Jewish restaurants and famous foodies are getting in on the action, too. Immediately in the aftermath of the attack, Jewish celebrity chefs including Einat Admony and Jake Cohen joined forces with members of the Jewish Food Society at Chelsea Market on Oct. 11 for a "community hug and bake sale" that raised $27,000 for ASIF, an Israeli organization preparing meals for displaced families and hospital workers in Israel. 
As the war between Hamas and Israel intensifies, numerous other restaurants across the city — from old-school classics like 2nd Avenue Deli to catering outfits to high-end dining destinations — are also raising funds to help Israel and its citizens. Among them is Mediterranean restaurant Barbounia, where Chef Amitzur Mor will host three sold-out seatings for a special menu and fundraiser to benefit Friends of the Israeli Defense Forces on Monday night. Other eateries, like Michael Solomonov's Kfar and Laser Wolf, along with the kosher steakhouse Reserve Cut, are giving a percentage of their restaurants' proceeds to support of a variety of Israeli humanitarian organizations.
"We are happy to stand with Israel and heartwarmed by the number of people joining us," 2nd Avenue Deli co-owner Josh Lebewohl told the New York Jewish Week. 
Since Hamas' attack on Israel on Oct. 7, the iconic deli's Instagram feed has turned decidedly pro-Israel. On Oct. 13 — the day a former Hamas leader had called for global protests — the restaurant donated their proceeds to United Hatzalah, Israel's volunteer emergency medical service. "They love jihad. We love chicken soup," the deli posted on Instagram. 
"We were touched by the outpouring of support we received," Lebewohl said, declining to share how much money was raised. 
The week following the fundraiser, the deli's Upper East Side location was defaced with antisemitic graffiti — but the owners remain determined to show their support for Israel. "We definitely lost some followers but overall we have gained [some]," Lebewohl told the New York Jewish Week about the deli's social media following. "Just the number of messages of people writing in support of us, in regard to the hate crime and, more importantly, in regards to standing with Israel, has been amazing."
Dagon's Bokovza, too, said his restaurant has received some social media backlash. "That stuff can only make you stronger, more determined, more motivated," he said. "Everybody has big balls behind the keyboard."
Over at Chef Eyal Shani's Manhattan restaurants  — which includes Miznon, Shmoné, Port Sa'id and HaSalon — the management has been looking for ways to support their U.S.-based employees, some of whom have loved ones who were murdered in the attack. In addition to donating food to a memorial dinner for a former employee, and hosting a lunch for staff to grieve together, Shani's high-end Hell's Kitchen eatery HaSalon will host a fundraising dinner on Wednesday priced at $450 per person. 
The proceeds will go to humanitarian relief in Israel, including donations to American Friends of Rambam Hospital, Soroka Medical Center and Sheba Medical Center. This is in addition donating 10% of all sales at the Miznon locations in New York, as well as the 20,000 meals Shani's restaurants in Israel have provided thus far to people in hospitals or to those who have been removed from their homes.
Their strong support of Israel comes with a price. "We have gotten negative reviews online from people who have never dined with us," said Mika Ziv, CEO of Good People Group, Shani's global hospitality brand. "People are calling our restaurant and screaming 'Free Palestine!' and hanging up. It is obviously not going to stop us from doing what is right but that is the situation."
Rotem Itzhaky, general manager of the 12 Chairs Cafes in the West Village and Williamsburg, Brooklyn, is not looking at negative posts online. "I am focusing on the positive and what we can do and how we can help," she said.  
On Tuesday, 12 Chairs will hold a dinner benefiting United Hatzalah at their Williamsburg location priced at $150 per person, hosted by influencers Batsheva Haart, Audrey Jongens and Meg Radice. As of Sunday, the restaurant has sold all of their 65 tickets to the event, which promises their signature Israeli food as well as an "open bar to help raise spirits and donations."
Meanwhile, since the conflict began, the owners of kosher caterer Good Shabbos by ChiChi Eats have given their customers the option, when placing a food order, to make a donation to support feeding Israeli soldiers and supplying them with critical gear like warm jackets, knee pads and tactical equipment. Approximately 75% of their customers have made a donation, according to co-owner Rachel Fuchs. 
"People were super excited last week and this week," Fuchs said. "People are looking for a way to help. If we lost Instagram followers, we wouldn't have noticed and I think we will be better without those people."
Gadi Peleg, the owner of Breads, the New York City bakery chain with roots in Israel, was pleasantly surprised by the reaction to the plan that he and baker Ben Siman Tov, aka BenGingi on TikTok, devised following the Oct. 7 attack. BenGingi had contacted Peleg and suggested that on Friday, Oct. 13, Breads should sell heart-shaped challahs. The challahs — shaped by BenGingi and using Breads' signature recipe — would sell for $36 and proceeds would go to support Magen David Adom, Israel's national organization responsible for emergency pre-hospital medical care and blood services.
Intended to be a one-day event, the heart-shaped challahs were so popular the bakery has made and sold them every day since, raising more than $20,000 so far, according to Peleg. "We make hundreds of challahs a day," he said. "Our bakeries open at 7 a.m. We are sold out by 8 a.m. Breads is a community — people come into the stores, and they are excited to see what we are doing and there are other people who feel like them. 
"What happened in Israel was an act of pure evil," he added. "What we are doing is an act of pure good."
—
The post Jewish NYC restaurants win new fans — and lose others — through Israel fundraisers appeared first on Jewish Telegraphic Agency.
On 85th anniversary of Kristallnacht, Holocaust survivors say they fear familiar antisemitism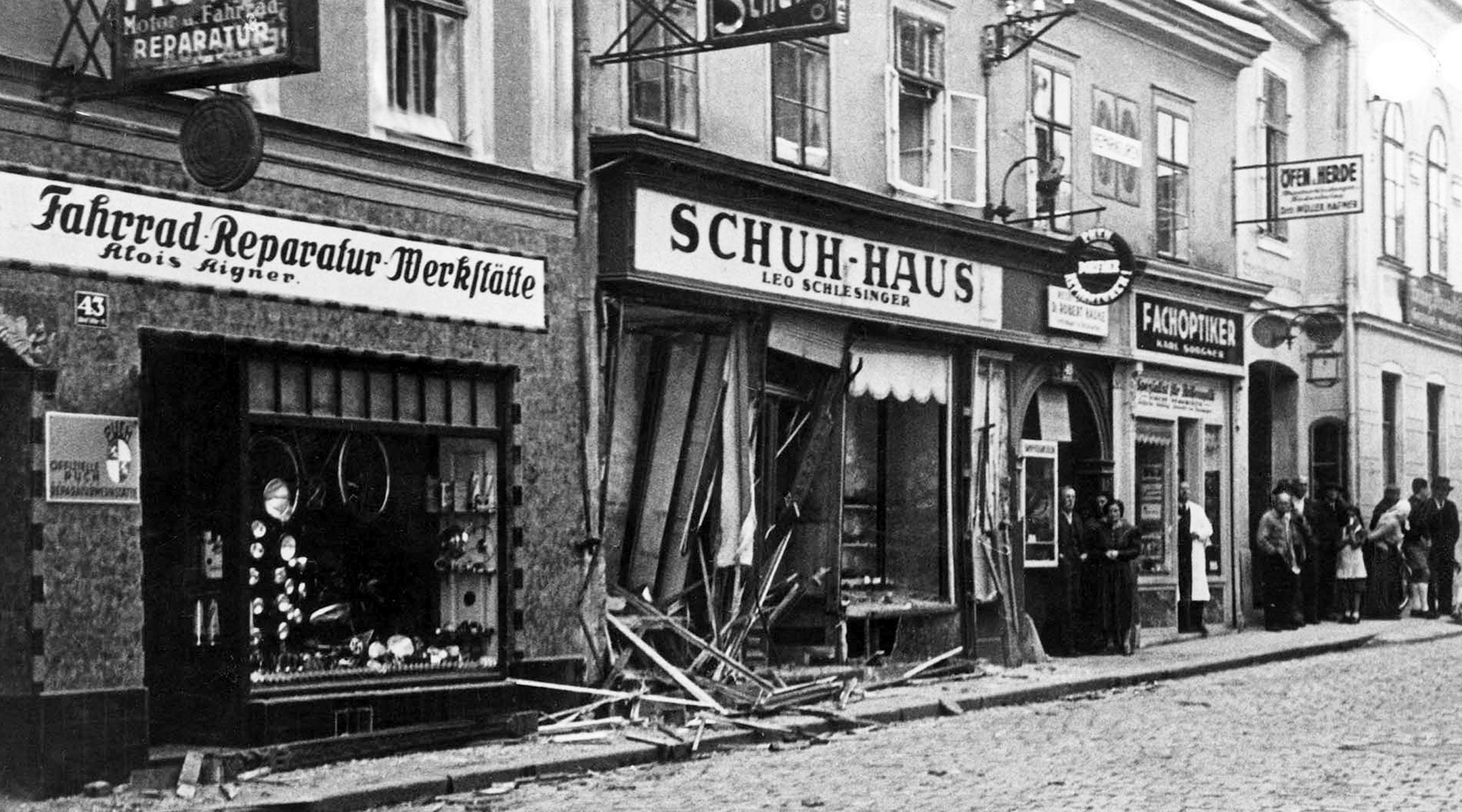 (JTA) — The comparisons are easy to draw: broken glass, burned buildings, shuttered businesses, dead Jews.
Eighty-five years after Kristallnacht, the anti-Jewish riots that marked a brutal turning point in the Nazi campaign of persecution in Germany, Holocaust survivors say what happened in southern Israel on Oct. 7 — and how they have seen the world respond since — reminds them of what they experienced in their childhood.
"When it all happened on October 7th, I couldn't believe it," Maud, who lives in Southern California, said in a testimony shared this week by March of the Living, a group that takes groups to visit concentration camp sites in Europe. "I've had sleepless nights since and it just brought back so many memories. It is so visual of what I saw as a child. … I have a hard time coping with what I read and what I hear and what I see on TV. I can't come to terms with it. It's so hard."
March of the Living shared testimonies from eight survivors in four countries in advance of the anniversary, which is typically marked by somber ceremonies in which government officials reaffirm their commitments to the post-Holocaust vow of "Never again."
This year, that rallying cry may feel harder to sustain, coming just a month after Hamas' attack on Israel left 1,400 people dead, thousands wounded and hundreds held hostage in Gaza. Some victims have still not been identified because of the brutality inflicted on their bodies, which included, according to people who worked at the massacre sites, burning that echoed the most vivid horrors of the Holocaust. The attack and Israel's military response have also unleashed rising antisemitism around the world.
"It started with words and continued with actions," Nate, from Canada, said about his experience as a child in Poland, where he survived Auschwitz but most of his family members did not. "I am devastated to see how Jews are being attacked today. Jews are not safe.  I saw where antisemitism can lead to and I am very concerned."
In a sign of how significantly the current climate is affecting survivors, the March of the Living communicated late Wednesday, after some testimonies had already been published, that the survivors did not want to have their full names or pictures published. Many have long been public speakers sharing their stories, but at the current moment, the organization said, they were concerned that exposing themselves would risk their personal security.
The testimonies are not the first in which Holocaust survivors have drawn straightforward comparisons between their childhood traumas and what happened on Oct. 7. Just days after the attack, survivors held a fretful press conference at the U.S. Holocaust Memorial Museum in Washington, D.C.
"This is not what we expected in this final chapter of our lives, as we contemplate our legacy, the future of Holocaust memory and education, and the future of our people," Nat Shaffir, 85, who survived the Holocaust in Romania said at the event.
And last week in New York, hundreds of Holocaust survivors posed with pictures of the roughly 240 people being held hostage by Hamas in Gaza, as part of a worldwide campaign to keep attention on their plight.
"I'm back there all over again," Toby Levy, 90, said at the Museum of Jewish Heritage, where she is a longtime docent. "This is how it started with the Germans."
Kristallnacht, which means "Night of Broken Glass," was a series of Nazi government-coordinated anti-Jewish riots that swept through virtually every town and city across Germany beginning Nov. 9, 1938. (In Germany, it's increasingly known as Reichspogromnacht to avoid the potentially beautiful images conjured by the English translation.) Over several days, rioters destroyed hundreds of synagogues, looted thousands of businesses and killed at least 91 Jews; 30,000 Jewish men were sent to concentration camps.
Kristallnacht marked the end of any vestige of security for German Jews and moment of acceleration in the Nazis' genocidal campaign against them, which would result in the murder of 6 million Jews in Europe before the end of World War II in 1945.
"What Hamas did to the Israelis on October 7th is as cruel, barbaric, and tragic as what the Nazis did to the Jews 80 years ago," Benjamin, a survivor who lives in Greece, said in his March of the Living testimony. "When I see Jewish homes marked with the Magen David, it brings back nightmarish memories from my childhood, reminding me of swastikas and concentration camps."
But he finished on a more hopeful note: "My message is that we, the Jewish people, have endured significant suffering throughout our history, with the Holocaust being the darkest period. Though the current times are challenging, thanks to the brave IDF, a sense of normalcy will soon return to the State of Israel and the Jewish Diaspora."
—
The post On 85th anniversary of Kristallnacht, Holocaust survivors say they fear familiar antisemitism appeared first on Jewish Telegraphic Agency.
NYPD reports 69 antisemitic hate crimes in October, marking a surge since start of war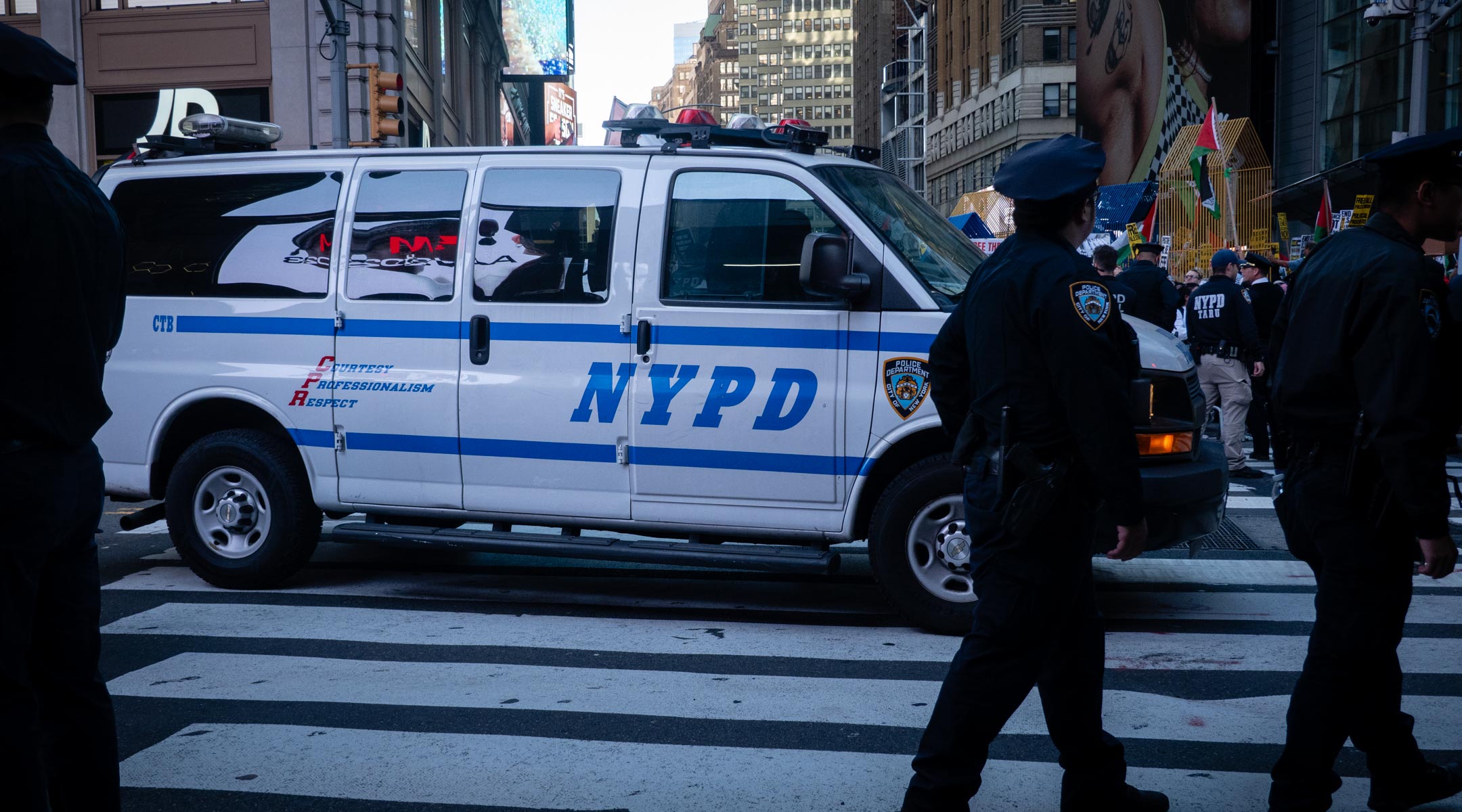 (New York Jewish Week) — The NYPD reported 69 antisemitic hate crimes in October, marking a major increase in anti-Jewish incidents in the city following Hamas' Oct. 7 invasion of Israel and Israel's ensuing war against the terror group.
The number of antisemitic crimes in October marked a 214% increase over the same month last year, according to police data released on Wednesday.
The total for October was far higher than in any other month this year. The previous high-water mark was in March, which saw 32 antisemitic incidents reported to police, fewer than half of last month's number.
October's tally of anti-Jewish crimes was the highest single month total since October 2021, when hate crimes against all groups spiked, and in which anti-Jewish crimes made up a smaller proportion of the total.
There were 101 total hate crimes reported to police last month, including eight anti-Muslim incidents. Hate crimes overall have been trending downward this year, police said.
In some of the anti-Jewish incidents last month, three Jewish men were shot with a BB gun in Brooklyn, an Israeli student was struck with a stick at Columbia University, and a man punched a woman in a Manhattan subway station, saying it was because she was Jewish. Other incidents included racist and threatening graffiti.
Some incidents related directly to the war, such as Jewish groups receiving threats related to Israel's conduct, according to the Community Security Initiative, which coordinates security for Jewish institutions in the New York City area.
Since the start of the year, there have been 232 antisemitic hate crimes in New York City, or an incident every 31 hours, according to the NYPD data. The figure is similar to the total at the same point last year, when the overall rate of hate crimes was higher. Jewish security groups say many incidents likely go unreported.
—
The post NYPD reports 69 antisemitic hate crimes in October, marking a surge since start of war appeared first on Jewish Telegraphic Agency.
From virtual reality to digital synagogues, tech adds new dimension to Kristallnacht commemorations in Germany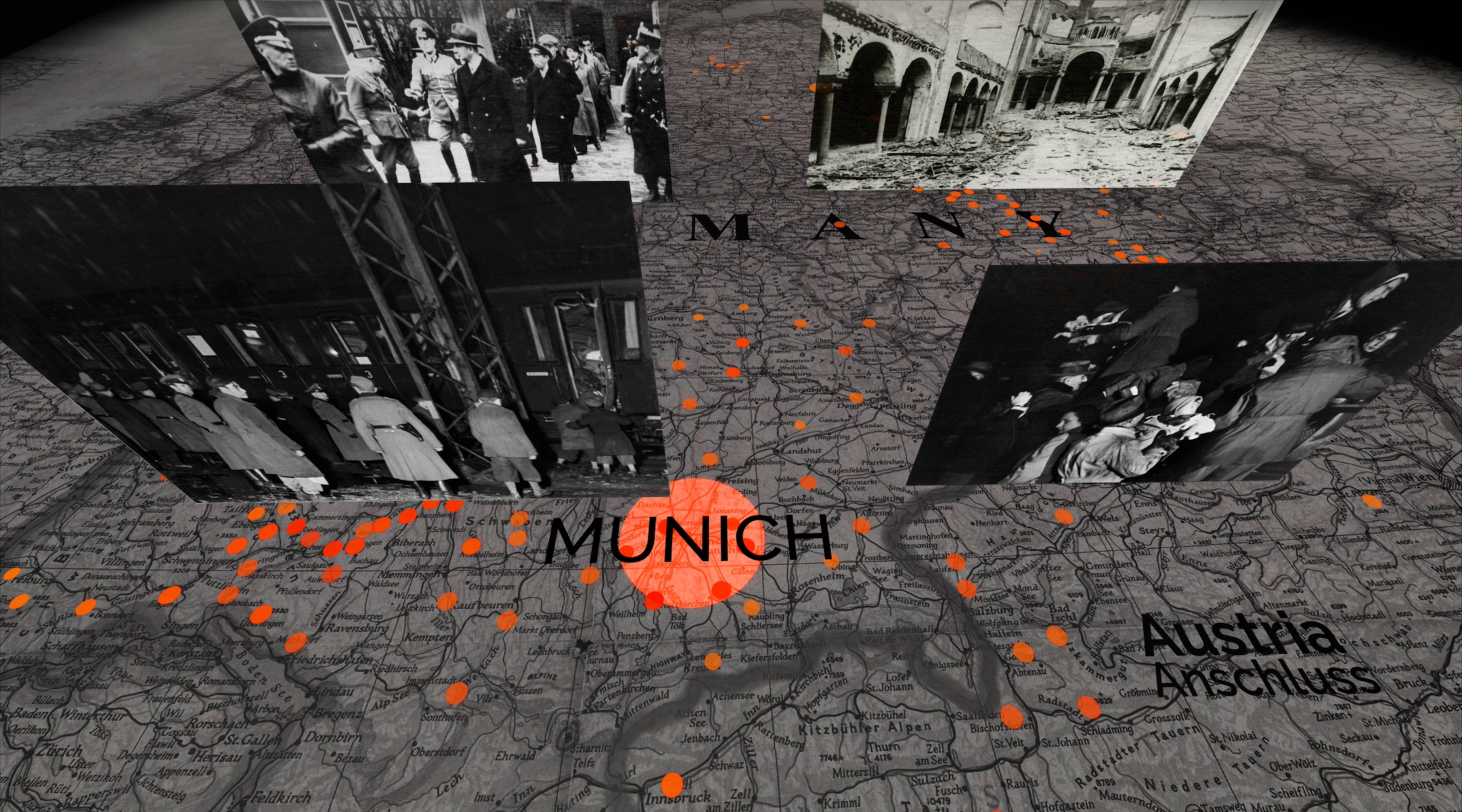 (JTA) — Nov. 9 marks several historical anniversaries in Germany, including Adolf Hitler's failed putsch in 1923 and the 1989 fall of the Berlin Wall.
But the Kristallnacht pogrom of 1938 eclipses them all, in terms of public significance. In Germany today, those riots of 85 years past are seen as a warning of what may happen if antisemitic violence is given free reign.
This year, the anniversary takes on added significance: It falls shortly after Jews around the world marked "shloshim" – 30 days – since the Hamas massacre of 1,400 Israeli civilians and kidnapping of some 240.
Some Jewish groups are tying their commemorations together with a statement on the current Gaza war — and some are using virtual reality technology to give their projects new dimensions.
"Hatred left unchecked can easily slip into genocide," said Greg Schneider, executive vice president of the Conference of Jewish Claims Against Germany. His group announced on Thursday the development of a new virtual reality "experience" that will tell the story of Kristallnacht — the night of Nov. 9-10, 1938, when Nazis destroyed or damaged about 300 synagogues and 7,500 Jewish-owned businesses and properties across Germany, Austria and in parts of former Czechoslovakia. Police arrested some 30,000 Jews and sent them to concentration camps; hundreds of Jews were killed.
The pogrom, seen in hindsight as a precursor to the Holocaust, carries "such an important message for today," Schneider continued, noting reports of increased antisemitic incidents around the world. "The lesson from Kristallnacht is clear: If you don't fight it, this is what can happen. And we cannot live with that."
The virtual reality video – which the Claims Conference is producing with the USC Shoah Foundation, Meta, UNESCO and the World Jewish Congress (WJC) – will include an interactive walk with survivor Charlotte Knobloch through the streets of her home city of Munich, where as a six-year-old she witnessed the aftermath of Kristallnacht. She survived the war by hiding with a Christian family for years.
When the virtual tour is ready in a few months — via VR headset or internet browser — viewers will be able to ask questions and the virtual Knobloch will answer.
"We are hoping it draws in young people and those who find the technological side interesting," Schneider said.
"It is important to me that we reach young people with this project" in perpetuity, said Knobloch, 91, in an email to the Jewish Telegraphic Agency. She wanted to help "ensure that memories are passed on, even if no one can remember themselves."
Knobloch "spent the last 85 years processing what I experienced on November 9, 1938. I also tried to forget — but without success." She has often shared her memory of walking with her father hand in hand past blackened synagogues, the shattered windowpanes of Jewish shops crunching beneath her feet.
"The streets in Munich are the same today as they were back then," she wrote in her email. "The places are charged, and nothing will ever change that for me. But the trust that I was able to regain after 1945 means that while streets are the same, the people can change – at least some of them. After many decades, this worked for me. Today, however, this trust is waning."
WJC President Ronald Lauder called Hamas' attack "the most devastating since the Holocaust" in a statement announcing a joint Kristallnacht commemoration with the Central Council of Jews in Germany and the Israelite Religious Society Austria.
Their educational event will feature full-color digital reconstructions of destroyed synagogues in Germany and Austria, projected onto the walls of buildings where the synagogues once stood. In some locations, virtual reality goggles will enable a virtual tour. The digital reconstructions were developed together with the Technical University of Darmstadt and the University of Vienna.
In former East Berlin, the Central Council will commemorate Kristallnacht with Germany's President Frank-Walter Steinmeier and Chancellor Olaf Scholz at the synagogue Kahal Adass Jisroel, which recently was the target of an attempted arson. The structure had been damaged in 1938; it was renovated more than a decade ago with the support of the Ronald S. Lauder Foundation, the Skoblo family in Berlin and the United Kingdom-based Maurice and Vivienne Wohl Philanthropic Foundation.
In Vienna, the Jewish Youth organization will hold a memorial march called "Light of Hope." "The words 'Never again' hold a more pressing relevance than ever," Oskar Deutsch, chair of the Israelite Cultural Community of Vienna, said in a statement ahead of the events.
The Israeli hostages in Gaza will be the focus of a Kristallnacht remembrance in Frankfurt, sponsored by  the German-Israel Society (DIG). Titled "Never again is now," the event also aims to "show the people of Israel that they are not alone."
It also aims to support the Jews of Germany, said DIG President Volker Beck in an email. "After the Hamas massacre on October 7 and the tsunami of antisemitism that followed worldwide, you can't help thinking: What, again?"
"Fear is rampant in the Jewish community," added Beck, who is not Jewish. "We in Germany have to start from scratch to make our cities and villages safe for Jews."
In Berlin, in the early morning hours on Friday, a German Protestant Christian group called Light and Salt will hold a vigil for Israel, under the slogan "you are my people."
"We have unfortunately noticed once again – 85 years after Kristallnacht and since October 7th, 2023 – that antisemitism is more present than ever," wrote the group on its Facebook announcement.
Joachim Bambach, a nurse by profession, started Light and Salt in 2017, after he heard people at a pro-Palestinian demonstration "shouting 'Jews to the gas.' This was horrific for me, absolutely horrific. I could not stand this, and I knew I had to do something about it," he said in a telephone interview.
So he started organizing prayer vigils outside the German chancellery in Berlin.
The brutality of the Hamas attack should wake up the world, he told JTA. "For me, basically this is a battle of two world views," he said, "a battle for the existence of the Jewish people in the land of Israel, and nothing else, and we have to face this, like it or not."
Knobloch told JTA she feels safe in Germany and appreciates the support shown by the German  government and general public. But she fears both are souring, as more Germans say "yes, but…" and as the government's resolve weakens: In late October, Germany abstained rather than opposing (with the United States) a United Nations General Assembly resolution seeking an immediate "humanitarian truce" in Gaza.
More than anything, she worries mostly about Germany's Jewish youth and about her own family.
"My granddaughter, who lives in Israel, was here for a while after the attack with her two eight-year-old sons because the children could no longer stand the bunkers," Knobloch said. "Now she has gone back, because she said it was too unsafe here, too. It's hard not to just give up. But I still hope that things will change for the better."
—
The post From virtual reality to digital synagogues, tech adds new dimension to Kristallnacht commemorations in Germany appeared first on Jewish Telegraphic Agency.