Jewish sponsor withdraws from National Book Awards after learning of authors' plans for Israel ceasefire statement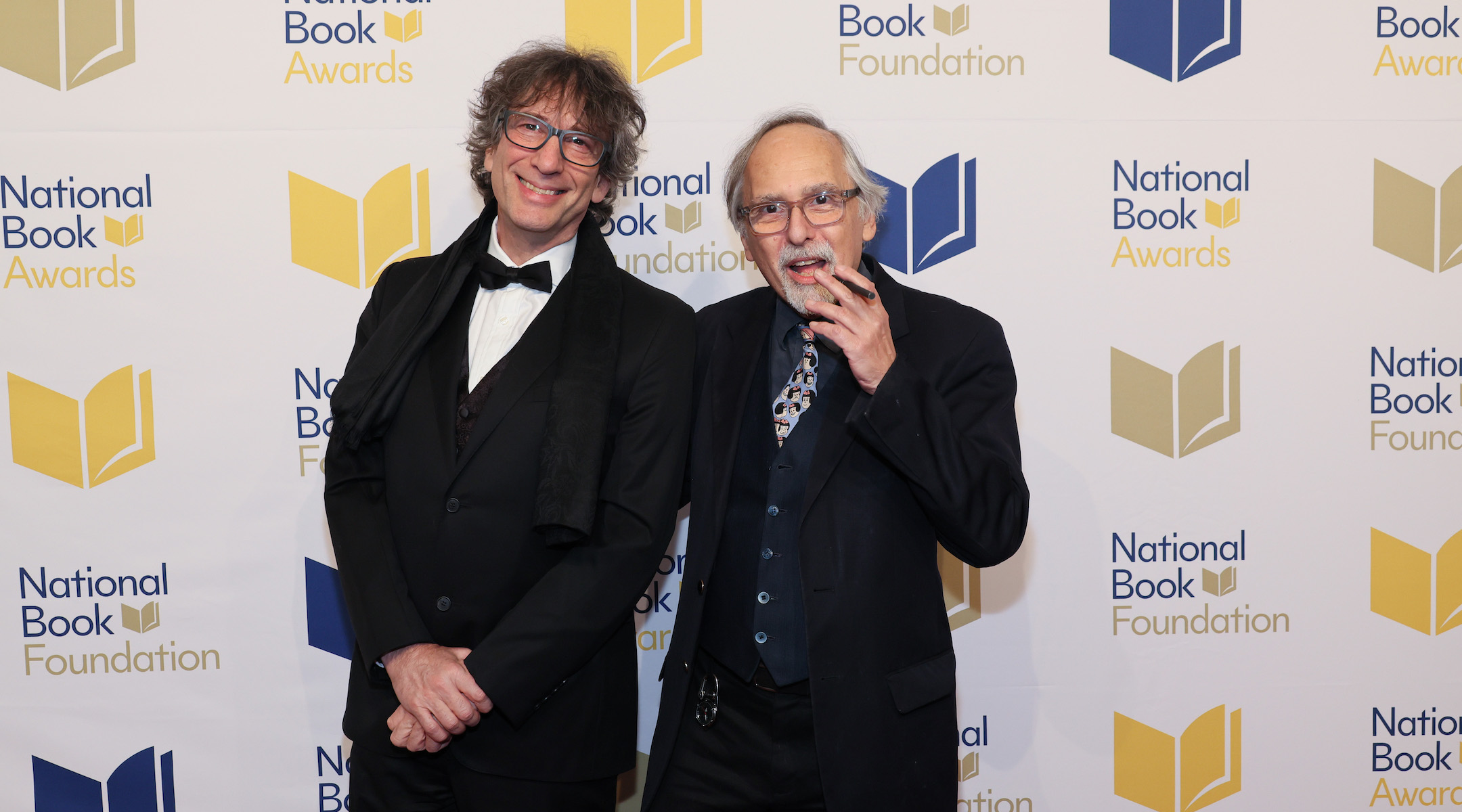 (JTA) – At least one Jewish sponsor of one of the oldest and most prestigious literary awards in the United States is pulling out of Wednesday's ceremony after learning that some of the nominated authors plan to issue a statement urging a ceasefire in the Israel-Hamas war, drawing yet another line in the sand at a cultural organization over Israel.
The controversy at the National Book Awards follows similar ones at the 92NY, Artforum and several book and film festivals at which statements and protests critical of Israel have resulted in institutional blowback and occasionally firings and resignations.
Zibby Owens, who leads the book publishing, bookstore and media company Zibby Books, announced her intent to pull out of the ceremony in a Substack post Tuesday. She wrote that a "source" had tipped her off that "all the nominees of the awards had gotten together as a block and decided to use their platform when winning speeches to promote a pro-Palestinian, anti-Israel agenda," and said she wrote to the National Book Foundation expressing her concerns.
While saying "I don't believe in censorship," Owens wrote, "I wanted the NBF to prevent a bullying atmosphere where speeches could be used to intimidate based on religious views." She specifically cited the phrases "Free Palestine" and "From the river to the sea" as ones that would be harmful to Jews, though she later told the Jewish Telegraphic Agency she did not know whether the nominees planned to use them.
After failing to receive these assurances from the foundation, she made the decision to pull her sponsorship. At least one other sponsor, Book of the Month, would not be attending the event but planned to continue to "support" it, according to The New York Times. Owens had just begun sponsoring the festival the year before but has donated in previous years.
The Times, speaking to at least one of the nominated authors, reported that they had planned to call for a ceasefire in the Gaza Strip during the awards ceremony. The author, fiction finalist Aaliyah Bilal, said the writers would stand behind a single person reading a statement, and that they wanted to be "sensitive to all of the antisemitism going on in this moment." The National Book Foundation has sent a notice to the remaining sponsors and attendees alerting them to the possibility of political statements at the ceremony.
"I acted on the information I had been given," Owens told JTA via email. "I had asked for an assurance that should any anti-semitic rhetoric surface that the NBF would have an action plan around that. None was forthcoming." Owens also said she would have wanted more advance notice from the foundation about the protest, and an indication "that while political speech is tolerated, hate speech will not be." 
Owens is Jewish and was a recent "36 To Watch" honoree at the New York Jewish Week, a sister publication of JTA. Her decision was met with mixed reactions on her Substack. 
"Pulling support from this event over a pro-Palestinian sentiment under the presumption that it would be antisemitic by default does not seem to me like an act of heroism," Jewish comedian Josh Gondelman commented. "It feels like a withdrawing of solidarity from members of the literary (and human) community who are also experiencing real pain."
Among the National Book Award finalists is nonfiction author and Palestinian human rights activist Raja Shehadeh, author of "We Could Have Been Friends, My Father And I: A Palestinian Memoir." Shehadeh's book is a portrait of his father, activist Aziz Shehadeh, an early proponent of Palestinian statehood and a moderate voice within Palestinian politics who was stabbed to death in 1985; Raja has long maintained that Israeli police failed to thoroughly investigate the murder. 
Owens said she didn't object to Shehadeh's memoir being shortlisted. "The judges make decisions based on the quality of the work, which is as it should be," she said. A handful of other finalists, including Bilal and children's author Huda Fahmy, were nominated for books about Islam.
Calls for a ceasefire in Gaza have grown among artists, activists and some politicians as Israel's continued bombardment of the region, more than a month after the Hamas massacre of 1,200 Israelis, has claimed thousands of lives. International groups have called the situation a humanitarian crisis, while the Israeli military has said it is singularly focused on dismantling Hamas.
Last year's National Book Awards bestowed a special honor on Jewish "Maus" author Art Spiegelman, whose graphic Holocaust memoir was in the middle of a nationwide book ban controversy. 
—
The post Jewish sponsor withdraws from National Book Awards after learning of authors' plans for Israel ceasefire statement appeared first on Jewish Telegraphic Agency.
Protester Sets Self on Fire Outside Israeli Consulate in Atlanta
i24 News – A protester was in critical condition on Friday after setting themself on fire outside the Israeli consulate in Atlanta, Georgia, U.S. authorities said. A security guard who tried to intervene was also wounded.
A Palestinian flag found at the scene was part of the protest, Atlanta Police Chief Darin Schierbaum said at a news conference. He added that investigators did not believe there was any connection to terrorism and none of the consular staff was ever in danger.
JUST IN: A pro-Palestine protester is in critical condition after they set themselves on fire in "political protest" outside of the Israeli Consulate office in Atlanta.
The protester was reportedly draped in a Palestine flag.
The protester has severe burns and unfortunately, a… pic.twitter.com/B8nUQAj2nU
— Collin Rugg (@CollinRugg) December 1, 2023
"We do not see any threat here," he said. "We believe it was an act of extreme political protest that occurred." Everyone inside the consulate building was said to be safe.
Anat Sultan-Dadon, Consul General of Israel to the southeastern U.S., said: "We are saddened to learn of the self-immolation at the entrance to the office building. It is tragic to see the hate and incitement toward Israel expressed in such a horrific way."
"The sanctity of life is our highest value. Our prayers are with the security officer who was injured while trying to prevent this tragic act. We are grateful to the city of Atlanta's law enforcement and first responders for all they do to ensure safety."
The post Protester Sets Self on Fire Outside Israeli Consulate in Atlanta first appeared on Algemeiner.com.
Released Israeli Hostages Call for Captives to Be Freed
Israeli hostages released in the past week by Hamas in Gaza called on Saturday for the immediate release of fellow captives left behind, a day after a temporary truce that had allowed scores to come home broke down.
Tens of thousands gathered at a rally in Tel Aviv outside Israel's defense headquarters, where they cheered Yelena Trupanov, 50, standing on a stage just two days after being freed.
"I came to thank you because without you I wouldn't be here. Now we must bring back my (son) Sasha, and everyone. Now."
Similar pleas from other released hostages were shown on video.
A seven-day truce, during which Hamas had released more than 100 hostages, collapsed on Friday after Hamas breached the ceasefire.
Israel said on Saturday it had recalled a Mossad intelligence agency team from Qatar, host of indirect negotiations with Hamas, accusing the Palestinian faction of reneging on a deal that would have freed all children and women held hostage.
More than 240 people – Israelis and foreign nationals – were abducted to Gaza on Oct 7. by Hamas terrorists who burst through the border with Israel and killed 1,200 people.
The post Released Israeli Hostages Call for Captives to Be Freed first appeared on Algemeiner.com.
IDF Foils Stabbing Attack Near Nablus in West Bank, Eliminates Terrorist
i24 News – The Israel Defense Forces (IDF) reported thwarting a stabbing attack on Saturday afternoon against reserve Battalion 7037 at the X junction near Nablus in the West Bank.
According to the IDF spokesperson, the event unfolded when the forces at the roadblock became suspicious of an individual approaching the barricade.
During the questioning process, the suspect suddenly drew a knife and advanced towards the IDF personnel.
ניסיון פיגוע דקירה אירע לפני זמן קצר לעבר כוח צה"ל במילואים מגדוד 7037 שפעל בחסם בצומת האיקס סמוך לעיר שכם שבמרחב חטיבת שומרון.
הכוח חשד במחבל שהגיע לחסם והחל לתחקר אותו, המחבל שלף סכין והחל להתקדם לעבר הכוח.
הלוחמים חתרו למגע והגיבו בירי לעבר המחבל שחוסל. אין נפגעים לכוחותינו. pic.twitter.com/mEaJs58hpE
— דובר צה״ל דניאל הגרי – Daniel Hagari (@IDFSpokesperson) December 2, 2023
The soldiers, faced with the threat, engaged in contact procedures and ultimately responded by opening fire on the assailant. The spokesperson confirmed that the attacker was neutralized due to the IDF's action.
It was also noted that there were no casualties among the IDF forces involved in the incident. According to the spokesperson, the situation at the X junction has stabilized, and IDF continues to maintain vigilance in the area to prevent further attacks.
The post IDF Foils Stabbing Attack Near Nablus in West Bank, Eliminates Terrorist first appeared on Algemeiner.com.