European film festivals hit with controversies over Israel-Hamas war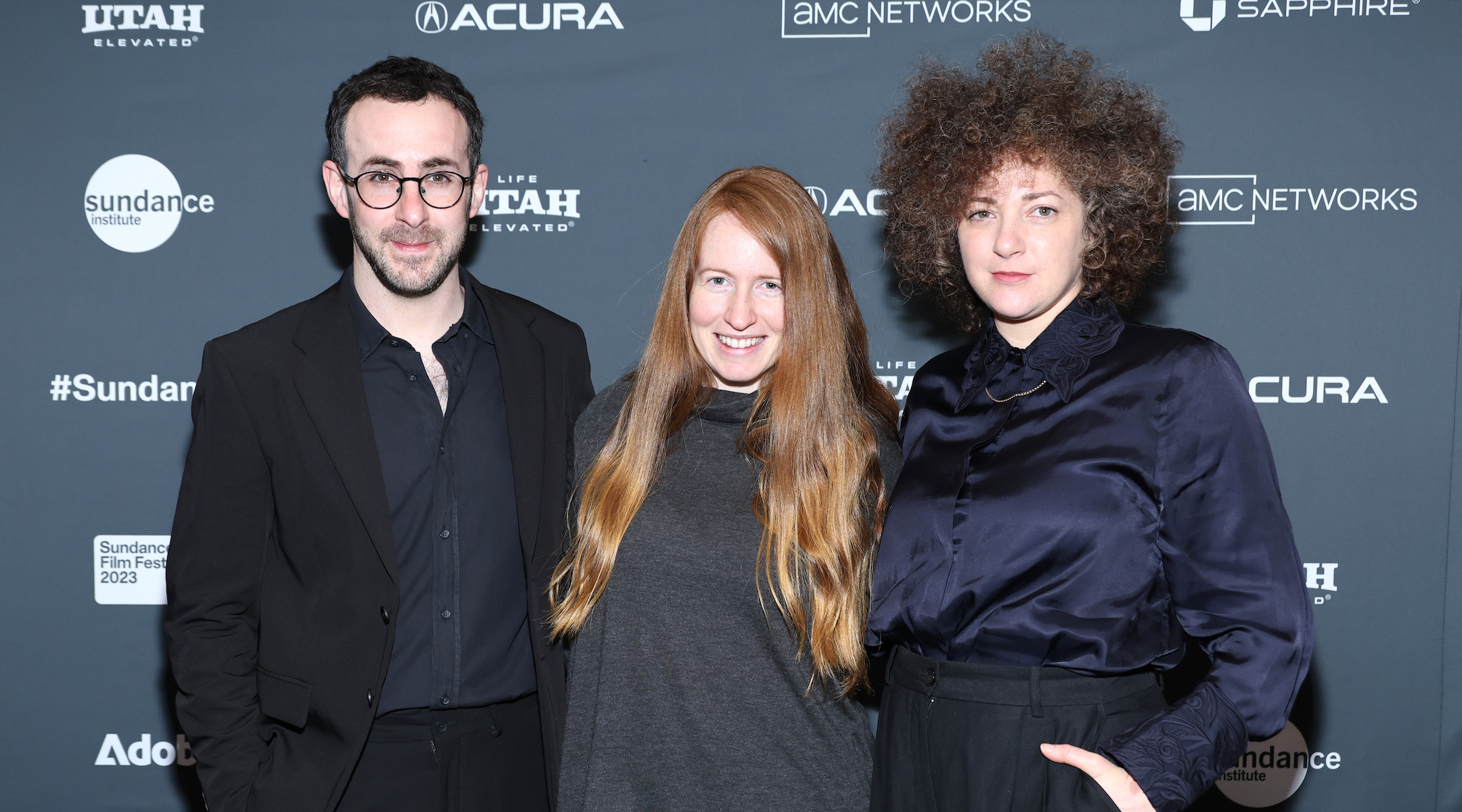 (JTA) — The war between Israel and Hamas continues to divide the cultural world, as two European film festivals this week found themselves embroiled in controversy over their handling of both Israeli and pro-Palestinian filmmakers.
The Stockholm International Film Festival, in Sweden, apologized Monday for what it said was a "misunderstanding" surrounding a planned guest, Israeli-American filmmaker and actress Aleeza Chanowitz. The festival had planned to have Chanowitz attend a screening this week of her raunchy comedy series "Chanshi," which she created and stars in as an Orthodox American woman who moves to Israel on a quest for sex with male soldiers.
But in emails Chanowitz first shared with Deadline, organizers walked back the invitation, at first saying the Israeli embassy could no longer provide travel costs, then citing a Swedish Foreign Embassy warning against travel to and from Israel. When she pushed further, organizers at the festival reportedly told her the organization had "to take a stand" and that her appearance at the festival could be an "unpleasant situation."
"I am surprised by the festival's cowardice, and it really sucks because I wanted to have a nice time at a cultural event where I could take a break from our scary reality and enjoy and discuss art," Chanowitz told Deadline. "I also 'have had to take a stand'; I stand with the Jews, Israelis of all kinds, peace with our neighbors, and most of all with the families of the hostages."
After the story blew up in the Israeli press, the festival issued an apology and offered to host Chanowitz in a virtual Q&A, according to The Hollywood Reporter. Claiming that "incorrect information" was spread about the reason behind the change, the festival said in a statement, "We are incredibly sorry about this bad communication that has caused pain for the team and for the wider Jewish community."
While the Stockholm controversy was unfolding, another was taking place in the Netherlands. At the International Documentary Festival Amsterdam, around a dozen filmmakers have pulled their work from the festival's lineup over its stance on the phrase "From the River to the Sea."
The collective, along with the Palestine Film Institute, was angry with festival organizers for condemning an opening-night pro-Palestinian protest. At the protest, demonstrators had unfurled a banner reading "From the River to the Sea, Palestine Will Be Free," a controversial phrase that many argue has historical roots in calls for Israel to be wiped off the map.
Claiming that he had not seen the banner at the time, festival director Orwa Nyrabia was caught on camera applauding the protests. He later condemned the banner after pushback from Israeli filmmakers, who wrote in an open letter, "We see this as a personal attack against us."
The festival's eventual statement on the slogan remarked that it "does not represent us, and we do not endorse it in any way. We are truly sorry that it was hurtful to many." Festival organizers also called for a ceasefire in the Gaza Strip, which Israel has bombarded for more than a month since the Oct. 7 Hamas attacks, and for humanitarian aid to enter the region.
After announcing that stance, several pro-Palestinian filmmakers announced they would be pulling their films from the event, including at least one Iranian director. 
"I am heartbroken, betrayed, and outraged by the damaging slander of the slogan 'From the River to the Sea,'" Iranian filmmaker Maryam Tafakory announced on Instagram as she pulled her film. "To call this slogan 'hurtful' is to be against the end of occupation."
The Palestine Film Institute, which pulled out of plans to showcase several films and participate in the festival's marketplace, issued its own statement saying the festival "unjustly criminalizes Palestinian voices and narratives." While the phrase has been criminalized in Germany, the institute said it has not been banned in the Netherlands. The institute later issued another statement praising the festival for supporting a ceasefire.
Among the films the institute had slated to show at the festival was "Bye Bye Tiberias," a documentary about the family of Palestinian-Israeli-French actress Hiam Abbass, best known for her role in the HBO series "Succession." 
The controversies in Stockholm and Amsterdam mirrored other debates around Israel that have unfolded in arts and culture spaces, including at the 92NY in New York City and among the staff of the art magazine Artforum. In both cases, blowback to Israel-critical open letters resulted in staff at the institutions either resigning or being fired. 
—
The post European film festivals hit with controversies over Israel-Hamas war appeared first on Jewish Telegraphic Agency.
Jewish sponsor withdraws from National Book Awards after learning of authors' plans for Israel ceasefire statement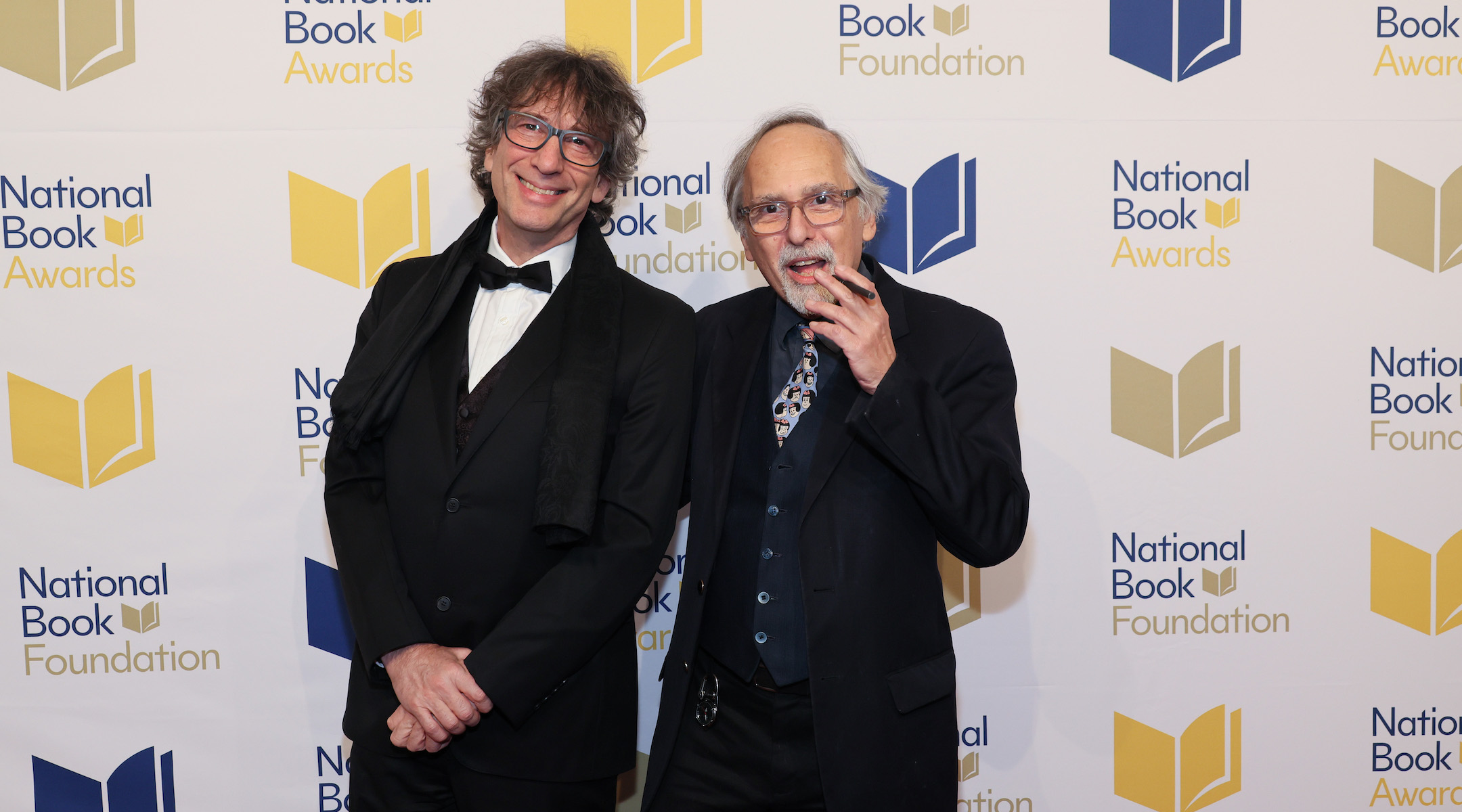 (JTA) – At least one Jewish sponsor of one of the oldest and most prestigious literary awards in the United States is pulling out of Wednesday's ceremony after learning that some of the nominated authors plan to issue a statement urging a ceasefire in the Israel-Hamas war, drawing yet another line in the sand at a cultural organization over Israel.
The controversy at the National Book Awards follows similar ones at the 92NY, Artforum and several book and film festivals at which statements and protests critical of Israel have resulted in institutional blowback and occasionally firings and resignations.
Zibby Owens, who leads the book publishing, bookstore and media company Zibby Books, announced her intent to pull out of the ceremony in a Substack post Tuesday. She wrote that a "source" had tipped her off that "all the nominees of the awards had gotten together as a block and decided to use their platform when winning speeches to promote a pro-Palestinian, anti-Israel agenda," and said she wrote to the National Book Foundation expressing her concerns.
While saying "I don't believe in censorship," Owens wrote, "I wanted the NBF to prevent a bullying atmosphere where speeches could be used to intimidate based on religious views." She specifically cited the phrases "Free Palestine" and "From the river to the sea" as ones that would be harmful to Jews, though she later told the Jewish Telegraphic Agency she did not know whether the nominees planned to use them.
After failing to receive these assurances from the foundation, she made the decision to pull her sponsorship. At least one other sponsor, Book of the Month, would not be attending the event but planned to continue to "support" it, according to The New York Times. Owens had just begun sponsoring the festival the year before but has donated in previous years.
The Times, speaking to at least one of the nominated authors, reported that they had planned to call for a ceasefire in the Gaza Strip during the awards ceremony. The author, fiction finalist Aaliyah Bilal, said the writers would stand behind a single person reading a statement, and that they wanted to be "sensitive to all of the antisemitism going on in this moment." The National Book Foundation has sent a notice to the remaining sponsors and attendees alerting them to the possibility of political statements at the ceremony.
"I acted on the information I had been given," Owens told JTA via email. "I had asked for an assurance that should any anti-semitic rhetoric surface that the NBF would have an action plan around that. None was forthcoming." Owens also said she would have wanted more advance notice from the foundation about the protest, and an indication "that while political speech is tolerated, hate speech will not be." 
Owens is Jewish and was a recent "36 To Watch" honoree at the New York Jewish Week, a sister publication of JTA. Her decision was met with mixed reactions on her Substack. 
"Pulling support from this event over a pro-Palestinian sentiment under the presumption that it would be antisemitic by default does not seem to me like an act of heroism," Jewish comedian Josh Gondelman commented. "It feels like a withdrawing of solidarity from members of the literary (and human) community who are also experiencing real pain."
Among the National Book Award finalists is nonfiction author and Palestinian human rights activist Raja Shehadeh, author of "We Could Have Been Friends, My Father And I: A Palestinian Memoir." Shehadeh's book is a portrait of his father, activist Aziz Shehadeh, an early proponent of Palestinian statehood and a moderate voice within Palestinian politics who was stabbed to death in 1985; Raja has long maintained that Israeli police failed to thoroughly investigate the murder. 
Owens said she didn't object to Shehadeh's memoir being shortlisted. "The judges make decisions based on the quality of the work, which is as it should be," she said. A handful of other finalists, including Bilal and children's author Huda Fahmy, were nominated for books about Islam.
Calls for a ceasefire in Gaza have grown among artists, activists and some politicians as Israel's continued bombardment of the region, more than a month after the Hamas massacre of 1,200 Israelis, has claimed thousands of lives. International groups have called the situation a humanitarian crisis, while the Israeli military has said it is singularly focused on dismantling Hamas.
Last year's National Book Awards bestowed a special honor on Jewish "Maus" author Art Spiegelman, whose graphic Holocaust memoir was in the middle of a nationwide book ban controversy. 
—
The post Jewish sponsor withdraws from National Book Awards after learning of authors' plans for Israel ceasefire statement appeared first on Jewish Telegraphic Agency.
'No One Will Break Us': DC Rally Makes History as Largest Ever Jewish, Pro-Israel Gathering in US
Washington, DC — Hundreds of thousands of Jewish Americans and pro-Israel advocates packed the National Mall in Washington, DC on Tuesday in a historic show of solidarity with the Jewish state amid its war with the Hamas terror group.
US Jewish groups organized the "March for Israel" to demand the release of hostages held captive by Hamas in Gaza and to demonstrate support for both the Jewish state and the Jewish community amid a global surge in antisemitism that has followed the Palestinian terror group's Oct 7. massacre across southern Israel.
William Daroff — CEO of the Conference of Presidents of Major American Jewish Organizations, which co-organized the rally along with the Jewish Federations of North America — told The Algemeiner that 290,000 people were at the event, based on tallies according to those who went through the metal detector at the entrance. However, large numbers of attendees did not appear to have the required wristbands to go through security, making the actual totally potentially higher.
Either way, Tuesday's rally was both the largest ever pro-Israel gathering and the largest Jewish gathering in US history.
Speakers included the famed human rights activist Natan Sharansky, US Sen. Chuck Schumer (D-NY), US Speaker of the House Mike Johnson (R-LA), and Israeli President Isaac Herzog, who appeared via live feed, among many other voices.
"The people of Israel are eternal, and no one will break us," Herzog said, prompting an eruption of cheers and applause. "From the Jewish symbols of fulfillment of our ancient dreams to the American symbols of freedom, liberty, and democracy, thank you, thank you, the hundreds of thousands who have gathered from all over the United States, all people of good will, friends from different communities, faiths, and denominations who gathered today for this massive show of solidarity."
The marchers, who traveled from across the US, represented a full spectrum of the Jewish communitiy and its allies. As one participant told The Algemeiner, it was an important display of unity and the peaceful intentions of the Jewish people.
"I think it's beautiful. It just shows that we are in peace, that we come in peace, and we're not interested in violence, and on the contrary we're fighting that in the world and all antisemitism and hatred of all kinds," said Beverly Mehl, from New York. "It's very important to show strength, to do something and take action."
Another rally-goer said that "seeing this mix of Jews — it;s really surreal. It lights something in my heart. I've never seen anything like it. It feels like we're a nation again. No common enemy. No conflict."
For others, the event elicited strong emotions.
"It was very moving," said television personality and activist Emily Austin, who has received death threats and vulgar messages for coming to Israel's defense. "The fact that 200,000 people from all over the country came to show their solidarity and support for one another was very emotional for me. Many politicians came to show their support, which meant a lot to everyone, especially the families of the hostages."
Not everyone who attended the rally was Jewish.
"I'm here because a very good friend of mine was killed in Kfar Aza [a kibbutz in southern Israel]," said Carlos Chacon. "It's the least I can do to be here. As a Christian, I know that Jews are our brothers. It's our duty to defend each other. We have so many things in common."
The scale and success of the "March for Israel" was striking given that it was organized in just a matter of weeks. Sharansky, the famed refusenik and international campaigner against antisemitism, highlighted the pressing need for a mass pro-Israel rally in a recent article for Tablet magazine and drew a comparison with marches in 1987 attended by hundreds of thousands to support Soviet Jewry.
"Immediately after the [Oct. 7] attack we found that all of us were being attacked, and so the world Jewry is feeling like one family, supporting one another, because I hear from so many who say they never imagined that they would be afraid in their countries," Sharansky told The Algemeiner. "We all have to rally quickly to turn into one fighting family, and I think that's what Jews are doing now and why this demonstration is happening."
He stressed that unity among the Jewish diaspora is crucial — a theme that permeated the National Mall on Tuesday, especially amid a historic, worldwide surge in antisemitic attacks.
"As antisemitism began increasing in the United States, there was a strong desire for the Jewish community and supporters of Israel to come together and make a very strong and powerful statement and say we stand together with each other, with Israel, and against antisemitism," said Gil Preuss, CEO of the Jewish Federation of Greater Washington. "I think it's important for everyone to understand that the Jewish community is strong and united in its support for Israel, is strong and united that Hamas free the hostages, and is strong and united in its fight against antisemitism in all of its forms."
About 240 hostages remain trapped in Gaza in the hands of Palestinian terrorists, according to Israeli authorities. Israeli Prime Minister Benjamin Netanyahu said over the weekend that a deal to release at least some of the hostages "could be" negotiated soon but declined to elaborate: "I think the less I say about it, the more I'll increase the chances that it materializes."
Netanyahu has ruled out a ceasefire to the ongoing war with Hamas terrorists unless all the hostages, who include children and the elderly, are released.
Follow Dion J. Pierre @Dion J. Pierre.
The post 'No One Will Break Us': DC Rally Makes History as Largest Ever Jewish, Pro-Israel Gathering in US first appeared on Algemeiner.com.
290,000 people show up for historic pro-Israel rally in DC, organizers claim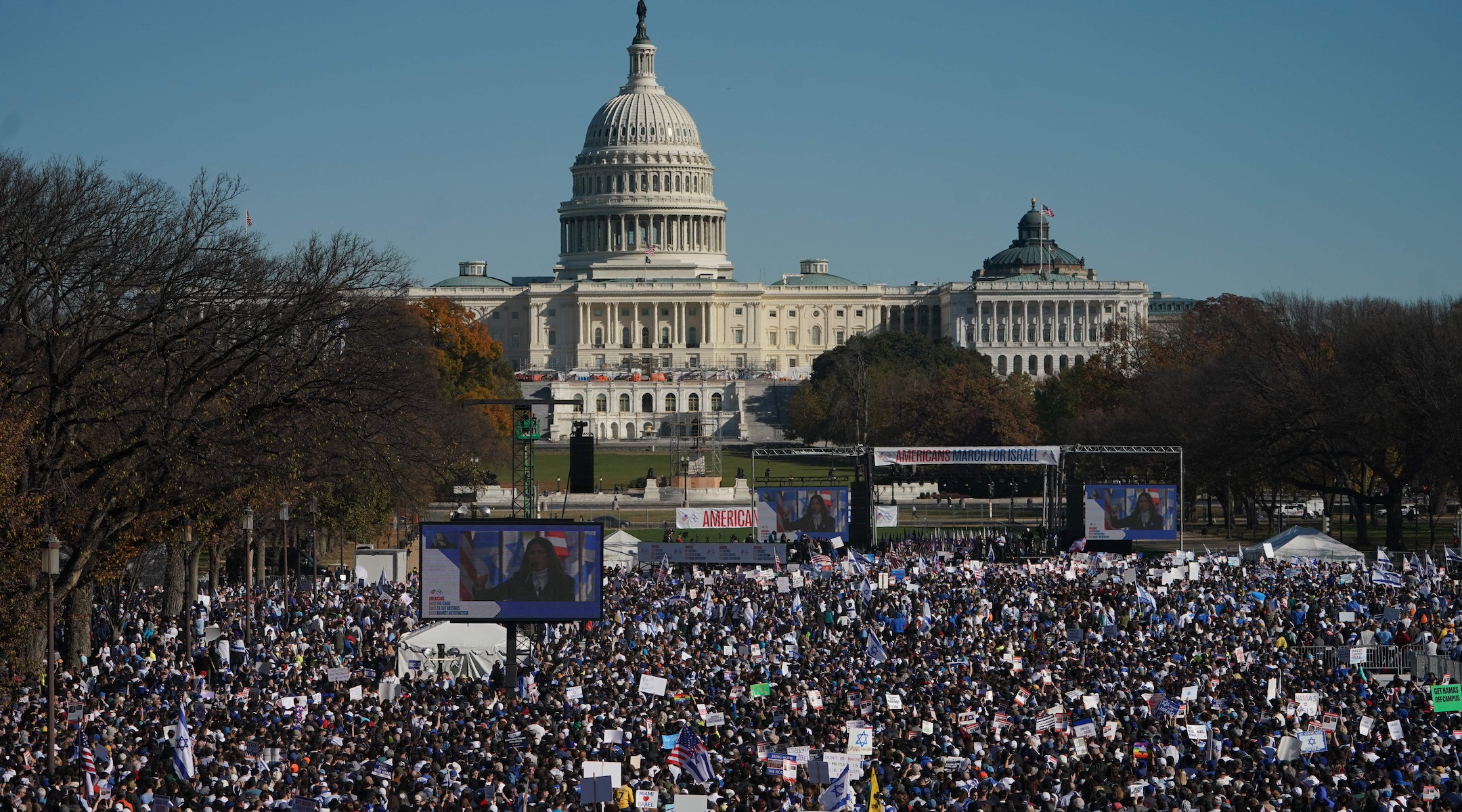 WASHINGTON (JTA) — Organizers of a pro-Israel rally at the National Mall in Washington on Tuesday claimed that 290,000 people showed up for the event, making it one of the largest gatherings of Jews in U.S. history at a time when an ongoing war in Gaza has sharply divided public opinion around the world.
An additional 250,000 people watched the event through a live stream, organizers added. Other Jewish marches that gathered over 100,000 people include one in 1987 in support of Soviet Jews and one in 2002 in support of Israel during the second intifada.
In more than three hours of speeches on Tuesday, a range of politicians, actors, musicians, activists and U.S. college students presented a strong front in support of Israel and spoke about the rise of antisemitism around the world since Hamas' attacks on Oct. 7 and Israel's subsequent war in Gaza. Many speakers also demanded the safe release of the more than 200 hostages still being held by Hamas in Gaza.
In a video from Jerusalem, Israeli President Isaac Herzog said "we will heal, we will rise again and we will rebuild."
The message from the main organizers, the Jewish Federations of North America and Conference of Presidents of Major American Jewish Organizations, was unity. It was a rare moment that brought together leaders of both political parties passionately pushing a similar message.
"We stand here in a city often divided by partisan lines, but not when it comes to Israel," said Harriet Schleifer, the chairwoman of the Presidents' Conference. "Democrats and Republicans stand together — supporting the Israeli people as they seek peace, justice and the safe return of hostages."
Schleifer also praised President Joe Biden, who has asked Congress to send more than $14 billion in emergency assistance to Israel. "President Joe Biden has been the steadiest ally and champion of our shared values," she said. "We are grateful for his leadership."
The message thrilled the audience, but subtle differences in messaging also emerged from the prominent Democrats and Republicans who spoke, and also between the Biden administration and Israel.
Mike Johnson, the newly installed Republican speaker of the House, said the United States would reject widespread calls for a ceasefire. "The calls for a ceasefire are outrageous," he said to loud cheers.
Sen. Majority Leader Chuck Schumer and House Minority Leader Hakeem Jeffries, both New York Democrats, did not mention a ceasefire. The Biden administration opposes a ceasefire and backs Israel's ultimate goal of dismantling Hamas but differs with Israel on the degree to which there should be pauses in fighting to bring humanitarian assistance into Gaza.
Biden is under intense pressure from a number of congressional progressives as well as some staffers in the State Department and elsewhere to force Israel to declare a ceasefire.
Sen. Jacky Rosen, a Jewish Democrat, and Sen. Joni Ernst, a Republican, also spoke. It was not clear why Kentucky Sen. Mitch McConnell, the minority leader, was unable to attend.
Beyond the politicians, celebrity speakers including Debra Messing, Michael Rapaport and Tova Felshuh called for Jews to wear their identities with pride.
"My name is Tovah Feldshuh," began the Broadway star Feldshuh, repudiating decades of entertainment pressure on Jews to disguise their identities. "My Hebrew name is Tovah Feldshuh. My stage name is Tovah Feldshuh." The audience cheered.
Messing, who has been active in campaigning for Democrats, alluded to the heartbreak many Jews on the left felt after failing to hear robust condemnations of Hamas by progressives after Oct. 7.
"I know you are alone, I know you are afraid, I know you feel abandoned by people you thought were friends," she said. "Looking out today I know we are not alone, because we have each other."
Three relatives of hostages being held in Gaza also spoke.
"We hostage families have lived the last 39 days in slow motion torment," said Rachel Goldberg, mother of hostage Hersh Goldberg-Polin. "We all have third degree burns on our souls."
An array of Jewish organizations across the political spectrum attended the event. The inclusion of some of the more right-wing speakers, including Johnson and Pastor John Hagee — the head of the influential Christians United for Israel group who is an opponent of LGBTQ rights — caused controversy before the rally. "A dangerous bigot like Hagee should not be welcomed anywhere in our community," the liberal pro-Israel lobby J Street tweeted on Tuesday morning.
"There is no middle ground in this conflict — you're either for the Jewish people or you're not," Hagee said in his speech on Tuesday.
But several speakers, including liberal CNN analyst Van Jones, called for the protection of Palestinian lives while emphasizing Israel's right to defend itself, and that joint message was continually given a warm reception by the crowd.
"We must stand together to secure a just and lasting peace between Israel and the Palestinian people," Jeffries said to applause.
Dr. Rochelle Ford, the president of Dillard University in New Orleans, a historically Black university, said it was time to "stand with Israel, and to stand with the Palestinians who suffer under Hamas' cruel rule in Gaza."
The rally started and ended with cries of "Am yisrael chai"— "the people of Israel live."
"Do not cower, allow no one to make you afraid," said Deborah Lipstadt, the Biden administration's antisemitism monitor. "The message is built into the Jewish people's most ancient history — Jews are strongest in their most broken places."
—
The post 290,000 people show up for historic pro-Israel rally in DC, organizers claim appeared first on Jewish Telegraphic Agency.