'The world can see that we are together': March for Israel attendees say they delivered a powerful message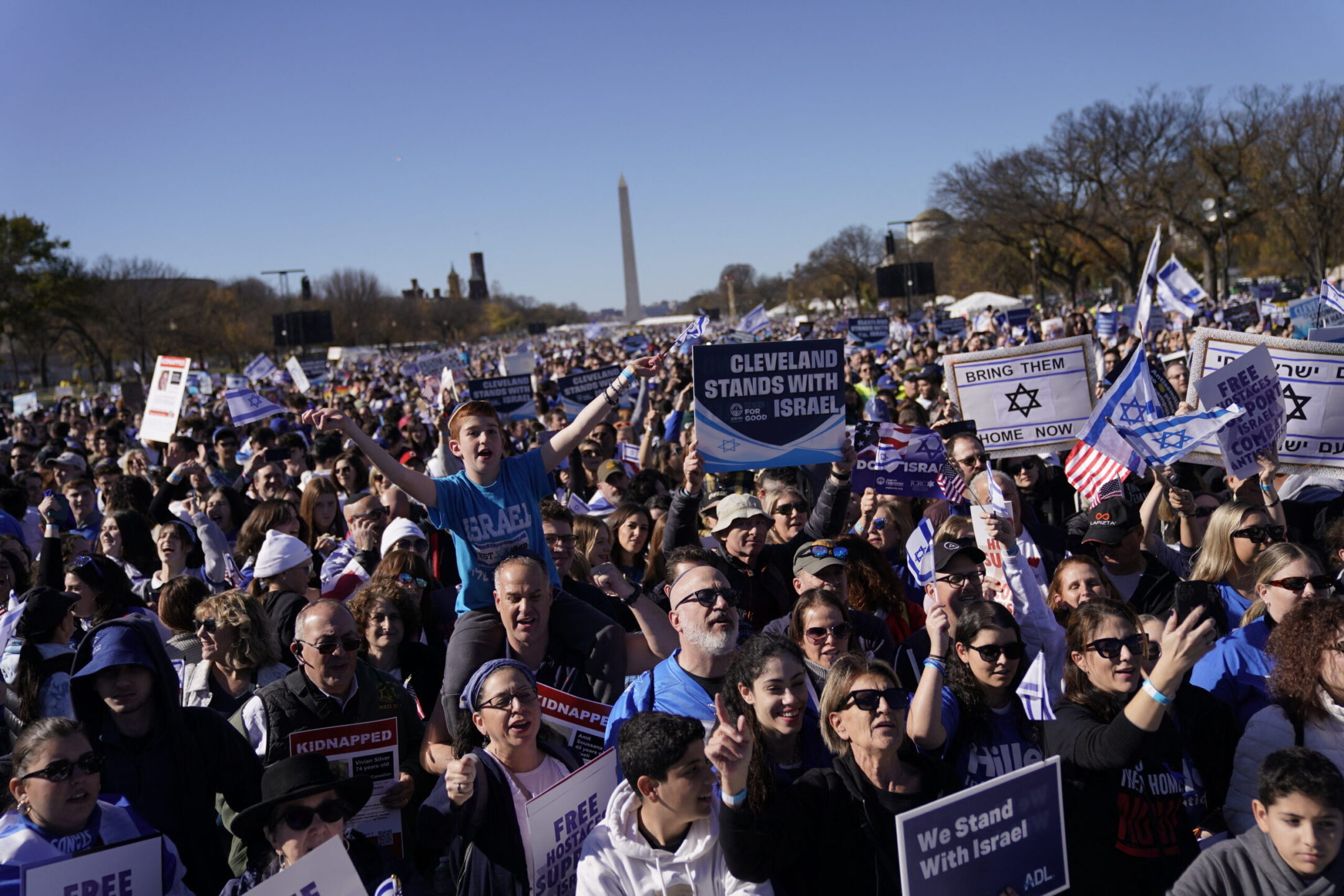 WASHINGTON (JTA) —  Hannah Kaplan, a senior at Tiffin University in northern Ohio, can identify exactly one other Jew in the school's student body of approximately 3,000. There are also a few Jewish professors, but no Hillel.
She says she's felt lonely since Oct. 7, when Hamas' attack on Israel killed 1,200, sparked a brutal war in Gaza to depose the terror group and led to a reported spike in antisemitism across the United States. Kaplan, who has relied on her lacrosse team for comfort, says there aren't many pro-Palestinian protests on her campus — but she's also feeling the absence of Jews.
So she got a seat on a bus leaving from Ohio State University and took the seven-hour ride to Washington, D.C., for what ended up being perhaps the largest Jewish gathering in American history on Tuesday — the pro-Israel rally on the National Mall.
"It's important for me to be around people who I really associate with, and can identify with a community," Kaplan said. "I'm so pumped and so ecstatic that so many Jewish students and so many Jewish people were able to come out in support today. It makes me feel like we really have a strong community. It makes me feel hopeful."
The pull Kaplan felt — to be around many, many other Jews at an uncertain time for both Israel and American Jewry — was shared by attendees across the hundreds of thousands who filled the grassy expanse in the nation's capital for two hours on Tuesday afternoon. Dozens of people who spoke with the Jewish Telegraphic Agency mentioned their support for Israel when they described what they hoped to hear at the rally. But mostly, they said, they were excited to be in a crowd of their own.
"When I heard about this rally, I felt it was so important to come and bring my daughter so that we can be here and stand with everyone," said Marnie Atias, who flew with her 15-year-old from Milwaukee. Another daughter moved to Israel shortly before the Oct. 7 attack and works at Hadassah Medical Center in Jerusalem. Arias added, "The world can see that we are together."
The crowd was a mix of young and old, with a large proportion of Orthodox attendees, in part a reflection of the decision by Jewish day schools and universities to cancel classes and bus students, and in some cases their families, to Washington. Clusters of men gathered outside the event before it started for afternoon prayers.
Politically, attendees seemed to reflect the broad pro-Israel tent that the organizers had hoped for, with right-wing demonstrators standing in the same crowd as a "Peace Bloc" organized by progressive Jewish groups. Signs mostly declared broad support for Israel, opposition to antisemitism, a call to free the hostages or condemnation of Hamas. Many held the hostage posters that have become a common sight in cities across the world, with more strewn in spots across the Mall.
A few signs made a "hummus/Hamas" pun, favoring the Middle Eastern chickpea paste while opposing the Middle Eastern terror group. Many people wore or waved flags that were half-American and half-Israeli. At least one person went a step further, wearing a tripartite flag that was one-third Israel, one-third United States and one-third Ukraine.
There were also some Jewish demonstration mainstays. A group from the activist anti-Zionist Hasidic group Neturei Karta protested outside the event's security barricade. Emissaries of the Chabad Hasidic movement roved around the crowd, seeking men who could put on tefillin, the prayer article worn daily by many observant Jews. A man sold Israeli flags ($10 each) from a cart, along with pins with messages such as "Go to Hell Harvard" — a reference to recent accusations that the university has not done enough to fight antisemitism — and "F— Iran" over a picture of former President Donald Trump.
There were also a significant number of Christians at the rally (and much to the chagrin of the liberal groups present, conservative evangelical Pastor John Hagee spoke from the stage). Kaylee Santalucia and her parents left Buffalo, New York, at 2:30 am, representing their church, on the Buffalo Jewish Federation's bus to Washington. She said she felt God would play a role in saving Israel.
"I am feeling uplifted, hopeful, that we can come together and stand for Israel and just be supportive," Santalucia said. She said she hopes to see "an end to the slaughter that Hamas is doing."
But the vast majority were Jews. One man, from Toronto, made a sweatshirt that read, in all caps, "THANK YOU PRESIDENT BIDEN FOR YOUR MORAL CLARITY," below a picture of the president. He stood on a chair, arms outstretched, one hand waving an Israeli flag and the other an American flag as he advanced a message that even some right-wing Jews have espoused about the Democratic president in the wake of Oct. 7.
"His stance is seen around the world," said the man, Zach Mammon. "He knows that, and we know that around the world."
A couple who flew from Atlanta was decked out in all manner of Zionist apparel: Eric Fox wore a blue-and-white scarf on top of a T-shirt bearing the likeness of Theodor Herzl, the ideological father of Zionism. His wife Julie Fox wore a blue shirt with a white Star of David and an American-Israeli flag as a cape.
They said they were motivated in part to counter the images of mass rallies held by Jewish Voice for Peace, an anti-Zionist Jewish group that brought thousands to a demonstration at the U.S. Capitol weeks ago.
"Just to show what the Jewish point of view really is instead of what's been shown on TV as far as Jewish Voice for Peace," Julie Fox said. "That doesn't represent most of us."
She added, "We want our hostages back and we want Hamas gone and I don't really think there is a way to have a two-state solution, unfortunately."
Not far away, Carol Berkower wore a shirt from the liberal Israel lobby J Street that identified her as pro-Israel as well as pro-Palestinian. The group advocates vocally for the establishment of a Palestinian state. She said she owned the shirt before Oct. 7 but read it again before putting it on and decided she still agreed with it.
But she said she hadn't come to the rally from her home in Baltimore to convince anyone. Rather, what brought her was concern for her cousin who lives in Kfar Aza, a kibbutz ravaged by Hamas. Berkower's daughter is also a student at the University of Rochester, and Berkower wanted to be part of a large crowd showing solidarity with Jewish college students.
"I think we're all together," she said of the rallygoers. "Everyone I know in Israel is traumatized right now so I've been doing everything I absolutely could to stand for it."
Another mother of a college student, Sarah Rubel from Westville, New Jersey, has a son at Tulane University, which was recently the site of an altercation between pro-Israel and pro-Palestinian protesters. She said she isn't scared — she's taking her cues from him, and he feels fine — but does feel sad, and felt a need to stand in solidarity with other Jews.
"I want all of Israel to see that we all support them," she said.
Some protesters did come advocating for a specific set of goals. Orna Tussia and Devorah Selber, Israelis who live in Philadelphia, carried huge posters with the pictures of the hostages held by Hamas. Selber's cousin is among them. They said they came to raise awareness for the hostages and to push for a large-scale prisoner exchange that would bring the hostages back in exchange for all of the Palestinian prisoners held by Israel.
"Israel and all of the world should see that it happened, this tragedy occurred, and we have hostages, there are still families there, we want them back as fast as possible," Tussia said, "Bring back the captives, and then we'll deal with the rest. First of all, bring back the captives."
For David Lender, a sophomore at the University of Delaware who comes from an Israeli family, the rally was an opportunity to support his people. He arrived in Washington with a bus of about 20 other students from his school.
"Israel is my everything — it's my home, it's my family, it's my people," he said. "What I want people to understand the most — and this is a point that I've heard echoed throughout the rally, even from people just walking around — is that Hamas and the Palestinian people are two very different entities and I don't want people to conflate one with the other."
Eytan Saenger, a first-year student at Binghamton University, originally had a test scheduled the day of the march in Washington.
"But then I was like, 'When else do I have the opportunity to stand with hundreds of thousands of people and stand here against the antisemitism that's going on both across the country and on college campuses?'" he told JTA. "Fortunately, my campus has a lot of Jews — but even where sometimes I'm the only Jew in a class or something like that, I will know that I'm part of a greater people that can come together for each other in times of need, and hopefully also in times of strength."
—
The post 'The world can see that we are together': March for Israel attendees say they delivered a powerful message appeared first on Jewish Telegraphic Agency.
Jewish sponsor withdraws from National Book Awards after learning of authors' plans for Israel ceasefire statement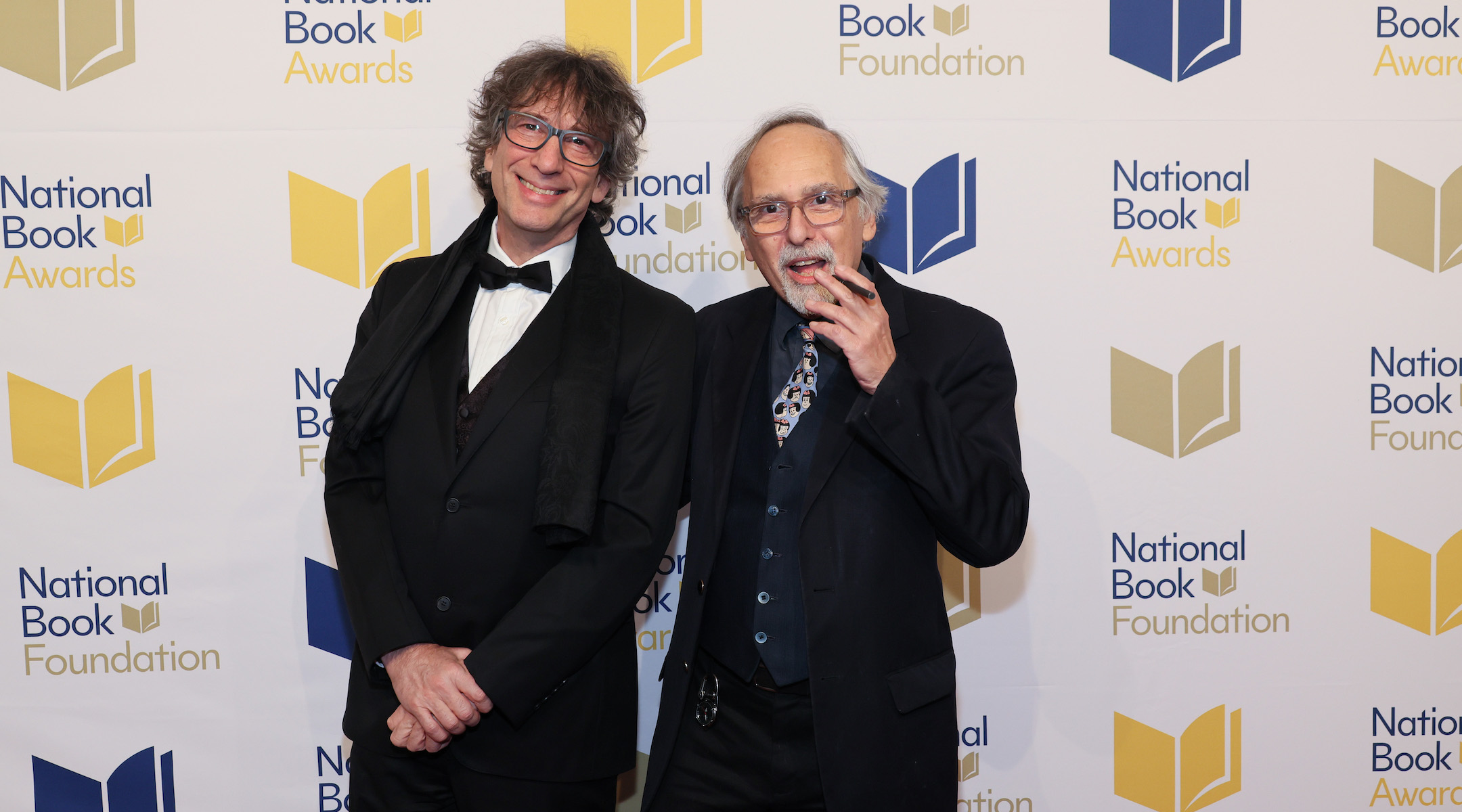 (JTA) – At least one Jewish sponsor of one of the oldest and most prestigious literary awards in the United States is pulling out of Wednesday's ceremony after learning that some of the nominated authors plan to issue a statement urging a ceasefire in the Israel-Hamas war, drawing yet another line in the sand at a cultural organization over Israel.
The controversy at the National Book Awards follows similar ones at the 92NY, Artforum and several book and film festivals at which statements and protests critical of Israel have resulted in institutional blowback and occasionally firings and resignations.
Zibby Owens, who leads the book publishing, bookstore and media company Zibby Books, announced her intent to pull out of the ceremony in a Substack post Tuesday. She wrote that a "source" had tipped her off that "all the nominees of the awards had gotten together as a block and decided to use their platform when winning speeches to promote a pro-Palestinian, anti-Israel agenda," and said she wrote to the National Book Foundation expressing her concerns.
While saying "I don't believe in censorship," Owens wrote, "I wanted the NBF to prevent a bullying atmosphere where speeches could be used to intimidate based on religious views." She specifically cited the phrases "Free Palestine" and "From the river to the sea" as ones that would be harmful to Jews, though she later told the Jewish Telegraphic Agency she did not know whether the nominees planned to use them.
After failing to receive these assurances from the foundation, she made the decision to pull her sponsorship. At least one other sponsor, Book of the Month, would not be attending the event but planned to continue to "support" it, according to The New York Times. Owens had just begun sponsoring the festival the year before but has donated in previous years.
The Times, speaking to at least one of the nominated authors, reported that they had planned to call for a ceasefire in the Gaza Strip during the awards ceremony. The author, fiction finalist Aaliyah Bilal, said the writers would stand behind a single person reading a statement, and that they wanted to be "sensitive to all of the antisemitism going on in this moment." The National Book Foundation has sent a notice to the remaining sponsors and attendees alerting them to the possibility of political statements at the ceremony.
"I acted on the information I had been given," Owens told JTA via email. "I had asked for an assurance that should any anti-semitic rhetoric surface that the NBF would have an action plan around that. None was forthcoming." Owens also said she would have wanted more advance notice from the foundation about the protest, and an indication "that while political speech is tolerated, hate speech will not be." 
Owens is Jewish and was a recent "36 To Watch" honoree at the New York Jewish Week, a sister publication of JTA. Her decision was met with mixed reactions on her Substack. 
"Pulling support from this event over a pro-Palestinian sentiment under the presumption that it would be antisemitic by default does not seem to me like an act of heroism," Jewish comedian Josh Gondelman commented. "It feels like a withdrawing of solidarity from members of the literary (and human) community who are also experiencing real pain."
Among the National Book Award finalists is nonfiction author and Palestinian human rights activist Raja Shehadeh, author of "We Could Have Been Friends, My Father And I: A Palestinian Memoir." Shehadeh's book is a portrait of his father, activist Aziz Shehadeh, an early proponent of Palestinian statehood and a moderate voice within Palestinian politics who was stabbed to death in 1985; Raja has long maintained that Israeli police failed to thoroughly investigate the murder. 
Owens said she didn't object to Shehadeh's memoir being shortlisted. "The judges make decisions based on the quality of the work, which is as it should be," she said. A handful of other finalists, including Bilal and children's author Huda Fahmy, were nominated for books about Islam.
Calls for a ceasefire in Gaza have grown among artists, activists and some politicians as Israel's continued bombardment of the region, more than a month after the Hamas massacre of 1,200 Israelis, has claimed thousands of lives. International groups have called the situation a humanitarian crisis, while the Israeli military has said it is singularly focused on dismantling Hamas.
Last year's National Book Awards bestowed a special honor on Jewish "Maus" author Art Spiegelman, whose graphic Holocaust memoir was in the middle of a nationwide book ban controversy. 
—
The post Jewish sponsor withdraws from National Book Awards after learning of authors' plans for Israel ceasefire statement appeared first on Jewish Telegraphic Agency.
European film festivals hit with controversies over Israel-Hamas war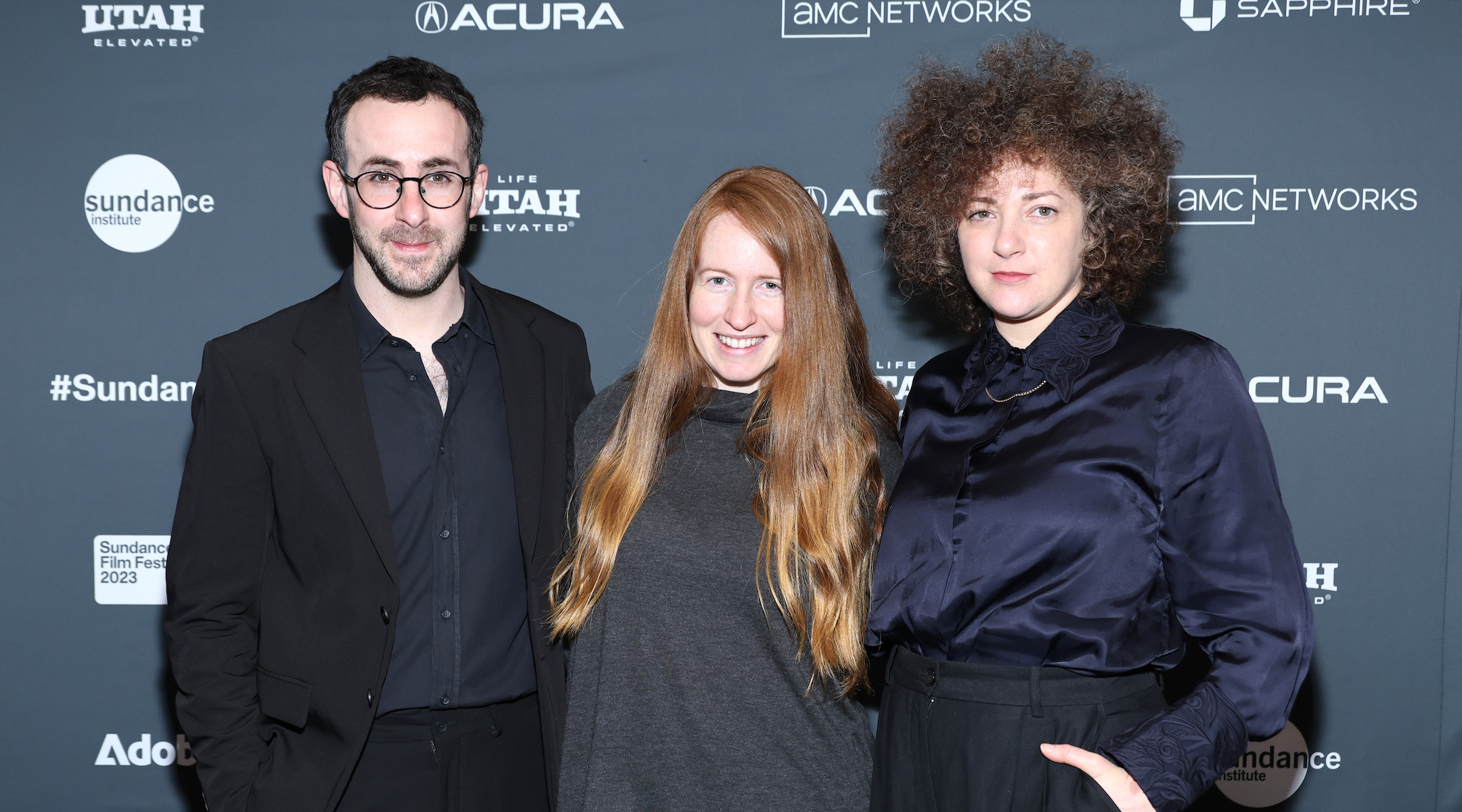 (JTA) — The war between Israel and Hamas continues to divide the cultural world, as two European film festivals this week found themselves embroiled in controversy over their handling of both Israeli and pro-Palestinian filmmakers.
The Stockholm International Film Festival, in Sweden, apologized Monday for what it said was a "misunderstanding" surrounding a planned guest, Israeli-American filmmaker and actress Aleeza Chanowitz. The festival had planned to have Chanowitz attend a screening this week of her raunchy comedy series "Chanshi," which she created and stars in as an Orthodox American woman who moves to Israel on a quest for sex with male soldiers.
But in emails Chanowitz first shared with Deadline, organizers walked back the invitation, at first saying the Israeli embassy could no longer provide travel costs, then citing a Swedish Foreign Embassy warning against travel to and from Israel. When she pushed further, organizers at the festival reportedly told her the organization had "to take a stand" and that her appearance at the festival could be an "unpleasant situation."
"I am surprised by the festival's cowardice, and it really sucks because I wanted to have a nice time at a cultural event where I could take a break from our scary reality and enjoy and discuss art," Chanowitz told Deadline. "I also 'have had to take a stand'; I stand with the Jews, Israelis of all kinds, peace with our neighbors, and most of all with the families of the hostages."
After the story blew up in the Israeli press, the festival issued an apology and offered to host Chanowitz in a virtual Q&A, according to The Hollywood Reporter. Claiming that "incorrect information" was spread about the reason behind the change, the festival said in a statement, "We are incredibly sorry about this bad communication that has caused pain for the team and for the wider Jewish community."
While the Stockholm controversy was unfolding, another was taking place in the Netherlands. At the International Documentary Festival Amsterdam, around a dozen filmmakers have pulled their work from the festival's lineup over its stance on the phrase "From the River to the Sea."
The collective, along with the Palestine Film Institute, was angry with festival organizers for condemning an opening-night pro-Palestinian protest. At the protest, demonstrators had unfurled a banner reading "From the River to the Sea, Palestine Will Be Free," a controversial phrase that many argue has historical roots in calls for Israel to be wiped off the map.
Claiming that he had not seen the banner at the time, festival director Orwa Nyrabia was caught on camera applauding the protests. He later condemned the banner after pushback from Israeli filmmakers, who wrote in an open letter, "We see this as a personal attack against us."
The festival's eventual statement on the slogan remarked that it "does not represent us, and we do not endorse it in any way. We are truly sorry that it was hurtful to many." Festival organizers also called for a ceasefire in the Gaza Strip, which Israel has bombarded for more than a month since the Oct. 7 Hamas attacks, and for humanitarian aid to enter the region.
After announcing that stance, several pro-Palestinian filmmakers announced they would be pulling their films from the event, including at least one Iranian director. 
"I am heartbroken, betrayed, and outraged by the damaging slander of the slogan 'From the River to the Sea,'" Iranian filmmaker Maryam Tafakory announced on Instagram as she pulled her film. "To call this slogan 'hurtful' is to be against the end of occupation."
The Palestine Film Institute, which pulled out of plans to showcase several films and participate in the festival's marketplace, issued its own statement saying the festival "unjustly criminalizes Palestinian voices and narratives." While the phrase has been criminalized in Germany, the institute said it has not been banned in the Netherlands. The institute later issued another statement praising the festival for supporting a ceasefire.
Among the films the institute had slated to show at the festival was "Bye Bye Tiberias," a documentary about the family of Palestinian-Israeli-French actress Hiam Abbass, best known for her role in the HBO series "Succession." 
The controversies in Stockholm and Amsterdam mirrored other debates around Israel that have unfolded in arts and culture spaces, including at the 92NY in New York City and among the staff of the art magazine Artforum. In both cases, blowback to Israel-critical open letters resulted in staff at the institutions either resigning or being fired. 
—
The post European film festivals hit with controversies over Israel-Hamas war appeared first on Jewish Telegraphic Agency.
'No One Will Break Us': DC Rally Makes History as Largest Ever Jewish, Pro-Israel Gathering in US
Washington, DC — Hundreds of thousands of Jewish Americans and pro-Israel advocates packed the National Mall in Washington, DC on Tuesday in a historic show of solidarity with the Jewish state amid its war with the Hamas terror group.
US Jewish groups organized the "March for Israel" to demand the release of hostages held captive by Hamas in Gaza and to demonstrate support for both the Jewish state and the Jewish community amid a global surge in antisemitism that has followed the Palestinian terror group's Oct 7. massacre across southern Israel.
William Daroff — CEO of the Conference of Presidents of Major American Jewish Organizations, which co-organized the rally along with the Jewish Federations of North America — told The Algemeiner that 290,000 people were at the event, based on tallies according to those who went through the metal detector at the entrance. However, large numbers of attendees did not appear to have the required wristbands to go through security, making the actual totally potentially higher.
Either way, Tuesday's rally was both the largest ever pro-Israel gathering and the largest Jewish gathering in US history.
Speakers included the famed human rights activist Natan Sharansky, US Sen. Chuck Schumer (D-NY), US Speaker of the House Mike Johnson (R-LA), and Israeli President Isaac Herzog, who appeared via live feed, among many other voices.
"The people of Israel are eternal, and no one will break us," Herzog said, prompting an eruption of cheers and applause. "From the Jewish symbols of fulfillment of our ancient dreams to the American symbols of freedom, liberty, and democracy, thank you, thank you, the hundreds of thousands who have gathered from all over the United States, all people of good will, friends from different communities, faiths, and denominations who gathered today for this massive show of solidarity."
The marchers, who traveled from across the US, represented a full spectrum of the Jewish communitiy and its allies. As one participant told The Algemeiner, it was an important display of unity and the peaceful intentions of the Jewish people.
"I think it's beautiful. It just shows that we are in peace, that we come in peace, and we're not interested in violence, and on the contrary we're fighting that in the world and all antisemitism and hatred of all kinds," said Beverly Mehl, from New York. "It's very important to show strength, to do something and take action."
Another rally-goer said that "seeing this mix of Jews — it;s really surreal. It lights something in my heart. I've never seen anything like it. It feels like we're a nation again. No common enemy. No conflict."
For others, the event elicited strong emotions.
"It was very moving," said television personality and activist Emily Austin, who has received death threats and vulgar messages for coming to Israel's defense. "The fact that 200,000 people from all over the country came to show their solidarity and support for one another was very emotional for me. Many politicians came to show their support, which meant a lot to everyone, especially the families of the hostages."
Not everyone who attended the rally was Jewish.
"I'm here because a very good friend of mine was killed in Kfar Aza [a kibbutz in southern Israel]," said Carlos Chacon. "It's the least I can do to be here. As a Christian, I know that Jews are our brothers. It's our duty to defend each other. We have so many things in common."
The scale and success of the "March for Israel" was striking given that it was organized in just a matter of weeks. Sharansky, the famed refusenik and international campaigner against antisemitism, highlighted the pressing need for a mass pro-Israel rally in a recent article for Tablet magazine and drew a comparison with marches in 1987 attended by hundreds of thousands to support Soviet Jewry.
"Immediately after the [Oct. 7] attack we found that all of us were being attacked, and so the world Jewry is feeling like one family, supporting one another, because I hear from so many who say they never imagined that they would be afraid in their countries," Sharansky told The Algemeiner. "We all have to rally quickly to turn into one fighting family, and I think that's what Jews are doing now and why this demonstration is happening."
He stressed that unity among the Jewish diaspora is crucial — a theme that permeated the National Mall on Tuesday, especially amid a historic, worldwide surge in antisemitic attacks.
"As antisemitism began increasing in the United States, there was a strong desire for the Jewish community and supporters of Israel to come together and make a very strong and powerful statement and say we stand together with each other, with Israel, and against antisemitism," said Gil Preuss, CEO of the Jewish Federation of Greater Washington. "I think it's important for everyone to understand that the Jewish community is strong and united in its support for Israel, is strong and united that Hamas free the hostages, and is strong and united in its fight against antisemitism in all of its forms."
About 240 hostages remain trapped in Gaza in the hands of Palestinian terrorists, according to Israeli authorities. Israeli Prime Minister Benjamin Netanyahu said over the weekend that a deal to release at least some of the hostages "could be" negotiated soon but declined to elaborate: "I think the less I say about it, the more I'll increase the chances that it materializes."
Netanyahu has ruled out a ceasefire to the ongoing war with Hamas terrorists unless all the hostages, who include children and the elderly, are released.
Follow Dion J. Pierre @Dion J. Pierre.
The post 'No One Will Break Us': DC Rally Makes History as Largest Ever Jewish, Pro-Israel Gathering in US first appeared on Algemeiner.com.