Journalists need support to get the Mideast story right. We should give it to them.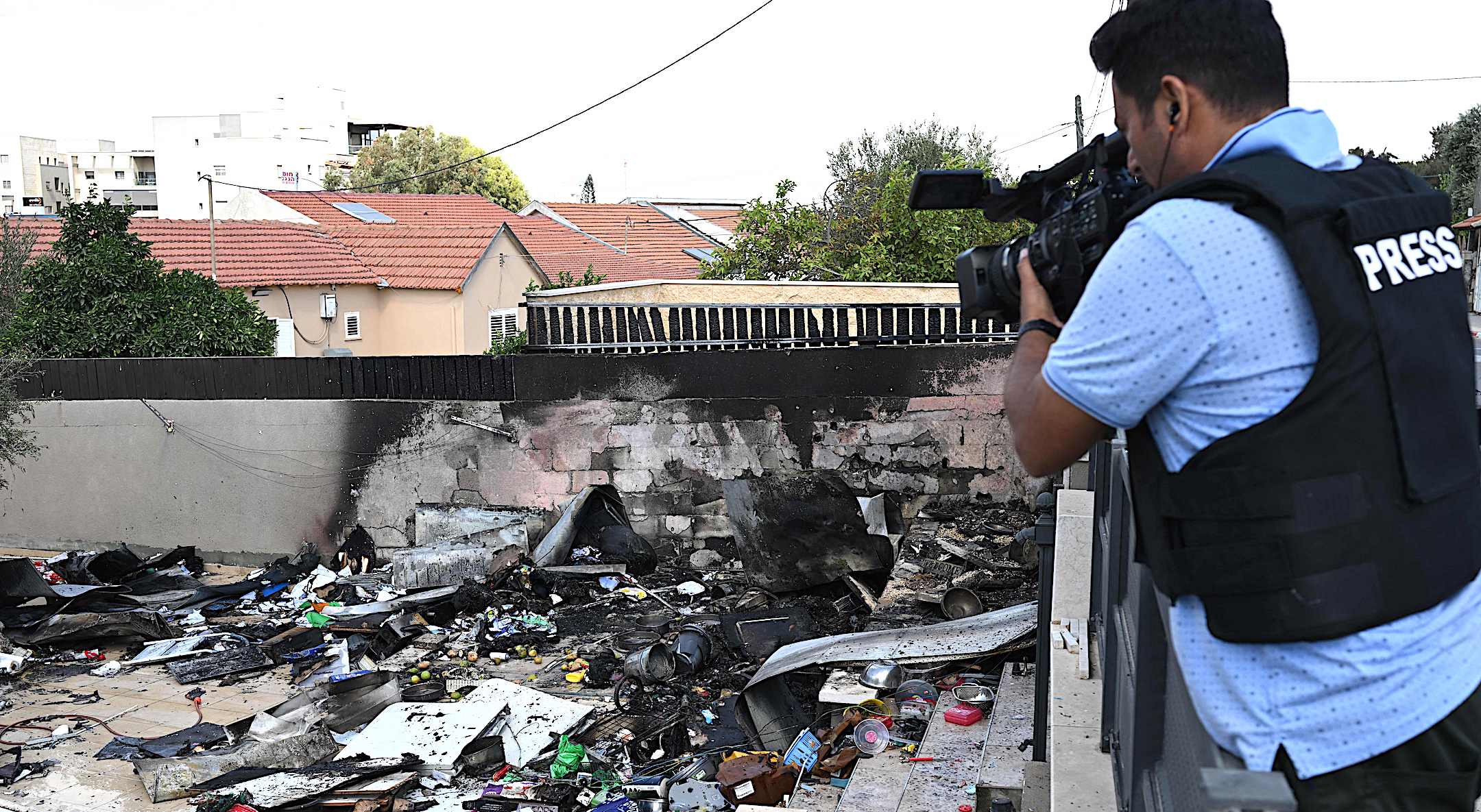 (JTA) — At the end of last summer, Ron Kampeas, the seasoned Jewish Telegraphic Agency reporter, shared his experience reporting on the Tree of Life massacre in Pittsburgh. Triggered by a jarring CNN alert back in that dark October of 2018, he and a companion rushed to the scene, where a tip from an informant brought both of them to tears.
"You're a journalist, professionally bound to maintain distance," Ron reminded himself then and over the next five years covering the shooting and its ramifications. "Not everything is personal."
Kampeas' article, written during the sentencing phase for the gunman who killed 11 Jewish worshippers, provides a poignant window into the emotional toll journalists face when confronting the depths of human brutality. In times of war, these strains can intensify, potentially influencing a journalist's ability to report effectively.
Having spent nearly two decades as a spokesperson for Jewish community organizations, I've often wondered why the Jewish community does not prioritize investment in news organizations, despite the pivotal role they play in keeping communities informed and engaged. The question takes on even greater importance today, with attacks on the Jewish homeland and a disturbing rise in violent incidents of antisemitism. We need highly skilled, credible journalists to report on these events for the rest of the world.
Journalists also play a critical role in countering misinformation and disinformation. According to NBC News, sites like Facebook, X, TikTok and YouTube all are coping with a flood of unsubstantiated rumors and falsehoods about the Israel-Hamas War, which make it impossible for people to distinguish fact from fiction. To address these concerns, increased attention on media organizations and financial support would go a long way.
Amidst a volatile backdrop, journalists are converging on Israel. Despite flight disruptions and border closures, the anchors of the nation's three largest evening newscasts, including NBC's Lester Holt, ABC's David Muir and CBS's Norah O'Donnell, have entered the country. CNN has deployed a team of approximately 35 professionals on the ground. As of last week, there were about 250 foreign journalists in the country and counting. This cohort of journalists will be the world's primary source of information during the Israel-Hamas War — regardless of their familiarity with the region.
I recently spoke with Uri Dromi and Talia Dekel from the Jerusalem Press Club and Eli Gershenkoin from the Union for Journalists in Israel. These organizations provide support to foreign and local journalists in Israel whose needs will only grow as the war grinds on. Mental health services and physical protection equipment top the list for local journalists who have already been deeply affected by the conflict. For those who come in from all areas of the world, translators, "fixers" and sources who can provide access to officials are critical. Few speak Hebrew, which limits the scope of their reporting and hampers their ability to maneuver daily life in Israel.
A 2023 reporters' roundtable organized by the Washington Institute for Near East Policy discussed the challenges facing journalists reporting "under fire." While some news organizations have the means to employ security advisors who travel with journalists, most can't afford them, so journalists often head off into conflict areas with limited training or support.
In these demanding environments, maintaining objectivity is complicated by the intense and often traumatic experiences journalists encounter. An array of challenges affect their physical, mental and digital well-being. The intensity of what journalists witness and experience can blur the lines between observer and participant, making fairness a constant battle.
Under these circumstances, Washington reporter Missy Ryan explains in the roundtable, "a journalist should focus on one person's experience and provide context for the larger conflict." She also advised war correspondents to "use their judgment and analytical skills while always double-checking the story."
I am heartened to share that the Knight Foundation, a leader in supporting press freedom and the field of journalism, is providing a grant to the Jerusalem Press Club and Union for Journalists in Israel to help address these challenges. While Knight's work is almost entirely centered around local news in the United States, we make an exception for work that enhances journalist safety. Legal, digital and physical safety threats to journalists abroad can be harbingers for similar press freedom concerns closer to home.
Knight supports the Committee to Protect Journalists and the International Center for Journalists, and provided grants to those organizations to help Ukrainian journalists, Russian journalists in exile and journalists in neighboring countries get vital information to communities affected by Russia's war on Ukraine. Knight also supported efforts to keep safe Afghani journalists during the Taliban's return to power.
As the Israel-Hamas war unfolds, it will continue to be incumbent upon the Jewish community to take heed of the needs of journalists and the organizations that support them. It is crucial that we support the work of these organizations not only during this crisis, but also during times of peace to ensure that journalists have the tools and services they need to cover events accurately. It's my hope that the Jewish community — and more broadly the general community — will recognize the need for the full, accurate, contextual truth that is only possible when we have prepared and seasoned journalists on the ground reporting.
—
The post Journalists need support to get the Mideast story right. We should give it to them. appeared first on Jewish Telegraphic Agency.
After employees quit due to pro-Israel stance, hundreds show up to support Upper East Side coffee shop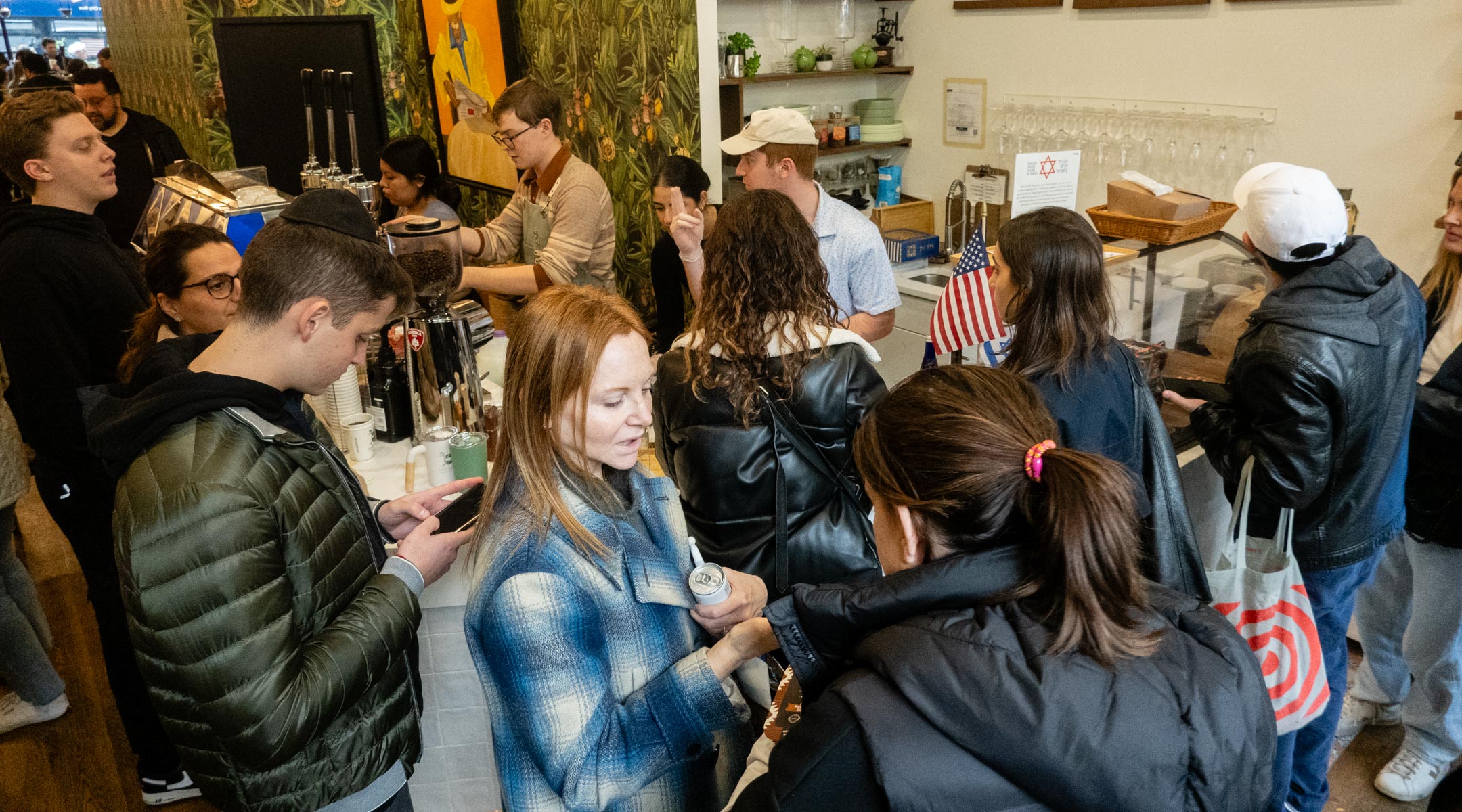 (New York Jewish Week) – After Aaron Dahan, the owner of a New York City cafe chain, saw his fifth employee quit in recent weeks due to Dahan's public support for Israel, he decided to close his Upper East Side location for the day.
Two baristas had shown up at the Caffe Aronne branch on Lexington Avenue and 71st Street wearing pro-Palestinian pins on their aprons on Tuesday morning, leading to a dispute with the manager. One of the employees quit on the spot.
Dahan was catering a private event and unable to come to the shop, so he told his mother, Peggy, that the store was closing. She decided to keep the doors open, heading to the cafe herself and putting out a call for volunteers to join her.
"I just came," Peggy Dahan said. "I learned how to use the cash register. I learned how to pour a cold brew and use the espresso machines."
She wasn't alone: Friends and family, including Peggy's daughter's friends and her assistant, who had with barista experience, showed up to keep the shop running. So did hundreds of customers, who formed a line spilling around the block as a demonstration of their own support for Israel — and repudiation of those who would oppose it.
"When I got on the line, part of me was so upset that we have to do this to show other Jews that we support them," said Danielle Posner, a first-time customer who went to the cafe after a friend sent her a message about what was going on. "And part of me was so overwhelmed with joy that we came together so quickly as a people."
Some in the crowd carried Israeli flags, and others put up posters of Israeli hostages on a street pole, adding to the fliers scattered around the neighborhood – some intact, others torn or defaced with graffiti.
The cafe joins a handful of other restaurants that have seen business surge amid concerns that they were suffering because of their support for Israel. On Long Island, for example, a Greek diner has become a hotspot for pro-Israel diners after initially seeing traffic drop off after the owner hung hostage posters. There, too, social media appeals have driven a flurry of new customers concerned about the fallout from the Oct. 7 Hamas attack on Israel and surging antisemitism in the United States.
Aaron Dahan, a 25-year-old graduate of the city's Orthodox Ramaz School, said his trouble had started last month when he began raising money for Magen David Adom, Israel's emergency services provider, in the wake of the Oct. 7 attack.
The Upper East Side location also has posters of kidnapped Israelis taped to the front window, and miniature Israeli and American flags stand by the register. Peggy Dahan said her husband's step-cousin was killed in the Hamas attack.
"Our staff was not for it," Aaron Dahan said of the chain's support for Israel, describing much of the staff as progressive students from local colleges, where criticism of Israel has been prominent since Oct. 7. "They think that we're supporting genocide, that we're supporting colonialism."
Across the chain's three locations, five staffers quit over the course of several weeks, with the latest resignation on Tuesday proving too much to keep operations running at the chain's Upper East Side location. (It also has outposts in the West Village and on the High Line, as well as a catering truck.)
Dahan said he had tried to discuss the conflict with staff over dinner, telling them, "Let's realize that we're not all here trying to kill each other." But it wasn't enough to head off frustrations.
"I wish it would've never happened," he added about the staff fissures, adding, "We had a beautiful family, a really great team. It's sad, you make a lot of friends and it's just all gone over this."
The appeal for help on Tuesday quickly ricocheted around the city's pro-Israel and Jewish community. Posts about the cafe were widely shared on social media and the WhatsApp messaging platform, drawing crowds to the shop. Peggy Dahan said that, as she struggled to keep the store open, she received messages of support from strangers telling her, "We're coming."
Some of the volunteers who came in to work had previous experience as baristas, she said, while others were learning on the job, as she was. Customers offered referrals for baristas who would be willing to work for the chain.
Many of the customers who came in contributed to the store's fundraising efforts for Magen David Adom, bringing in cash for the effort. The company had intended to buy the medics a $36,000 "medicycle," a modified motorcycle used to rush to emergencies. Now, Peggy Dahan said, Caffe Aronne hoped to buy two of the vehicles.
"This is a complete community thing," she said. "It just shows what a great and amazing community we have."
—
The post After employees quit due to pro-Israel stance, hundreds show up to support Upper East Side coffee shop appeared first on Jewish Telegraphic Agency.
After losing friends on Oct. 7, this Israeli NCAA basketball player looks for an escape on the court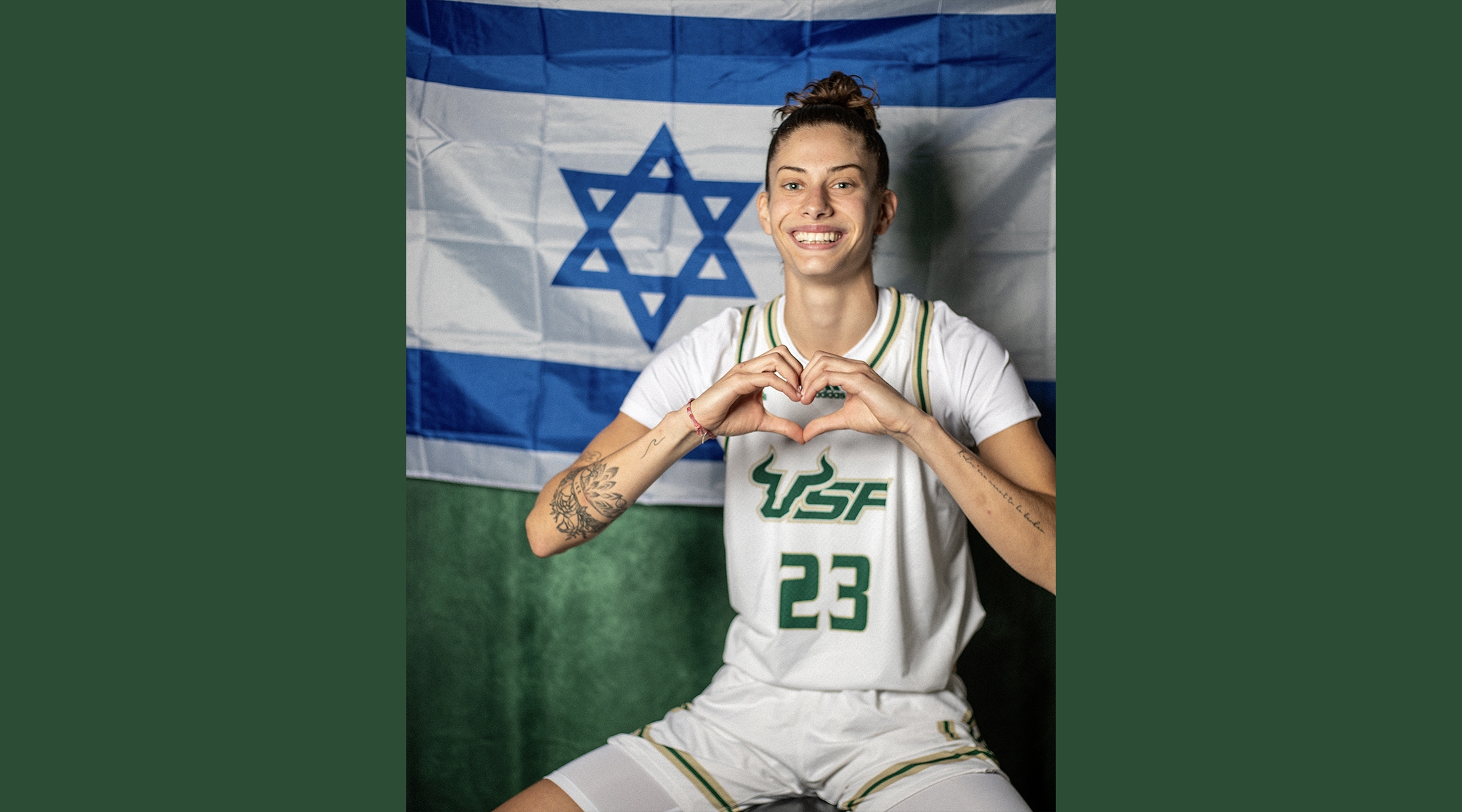 (JTA) — Romi Levy glides towards the basket, her sole focus on finishing at the net in the University of South Florida's practice facility. Moments later, during a break in practice, she checks her phone, hoping not to see any alerts about rocket alarms in her hometown of Herzliya, Israel.
More than 6,000 miles from home at a U.S. university, Levy always thought about Israel often. But things changed on Oct. 7, when some of her high school friends were killed during Hamas' terror attack on the Re'im music festival. Her cousin, one year younger and like "a little brother," is on the front lines of the war.
"Trying to stay on top of school and basketball and also knowing everything going on at home was hardest the first week, and it still is hard," Levy told the Jewish Telegraphic Agency. "I'm just trying to do my best and make sure that everybody at home is OK and try to be there and support them."
Basketball is an escape. Levy's time with the team, about six hours per day at the team's practice facility, gets her away from watching the news "nonstop."
"I just love basketball so much that when I get on the court I just have fun," Levy said. "I know that if something were to happen my phone is right there, so I don't need to think about it when I play basketball."
She was already looking to turn her college career around on the court this year. This past March, after an injury-plagued three years at Auburn University, Levy put her name in the NCAA transfer portal. More than 40 Division I women's college basketball programs reached out, illustrating the 6-foot-3 wing player's potential.
"New life, New team, New position. Starting it all over!" she captioned an Instagram post after transferring to USF.
Born and raised Jewish, Levy is a third-generation standout Israeli athlete. Her grandmother, Tamara Metal Schumacher, was the first female Israeli Olympian, competing in the 1952 Games in the high jump and long jump. She also played for the country's national basketball team, as did her mother. Levy's "23" tattoo on her arm honors her grandmother's Olympic number.
Levy is also a dual Israel-American citizen. Her father, Alon, a former professional soccer player and Ironman triathlete, lived in Los Angeles for a decade and became an American citizen. He and Romi lived in Boca Raton, Florida, during her freshman year of high school, where she attended Olympic Heights Community High School. They moved back to Israel at the end of that school year.
Between graduating from Hof Hasharon High School and beginning college, Levy completed Israel's mandatory two-year national service requirement. During her service, spent at her parents' rehabilitation center working with Israel Defense Force veterans, Levy also represented the Israeli national team at the U18 Women's European Championships, leading the team to a bronze medal.
She enrolled at Auburn in 2020 on the recommendation of Israeli three-time Olympic swimmer Yoav Bruck, a 1994 Auburn graduate and friend of her parents. Levy posted her best season to date as a freshman, averaging 5.4 points, 3.9 rebounds, 1.5 assists and 1.4 steals per game en route to SEC All-Freshman Team honors.
She then missed her sophomore season due to an ACL tear suffered in her left knee and injured her meniscus in both knees during a preseason practice. She made a strong return, posting 6.7 points and 4.2 rebounds per game in 23 appearances for Auburn last season, but Levy played through pain. Unable to straighten her leg all the way, it swelled to the point where she needed it drained and took steroid shots. With Auburn out of any postseason play, Levy sought an MRI. She again underwent season-ending knee surgery in February.
She called Auburn — where she celebrated Jewish holidays with men's basketball coach Bruce Pearl and his family — "a great place for school, but for basketball it wasn't a good fit for me." USF boasts a stronger women's basketball program: While Auburn finished a solid No. 81 out of 361 teams in last year's NCAA NET Rankings, USF finished No. 39.
Levy likes to play far from the basket on offense. A physical lefty with a deft shooting touch, she flashed 3-point range during her time at Auburn but mainly played with her back to the basket in the post. At USF, she's transitioning back to her natural position on the wing.
Carsen McFadden, a current member of the Auburn women's basketball team in Levy's recruiting class, told JTA she appreciated learning about Jewish and Israeli culture from Levy — such as the fact that Hebrew is written from right to left. McFadden, who called Levy her "best friend," acknowledged Levy's efforts to stay positive during a trying time at Auburn, always there to lend a listening ear and a hug.
Outside of basketball, Levy felt comfortable with USF because of its large international student population — more than 50% of the undergraduate population in the fall of 2021, according to the school. At USF, she has also found a larger Jewish community, attending events at the school's Hillel center and Chabad house and in the greater Tampa community, as her busy schedule permits. She does her best to celebrate all of the Jewish holidays stateside but longs for extended family's Friday night Shabbat dinners.
"We'd do the Kiddush and all that," Levy said. "Seeing everyone together is something I miss. Friday nights aren't as special here as they are in Israel."
Levy's parents still live in Israel, roughly an hour by car from the Gaza Strip. Alon Levy traveled from Israel to Tampa this week to visit his daughter and attend her first game at USF, a 76-61 win over UT Arlington in which Romi scored 10 points across 21 minutes of action. Alon said he and his wife Liat communicate with Romi and their older daughter, Sean, a New York City-based model, daily.
"I can't explain what we are feeling, but we are in shock, all of Israel is for what happened," Alon said. "I think almost everybody in Israel has someone that something happened to. There are no words to explain it."
He told Romi not to look at the news too much and try to focus on her new beginnings in Florida.
"I'm coming now, also, to give her a hug and see how she feels," he said. "From a distance, you never know exactly how your children are feeling. They always say they are OK. But she's OK. She's OK."
—
The post After losing friends on Oct. 7, this Israeli NCAA basketball player looks for an escape on the court appeared first on Jewish Telegraphic Agency.
At Knesset protest, two mourners blame Netanyahu for Oct. 7, urge end to the war