NY Rep. Bowman calls meeting on antisemitism amid sharp criticism from Jewish constituents ahead of potential primary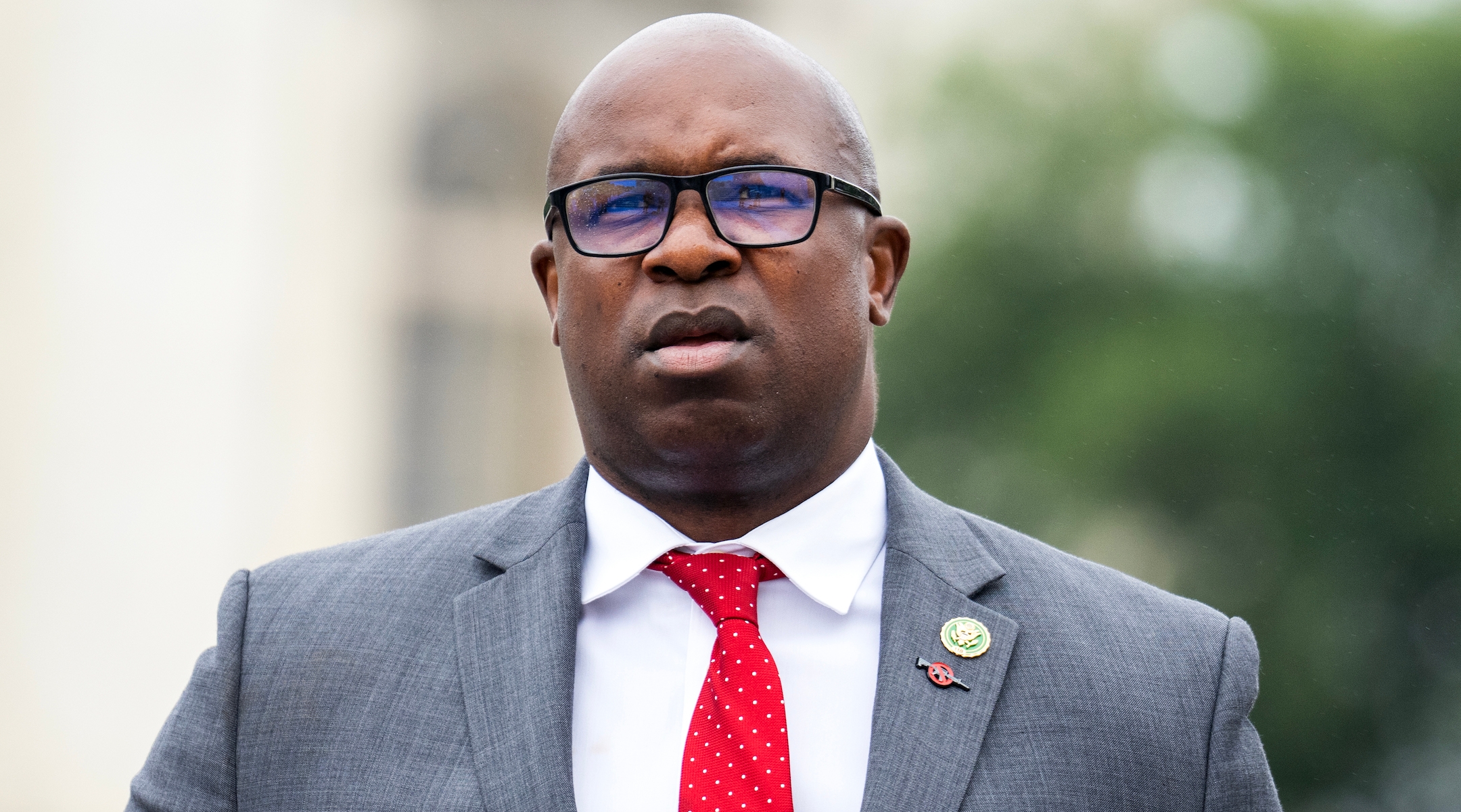 (New York Jewish Week) – Rep. Jamaal Bowman, the progressive New York Democrat, is asking his Jewish constituents to attend a meeting to discuss antisemitism as criticism of his stance on Israel's war with Hamas in Gaza has bolstered a potential primary challenge against him.
The meeting, which his office called "Healing breakfast: Fighting antisemitism and hate," will be held at Bowman's office in White Plains on Monday morning.
An invitation was sent out to some local Jewish leaders on Friday, but some of the invitees are ridiculing the effort. Rabbi Evan Hoffman, the head of the Westchester Board of Rabbis, called the meeting "laughable."
"Nobody's going," said Hoffman, the leader of the Orthodox Congregation Anshe Sholom in New Rochelle. "The relationship with the congressman has hit rock bottom, and he knows it, we know it. There's no point in dancing around it anymore."
Bowman has elicited pushback locally and nationally over his calls for a ceasefire in the war between Israel and Hamas, including from Jewish constituents. He has condemned Hamas and a rally appearing to support its attack; he has also demanded the release of the terror group's hostages and decried antisemitism. But he is also a member of the "Squad," the group of progressive Democrats that has directed harsh criticism at Israel  both before and since Oct. 7.
Bowman co-sponsored an Oct. 16 resolution from fellow progressive Rep. Cori Bush calling for an "immediate ceasefire." The resolution did not mention Hamas, terrorism or Israeli hostages, and Bowman's backing drew condemnation from the Westchester Board of Rabbis, which said the resolution denied Israel the right to defend itself while Hamas held hostages and drew false equivalence between the two sides.
Bowman was one of just 10 members of Congress to vote against a resolution "Standing with Israel as it defends itself against the barbaric war launched by Hamas and other terrorists." He likewise voted against a resolution condemning support in campuses for terror groups including Hamas.
Bowman was elected to Congress in 2020 after defeating a long-term Democratic pro-Israel incumbent, Eliot Engel, in a primary. Unlike other members of the Squad, including Reps. Ilhan Omar and Rahida Tlaib, Bowman at first tried to walk a cautious line on Israel policy. He traveled to Israel in 2021 on a trip organized by the liberal Israel lobby J Street, drawing fire from the left, and quit the Democratic Socialists of America after the trip.
J Street had endorsed Bowman before Oct. 7. The group told the Jewish Telegraphic Agency on Oct. 24 that it was not withdrawing that endorsement.
The discord over those stances in his district could bolster the prospects for a challenge from George Latimer, the popular county executive in Westchester, who has said he will make an announcement on a potential run this month; Bowman's current term ends on Jan. 3, 2025.
Bowman's 16th congressional district is located north of New York City, though it also covers a small part of the Bronx. It is home to a significant Jewish population, and is around half Black and Latino.
More than two dozen rabbis in Bowman's district, including Hoffman, wrote a letter to Latimer nine days after the Oct. 7 attack on Israel, urging him to challenge Bowman due to the incumbent's "effort to erode support for Israel on Capitol Hill and within the Democratic Party."
Rabbi Jonathan E. Blake of the Westchester Reform Temple, who also signed the letter, said that Bowman's approach to the war appeared to be at odds with most of Westchester's Jewish community.
"The overwhelmingly shared sentiment is that the Jewish voters in Representative Bowman's district do not believe that his policy and messages on Israel reflect their own views," Blake said.
Hoffman feels that that tension predated Oct. 7. Ahead of the war, he said, Bowman was "unresponsive to our requests and our needs and developed an adversarial relationship with us."
On Thursday, Bowman posted on X, formerly known as Twitter, that he had been in daily contact with Jewish constituents "and they do not want their pain exploited by the right wing to justify even more civilian deaths." Following the rabbis' letter criticizing Bowman, and another missive urging Latimer to mount a challenge, several dozen Jewish community members calling themselves "Jews for Jamaal" wrote a counter letter, expressing support for the congressman and urging Latimer against running.
Micah Sifry, one of the lead signatories on that letter, said he had been invited to the meeting on Monday and planned to attend.
"I don't think anybody has actually polled so it's hard to know, so probably everyone is touching a different piece of the larger picture," he said regarding Jewish support in the district for Bowman. "It's no secret that there's a wide range of opinions in the Jewish community."
Sifry said Bowman distributed his contact information to community members and had been responsive to requests, but may struggle to keep up with the volume of messages he receives.
Bowman's office did not respond to a request for further information about the Monday meeting, including who would be attending, what would be discussed and what prompted the event.
Blake, a member of the Westchester Jewish Council, an umbrella group, and the Westchester Board of Rabbis, said that he was not aware of Bowman's office approaching either group, did not know who Bowman was speaking to in the Jewish community, and had not received an invitation to the Monday meeting.
Hoffman said he had received a brief phone call from Bowman last month, and that the congressman's Jewish supporters represented a "very small fraction" of the community.
"I believe that he uses this language as a fig leaf," Blake said of Bowman's claim that he had been speaking daily with Jewish constituents, "to cover the plain fact that his relationship with the mainstream Jewish community in his district is badly strained at this time."
—
The post NY Rep. Bowman calls meeting on antisemitism amid sharp criticism from Jewish constituents ahead of potential primary appeared first on Jewish Telegraphic Agency.
Sense of duty mixes with fear for Israeli soldiers preparing to enter Gaza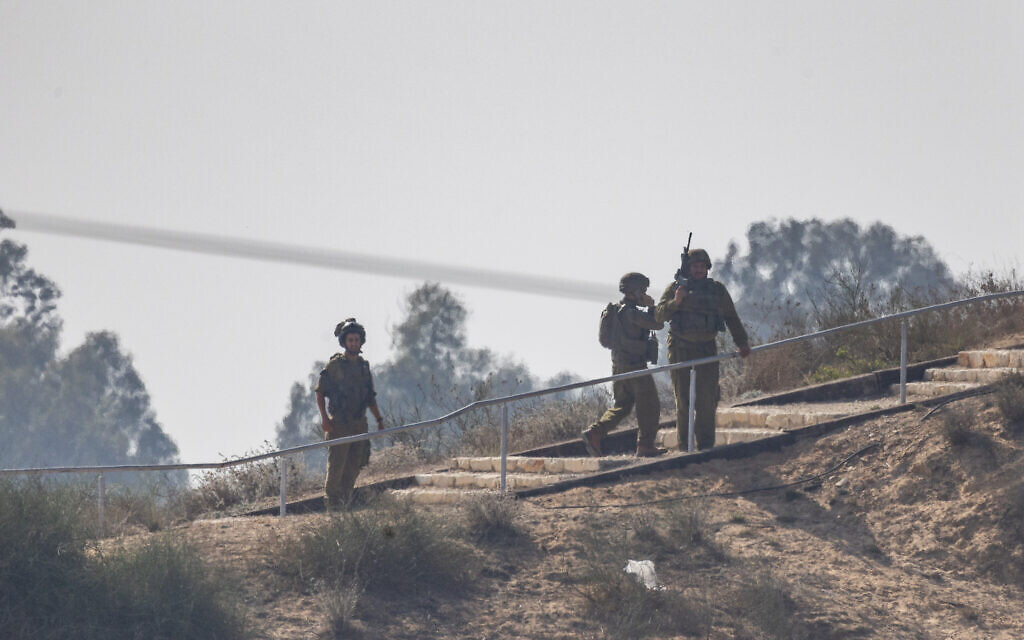 UAE says it will establish field hospital to treat Palestinians in Gaza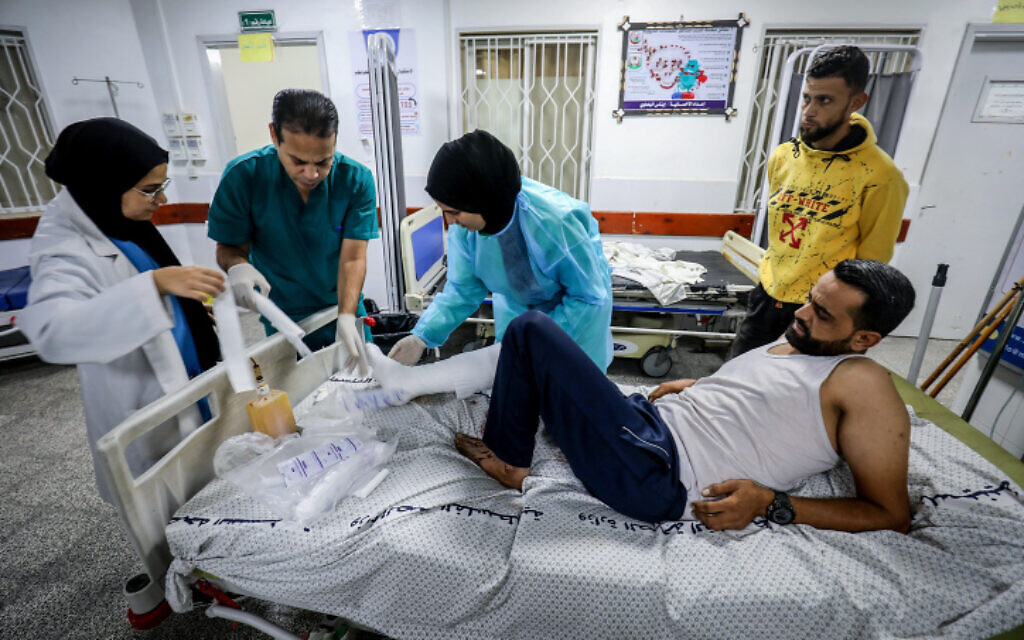 Thousands gather for pro-Israel rally in NYC 30 days after Oct. 7 massacre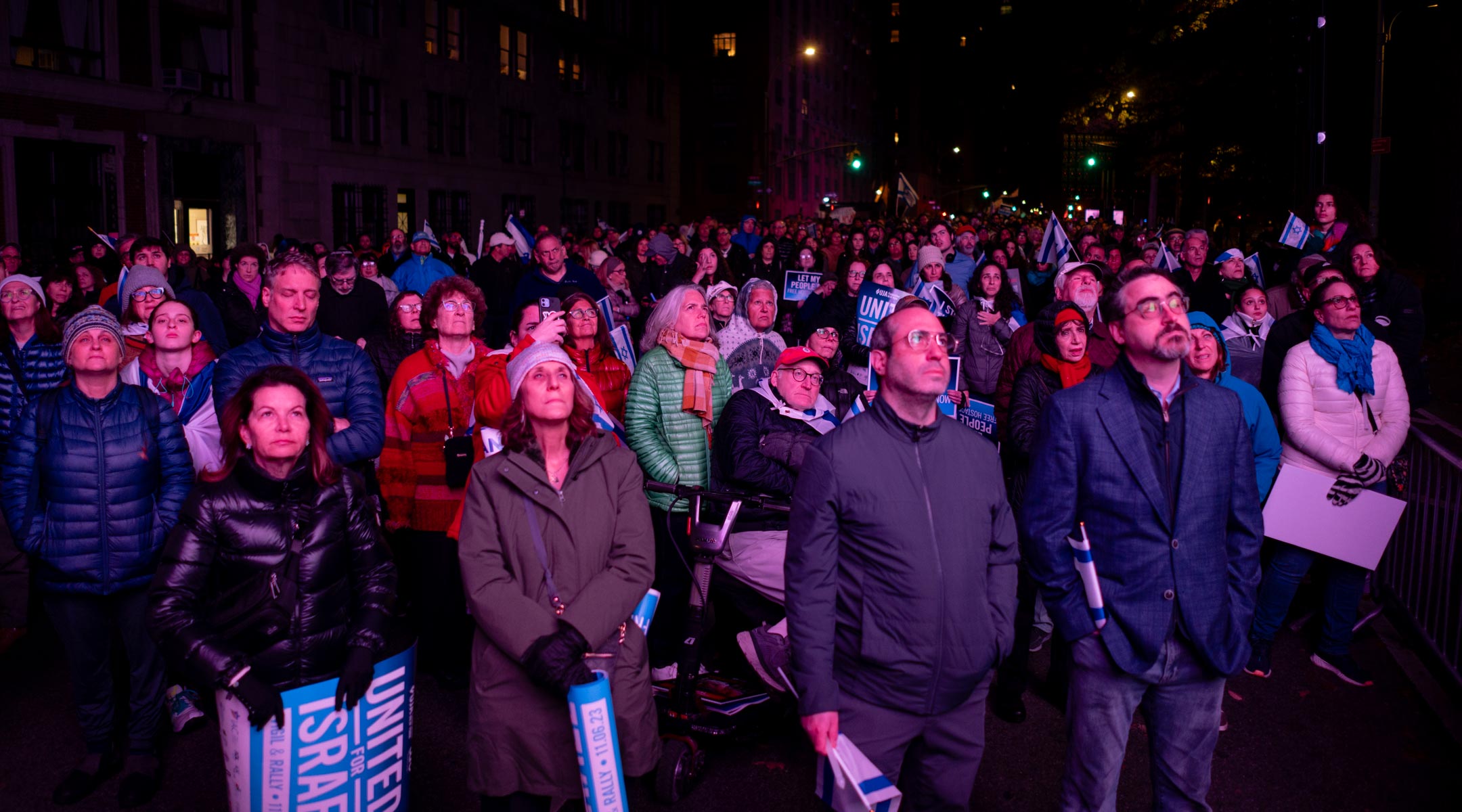 (New York Jewish Week) — Thousands gathered next to Central Park on Monday night for a vigil and rally marking 30 days since Hamas' Oct. 7 attack on Israel.
Speakers at the event, held along Central Park West on Manhattan's Upper West Side, mourned the attack's 1,400 victims, demanded the release of the more than 200 hostages held by Hamas and decried rampant antisemitism in the U.S. in recent weeks. Organizers estimated the crowd size at around 12,000 people.
Participants carried photos of the hostages and signs reading, "Bring our children home," "Let my people go," and "We stand with Israel." Thousands streamed past police cruisers on their way to the event chanting, "Bring them home" and singing Israel's national anthem, "Hatikvah."
Speakers included Sen. Chuck Schumer and Rep. Daniel Goldman, both Jewish Democrats; actors Brett Gelman and Debra Messing; and two relatives of hostages. Israeli singers Gad Elbaz and Idan Raichel performed for the audience.
The rally occurred around the 30-day milestone that traditionally marks the end of an acute Jewish mourning period, known as shloshim, following a death. It happened a little more than a week before a mass pro-Israel is due to take place on the National Mall in Weshington D.C. That rally will also call for the release of the hostages, decry antisemitism and cheer on continued American support for Israel as it fights a war against Hamas in Gaza, with the aim of deposing the terror group.
Ofri Haggai, an Israeli whose aunt and uncle were shot and taken hostage by Hamas, told the crowd, "All I'm asking from anyone who can help us is to bring all the hostages home."
"They are not part of any conflict, they are not part of any war, they are civilians, babies, kids, mothers, fathers, grandparents who just want to be brought home safely," she said.
Haggai  knows only that her aunt and uncle were badly injured and kidnapped. She does not know if they have received any medical care or their whereabouts, she said.
Goldman decried a "small but very loud fringe" in Congress that has opposed Israel since the attack, and urged the crowd to keep demonstrating to shore up support for the country. His mention of President Joe Biden, who has firmly supported Israel, drew cheers from the crowd.
"Every opportunity you have to rally, to express your support for Israel, I promise you it matters," he said.
The event was led by the UJA Federation New York and the Jewish Community Relations Council of New York, and was co-sponsored by an array of Jewish groups including the Israeli American Council, the Anti-Defamation League, the Union for Reform Judaism and the Orthodox Union.
—
The post Thousands gather for pro-Israel rally in NYC 30 days after Oct. 7 massacre appeared first on Jewish Telegraphic Agency.