Popular kids video game Roblox has become gathering space for pro-Palestinian protests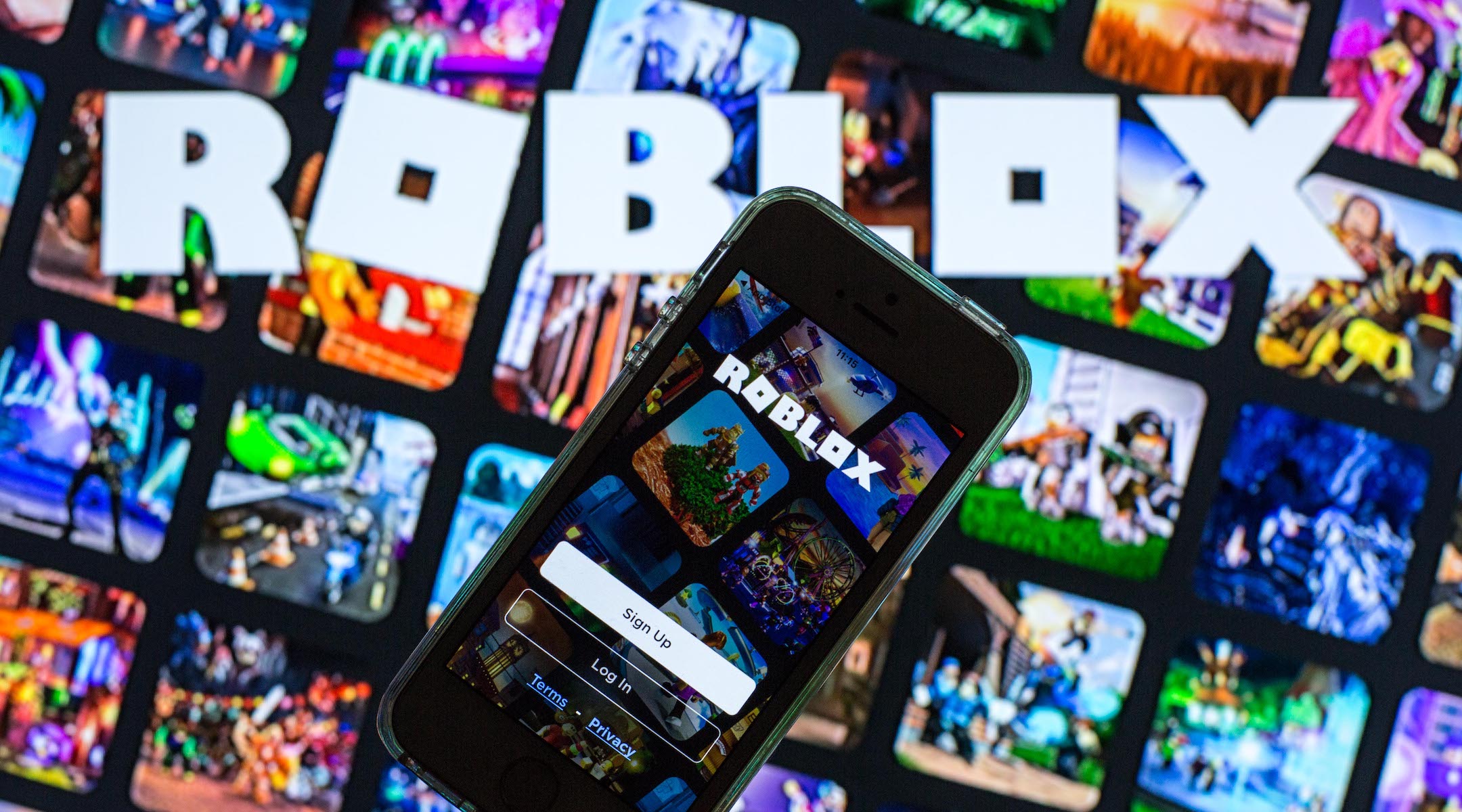 (JTA) — Israel's Ministry of National Security is urging parents to report any pro-Palestinian harassment their children experience on the video game platform Roblox.
As Israel's war with Hamas is set to enter its fourth week, rallies and protests in support of both Israelis and Palestinians have been held everywhere from the White House to college campuses to the streets of Europe.
Roblox is different because it has more than 65 million daily active users — around 45% of whom are 12 years old or younger — and users can interact across international borders as they create and explore virtual settings. The platform has been home to several pro-Palestinian gatherings, and the Israeli ministry is warning that game characters brandishing Saudi and Palestinian flags have been attacking players who identify as Israeli.
A video of Roblox rally, which was shared on X, the platform previously known as Twitter, has been viewed more than 24 million times.
is it this one pic.twitter.com/7yGQvA26Qo
— Sushi ✩°。 ⋆⸜ ✮ (@sushislurpee) October 24, 2023
According to CNBC, one Roblox pro-Palestinian event was visited over 275,000 times. The rallies feature users marching and gathering with Palestinian flags and signs expressing solidarity. A TikTok from Oct. 13 also shows what appears to be a pro-Israel rally in the game, too.
In one instance, which was shared in a Facebook group for Israeli parents, a parent warned that their child had seen other Roblox users possibly reenacting Hamas' Oct. 7 attack — in which the terror group killed 1,400 Israelis in the bloodiest day for Jews since the Holocaust. The parent urged others to monitor their children's gameplay and institute parental controls.
"We are deeply saddened by the horrific tragedy unfolding in Israel and Gaza, and our hearts go out to those who are impacted in the area or who have loved ones, family and friends in the region," Roblox said in a statement to USA Today. "While our community standards allow for expressions of solidarity, we do not allow for content that endorses or condones violence, promotes terrorism or hatred against individuals or groups or calls for supporting a specific political party. We have an expert team of thousands of moderators along with automated detection tools in place to monitor our platform and will take swift action against any content or individuals found to be in violation of our standards."
The Israeli ministry said it had been in touch with Roblox and had been told that reporting inappropriate or harassing content was essential to getting it removed.
This is not the first time that Roblox has run into trouble for hosting antisemitic user-created content. Last year, it removed a virtual Nazi gas chamber that users could operate.
Video game sites have previously been a hotbed for antisemitism. A 2021 survey found that 22% of adult Jewish gamers have faced antisemitic harassment while playing.
There are also numerous efforts underway to combat antisemitism in gaming spaces. In one notable example, the popular video game Fortnite introduced an in-game Holocaust museum earlier this year. And Luc Bernard, a British-French video game designer, unveiled his new game, "The Light in the Darkness," where the characters are members of a French-Jewish family in the years before and during the Holocaust.
"The reality is, video games are the number-one-used platform now," Bernard told JTA in August. "They're bigger than movies, they're bigger than music. Video games are the future of storytelling. So that's why I also saw this as kind of a perfect platform to educate about the Holocaust."
—
The post Popular kids video game Roblox has become gathering space for pro-Palestinian protests appeared first on Jewish Telegraphic Agency.
Julie Platt, chair of Jewish federations group, is helming Penn's board amid leadership transition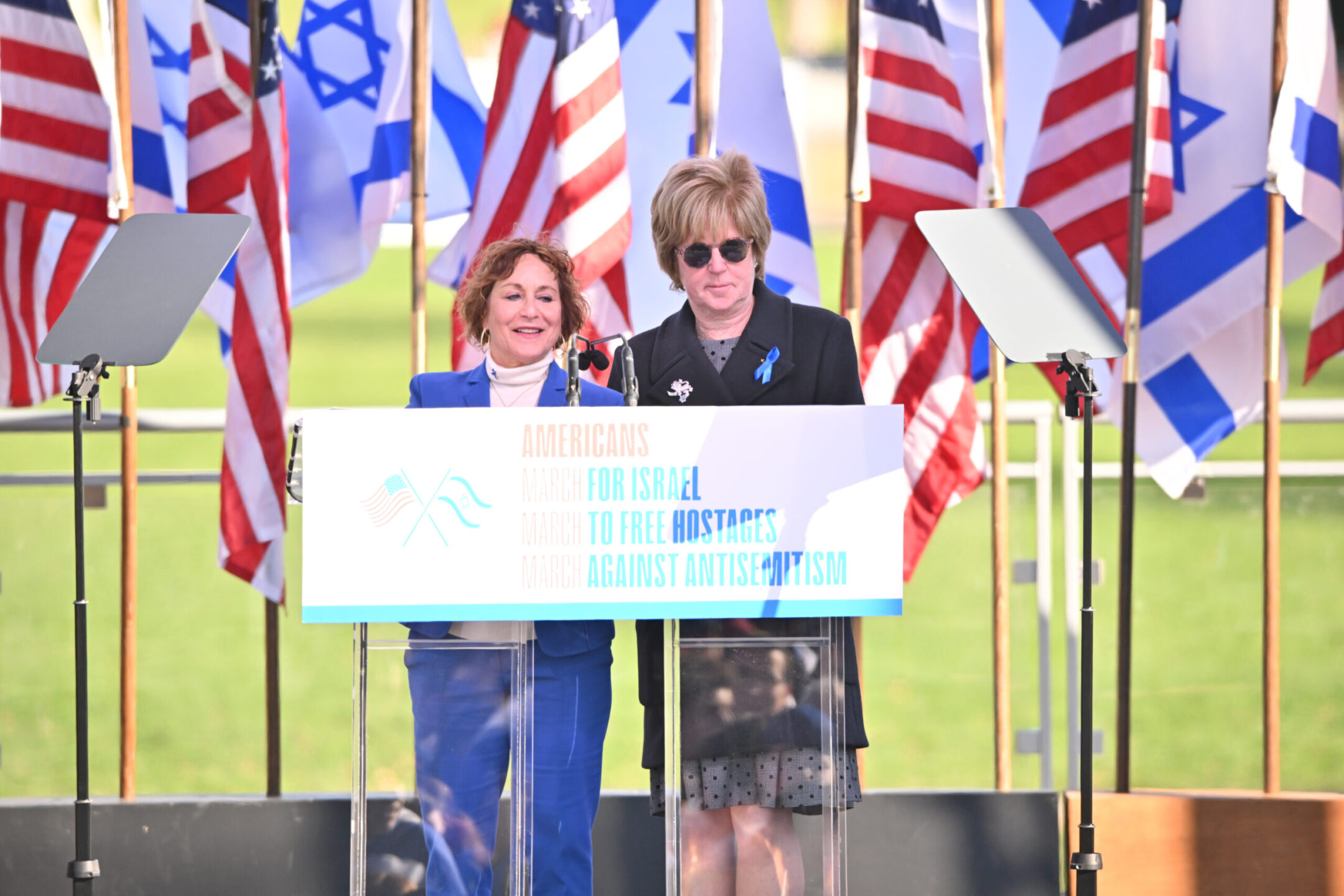 (JTA) — To steer the university through an unexpected leadership change induced by debate over antisemitism, the board of the University of Pennsylvania turned to their vice chair — who is also one of the most prominent Jewish communal leaders in the country.
Julie Beren Platt, a 1979 Penn graduate, has been on the Penn board of trustees since 2006 and recently started her second stint as vice chair, making her a natural fit to step up when chair Scott Bok resigned from the management body on Saturday, following the resignation of the university's president, Liz Magill.
Platt is also the chair of Jewish Federations of North America, the umbrella of 146 local Jewish communal bodies that has collected more than $700 million — and allocated more than $240 — to drive the American Jewish philanthropic response to the Oct. 7 attack on Israel. Platt cited that commitment in emphasizing that her leadership of Penn's board would last for a short period: She said she will step down in January when a permanent chair is selected.
Platt's dual roles mean that she has been on the front lines in two of the most prominent organizations reshaped by the Oct. 7 attack and its aftermath. It also suggests, as she acknowledged in a statement, that even the presence of a seasoned Jewish leader in a senior university board position is not sufficient to address antisemitism on college campuses right now.
"I have worked hard from the inside to address the rising issues of antisemitism on campus. Unfortunately, we have not made all the progress that we should have and intend to accomplish," Platt said in a statement issued by JFNA, adding, "I will continue as a board member of the university to use my knowledge and experience of Jewish life in North America and at Penn to accelerate this critical work."
A JFNA spokesperson declined to elaborate on how she will balance the two roles.
Platt, 66, is the daughter of Robert Beren, the Kansas City oil magnate and Jewish philanthropist who died in August at 97. She is also the mother of five children — four of them Penn graduates — including the Broadway actor Ben Platt and Jonah Platt, a musician who also sits on the board of 70 Faces Media, the Jewish Telegraphic Agency's parent company.
Previously the chair of the Los Angeles federation and the Foundation for Jewish Camp, Platt also chairs a foundation named for her and her husband, Hollywood producer Marc Platt, and has been involved in an array of Jewish educational initiatives.
She became the second woman to helm JFNA's board last year, assuming leadership of the fundraising organization at a crucial time. The organization has distributed hundreds of millions to groups providing emergency aid in Israel since Oct. 7. The group has also supported local Jewish communities in the United States in strengthening their own response to antisemitism through an initiative, LiveSecure, created in 2021, that Platt was instrumental in launching.
"We are leading the largest mobilization in our history in support of Israel's right to protect its citizens and against the rise of antisemitism in North America, including staging the largest Jewish rally in American history on the National Mall," Platt said in her statement. "We will continue this fight with all our energy."
Penn was already grappling with a crisis related to antisemitism in the weeks prior to Oct. 7, as a festival featuring Palestinian writers drew criticism. Platt and Bok had issued a statement of confidence in Liz Magill, Penn's president, in the wake of that crisis and in the immediate aftermath of Oct. 7, even as some criticized the school's initially response as tepid.
But last week, Magill was one of three college presidents who declined during a congressional hearing to say that the genocide of Jews would violate their schools' codes of conduct. Her testimony drew criticism from Pennsylvania's Jewish governor, Josh Shapiro, and even the White House.
Platt said in a statement that she believed Magill had fallen short in the hearing. "In my view, given the opportunity to choose between right and wrong, the three university presidents testifying in the United States House of Representatives failed," she said. "The leadership change at the university was therefore necessary and appropriate."
—
The post Julie Platt, chair of Jewish federations group, is helming Penn's board amid leadership transition appeared first on Jewish Telegraphic Agency.
Thousands of Jews and non-Jews rally against antisemitism in Berlin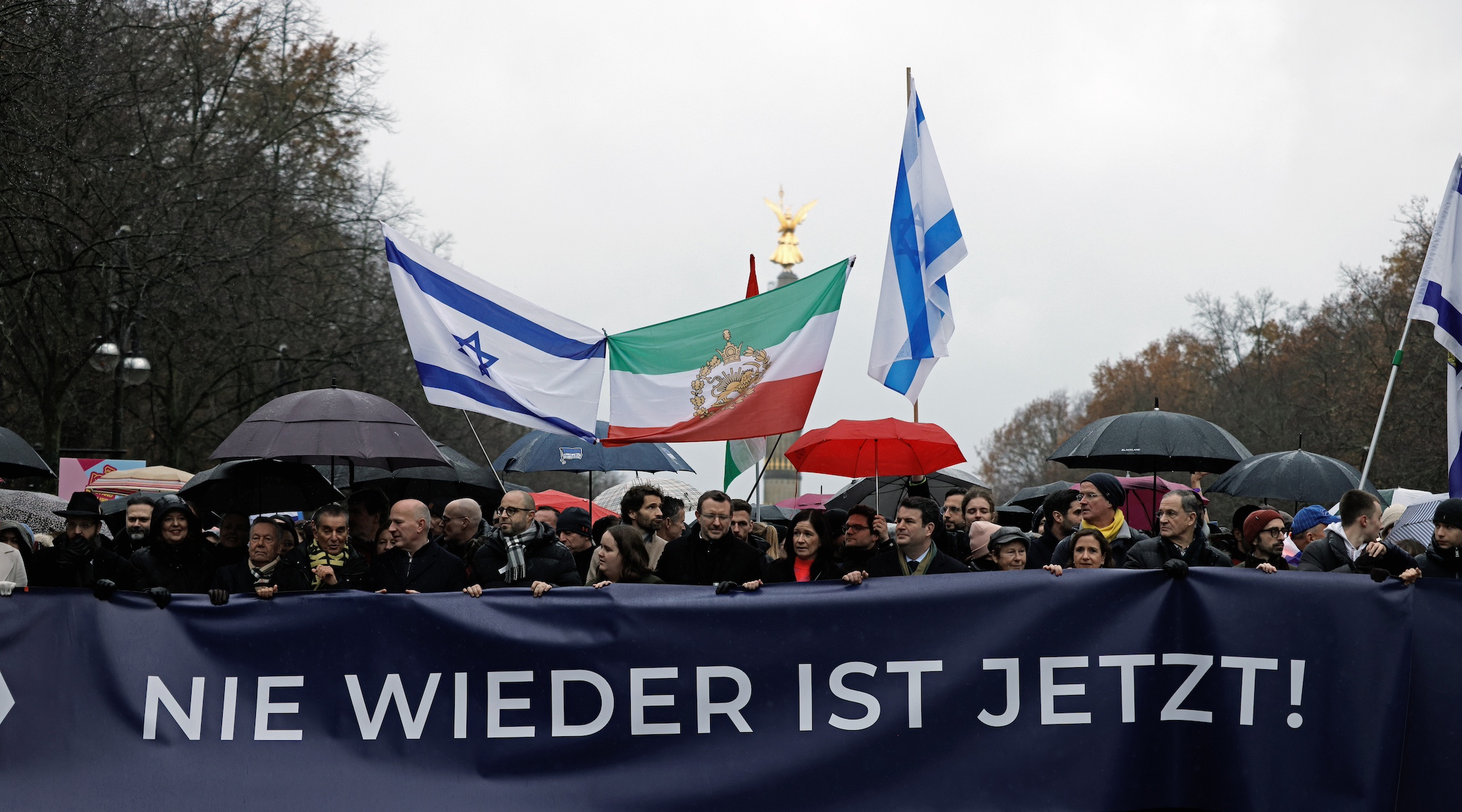 BERLIN (JTA) – Several thousand Berliners braved a chilling rain Sunday to demonstrate against antisemitism at an interfaith rally at the city's iconic Brandenburg Gate.
The event — which drew a broad coalition of politicians and religious leaders as well as popular stars — was a response to a record increase in reported antisemitic incidents across Germany in the month after Hamas attacked Israel on Oct. 7.
Dubbed "Never again is now — Germany stands up," the rally was organized by a Jewish real estate magnate, Nicolai Schwarzer.
In announcing the event, Schwarzer, 48, said he wanted "to send a powerful and unmistakable signal to the world — from the heart of the capital — that no form of antisemitism, hatred or xenophobia will be tolerated in Berlin or anywhere else in Germany."
The rally joins several others organized in major cities in Europe and the United States to demonstrate opposition to antisemitism. They have been organized in part as a counterpoint to the large pro-Palestinian rallies that have taken place in many of those cities. Such rallies have been relatively muted and heavily monitored by police in Germany, where antisemitic speech and criticism of Israel are circumscribed by laws enacted in part because of the country's role in perpetrating the Holocaust. Still, pro-Palestinian sentiment, including among Germany's large immigrant population, is high.
"Sometimes I don't recognize this country, something has gone out of control," Josef Schuster, head of the Central Council of Jews in Germany, said at the rally.
He described a pro-Hamas protest that took place at Berlin's University of the Arts on Nov. 13, where he said participants "dressed in black to look like Hamas terrorists. They had painted their hands red — a clear reference to the murder of two Israeli soldiers by an Islamist mob in Gaza more than 20 years ago. The whole thing was orchestrated by visiting professors from the global south – how can that be?" Schuster said the incident was proof of the danger of the movement to boycott Israel, which has been considered officially antisemitic in Germany since 2018.
Bärbel Bas, the president of Germany's parliament, read through a litany of antisemitic incidents: "Swastikas and Stars of David have been daubed on synagogues, memorials and even private homes." In one notable incident on Oct. 18, two Molotov cocktails were thrown at a Jewish community center that houses a synagogue as well as a kindergarten.
Bas described hearing from a student who was the only child to attend class at her Jewish school on a day when fear reigned about a Hamas call for violence abroad.
"Jews are afraid, and they feel left alone. And it's not only hate that creates this feeling, but also silence and indifference," she said. "And that's why it's important that we make a powerful, wipeable and loud statement here today. Never again is now."
Other speakers included Israel's ambassador to Germany, Ron Prosor; Berlin's mayor, Kai Wegner; author Michel Friedman; 1990s pop music icon Herbert Grönemeyer; and Hubertus Heil, Germany's minister of labor and social affairs.
The rally began with the lighting of a Hanukkah menorah by Rabbi Yehudah Teichtal, the head of Berlin's chapter of the Chabad-Lubavitch movement. Representatives of Catholic and Protestant churches lit advent candles.
Eren Güvercin, a member of the German Islam Conference — which the German government started as a forum for dialogue in 2006 — delivered a prayer of his own, for "peace for the souls" of the Israelis murdered on Oct. 7 and for the hostages and their families, "who fear for their loved ones."
"And we pray for peace for the people who are now suffering the consequences of this terrorist organization's crimes in Gaza," he added. "Nothing we say here today will solve the Middle East conflict. But we raise our voices to remind everyone who lives together here in this city, in this country: Faith is a source from which we draw to create peace. Faith must not divide us. It must unite us."
Organizers claimed 11,000 people had taken part in the rally, though police estimated the attendance at 3,000. Those gathered were praised by many speakers for braving the weather to show their support. They included members of Berlin's Jewish community, estimated at over 30,000, as well as non-Jewish allies.
"This is the third time we have been here in front of the Brandenburg Gate since Oct. 7," said Berliner Melanie Schmergal, 55. "It upsets me that you don't see any big demonstrations for Israel's right to exist and against antisemitism. You see other people screaming quite a bit. [But] I believe… that the others are not in the majority."
"It is important to take a stand against any kind of extremism," said Christian Götz, 60. "And that Israel has a right to defend itself, and that we as a population have to show, especially here in Berlin, that we are on Israel's side."
The pair, who are not Jewish, said they had met the descendants of Jews who used to live in their building in Berlin, and who were either deported or managed to flee Nazi Germany.
"It's so incredible that something like this seems possible again," Schmergal said.
***
On Dec. 8, the Bergen-Belsen Memorial in Lower Saxony hosted a public panel discussion marking 75 years since the Universal Declaration of Human Rights, specifically addressing the issue of antisemitism after the Hamas terrorist attack.
Next week, the Berlin-based Tikvah Institute is co-hosting the presentation of a study on how Russian-speaking Jews in Germany perceive antisemitism after Oct. 7. About 90% of all Jews in Germany today are migrants from the former Soviet Union.
And though not in Germany, the annual Claims Conference International Holocaust Survivors Night on Dec. 11 — a star-studded event whose virtual guests of honor will include German Chancellor Olaf Scholz — "takes on unique significance," said the organization's president, Gideon Taylor: "We are reminded that some of the strongest among us survived during the darkest of times."
Despite the alarming statistics in Germany and elsewhere, Jews are in a better position today in terms of world support than they were in the 1930s-40s, said New Yorker Menachem Rosensaft, who was born at the displaced persons camp at Bergen-Belsen and participated in the recent round table at the memorial.
"President Biden, for one, is the polar opposite of FDR in his unequivocal support for Israel after Oct. 7 and his equally unequivocal repudiation and condemnation of all manifestations of antisemitism," said Rosensaft, who is also the chair of the Advisory Board of the Lower Saxony Memorials Foundation.
—
The post Thousands of Jews and non-Jews rally against antisemitism in Berlin appeared first on Jewish Telegraphic Agency.
Jews don't count, but do we want to? Phoebe Maltz Bovy on why the Ivy League antisemitism hearings (sort of) matter