Rabbi on Hunger Strike Has Message for the World: Stop Humanitarian Aid to Gaza Until Red Cross Visits Hostages
In a dramatic act of protest, a Canadian-Israeli rabbi launched a hunger strike last Friday urging Israel's government to refuse to provide humanitarian aid to Gaza until the 239 hostages held by Hamas receive a humanitarian visit by the Red Cross.
Rabbi Avidan Freedman, who immigrated to Israel 13 years ago from Montreal, said that while international "law and basic morality" call for the release of the hostages, the bare minimum is allowing a humanitarian visit.
About "240 people were abducted from their homes in the midst of their families being butchered before their eyes and the world has forgotten them, has forgotten that they still have human rights," Freedman told The Algemeiner, referring to the Hamas terror group's Oct. 7 massacre across southern Israel.
According to Freedman, the onus is on the government of Israel to stop a scenario of "selective humanitarian aid," in which Gazan civilians receive aid while the civilians in captivity are denied those basic human rights.
"We're not interested in revenge or in hurting any of the citizens in Gaza. But the fact that the world is happy with certain human beings getting their rights and is very happy for six weeks to completely ignore the rights of all of the human beings who were taken captive, that is something Israel as a sovereign state responsible for its citizens cannot allow," Freedman said.
"Stopping humanitarian aid is a terrible thing and is something that Israel shouldn't have to do. But as long as Hamas manipulates morality for its purposes, that's not something that moral actors should allow," he added.
The Algemeiner spoke to Freedman on the seventh day of his hunger strike. Initially, the rabbi and activist left his wife and five children in his hometown of Efrat and drew a circle around himself in a Tel Aviv plaza that has become known as Hostage Square. He vowed not to leave the circle until a Red Cross visit transpired — Hamas has thus far not permitted such a visit.
Freedman drew inspiration for his idea from Honi Hameagel, a first-century Jewish sage who drew a circle around himself and called on God to provide rain, saying he would not leave the circle until his demand was met.
However, unlike the Mishnaic scholar whose act of protest worked, a humanitarian visit to the hostages has yet to take place, and in the meantime, Freedman has exited the circle.
Freedman's comments came two days after Israeli Prime Minister Benjamin Netanyahu's office confirmed that one of the hostages gave birth while in the captivity of Hamas, which abducted over 240 people and brought them back to the Palestinian enclave of Gaza during its Oct. 7 invasion of the Jewish state. Hamas terrorists murdered more than 1,200 people, mostly civilians, during its onslaught across southern Israeli communities.
The Red Cross in Jerusalem, through spokesperson Alyona Synenko, told Israeli media last week that diplomatic solutions were needed in order for the organization to gain access to the hostages. "We cannot force ourselves through the bullets and through the bombs unless this access is given to us," Synenko told Ynet earlier this week.
Beyond his current protest, Rabbi Freedman has been a vocal figure in criticizing the judicial overhaul pushed by Netanyahu's government. He is also the head of Yanshoof, an organization demanding an end to Israeli arms sales to countries violating human rights.
When there had been no change in the hostages' situation by Thursday, Freedman made the decision to leave the circle and allow another activist to take his place. "At first I came in with the mindset of: I want this to be over as fast as possible and I don't want to really even think about what happens if this carries on."
But it did carry on, despite persistent rumors of an imminent release. "Almost every day somebody came up to the [protest] tent and said, 'They're coming tomorrow,'" he said.
Qatar, in coordination with the US, has been seeking to negotiate a deal between Hamas and Israel that includes the release of dozens of those being held captive. Meanwhile, Israeli soldiers have been fighting Hamas in Gaza, seeking to wipe out the Palestinian terror group. Israel has said it would not agree to a ceasefire unless all the hostages were released.
Freedman admitted to harboring a "savior complex" when he first launched the protest. "I wanted to do it all by myself," he said, before recognizing the greater value in collaborating with others.
As long as a humanitarian visit remains elusive, Freedman's circle in Hostage Square will never be empty, he said. His hope, he continued, is that other people around the world will be inspired to start circles of their own — at least 239 of them. "The idea is to create more and more circles with a constant presence. We're going to lift this up together."
Freedman, whose efforts are being supervised by a medical doctor who is also an expert on hunger strikes, said he was surprised by how well he was faring physically a week on, saying that he was feeling "a lot of strength."
"The only way I have to explain it is that God has given me strength through the Jewish people that I'm meeting and speaking to every day all day," Freedman said.
"I didn't think I could hold on for more than three days with just water. And unfortunately I've held up for seven days of literally almost non-stop talking."
He went on to say: "Every moment that passes that they haven't received this visit is a travesty."
"We cannot continue to allow Hamas to manipulate morality for the purposes of evil," he concluded.
The post Rabbi on Hunger Strike Has Message for the World: Stop Humanitarian Aid to Gaza Until Red Cross Visits Hostages first appeared on Algemeiner.com.
Liberal parents, far-left teens: When Jewish families fight over Israel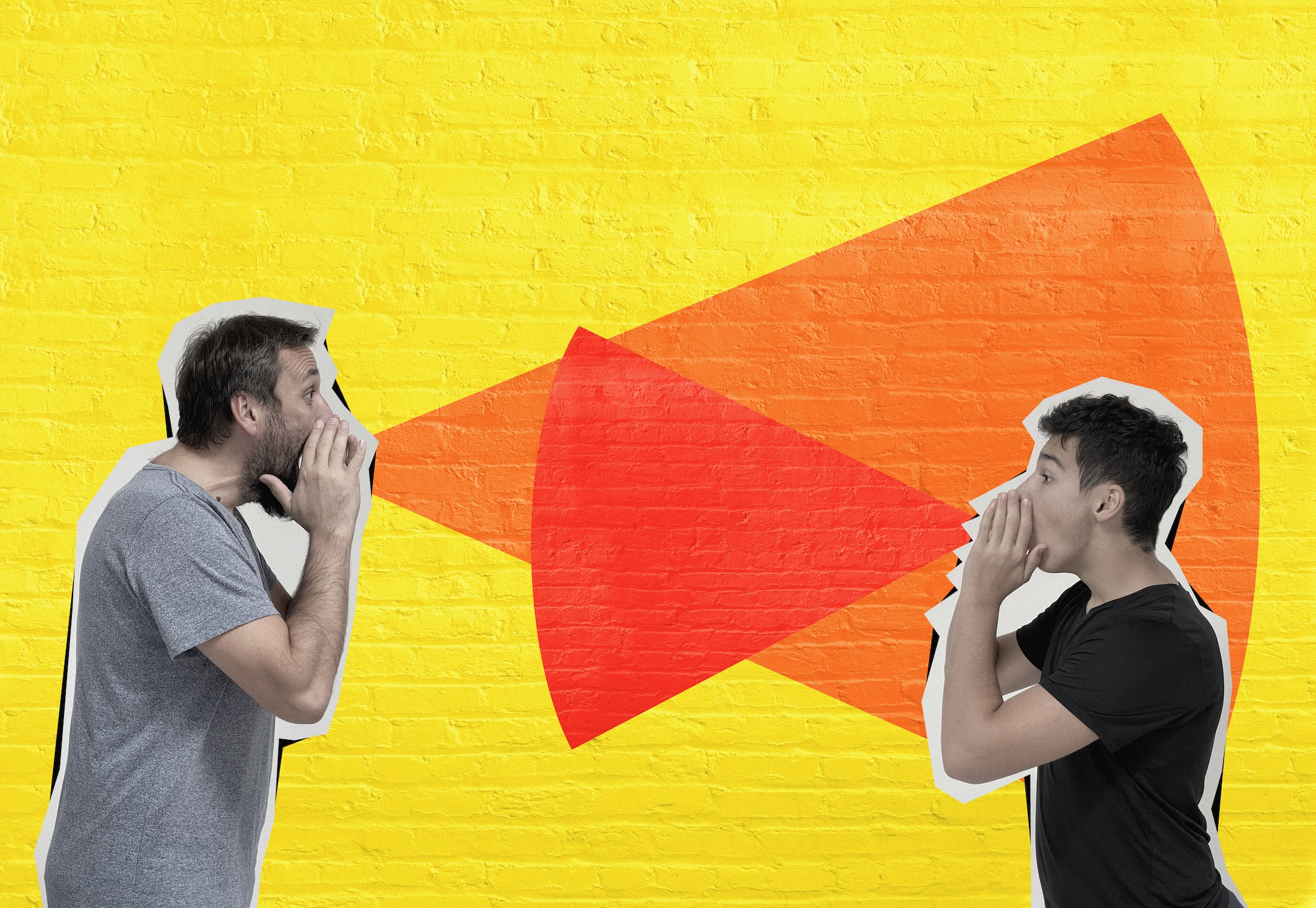 (JTA) — Most of my friends in Jewish circles are parents of teens or college students. We are liberal, tolerant, open-hearted folks, who jokingly call ourselves "NPR Jews." We have Israeli friends, and we are watching in horror at a world in which it is once again fashionable, in liberal circles and on college campuses, to justify the murder and kidnapping of Jewish children — this time, because they were born in Israel. This new wave joins the rise of Jew-hate/Israel-hate in MAGA circles and the white supremacist anti-Jewish tropes parroted by celebrities like Robert F. Kennedy Jr. and Elon Musk.
While we lament the bloodshed of all people, we sympathize instinctually with our fellow Jews in Israel. We continue to advocate for a peaceful, long-term solution for both Israelis and Palestinians, but we know that Israel sometimes has to fight for its security. And while we ourselves have been critical of the Israeli government, at times deeply, we see too many others crossing the line from harsh criticism to double standards to outright demonization and antisemitism. 
Our kids, meanwhile, are absorbing other messages. Yes, they see bad actors spreading misinformation and influencers fawning over the words of Osama bin Laden. But they also see images that activate the very values we helped instill in them: tolerance, inclusion and compassion. Daily footage of Palestinians, often children, who are caught in the crossfire of this war, demands their compassion. Clips of Israeli leaders who speak about Palestinians as "animals" or "Amalekites" provoke their outrage. Their parents' laments about Jewish vulnerability are hard to square with hourly evidence of Israeli military power. 
So, these last weeks have brought new questions:
When a teen tells us that we should stop worrying about antisemitism, how should we react? Should we push back and criticize them for not taking this seriously, or let them blissfully pretend that we are not living during a surge of hate?
What if teens are actively promoting, from a place of compassion and solidarity, only arguments that are anti-Israel or pro-Palestinian? How do we make sure that they are hearing Israeli voices on these issues and that they balance their critique with some clarity about the challenge of taking sides with those who wish to destroy us?
And what if our teens are justifying the terror of Hamas as a righteous form of armed resistance, as some Jewish students are doing on college campuses?
Just as the Passover seder calls on us to differentiate how we are to answer four types of children, these questions present us with a multi-layered pedagogic challenge.
I had the opportunity last week to speak with a New York-based therapist and parent coach, Dr. Julie Hirschfeld, about these questions in preparation for a webinar we hosted for parents of teens at Moving Traditions. Here are five of her insights (in bold) and my own reflections on why these insights are important right now for parents of teens.  
1. "Be aware of how the war is putting a strain on your relationships."
This may seem obvious, but as a parent, I know that it is easy to overlook how stress outside of the home manifests as stress in the home. The more time I take reading and watching coverage of the war and the antisemitism perpetrated in its wake, the less present I am to my family. If your teen resists talking with you about the war, it may be because they feel that the crisis is a threat to your ability to care for, nurture and protect them. To counter this, parents can pay attention to their teen's well-being and find time to do things that they enjoy doing together. Hirschfeld talked about "finding time for normalcy" and connecting through Shabbat rituals or other ways that you can slow down together. Even if this is an obvious point, it is worth repeating. 
 2. "Don't assume that your teen understands your connection to Israel."
This is something that I am learning every day. When I think of my own connection to Israel, I recall the personal stories of those who found refuge in Israel after the displacement of millions of Jews after World War II and after the rise of Arab nationalist movements. I remember my first trip to Israel as a teen, connecting with my extended family there, and studying and living there during my college years. I met incredible Israelis and Palestinians working side by side to build a future based on coexistence and respect. And I remember former Prime Ministers Yitzhak Rabin and Shimon Peres and their visions of peace. Indeed, many of the hostages being held in Hamas tunnels are people who devoted their lives to those visions.
But our teens and young adults have come of age at a very different time. Israel has been labeled by their peers as a colonizer and white-supremacist oppressor. And since Rabin's assassination, openly racist political and religious leaders within Israel have energized a Jewish supremacist vision, one that has a platform within the current government.
Since we cannot assume that our teens understand our connection to Israel, this crisis is a good moment to make time for you and your teen to share a walk, a meal or a drive — a time when you can give your teen some context that will help them understand why you care. Note: This is not the same as telling them why they should care. But it is important to share why you care, and what it means to you right now as you absorb the news and think about your connection to it. Even if your teen has a different set of feelings than you right now about Israel, you can ask your teen to have empathy for the emotions that you are feeling.  
3. "Keep in mind that this is an unsettling time for teens because they are seeing some of their peers sharing anti-Israel, and in some cases, anti-Jewish hate, and this is disrupting their social connections."
Even well-educated, college-bound teens are more likely to read the political opinions of a select group of models, athletes, actors and cultural commentators than they are to follow journalists, political scientists or writers. Some people in your teens' network are likely sharing propaganda and conspiracy theories posted by their favorite influencers. But while teens today are seeing vehemently anti-Israel posts and anti-Jewish posts, most do not want to make waves about them. Whether these posts are shared by someone in their class, on their sports team, or from their summer camp, most teens would rather not confront the person or comment on the post. Also, when teens see posts that call for peace, a ceasefire or humanitarian aid, they don't necessarily view them as anti-Israel or antisemitic, but simply as "pro-peace."  
If your teen is willing to talk with you about what they are seeing on social media, you can help support their decision-making as they navigate what posts to ignore, when to reach out and when to speak up. You can help them find information about the crisis that they can trust, help them understand the continued threats that Hamas and Islamic Jihad pose in Gaza and in the region, and help them figure out what role they can play in challenging hate of any kind.  
4. "If your teen is truly obsessed with the war, seeing everything through the lens of this crisis, and using this issue as a way to distance themselves from you, then you may need to speak with someone who can mediate the situation."
There are times when a teen will latch on to an extreme political position because it sends a message to the parent that they seek independence or detachment. In more extreme cases, the teen can begin to see the world through the lens of a political battle and place the parents as the enemy. If that is your case right now, you may want to seek support from a friend, clergy person or therapist.
5. "It is natural for teens to differentiate their views from parents, and they often use their peers as a reference group."
If your teens are in a school where peers are one-sided in their solidarity with Palestinians in Gaza, and indifferent when it comes to the continued attacks on Israeli citizens by Hamas rockets, the welfare of the hostages being held by Hamas or acts of antisemitism here and around the world, then your teens may feel that fitting into their peer group requires that they express only pro-Palestinian sentiment or suppress their pro-Israel leanings. They might need to hear from parents the message that their hearts can have room for both the Palestinians suffering in Gaza and for the millions of Israelis who are in mourning, displaced, hiding in bomb shelters or awaiting news about the captives.  
To help your teen expand their circle of empathy, you might share the various ways that Israelis are working with Palestinians to express solidarity, or tell them about joint efforts to provide humanitarian relief, like World Central Kitchen, which seek to help all non-combatants evacuees and families impacted by the escalating conflict in the region. Help your teens to see that there are dozens of ways to care for Israelis, for the Jewish people as a whole, and for Palestinians. Share the story of the late Vivian Silver, the Israeli peace activist murdered by Hamas. Give them hope that coexistence is still possible.
I deeply appreciated Hirschfeld's insights, and since hearing them I, as a parent and a rabbi, have been trying my best to be in dialogue across the generations, which includes my children and their peers. I know that for some of my own peers, this has been one of the most challenging times in their parenting journey. The arguments that they are having with their teens are enormously difficult and require a great deal of patience.
I hope that in the coming months, we as a Jewish community can support all parents of teens as we navigate through this crisis and help bridge some of the generational and other divides that are tearing us apart.
—
The post Liberal parents, far-left teens: When Jewish families fight over Israel appeared first on Jewish Telegraphic Agency.
Media Give Platform to Gaza Journalists Who Infiltrated Israel or Praised Hamas Massacre
International media outlets have given an uncritical platform over the last month to independent Gaza journalists and social media influencers who either infiltrated Israel to cover Hamas' atrocities on October 7, or praised them.
The New York Times, Reuters, NBC News and LA Times have legitimized these journalists' and influencers' presence inside Israel — or their extremist views — by using their materials or quoting them as reliable witnesses.
On October 9, two days after the deadly Hamas attack on Israel and despite plenty of other sources to rely upon, The New York Times published a piece putting front and center a Gaza reporter who broadcast live from the massacre.
Muthana Al-Najjar, an independent Gaza-based journalist who operates a Telegram channel with over 200k subscribers, entered Israel on October 7 to document the butchering of Israelis by Hamas.
His stand-up to camera from Kibbutz Nahal Oz, as gunshots are heard in the background, shocked many Israelis that day. He did not wear a press vest or a helmet to make him identifiable as a member of the press. He clearly did not feel under threat from the Hamas terrorists in his midst. He also shared a picture showing two of the terrorists triumphantly stepping on the body of a murdered Israeli, with a comment translated from Arabic: "Their dead under the feet of the warriors of al-Qassam Brigades."
Yet The New York Times didn't see any problem in dedicating an empathetic piece to Al-Najjar's October 7 coverage (in the middle section of this news wrap). He was even interviewed to give a first-hand account:
Mr. Al-Najjar, a freelance reporter who posted the footage to social media, initially entered Israel through a breach in the fence along the perimeter with Gaza. He said it was the first time he had ever left Gaza in his life, because of the blockade imposed by Israel and backed by Egypt that restricts movement in and out of the enclave.
While women were raped, families tortured to death and children burnt alive, The New York Times still made sure to highlight how it was the first time Al-Najjar set foot — like the terrorists — on Israel's territory. And the terrorists clearly let him do his job uninterrupted.
The piece also mentions Al-Najjar's filming the kidnapping of a terrified mother and her two children and a video in which he seems to document himself taking a ride on a motorbike into the kibbutz where the abduction took place.
The author of the piece, Yousur Al-Hlou, attempts to humanize Al-Najjar by including sentences like: "The person filming, Muthana Al-Najjar, a 39-year-old from Gaza, can be heard asking the gunmen not to harm them."
The piece shamefully ends with Al-Najjar's quote concerning dead terrorists he had recognized, which makes it seem as if they were victims rather than perpetrators:
Mr. Al-Najjar said that as he was leaving Nir Oz, he saw at least two gunmen whose faces he recognized lying dead in a field, and he thought there were likely others.
"There are dozens missing there, as well as dead and injured," Mr. Al-Najjar said. "No one knows how many."
It is worth noting that Al-Hlou is also the author of a piece published by The New York Times on November 9, featuring a video by none other than discredited photojournalist Hassan Eslaiah, who was exposed by HonestReporting a day earlier and whose acquaintance with Yahya Sinwar — the Hamas mastermind of the October 7 attacks — has been made public.
The piece presents the work of three Gazan self-proclaimed journalists (see below for further details on two of them). It does clarify they are not neutral observers. But it includes an Instagram video featuring one of them that — according to the Arabic watermark (circled in red in the screenshot above) — has been shot by Eslaiah. It seems like Eslaiah even interviewed the person he had filmed, although the question answered is edited out.
While one can only hope that Al-Hlou and her editors at The New York Times missed this tiny detail, they should have done a better job checking the source of what they wished to present to their audience. Especially considering CNN and AP announced within hours after the HonestReporting expose that they had cut ties with Eslaiah.
Reuters, LA Times and NBC News Rely on Influencers Who Praised Hamas Attack
Furthermore, a joint investigation by The Jerusalem Post and HonestReporting has revealed the names of several Gazan social media influencers who have praised Hamas' October 7th attack, and whose work is used, reported on, or relied upon by international media.
One of them is Doaa Rouqa, a freelance Reuters photojournalist, who has over 270k followers on Instagram. On October 7, she posted praise for Hamas' attack on her Facebook page.
One post reads in Arabic: "October, Gaza, Glorious — history will record. Alaqsa flood." Another, showing a picture of Hamas terrorists inside Israel, reads: "May God protect them. #alAqsa Flood … A morning and day like no other on the road to liberation and great victory, God willing."
This overt support for terror did not prevent Reuters from buying her photos, which according to the news agency's database, mainly feature Gazans suffering at Al-Shifa Hospital.
Did Reuters check Rouqa's background or ask about her ability to deliver impartial coverage from where, according to the Israeli army, Hamas commanders are hiding?
Other outlets, like NBC News, have written about "the unfiltered coverage" of popular digital creators like Motaz Azaiza or Hind Khoudary:
The unfiltered coverage, as seen in the Instagram post below, adds a unique element to the broader journalistic efforts to capture what's happening in Gaza.
But NBC News failed to mention that Khoudary is a Hamas collaborator who had turned Palestinians working for peace with Israelis over to Hamas.
It also failed to mention that Azaiza had posted on social media platform X a video of the kidnapping of Israelis into Gaza. He also posted a video showing Hamas terrorists inside Israel with a triumphant caption reading in Arabic: "The Gazans entered the settlements!!!!!!!! With jeeps we see in the streets of Gaza."
The piece includes a video of Khoudary and Azaiza shot by another Gaza influencer with 2.4 million followers on Instagram, Ahmed Hijazee. On October 7, Hijazee posted on X the following praise for Hamas' October 7 attack with a heart emoji and a Palestinian flag: "The men of the resistance are traveling inside our occupied territory."
He also posted a video showing the terrorists celebrating over the mutilated body of an Israeli soldier, with an emoji of a handshake and a comment saying in Arabic: "The talk is about kidnapping a soldier and bringing him to the center of Bani Shaila. He was presented in front of the people."
Khoudary and Azaiza are also mentioned in a Los Angeles Times piece from October 29. The piece quotes them as unbiased witnesses who had bravely shared their experiences of a weekend blackout in Gaza. Nowhere does it mention Khoudary's background or Azaiza's uploads.
International media should not be a careless mouthpiece for pro-Hamas voices. They should not lend legitimacy or credibility to people who praise terrorism.
The least they can do is properly vet and question the Gazan journalists and social media influencers they give a platform to or rely upon, bearing in mind how the territory is run by a terrorist organization that controls the flow of information.
The audience has a right to know that these people are not neutral bystanders supplying objective materials and information. The media have a duty to exercise transparency.
HonestReporting is a Jerusalem-based media watchdog with a focus on antisemitism and anti-Israel bias — where a version of this article
first appeared.
The post Media Give Platform to Gaza Journalists Who Infiltrated Israel or Praised Hamas Massacre first appeared on Algemeiner.com.
How Hamas Uses Words and Manipulation as Weapons
I spent the first two weeks of the Hamas war in Jerusalem, with life punctuated by screaming air-raid sirens and the blessed booms of Iron Dome interceptions. Since then, back in Washington, D.C., I wish we had an Iron Dome device to shoot down the bad ideas and bogus phrases that play a crucial role in Hamas' strategy to generate hatred of Israel, spark Arab and Muslim uprisings, derail Saudi Arabia's normalization policy, and, ultimately, kill all of Hamas's enemies (a category of which the Israelis are only a part). Let's try to intercept a few of them.
Hamas knows it cannot defeat the Israeli army, so it fights an asymmetric war. It kills Israeli civilians and cruelly hides among Palestinian civilians so that Israelis, in defending themselves, get blamed for unintentionally killing those unfortunate civilians. The war aim is not military. It is to influence public opinion around the world. The internet is a key front. News stories, ideas, memes, and words are essential.
When American journalists fall for Hamas tricks, it is hard to tell if they are gulls or confederates. The Wall Street Journal now points out that Hamas runs the Ministry of Health in Gaza. The New York Times now explains that the ministry is "part of the Hamas government." But The Washington Post continues to cite that ministry for casualty information, at times without acknowledging that it is an arm of Hamas. Do Post reporters really think that a group that organizes mass rapes and the knifing of babies is credible in reporting about its enemies?
The war against Israel involves bizarre contortions of political terminology. Consider the terms "moderate" and "extremist." The Palestinian Authority (PA), which governs almost all the Arab residents of the West Bank and is reputed to be moderate, is backing Hamas in this war. The PA president denounces Israel for "aggression," and the PA prime minister accuses Israel of "genocide" in Gaza. Having said America is "with Israel," President Biden cannot be happy that these "moderates" are accusing him of supporting aggression and genocide. His enraged denunciations of the October 7 massacre suggest that it changed his views of Hamas. He now seems aware that the Palestinian extremists are even more extreme than he had previously understood. Perhaps he will see also that the Palestinian "moderates" are far less moderate than he understood.
In every speech, President Biden pleads for a "two-state solution," implying that Israel could achieve that goal if it wanted to. But what keeps such a peace out of reach are the extremism, hatred, and unwillingness to compromise of Palestinian leaders in the PA as well as Hamas. All of this should be easier to discern now than before October 7 — and it all warns against giving the PA control over Gaza after Hamas is destroyed. The Palestinians need new leaders altogether. Otherwise, there cannot be peace.
Similar word games are played with the term "refugee." Take Gaza's Jabaliya "refugee camp." The astute Bret Baier of Fox News wondered aloud why it is called a refugee camp, as it is full of permanent structures. Good question. The answer is that the United Nations defines "refugee" differently for Palestinian Arabs than for anyone else. There is one UN refugee office for Palestinians (UNRWA) and one for the rest of the world (UNHCR). Displaced people who are not Palestinian Arabs are refugees only until they find a place to live for an extended time, which is usually within a year or two, maybe three.
According to UNRWA, however, Palestinian Arabs from Israeli-controlled land remain refugees for their whole lives, and their children, grandchildren, great-grandchildren, and so on also qualify as refugees. By that definition, Tel Aviv is a refugee camp. New York too, for that matter. And London and Paris.
One of the most potent verbal missiles fired at Israel by its enemies is the accusation that it is "colonialist." This is an especially gross case of the fraudulent manipulating the stupid.
Colonialists staked claims on behalf of their imperialist motherlands. Think of the British in India or the French in their African colonies. After Zionists began urging a "return" to Zion in the late 19th century, the typical Jew who came to build a Jewish-majority state arrived as a refugee, with little to no money. He staked no claim for the country he came from, and thought of that country as anti-Jewish and oppressive — by no means his motherland. He saw Palestine, which he called the Land of Israel, as his motherland. Jews are indigenous there. Arabs also think of themselves as indigenous, though it was relatively recently (in A.D. 7th century) that they colonized Palestine on behalf of the Arab Empire founded by the Prophet Muhammed. Since then, whenever Arabs or Muslims controlled Palestine, the land was a colonial province of a non-Palestinian empire based in Baghdad, Damascus, Cairo, or Istanbul. Who, then, are the colonialists?
And now, Israel is being pressed to make "humanitarian pauses" to ensure that food and other supplies make it into Gaza. Is there another case in the annals of the human race when a country at war was duty-bound to sustain a population under enemy control before the enemy surrendered? Wars have often been decided by which side most effectively cuts supplies to the other side. That was how the Allies won the First World War. Remarkably, when Germany surrendered unconditionally in 1918, there was not a single Allied soldier on German soil. The Allies won not by taking Germany over, but by preventing supplies from getting in. If a foreign diplomat had told British leaders that they had a humanitarian duty to feed the Germans before they surrendered, he would have been dismissed as clueless, if not crazy. Even so, Israel is allowing massive quantities of humanitarian aid into Gaza, though there seems to be wall-to-wall opposition in Israel to any kind of cease-fire, even one that is labeled a "pause."
The promoters of pauses also commonly express fear that Islamophobia is surging in the West. The warning is better received if it comes from principled opponents of bigotry. But Hamas supporters denounce anti-Muslim bigotry while championing obliteration of the Jews. In any event, is there anything that generates hostility toward Islam and Muslims more than committing mass rape, burning live people, and butchering babies, at the hands of people who proclaim that they are acting in the name of Islam? Nothing will help the fight against Islamophobia more than the destruction of Hamas.
Let's end on a hopeful note. People naturally wonder what will come after this round of war ends. The nothing-gets-accomplished-by-violence school argues that, no matter how many Hamas members Israel kills, other Palestinians will replace them, and in any event, Hamas' ideas can't be killed. But that's not necessarily true.
Hitler's defeat effectively ended Nazism in Germany (at least it has for nearly 80 years). Likewise, when the Tokyo military regime was destroyed, its extremist ideology went with it. And though Marxism-Leninism is still alive in China, the USSR's demise buried that ideology in Russia and the other former Soviet states. Ideas, as a practical political matter, can actually be killed and buried, perhaps never to be resurrected. Another example, closer to home: The American South's pro-slavery ideology died with the Confederacy and never came back. Ideological movements tend not to regenerate after they spawn wars in which they are devastatingly defeated. This is an optimistic thought for Gaza.
As Israel defeats Hamas — despite the terrorists' rockets, jihadist ideology, and dishonest propaganda — Gazans have an opportunity to rise up and create a better government, not run by murderous ideological extremists. "Free Palestine" could be reinterpreted to mean that the Arabs there should be freed from the corrupt tyranny of their own bad leadership. Palestinian leaders actually interested in improving the life of their people would treat Israel as a partner, not an enemy.
Douglas J. Feith, a senior fellow at Hudson Institute, served as a deputy assistant secretary of defense in the Reagan administration and as under secretary of defense for policy in the George W. Bush administration. This article was originally published at National Review.
The post How Hamas Uses Words and Manipulation as Weapons first appeared on Algemeiner.com.