Rashida Tlaib Event at Arizona State University Canceled Amid Backlash
Arizona State University (ASU) has canceled an event featuring US Rep. Rashida Tlaib (D-MI) that was organized by anti-Israel groups and scheduled to be held on campus on Friday.
An ASU spokesperson told The Algemeiner that organizers of the event — which included ASU's Students for Justice in Palestine (SJP) chapter — had circumvented school polices for organizing events on campus.
"Organizers of events using ASU facilities must be properly registered with ASU and must meet all university requirements for crowd management, parking, security, and insurance," the university official said. "In addition, the events must be produced in a way which minimizes disruption to academic and other activities on campus. The event featuring Congresswoman Tlaib was planned and produced by groups not affiliated with ASU and was organized outside of ASU policies and procedures.  Accordingly, that event will not take place today on the ASU Tempe campus."
Groups supportive of the event quickly campaigned to pressure ASU to change course. SJP had promoted the Tlaib event on its Instagram page this week, describing the only Palestinian American in Congress as an "unapologetic advocate for justice" and "one of the leading voices in our country today."
Over the last couple days, pro-Israel activists and antisemitism watchdog groups had called on ASU to cancel the event. A bipartisan group of Arizona state lawmakers even issued a joint press release saying that, while the congressman has a right to speak on campus, her "extremist, antisemitic views are not welcome in the state of Arizona." The lawmakers also lambasted SJP, which has come under increased scrutiny in recent weeks for blaming Israel for Hamas' Oct. 7 massacre across southern Israeli communities and rationalizing the Palestinian terror group's brutality.
Tlaib's presence on campus could risk further inflaming an already tense situation over the Israel-Hamas war. The lawmaker has received widespread, bipartisan criticism for a wave of virulent comments attacking the Jewish state since the Hamas atrocities last month.
Friday's event would have been held just three days after anti-Israel demonstrators were accused of throwing landscaping rocks on campus at the second-floor windows of a building, disrupting a student government meeting inside. The student government was considering resolutions expressing support for ASU students impacted by the ongoing Israel-Hamas war and boycott, divestment, and sanctions (BDS) legislation against Israel. Students with several Jewish organizations on ASU's campus also attended the meeting, which was reportedly ended as the rocks were thrown. Some students with SJP were among the protesters.
According to press reports and video circulated on social media, Jewish students had to be escorted out of the building by university police, who are now investigating the incident.
After Hamas killed over 1,200 people and abducted more than 240 more as hostages during the Palestinian terror group's onslaught across southern Israel, Tlaib flew a Palestinian flag outside her home and seemingly blamed the Jewish state for the attack, accusing the country of having an "apartheid system" that fosters "conditions that can lead to resistance." Tlaib and other members of the so-called "Squad" of far left progressive House members came under fire for slamming Israel without condemning Hamas by name.
The lawmaker also accused US President Joe Biden of supporting a "genocide" against Palestinians by supporting Israel's right to defend itself in the wake of the Hamas atrocities.
Late last month, Tlaib refused to apologize after falsely claiming on social media that Israel bombed the Al Ahli Hospital in Gaza as part of its military operations targeting Hamas, which rules the coastal Palestinian enclave. It turned out that a misfired Palestinian rocket from Gaza caused a widely reported explosion near the Al Ahli Hospital, according to intelligence from Israel and several Western governments. Experts agreed that Israel was not responsible, but Hamas and several media outlets continued to falsely blame an Israeli air strike for causing the blast.
"Both the Israeli and United States governments have long, documented histories of misleading the public about wars and war crimes," Tlaib said in a statement at the time. "This debate should not distract us from the urgent need for a ceasefire to save innocent lives." The congresswoman did not mention Hamas.
Earlier this month, Tlaib was censured by her colleagues in the US House of Representatives for her recent spate of anti-Israel comments amid the Jewish state's war with Hamas. The censure measure accused Tlaib of "promoting false narratives" regarding Hamas' Oct. 7 invasion of the Jewish state and of "calling for the destruction of the state of Israel."
Friday would not have been the first time that ASU's SJP chapter hosted a public figure accused of antisemitism. In 2021, it invited Mohammed El-Kurd to address students, using about $10,000 in student government funding to pay for the event. The Palestinian writer has trafficked in antisemitic tropes, demonized Zionism, and falsely accused Israelis of eating the organs of Palestinians, according to the Anti-Defamation League.
Tlaib's office did not respond to a request for comment for this story.
Follow Dion J. Pierre @DionJPierre.
The post Rashida Tlaib Event at Arizona State University Canceled Amid Backlash first appeared on Algemeiner.com.
Ventura County DA: Paul Kessler death does not 'meet the elements of a hate crime,' though investigation is ongoing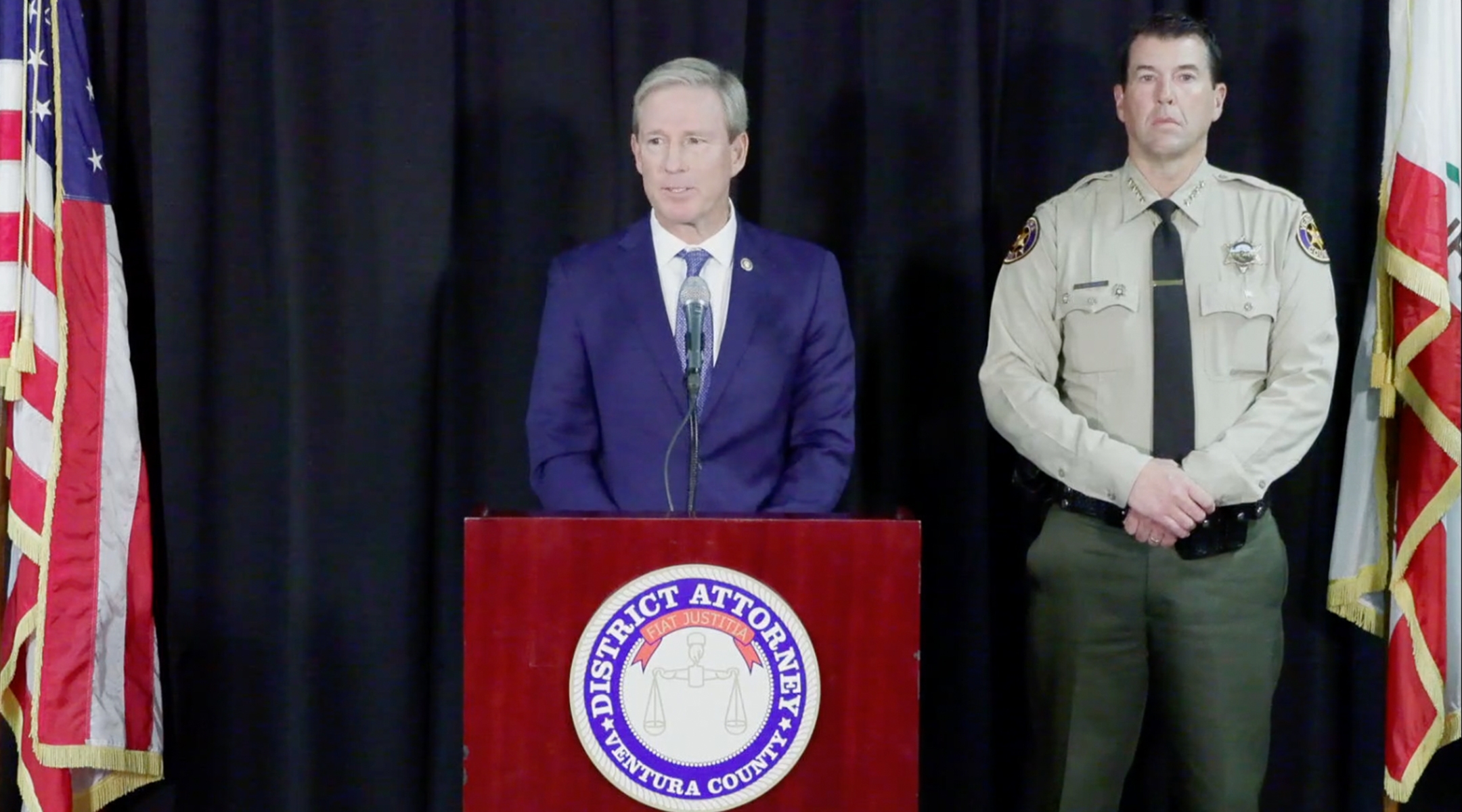 (JTA) — After a suspect was arrested and charged with involuntary manslaughter and battery in the death of a pro-Israel protester near Los Angeles earlier this month, Ventura County District Attorney Erik Nasarenko said that his office has "not ruled out a hate crime" in the case.
But he added that at present, based on what the police know, the death does not appear to be a hate crime.
"Simply put, looking at the statements as well as the words that accompany this act, we cannot at this time meet the elements of a hate crime," he said at a Friday morning press conference. "But nevertheless, we will continue to explore and investigate that offense as well as that special allegation."
Kessler's death has received widespread attention as it has come during Israel's war against Hamas in Gaza as well as during a reported spike in antisemitism in the United States following the outbreak of the war. A number of prominent pro-Israel activists have claimed that his death was motivated by antisemitism.
Loay Abdelfattah Alnaji, 50, of Moorpark, California, was arrested Thursday morning in the case and charged with two felony counts — involuntary manslaughter and battery causing serious bodily injury. His bail was set for $1 million, and he will be arraigned Friday afternoon. The charge of involuntary manslaughter implies that there was no proven intent to murder, Nasarenko said.
But Nasarenko said each count was accompanied by the "special allegation that in the commission of those crimes, the defendant personally inflicted great bodily injury upon Paul Kessler." Nasarenko added that those allegations "elevate these offenses to strikes under California's three-strikes law, which makes punishment prison-eligible."
Regarding the hate crime determination, Nasarenko said the investigators are specifically looking into "whether or not the acts, the impact, the force, was accompanied by specific hate speech, specific statements or words that demonstrate antipathy or hatred toward a specific group." He said there are still outstanding search warrants in the case, and nine have so far been executed.
Sheriff James Fryhoff said the investigation has thus far gotten statements from 60 witnesses and that his team has reviewed 600 pieces of evidence. He said the investigation, which began within 24 hours of Kessler's death on Nov. 5, has so far comprised more than 2,000 hours of work by his investigators. He encouraged anyone with information or footage of the incident to come forward.
Nasarenko also thanked Ventura County's Jewish and Muslim leaders, saying that they have "shown restraint" and respect as the investigation is underway.
Fryhoff and Nasarenko also met virtually with Kessler's family on Thursday, they said.
"They are mourning. They are grieving. And they are asking for privacy for this very difficult period," Nasarenko said.
He added that while Kessler's Israel advocacy has received considerable attention since the altercation took place nearly two weeks ago, he wanted to share additional information about Kessler, "because in this process, we should never forget that human life was taken, and that a victim exists."
Nasarenko highlighted that Kessler had worked in medical sales for decades and had taught sales and marketing at a number of colleges. He was a pilot, and had been married for 43 years. He left behind a son.
"We want to continue to remember and honor Paul Kessler, and the tragic loss of life that has occurred," Nasarenko said.
—
The post Ventura County DA: Paul Kessler death does not 'meet the elements of a hate crime,' though investigation is ongoing appeared first on Jewish Telegraphic Agency.
A rabbi and an imam called a meeting of Jewish and Muslim students at Queens College. It yielded little common ground.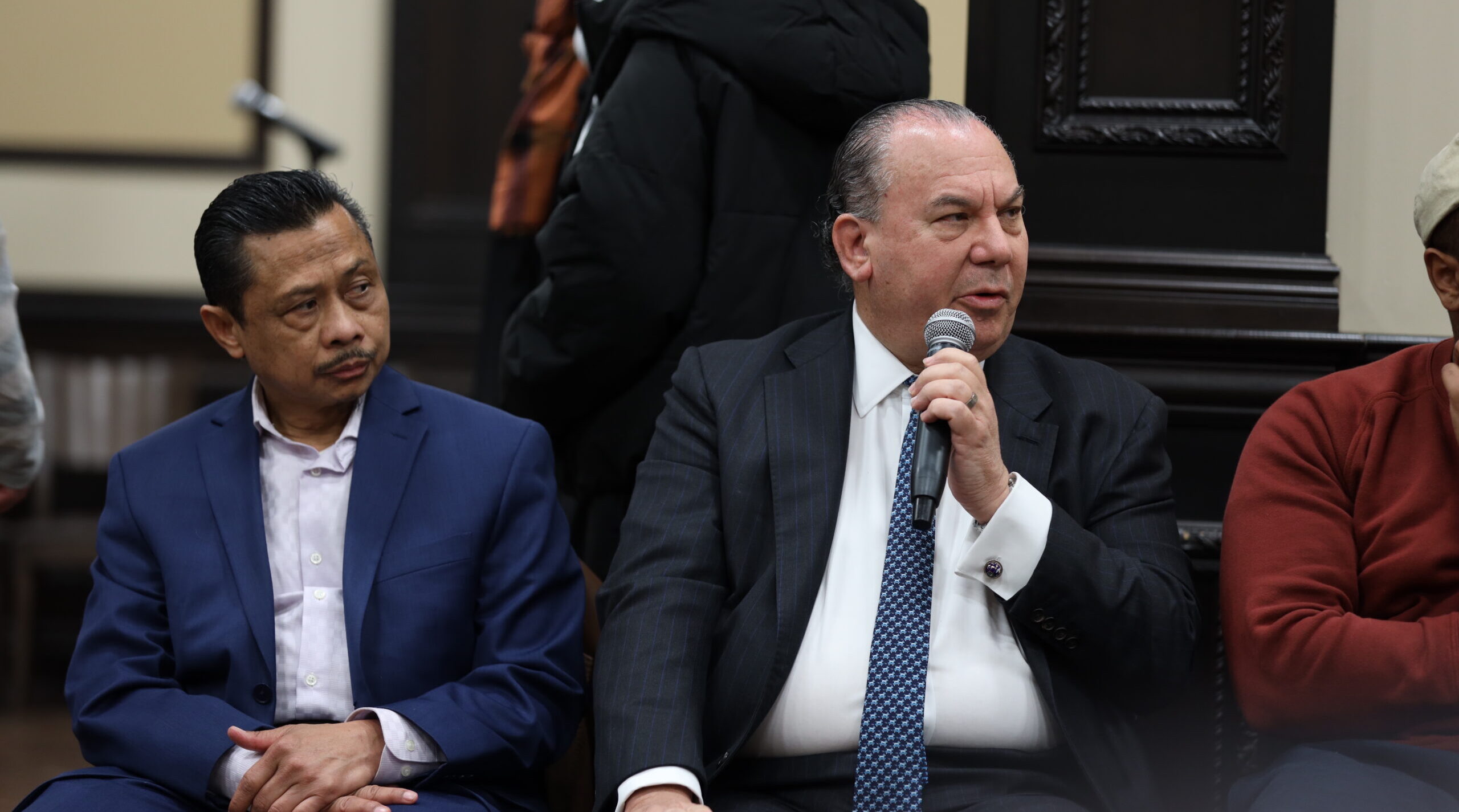 (New York Jewish Week) – Students crammed into a meeting room on the leafy Queens College campus, some wearing keffiyehs, others kippahs. Kosher and halal food were served on a table at the back of the room, while late arrivals gathered at the door, listening to the rabbi and imam holding court at the center of the gathering.
"There are no two faith communities that have more in common than Islam and Judaism," Rabbi Marc Schneier said, sitting next to his longtime partner in interfaith work, Imam Shamsi Ali. "We can agree to disagree, without being disagreeable."
The meeting between the Muslim and Jewish students was meant to build bridges between the two groups amid fallout from the war between Israel and Hamas in Gaza that began with Hamas' massacre of Israeli civilians on Oct. 7. But, in actuality, the gathering further exposed the deep chasms between their two communities, which did disagree — and were often disagreeable.
As the conversation on Thursday descended into shouting, a Jewish student fired across the room, "Oct. 7 is resistance?"
A Muslim student said, "Yes, Oct. 7 is resistance, according to the Geneva Convention."
"At least someone said it," the Jewish student said.
The conflict between Israel and Hamas has riven campuses in New York City and elsewhere, sparking heated clashes between student groups, as well as between students and administrators. An Israeli student was assaulted and a swastika was drawn on a bathroom wall at Columbia University, which later suspended two prominent pro-Palestinian groups. At Manhattan's Cooper Union, Jewish students sheltered in a library as pro-Palestinian activists pounded on the doors and shouted slogans. Campuses across the city, including in the CUNY system, have seen tensions soar between rival pro-Israel and pro-Palestinian groups.
The Queens College gathering was similarly tense. At times, it devolved into shouting and mutual recriminations, although some individual students did appear to forge ties with classmates from the other side.
The New York Jewish Week was invited to cover the meeting on the condition that its student attendees not be identified by name so they could speak freely.
"Israelis are doing, in my opinion, what the Nazis did to them," said the opening speaker, a Muslim. "This is how you create Hamas. If you want to know how to create Hamas, just keep bombing Gaza."
"In my eyes as a Muslim, Palestinian and Israeli life – equal," he said. "We have to be direct with each other."
A Jewish student said, "A lot of our pain and suffering has been invalidated since Oct. 7. Right away, there was not a second to mourn. Automatically we had to defend ourselves."
Citing student organizations on social media that had denied the atrocities, she said, "People were slaughtered. The world doesn't care."
She added, "I want to see my pain acknowledged."
Queens College is part of the sprawling City University of New York system, which has been grappling with allegations of antisemitism for years. Jewish students and faculty have said Israel criticism often spills over into outright antisemitism, while Palestinians and their supporters have decried alleged attacks on free speech.
Around 50 students attended the hourlong meeting, perhaps the first formal gathering between Jewish and Muslim students on a New York City campus since Oct. 7, according to its organizers. Schneier and Ali previously held two meetings for students from several CUNY schools, one with only Muslims, and another with just Jewish students. They plan to hold several more gatherings.
"We are not here to convince you, whatever you have in mind, but we're here to listen with the hope that we can build a sense of sympathy or empathy for one another," Ali said.
Schneier is a prominent rabbi involved with outreach between Jews and Gulf countries; his Foundation for Ethnic Understanding focuses on Jewish-Muslim relations. He is also a member of CUNY's Jewish advisory council. Ali is the leader of the Jamaica Muslim Center in Queens, one of the largest mosques in New York, with 20,000 members.
The students present included members of the campus Hillel and the Muslim Student Association. Muslim students outnumbered Jewish students at the meeting and held the floor for more of the discussion, using the forum to air historical grievances and complaints against the college administration. Jewish students said their pain after the Hamas attack had been dismissed, or even exacerbated, as some student groups denied or endorsed the atrocities.
One Jewish student read out a threat posted online to the group, her hands shaking, saying, "We were terrified." Both groups also felt that their voices had been stifled.
A Jewish student said that graffiti threatening Jews had been etched around campus and that she hadn't seen similar hate directed toward pro-Palestinian students. The Muslim students in attendance forcefully disagreed, with one woman saying, "It's absolutely appalling to disregard all the hate that the Muslims on this campus have been receiving."
The Jewish speaker said she understood and had not been aware of anti-Muslim incidents.
The rabbi and imam made repeated efforts to guide the conversation toward interfaith relations and the atmosphere on campus, and the students all unequivocally condemned discrimination against Muslims and Jews as well as civilian casualties. At one point, Ali said, "Both communities are victims, but it looks like we are opponents to each other, and that's what we need — to find a way to make sure that actually we are not enemies to one another."
Still, the discussion repeatedly turned to the war, with the students unable to agree on its basic facts. Muslim students disputed that Hamas was using civilians as human shields, frustrating the Jews in attendance, or that Hamas had targeted Israeli civilians on Oct. 7, citing a conspiracy theory that the Israeli military was responsible for most civilian casualties.
The Muslim students repeatedly objected to the pro-Israel position, bringing up the Palestinian death toll of 12,000, a figure provided by the Hamas-run Gaza Health Ministry that has not been externally verified and does not make a distinction between civilians and combatants.
In one heated exchange, a Muslim student said she had asked Israel supporters around campus if they condemned Israel. "I have not received a single yes," she said. Pro-Israel students asked if she condemned Hamas, and she said she condemned the killing of innocent civilians on any side. Both groups said they were not "spokespeople" for the conflict's combatants.
"What they accuse Hamas of doing today, they did — they've been doing for 75 years," a Muslim student said. "The start date for you guys is Oct. 7," another student said.
"A people who are occupied have a right to armed resistance. I know you don't like hearing it but those are the facts," a Muslim student said.
"People like you think they should lay back and let Israel slaughter them. No, we don't want two states, we want one solution under pre-1948 borders," he said, to applause, while one student held up a sign that said, "Bombing hospitals is not self defense."
"We are trying to move forward as a community. We cannot fix the issues that present themselves in the Middle East," a Jewish student said.
"It tears my heart hearing his pain, his family's pain, it's just awful," a Jewish student said about the Palestinian speaker. "I think it would be great for us all to understand that there are bad people on both sides and there are great people on both sides."
Later in the discussion, several Muslim students berated Ali, appearing to oppose his partnership with Schneier.
"Who told you to come here? Which Muslim? How much did they pay you?" one student said. "Say you're a Zionist. You're not welcome. Nobody wants you here." He then led the room in several chants of "Allahu akbar," an Arabic phrase meaning "God is the greatest."
The Muslim students also repeatedly criticized the Queens College administration, saying the college had been overly supportive of Israel and that they had not been given a forum to express their grievances. The college president, Frank Wu, opened an investigation earlier this week into the Muslim Student Association after the group posted online that there was no evidence Palestinians had killed women and children, and justified Hamas taking civilians hostage.
The Oct. 7 attack by the terror group killed 1,200 Israelis and other nationals, mostly civilians, and took more than 200 others captive. Wu's investigation sparked furious protests against the administration. Slogans attacking Wu and Israel were chalked on the sidewalk around campus.
"We're not here representing CUNY. What do you want from us?" Schneier said.
After the meeting let out, the arguing continued outside the room, although some students seemed to forge connections in individual discussions.
A Muslim student spoke with a Jewish student, saying he had grown up in an environment that was not welcoming to Jews, but that his closest friend, whom he met in school, was Jewish. The two students bonded over the religions' shared traditions, including fasting on holidays and eschewing pork.
"This is turning into a very Israel and Palestine thing, which it shouldn't have, because it was an interfaith thing," the Muslim student said. "It really hurts me a lot hearing terrible things being said about you guys because I for one don't align with that."
"I'm really happy that you came here," the Jewish student said. "Jews, our religion, our values, it's about a good world, good people, not doing violence. Everyone's rights matter."
Nearby, two students engaged in a heated but measured argument about the war, while two others showed each other information on their phones.
"I thought it was a good beginning," Schneier told the New York Jewish Week after the meeting, pointing out that the complaints surrounding discrimination and stifled voices were mirrored on both sides. He said that an overflow room had been set up in case the two groups needed to be separated, which didn't happen. "You're planting a seed here," he said.
"For some of the students, they grow in terms of their sense of empathy for the other side. It's important for people to see it's everyone's pain," Schneier said. "These kinds of discussions need to take place."
—
The post A rabbi and an imam called a meeting of Jewish and Muslim students at Queens College. It yielded little common ground. appeared first on Jewish Telegraphic Agency.
'Unacceptable' and a 'moral failure': In a shift, Jewish lawmakers Ossoff, Balint and Phillips ramp up criticism on Israel's conduct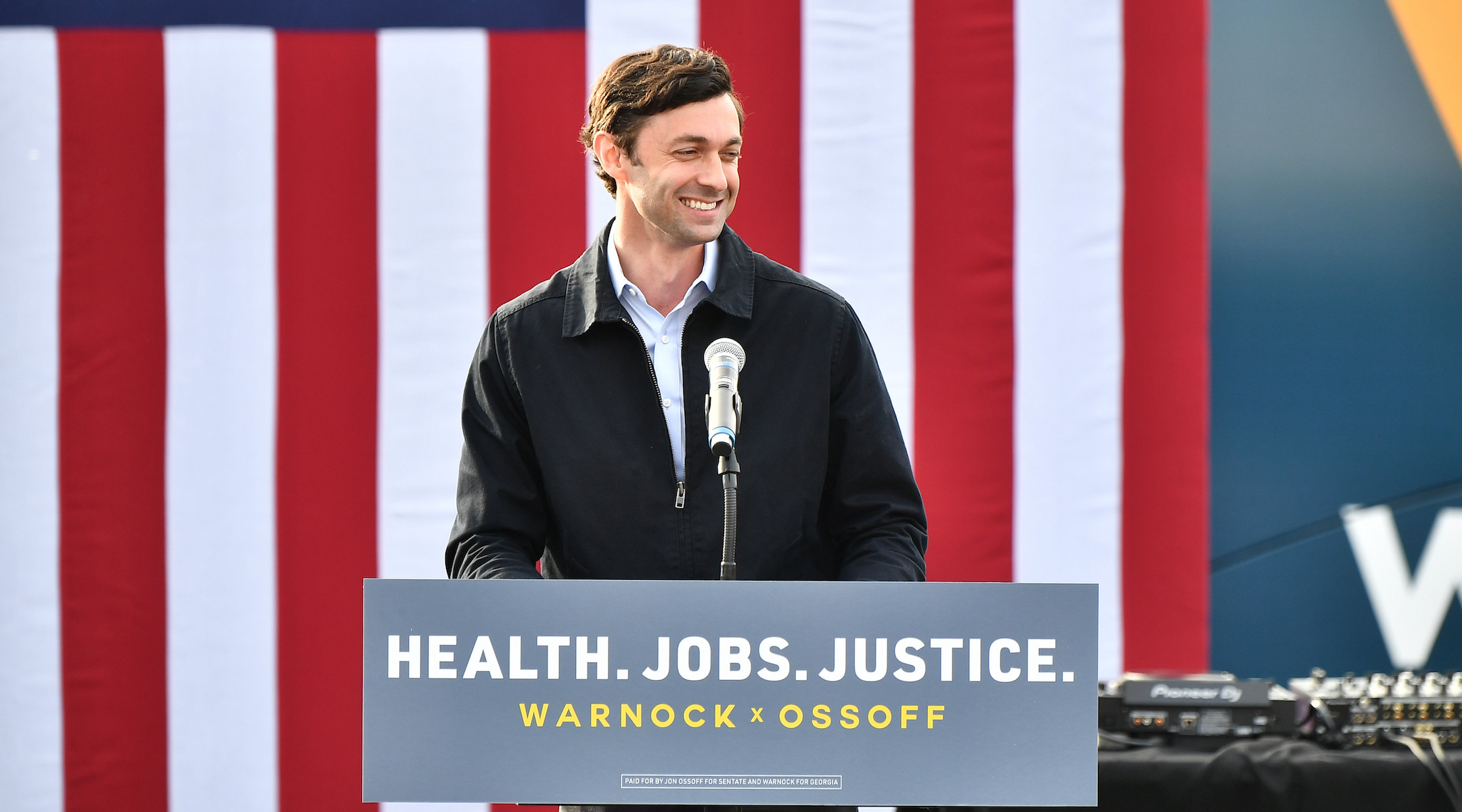 WASHINGTON (JTA) — In the span of two days, one Jewish lawmaker became the first to call on Israel to join a ceasefire, another called the Palestinian death toll "unacceptable" and a third said Israel's conduct was a "moral failure.'
The 35 Jews in the U.S. House of Representatives and in the Senate — all but two of them Democrats — have been among the most stalwart in defending Israel since Hamas' Oct. 7 massacres launched the war. Last month, three Jewish lawmakers, including two progressives, spearheaded a letter from more than half of House Democrats supporting President Joe Biden's robust backing for Israel. All 24 Jewish Democrats in the House signed it.
Now — as the war enters its sixth week, the Palestinian death toll rises and the humanitarian crisis intensifies — anguished expressions of dissent from Reps. Becca Balint of Vermont and Dean Phillips of Minnesota, and Sen. Jon Ossoff of Georgia, suggest that wall of support might be crumbling.
Phillips, Ossoff and Balint each said that the massacres Hamas carried out, killing 1,200 people and taking more than 200 captive, recalled the horrors of the Holocaust. "These events call to mind the Einsatzgruppen SS, the Nazi death squads who hunted and massacred our relatives across Eastern Europe 80 years ago," Ossoff said on the Senate floor.
But they said they have been haunted by the subsequent carnage, in which the Hamas-controlled Gaza Health Ministry has said that more than 11,000 Palestinians have died, including thousands of children. It's not known how many among that number are combatants, and how many among the dead were victims of misfired rockets aimed at Israel.
On Thursday, Balint became the first Jewish member of Congress to endorse a ceasefire in the Israel-Hamas war.
"What is needed right now is an immediate break in violence to allow for a true negotiated ceasefire," she said in an op-ed for VTigger, a Vermont news site. "One in which both sides stop the bloodshed, allow critical access to humanitarian aid and move towards negotiating a sustainable and lasting peace."
Rep. Alexandria Ocasio-Cortez, a New York Democrat who is a leader of the "Squad," the most left-wing faction in the House, immediately seized upon Balint's support, noting her Jewish identity.
"Rep. Becca Balint is now the first Jewish member of Congress to come out in favor of a ceasefire in Gaza," Ocasio-Cortez tweeted. "She is incredibly brave, taking a stance rooted in her commitment to human rights and protection of the innocent."
Balint's appeal differs in some ways from the ceasefire promotion that Ocasio-Cortez champions, in two substantive ways: Ocasio-Cortez this week spearheaded a letter to Biden urging him to press Israel into a ceasefire. Balint's appeal was to Israel, and not to Biden to exert pressure on Israel.
Balint also said in her op-ed that a condition of a ceasefire must be the removal of Hamas from power — which is Israel's objective in the war.
"A lasting bilateral cease-fire can only work if Hamas does not continue to rule in Gaza," she wrote. "Hamas is a terrorist organization, and its stated goal is to annihilate the state of Israel. It can't remain in power in Gaza."
Ocasio-Cortez's letter, which got 24 signatures, makes no such condition.
Later in the day, Ossoff took to the Senate floor to excoriate Israel's conduct. He did not call for a ceasefire — he said Israel must pursue Hamas. But he was unstinting in his criticism of Israel's conduct of the war and its resistance to Biden Administration pleas to allow in humanitarian assistance.
"The extent of civilian death and suffering in Gaza is unnecessary," he said. "It is a moral failure and it should be unacceptable to the United States."
Ossoff was especially galled that Israel seemed to be rebuffing Biden administration appeals to allow in relief and to curb violence by a group of Israeli West Bank settlers who have seized the moment to attack Palestinian communities.
"Requests by the United States that the Israeli leadership conduct a more targeted campaign, that they permit and provide a safe passage for aid essential to the sustenance of innocent life, that they clearly define objectives, that they prevent extrajudicial killings by extremists in the West Bank, that they present a credible plan for Gaza's future governance have mostly been ignored," Ossoff said.
He raised the specter of conditioning U.S. defense assistance to Israel on its compliance. "I do not accept that the total deprivation of millions of innocent civilians is necessary for Israel to secure its objectives or in the national interest of the United States, and where the United States is committing arms funds and support to those efforts, we must guard our principles and our interests," he said.
On Friday, Phillips, who is mounting a long-shot primary challenge to Biden and is known for his moderate positions, released a statement outlining his vision for a way out of the war that did not spare Israel or its leadership. He too called on Israel to dismantle Hamas' fighting capacity.
"Israel has every right and expectation to target Hamas terrorists and dismantle their capability of destroying the state of Israel," he said. "But that response has taken an unacceptable toll on Palestinians, many of whom are subject to Hamas terror — not supporters of it."
He took aim in particular at Israeli Prime Minister Benjamin Netanyahu, who he said had "exacerbated" policies of "repression and illegal settlement on Palestinian lands." He said Israelis should hold elections soon. Netanyahu also has low approval ratings within Israel.
Phillips presented a five-point plan to create a "future of peace." The document was notable considering Phillips has been a leader in Congress in terms of calling out fellow Democrats for Israel criticism that he believed was antisemitic.
Until now the only Jewish Democrat forcefully criticizing Israel's response has been Vermont Sen. Bernie Sanders, the unofficial leader of congressional progressives. But he has refused to call for a ceasefire and has distanced himself from fellow progressive who do.
The shifts by Jewish lawmakers comes amid accelerating volleys of sentiment by people in and close to the U.S. government. Hundreds of Biden administration staffers have signed statements criticizing the administration's handling of the Israel-Hamas war and calling for Biden to do more to support the Palestinians, the New York Times reported this week.
Also this week, more than 100 former staffers for Barack Obama issued a letter praising Biden's "moral clarity" for backing Israel and endorsing his request for a $14 billion emergency assistance package to Israel.
—
The post 'Unacceptable' and a 'moral failure': In a shift, Jewish lawmakers Ossoff, Balint and Phillips ramp up criticism on Israel's conduct appeared first on Jewish Telegraphic Agency.