Researchers say Japan has exaggerated the story of Chiune Sugihara, the 'Japanese Schindler'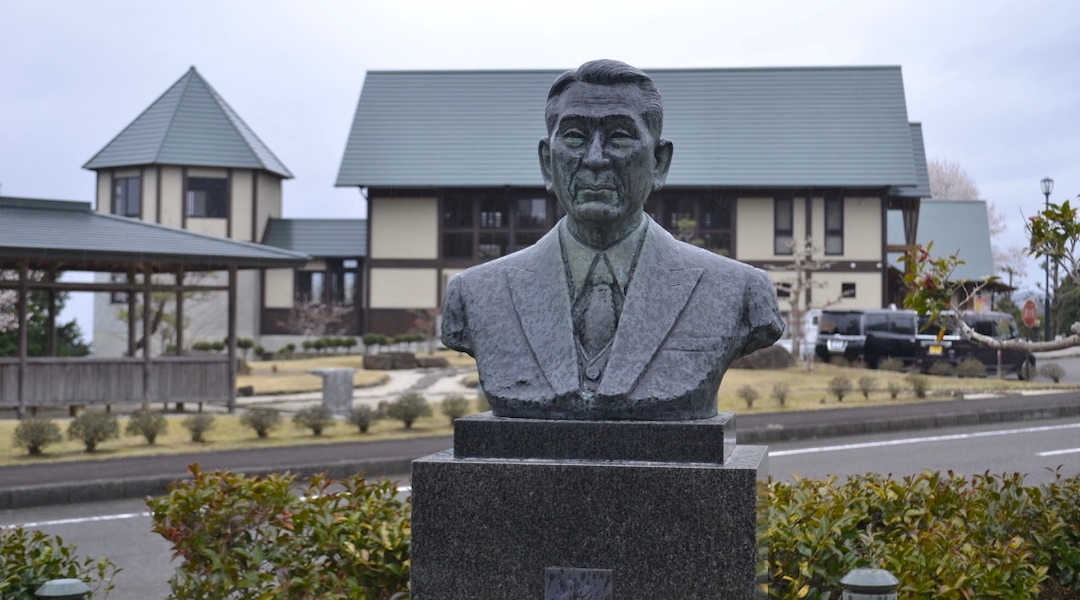 YAOTSU, Japan (JTA) — Three years before the Olympics began in 2021, Tokyo was already developing the national image it would display as the world looked on.
The Tokyo Metropolitan Board of Education issued a handout to the city's public schools in 2018 highlighting "the outstanding achievements of our predecessors" that were meant to "raise [students'] self-awareness and pride as Japanese."
Occupying a majority of the four-page handout was the story of diplomat Chiune Sugihara, who wrote thousands of life-saving visas for Jews fleeing Europe in 1940. The pamphlet recreates a dramatized version of Sugihara's life and actions, bolstered by quotes from nameless descendants of the Jewish refugees he saved.
"Sugihara should be remembered and honored as an amazing hero who sacrificed his profession and family to save strangers from a different ethnicity and culture," one of the quotes reads.
Sugihara, a Japanese diplomat to Lithuania from 1939 to 1940, helped thousands of Jewish refugees flee wartime Europe by issuing transit visas that allowed them to travel across the Soviet Union to Japan. Today, his name and story can be found all over the country, from his supposed hometown in Yaotsu to a museum at the northern Tsuruga port where Jewish refugees landed.
His likeness is found in memorials in Tokyo and in manga series and films, in addition to nearly every modern history school textbook. In 2017, the Tokyo Weekender magazine dubbed Sugihara the "best Japanese person ever." Some Catholics have even expressed hope that Sugihara will be officially canonized by the Catholic church as a Saint.
But over the past few years, a growing number of researchers — in addition to his own son — have publicly challenged Sugihara's superhero status and many details of the version of his story pushed in Japan and around the world. Some researchers say that Japan has used him as a symbol of humanitarianism in the face of criticism of Japan's World War II record.
And some note that Japan is taking the nationalist narrative one step further, by boosting another World War II-era figure whom they believe can achieve a similar level of national fame and hero status — whether or not his story is verifiable.
The Sugihara story
Issuing visas was not part of Sugihara's job description. He was stationed in Kaunas, Lithuania, from 1939 to keep an eye on Soviet military activity in the region.
But when rumors spread of a Japanese diplomat issuing transit visas, Sugihara one day found a crowd of Jews lined up outside of his home hoping they would be lucky enough to get one. They were running from the Soviets; no one had yet predicted the havoc that would be unleashed on them by the Germans when they finally invaded one year later.
Sugihara issued some 2,140 transit visas, some used for entire households. But Meron Medzini, professor emeritus at the Hebrew University of Jerusalem's Department of Asian Studies, wrote in his 2016 book "Under the Shadow of the Rising Sun: Japan and the Jews during the Holocaust Era" that "Not all of the visas were used, and this makes it difficult to substantiate the claim that Sugihara was instrumental in helping [the commonly accepted number of] between 6,000 and 7,000 Jews leave Lithuania."
Sugihara's act was also only one step in a series of events that led to the refugees' escape. Tokyo required them to have a final destination permit as a condition of their transit through Japan, and those were provided by Jan Zwartendijk, a Dutch consul in Kaunas at the time who stamped thousands of Jewish passports to visa-free Dutch Curacao. Jewish organizations stepped in to pay for the refugees' transit across the Soviet Union, which was miraculously granted by Soviet authorities.
Andrew Jocubowicz, whose parents escaped wartime Europe with the help of a Sugihara visa, emphasized the importance of Zwartendijk's role in an interview. In recent years, the Dutch consulate has also attempted to boost the profile of their own Holocaust hero, who is often "hidden" in the shadow of Sugihara.
"The critical person in the whole game was really Zwartendijk," said Jocubowicz, a professor of sociology at the University of Technology Sydney who has spent four decades researching the conditions of his family's survival. "Without those visas, it would not have happened at all. There's no way Sugihara could have cooked up something that didn't have people moving on from Japan."
After arriving in Japan, Jews left for Australia, Canada, the United States and other countries. Others were later deported to Japanese-controlled Shanghai, where authorities imprisoned them in a ghetto for the remainder of the war.
The hometown museum that isn't
Claims that Sugihara helped several thousand Jews; that his requests for visas were rejected "three times" by his superiors; and that he was dismissed and punished for his actions are all important details that make Sugihara a hero. But they are also all claims that researchers have debunked.
Jocubowicz said his father barely met Sugihara, whose visa was just one chapter in a long journey to safety. The survival of this group of Jews was "almost pure luck at every point," he said, especially their allowance by the Soviets to cross through Russia. After several months in Kobe, his family spent the remainder of the war in the Shanghai ghetto before boarding a ship to Australia, where Jocubowicz was raised.
"My feeling is that it was an extraordinary wormhole that opened up through these essentially conflicting empires, and as they crashed into each other, this little hole opened up and people were able to scurry into it," he said.
Yaotsu's claim as Sugihara's birthplace is also disputed, said Nobuki Sugihara, the consul's only surviving child. Nobuki said that according to family documents, his father was born in Mino, about 30 miles away from Yaotsu.
"It's shocking. People come from around the world to visit Yaotsu [but] my father was not born there, he has never lived there," Nobuki told the Jewish Telegraphic Agency. "They made a story that he was born in Yaotsu in order to get tourists because in that village there is nothing."
The memorial and museum in Yaotsu, despite its distance from a major city, receives 20,000 tourists per year both foreign and domestic, according to Ito Yuko, who works in Yaotsu's regional development and promotion division. She said the Sugihara family once lived in their small town, and elderly townspeople still remember them.
"For our museum, we are telling the truth that we know. Not exaggerated, not right or left, we just tell the story that we think is true," she said.
Local tourism officials have also promoted a "Sugihara Remembrance Route," part of a multimillion-dollar effort promoted widely in Israel that is described as "a nostalgic journey of discovery that will take you to places associated with the great man and areas where the Japan's [sic] original landscape and traditional culture remain strong." Although sometimes referred to as the "refugees remembrance route," the route curiously excludes the city of Kobe, where Jewish refugees lived for months before leaving Japan for other destinations.
Sugihara had no connection to many of the areas on this route, Nobuki said. He explained that much of the common narrative about Sugihara comes from his mother Yukiko's memoir, published in 1995.
"She didn't know exactly what happened in Kaunas, in Europe. So she asked a ghostwriter. She wanted to make a novel, not a documentary. So she put here and there some fiction stories. And this became famous in Japan," he said.
The rise to stardom
A decade or two ago, a much smaller portion of Japanese society knew the Sugihara story. Today, he is a household name.
In a recent article for the academic journal American Historical Review, University of Haifa professor and prominent Japan scholar Rotem Kowner examined how Sugihara became a "Holocaust paragon of virtue." Sugihara, he wrote, "was not the only consul to issue visas to Jews during this period, and not every consul who issued visas turned into a hero."
As Japan rebuilt and rebranded into a peace-loving nation after the war, said Chiharu Inaba, a professor who researches Jewish refugees in Japan, "The people didn't know what a hero was anymore. They needed a new hero."
The legacy of Japan's wartime actions, including its military's sexual "comfort women" system, continues to hinder its relations with China and South Korea.
The start of Sugihara's rise to hero status can be traced back to his nomination as one of Yad Vashem's Righteous Among the Nations in 1968. According to Kowner's research, Sugihara did not earn the honor for 16 years after his initial nomination because of Yad Vashem's initial doubts over whether he risked his life or professional position to help Jews — normally a requirement of Righteous Among the Nations status. Instead, Sugihara was at first given a certificate of recognition for his actions.
Eventually, though, when a panel was presented with new evidence and testimony from survivors, it determined that Sugihara had taken a career risk, and his Righteous status was granted in 1984. Authorities also saw it as an opportunity to improve Israel's image in Japan, Kowner argues, as Japanese public opinion about Israel had sharply deteriorated amid the conflict with Lebanon at the time.
A former head of Yad Vashem's Righteous Among the Nations department recently disputed the claim that political considerations were involved in Sugihara's nomination.
Recognition of Sugihara remained scant within Japan until 2000, when the Japanese government for the first time officially recognized him at a centennial celebration of his birth. But Prime Minister Shinzo Abe — known throughout his 2012-2020 tenure for his conservative politics, revisionist views of Japan's World War II activities and desire to ramp up Japan's military — embraced Sugihara more than any other Japanese leader.
In Sugihara, Abe saw an opportunity to not only boost diplomatic relations with Israel and Lithuania, but to make Sugihara a positive representative of the Japanese people in its darkest historical period.
But the process had already started before Abe's tenure. In the 2000s, revisionist writers began adding Sugihara's name into texts that denied the Nanjing Massacre — a Japanese attack on the Chinese city in 1937 that resulted in an estimated 300,000 deaths — "to show that wartime Japan did not resemble Nazi Germany," Kowner wrote.
Sugihara has been a key component of what some have called Asia's "memory competition" to have documents and memorials receive recognition from UNESCO, the United Nations' cultural heritage authority. In 2017, Japan nominated Chiune Sugihara Memorial Hall, the museum at Sugihara's supposed hometown in Yaotsu, for UNESCO Memory of the World status; the bid failed.
"Sugihara posthumously allowed his country to shed a long-lasting self-justifying policy of victimization and, instead, rebrand itself as possessing proactive humanitarian values," Kowner wrote. "Critically, Japan could cast itself in the role of a 'good' country that helped the Jews rather than that of an Axis villain."
The next Sugihara
Sugihara's vast fame has also paved the way for a new World War II-era Japanese hero to emerge: Kiichiro Higuchi.
Higuchi, a general, allegedly defied orders from his superiors to allow between 2,000 and 20,000 stranded Jewish refugees to cross the Russian border into Manchukuo, according to media reports and his supporters in Japan. This path to safety is now known as the "Higuchi route."
Though far lesser known than Sugihara, efforts to attract attention to Higuchi have received mild success: through a manga series, media reports, and other commemoration efforts, such as a statue in his hometown of Awajishima. The Japanese embassy in Israel has reportedly been in discussions with Yad Vashem since 2005 about Higuchi's Righteous Among the Nations status, but efforts have been unsuccessful.
When researchers began looking into the Higuchi story, it started to fall apart. Dylan Hallingstad O'Brien, a doctoral candidate at the University of California San Diego, has found that Higuchi likely facilitated the entrance of "at least 18 people" into Manchukuo. "There's just no record" of more than that, O'Brien said.
"It just doesn't add up that you have thousands and thousands of people flooding in and then there's no record," he said. "Especially when there are records of other Jewish refugee groups, [that have] receipts, letters, communications, and there's just nothing for this group that supposedly went the 'Higuchi route.'"
The website for the General Higuchi Association, an organization created to encourage the commemoration of Higuchi in Japan and pursue donations from abroad, is saturated with nationalism and false statements. Hideaki Kase — a right-wing politician who advised Shinzo Abe — chaired the association until his death last year.
"What would have happened if [Anne Frank's] family knew of the 'Higuchi Route'?" the website asks. "Perhaps the family would not have lived in the attic but instead would have sought passage for Manchuria, like so many other Jews did, and survived. At the time, neither the United States nor Britain accepted Jews; Japan was the only country in the world that opened its doors to Jews."
The goal, O'Brien argued, is to promote the idea that Japan had a policy of racial harmony — in this case, of helping Jews during the war.
The consequences
Japan is far from the only country that has faced criticism for promoting Holocaust narratives for nationalist ends that historians disagree with. Poland has been widely derided for denying the part that many Polish citizens played in the killing of local Jews throughout the war. And in China, Shanghai's history as a former home to thousands of Jewish refugees has been used as a diplomatic tool, at times to deflect from international accusations of genocide against Muslim Uighurs in Xinjiang.
Small inconsistent details or a selective use and omission of certain facts can be dangerous, Jocubowicz said. Holes in Holocaust stories give antisemites and Holocaust deniers ammunition for their arguments that Jews were not in danger, he argued.
"What happens if something is inaccurate and could be corrected is then the readers have no idea whether anything in the story is accurate," Jocubowicz says. "So anything could be a fake. Maybe it's all a fake, and maybe this is a signal that the whole Jewish story about the Holocaust is rubbish."
Rabbi Mendy Sudakevich, a Chabad-Lubavitch movement emissary who has been living in Tokyo since the 1990s, sees the narrative differently. He thinks that the Sugihara story — whether it is 100% true or not — has a positive effect on people and endears them to Jews.
"Kids in Japan grew up not knowing what Japan did in the war. They don't know the story. And Japan tried to build up a new story," Sudakevich said. "I want the new generation of Japan to know that saving Jews is an important task. I want them to know that. And if that's what they know about World War II, it is a good result for me."
When Russia invaded Ukraine in 2022, many in Japan ventured out to Yaotsu, Kobe or Tsuruga to learn more about Sugihara. Invoking his memory, Inaba and his university students have organized a 5 million yen ($37,490) donation drive for Ukrainian refugees dubbed "donations for life." The Visas for Life organization, founded by the Sugihara family in 2000, has raised 1.7 million yen ($12,746) for Ukrainian evacuees now living in Japan.
Madoka Sugihara, Chiune Sugihara's granddaughter and soon-to-be-director of Sugihara Visas for Life, noted the dramatic change in the government's reception of Sugihara in the past several years.
"The way the government changed their attitude is a very cynical thing," but "it is a good thing that they regard Sugihara-san's act very fairly. I'm convinced that it's a good thing," she said.
—
The post Researchers say Japan has exaggerated the story of Chiune Sugihara, the 'Japanese Schindler' appeared first on Jewish Telegraphic Agency.
25 years after opening, Yiddish Book Center overhauls its core exhibit for a wider audience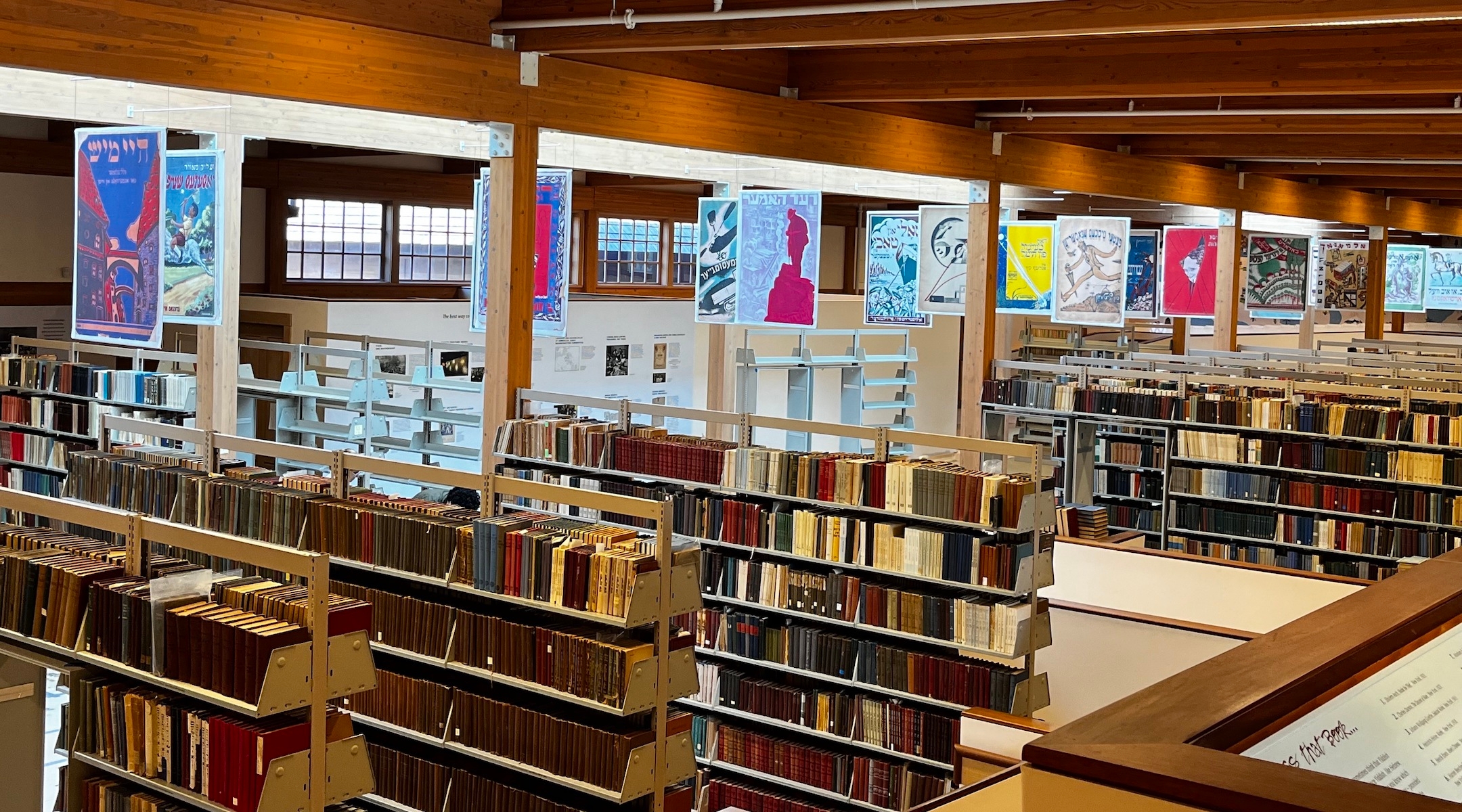 AMHERST, Massachusetts (JTA) — Since its opening in 1997, the Yiddish Book Center has wowed visitors with its architecture. A Jewish village resurrected on a college campus in sylvan Amherst, Massachusetts, the building conveys the Center's mission: to rescue and revive a language spoken for over 1,000 years by Ashkenazi Jews in German-speaking lands, Eastern Europe and wherever they migrated. 
On Oct. 15, the Center is unveiling a new core exhibit, meant to flesh out and deepen the story told by its building and the treasures stored inside. Arriving at a moment when Yiddish is experiencing one of its periodic revivals, "Yiddish: A Global Culture" is a major Yiddish institution's answer to a question without easy answers: How do you tell the story of a language without a country, and of a culture that lost a majority of its purveyors in a little over a decade of madness?
In response, the new exhibit depicts the "secular" Yiddish culture that arose in the mid-19th century as a distinctly transglobal, modern movement that includes theater, the press, mass market publishing and intellectual ferment in big cities from Warsaw to New York to Shanghai.
The exhibit is "foregrounding a story of creativity, tremendous accomplishment and tremendous diversity of a culture that has migration built into its DNA," David Mazower, the Center's research bibliographer and the exhibition's chief curator, told me when I visited Amherst last month.
The displays in the exhibit will surround and weave in and out of the Center's book stacks, another striking architectural feature of the building. The stacks offer duplicates of the Center's collection of 1.5 million Yiddish books and periodicals, for sale and browsing. I couldn't be the first visitor to be reminded of the closing scene in "Raiders of the Lost Ark," which reveals a colossal government warehouse filled with, in the words of the screenplay, "crates and crates. All looking alike. All gathering dust." 
What a casual visitor might not see is all that is happening at the Center to blow the dust off those books, including translator workshops, summer fellowships, conferences, an oral history project, a busy publishing program and a riotous summer music festival.
Interest in all of those activities has been helped along by young Jews interested in the language and culture and a pandemic that created a demand for online Yiddish classes. The Yiddish Book Center has been drawing 10,000 visitors a year since its pandemic shutdown. The New York Times made the latest revival official (to non-readers of the Jewish media, anyway) in an essay last month by the Jewish polymath Ilan Stavans, declaring that "Yiddish Is Having a Moment." Stavans notes a flurry of new translations of obscure and classic Yiddish writers, the all-Yiddish staging of "Fiddler on the Roof" and the Yiddish dialogue in three recent Netflix series: "Shtisel," "Unorthodox" and "Rough Diamonds."
(More controversially, Stavans also reports that Yiddish is appealing to those — presumably young anti-Zionist Jews — for whom Hebrew "symbolizes far-right Israeli militarism.")
Such a revival also challenges keepers of the flame — not just the Yiddish Book Center, but the YIVO Institute for Jewish Research in New York, The Workers Circle, publications like In geveb and the Yiddish Forward, academic departments plus a host of regional Yiddish organizations — to define a language and culture that means many different things to many different people.
Is it a language of a decimated past? A progenitor of the Jewish left? A tongue, still spoken daily by haredi Orthodox Jews, that continues to grow and evolve? Is it an attitude — a Jewish way of being and thinking — that survives in humor and cooking and music even if those who appreciate it can't speak the language? For European Jews of the Enlightenment, the Yiddish scholar Jeffrey Shandler reminded me a few years ago, "Yiddish represented the resistance and inability of Jews to enter the cultural mainstream. It represented something atavistic, a way of holding Jews back." For Zionists, meanwhile, it represented a weak Diaspora and everything associated with it (a clash explored in a current YIVO exhibit, "Palestinian Yiddish:  A Look at Yiddish in the Land of Israel Before 1948").
Goldie Morgenthaler, herself the daughter of the Yiddish writer Chava Rosenfarb, has written that she teaches Yiddish literature to mostly non-Jewish university students in Alberta, Canada because "studying what is specific to one culture is often the first step to understanding many cultures."
At YIVO, an institution founded by scholars in Vilna in 1925 and transplanted to New York in 1940, Yiddish is regarded as an expression of and vehicle for "Jewish pride," according to its executive director and CEO, Jonathan Brent.
"For Jewish people in the Diaspora to understand that they have in fact a future as Jews," he said last week, "they have to take pride in their heritage. For all kinds of historical reasons, many Jews felt that [Yiddish] was somehow a shameful or devalued heritage. It was 'zhargon' [jargon], and it had been basically eliminated from public discourse in the land of Israel. YIVO from the very beginning wanted to study Yiddish as a language among languages, the same way you studied Russian or Spanish or French. It was a language with a history.
"What Yiddish does," he continued, "is help anchor us in the language in which our grandparents and great grandparents communicated their deepest thoughts and feelings. And that has real implications for the survival of the Jewish people."
Aaron Lansky, the founder and president of the Yiddish Book Center, said the story he wants to tell goes back to his days as a graduate student in Yiddish at McGill University in the 1970s, when he first started saving the discarded books that would become the core of the Center's collection.
"People think of [Yiddish] as this nostalgic creation," he said. "But the truth is, it was a profound, multifaceted and really global literature that emerged in the late 19th century, and then just took off throughout the 20th century…. It wasn't long before writers were using every form of literary expression — expressionism, impressionism, surrealism, eroticism. It all found expression in this very short period of time, and even the Holocaust didn't destroy it. "
Lansky admits his own vision is more literary than the core exhibit's, and thanked Mazower for creating a broader view of Yiddish as a global culture.
That view is represented in a 60-foot mural that serves as an introduction to the exhibit. Cartoons by the German illustrator Martin Haake depict key historical vignettes in Yiddish history, from nearly every continent. Glikl of Hameln, a German-Jewish businesswoman, writes her diaries at the turn of the 18th century. Women call for a strike at "Yanovsky's Cigarette Factory" in Bialystok, Poland, in 1901. A nursery scene honors the leading Yiddish activists who were born in Displaced Persons camps after World War II. And tubercular Yiddish writers are seen recovering at the Jewish Consumptive Relief Society in Denver, Colorado, which operated from 1904 to 1940. 
The mural lines the ramp that leads to the bookshelves, where displays (some of which Mazower calls "wedges") use artifacts and wall-mounted photos to talk about the breadth of Yiddish culture. There's a display about Yiddish celebrities, including writers, such as Sholom Aleichem and Chaim Zhitlowsky, who would draw tens of thousands of mourners to their funerals. Another display honors those who preserved and studied Yiddish culture, from YIVO (described here as "The Mothership") to the monumental "Language and Cultural Atlas of Ashkenazic Jewry" undertaken between 1959 and 1972 by the linguist Uriel Weinreich. A Yiddish linotype machine, rescued by Lansky, anchors an exhibit about the Jewish press.
A centerpiece of the core exhibit is a recreation of the Warsaw literary salon of the writer and playwright I.L. Peretz, a leading figure of the late 19th century and early 20th centuries. While few actual artifacts belonging to Peretz survive, the room will include contemporaneous objects and photographs to immerse visitors in the literary scene of the day. 
"You'll step through his doorway the way that so many young writers did, clutching their first manuscripts to show them either in Hebrew or in Yiddish," Mazower explained. "His name, his address was known throughout the Russian Empire at that time. People would come thousands of miles in some cases to Warsaw to try and get entry into this alchemy-like space where extraordinary things happen."
One of those pilgrims was Mazower's great-grandfather, the famed playwright Sholem Asch. When Asch showed Peretz a draft of his notorious play "God of Vengeance," whose lesbian subplot would shock audiences and rile religious leaders, Peretz reportedly told him to burn it. 
"My hope is that through the exhibition as a whole you see Jewish history through a Yiddish lens and in a different way from the Holocaust-defined story that so many of us have been educated with and that popular culture feeds us," said Mazower. 
The exhibit treats the Holocaust as one part of the Yiddish story, not its culmination. The original Yiddish edition of Elie Wiesel's "Night," published as part of a memorial project in Argentina shortly after the war, rests in a wedge about individuals who rescued Yiddish culture under the Nazis. The same section features a tribute to Rokhl Brokhes, a writer murdered in the Minsk Ghetto in 1945. A still from a recent animated adaptation of one of her stories by Alona Bach, currently a PhD student at MIT focusing on the "intersections of electricity and Yiddish," affirms one of the Center's aims: to bring young Yiddishists into conversation with the past.
The story of Yiddish theater will wrap around the auditorium, starting with a large photo of the audience at the opening of the Grand Street Theatre in New York in 1905. A memorial section remembers the probably thousands of actors, playwrights and musicians who were killed in the Holocaust.
"Had Yiddish theater not suffered a rupture, which it did, it would have continued to evolve and borrow and expand," said Lisa Newman, the Center's director of publishing and public programs. "What's so important about this exhibition is that it places Yiddish in this context of language no less than any other country's, except it's not a country." 
I asked Mazower what kind of stories he did not want to tell about Yiddish culture.
"It's not a story about Yiddish humor," he said. "It's not a story about the Holocaust. It's not a story about the state of Israel. It's not a lachrymose story about Jewish persecution through the ages."
Other Yiddishists told me much the same thing (Brent said that the story of Yiddish "shouldn't be told as a collection of jokes, or Yiddish curses, or as a cute language that connects you to Bubbe's gefilte fish"). 
And yet, said Lansky, "We're not feinschmeckers, we're not elitist when it comes to Yiddish. Yiddish was a vernacular language, and I am happy to embrace that. I love the humor and social criticism that's embedded in it. It's the aggregate that's so impressive. To see all of this literature and culture in a lively and accessible way can be quite transformative."
—
The post 25 years after opening, Yiddish Book Center overhauls its core exhibit for a wider audience appeared first on Jewish Telegraphic Agency.
San Francisco Giants fire Jewish manager Gabe Kapler after disappointing season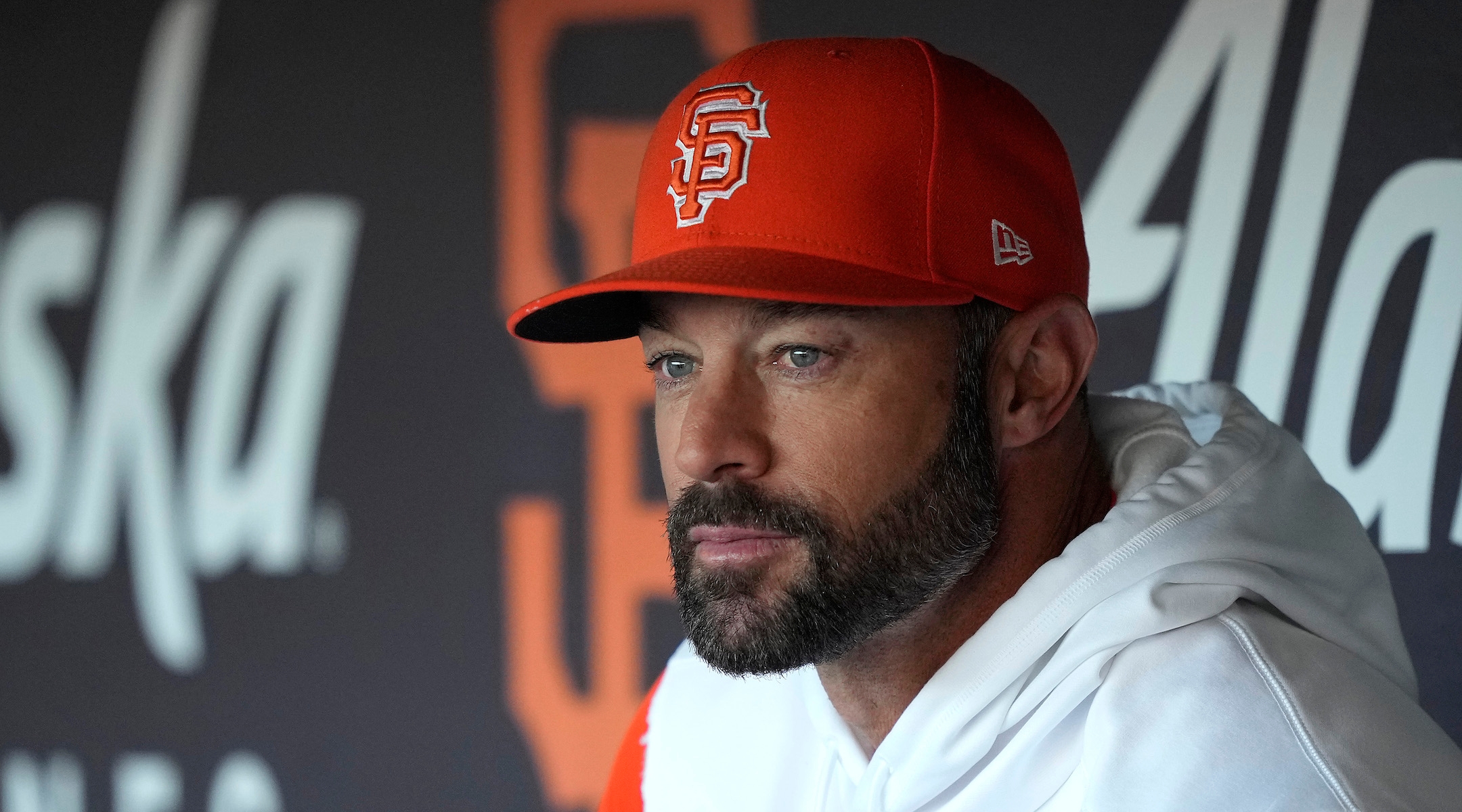 (JTA) — The San Francisco Giants have fired Jewish manager Gabe Kapler after four seasons.
Kapler joined the Giants in November 2019 and led the Giants to a 295-248 record during the 2020-2023 seasons, highlighted by a 107-win 2021 campaign that earned Kapler the National League Manager of the Year award. The team rewarded Kapler with a two-year contract extension that was set to run through 2024.
The Giants were eliminated from postseason contention this week, missing the playoffs for the second consecutive season.
In addition to his 2021 accolade, Kapler's tenure in San Francisco was punctuated by his unorthodox style both on and off the field. The 48-year-old Hollywood, California, native is a fitness geek with an active social media presence and his own blog. ESPN deemed him "the most interesting man in baseball" in May 2022. Kapler also has a Jewish tattoo on each leg: a Jewish star on his left leg and "Never Again" — a reference to the Holocaust — on his right leg.
On the field, Kapler in 2020 became the first MLB manager to kneel during the national anthem amid nationwide Black Lives Matter protests. In 2022, in the wake of the deadly mass shooting at an elementary school in Uvalde, Texas, Kapler announced that he would begin skipping the pregame national anthem to protest the "state of this country." He frequently used his platform in the sport to share his political beliefs.
Kapler played for six teams during his 12-year major league career, largely as a role player and backup outfielder. After retiring in 2010, Kapler played and coached for Team Israel in the 2013 World Baseball Classic. He previously managed the Philadelphia Phillies from 2018-2019 and worked for the Los Angeles Dodgers organization.
With Kapler's firing, San Diego Padres manager Bob Melvin becomes the league's lone Jewish skipper.
—
The post San Francisco Giants fire Jewish manager Gabe Kapler after disappointing season appeared first on Jewish Telegraphic Agency.
Flash floods put a dangerous damper on the first night of Sukkot in NYC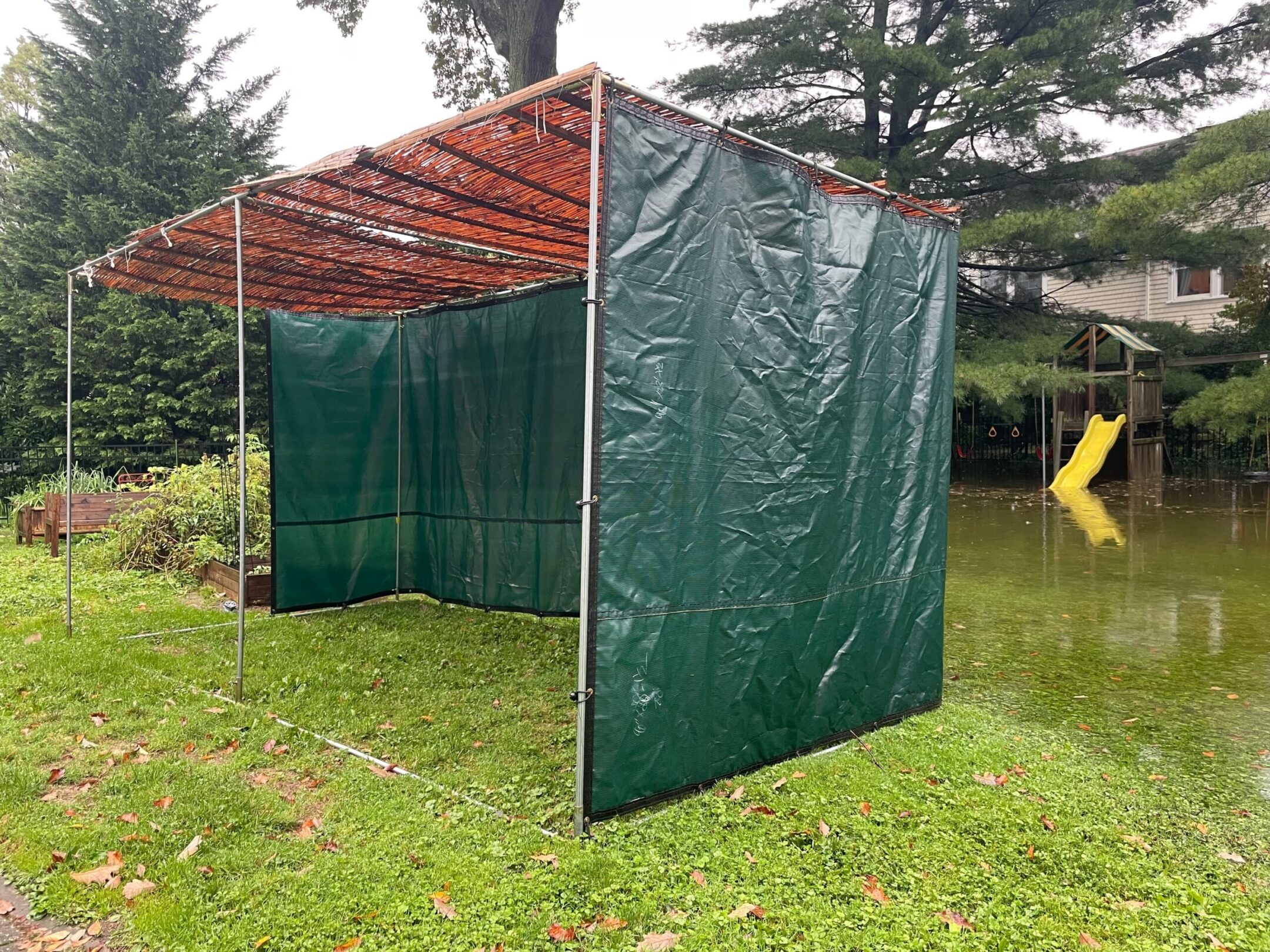 (New York Jewish Week) — Mark Vogel, who lives in Riverdale and runs a website about Jewish and kosher travel, spoke for many of his neighbors when he posted a video on Instagram of his sukkah being pounded by rain, standing forlornly in the middle of his flooded backyard.
"I built a Sukkah," he wrote in a caption. "I should have built an ark."
Vogel, and many of the other millions of Jews in the tristate area, have been coping with the reality that Sukkot, the most outdoor holiday on the Jewish calendar, has coincided with heavy rains that have flooded highways, shut down subway lines and triggered a state of emergency in New York City. More than 8 inches of rain had fallen at John F. Kennedy airport by Friday afternoon, and more is expected into Saturday.
New Yorkers should expect heavy rain and flooding to continue throughout the night tonight," Gov. Kathy Hochul posted on social media on Friday afternoon. "To our Jewish neighbors celebrating the beginning of Sukkot, please take steps to stay safe during this severe weather event."
Sukkot begins Friday night, and on the weeklong holiday, Jews traditionally eat their meals and even sleep in the sukkah, an outdoor hut with a roof generally made from tree branches that recalls the Israelites' biblical sojourn in the desert and emphasizes the need for divine protection.
But rain makes those observances close to impossible — leading most would-be sukkah-dwellers in New York to accept that they'll be eating indoors on the holiday's first night, and sparking a wide variety of theological and practical responses from rabbis and rank-and-file Jews alike. For others, it has complicated travel plans hours before the holiday's start, backing up traffic and making the subway especially hard to navigate.
"I once heard that if it rains on [the] first night of sukkoth, it's some sort of sign that God is displeased with us," Linda Gisselle Roth, who splits her time between New York City and Connecticut, wrote on Facebook on Friday. "And it's been raining for days. And I've never felt like this before."
She added, "I want to spend [the] first night of sukkoth, in my sukkah. So for right now, I'm asking, please let the rain stop."
While the rainy season in Israel traditionally begins right after Sukkot, rain is a common occurrence on the holiday in the United States and even inspired the title of a children's book from the 1990s, "Why Does It Always Rain on Sukkot?"
Observant Jews have varying customs when it comes to dealing with rain on the holiday. Many avoid their sukkah entirely, while others will quickly recite blessings over wine and challah in the sukkah and then eat the rest of the meal indoors. Adherents of Chabad, the Hasidic movement based in Crown Heights, try to eat in the sukkah under nearly all circumstances.
One resident of Teaneck, New Jersey, a heavily Jewish suburb, posted a single-spaced, two-page guide from his local rabbi on what to do if it rains on the holiday. (The rabbi, who is not named in the document, recommends saying blessings over wine and challah in the sukkah and then continuing the meal inside.)
Rabbis on social media, meanwhile, explored the theological dimensions of the weather. Some cited a passage from the Mishnah, the ancient code of rabbinic law, that compares rain on Sukkot, following the effort of building a sukkah, to a servant bringing his master a jug of wine, only for the master to throw water back in the servant's face.
"Nasty weather on sukkot is a sign of God's displeasure with us," Rabbi Ysoscher Katz, who teaches at the liberal Orthodox Yeshivat Chovevei Torah seminary, wrote on Facebook. Then, referencing the recent High Holidays and addressing God, he wrote, "If all we did the last few weeks is not good enough for You, what's left for us to say?! We did the best we can. If You want more, You will have to let us know what that more is."
Rabbi Ethan Tucker, the president of the Hadar Institute, an egalitarian center of Jewish study based in Manhattan, also cited the passage and encouraged people to focus on the experience of the servant in the parable. He added that because the first day of the holiday falls on Shabbat, the other central commandment associated with Sukkot, praying with four species of plants, is also deferred a day. (Sunday is expected to be sunny.)
"What does it *feel like* when you have prepared for something and then you cannot execute it as planned?" he wrote on Facebook. "It feels like rejection, as in the parable. The weather may in fact just be the weather, but it doesn't necessarily make the feeling of loss less palpable. Is there a way to make this Sukkah rainout an opportunity to sit with rejection? To empathize with other such experiences, even if they are not our own?"
Some New Yorkers tried to stay positive. "It might be flooding and we might consume a lot of rain water with our food lol but Sukkot Dinner under the Stars is still on even if we might end up eating indoors under a roof instead!" a Facebook user from Queens posted on Friday, advertising a meal that night.
Nina Jochnowitz, a State Senate candidate in New Jersey, cited the rabbinic idea that Sukkot is considered a time of joy, and referenced a Hasidic saying that "'joy breaks all boundaries,' transforming even the most negative occurrences into blessings!"
And others reached for seasonal parallels: "If only sukkot came with rain dates like baseball," one person posted.
For Vogel, the travel writer and Riverdale resident, the rain was especially unfortunate, as he has built a smaller sukkah in recent years to limit capacity due to the COVID-19 pandemic. This was the first year he had gone back to building a larger one.
"Well, I was looking forward to eating in a large sukkah this year with friends and family," he told the New York Jewish Week. "But we can't control the weather, so we will make the best of it."
—
The post Flash floods put a dangerous damper on the first night of Sukkot in NYC appeared first on Jewish Telegraphic Agency.