Senate confirms Jack Lew as US ambassador to Israel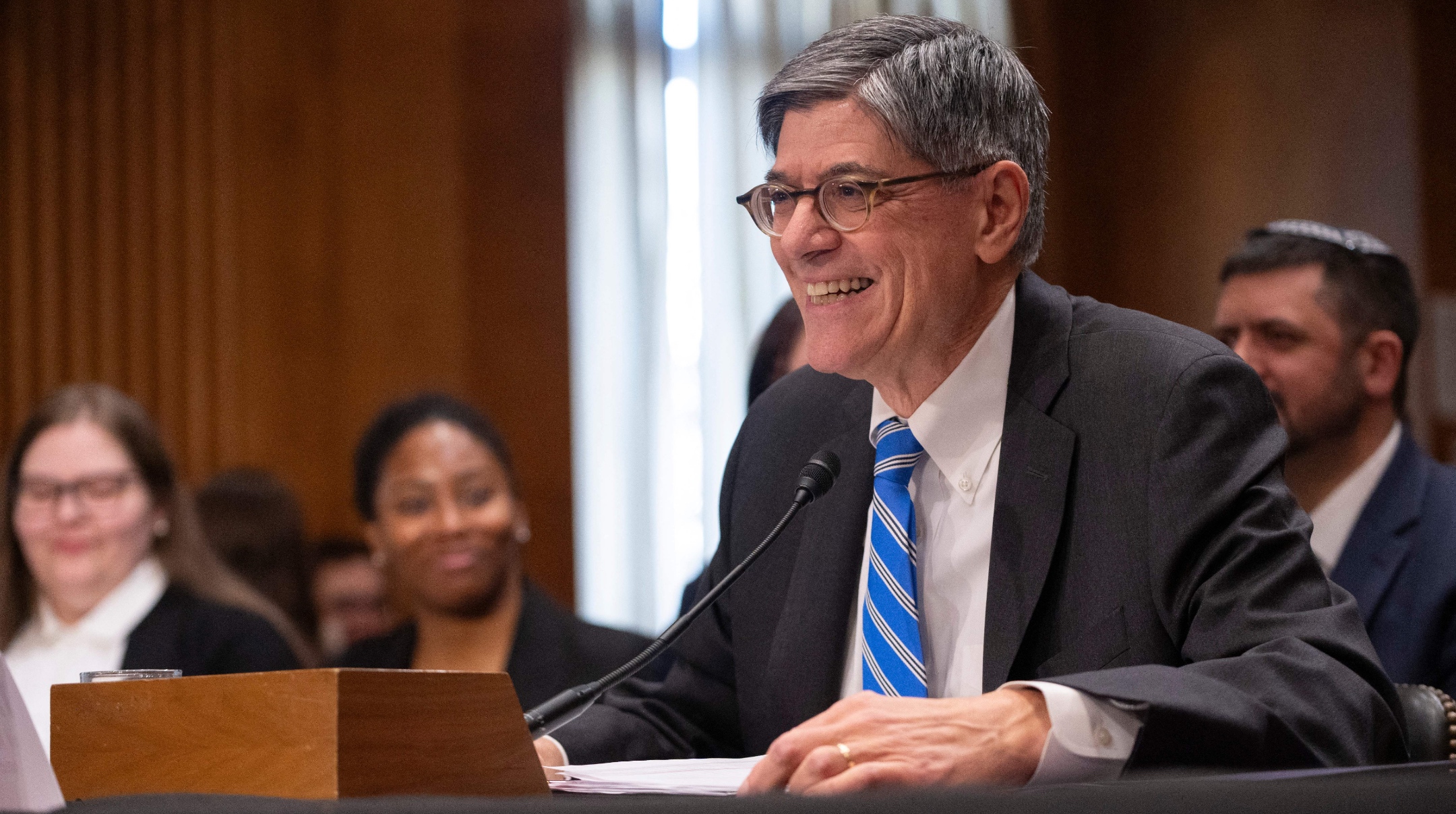 WASHINGTON (JTA) — The U.S. Senate approved Jack Lew, the Jewish former treasury secretary, to be ambassador to Israel, a process that Democratic leaders sought to accelerate as Israel wages war with Hamas.
The 53-43 vote was mostly along party lines, with two Republicans — Rand Paul and Lindsey Graham — joining 51 Democrats.
Both sides cited the urgency of the moment in making their cases. Democrats noted Lew's close ties to Israel, and Republicans said his work on the 2015 Iran nuclear deal made him a poor choice during a time that Iranian proxy groups are engaging in direct warfare with Israel.
Sen. Ben Cardin, a Jewish Maryland Democrat who is the chairman of the Senate Foreign Relations Committee, and Sen. Chuck Schumer, the New York Jewish Democrat who is the majority leader, rushed Lew's nomination to the floor over Republican objections.
"The Senate has now taken an extremely important step in its support for Israel," Schumer said after the vote. "This confirmation is as important and as timely as any confirmation in recent times."
Schumer said two-way communication was critical when an ally was at war.
"It means Israel's messages will be relayed appropriately to our government but it also means our messages will be sent appropriately to Israel's government," he said.
An accredited ambassador in place will facilitate the delivery of emergency defense assistance to Israel, which is now under consideration in Congress. The office will also play a central role in freeing the dozens of Americans believed to be among the 240 or so hostages held by Hamas after its Oct. 7 invasion of Israel.
Lew would additionally help negotiate the terms of delivering humanitarian relief to Palestinian civilians in the Gaza Strip, which is under Israeli attack.
Lew, who also served as President Barack Obama's chief of staff before leading the Treasury Department, has drawn words of support from Jewish leaders in Washington who pointed to his experience in public office, his skills as a negotiator, his involvement in Jewish life and his close relationship with Jewish organizations.
He earned a reputation for resolving complex negotiations during his two stints as director of the Office of Management and Budget under Obama as well as President Bill Clinton. He has spoken publicly about balancing his Orthodox observance with government work and has encouraged young observant Jews to go into public service,
Republicans who opposed Lew cited his role as treasury secretary when Obama brokered the 2015 Iran nuclear deal.
"I understand it's important to move as quickly as we can to have an ambassador in Jerusalem," said Sen. James Risch, the Idaho Republican who is the top Republican on the committee. "We are at an important moment in history with the events in Israel. This makes the stakes so much higher and important that we get it right."
Risch and other Republicans said that as treasury secretary, Lew's oversight of the Iran nuclear deal, which traded sanctions relief for a rollback of Iran's nuclear program, overly favored Iran.
"Hamas would not exist if it was not for Iran," Risch said. "Iran arms and trains them, it finances and directs them."
Risch said Lew deceived Congress about the degree to which he facilitated sanctions relief to Iran. "I want to support Israel," he said. "I think everybody on this floor wants to support Israel. The last thing we need is somebody who is very contrary to our view on how Iran should be handled."
Cardin, known for his laidback approach to legislation, exhibited rare fury with his colleagues, whom he said distorted Lew's record and falsely accused him of lying.
"It's just not right to say he misled us!" Cardin shouted. "He did not!"
Cardin noted that Lew was backed by a broad range of organizations, including the Anti-Defamation League and the Orthodox Union, a group whose constituents trend politically conservative. He also cited Lew's long involvement in pro-Israel and Jewish groups. Lew's confirmation "gives us the person as our representative to Israel that has the gravitas to stand shoulder to shoulder with Israel," Cardin said.
Cardin added that when he visited Israel in the days after the war started as part of a bipartisan delegation, he heard from Israeli officials that they were eager to work with Lew.
"Israel needs a strong U.S. ambassador who will represent America and be their partner  intaking on one of the greatest struggles in their history, from the terrorist Hamas and what they did on Oct. 7," he said.
—
The post Senate confirms Jack Lew as US ambassador to Israel appeared first on Jewish Telegraphic Agency.
Israeli Teen Speaks of Hamas Captivity With Her Dog in Gaza
Mia Leimberg emerged from nearly two months' captivity in Gaza with Bella, her Shih Tzu, in her arms, one of the most astonishing moments of a week-long ceasefire between Israel and Hamas that ended last Friday.
"When we were there we had to feed her our leftovers — yeah I'm talking about you Bella," said Mia, 17, looking down at the small white dog in her arms. "And we had to make sure that she doesn't run wild where we were. We had to keep her so that she doesn't go exploring and annoy anybody there."
Mia and her mother Gabriela were visiting family in Kibbutz Nir Yitzhak when they were taken hostage by Hamas during its Oct. 7 killing spree through southern Israel, sparking the war with the Palestinian terrorist group in Gaza.
The mother, daughter, aunt, and dog were set free as part of a swap for Palestinian prisoners, but her uncle and her aunt's partner remain in captivity.
"It was difficult. I held her [Bella] all the way there. It was an extra four kilos. And I'm just lucky enough that I managed to keep her through that whole situation and bring her back," Mia said from her home in Jerusalem in her first media interview.
Descriptions of Hamas captivity have started to emerge with the return home of some of the Israeli hostages. Some have described 'suffocating' quarters, with no access to medication and dwindling food. Children have recounted being ordered always to keep quiet.
"Luckily for me Bella is unlike all the other small dogs that I personally know, she is rather quiet, unless when she is playing or mad," she said. "If they would have seen her as a bother I think they would not have let me keep her, in all honesty."
'SHE WAS A HUGE HELP TO ME'
Many pets were killed or went missing during Hamas' rampage.
Mia's father Moshe said they searched for Bella during the weeks of his family's captivity. The day of their release, he was surprised to hear she came out holding the dog.
He described in more detail what his daughter went through to keep Bella. "She was worried that something would happen to the dog if she left her behind," he said.
Mia hid the dog under her pajamas as they were loaded into a vehicle that drove out of the kibbutz.
"Then they took them to tunnels … she had the dog with her the whole time," he said. "When they came out of the tunnel they had to climb up a ladder, that's when the Hamas people noticed that this was not a doll, it was a living, breathing dog."
"A bit of an argument ensued, and it was decided to let her keep the dog instead of leave it behind."
The captives cleaned up after the dog to prevent bad smells.
"She was very determined to bring the dog back, and one of the expressions that she has now, about the dog, is 'I love you to Gaza and back.'"
More than 100 hostages were freed in the truce that ended on Friday. Since then fighting has resumed with Israel pursuing its military offensive against Hamas in Gaza.
Mia described how captivity was a tough experience that "will take quite the while to, like, sink in." But having Bella helped. "She was a huge help to me. She kept me busy. She was moral support."
She said they will fight for the freedom of the other hostages, including her uncle and aunt's partner.
"We miss them every day and it feels wrong being here without them," she said. "As much as I am happy to be back, we're still not done."
The post Israeli Teen Speaks of Hamas Captivity With Her Dog in Gaza first appeared on Algemeiner.com.
On Edge Over Red Sea Attacks, Saudi Arabia Asks US to Show Restraint Against Iran-Backed Houthis
Saudi Arabia has asked the United States to show restraint in responding to attacks by Yemen's Houthis against ships in the Red Sea, two sources familiar with Saudi thinking said, as Riyadh seeks to contain spillover from the Hamas-Israel war.
The Iran-backed Houthis have waded into the conflict that has spread around the Middle East since war erupted with Hamas' massacre across southern Israel on Oct. 7, attacking vessels in vital shipping lanes and firing drones and missiles at Israel itself.
The group which rules much of Yemen says its attacks are a show of support for the Palestinians and has vowed they will continue until Israel stops its offensive in the Gaza Strip — more than 1,000 miles from their seat of power in Sanaa.
The Houthis are one of several groups in the Iran-aligned "Axis of Resistance" which have been attacking Israeli and US targets since the start of the conflict on Oct. 7, when their Palestinian ally Hamas sparked the war by attacking Israel.
Their role has added to the conflict's regional risks, threatening sea lanes through which much of the world's oil shipped, and worrying states on the Red Sea as Houthi rockets and drones fly towards Israel.
Riyadh, the world's top oil exporter, has watched with alarm as Houthi missiles have been fired over its territory.
With the Houthis stepping up attacks on shipping over the past weeks, two sources familiar with Saudi thinking said Riyadh's message of restraint to Washington aimed to avoid further escalation. Riyadh was so far pleased with the way the United States was handling the situation, the sources added.
"They pressed the Americans about this and why the Gaza conflict should stop," one of the sources said.
The White House declined to comment.
The Saudi government did not respond to an emailed request for a comment on the discussions.
As Saudi Arabia presses for a ceasefire to halt what it has called a "barbaric war" in Gaza, its diplomacy reflects a wider policy aimed at promoting regional stability after years of confrontation with Iran and its allies.
Focused on expanding and diversifying the Saudi economy, Riyadh this year normalized ties with Tehran and is seeking to exit the war it has been waging with the Houthis in Yemen for nearly nine years.
The sources said Saudi Arabia was seeking to advance the Yemen peace process even as war rages in Gaza, worrying it could be derailed. Yemen has enjoyed more than a year of relative calm amid direct peace talks between Saudi and Houthi officials.
The Houthi attacks during the Hamas-Israel war have elevated their profile in the Iran-aligned camp which also includes Hamas, Lebanon's Hezbollah terror group, and Iran-backed militias in Iraq.
The Houthis have emerged as a major military force in the Arabian Peninsula, with tens of thousands of fighters and a huge arsenal of ballistic missiles and armed drones.
Senior sources in the Iran-aligned camp told Reuters the Houthi attacks were part of an effort to put pressure on Washington to get Israel to halt the Gaza offensive, a goal that Iran shares with Saudi Arabia and other countries in the region.
One of the sources, who is based in Tehran, said Houthi representatives had discussed their attacks with Iranian officials during a meeting in Tehran in November, agreeing to carry out actions in a "controlled" way that would help force an end to the Gaza war. The source was briefed on the matter.
Another of the sources said Tehran did not seek "all-out war in the region" that would risk drawing it in directly.
A Houthi spokesperson did not respond to a request for comment. Iran has denied being involved in the attacks. Iranian officials did not respond to a request for comment on the Houthi attacks.
DESTROYER DOWNS DRONES
The United States and Britain have condemned the attacks on shipping, blaming Iran for its role in supporting the Houthis. Tehran says its allies make their decisions independently.
In one of the latest incidents, three commercial vessels came under attack in international waters on Sunday. The Houthis said they had fired at what they said were two Israeli vessels. Israel denied any link to the ships.
A US Navy destroyer, the Carney, shot down three drones as it answered distress calls from the vessels, which the US military said were connected to 14 separate nations.
The Pentagon said on Monday the Carney had taken action as a drone was headed in its direction, but that it could not assess if the warship was the intended target.
Pentagon spokesperson Sabrina Singh stopped short of using language that could suggest any imminent US retaliation against the Houthis. Asked if the United States might retaliate, Singh said: "If we decide to take action against the Houthis, it will of course be at a time and place of our choosing."
An Iranian diplomat said Tehran and Washington had exchanged messages through intermediaries about Houthi attacks since the start of the Hamas-Israel war. The diplomat, who was involved in exchanging the messages, said both called for restraint.
Iran on Tuesday denied any role in attacks or actions against US forces.
The post On Edge Over Red Sea Attacks, Saudi Arabia Asks US to Show Restraint Against Iran-Backed Houthis first appeared on Algemeiner.com.
5 major Jewish groups team up to advocate for Israel and push for 'accurate' coverage of Israel-Hamas war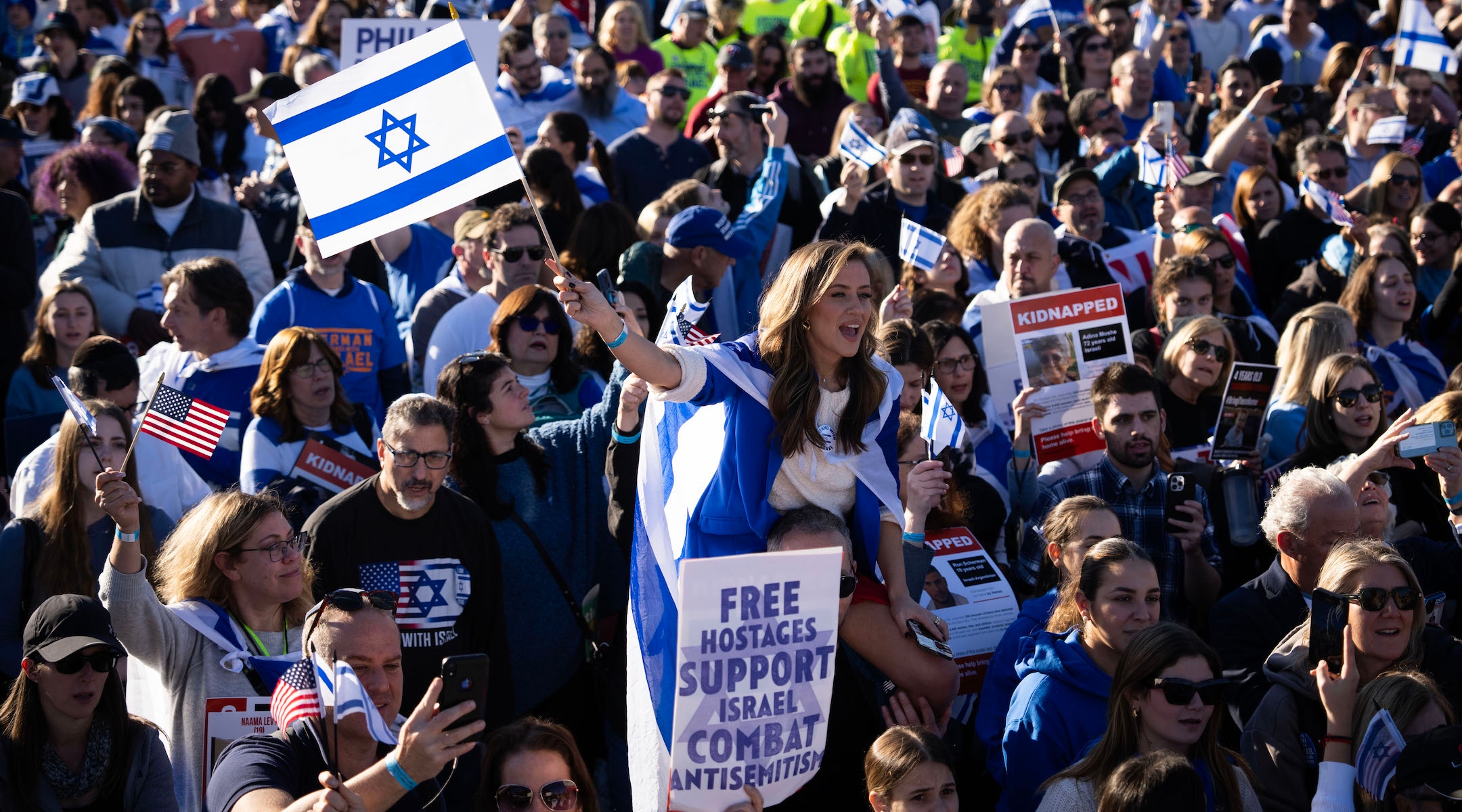 WASHINGTON (JTA) — Five major Jewish organizations have teamed up to maintain American support for Israel and fill what they say is a gap in coverage of the Israel-Hamas war.
"The 10/7 Project," named for the day Hamas launched the war with a deadly invasion from the Gaza Strip, has as backers the American Jewish Committee, which initiated the project; the American Israel Public Affairs Committee; the Jewish Federations of North America; the Anti-Defamation League; and the Conference of Presidents of Major American Jewish Organizations.
"The 10/7 Project is designed to promote continued U.S. bipartisan support for Israel by working to ensure more complete and accurate information about the Israel-Hamas war in real time for policymakers and the American public," the statement released Tuesday said.
The announcement was spurred, organizers said, by the mass turnout last month at a pro-Israel rally in Washington. Pro-Israel groups have been grappling with how to keep the atrocities Hamas terrorists committed on Oct. 7 in the spotlight while media attention turns to the devastation Israeli counterstrikes have since caused in Gaza, and as a growing number of Democrats are calling for a ceasefire.
"Since October 7, there has been a concerted and consistent effort from Israel's enemies to draw a false and dangerous equivalence between Hamas' deadly rampage to destroy the Jewish state and Israel's right to defend itself against terrorists," said Ted Deutch, the American Jewish Committee CEO and former Democratic congressman, in a release.
William Daroff, the Conference of Presidents CEO, said in a text message that it was worth keeping the atrocities front and center in part to confront a crop of people who have denied the magnitude or depravity of the attack.
"We must ensure that America and the entire world are told and retold the stories of the butchery of the October 7 massacre," he said in a text. "We must discredit and make outcasts of 10/7 deniers, who are Hamas sympathizers seeking to perpetuate false and misleading narratives by minimizing and rationalizing the most deadly day for the Jewish people since the Holocaust."
Daroff, whose group helped organize the mass rally along with JFNA, also said sustaining Jewish solidarity was key. All of the other groups partnering on the 10/7 Project are members of the Conference of Presidents, an umbrella body that supports Israel and advocates for other policies.
"We must work together, as one Jewish community, to successfully communicate to the American people the critical need to stand with Israel, as well as the importance of the US-Israel relationship to America and to Israel," he said.
—
The post 5 major Jewish groups team up to advocate for Israel and push for 'accurate' coverage of Israel-Hamas war appeared first on Jewish Telegraphic Agency.