Shabbat tables in Times Square set with 224 empty seats represent hostages held by Hamas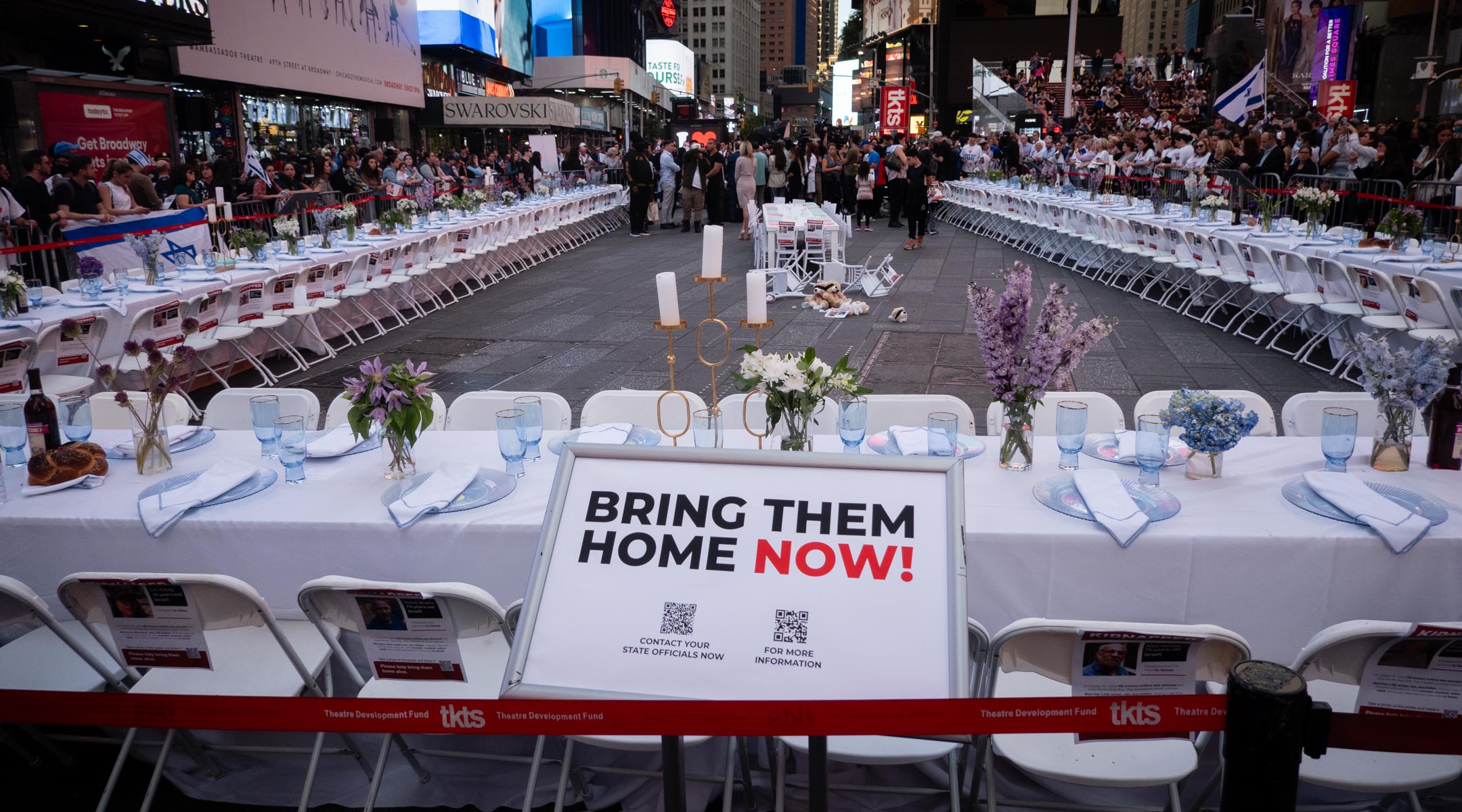 (New York Jewish Week) — In front of a long U-shaped table in Times Square, set for 224 people, a crowd began to sing happy birthday for a 12-year-old boy named Erez. 
Thursday was Erez's birthday, but the gathering was no celebration. Erez, along with his sister and father Sahar and Ofer Calderon, are three of the more than 200 hostages taken by Hamas in the terror group's Oct. 7 invasion of Israel. Erez's grandmother and cousin were killed. 
And the song was led by Omer Lubaton-Granot, an Israeli activist in New York who has his own connection to the hostages — four of his relatives were taken captive. Two others are dead.
"Erez, we want you to hear us all the way from New York. We're celebrating your birthday here and we'll soon celebrate your freedom," he said. "Your mother deserves to hug you on your birthday and you deserve her hug and we will do whatever we can to make it happen."
The settings at the table, along with their empty seats, represent each of Hamas' captives in Gaza. The Israeli-American Council organized the event to push for the release of the hostages and raise awareness of their plight. It's meant as a Shabbat table and is one of a series that have been symbolically set for the hostages in cities across the United States, Israel and around the world. In other displays, strollers or teddy bears have been arrayed to represent the captive children.
At the head of this one, in Duffy Square, a wooden high chair bore the picture of a 9-month-old Israeli baby named Kfir, beneath the word "kidnapped." On the table was a pink plate for a child, a loaf of challah and an array of violet and white flowers. 
A separate table for kids was set in the middle of the U-shaped table. Baby bottles lay on the center table next to pastel-colored plates. Splayed out on the pavement were teddy bears, their eyes blindfolded.
"My cousin, her children, 200 other people are trapped and we don't know where they are," Navé Strauss, a New Yorker whose relatives are being held in Gaza, told the crowd. "Repeat the call, lay the pressure on everybody in a position of power, anybody in the position to negotiate for their freedom today, right now. Bring them home."
Hundreds of Israelis and supporters ringed the display as passersby stopped to take photos. Some of the Israelis handed out fliers and engaged with tourists, explaining the meaning of the exhibit, which stood in the square for five hours. 
There were no significant counter-protests, though a brief scuffle broke out when a passerby grabbed a man's Israeli flag. Police quickly separated the pair. Several people spoke out against the demonstration, touching a nerve for the participants. 
"Everything that's happening and you're still supporting Israel?" one woman shouted.
"They're kids. How do you live with yourself?" an attendee responded.
The fliers affixed to the chairs, which were designed by the Israeli artist Nitzan Mintz and her partner, who goes by the name Dede Bandaid, have also become a point of contention The posters have been plastered around New York City and other cities worldwide, and anti-Israel activists have torn them down or defaced them. In New York City this week, someone pasted the word "occupier" over the label "kidnapped" on a poster bearing the name and photo of a child, suggesting that they shouldn't be viewed as a civilian.
The hostages have now been in captivity for 20 days. Hamas has released four in a move the terror group depicted as a humanitarian gesture but that has been seen widely as a public relations ploy. The Israeli American Council held a rally attended by thousands in Times Square last week and vowed to continue holding events until the hostages are released. Thursday's event was backed by an array of Jewish groups including the UJA-Federation New York, the World Jewish Congress, the American Jewish Committee New York and the Jewish Community Relations Council of New York.
In addition to the Israeli hostages, nationals from dozens of other countries are held by Hamas in Gaza.
"Behind the staggering number of hostages, 224 and counting, there are individual lives and families," Lubaton-Granot said. "Every minute that passes without their loved ones is pure agony."
—
The post Shabbat tables in Times Square set with 224 empty seats represent hostages held by Hamas appeared first on Jewish Telegraphic Agency.
Protester Sets Self on Fire Outside Israeli Consulate in Atlanta
i24 News – A protester was in critical condition on Friday after setting themself on fire outside the Israeli consulate in Atlanta, Georgia, U.S. authorities said. A security guard who tried to intervene was also wounded.
A Palestinian flag found at the scene was part of the protest, Atlanta Police Chief Darin Schierbaum said at a news conference. He added that investigators did not believe there was any connection to terrorism and none of the consular staff was ever in danger.
JUST IN: A pro-Palestine protester is in critical condition after they set themselves on fire in "political protest" outside of the Israeli Consulate office in Atlanta.
The protester was reportedly draped in a Palestine flag.
The protester has severe burns and unfortunately, a… pic.twitter.com/B8nUQAj2nU
— Collin Rugg (@CollinRugg) December 1, 2023
"We do not see any threat here," he said. "We believe it was an act of extreme political protest that occurred." Everyone inside the consulate building was said to be safe.
Anat Sultan-Dadon, Consul General of Israel to the southeastern U.S., said: "We are saddened to learn of the self-immolation at the entrance to the office building. It is tragic to see the hate and incitement toward Israel expressed in such a horrific way."
"The sanctity of life is our highest value. Our prayers are with the security officer who was injured while trying to prevent this tragic act. We are grateful to the city of Atlanta's law enforcement and first responders for all they do to ensure safety."
The post Protester Sets Self on Fire Outside Israeli Consulate in Atlanta first appeared on Algemeiner.com.
Released Israeli Hostages Call for Captives to Be Freed
Israeli hostages released in the past week by Hamas in Gaza called on Saturday for the immediate release of fellow captives left behind, a day after a temporary truce that had allowed scores to come home broke down.
Tens of thousands gathered at a rally in Tel Aviv outside Israel's defense headquarters, where they cheered Yelena Trupanov, 50, standing on a stage just two days after being freed.
"I came to thank you because without you I wouldn't be here. Now we must bring back my (son) Sasha, and everyone. Now."
Similar pleas from other released hostages were shown on video.
A seven-day truce, during which Hamas had released more than 100 hostages, collapsed on Friday after Hamas breached the ceasefire.
Israel said on Saturday it had recalled a Mossad intelligence agency team from Qatar, host of indirect negotiations with Hamas, accusing the Palestinian faction of reneging on a deal that would have freed all children and women held hostage.
More than 240 people – Israelis and foreign nationals – were abducted to Gaza on Oct 7. by Hamas terrorists who burst through the border with Israel and killed 1,200 people.
The post Released Israeli Hostages Call for Captives to Be Freed first appeared on Algemeiner.com.
IDF Foils Stabbing Attack Near Nablus in West Bank, Eliminates Terrorist
i24 News – The Israel Defense Forces (IDF) reported thwarting a stabbing attack on Saturday afternoon against reserve Battalion 7037 at the X junction near Nablus in the West Bank.
According to the IDF spokesperson, the event unfolded when the forces at the roadblock became suspicious of an individual approaching the barricade.
During the questioning process, the suspect suddenly drew a knife and advanced towards the IDF personnel.
ניסיון פיגוע דקירה אירע לפני זמן קצר לעבר כוח צה"ל במילואים מגדוד 7037 שפעל בחסם בצומת האיקס סמוך לעיר שכם שבמרחב חטיבת שומרון.
הכוח חשד במחבל שהגיע לחסם והחל לתחקר אותו, המחבל שלף סכין והחל להתקדם לעבר הכוח.
הלוחמים חתרו למגע והגיבו בירי לעבר המחבל שחוסל. אין נפגעים לכוחותינו. pic.twitter.com/mEaJs58hpE
— דובר צה״ל דניאל הגרי – Daniel Hagari (@IDFSpokesperson) December 2, 2023
The soldiers, faced with the threat, engaged in contact procedures and ultimately responded by opening fire on the assailant. The spokesperson confirmed that the attacker was neutralized due to the IDF's action.
It was also noted that there were no casualties among the IDF forces involved in the incident. According to the spokesperson, the situation at the X junction has stabilized, and IDF continues to maintain vigilance in the area to prevent further attacks.
The post IDF Foils Stabbing Attack Near Nablus in West Bank, Eliminates Terrorist first appeared on Algemeiner.com.