Still split over nation's leadership, gutted Israelis unite around war against Hamas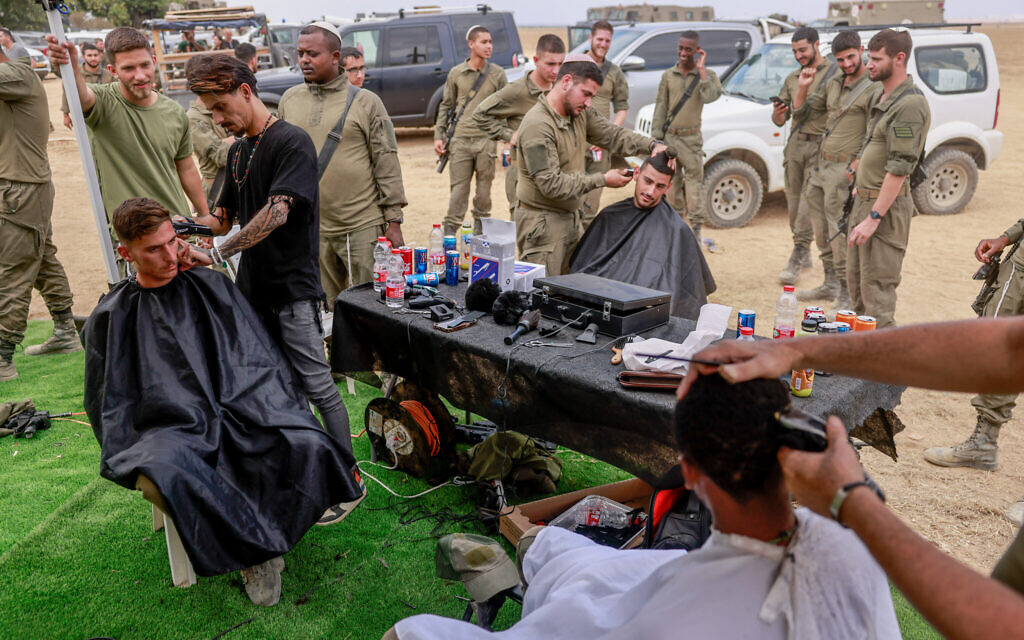 In a small country where everybody seems knows a victim of October 7 massacre, even those deeply distrustful of the government and army are gearing up to fight Gazan terror
Moncton city councillors cancelled a 20-year tradition of lighting a Hanukkah menorah outside city hall
How 'decolonization' became the latest flashpoint in the discourse over Israel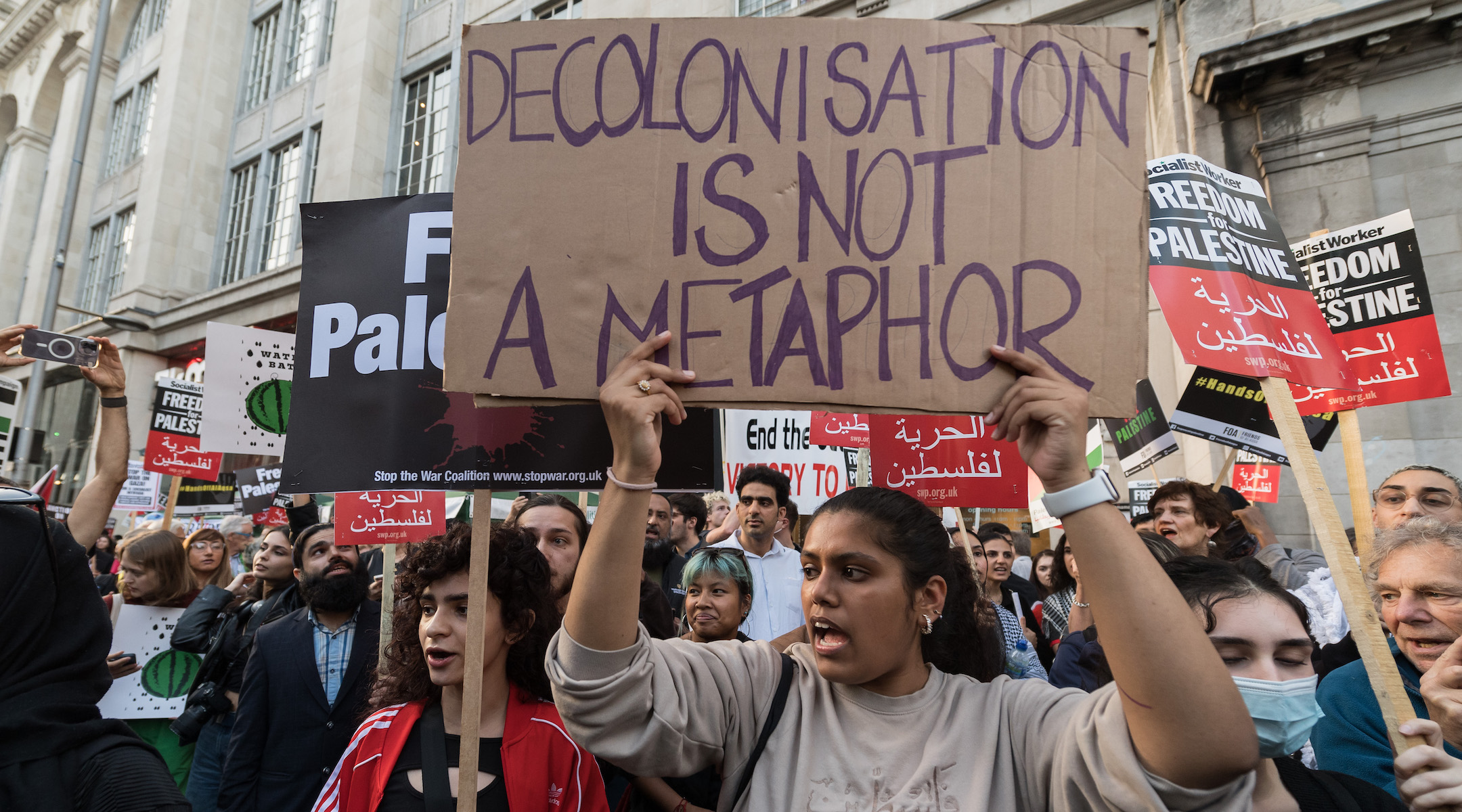 (JTA) — Attend or watch footage of a campus pro-Palestinian demonstration these days and you are likely to see someone carrying a sign reading "Decolonization is not a metaphor."  Almost immediately after the Hamas attack on Israel on Oct. 7, George Washington University Students for Justice in Palestine put out a statement praising the terrorists, declaring "Decolonization is NOT a metaphor."
 As a political slogan, it may not pack the same punch as "Free Palestine" or "From the river to the sea." But to activists on both sides of the Israeli-Palestinian divide, the charge that Israel is a "settler colonial" state and calls to "decolonize" Palestine are becoming an increasingly potent part of the toxic, perhaps unbridgeable, discourse. 
Two nearly simultaneous events inspired me to take a dive into the meaning of the slogan. The first was a news release from the American Jewish Committee announcing that, in light of the "terrifying increase" of antisemitism since Hamas' Oc7. 7 attack against Israel, it was adding new terms to its online "Translate Hate" glossary of antisemitic terms. Among those terms, alongside "from the river to the sea," is "settler colonialist." "Those who oppose the State of Israel as a Jewish state," writes AJC, use the term the charge that Israel "engages in ethnic cleansing by displacing and dispossessing a native or pre-existing population." It goes on to explain why the term is "categorically false." 
 More on that in a moment. The second event was a webinar in memory of Hayim Katsman, 32, the Israeli ethnographer and peace activist killed when Hamas infiltrated his kibbutz. The webinar was the launch of a new book of scholarly essays, "Settler Indigeneity in the West Bank," that features an essay by Katsman. Like many of the other Jewish and Israeli contributors to the book, Katsman appears to have been quite comfortable applying "colonialist" to describe Israel's national enterprise, in whole or in part. 
In the book's introduction, its editors, Rachel Z. Feldman and Ian McGonigle, explain why. They acknowledge the argument — put forth by AJC and others — that unlike the Europeans who colonized Africa, the Americas and Asia, Jews had a longstanding connection to and presence in the Land of Israel, and that the "early Zionist settlers did not have a home empire." (Or, as AJC puts it, "unlike European settler colonialists who settled colonies to enrich their motherlands, and who maintained a connection to their home countries to which they could return if they so wished, Jews who came to Mandatory Palestine had no motherland in Europe to enrich.")
However, write Feldman and McGonigle, aspects of political Zionism certainly resemble colonialism. "If we read Hertzl, if we read Jabotinsky, they're speaking about a colonizing project," Feldman said at the book launch, referring to two of political Zionism's founding fathers. "And, unfortunately, they were subject to the modalities of European thought that … looked at Palestinians as primitive people who could not possibly have a sovereign imagination of their own."
But "colonialism" doesn't tell the whole story of Israel, Feldman, assistant professor of religion at Dartmouth, told me on Friday. "I think that's where things can slide into antisemitism, when this just sort of blanket equation is made between Zionism and all European colonial projects. It would be missing the fact that Israel is the historic ancestral homeland of the Jews," she said. "But that doesn't mean that Jews haven't acted in ways that are settler colonial."
Ignoring those power dynamics — or, as many Palestinains and their supporters tend to do, denying any Jewish connection to the land — "will never get us closer to peace and reconciliation," Feldman continued. "This debate about who is more native is a fundamentally flawed debate and it leads to dehumanization of either Israelis or Palestinians. Both people are in this land together, and that is the absolute basis of any future kind of reconciliation." 
"Reconciliation" is barely on the minds of those who quote "Decolonization is not a metaphor," the 2012 paper by American academics Eve Tuck and K. Wayne Yang that poularized the phrase. The two argued that "decolonization" means exactly what it says: "repatriating land to sovereign Native tribes and nations, abolition of slavery in its contemporary forms, and the dismantling of the imperial metropole" – that is, the colonizing "homeland." It is not a handy bit of jargon for improving our societies and schools or fighting racism or "easing" an occupation, they write. 
The paper only mentions "Palestine" once, in a roll call of colonialist malefactors that includes Australia, the United States and apartheid South Africa, but it became a touchstone for radical movements that felt the widespread rhetoric of anti-colonialism had lost its bite. 
George Washington University Students for Justice in Palestine, since suspended by the administration, takes the phrase to its logical, violent extreme, calling the Hamas attack a "tangible, material event in which the colonized rise up against the colonizer and regain control of their lives." 
Another pro-Palestiniang group, Decolonize This Place, calls for "direct action and [is] driven by the belief that all colonized and oppressed people have the right to take back their land, to realize self-determination, and to win their liberation by any means necessary." The day after the Hamas attack , it said on Instagram: "[T]he heroic Palestinian resistance and the people's steadfastness continue, while settler colonial Israel, the US, and the 'international community' ignore that Israel is the violence."
"Softer" versions of decolonization call for divesting from countries and institutions that support colonialism. Corinna Mullin, who teaches international relations at the University of Tunis in Tunisia and recently at CUNY's John Jay College, used the "not a metaphor" phrase during a Nov. 17 Labor for Palestine teach-in in support of the boycott of organizations with "links to Zionism." "We need to materially decolonize these institutions so that they no longer are serving the causes of oppression and exploitation, but instead are in the service of liberation," she said.
Those who wave the "not a metaphor" sign at rallies may embrace all or none of these interpretations. AJC insists that the "settler colonialist" label is, however it is used, a slur. And when it is "used to say Jews do not have the right to national self-determination or to deny Israel's right to exist," it explains in the glossary, "that is antisemitism." The historian Simon Sebag Montefiore writes that the "decolonizing narrative is much worse than a study in double standards; it dehumanizes an entire nation and excuses, even celebrates, the murder of innocent civilians."
In his chapter for the "Settler Indigeneity" volume, about religious Jews living in the Negev, Katsman appears to agree with scholars who describe Israel's efforts to "'Judaize' Palestinian space" as colonialism in effect, if not intent. But he doesn't reject Israel, only those Jewish ideologues who want to erase the Green Line separating pre-1967 Israel from the West Bank. He bewails "the growing acceptance [among Jews] of a one-state reality between the river and the sea." 
That seems of a piece with the scholarship and activism for which he was known. His mother, the American-born Orthodox feminist activist Hannah Katsman, told Haaretz that he came to Kibbutz Holit after the army to help revive the desert outpost. Although he studied in the United States, he was determined to return home. Among other things, he took part in solidarity shifts to protect Palestinian communities harassed by Jewish settlers in the West Bank.
His dissertation, about political trends in Religious Zionism, was dedicated to "all life forms that exist between the Jordan River and the Mediterranean Sea."
"He was determined to understand the political rise to power of Israel's religious right wing, which he viewed as a serious obstacle to the establishment of a just and lasting peace," Feldman said in her opening remarks at the book launch. She also quoted Katsman, whom she got to know over the years, saying that he worked to create a world where "Israelis and Palestinians both are able to live full lives as equals under the law." 
Since his death at the hands of Hamas, Katsman has been held up as a counterpoint to the zero-sum nihilism represented by his murderers. Perhaps he should also be seen as a symbol of the possibility of two peoples sharing a land without either one trying to expel, dominate or colonize the other.
—
The post How 'decolonization' became the latest flashpoint in the discourse over Israel appeared first on Jewish Telegraphic Agency.
Treasure Trove: How some sheet music in the Theresienstadt Ghetto became a symbol of hope