The German Consulate in NYC welcomes its newest citizens: Jewish New Yorkers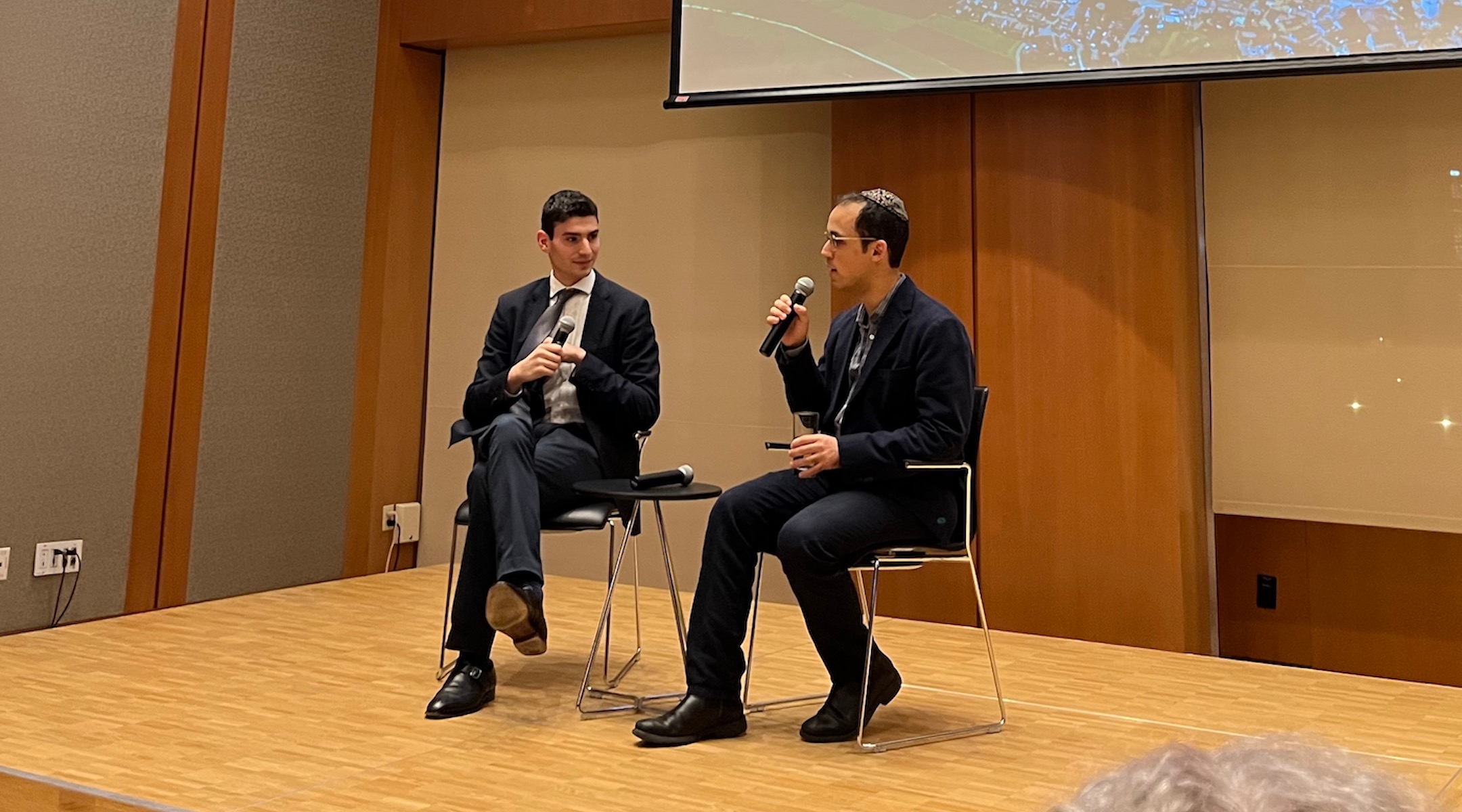 (New York Jewish Week) — "Wilkommen," David Gill, the German Consul General of New York, told a group of Jewish New Yorkers who had gathered at the Consulate last week. A slideshow behind him rotated through scenes of sweeping German landscapes, skylines and tourist attractions. 
Nearly all of the 70 people in attendance had recently become German citizens under a law that allows for victims of Nazi persecution and their descendants to reclaim their German citizenship, of which Jews were stripped during the Nazi era. Though the law was enacted in 1949, sweeping changes in the last four years have allowed many more descendants to become eligible for citizenship.
Last Wednesday's event, called "Discover Germany: Politics, Culture, and Jewish Life," was the first of its kind to welcome these new Jewish citizens of Germany, and help them learn about German culture and the country's Jewish life. (Both the United States and Germany recognize dual citizenship.) The aim, said Jordan Rothschild, a consulate representative, was to show these new nationals their future as German citizens, such as scholarship opportunities and a coveted EU passport.
"There is a German diaspora community in New York that has a very specific point of reference for Germany: their parents, grandparents, great grandparents were stripped of their citizenship — often they were survivors of the Holocaust and they have a very specific historical experience with Germany," Rothschild, a Jewish New Yorker who became a naturalized German citizen 15 years ago at age 7, told the New York Jewish Week. 
"There is a huge information gap about modern Germany because of that loss," he continued. "So it's very important that [the German Consulate] engages with this community because they're German and it's very important that we engage with them as the American Jews as well because that's what we are."
Among the event's attendees, who sipped wine and snacked on German pretzels and mustard, were Harlen Pincus and Judy Pincus. The siblings grew up in New York with a German Jewish mother who fastidiously documented her German ancestry, despite losing her citizenship. 
"Going back 200 years, she had all of the synagogue records, birth certificate and deaths and marriages; our grandparents' original German passports," Judy Pincus, 59, said. "In that we found letters that our great-grandfather had sent to the regional government talking about his persecution as a Jew and having to flee Germany and the losses he faced economically."
Letters like that are exactly the type of evidence the German government looks for when extending naturalization. The Pincuses received their citizenship in 2022.
Although Judy Pincus said she has no plans to move there, the siblings traveled to Germany for a two-week trip to visit their grandparents' hometowns in 2019. She became a citizen, she said, in part so that her two sons could easily travel and study there. 
"I think she'd be happy," Pincus said of her mother. "If she had the opportunity [to recover her citizenship], she  would have done it."
German Jewry has seen a major resurgence in its numbers since the fall of the Berlin Wall in 1989; in the decades since, many Soviet Jews relocated there as well as survivors and descendants who came back. Today there are about 118,000 Jews in the country, according to the World Jewish Congress, including some 20,000 Israelis.
Germany is also a major ally of Israel — Chancellor Olaf Scholz was one of the first foreign ministers to visit the country after the Hamas attacks on Oct. 7. As Gill told the room in New York: "In this moment, we feel very close to our Jewish partners and friends, in a time of unseen threats against Israel and the Jewish people."
Gill did not, however, mention the Molotov cocktails that were thrown at a Berlin synagogue earlier that morning. The firebombs landed on the sidewalk and caused no damage.
The event included a crash course on the German political system, an introduction to German cultural offerings in New York, as well as a presentation about scholarship opportunities for studying in German universities. Guests were a range of ages, from teenagers with parents to seniors.
"The night that Donald Trump was elected president, I was living in a Republican area and I came home that night and people were celebrating by shooting guns in the air to celebrate. I was terrified and wanted an option of somewhere else to go," said Sarah Myerson, the cantor at Kane Street Synagogue, who became a German citizen last year. "I always had a positive relationship with Germany. I lived there and met my husband there. My grandmother always had a positive relationship with Germany, as well. Germany was her country."
The New York Consulate naturalized roughly 900 citizens who are descendents of Holocaust survivors in the last two years. said Anna Miebach, a deputy consul who handles the naturalization applications. "German citizenship is often seen as an added sense of security, so if the political situation maybe is a bit troubling, we see an uptick in applications," she told he New York Jewish Week. She said that in 2022, there were just over 8,000 naturalizations to German citizenship from around the world; roughly a quarter of them were American. 
Miebach added that while the consulate doesn't track the number of newly naturalized citizens who permanently move to Germany, she thinks it is rare. However, "visiting and studying is very common," she said, and traveling to Europe with ease is a big part of the motivation of many who apply. 
Miebach added that since 2020, there have been several changes in the naturalization law, called the Article 116 Par. 2 Basic Law. The changes allowed even more Jewish descendants to apply for and receive citizenship, including descendants who could trace their lineage through the matrilineal line as opposed to just the patrilineal line. 
"We are here to support you in this journey, which can be very emotional," Miebach said. "I think often when people want to start this process it feels a bit isolating. Every family member may not be on board with them getting citizenship. These outreach events are very important to make the whole process more personalized."
The event concluded with a discussion between Rothschild and Sami Vingron, a German Jew who grew up in Berlin and is now in his final year of rabbinical school at the Jewish Theological Seminary uptown. 
Vingron said that Jews in Germany find themselves in a unique position of being forced to acknowledge the atrocities of the Holocaust on a daily basis  — as he put it, "I learned to windsurf at the Wannsee," site of a meeting in which Nazi officials planned the genocide.
But this aspect of German Jewish identity makes the Jewish community feel a certain closeness and responsibility towards each other, he added. "There's a very strong sense of collective identity, of being there for each other in Germany," said Vingron, who plans to return to Germany. "Jews in our times want to preserve what was there but also want to go into the future and have a diverse Judaism."
For Rose Freymuth-Frazier, a New York City based-artist who created a Facebook group for newly naturalized citizens, meeting other people who went through the same process as her has been a major bonus to the experience.
"When I walked into this room I got a bit choked up. Every time I walk into the Jewish space, I think, of course, we're all related," she said. "But the feeling is even more pronounced among German Jews. There's a closeness here. We've all been through the same experience. It's an amazing feeling."
—
The post The German Consulate in NYC welcomes its newest citizens: Jewish New Yorkers appeared first on Jewish Telegraphic Agency.
Publisher removes Jewish stereotypes from classic Georgette Heyer romance novel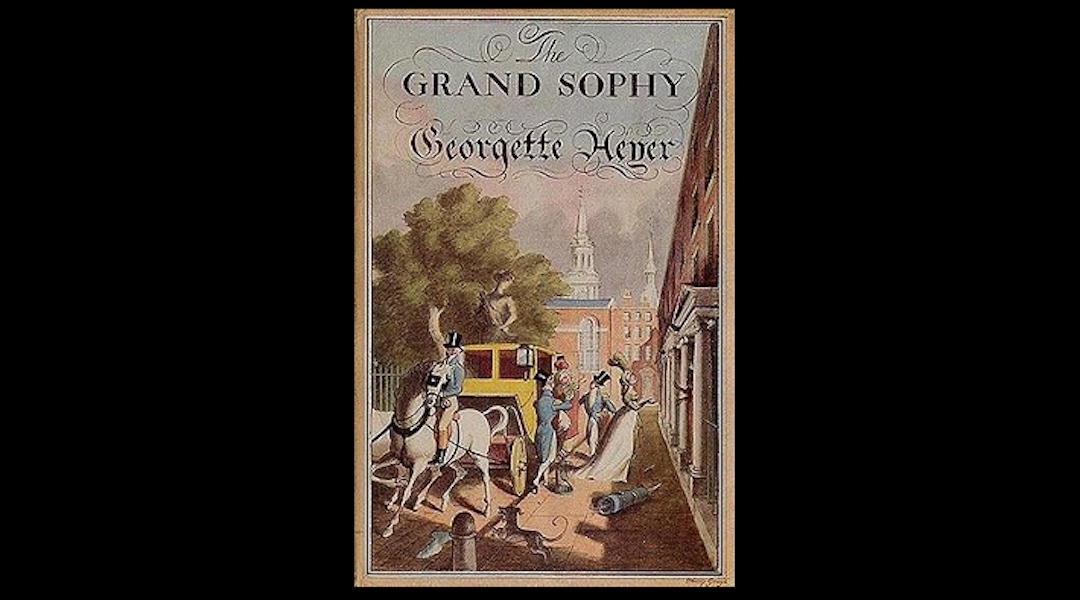 (JTA) — The U.S. publisher of Georgette Heyer, who is widely considered the originator of the historical romance genre, has modified part of one of her books that includes Jewish stereotypes.
The New York Times reported last week that publisher Sourcebooks worked with an array of sensitivity readers and experts on modifying "The Grand Sophy,"originally published in 1950, before releasing new versions of multiple Heyer books this year.
Heyer's books — which also pioneered the Regency romance genre, and subsequently inspired legions of authors, including Jewish "Bridgerton" novelist Julia Quinn — have sold millions around the world. In "The Grand Sophy," the main character interacts with a villainous moneylender named Goldhanger, who is a "thin, swarthy individual, with long, greasy curls, a semitic nose, and an ingratiating leer."
The new Sourcebooks edition deletes the details about the moneylender's appearance that have been associated with antisemitic stereotypes and changes the character's name to Grimpstone. He is now described as a "thin individual with an ingratiating leer."
Another revision gets rid of a reference to Jews being tight with "purse-strings."
"We don't want to throw off a 25-year-old who's just discovering Heyer," a senior vice president and editorial director at Sourcebooks told the Times. Sourcebooks did not respond to a Jewish Telegraphic Agency request for more detail on the revisions.
The Heyer estate asked Mary Bly, a romance novelist and literary scholar, to write introductions to the new versions. But the author's estate did not want her to mention the offensive language and how it was changed, a stance that led Bly to quit the project.
The Heyer estate's website states that her publisher in the United Kingdom, Penguin Random House, has decided "to leave the books as the author wrote them."
"They do not endorse the language or depictions in some of these books, but encourage readers to consider the works critically and in their historical and social context," a statement reads.
Heyer's work is the latest among recent debates about revising old texts to fit contemporary language standards. Roald Dahl and Agatha Christie books were also modified earlier this year.
Sourcebooks began acquiring Heyer titles in 2007 and has sold over two million copies of Heyer books so far, but the Times reported that the publisher eyes an even larger audience. The Netflix adaptation of "Bridgerton," which premiered in 2020, has become one of the streaming giant's most-watched shows and reignited interest in the Regency romance genre.
—
The post Publisher removes Jewish stereotypes from classic Georgette Heyer romance novel appeared first on Jewish Telegraphic Agency.
Los Angeles charter school says teachers who taught first graders about 'genocide of Palestine' will not return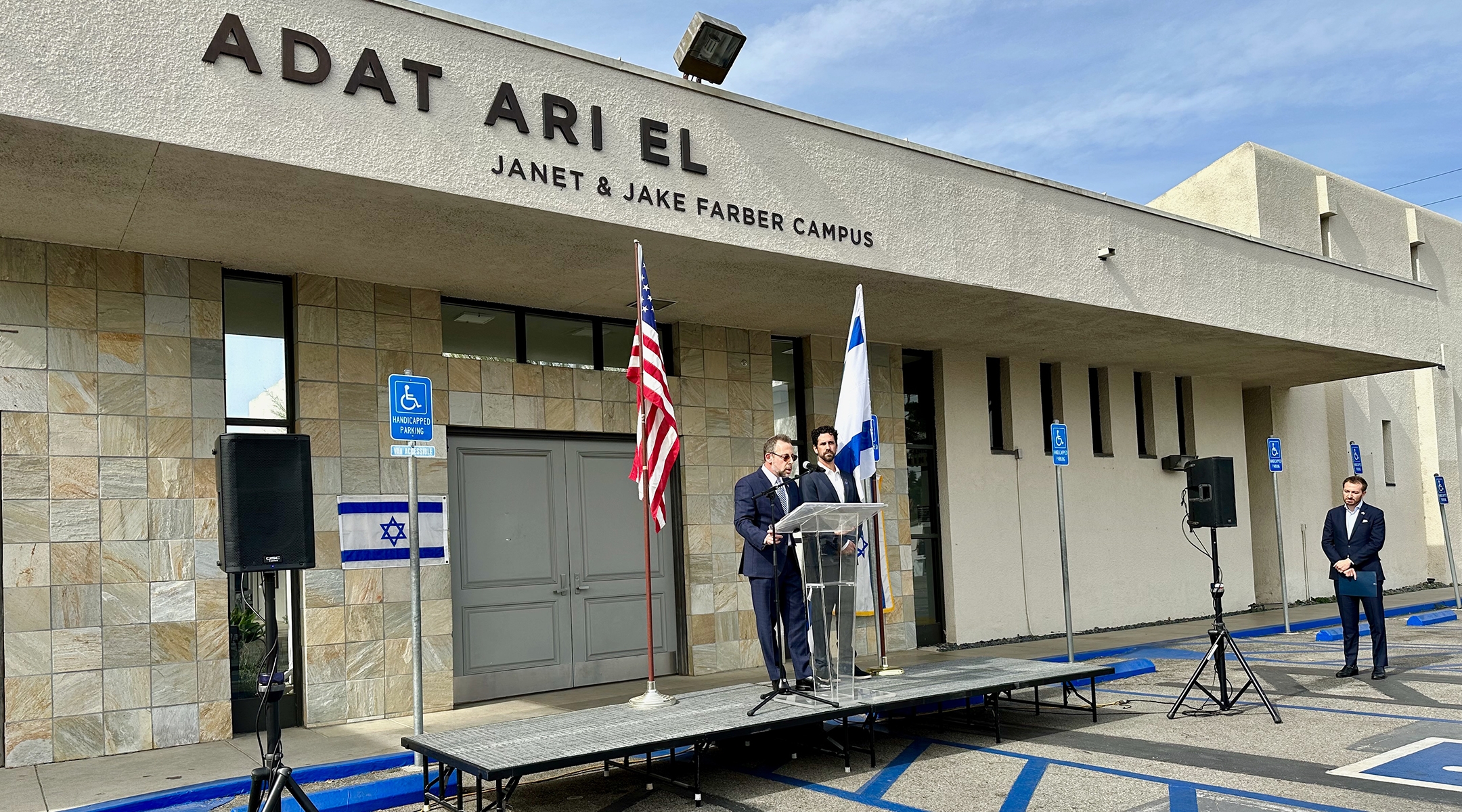 LOS ANGELES (JTA) — The Los Angeles charter school that stirred controversy at the synagogue where it is housed after first-grade teachers taught lessons about "the genocide of Palestine" announced steps on Friday to "repair this harm."
Two teachers have been removed from the school and the principal has been placed on leave at Citizens of the World Charter School-East Valley, announced Melissa Kaplan, the school network's executive director, at a press conference held outside Adat Ari El synagogue.
Hye-Won Gehring, the school's principal, had relayed complaints from her staff to the synagogue's rabbi about Israeli flags that were hung up on the campus after Hamas' Oct. 7 attack on Israel, according to Kaplan and Brian Schuldenfrei, Adat Ari El's senior rabbi. Kaplan said Gehring would be going on a two-week leave to "focus on learning how to combat antisemitism and engage in sensitivity training to learn from this experience."
Gehring had sent an email to Schuldenfrei on Oct. 16 asking how long the flags would be up, according to the rabbi. Kaplan called the question "insensitive and inappropriate," and Schuldenfrei recounted that he had told Gehring her email was "offensive."
"I told the principal that inquiring when our flags were coming down was like asking someone on Sept. 11 to take down their American flags just a few days later. It is painfully insensitive," Schuldenfrei said during the press conference. He added that the principal had apologized to him, but that "this was not the end of the issue."
Gehring made a brief statement at the press conference.
"I am deeply apologetic for my insensitive questions to Rabbi Schuldenfrei and how I mishandled this important set of events," Gehring said. "I did not understand the impact of my actions, and I am committed to creating a safe environment for all of my students, including my Jewish students, staff and families."
Kaplan, who was not made available to reporters after the press conference, acknowledged the "pain and distress" that many in the Jewish community are experiencing, and said she "deeply apologize[s] for these missteps" on behalf of her staff.
"CWC unequivocally condemns the social media posts by our staff members, including the use of the word 'genocide' to describe Israel's actions," Kaplan said. "CWC unequivocally condemns the disturbing suggestion that Jews should leave the region, and we unequivocally condemn any lesson that creates bias or fear among our students."
Kaplan added that the findings of the investigation would be kept confidential, but that the community will receive updates as needed, and that the outcome of the process would inform any further consequences from this episode. She also said that CWC is coordinating with the Anti-Defamation League to train its leadership and staff.
During his remarks, Schuldenfrei shared the sequence of events that occurred at the school, saying that he hopes the incident can be "an educational moment."
Schuldenfrei questioned why the content of the lessons was not reviewed, saying that the teachers "weaponized their role as educators to indoctrinate the youngest of children with a radical and hateful agenda."
"We know what happens when a blind eye is turned to such hatred, and we will not cower in the corner while our campus and community is defiled," Schuldenfrei said.
Schuldenfrei also referenced teshuvah, the Jewish idea of repentance, adding that he finds it "heartening to see Citizens of the World take these first steps," and he reiterated his synagogue's commitment to working with the school "to ensure that this is a learning moment for everyone."
In an interview with the Jewish Telegraphic Agency, Schuldenfrei acknowledged that is it rare for synagogues to call press conferences — an indication, he said, that "we're living in rare times where we feel, unlike any other time since the Holocaust, we feel the pressure of this pernicious antisemitism. And we also feel for something like that to occur in our own backyard, we felt that we couldn't simply stand by."
Schuldenfrei said he is comfortable with the first steps the school is taking and hopes his community is, too. He also said he hopes this debacle does not dissuade future collaborations between Jewish and non-Jewish groups. He noted that his synagogue offers its space to church groups, Alcoholics Anonymous meetings and other non-Jewish events.
"We as Jews are proud Americans, and here at Adat Ari El, one of the holiest endeavors we engage is working with non-Jews," he said. "We want this to specifically be a home to Jews, but we want this to be a campus that is of service to all of humanity."
The final speaker at the press conference was Nick Melvoin, a school board member for the Los Angeles Unified School District and a Democratic candidate for Congress who is running for the district that Adam Schiff currently represents. (Schiff is running for a Senate seat that has a primary vote in March.) Melvoin commended the school for its efforts to respond to the incident and added that he will be bringing a policy package to the district's board of education to address concerns of bias and antisemitism.
Melvoin said he would push for a comprehensive definition of antisemitism; a thorough review of curriculum to ensure that there is no bias; and the inclusion of Jewish experiences and antisemitism in diversity, equity and inclusion frameworks; and funding for students to visit Holocaust museums.
—
The post Los Angeles charter school says teachers who taught first graders about 'genocide of Palestine' will not return appeared first on Jewish Telegraphic Agency.
Hebrew pocket watch, frozen in time of Titanic wreck, headed for auction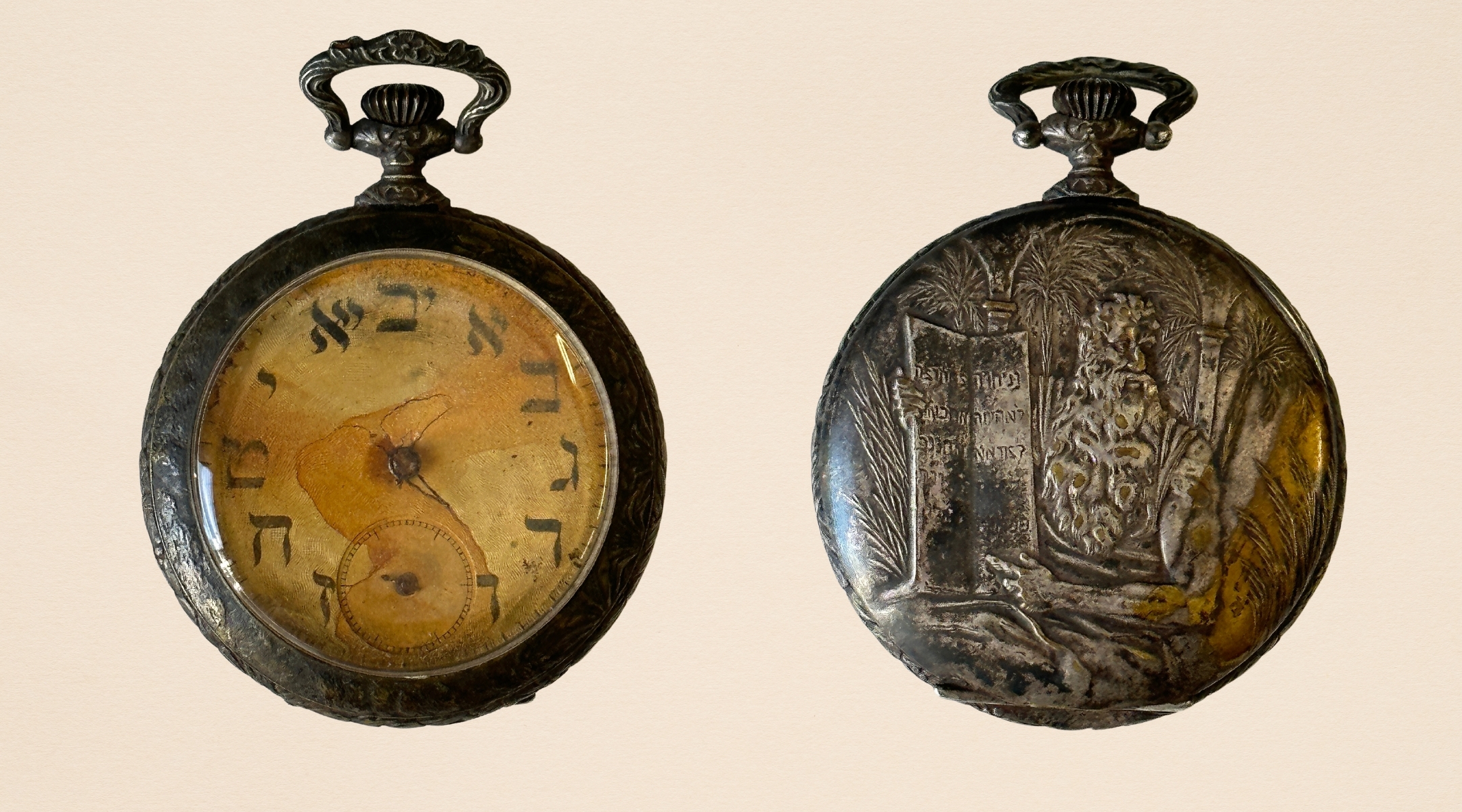 (JTA) — A pocket watch, frozen in time when the Titanic went underwater, is set to sell at auction Saturday, with an expected sales price of nearly $100,000.
That's nearly 30 times the value of the ticket that Sinai Kantor, a Russian Jew on his way to New York City, spent for his ticket on the "unsinkable" ship.
Numbers on the Swiss-made, silver-on-brass watch are written in Hebrew numerals and its hands are nearly all deteriorated, due to saltwater exposure — but dried water marks indicate that time stopped at 2:25 a.m., about five minutes after the Titanic sank. Its back features an embossed, solemn, muscular Moses holding the Ten Commandments on a background of date palms.
The silver pocket watch once belonged to Kantor, 34, a second-class passenger traveling with his wife Miriam, 24. The pair were recently married university graduates, on their way to New York where Kantor planned to sell furs while they studied dentistry and medicine, as part of a flood of Jewish immigration underway at the time.
Kantor paid £26 — worth about $3,100 today — for ticket No. 244367 on the Titanic, which they boarded on April 10, 1912, in Southampton, England.
"On the night of the disaster, like so many couples, they were forced to separate because of the 'women and children only' rule," Michael Findlay, former president of the Titanic International Society told the Washington Post. "Mr. Kantor had to remain behind."
Miriam alone was saved in lifeboat 12, according to information provided by the auction house. According to records collected by Titanic enthusiasts, she later became a U.S. citizen, taking the name Mary, and worked as a pharmacist in Brooklyn before being institutionalized at a psychiatric hospital where she spent the rest of her life before dying at 63 in 1950.
Kantor's body was recovered eight days after the accident. His pocket watch and some of his other possessions, including his Russian passport, a notebook, money, wallets, a telescope and a corkscrew were returned to his widow in May 1912 by the White Star Line, according to Henry Aldridge and Son, the auction house selling his possessions and other Titanic memorabilia. Kantor was buried at Mount Zion Cemetery in Queens.
His watch was previously sold at auction in 2018 for $57,500.
Of the timepieces that survived the shipwreck, most are stopped between 2:20 and 2:30, Findlay said. "It all depends when the individual went into the water," he said. "It's haunting."
—
The post Hebrew pocket watch, frozen in time of Titanic wreck, headed for auction appeared first on Jewish Telegraphic Agency.