Antisemitism reportedly spikes and US Jews face violent threats amid climate of fear over Israel-Hamas war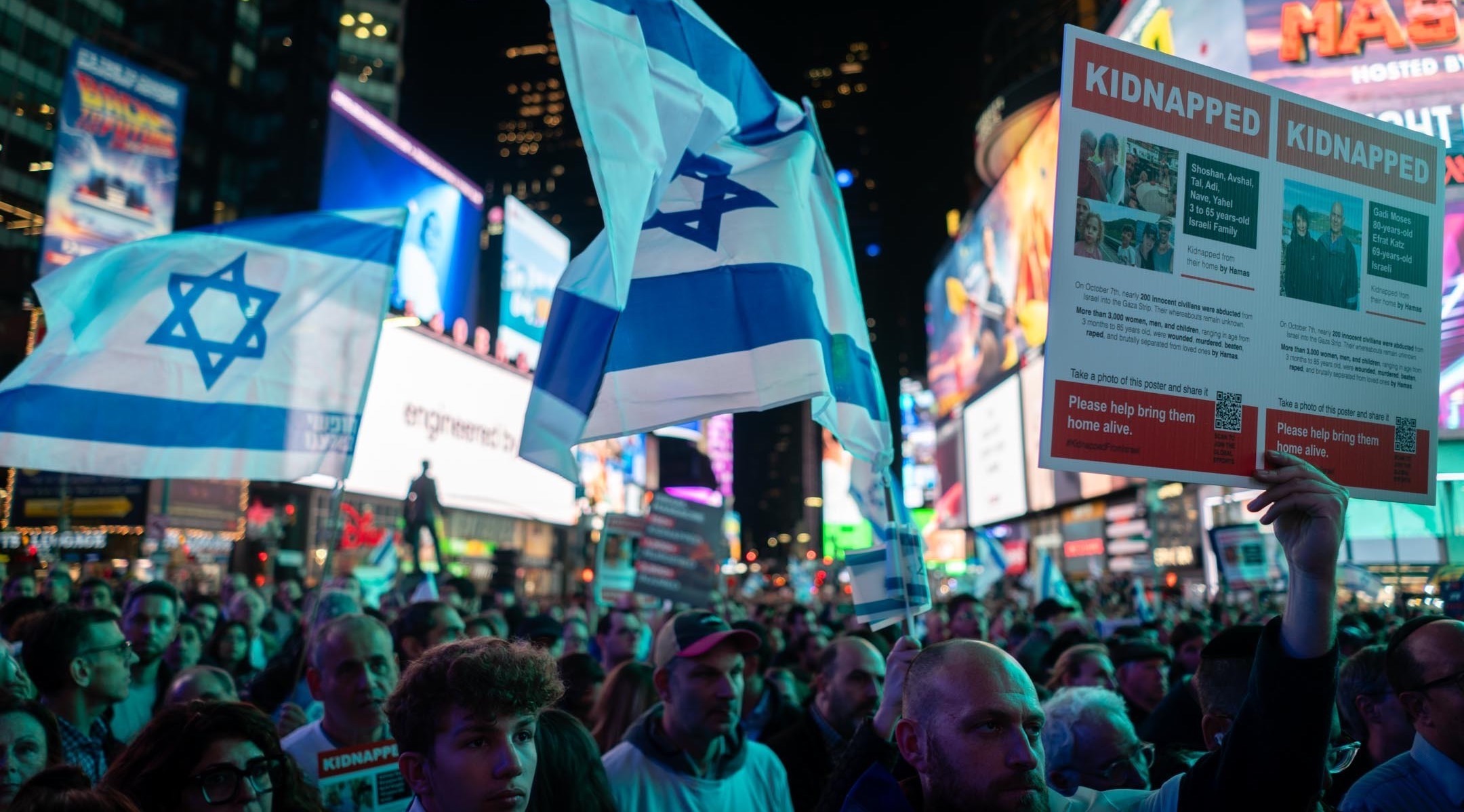 (JTA) – A top lawyer in Illinois' state government told a Jewish person, "Hitler should have eradicated all of you." An Israeli student was assaulted at Columbia University. And Jewish schools and synagogues in at least three different states have been subjected to violent threats.
Those are a few incidents that have occurred during what, according to the Anti-Defamation League, is a 21% spike in antisemitic activity in the United States since Hamas invaded Israel on Oct. 7, killing and wounding thousands. Israel's ensuing war on the terror group in Gaza has killed thousands and has sparked both pro-Palestinian and pro-Israel activity across the globe. 
That reported increase in antisemitism has put Jewish communities — and the U.S. government — on guard as the war in Gaza and Israel dominates the headlines, even as Jewish security agencies have not warned of any credible threats of violence. Hillel International is providing new funding for armed guards on college campuses, and other Jewish institutions are also bolstering security. Last week, Attorney General Merrick Garland announced that the Justice Department was monitoring an increase in reported threats to Jewish, Muslim and Arab communities.
"What we knew even before the massacre that occurred on October 7 is that whenever there is conflict in that region we tend to see antisemitic incidents spike in this country, and in other countries as well," Oren Segal, vice president of the ADL's Center on Extremism, told the Jewish Telegraphic Agency.
The ADL has tracked a total of 193 incidents it classifies as antisemitic in the period following Hamas' Oct. 7 attack on Israel, an increase of more than 20% from the same time period last year, although reports of antisemitism are still coming in. Such incidents cover a wide range of activities and do not include participation in pro-Palestinian rallies. But Segal said any incident that "ascribes blame to the entire Jewish community for what is happening in Israel" would be counted.
The period after the Oct. 7 invasion has also seen attacks and threats targeting Muslims in the United States, including the murder of a 6-year-old Palestinian-American boy in the Chicago area.
Amid all of this, nonprofits focused on Jewish security have, so far, not sounded the alarm. One such organization in New York, the Community Security Initiative, has advised Jewish institutions to "keep calm and carry on," according to The New York Times. Jewish security agencies also said two weeks ago they were not aware of any credible threats ahead of what Jews feared was a Hamas-inspired day of violence on Oct. 13. 
"People are calling the NYPD bomb squad because they got a package from Gaza that turns out it's olive oil," said Mitch Silber, director of the Community Security Initiative and a former intelligence official for the New York Police Department. He added that Hamas has no known formal capacity in the United States.
"It feels like pure panic mode the community is in, and part of our job is to do a little anxiety alleviation," Silber said.
The Secure Community Network, a nationwide security organization for Jewish institutions that operates a "command center" in Chicago, did not respond to multiple requests for comment.
And some high-profile suspicipons of antisemitism have not necessarily borne out. In the moments after the murder of a young Detroit synagogue president was reported, rumors swirled that the crime was linked to the Israel-Hamas war. But police say they have not seen any sign of antisemitism so far in their investigation. 
Yet there has indeed been a string of violent incidents and threats against Jews in cities across the country. In New York City, police say a man told a woman that he was punching her because she was Jewish. On Oct. 17, in Charlotte, North Carolina, the FBI announced it had arrested a man who had sent a threatening email to an area synagogue in which he vowed "public execution"; the threat came weeks after a rash of other emailed and phoned threats to synagogues across the country. That same day, police in Miami Beach, Florida, arrested a homeless man who approached a local Jewish day school security guard, said, "I'm with Hamas," and falsely claimed he was carrying explosives.
Other threats against Jews this month have come from working professionals. A professor at the University of California, Davis posted online that "all these zionist journalists who spread propaganda and misinformation" could be targeted, and concluded the post with machete, ax and bloodrop emojis. The university's president announced Thursday that the school had placed the professor under investigation, and her name is no longer listed on the faculty page.
And the Illinois comptroller's office fired one of its legal counsels Thursday after the attorney was found to have left threatening comments on the anonymous Instagram page of a lawyer who identified as Jewish, including "Hitler should have eradicated all of you" and "all you Zionists will pay," according to reports. 
The attorney, Sarah Chowdhury, also served as president of the South Asian Bar Association; the legal group announced it had terminated her as well and apologized "for any harm" caused by her remarks.
Beyond threats of violence, American Jews have contended with antisemitic graffiti and vandalism over the past two weeks. Some of these incidents have occurred on university campuses. At Cal Poly Humboldt, in northern California, two days after the attacks, graffiti reading "Free Palestine F**k Israel" was found on a sukkah set up by the university's Chabad-Lubavitch center. Graffiti reading "The Jews R Nazis" was also found next to a Jewish fraternity at the University of Pennsylvania on Oct. 20, according to the campus newspaper.
A spokesperson for Hillel International, the umbrella organization for Jewish life on campus, told JTA last week it was providing unrestricted "emergency grants" to all its chapters, including to address security concerns and expanding staff "in this moment of crisis."
Other Jewish institutions have been targeted as well. The day after the Humboldt incident, a synagogue in Fresno, California, had its windows smashed by a perpetrator who also left a note reading, "All Jewish businesses will be targeted." A suspect has been taken into custody and charged with a hate crime, reported J. the Jewish News of Northern California.
—
The post Antisemitism reportedly spikes and US Jews face violent threats amid climate of fear over Israel-Hamas war appeared first on Jewish Telegraphic Agency.
Publisher removes Jewish stereotypes from classic Georgette Heyer romance novel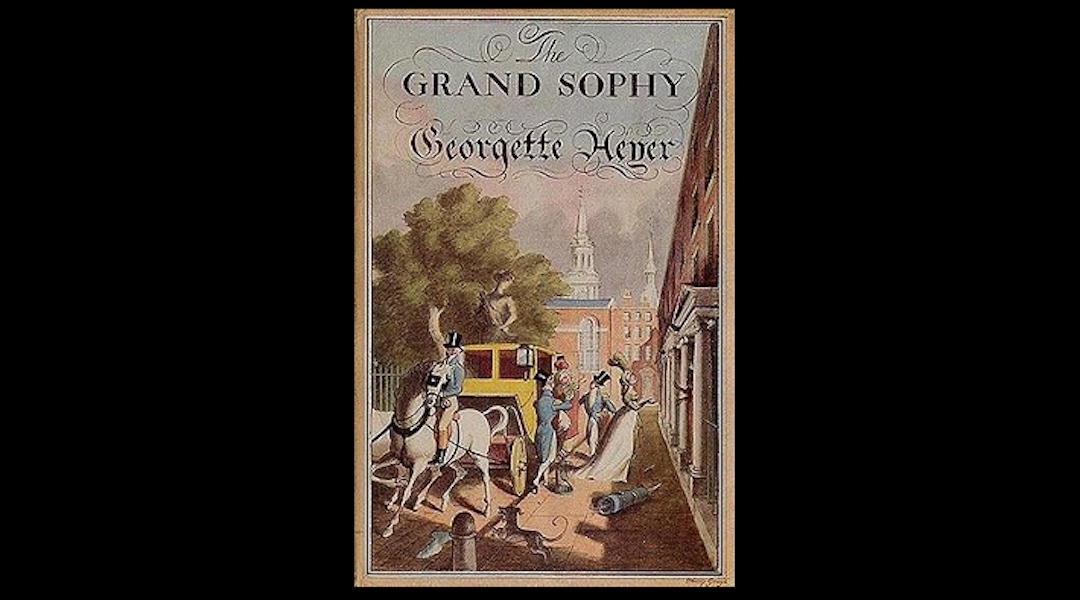 (JTA) — The U.S. publisher of Georgette Heyer, who is widely considered the originator of the historical romance genre, has modified part of one of her books that includes Jewish stereotypes.
The New York Times reported last week that publisher Sourcebooks worked with an array of sensitivity readers and experts on modifying "The Grand Sophy,"originally published in 1950, before releasing new versions of multiple Heyer books this year.
Heyer's books — which also pioneered the Regency romance genre, and subsequently inspired legions of authors, including Jewish "Bridgerton" novelist Julia Quinn — have sold millions around the world. In "The Grand Sophy," the main character interacts with a villainous moneylender named Goldhanger, who is a "thin, swarthy individual, with long, greasy curls, a semitic nose, and an ingratiating leer."
The new Sourcebooks edition deletes the details about the moneylender's appearance that have been associated with antisemitic stereotypes and changes the character's name to Grimpstone. He is now described as a "thin individual with an ingratiating leer."
Another revision gets rid of a reference to Jews being tight with "purse-strings."
"We don't want to throw off a 25-year-old who's just discovering Heyer," a senior vice president and editorial director at Sourcebooks told the Times. Sourcebooks did not respond to a Jewish Telegraphic Agency request for more detail on the revisions.
The Heyer estate asked Mary Bly, a romance novelist and literary scholar, to write introductions to the new versions. But the author's estate did not want her to mention the offensive language and how it was changed, a stance that led Bly to quit the project.
The Heyer estate's website states that her publisher in the United Kingdom, Penguin Random House, has decided "to leave the books as the author wrote them."
"They do not endorse the language or depictions in some of these books, but encourage readers to consider the works critically and in their historical and social context," a statement reads.
Heyer's work is the latest among recent debates about revising old texts to fit contemporary language standards. Roald Dahl and Agatha Christie books were also modified earlier this year.
Sourcebooks began acquiring Heyer titles in 2007 and has sold over two million copies of Heyer books so far, but the Times reported that the publisher eyes an even larger audience. The Netflix adaptation of "Bridgerton," which premiered in 2020, has become one of the streaming giant's most-watched shows and reignited interest in the Regency romance genre.
—
The post Publisher removes Jewish stereotypes from classic Georgette Heyer romance novel appeared first on Jewish Telegraphic Agency.
Los Angeles charter school says teachers who taught first graders about 'genocide of Palestine' will not return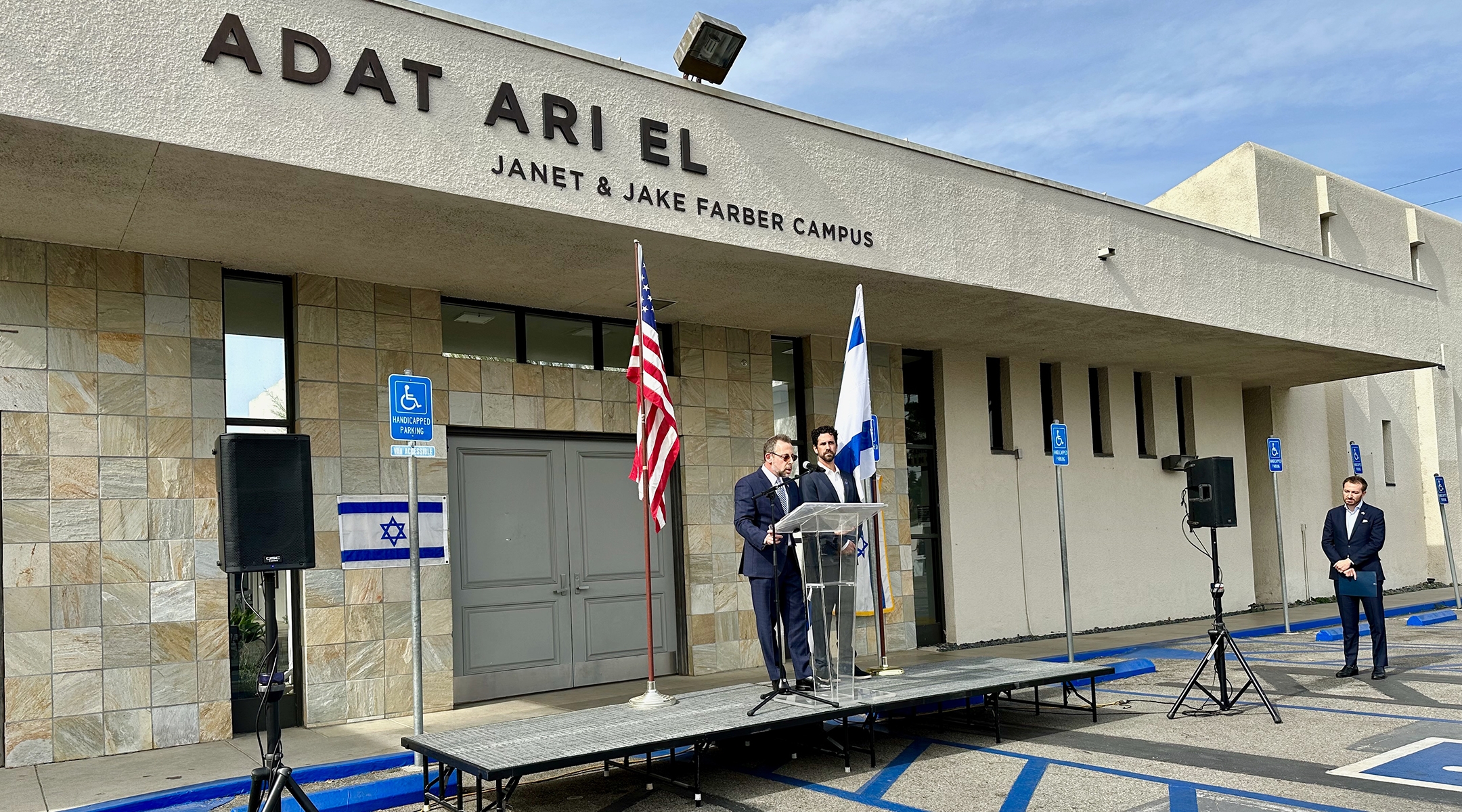 LOS ANGELES (JTA) — The Los Angeles charter school that stirred controversy at the synagogue where it is housed after first-grade teachers taught lessons about "the genocide of Palestine" announced steps on Friday to "repair this harm."
Two teachers have been removed from the school and the principal has been placed on leave at Citizens of the World Charter School-East Valley, announced Melissa Kaplan, the school network's executive director, at a press conference held outside Adat Ari El synagogue.
Hye-Won Gehring, the school's principal, had relayed complaints from her staff to the synagogue's rabbi about Israeli flags that were hung up on the campus after Hamas' Oct. 7 attack on Israel, according to Kaplan and Brian Schuldenfrei, Adat Ari El's senior rabbi. Kaplan said Gehring would be going on a two-week leave to "focus on learning how to combat antisemitism and engage in sensitivity training to learn from this experience."
Gehring had sent an email to Schuldenfrei on Oct. 16 asking how long the flags would be up, according to the rabbi. Kaplan called the question "insensitive and inappropriate," and Schuldenfrei recounted that he had told Gehring her email was "offensive."
"I told the principal that inquiring when our flags were coming down was like asking someone on Sept. 11 to take down their American flags just a few days later. It is painfully insensitive," Schuldenfrei said during the press conference. He added that the principal had apologized to him, but that "this was not the end of the issue."
Gehring made a brief statement at the press conference.
"I am deeply apologetic for my insensitive questions to Rabbi Schuldenfrei and how I mishandled this important set of events," Gehring said. "I did not understand the impact of my actions, and I am committed to creating a safe environment for all of my students, including my Jewish students, staff and families."
Kaplan, who was not made available to reporters after the press conference, acknowledged the "pain and distress" that many in the Jewish community are experiencing, and said she "deeply apologize[s] for these missteps" on behalf of her staff.
"CWC unequivocally condemns the social media posts by our staff members, including the use of the word 'genocide' to describe Israel's actions," Kaplan said. "CWC unequivocally condemns the disturbing suggestion that Jews should leave the region, and we unequivocally condemn any lesson that creates bias or fear among our students."
Kaplan added that the findings of the investigation would be kept confidential, but that the community will receive updates as needed, and that the outcome of the process would inform any further consequences from this episode. She also said that CWC is coordinating with the Anti-Defamation League to train its leadership and staff.
During his remarks, Schuldenfrei shared the sequence of events that occurred at the school, saying that he hopes the incident can be "an educational moment."
Schuldenfrei questioned why the content of the lessons was not reviewed, saying that the teachers "weaponized their role as educators to indoctrinate the youngest of children with a radical and hateful agenda."
"We know what happens when a blind eye is turned to such hatred, and we will not cower in the corner while our campus and community is defiled," Schuldenfrei said.
Schuldenfrei also referenced teshuvah, the Jewish idea of repentance, adding that he finds it "heartening to see Citizens of the World take these first steps," and he reiterated his synagogue's commitment to working with the school "to ensure that this is a learning moment for everyone."
In an interview with the Jewish Telegraphic Agency, Schuldenfrei acknowledged that is it rare for synagogues to call press conferences — an indication, he said, that "we're living in rare times where we feel, unlike any other time since the Holocaust, we feel the pressure of this pernicious antisemitism. And we also feel for something like that to occur in our own backyard, we felt that we couldn't simply stand by."
Schuldenfrei said he is comfortable with the first steps the school is taking and hopes his community is, too. He also said he hopes this debacle does not dissuade future collaborations between Jewish and non-Jewish groups. He noted that his synagogue offers its space to church groups, Alcoholics Anonymous meetings and other non-Jewish events.
"We as Jews are proud Americans, and here at Adat Ari El, one of the holiest endeavors we engage is working with non-Jews," he said. "We want this to specifically be a home to Jews, but we want this to be a campus that is of service to all of humanity."
The final speaker at the press conference was Nick Melvoin, a school board member for the Los Angeles Unified School District and a Democratic candidate for Congress who is running for the district that Adam Schiff currently represents. (Schiff is running for a Senate seat that has a primary vote in March.) Melvoin commended the school for its efforts to respond to the incident and added that he will be bringing a policy package to the district's board of education to address concerns of bias and antisemitism.
Melvoin said he would push for a comprehensive definition of antisemitism; a thorough review of curriculum to ensure that there is no bias; and the inclusion of Jewish experiences and antisemitism in diversity, equity and inclusion frameworks; and funding for students to visit Holocaust museums.
—
The post Los Angeles charter school says teachers who taught first graders about 'genocide of Palestine' will not return appeared first on Jewish Telegraphic Agency.
Hebrew pocket watch, frozen in time of Titanic wreck, headed for auction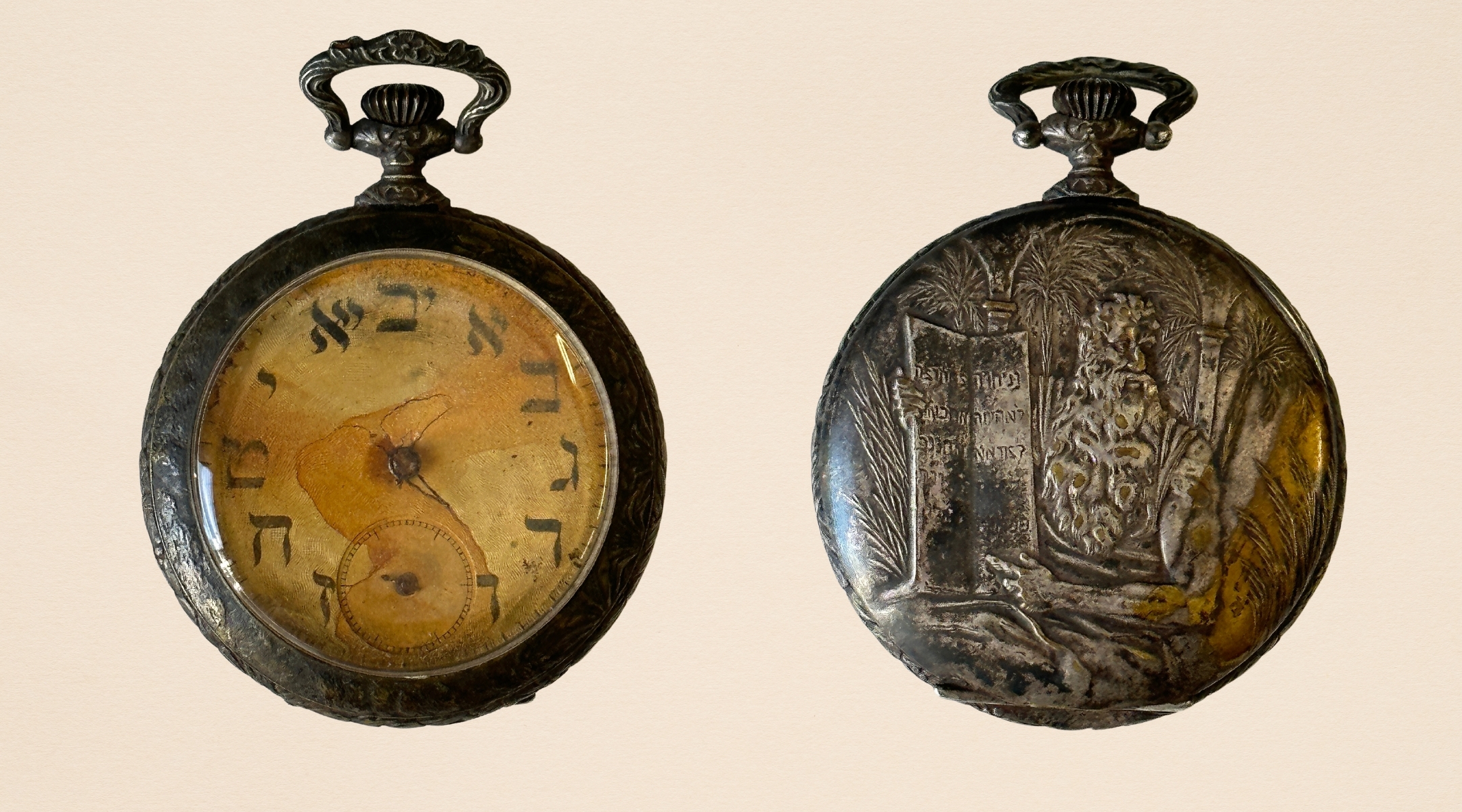 (JTA) — A pocket watch, frozen in time when the Titanic went underwater, is set to sell at auction Saturday, with an expected sales price of nearly $100,000.
That's nearly 30 times the value of the ticket that Sinai Kantor, a Russian Jew on his way to New York City, spent for his ticket on the "unsinkable" ship.
Numbers on the Swiss-made, silver-on-brass watch are written in Hebrew numerals and its hands are nearly all deteriorated, due to saltwater exposure — but dried water marks indicate that time stopped at 2:25 a.m., about five minutes after the Titanic sank. Its back features an embossed, solemn, muscular Moses holding the Ten Commandments on a background of date palms.
The silver pocket watch once belonged to Kantor, 34, a second-class passenger traveling with his wife Miriam, 24. The pair were recently married university graduates, on their way to New York where Kantor planned to sell furs while they studied dentistry and medicine, as part of a flood of Jewish immigration underway at the time.
Kantor paid £26 — worth about $3,100 today — for ticket No. 244367 on the Titanic, which they boarded on April 10, 1912, in Southampton, England.
"On the night of the disaster, like so many couples, they were forced to separate because of the 'women and children only' rule," Michael Findlay, former president of the Titanic International Society told the Washington Post. "Mr. Kantor had to remain behind."
Miriam alone was saved in lifeboat 12, according to information provided by the auction house. According to records collected by Titanic enthusiasts, she later became a U.S. citizen, taking the name Mary, and worked as a pharmacist in Brooklyn before being institutionalized at a psychiatric hospital where she spent the rest of her life before dying at 63 in 1950.
Kantor's body was recovered eight days after the accident. His pocket watch and some of his other possessions, including his Russian passport, a notebook, money, wallets, a telescope and a corkscrew were returned to his widow in May 1912 by the White Star Line, according to Henry Aldridge and Son, the auction house selling his possessions and other Titanic memorabilia. Kantor was buried at Mount Zion Cemetery in Queens.
His watch was previously sold at auction in 2018 for $57,500.
Of the timepieces that survived the shipwreck, most are stopped between 2:20 and 2:30, Findlay said. "It all depends when the individual went into the water," he said. "It's haunting."
—
The post Hebrew pocket watch, frozen in time of Titanic wreck, headed for auction appeared first on Jewish Telegraphic Agency.