The Jewish Sport Report: Looking back at the legendary career of a Jewish broadcasting icon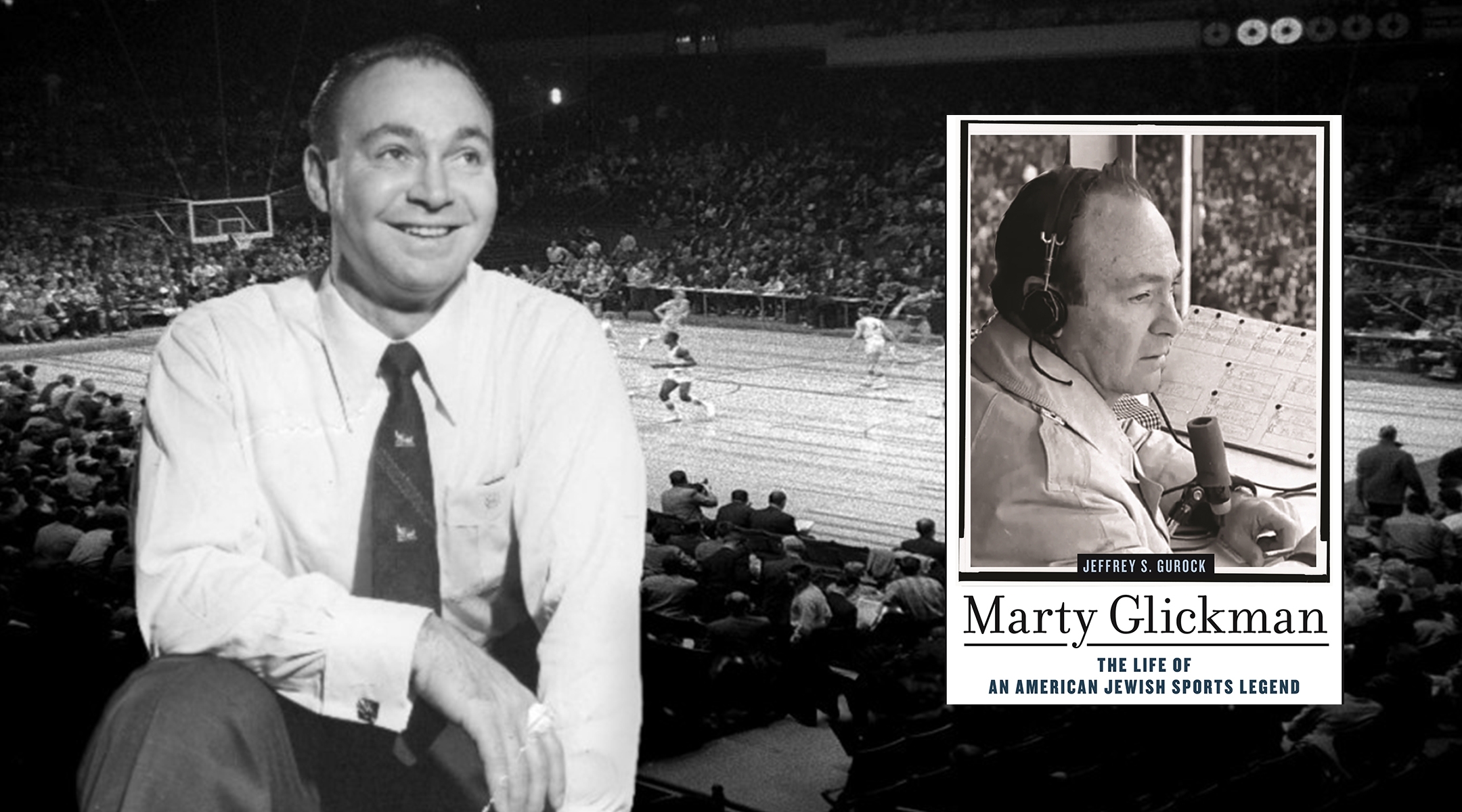 This article was sent as a newsletter. Sign up for our weekly Jewish sports newsletter here.
Happy Friday! Brigham Young University's Jewish quarterback Jake Retzlaff made his second start of the season last Saturday, earning his first career touchdown in the Cougars' 45-13 loss against Iowa State.
Retzlaff, who grew up a proud Reform Jew, is one of only a handful of Jewish students at the Utah school, which is affiliated with the Church of Jesus Christ of Latter-day Saints. He is also one of the Jewish Telegraphic Agency's 36 Jewish Students Athletes to Watch for this year — learn more about him and the other up-and-coming stars here.
BYU faces No. 14 Oklahoma tomorrow.
Exploring the legacy of legendary broadcaster Marty Glickman
For nearly 50 years, nobody embodied New York sports like Marty Glickman.
A former star athlete in his own right, Glickman was a beloved broadcaster who called games for just about every New York team in every sport over an illustrious career in TV and radio.
Jeffrey Gurock, a Yeshiva University professor and historian, explores Glickman's life in his new book, "Marty Glickman: The Life of an American Jewish Sports Legend," which hit shelves last month.
Gurock, who has written and edited more than two dozen books, including a few about Jews and sports, said his newest work is much more than a sports book.
"The takeaway from the book is the difficulties that second generation Jews have in their chosen field, particularly if they're in the public eye, to make it, maintain their identity and to avoid the scourges of antisemitism," he said.
Read more about the iconic broadcaster here.
Halftime report
HONORED. The International Jewish Sports Hall of Fame has announced its 2024 inductees. The group includes well-known Jewish stars like Ryan Braun and Mitchell Schwartz, ESPN stalwart Linda Cohn and lesser-known athletes like Abby Hoffman and Aaron Krickstein, whose names any Jewish sports fan should know. Check out the full list here.
BAGELS AND FOX. New York Rangers star Adam Fox may be injured, but his hustle never quits. The All-Star defenseman announced a new partnership this week with a local bagel shop — including a new video series and his own menu item, both named after him. "As a Jewish Kid from Long Island a bagel partnership is something I am extremely excited about," Fox said in a press release.
MOVING ON UP. After winning the Nedbank Golf Challenge last weekend, Max Homa moved up to No. 7 in the Official World Golf Ranking. Homa also participated in Netflix's live golf event this week that paired up PGA players with Formula One drivers in Las Vegas.
NEVER FORGET. The New England Patriots played in Germany last weekend, which coincided with the 85th anniversary of Kristallnacht. During the team's trip, owner Robert Kraft met with the CEO of Adidas and visited a memorial for a destroyed synagogue in Nuremberg.
Jews in sports to watch this weekend
IN BASKETBALL…
Deni Avdija and the Washington Wizards host the New York Knicks in the in-season tournament tonight at 7 p.m. ET. Domantas Sabonis and the Sacramento Kings play the San Antonio Spurs tonight and the Dallas Mavericks Sunday, both at 7:30 p.m. ET. In the G League, Ryan Turell and the Motor City Cruise face the Grand Rapids Gold Saturday at 7 p.m. ET. Amari Bailey and the Greensboro Swarm host the Raptors 905 tonight and tomorrow, both at 7 p.m. ET.
IN HOCKEY…
Jake Walman and the Detroit Red Wings host the Toronto Maple Leafs today at 2 p.m. ET. Zach Hyman and the Edmonton Oilers play the Tampa Bay Lightning tomorrow at 4 p.m. ET. Devon Levi and the Buffalo Sabres face the Chicago Blackhawks Sunday at 7 p.m. ET.
IN FOOTBALL…
Can you believe it's already Week 11 in the NFL? A.J. Dillon and the Green Bay Packers host the Los Angeles Chargers Sunday at 1 p.m. ET, Jake Curhan and the Seattle Seahawks take on the Los Angeles Rams at 4:25 p.m. ET and Greg Joseph and the Minnesota Vikings face the Denver Broncos at 8:20 p.m. on Sunday Night Football.
IN SOCCER…
Matt Turner and the U.S. Men's National Team play Trinidad and Tobago Monday at 7 p.m. in the Nations League quarterfinals. The two teams faced off last night, with the U.S. winning 3-0. Turner started in goal, but didn't have to do much — Trinidad and Tobago only got one shot off the entire match.
IN RACING…
The long-awaited Las Vegas Grand Prix is this weekend, and Aston Martin driver Lance Stroll will look to continue his strong season when the race begins at — sorry, East Coasters — 1 a.m. ET Sunday.
And the answer is…
Thank you to all our readers who responded to last week's trivia question! In case you missed it, we asked which Jewish pitcher has more career appearances than Craig Breslow, the new chief baseball officer of the Boston Red Sox, who pitched in 576 games in his career.
The most popular answers were Ken Holtzman, who appeared in 451 games, and Sandy Koufax, who pitched in 397. The correct answer is Scott Schoeneweis, who has Breslow beat by one game, with 577. Stay tuned for more Jewish sports trivia next week!
—
The post The Jewish Sport Report: Looking back at the legendary career of a Jewish broadcasting icon appeared first on Jewish Telegraphic Agency.
Sacha Baron Cohen, Debra Messing, Amy Schumer and other Jewish celebrities call out 'the biggest antisemitic movement since the Nazis' in meeting with TikTok execs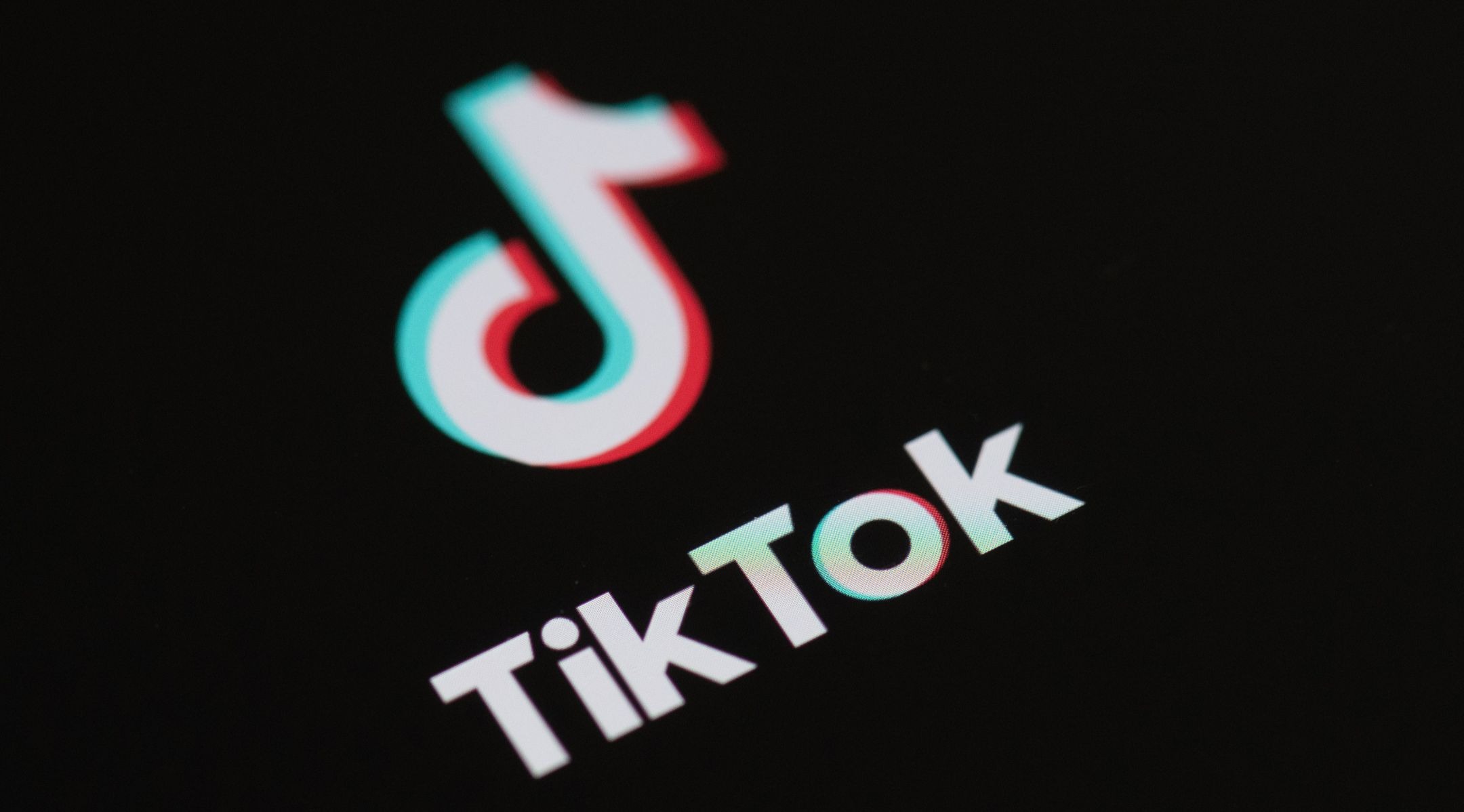 (JTA) — A group of Jewish celebrities and TikTok creators decried antisemitism on the video social media platform in a private video call with its executives and employees on Wednesday. 
The approximately 90-minute meeting included more than 30 participants, according to a recording obtained by The New York Times. It comes during a reported spike in antisemitism following the outbreak of Israel's war with Hamas in Gaza, and as debate over the war on social media has grown heated. 
Among the Jewish celebrities were actors Sacha Baron Cohen, Debra Messing and Amy Schumer, and TikTok creator Miriam Ezagui, all of whom have previously spoken out about antisemitism. Adam Presser, TikTok's head of operations, and Seth Melnick, its global head of user operations, both of whom are also Jewish, were the app's lead representatives on the call.
"What is happening at TikTok is it is creating the biggest antisemitic movement since the Nazis," said Cohen, who previously made waves in a 2019 address to the Anti-Defamation League, in which he called Facebook and other social media platforms "the greatest propaganda machine in history," and accused them of facilitating the spread of antisemitism. 
Cohen does not appear to be publicly active on TikTok. According to the Times, he told Presser "Shame on you," and said the app could "flip a switch" to better counter antisemitism. People on the call cited comments such as "Hitler was right" or "I hope you end up like Anne Frank," being left under videos posted by Jewish users.
Messing also took aim at the app. "I understand that you are in a very, very difficult and complicated place, but you also are the main platform for the dissemination of Jew hate," she said, according to the Times.
The call, which was arranged by TikTok executives, comes after Schumer, Messing, Ezagui and other Jewish celebrities and influencers (but not Cohen) signed an open letter saying that TikTok "is not safe for Jewish users."
"Simply put, TikTok lacks critical safety features to protect Jewish content creators and the broader Jewish TikTok community, leaving us in digital and physical danger," the letter says. "This hate and vitriol is not rare, spontaneous or unexpected. Sadly, rampant antisemitism is a common problem that TikTok has failed to address for far too long."
The letter calls for TikTok to enhance its safety tools, moderate content fairly, prioritize verified and objective content in times of crisis, and respond to physical threats.
Presser and Melnick said they wanted to hear from creators on TikTok in order to improve the platform.
"Obviously a lot of what Sacha says, there's truth to that," Presser said, referring to Cohen's plea for social media companies to address hate. But Presser later said there was no "magic button" to address all the concerns raised in the meeting, according to the Times.
"We recognize this is an incredibly difficult and fearful time for millions of people around the world and in our TikTok community," TikTok said in a statement. "Our leadership has been meeting with creators, civil society, human rights experts and stakeholders to listen to their experiences and feedback on how TikTok can remain a place for community, discovery and sharing authentically."
Criticism has flared up against the platform again as a stream of TikTok users this week posted videos recommending a letter written by Osama bin Laden that aims to justify the September 11 terror attacks and includes antisemitic statements. TikTok has banned videos promoting the letter.
—
The post Sacha Baron Cohen, Debra Messing, Amy Schumer and other Jewish celebrities call out 'the biggest antisemitic movement since the Nazis' in meeting with TikTok execs appeared first on Jewish Telegraphic Agency.
Man arrested in Tokyo after ramming car into barricade near Israeli embassy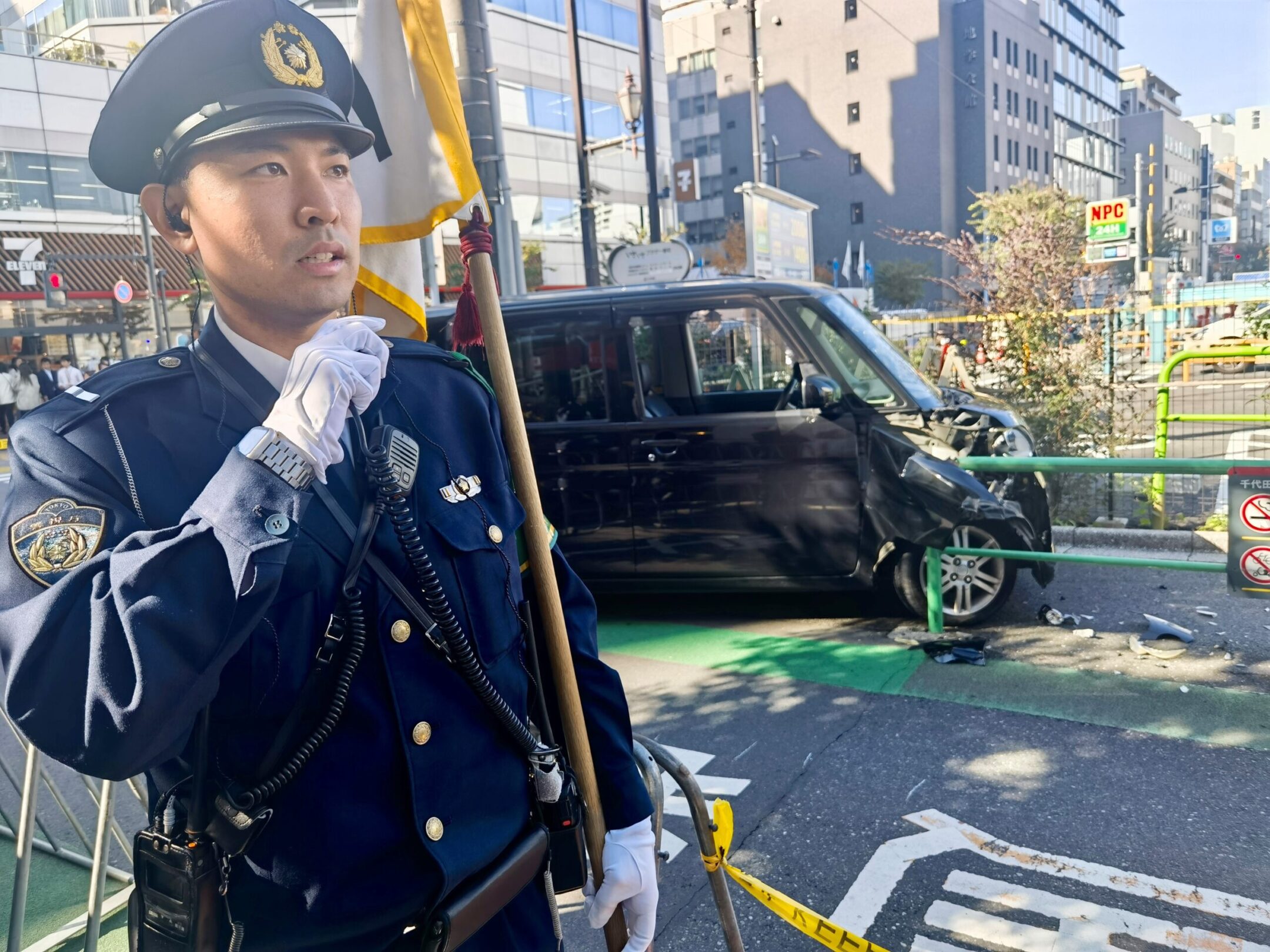 (JTA) — A man was arrested in Tokyo on Thursday after ramming his car into a barricade near the Israeli embassy, leaving one police officer with non-life-threatening injuries.
Shinobu Sekiguchi, the 53-year-old suspect, was a member of a right-wing group, the police said, according to local reports. The group has joined protests against left-wing pro-Palestinian demonstrations that have taken place outside the embassy.
Gilad Cohen, Israel's ambassador to Japan, wrote on X, formerly known as Twitter, that he was "shocked" by the incident, which is under investigation by police.
"I would like to express gratitude to the Japanese government and Tokyo Police for their commitment to ensuring our security. Wishing a speedy recovery to the injured police officer," Cohen wrote.
The circumstances of the incident were unclear. One local news report said Sekiguchi said he had driven into the barricade by accident, while another said he had posted anti-Israel sentiment on social media prior to the incident, according to tweets from an American professor at a Tokyo university.
The incident occurred in an area near the embassy where demonstrations protesting Israel's bombardment of Gaza have taken place in recent weeks, and where police had set up additional barricades and security in response, according to reports.
Several large pro-Israel actions in Japan have also gone viral on social media, including an event hosted by the Israeli embassy in October in which a large crowd sang "Oseh Shalom" outside Tokyo's bustling Shibuya Station.
Japan, as chair of the G7, has stood out from other major world powers in pushing a more neutral approach to the conflict. It has called on all parties to follow international law and was the only G7 member that stopped short of acknowledging Israel's "right to defend itself" and labeling Hamas a terrorist organization. Some humanitarian organizations have called on Japan to play a greater role in ensuring accountability for war crimes by all parties.
In Beijing last month — where a marked increase in online antisemitism has been documented — a family member of an Israeli diplomat was stabbed by a foreigner. Authorities there have not offered further details on the incident but have said it is under investigation by police.
—
The post Man arrested in Tokyo after ramming car into barricade near Israeli embassy appeared first on Jewish Telegraphic Agency.
Department of Education opens new investigations of antisemitism and Islamophobia at schools in the wake of Oct. 7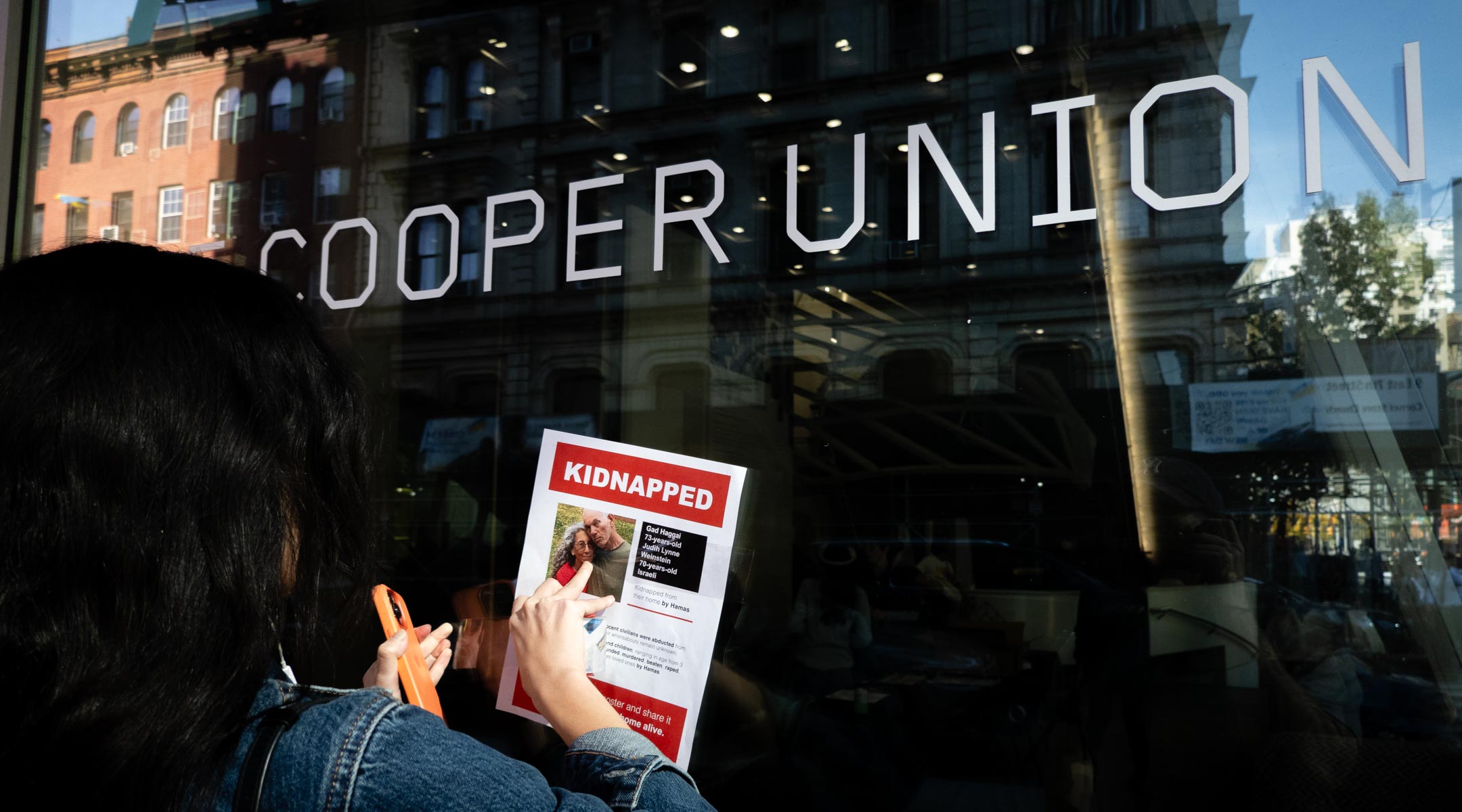 (JTA) – The U.S. Department of Education announced that it has opened five new investigations into the handling of antisemitism and two into the handling of Islamophobia on college and K-12 campuses.
The announcement on Thursday was a show of force from the department, which said the flood of investigations represented "part of the Biden-Harris Administration's continued efforts to take aggressive action to address the alarming nationwide rise in reports of antisemitism, anti-Muslim, anti-Arab, and other forms of discrimination and harassment on college campuses and in K-12 schools since the October 7 Israel-Hamas conflict."
Israel's war against Hamas in Gaza began when the terror group invaded Israel on Oct. 7. Since then, Jewish groups and law enforcement agencies have reported a spike in antisemitism, and at a meeting in late October, the White House warned of "an alarming rise of reported antisemitic events"  on college campuses since Oct. 7. 
The investigations announced Thursday are being handled by the department's civil rights office under Title VI of the Civil Rights Act, which forbids discrimination based on race or shared ancestry at federally funded institutions. An executive order signed by then-President Donald Trump in 2019 included some anti-Israel activity in the definition of antisemitism that falls under Title VI's purview. 
Jewish leaders at three recent House hearings on the subject called on the Education Department to use its resources to protect Jewish students, and Secretary of Education Miguel Cardona has tasked the department with moving swiftly to do so. Last week, he warned schools that they could lose their federal funding if they failed to properly investigate antisemitism on campus. 
"Hate has no place in our schools, period. When students are targeted because they are—or are perceived to be—Jewish, Muslim, Arab, Sikh, or any other ethnicity or shared ancestry, schools must act to ensure safe and inclusive educational environments where everyone is free to learn," Cardona said in a statement about the new investigations. "These investigations underscore how seriously the Biden-Harris Administration, including the U.S. Department of Education, takes our responsibility to protect students from hatred and discrimination." 
Opening an investigation does not mean the department believes the complaint's claims are true, only that it has determined the complaint falls under its civil rights purview. Investigations look at whether the school in question took adequate measures to protect students from discrimination. Several of the schools on the list have issued responses in the wake of headline-grabbing instances of antisemitism.
The department declined to comment on the details of the investigations to the Jewish Telegraphic Agency and would not disclose which were related to antisemitism and which to Islamophobia. 
But three of the colleges on the list, all in New York state, have made headlines because of antisemitic incidents since Oct. 7. At Cornell University, one student sent death threats to Jewish students on campus after a professor said at a rally that he was "exhilarated" by the Oct. 7 attack; at Columbia University an Israeli student was assaulted amid what Jewish students have said is an increasingly antisemitic environment; and at Cooper Union, Jewish students barricaded themselves in a library during a pro-Palestinian protest. 
The presidents of all three schools have since issued statements condemning antisemitism, and Columbia's president has announced the formation of an antisemitism task force. The school has also suspended its chapter of Students for Justice in Palestine, citing violations of university rules, following a call by Jewish leaders to crack down on the group.
In addition, two of the new investigations appear to line up with recent civil rights complaints brought by the Brandeis Center for Human Rights Under Law, a pro-Israel legal group. Kenneth Marcus, founder and chair of the group, and a former Trump administration official, took credit for the "swift" opening of the two investigations in a statement to JTA, and a Brandeis Center spokesperson said the group had been informed that the investigations were in response to its complaints.
One of those complaints was about reported instances of antisemitic graffiti and a trespasser on the property of Hillel at the University of Pennsylvania in conjunction with a "Palestine Writes" festival held on campus prior to Oct. 7. The school has already pledged to review its event policies as a result of these incidents. The Brandeis Center's Penn complaint also includes references to purported antisemitism taking place on campus since the attacks, citing chants referencing the "intifada" and "From the river to the sea" at campus rallies.
The second Brandeis Center complaint is about Wellesley College, where, the center alleges, dorm residential staff sent out an email after Oct. 7 saying that there should be "no support for Zionism within the Wellesley College community." That complaint was brought jointly with Jewish on Campus, a student antisemitism watchdog group. 
The other two schools with new investigations are Lafayette College in Pennsylvania and Maize Unified School District in Kansas, a suburb of Wichita. Maize Unified School District said in a statement Friday that the Department of Education did not provide it with a copy of the complaint, so the district couldn't respond to it.
It was not immediately clear what may have prompted these final two investigations, but an Oct. 25 statement from the president of Lafayette College references a student holding up "a poster bearing words with antisemitic meaning" during a pro-Palestinian walkout, and notes that the incident would be addressed "through our bias accountability process." An account from pro-Palestinian students in the campus paper said that the student in question had held a poster reading "From the river to the sea," which the writers did not believe was antisemitic. In addition, administrators at the college this spring rejected a request to form a chapter of Students for Justice in Palestine, with the dean of students suggesting the group could target Jewish students. 
Previous antisemitism-related investigations in the department have resulted in schools including the University of Vermont and the University of Illinois pledging to put new resources in place for Jewish students, including new campus facilities and antisemitism awareness training for staff.
—
The post Department of Education opens new investigations of antisemitism and Islamophobia at schools in the wake of Oct. 7 appeared first on Jewish Telegraphic Agency.